19 Best Restaurants in San Cristobal de las Casas 2023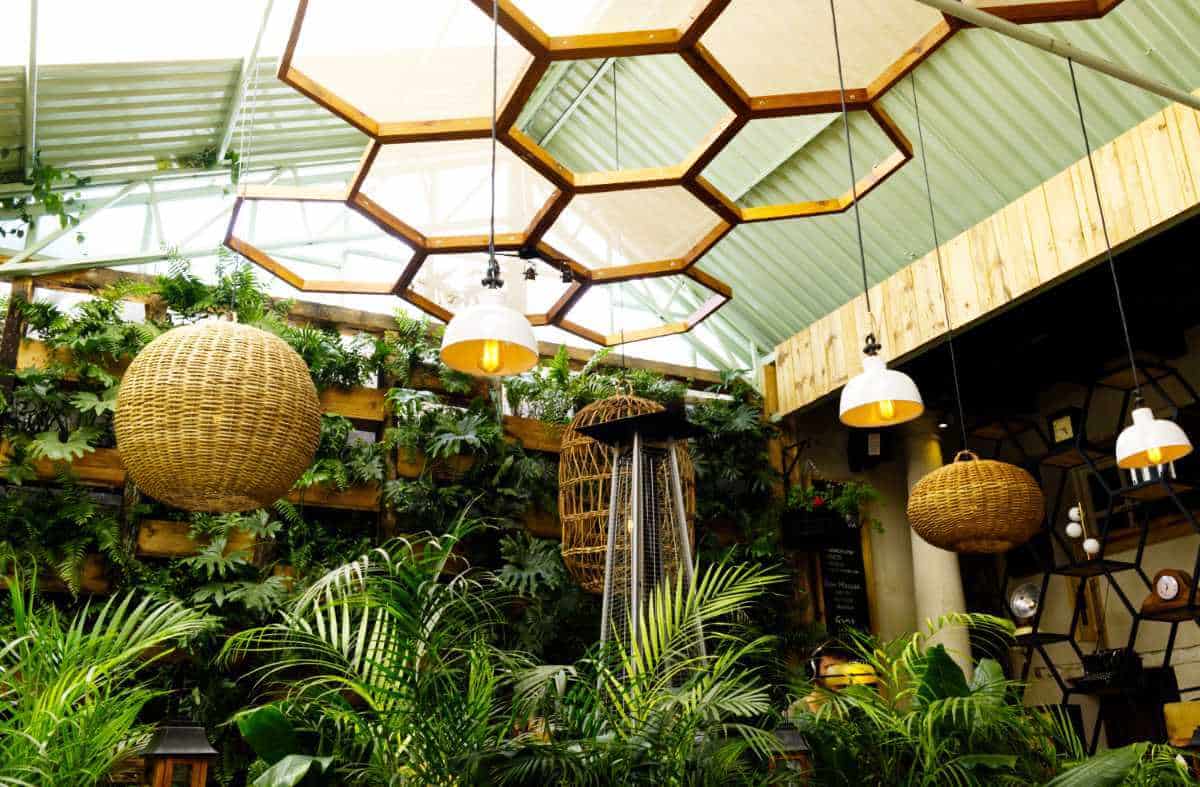 During my nearly two weeks in San Cristobal, one of the most surprising finds was the variety of restaurants. San Cristobal de las Casas has attracted a wide culinary range that includes a remarkable number of Asian and vegan restaurants. It's amazing to find two places serving Korean food in a Mexican town of this size, much less three!
Plus, the restaurants in San Cristobal include options for every budget. However, there are so many good places to eat that it became difficult to decide where to go. So I scoured the streets, read lots of reviews, and ate my way through the city (all in the name of research).
This list is divided into categories for easy reading, but it is important to keep in mind that some restaurants could fall into two categories. For instance, many of the mid-range choices as well as Asian restaurants offer exciting vegetarian or vegan options. Use this guide to discover some of the best restaurants in San Cristobal de las Casas, the cultural hub of Chiapas.
Best Mid Range San Cristobal Restaurants
I've started this list with the best mid-range restaurants because it's simply where I had some of the best food in San Cristobal de las Casas. I also find that they typically offer an option to get more veggies in your diet than usual when you're traveling.
La Cocina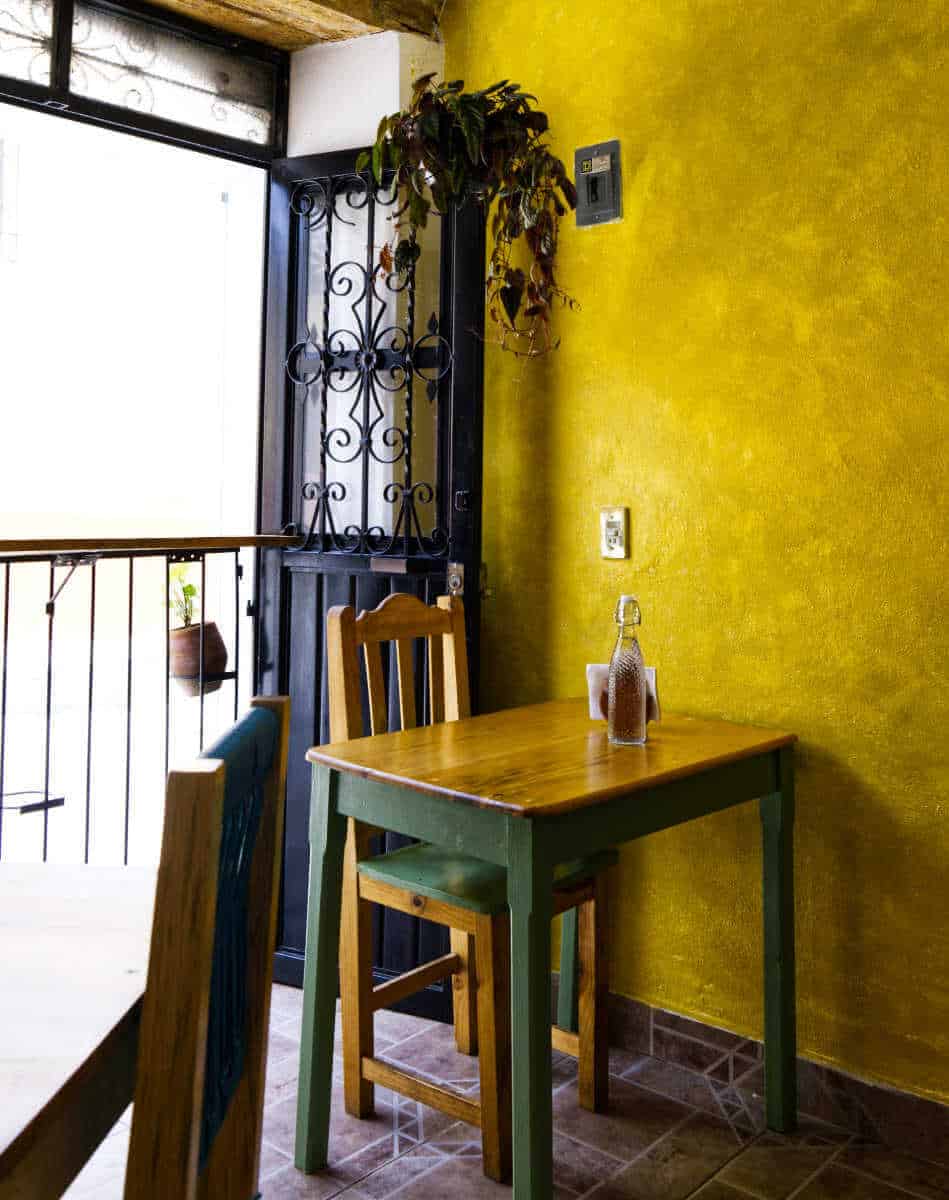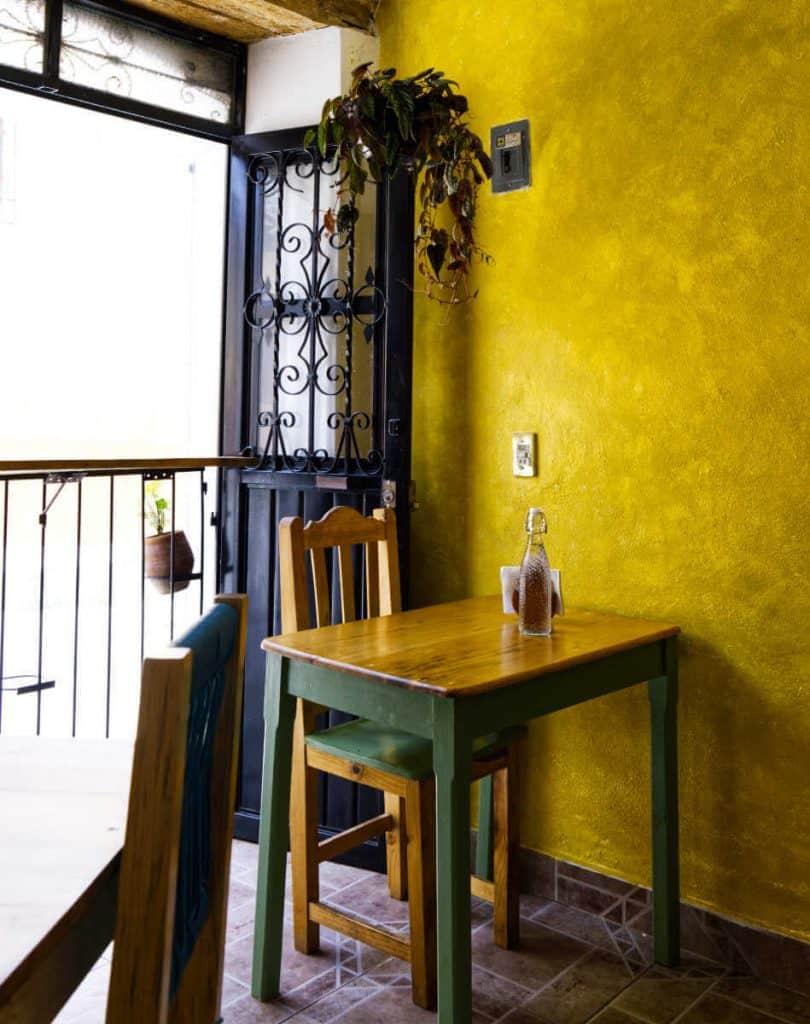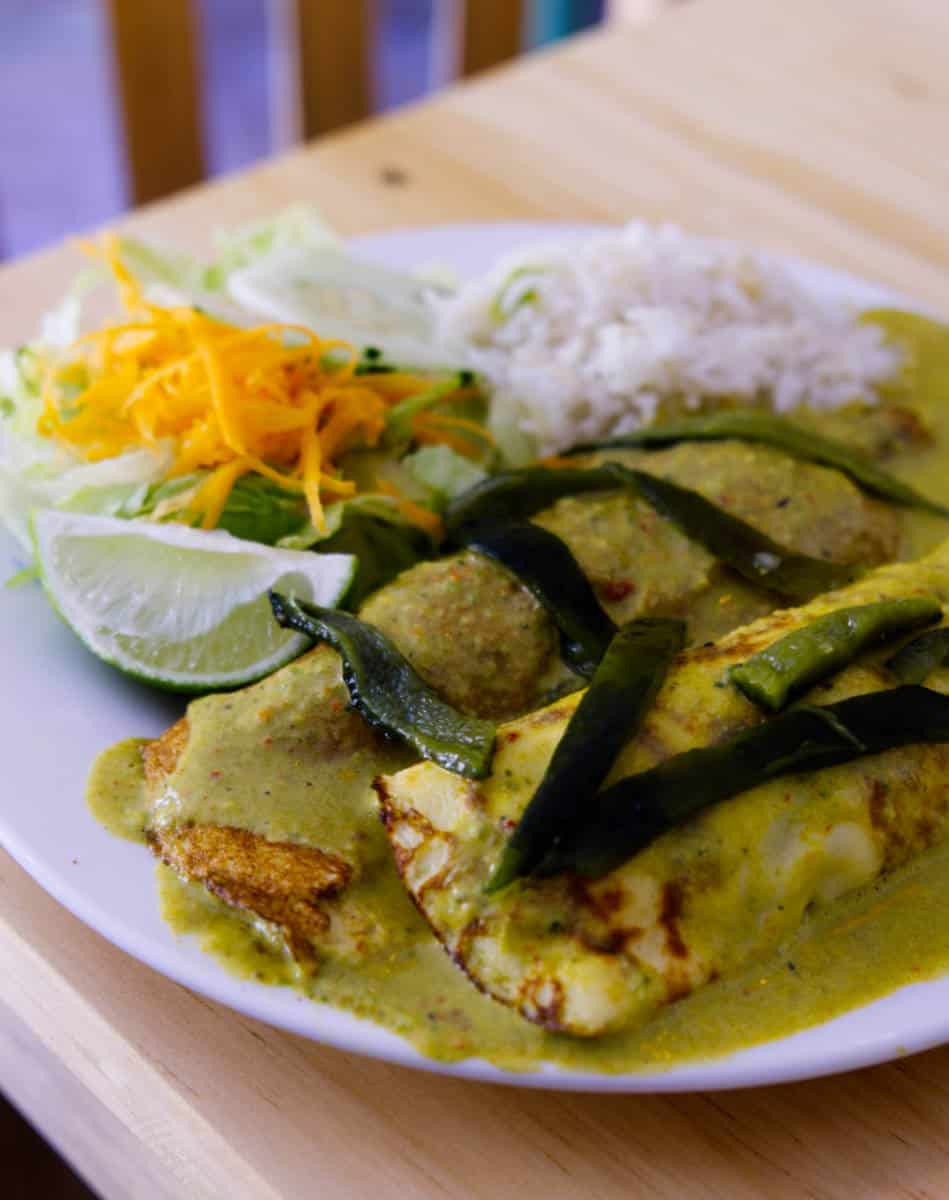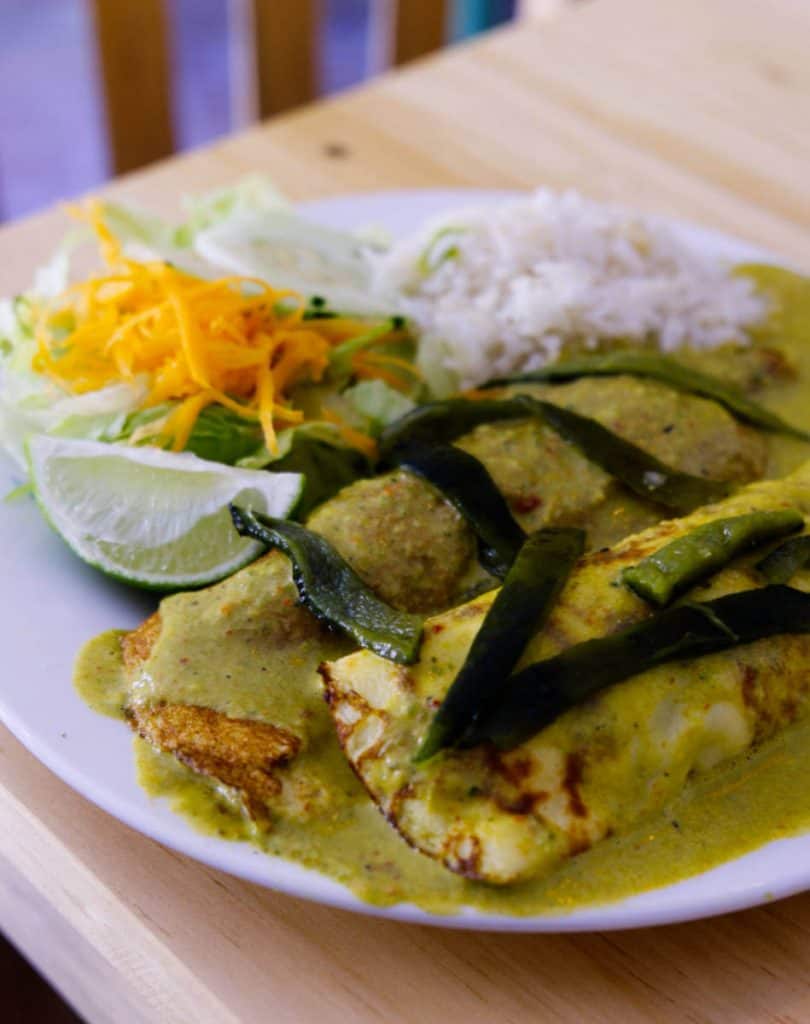 Tucked away slightly northeast of Centro, this San Cristobal restaurant is a true gem. My friend and I were greeted by the young female owner while randomly passing by one afternoon. She told us about the menu del dia which includes soup, an entree with a small salad, and fruit water for a great price. And believe me when I tell you, this is where I had the best meal in San Cristobal. It took everything in me not to eat here every. damn. day. But I knew I had more research to do.
The meal started with a creamy vegetarian squash soup followed by a plate of crepes stuffed with pulled chicken and smothered in an incredibly flavorful poblano sauce. The menu choices included a second entree option as well as the option to make the crepes vegetarian. The space was airy and bright, plus the owner was a delight to speak to.
Sarajevo Café Jardin
I'm not sure I've seen a more captivating restaurant in my life, and certainly not in this price range. As you walk through the entrance, tropical plants encompass the entire wall and spill into the cafe style seating on the left.
The clean lines of the bar and kitchen are tucked away on the right. And the grandmotherly portrait hanging on the back wall draws your attention past all of it to an inviting room with a fireplace and cozy blue velvet couch. The restaurant is vast yet intimate. Nearly every space appears to thoughtfully carve out individual hideaways customers to escape.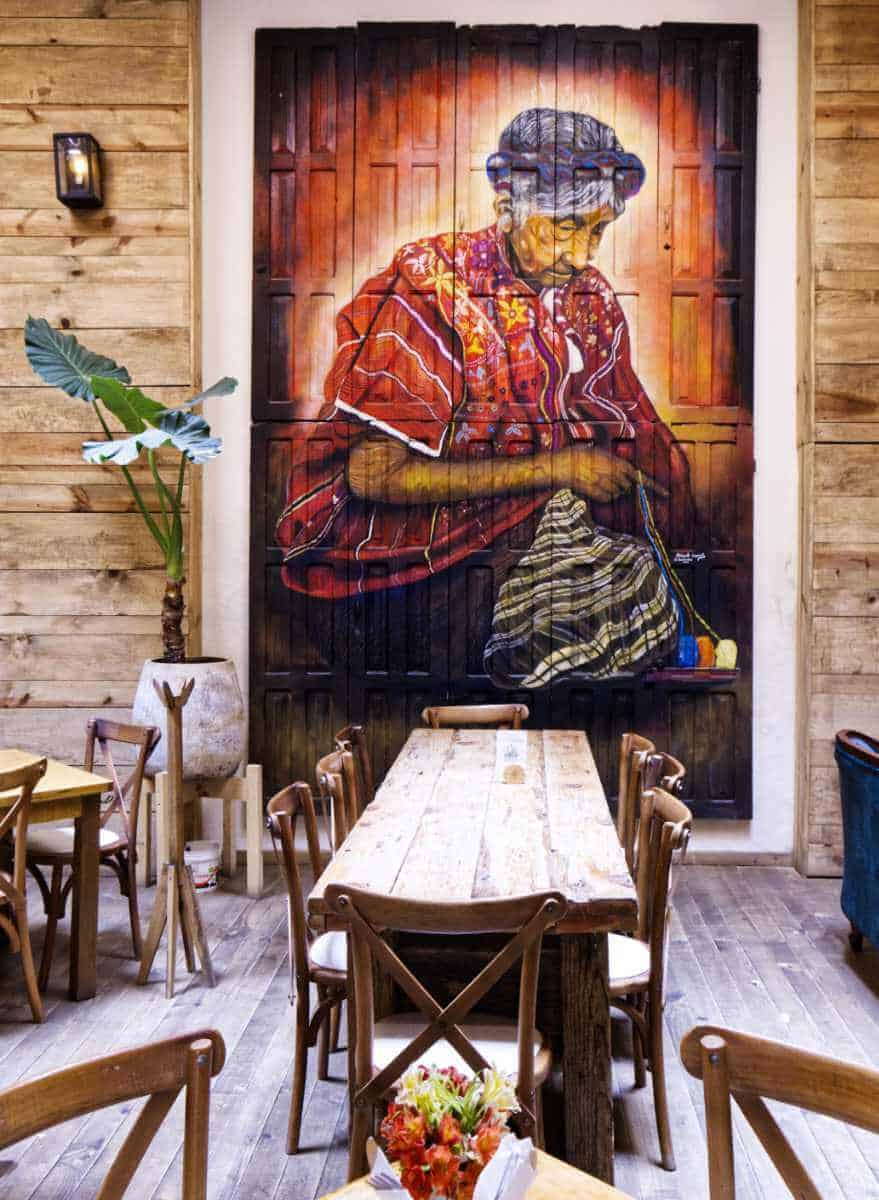 The breakfast menu (8 am-12 pm) includes traditional and Mexican breakfast items as well as several versions of avocado toast. On weekdays from 1-5 pm, they offer an economical menu del dia which includes soup, an entree, agua, plus coffee or tea for 95 pesos. The rest of the menu is a little less exciting, though some items stand out, such as mushroom ceviche, salmon tartar, and paella.
Isabel Comedor Libre
Location: Francisco I. Madero 105, Barrio de Guadalupe
Established by two friends with a culinary background, the menu at Isabel Comedor Libre is eclectic while at the same time maintaining its Mexican roots. They use local ingredients to prepare plates of food that are layered in flavor.
Reviews rave about the breakfast burrito. Several people state it is unlike anything they've ever had before. Seeing as it was lunchtime, I ordered Chitom, a BBQ pork rib sandwich. It was extremely satisfying alongside a small bowl of coleslaw and some of the best french fries I've had in Mexico. The server spoke perfect English for those whose Spanish isn't as fluent as they'd like.
Cocoliche
The eclectic decorations create a fun atmosphere in this popular San Cristobal restaurant. The menu includes several salads, paninis served with a small side salad, and pasta dishes. It's a solid option if you aren't looking for traditional food. However, I almost excluded Cocoliche from this list.
My panini was lacking in flavor. It greatly improved by adding a bit of the chili oil they serve with bread to every table as a starter. I believe where they shine is in their pasta dishes as that is what everyone was ordering. And to be fair, the sandwich was good, just not rave worthy. There is a fireplace as well which makes for cozy evening dinners when it's cold.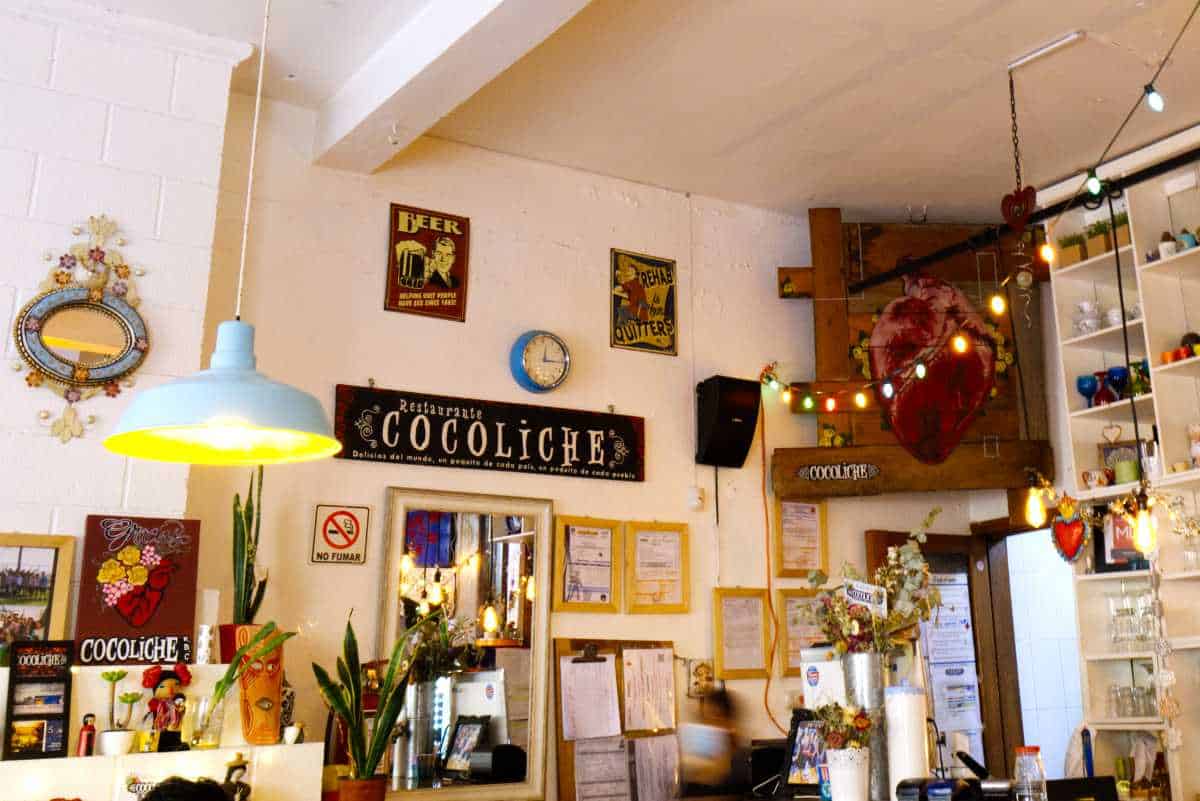 Bonus Restaurant: I wanted to eat at La Casa de Las Lolas whose menu boasts artisanal bread and salads. But after I discovered this restaurant, I never found myself on the southern edge of town looking for food.
However, I did pop my head in one day to check out the menu. While they don't offer a menu del dia, all eight toasted sandwiches come with your choice of salad or french fries for a really inexpensive price. The breakfast menu and regional specialties are also a great value.
Best High End Restaurants in San Cristobal
Peruano Cevicheria at Esquina San Agustin
La Esquina San Agustin is a modern food hall that encompasses a variety of restaurants as well as a cafe, bakery, and shops. It's a beautiful space with an atmosphere that is modern and chic, yet subtle. I was torn between eating sushi at the Japanese restaurant or ordering some sort of Peruvian ceviche. Though I love sushi, I was quite pleased with my choice.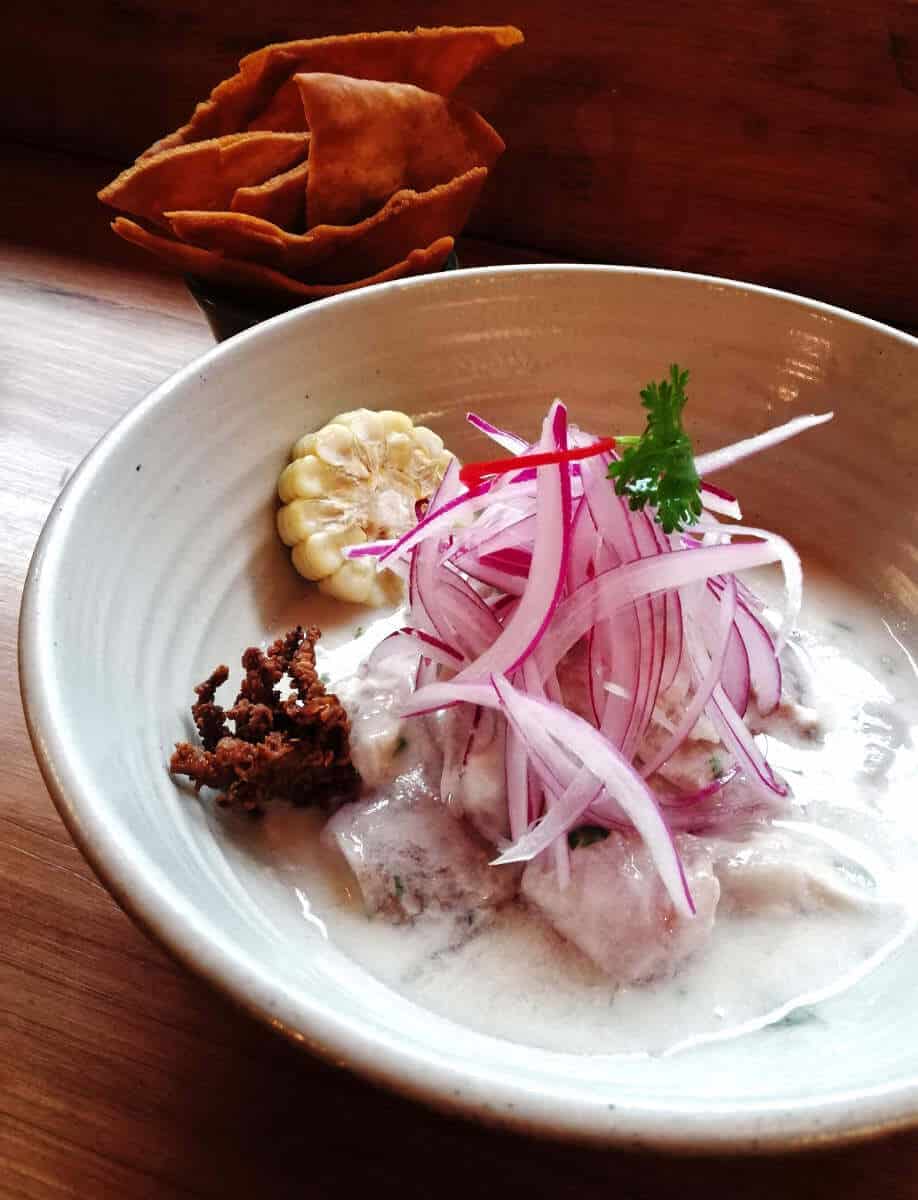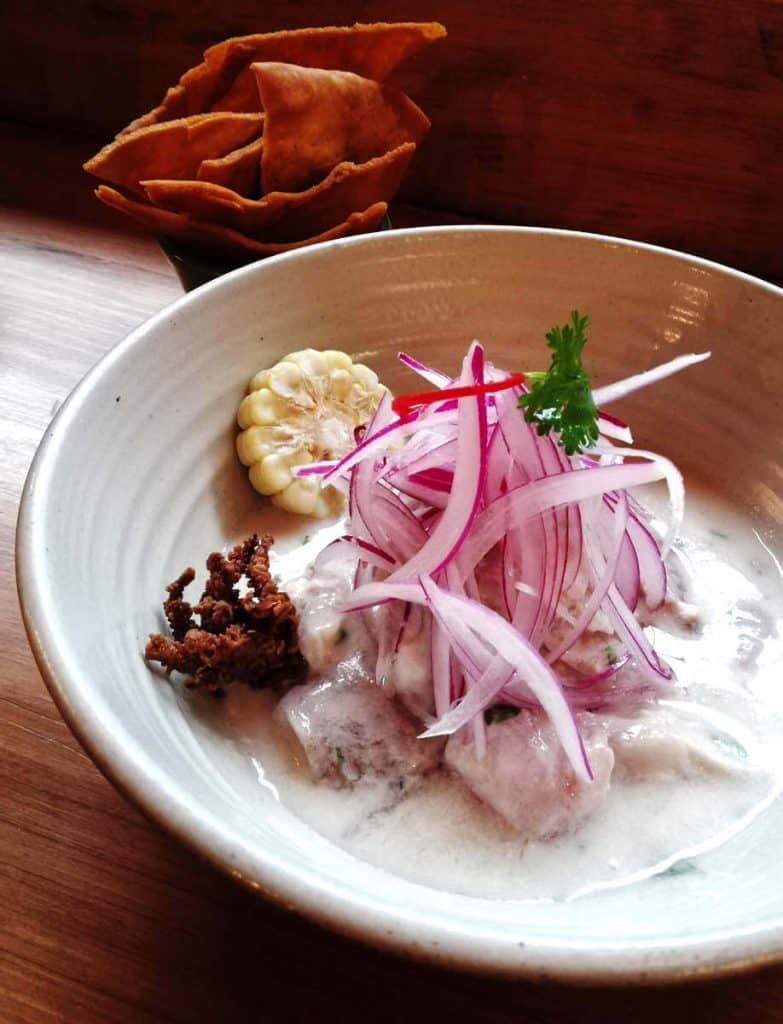 At Peruano, I ordered the Ceviche Carretillero, a seasonal white fish in a leche de tigre sauce. The acidity was in perfect harmony with the sweetness of the milky liquid. The elegant plating included a rather small but perfectly crispy fried squid. It was served with thick fried tortilla chips that I found more similar to pita bread. Located on the upper level, the long balcony is the perfect place to take in the view and people watch.
Restaurante Lum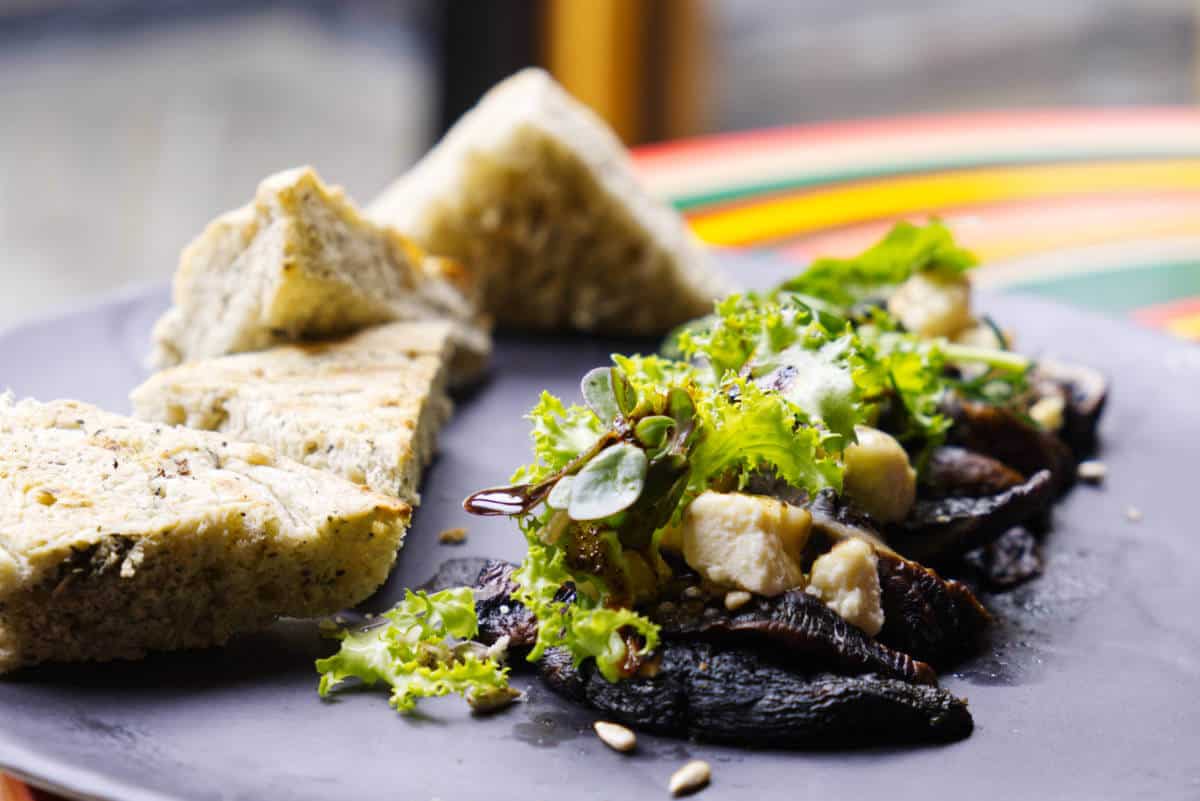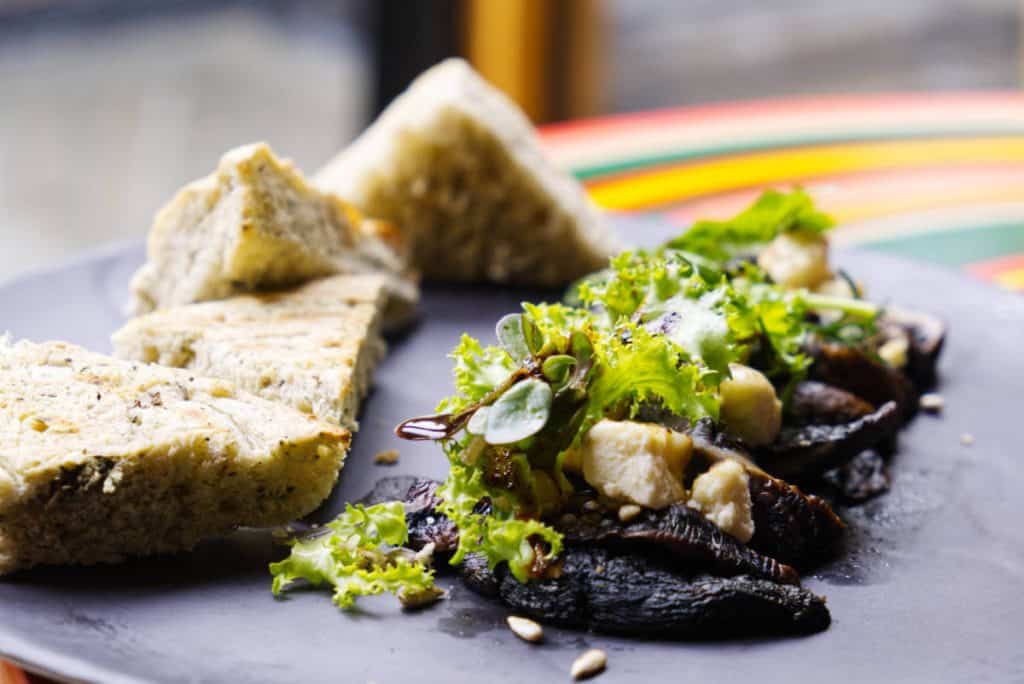 As part of Hotel BO, San Cristobal's most chic hotel, Lum Restaurant embodies the same vibe. Large wooden doors twist open to the patio which is surrounded by a shallow water pool that flows towards the outside garden.
The dining room is an intimate space to enjoy a meal, while the bar and lounge area provides a cozy yet modern atmosphere. The menu is creative. The platings are beautiful. It is the type of menu where I'm more satisfied ordering an array of appetizers as an entree. And so that's just what I did.
El Secreto
I discovered El Secreto when I wandered into their beautiful hotel courtyard next door. I was promptly escorted to the restaurant where I enjoyed an appetizer of duck confit tostadas accompanied by a friendly conversation with the bartender.
Reviews rave about the creative dishes and accommodating staff. If you're looking to have a nice evening out or you crave a change of pace from Mexican food, El Secreto may be your spot.
Bonus Restaurant: I discovered Mesa Madre on my last day in San Cristobal and I was fully prepared to drop my loosely designed dinner plans to eat here instead, but sadly they are closed on Mondays. The preparations at this seafood focused restaurant look particularly unique. And if you think seafood in the mountains sounds unappealing, you may be surprised to learn that the Chiapas coast is only three hours away.
Cheap Eats in San Cristobal de las Casas
Economical food in Mexico can be so much more than tacos! And the budget friendly restaurants in San Cristobal deliver a variety of cheap eats. I even found that the first two had some vegetarian options.
Dely Quesadilla
You'll know you've arrived when you spot a woman cooking freshly pressed tortillas on the hot comal just inside the doorway. Take a seat at one of the few tables inside and watch her fill the tortilla with your chosen ingredients. She will then add a little quesillo and place it back on the comal.
The result is a toasty quesadilla with a hint of salty cheese that helps to pull it all together while still allowing the other flavors to burst through. This unassuming restaurant is good for a quick, inexpensive, and yet incredibly tasty meal in San Cristobal. I highly recommend the chorizo-mushroom combination.
Las Tortas
This is another quick, economical restaurant in San Cristobal that is also incredibly satisfying. In the style of Mexico City tortas, each sandwich starts with a base of fresh bread with mayonnaise, pureed beans, lettuce, tomato, avocado, grilled onions, and cheese.
The fun, colorful menu includes tortas named after various Mexican figures and is sectioned based on the type of filling – vegetarian, beef, chicken, pork, or pre-created combinations. All of the tortas come in two sizes. Chow down on a full size if you're hungry, grab a chica torta for a quick snack, or use that size to try two different tortas.
El Mesón del Taco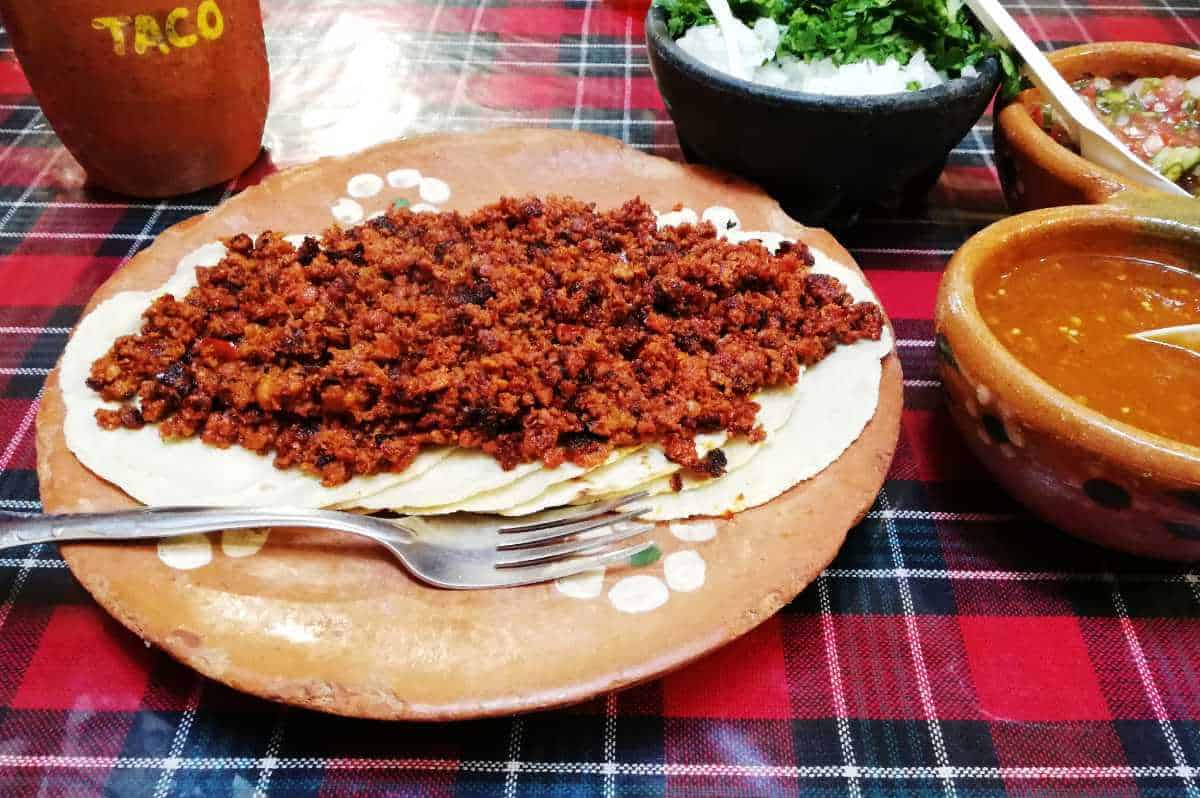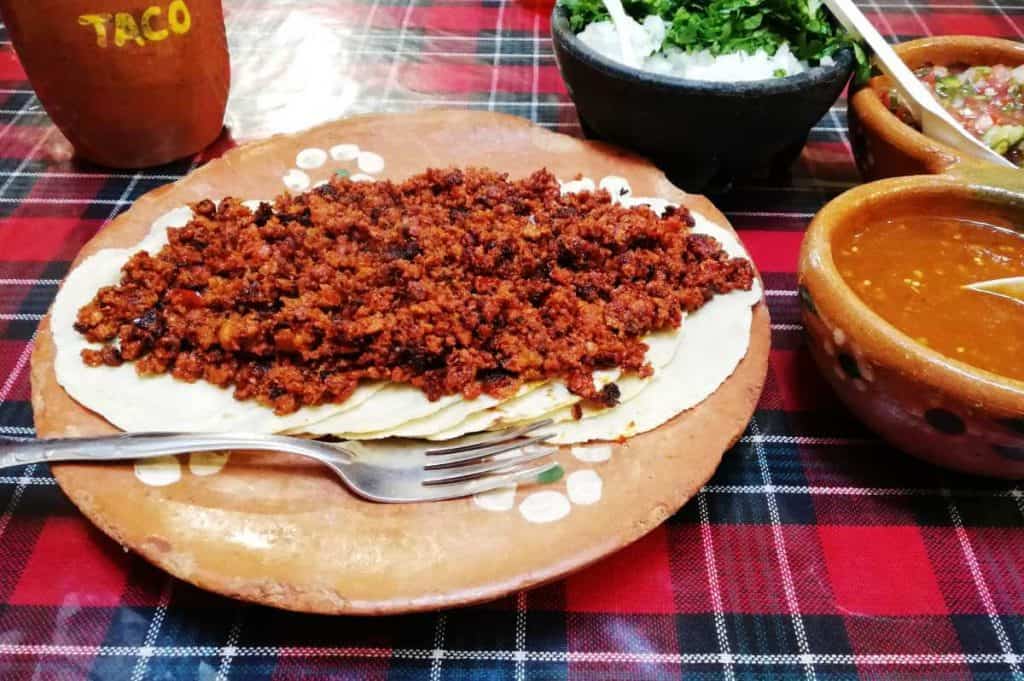 In a search of the best tacos in San Cristobal (after a few disappointing ones), I stumbled upon El Mesón del Taco located on the southern edge of town. Reviews led me to believe it was visited by a lot of locals. While I arrived too early to determine if that is true, I was encouraged by the slowly rotating spit of seasoned pork with the typical pineapple speared on top.
As my friend and I sat down, I noticed two women pressing tortillas by hand, which further induced confidence in our choice. Service was prompt and my friend was excited to order a glass of horchata, which proved elusive in other San Cristobal restaurants.
My only complaint is that the only taco available to order as a single is tacos al pastor. Otherwise, the option is a plate of six of just one type of taco. Luckily my friend is easygoing. We each ordered a single pastor taco and shared a plate of chorizo tacos. The salsas were spicy and delicious.
El Taco Veloz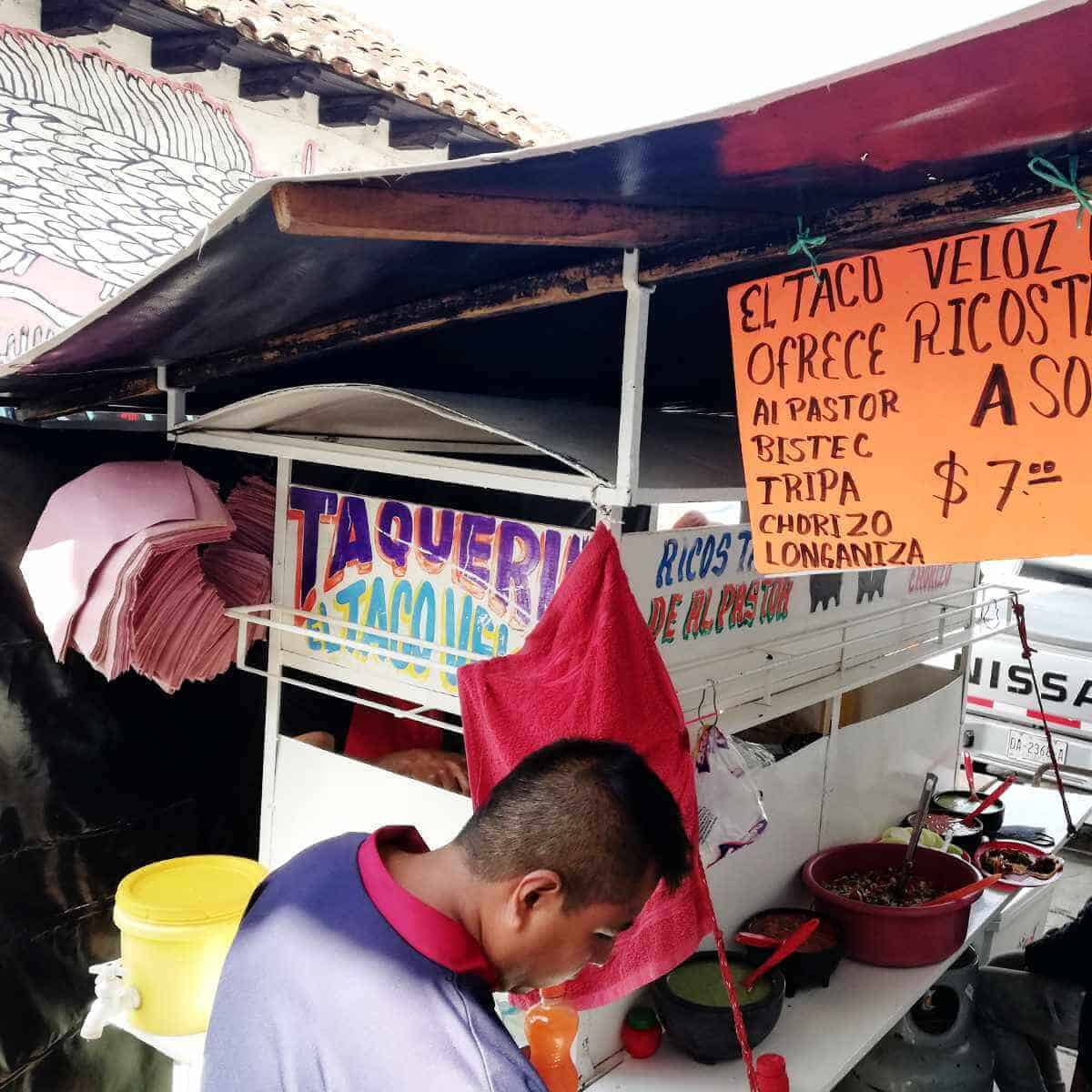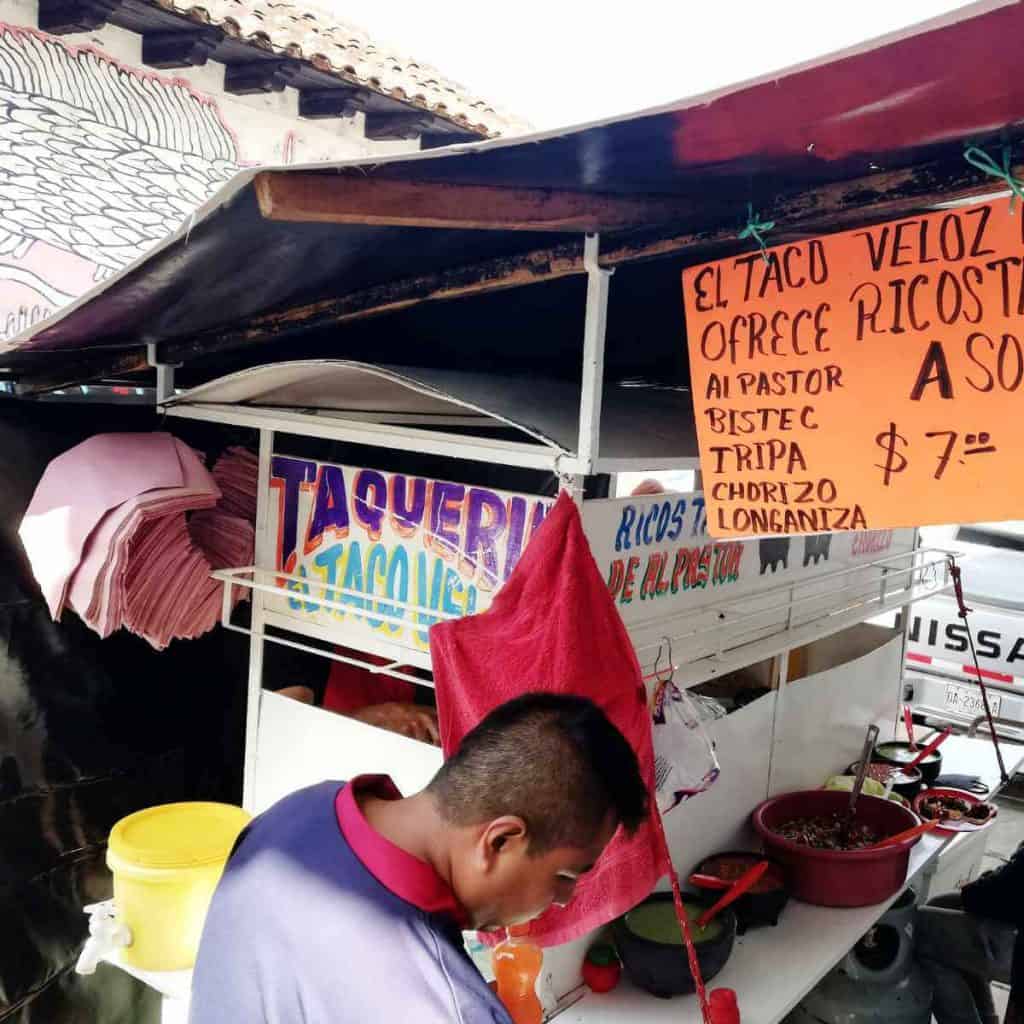 The rich aromas emanating from this taco cart were enough for my friend and me to stop and take the time for a quick bite to eat on the way to our destination. And that's the beauty of a taco cart in Mexico – cheap, fast, and convenient. They serve tacos with your choice of al pastor, bistec, tripa, chorizo, or longaniza for seven pesos each.
While it's not on Google maps, you'll find this cart behind the Santo Domingo Market, at the corner of 20 de Noviembre and Calle Escuadron 201. They are there every day except Sundays.
Cocina Popular Alebrijes
This is a casual local restaurant located near the Mercado Jose Castillo. When I arrived shortly after opening, the kitchen was bustling with at least six women at a time, each focused on preparing various components of the menu.
Not one to order a traditional breakfast of eggs, I decided on the chilaquiles a Mexicana, a highlight of the reviews. As more and more people filled the seemingly never-ending restaurant, I realized orders were coming from all parts of the long and varied menu. A menu of that size is no small feat for a restaurant to execute. But they do. It felt as though everyone had their place in this well-run kitchen.
Barbacoa Double Bonus: Upon scouring google maps, I was excited to see barbacoa restaurants in San Cristobal. In fact, my first meal was at Barbacoa Yessi which offers both sheep (borrego) and beef (res) barbacoa. I also tried Barbacoa La'urel which only has beef barbacoa. However, their menu also includes the traditional cochito (roasted pork) of Chiapa de Corzo.
Both were good but neither made the cut for the best cheap food in San Cristobal. I simply had better barbacoa near Oaxaca City. However, I was later told the best barbacoa in San Cristobal is at the mercado on Saturday mornings. You'll have to try it and let me know. Don't forget to order a side of consume to enjoy as well.
Vegetarian and Vegan Restaurants in San Cristobal
There is no shortage of vegetarian and vegan restaurants in San Cristobal de las Casas. A couple of places offer vegan tacos while others stand out with an amazing vegan menu del dia.
Cocina Consciente
This is a gluten-free, soy-free, plant-based kitchen with a menu del dia that is full of flavor. Each month they create a weekly menu with the same daily options for each day of the week. Small details may change such as the ingredients on top of the mushroom tostadas pictured above. It's a unique concept that helps to provide some consistency in knowing what is available to order.
While it's on the expensive side at 150 pesos, it's evident that the food is prepared with nourishment in mind. Some say love, but I'm not going to get that hippie on you. What I will say is that this was one of the best vegan meals I've ever had.
In addition, they offer a small menu of other options which includes a highly rated veggie burger of cauliflower and garbanzo beans topped with coconut bacon. Multiple reviews state it's the best veggie burger they've ever tasted. Whether you're vegan or just looking for healthy food to eat in San Cristobal, I highly recommend putting this restaurant on your list.
Falafel 100% Vegetariano
This small restaurant features falafel, hummus, lafa, and homemade pita bread in different combinations to create five menu options. The most popular is the falafel pita with hummus which layers the perfect proportion of hummus to bright green falafel and crisp veggies in a rustic warmed pita.
There's not much more to say. It was some of the best I've had. If you like falafel, you won't be disappointed. The prices are quite reasonable, starting at 75 pesos.
Bonus Restaurant: Another vegan restaurant in San Cristobal that I wish I would have been able to try is Loving Hut. They offer vegan sushi, rice bowls, and other menu items with a clear indication of which items are gluten-free.
Asian Restaurants in San Cristobal de las Casas
It's quite surprising how many Asian restaurants are in San Cristobal. I counted at least three Korean restaurants, several Thai, and at least two Indian restaurants. For reviews of the latter, sorry but Indian is not my favorite food. If you try one, please let me know how they are. Both Cardamomo and Masala Raff have great reviews!
Saporo & Tokio San Cristobal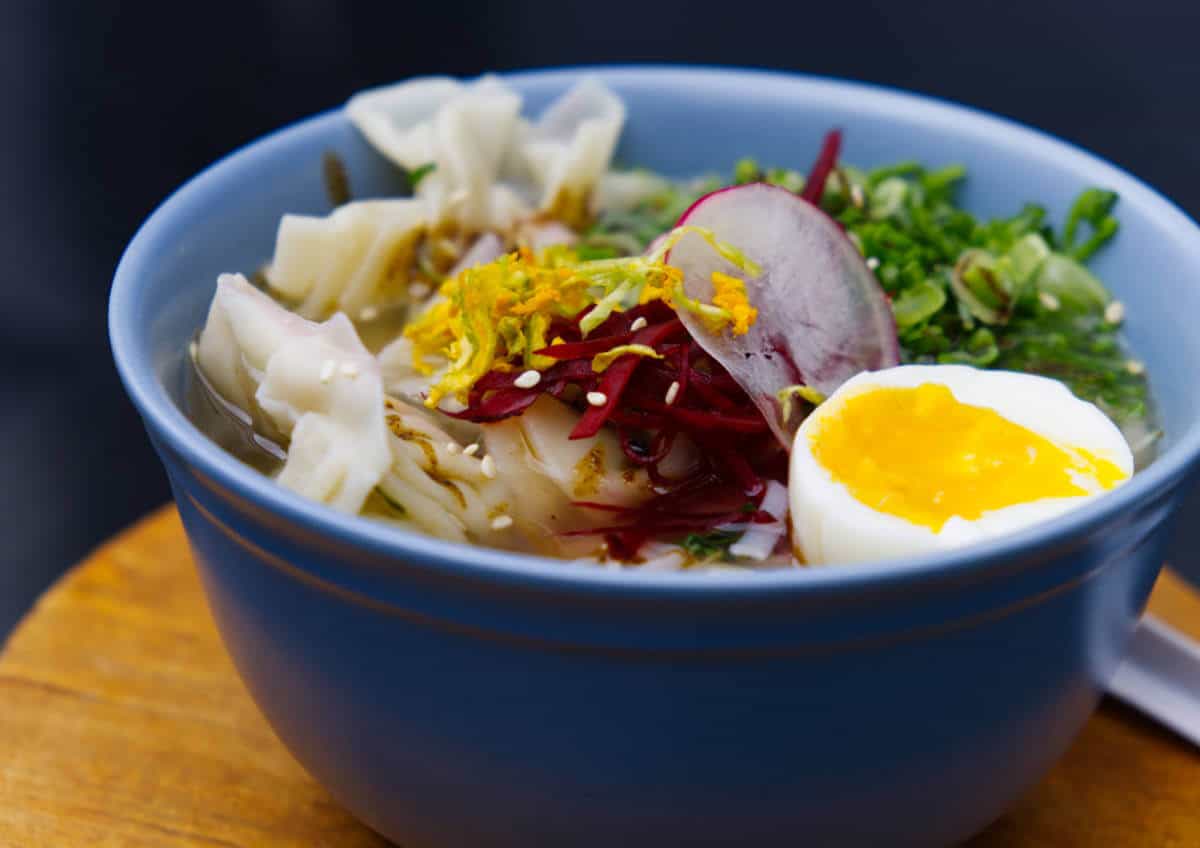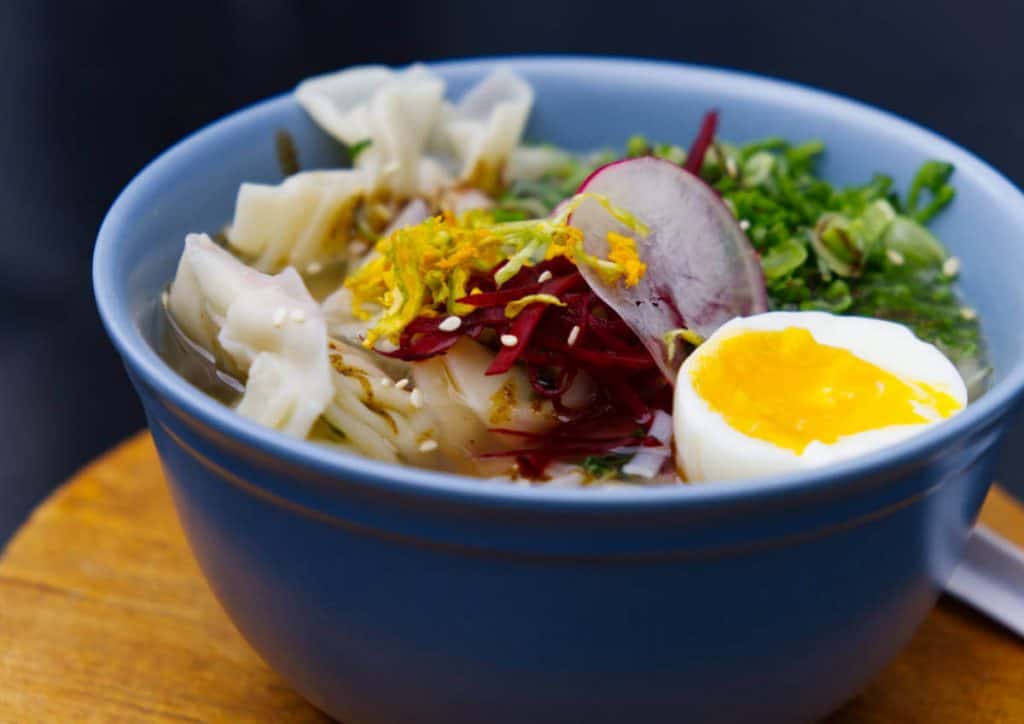 If you like ramen, this is a good choice as they have several variations on the menu. Since I actually like dumplings more than ramen, I ordered the option with shrimp dumplings. The broth was flavorful, the dumplings were delicate, and the egg on top was cooked to perfection. I would say the noodles were fairly bland, but that's my usual feeling about ramen.
The restaurant is part of a food hall that felt a bit empty with only two other restaurants inside. I arrived just before typical dinner time and the only other patrons were also eating at the Japanese restaurant. I thoroughly enjoyed my meal here and would highly recommend it if you're looking for ramen in San Cristobal.
Casa de Ahn
This is the most highly-rated Korean restaurant in San Cristobal. I didn't get the chance to eat here, but my friend did and reported back to me.
The first piece of advice she gave: Arrive when they open. The restaurant has only a few tables which fill quickly. Second, plan on being there for a while. Bring a book to read or something to work on. Not only may you need to wait for a table, but it seems as though each dish is made to order, one by one. My friend got one of the last tables available for lunch and spent an hour and a half there in total.
She ordered #3, one of several rice dishes on the menu, and said the flavors were incredible. The menu indicates which dishes are spicy as well as the house specialties. There are also several vegetarian options and unique teas to drink.
Triple Restaurant Bonus: This has to be my favorite type of cuisine, so I'm not certain why I didn't eat at more Asian restaurants in San Cristobal. But I certainly scoped them out. Two places I wanted to try were Teddy's Comida Coreana and Mikura Sushi. Another menu that caught my eye was the create your own Asian rice bowls at Tok Tok Wok.
Best Bakeries in San Cristobal de las Casas
Kukulpan Bakery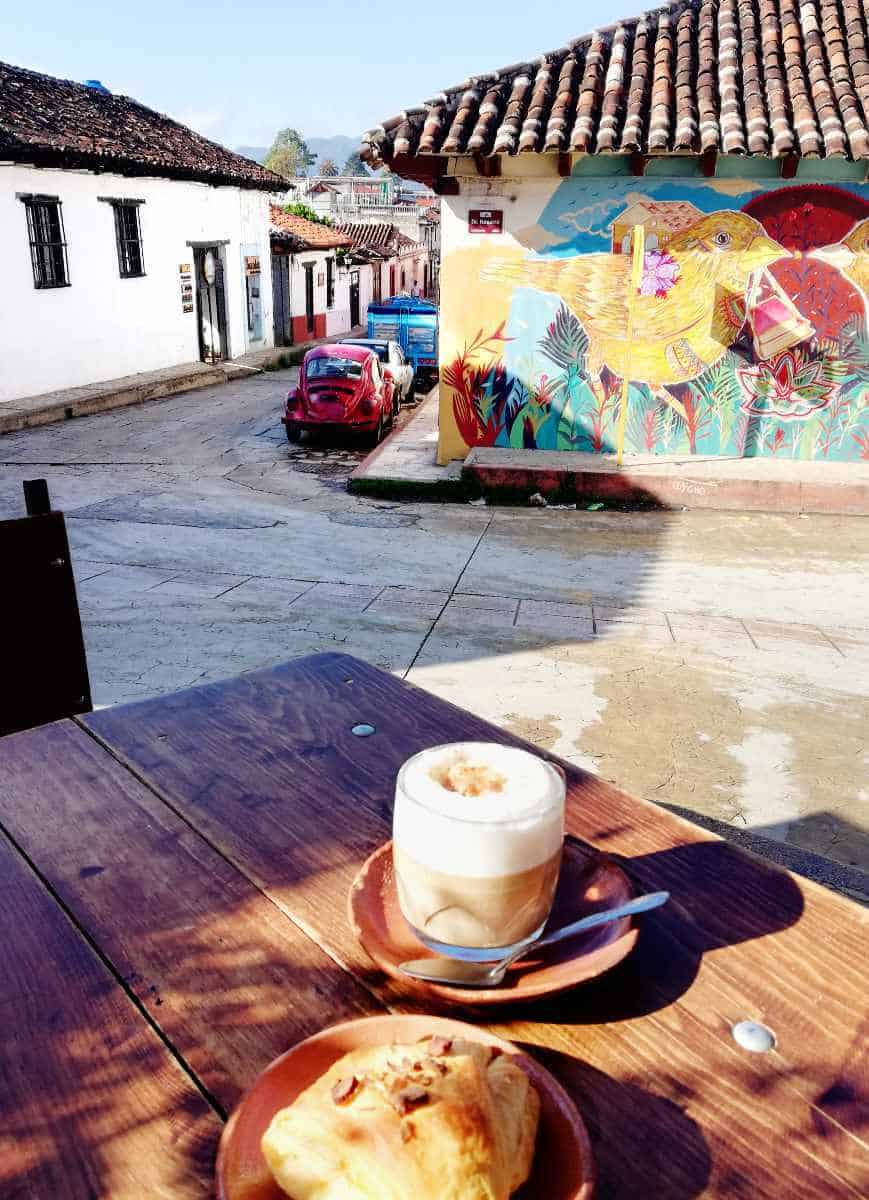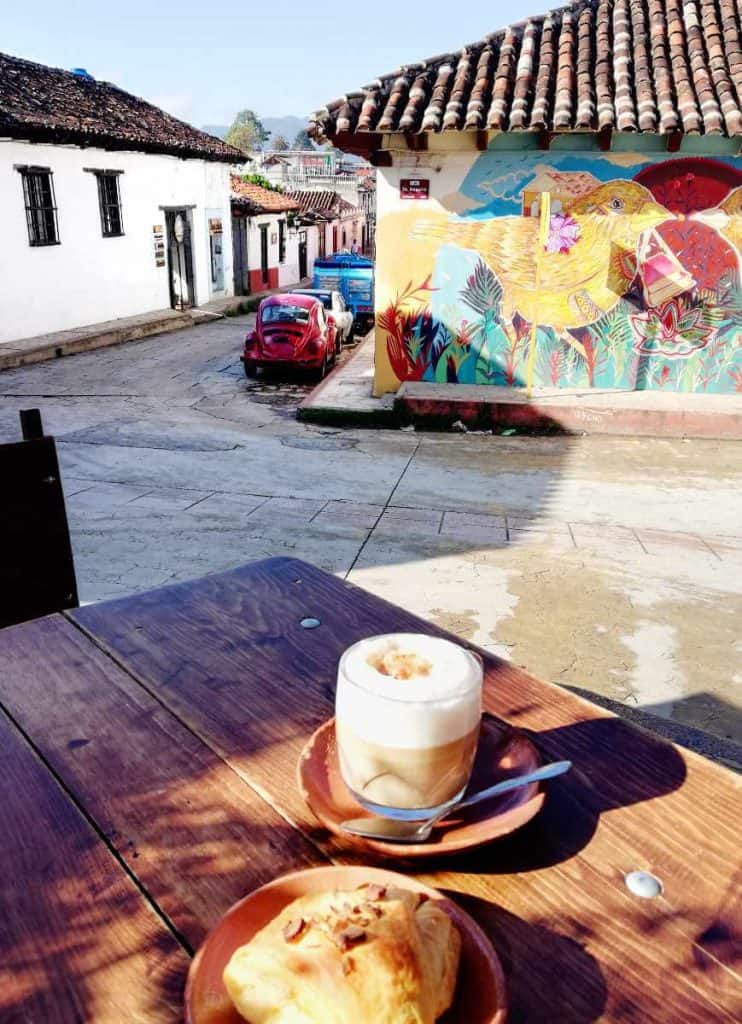 This French cafe has perhaps one of the cutest locations at the top of the hill near the start of the Cerillo neighborhood. The trained baristas create well-balanced coffee drinks and espresso while the bakery items expand beyond the usual panaderia fare.
I ordered a croissant of goat cheese and caramelized onion with almonds to enjoy with a cappuccino at one of their shaded patio tables. Their kitchen also produces a few breakfast plates, of which I was told the chilaquiles are delicous.
Panadería Artesanal Roots
With no tables inside, this is a great bakery to grab something on the go. The baked goods include your typical Mexican bakery items, some not so typical (I picked up a delicious bread stuffed with mushrooms), and also slices of pizza. There is also a place to buy fruits and vegetables on either side to balance out your meal.
Los Sueños Bakery
This bakery only has a few options with limited morning hours each day. But I'm including it because of its uniqueness. Los Sueños is a bakery school for young kids to learn the ins and outs of baking and running a cafe.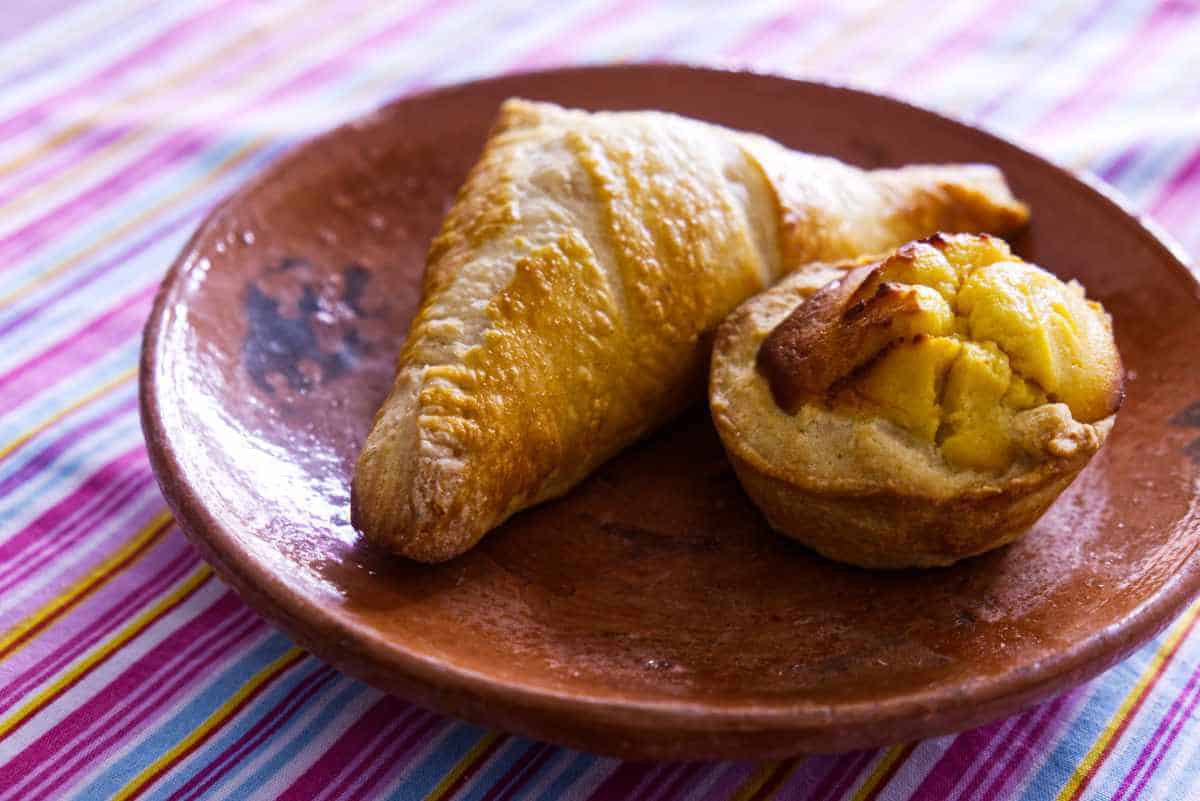 I was attended by a confident young girl with a warm spirit and contagious smile. She did everything from preparing my cup of tea to take payment. She also helped me decipher each of the five bakery items. The pastries are traditional and the seating is basic, but this sort of endeavor deserves more of our attention. Try the cubiletes de queso. They melt in your mouth!
I hope this list helps your narrow down the overwhelming variety of restaurants. San Cristobal de las Casas is a magical town with a lot to offer outdoor enthusiasts. Bonus that you can eat well too! If you discovered any other San Cristobal restaurant gems during your travels, be sure to let me know in the comments below.