Taxco Guerrero, Mexico | Ultimate Guide to This Captivating Pueblo Magico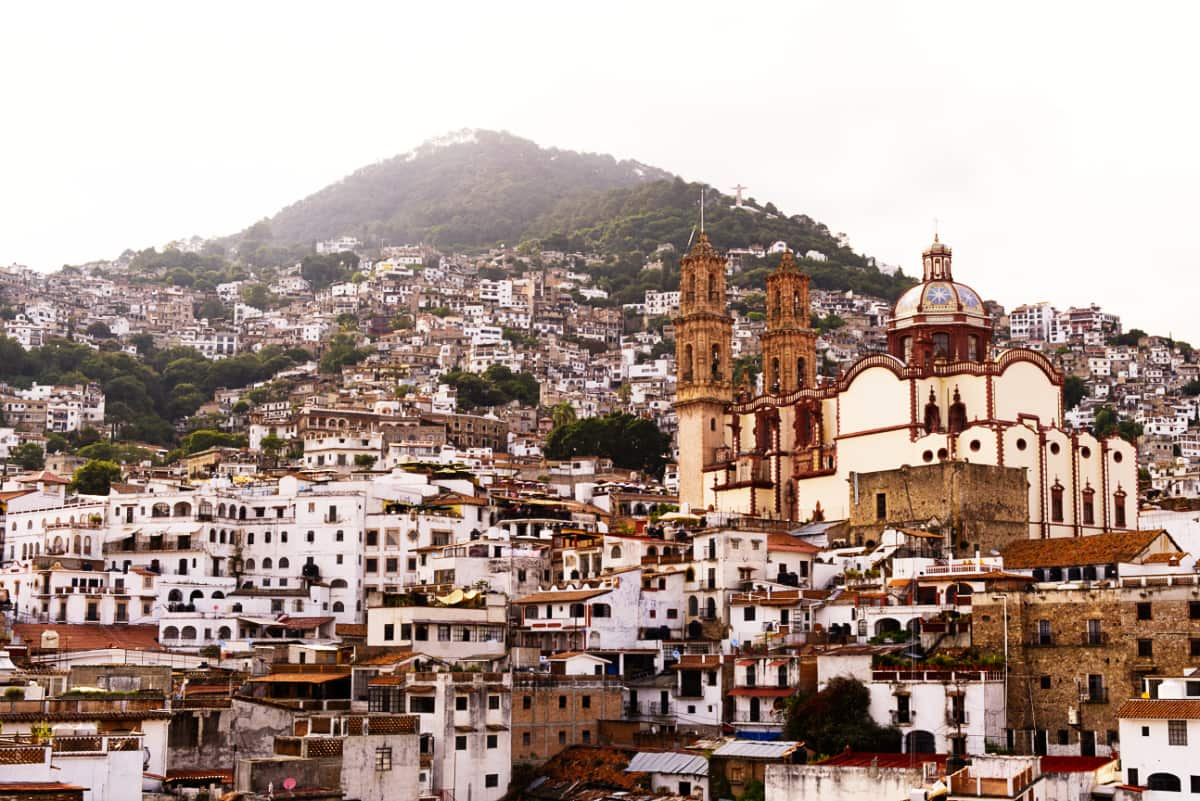 Located just two hours from Mexico City, the silver mining town of Taxco, Guerrero is one of the most beautiful pueblo magicos in Mexico.
The narrow streets of Taxco, Mexico wind through the hilly landscape with something to discover around every corner. The white houses are stacked on the mountainside as if they belong there.
The cobblestone streets are decorated with mosaics, marking the year each was paved. And charming white Volkswagen Beatles zip around as the official taxis, turning your street photos into a picturesque scene.
There are a ton of great things to do in Taxco, Mexico besides wandering the streets (though you'll want to do that too!) And the adventurous day trips expand the list so that you'll want to plan to spend at least a few days here.
Let's jump into this guide to visiting Taxco.
This article may contain affiliate links. This means if you click a link on my website and make a purchase, I earn a commission at no additional cost to you. For full information, please see my disclaimer here.
Visit Taxco, Guerrero
Let's start with five interesting facts about Taxco
The official name is Taxco de Alarcón in honor of writer Juan Ruiz de Alarcón, a native of Taxco.
The original indigenous community of Taxco was located about 6 miles south of the currently location. It's now known at Taxco el Viejo.
The modern town of Taxco was founded by Hernán Cortés in an area previously known as Tetelcingo because of the substantial amount of silver in the area.
Once a silver mining town exploited by the Spanish, today Taxco is known for fine silver artisans and colonial architecture.
The Holy Week in Taxco has gathered international fame for the long and elaborate processions.
Where is Taxco Mexico?
At nearly 6,000 feet above sea level, Taxco Mexico is located on the slopes of Atache Hill along the north-central edge of the state of Guerrero. It's 3 hours from Mexico City, about 90 minutes from Cuernavaca, and 4 hours from Acapulco.
Because of its proximity, some visitors choose to take a Taxco tour from Mexico City (this one includes a visit to the nearby cave system, which is stunning).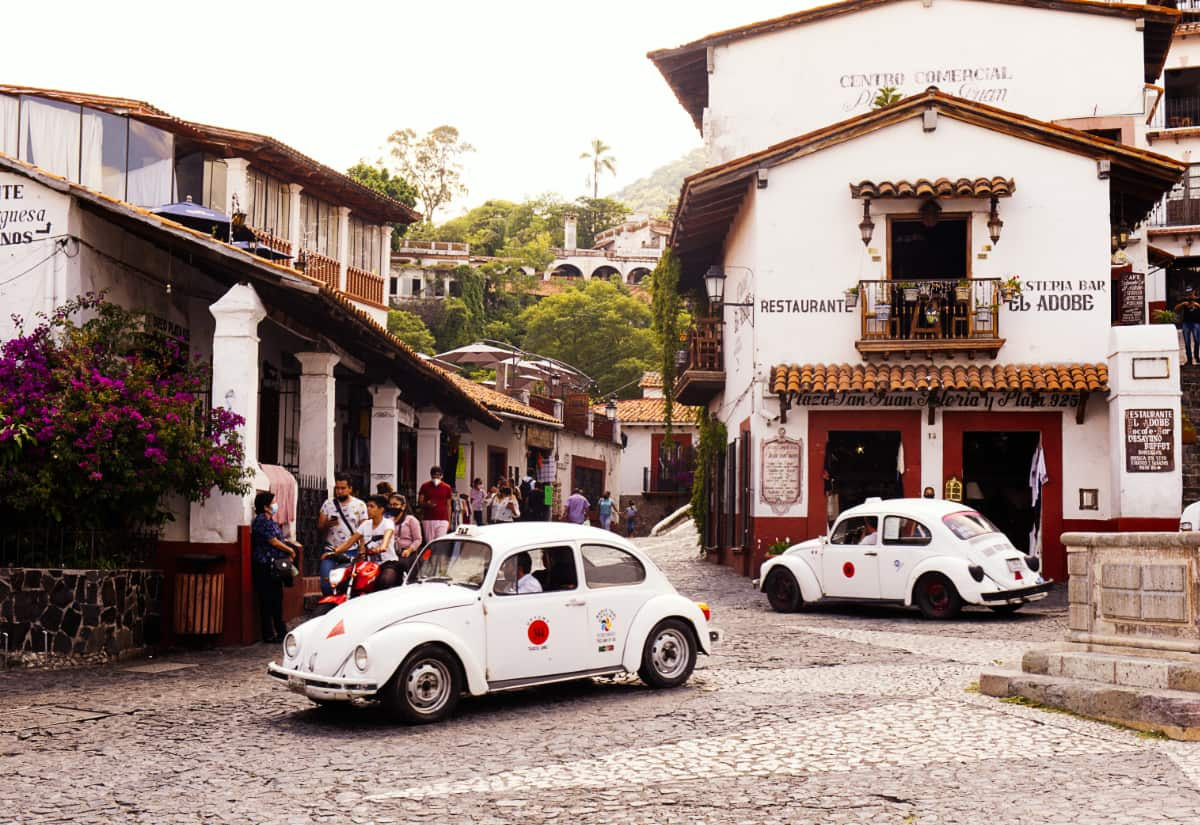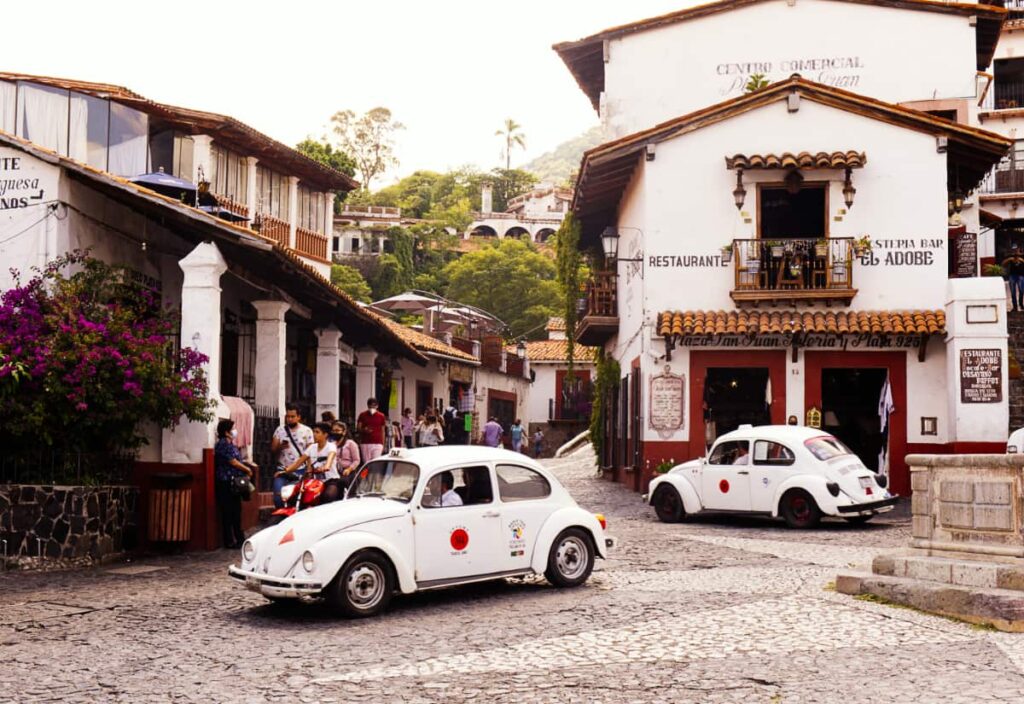 Taxco Weather
The climate in Taxco is relatively mild. During the dry season (October through May) the temperatures dip to the low 40s (6°C) while daytime highs hover around 77°F (25°C). The exception is in April and May when they can reach the mid-80s (30°C).
During the rainy season (June through September) the high temperatures are fairly similar while the lows stay closer to 60°F (16°C). Like most of Mexico, the rainy season usually results in brief afternoon thunderstorms.
Taxco Tours From Mexico City
It's popular among tourists and locals to take a day trip to Taxco from Mexico City. And this is a good option if you're short on time. I've detailed a couple of highly rated tours below.
Cacahuamilpa Caves and Taxco Tour
This small group tour includes a visit to the incredible Cacahuamilpa Caves on the way to Taxco. You'll have three hours at the caves and about five hours in the pueblo magico of Taxco before returning to Mexico City.
Magical Towns of Taxco and Cuernavaca
This tour from Mexico City makes a quick stop in Cuernavaca since it's pretty much on the way. You'll then have free time to explore Taxco before returning to Mexico City.
Where to Stay in Taxco: Hotels and Hostels
Quick View – Where to Stay
Hotel de Cantera Y Plata ($$$) | Luxury boutique hotel with panoramic views, a swimming pool, and jacuzzi
Hotel Agua Escondida ($$) | A centrally located hotel with a swimming pool and rooftop views.
Hotel Los Arcos ($$) | Classic hotel in Taxco with an enchanting courtyard and modern rooms.
Amate Hostal ($) | One of only two hostels in Taxco (shared and private rooms).
Hotels in Taxco
When choosing the right hotel in Taxco, the location (and by that, I mean hilly streets) is important to consider. It's best to stay close to the center if you plan to walk around, which I highly recommend.
My top two hotels in Taxco are both centrally located which is ideal for exploring this charming pueblo magico.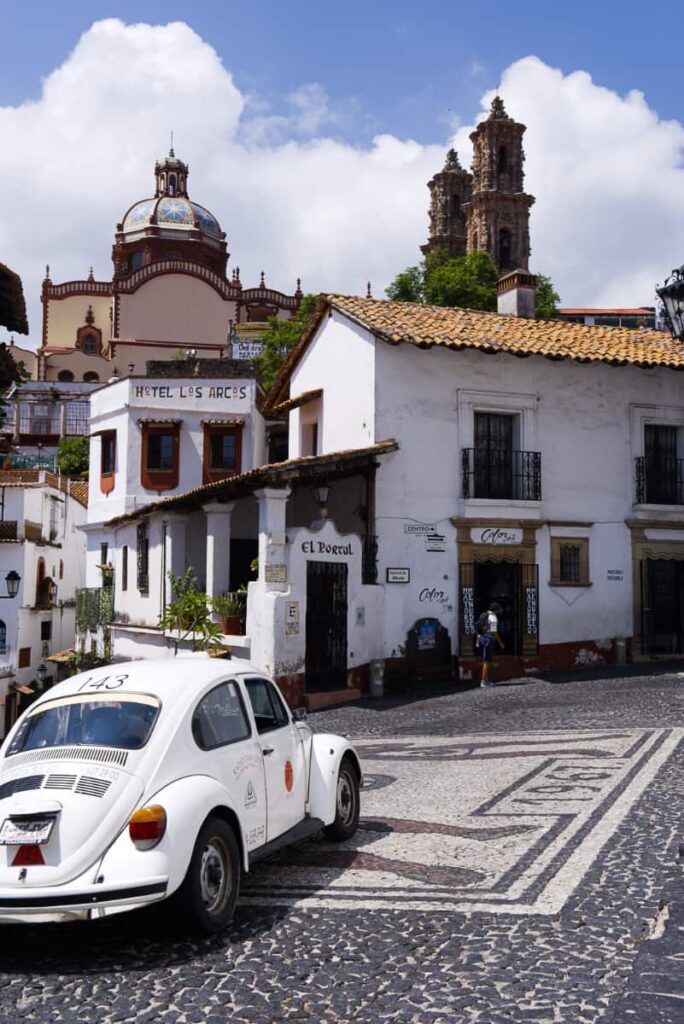 Hotel Los Arcos
If you prefer an enchanting atmosphere in a central location, book a stay at Hotel Los Arcos. The inviting courtyard is framed with archways and shaded by a majestic tree.
This is a classic place to stay in Taxco. The spacious rooms are modern with traditional Mexican accents.
Hotel Agua Escondida
This centrally located hotel blends old architecture with modern touches, a refreshing swimming pool, and an onsite spa.
When you book a stay at Hotel Agua Escondida, you also have access to the rooftop with lovely views of the city and the main church, Santa Prisca de Taxco.
Hotel Boutique de Cantera y Plata
This luxury boutique hotel in Taxco is located about 10 minutes from the city. The tradeoff is panoramic views of Taxco and the surrounding mountains.
Several of the rooms feature a spa bath or jacuzzi and a balcony to take in the stunning views from your suite.
You should book a stay at Hotel Boutique de Cantera y Plata if you're looking for luxury away from the town.
Taxco Hostels
Since Taxco Mexico isn't exactly on the backpacker trail, there are only two hostels in Taxco. Luckily they're both centrally located.
Amate Hostal is a more traditional hostel with wooden bunks in the shared rooms and pleasant shower facilities. There are also basic private rooms that utilize the same shared bathrooms.
Hostal Casa Taxco is more like a shared house with mostly private rooms and one shared room. While it lacks a hostel vibe, the best part about this hostel is the rooftop balcony. Unfortunately, it's not available to book online.
15 Awesome Things to Do in Taxco Mexico
While this pueblo magico may have initially made its riches in the silver mining industry, today its charming atmosphere draws tourists to visit Taxco.
And for a town of this size, there are a lot of things to do in Taxco, especially once you consider adventurous trips outside of the city (see day trips).
1. Get Lost Among the Picturesque Streets of Taxco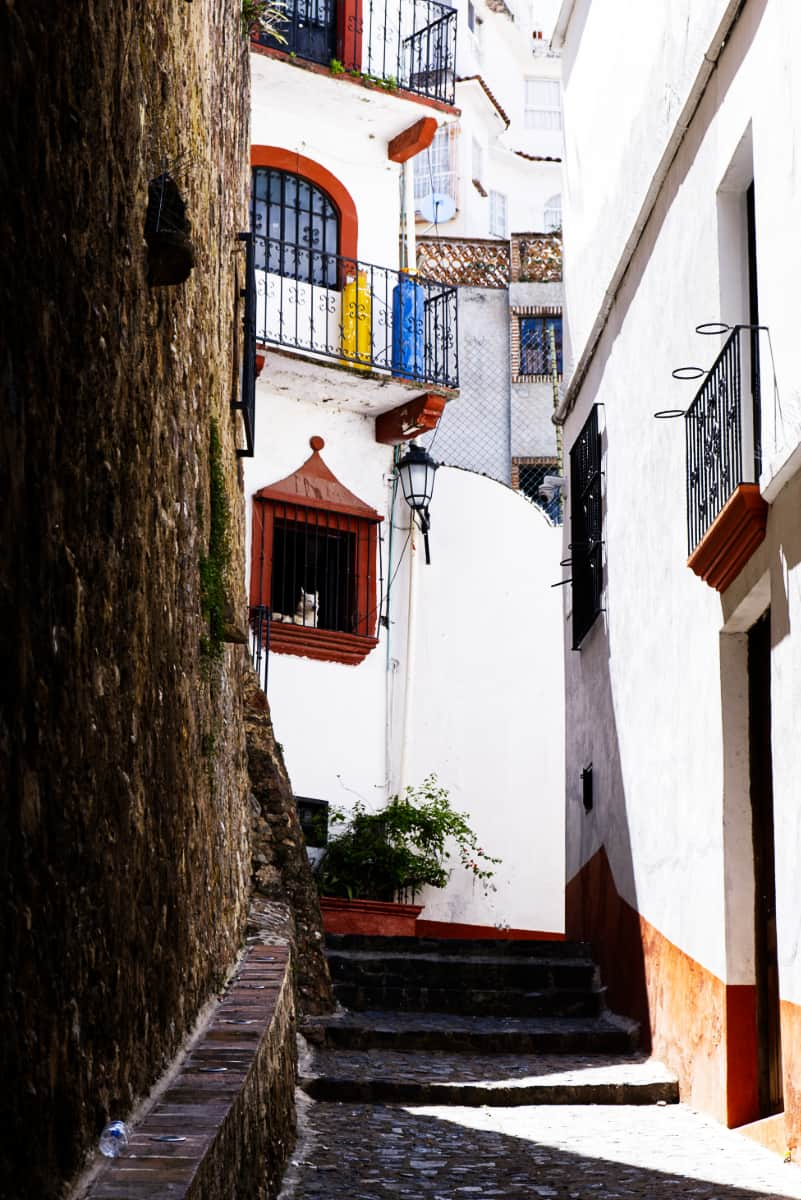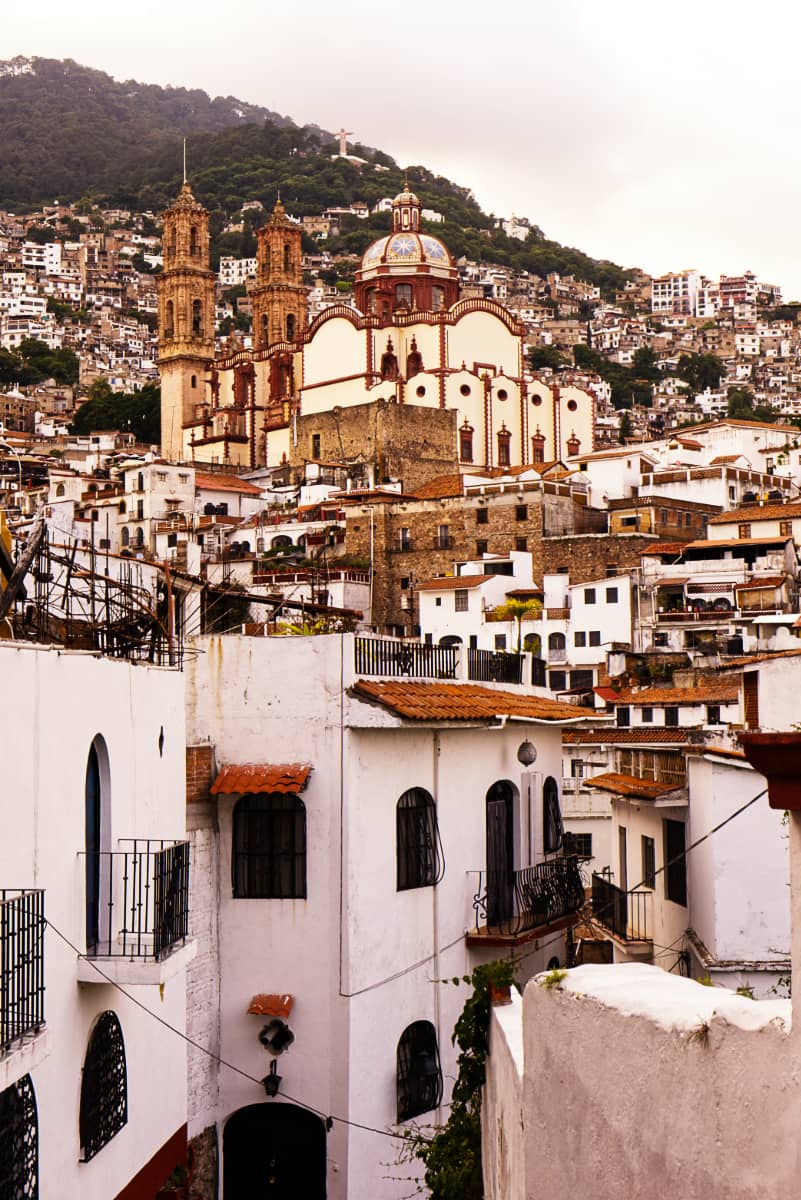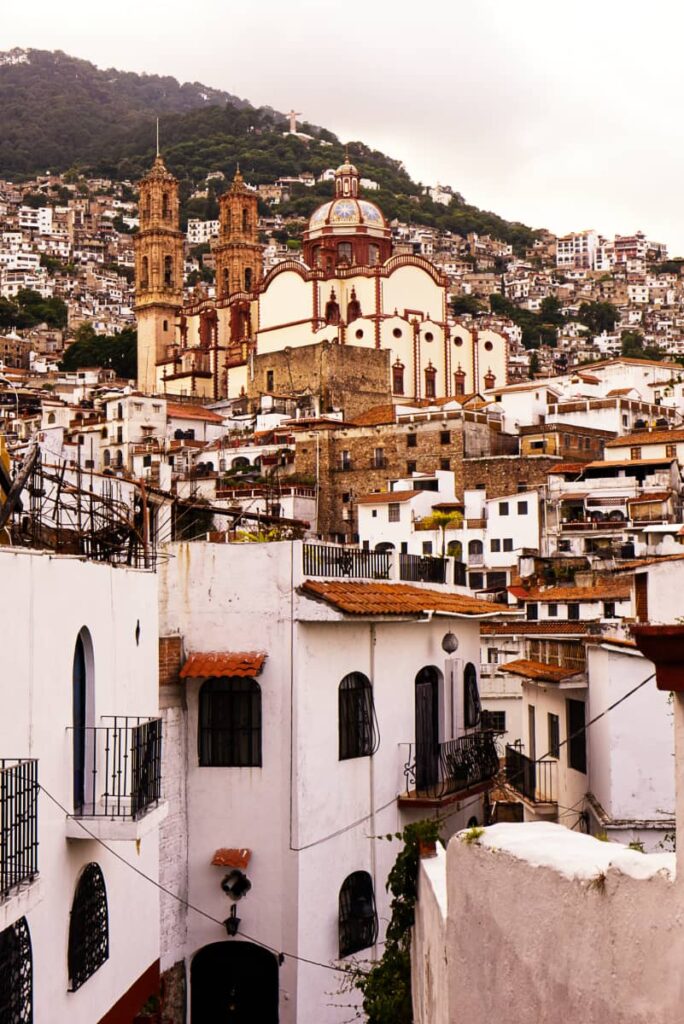 As one of the most beautiful towns in Mexico, I can't think of a better pueblo to aimlessly wander than Taxco. The narrow streets twist up and down along the hilly mountainside. And the cobblestone paving force the traffic to move almost as slowly as the pedestrians.
Initially, the streets look a bit daunting. And I get it. You don't know how steep the incline is, only to lament the descent on the other side. But getting lost in the streets is the beautiful thing about Taxco Mexico. 
As you round each corner, you're unaware of what scene you'll discover next. Though without a doubt a white beetle taxi (or two or three) will pass, entering your picture at the perfect moment. It's truly a photographer's dream.
2. Take in Picturesque Taxco From Guadalupe Parish
This hillside church offers some of the most beautiful views of the pueblo magico of Taxco. Because it's closer to the town, you'll get better views of Santa Prisca Church, Plaza Borda, and the town of Taxco from this viewpoint.
Tip – To capture the golden sun illuminating the pink sandstone of Santa Prisca, arrive about an hour and a half before sunset.
This spot is more than just a church with lovely views overlooking the city. It's also an afternoon meeting point for some of the residents of Taxco.
When I first arrived, a small group of women was chatting on the benches under the shade of a tightly shaped ficus tree.
A few moments later, a group of young kids picked up a game of soccer in front of the church. And around the corner, a couple found a secluded spot to make out.
You could easily spend a couple of hours here in the afternoon while you soak up the local life of Taxco.
3. Mina Prehispánica de Taxco | Pre-Hispanic Silver Mine
Explore a pre-Hispanic silver mine established by the Chontal, the indigenous group that inhabited Taxco before the Spanish arrived. The small mine is still full of precious minerals since the Chontal closed it off in an effort to hide it from the Spanish.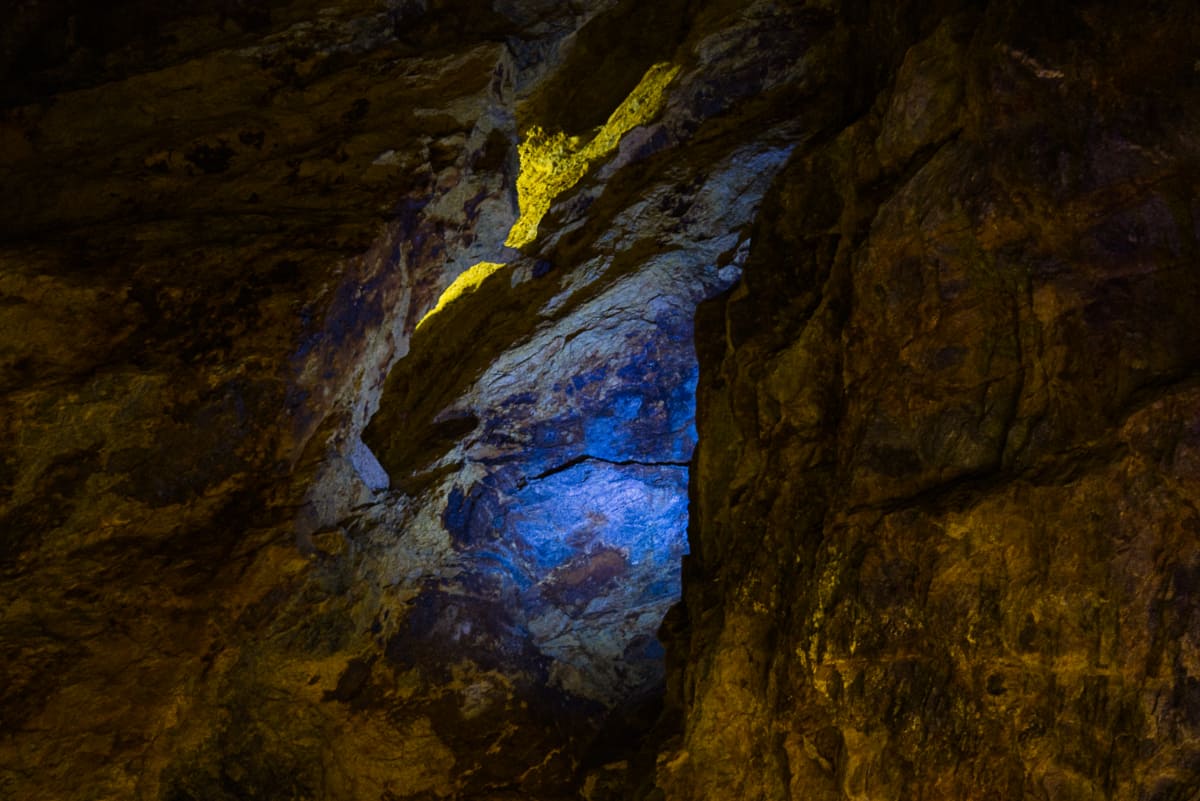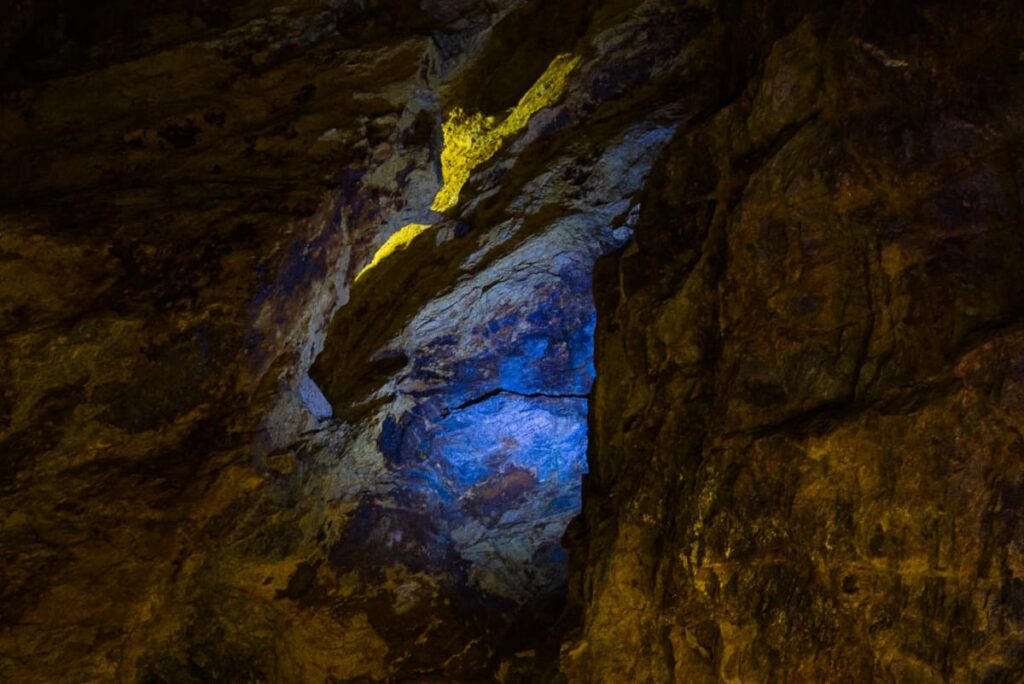 Amazingly, this mine was only discovered in 2014. That year, the hotel bar began renovations to lower the floor because patrons would often hit their heads on the ceiling beams. They were amazed to find a small cavity that led to this well preserved pre-Hispanic silver mine.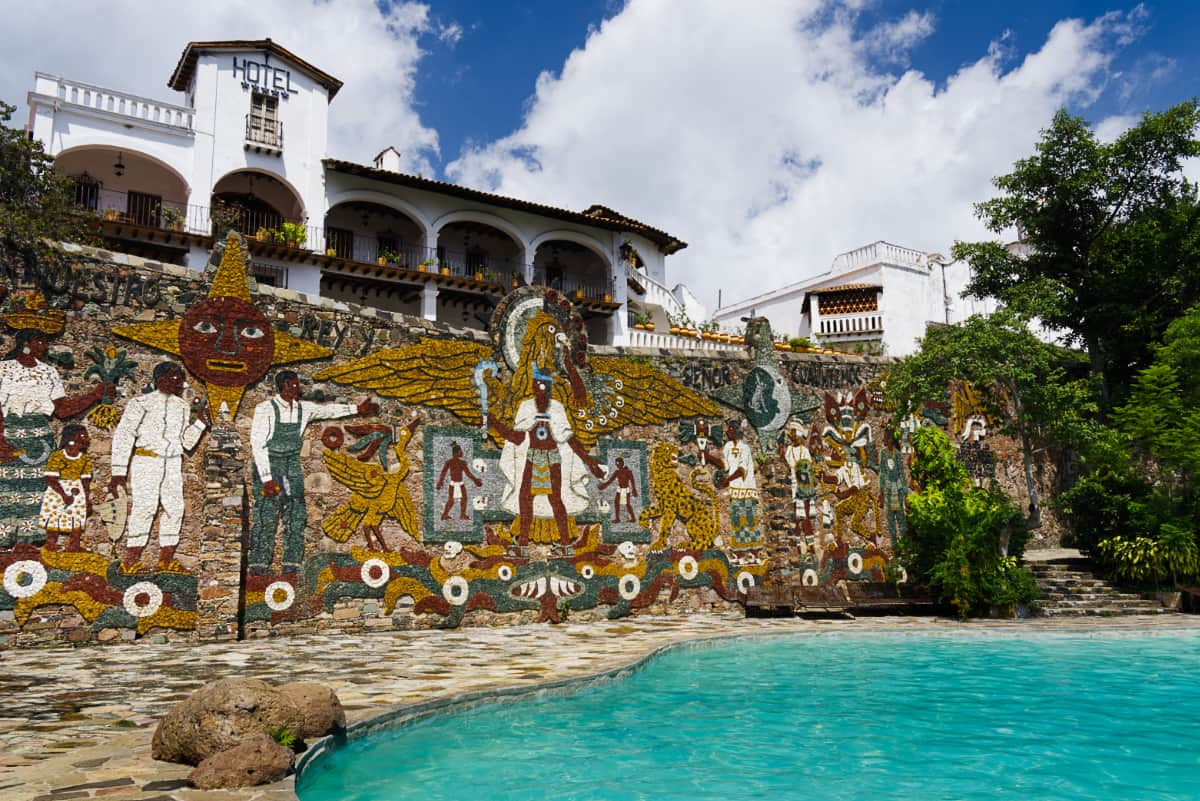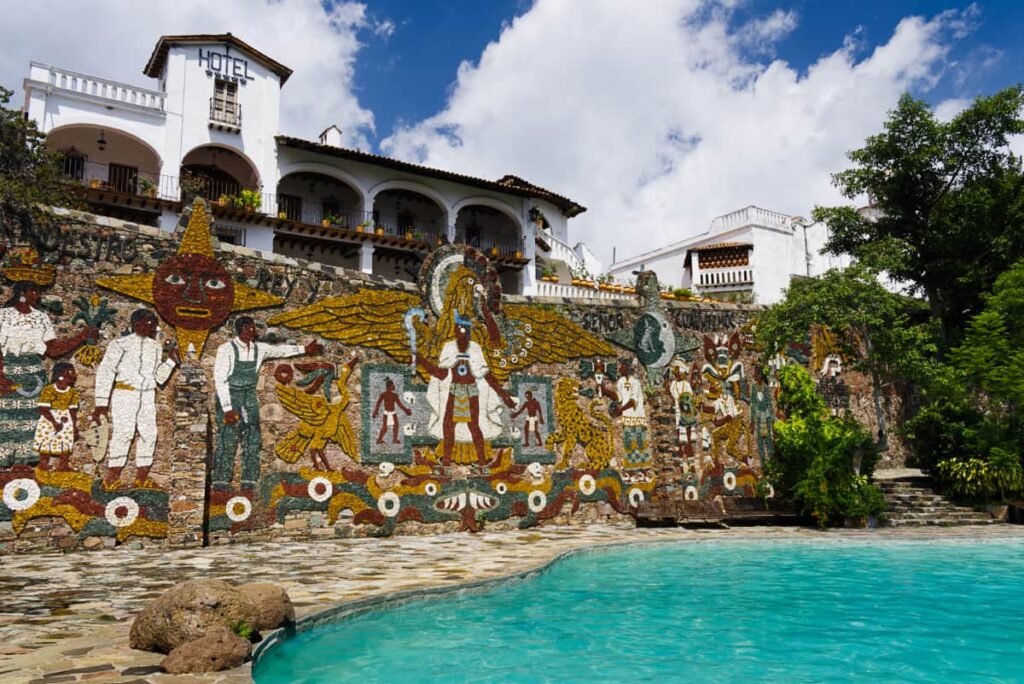 The entrance is slightly expensive at 150 pesos but it includes a poolside drink after the tour. It was never completely clear to me if you are allowed to swim in the pool. But I gathered you can with a 250 peso spend at the restaurant and bar.
If I were staying in Taxco longer, I'd consider coming here just for a pool day.
Hours – 9 am to 6 pm, closed Sundays
Cost – 150 peso entrance (includes a drink at the pool)
4. Shop for Silver in Taxco Mexico
While mining is no longer the backbone of Taxco's wealth, the town's reputation for silverwork is a major draw for tourists. On Saturday spend the morning perusing the stalls on Avenida de los Plateros when the weekly silver market takes over the area.
You'll likely find the best prices here since many silver artisans sell their work directly at the market. If you're not visiting on a Saturday, there are plenty of silver shops in the center. Or, see the next thing to do in Taxco.
5. Design and Create Your Own Silver Ring
Sure, you can spend Saturday wandering the stalls, scanning the jewelry until you find a piece you like.
Or you can design and make your own silver ring with the help of Gustavo, a Taxco native that started working with silver over 30 years ago.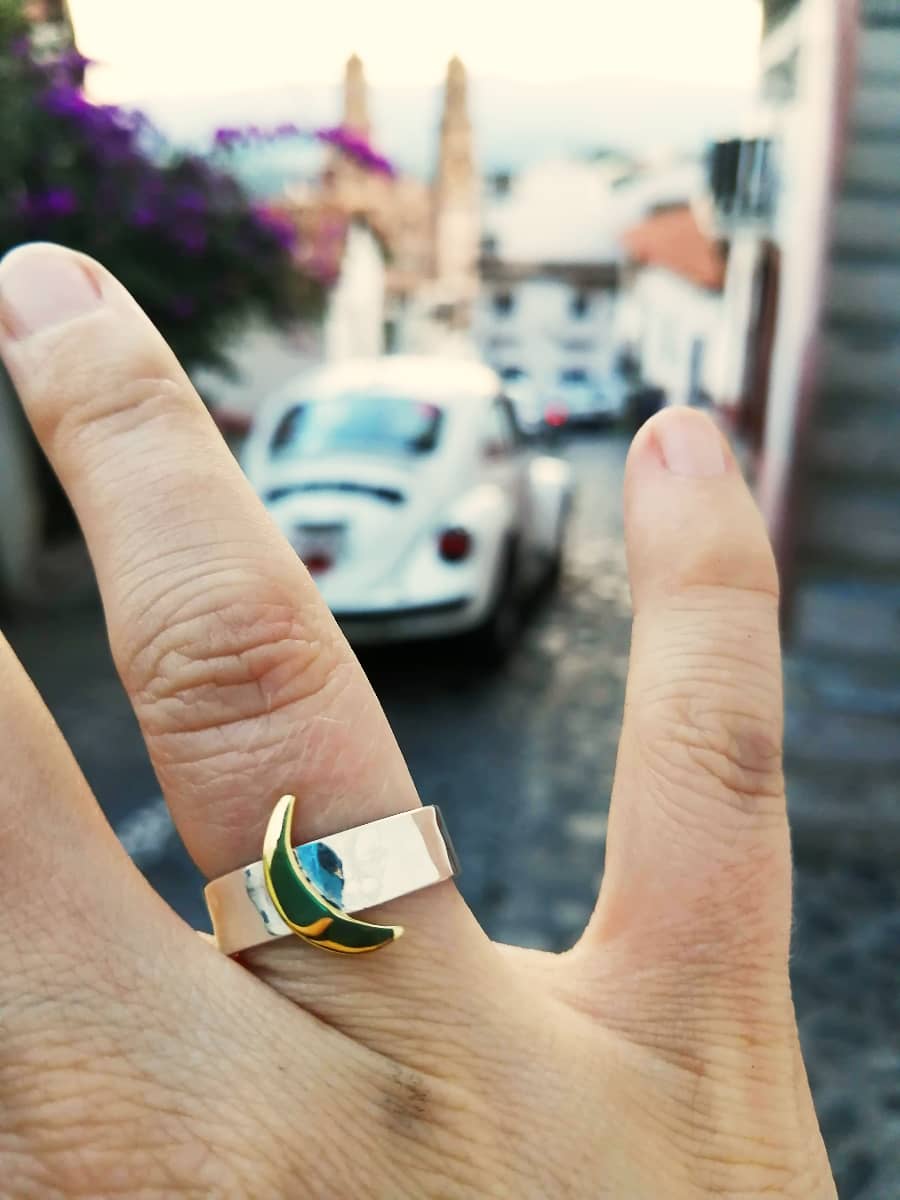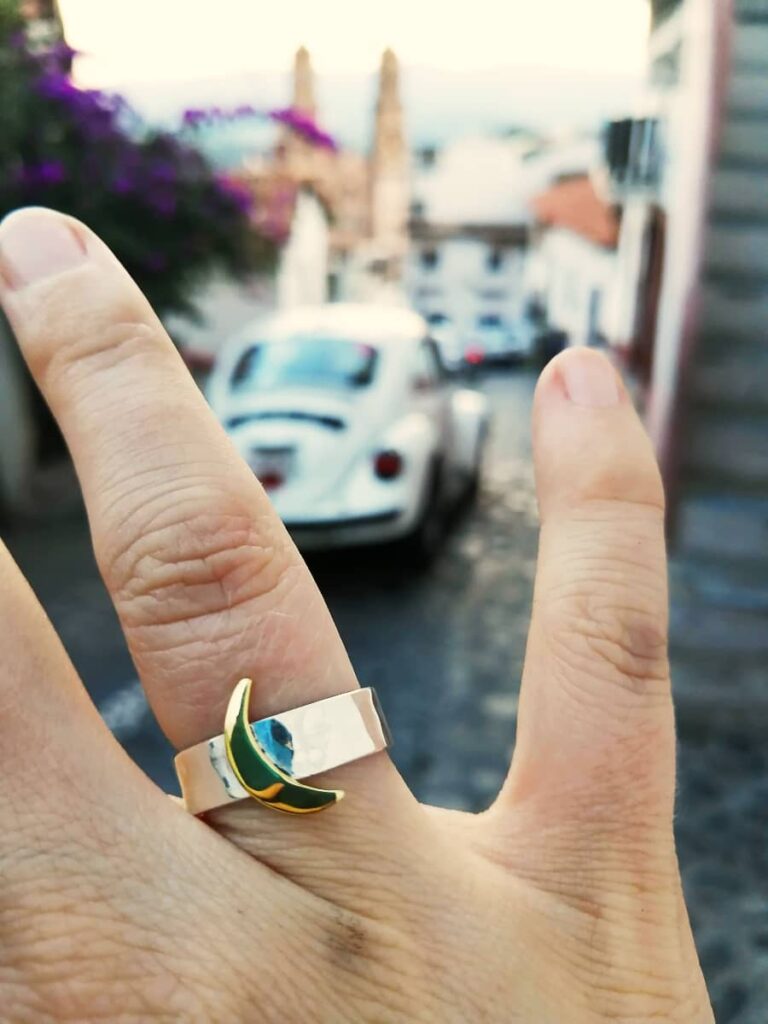 I opted for an evening class and was promptly greeted at the meeting spot before being led through Taxco's narrow streets to the silver workshop.
Gustavo and his assistant briefly described the process and then allowed me to choose the aspects of my ring design, including the words stamped inside.
The process was broken down and demonstrated before allowing me to take over, step by step. All the while, they were there for backup and only stepped out to buy beers for us to share.
They also took lots of photos and videos with my phone, which I used to create this Instagram reel.
The finished product is a memory of Taxco I cherish. I highly recommend this unique experience. To book, send a message to his Facebook page.
6. Visit the Church of Santa Prisca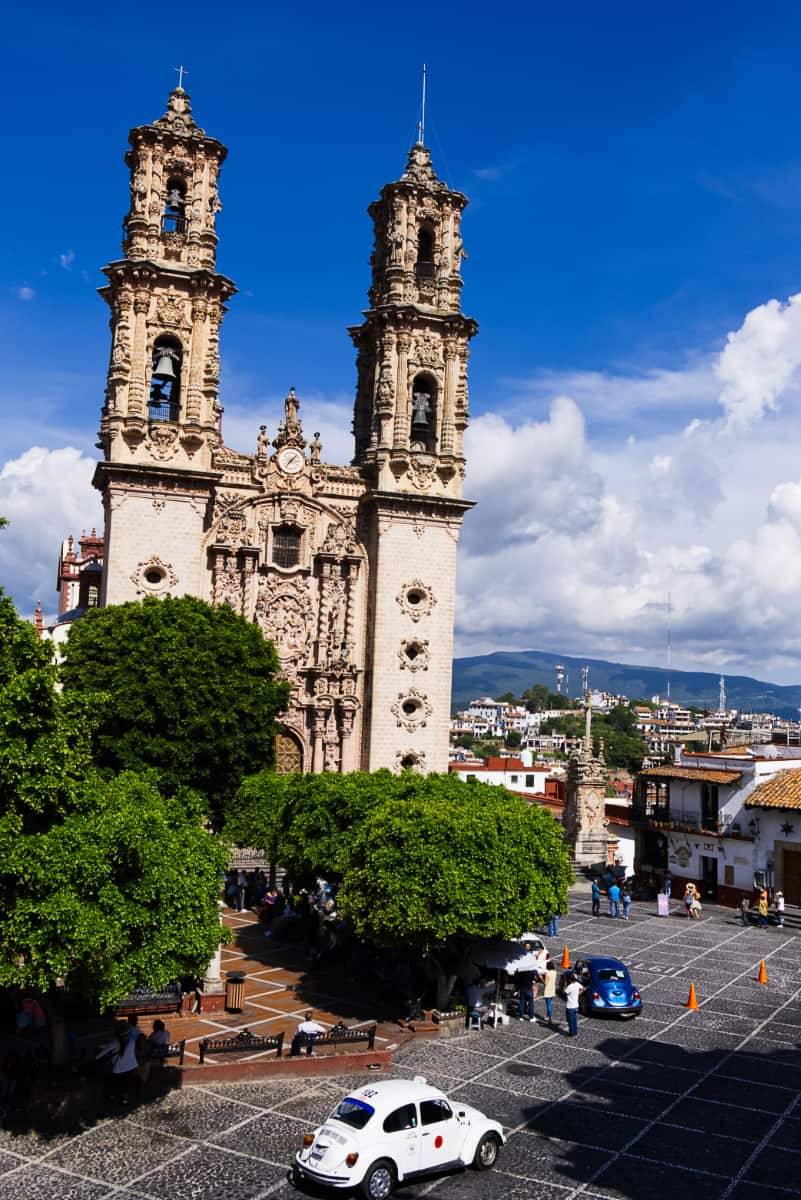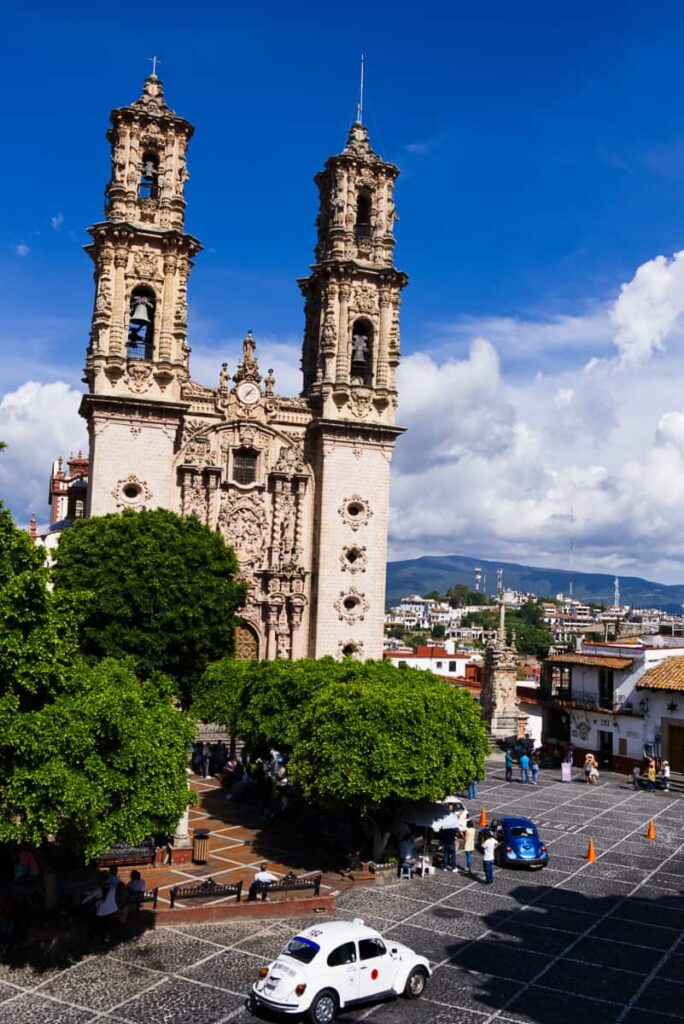 Built in the mid-1700s, the main church in Taxco Mexico is made of pink limestone and flanked by two tall and ornate bell towers. It remained the tallest building in Mexico for nearly 50 years.
Santa Prisca Church was built by José de la Borda, a Taxco businessman who made his fortune in the silver mines. However, its lavish details nearly bankrupted him during the building process.
Today the church stands as a central landmark in Taxco, located on one side of Plaza Borda. It's worth a quick visit inside, although the most impressive part is the exterior.
7. Take a Break in Plaza Borda (The Zocalo)
Like most towns in Mexico, the Zocalo is the center of life. Well, that and the mercado (see where to eat).
Plaza Borda might just be one of the most beautiful zocalos in Mexico.
This public square rises a few steps above the cobblestone streets. The border is lined with multiple benches that are shaded with mature trees. In the center is the characteristic gazebo, called a kiosko.
Bonus: Casa Borda: Taxco Cultural Center
While there isn't much to see a Casa Borda, the fact that it's one of the oldest buildings in Taxco Mexico makes it worth a visit. It's steps away from the Zocalo, free to enter, and doesn't take long to pop in.
At one point, this former private residence of Don José de la Borda was transformed into the Taxco Cultural Center to host classes and events for the community. There wasn't much going on when I visited but there was a small, interesting photographic exhibit.
8. Enjoy a Drink at Bar Berta
For a different part of Taxco history, head to the upstairs balcony at Bar Berta which overlooks the Zocalo and Santa Prisca Church.
This bar has been open since 1930 and is known for its signature cocktail called, The Berta. While I still prefer a margarita, the blend of tequila, honey, and lime was a nice change (if you're like me, ask for it less sweet).
I would describe Bar Berta as a bit of a dive bar with low prices to match.
9. Take The Cable Car to Hotel Montetaxco
For different views of Taxco and the surrounding area, take the cable car to Hotel Montetaxco. Once you're there, order dinner or a drink to take in the panoramic views of Taxco overlooking the pool.
This is the perfect spot for sunset cocktails or a romantic evening. Unfortunately, the cable car was closed for maintenance when I was visiting (it had broken down a few weeks prior). But the restaurant actually gets decent reviews for a somewhat touristy spot.
Hours – Sunday – Thursday 8 am-7 pm, Friday and Saturday 8 am – 10 pm
Cost – 95 pesos round trip for the cable car
10. Hike or Colectivo to the Christ Statue (and Swing!)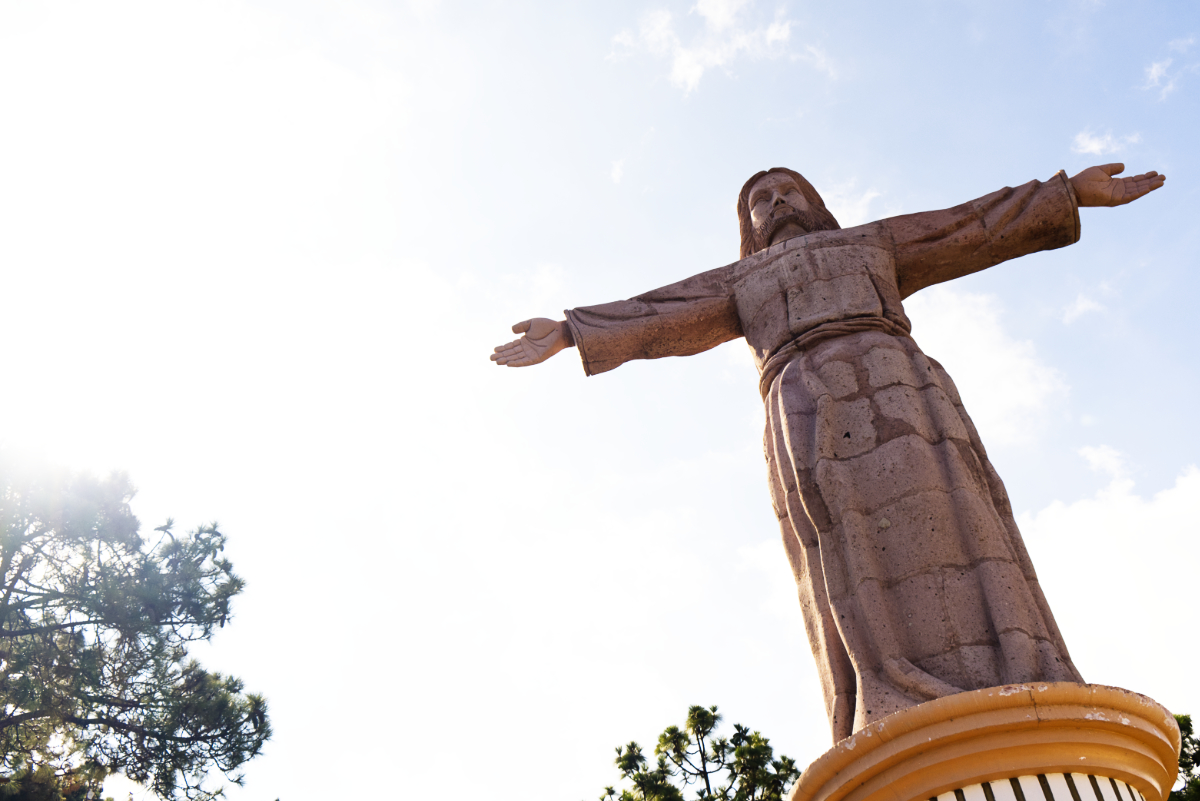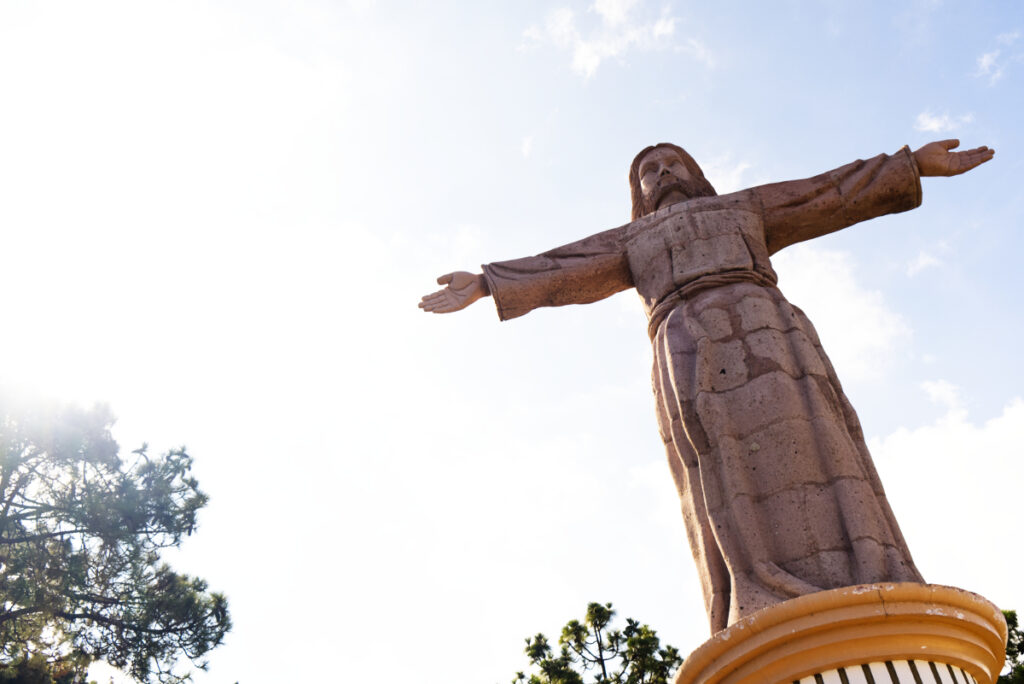 Looming tall over the pueblo magico of Taxco is a large statue of Christ.
To be honest, I almost skipped this Taxco activity. But I was encouraged to go by other travelers I met at the Cacahuamilpa Caves (see day trips from Taxco).
And I'm happy I did. In front of the Christ are sweeping views of Taxco with the surrounding mountains and valleys in the background.
But the highlight was the swing along the path to the entrance. One man had the genius idea to hang a swing here and catch the interest of visitors on the way to see the Christ statue.
Children and adults are welcome. You'll climb on the platform to sit on the swing and let him know when you're ready to be released. You'll then glide over the hillside as you peer down on the picturesque pueblo of Taxco.
The cost is donation based and while I can't guarantee it will always be open, I hope it's something that is there to stay.
How to Get to the Cristo Rey
To get to the Christ statue, you can choose to take a rather grueling (so I've heard) 2-hour hike up, hire a taxi, or catch a colectivo (shared minivan). To take a colectivo from the center, go to Plazuela de San Juan and look for one that says Casahuates or Cristo.
11. Museo Casa Figueroa
I wasn't expecting much during this museum tour. Maybe just a few antiques in a beautiful house. But the guide, Rosa, gave me a wonderful tour in English.
It was fascinating to imagine the former residents as she told stories of the house. I pictured those who used the tunnels to escape to the holy mountain (Cristo Rey). And the women that hid money in the thick walls of the house.
Of course, the house looks very different from that part of history since Figueroa purchased and remodeled the house in 1940. Among the changes he made were adding many windows and Talavera tile (mostly in the kitchen) from the city of Puebla. Nonetheless, many original details remain.
Hours – 10 am to 6 pm, closed Tuesdays
Cost – 35 pesos
12. Taxco Museum of Religious Art: Casa Humboldt
Before you write this off as just a religious museum (as I almost did), you should know there are lots of other interesting items that help fill in pieces of the history of Taxco Mexico.
They include a collection of Chontal artifacts, models of old Taxco, and objects from the shipping route between Manila (Philipines) and Acapulco.
In addition, the beautiful historic building features New Spanish Baroque architecture with beautiful archways and views in the back courtyard.
Hours – 10 am to 6 pm, closed Mondays
Cost – 20 pesos
Day Trips: More Things to Do in Taxco, Guerrero
These day trips from Taxco blend nature with adventure. They are some of the best things to do in Taxco and are worth extending your visit if needed.
13. Grutas de Cacahuamilpa: Taxco Caves 
The Grutas de Cacahuamilpa National Park features one of the largest cave systems in the world. Its magnitude is truly impressive.
Inside the caves are incredible rock formations that have formed over millions of years. Over time, these formations have been named for the figures they resemble, some of which may require a bit of imagination.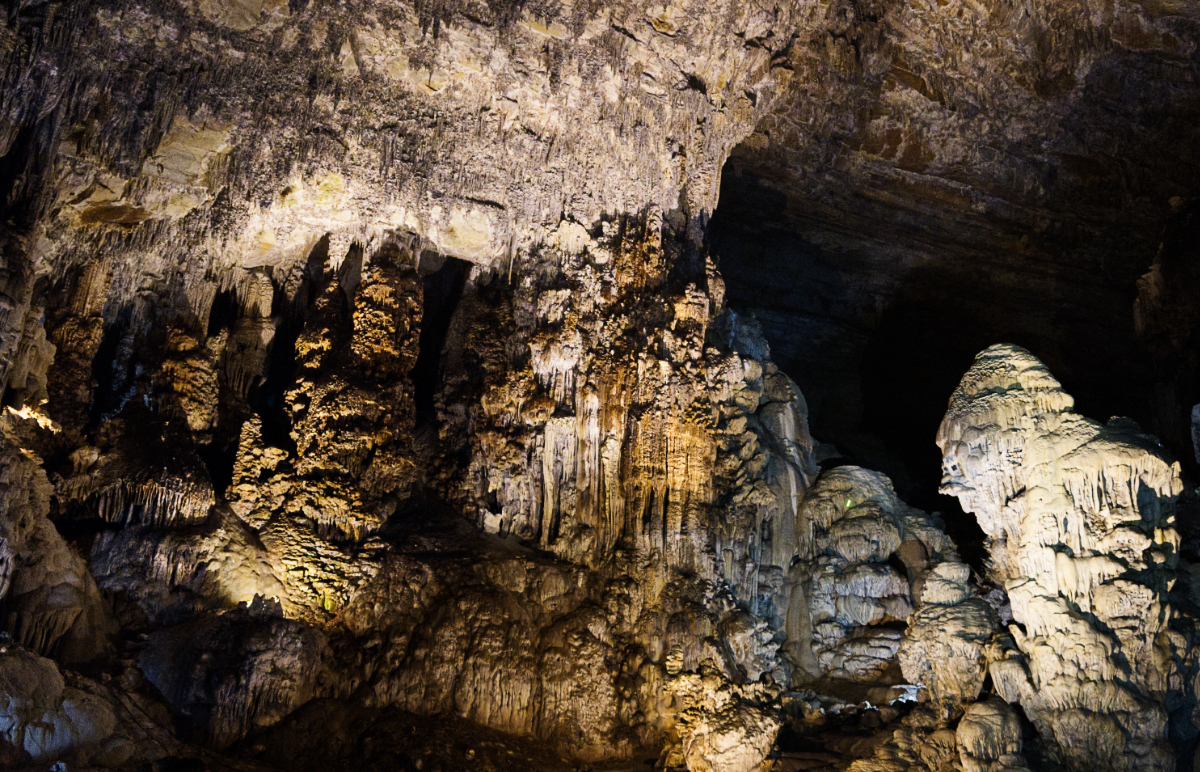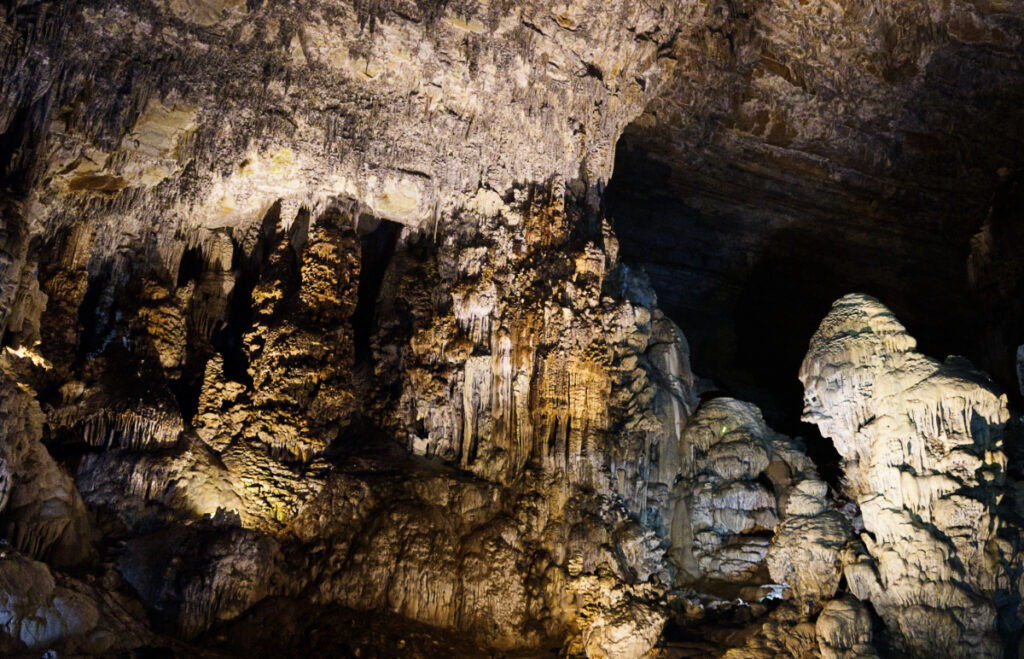 Regardless, the huge stalactites and stalagmites are spectacular.
To access the Cacahuamilpa Caves, you are required to go with a guide who will explain (in Spanish) the history of the caves and point out all of the figures using a flashlight.
It takes about an hour and a half to walk through the caves and back (4 km total). The route is quite accessible, along a sturdy man-made pathway with bathrooms available about midway.
The admission fee includes the guide. There are several packages available as well. For instance, the one that includes the entrance to the caves, the walking bridge (kind of scary, not going to lie), and the zipline is 200 pesos.
Other activities inside the Grutas de Cacahuamilpa National Park include rapelling (dry season) and kayaking (wet season).
Hours – Open every day, 10 am to 5 pm
Cost – 100 pesos for adults, 90 pesos for children
Other – Various packages include the entrance fee and options to include zipline and/or rapelling
How to Get to Grutas de Cacahuamilpa, Taxco Guerrero
To get to Grutas de Cacahuamilpa, take a bus from the bus station (Google Maps) with the company Costa. Tell the bus driver you're going to the caves. The bus only makes a brief stop here, so be sure to pay attention.
After you get off, followed the paved path down the hill and to the right towards the entrance of the park.
Tip – When you buy a ticket, check the timetables for the last bus returning to Taxco. The return bus picks only comes every two hours. So plan your time in the Grutas de Cacahuamilpa National Park wisely to avoid a long wait for the bus.
14. Las Mil Cascadas: Taxco Waterfalls
Once you enter Las Mil Cascadas, you'll feel like you've discovered a hidden paradise. Located about an hour from Taxco Mexico, this is a series of stunning waterfalls, caves, and swimming holes.
The name translates to The Thousand Waterfalls. And while I'm not sure that's exactly accurate, the area reminds me of La Huasteca Potosina but in a more condensed area.
While I ran out of time to visit Las Mil Cascadas, the pictures are stunning. I would highly recommend finding a tour that can take you.
How to Get to Las Mil Cascadas
The best way to get to Las Mil Cascadas is through a tour. The mountain drive is beautiful, however the road is almost non-existent in some areas.
If you do decide to drive, I recommend going in an SUV or Jeep. Once you arrive, you will be required to pay the entrance fee and rent a life jacket. The guide (about 500 pesos per group) is optional.
Hours – 8 am to 6 pm, every day
Cost – 40 pesos to enter and 50 pesos for the mandatory life jacket
15. Pozas Azules: Blue Pools Near Taxco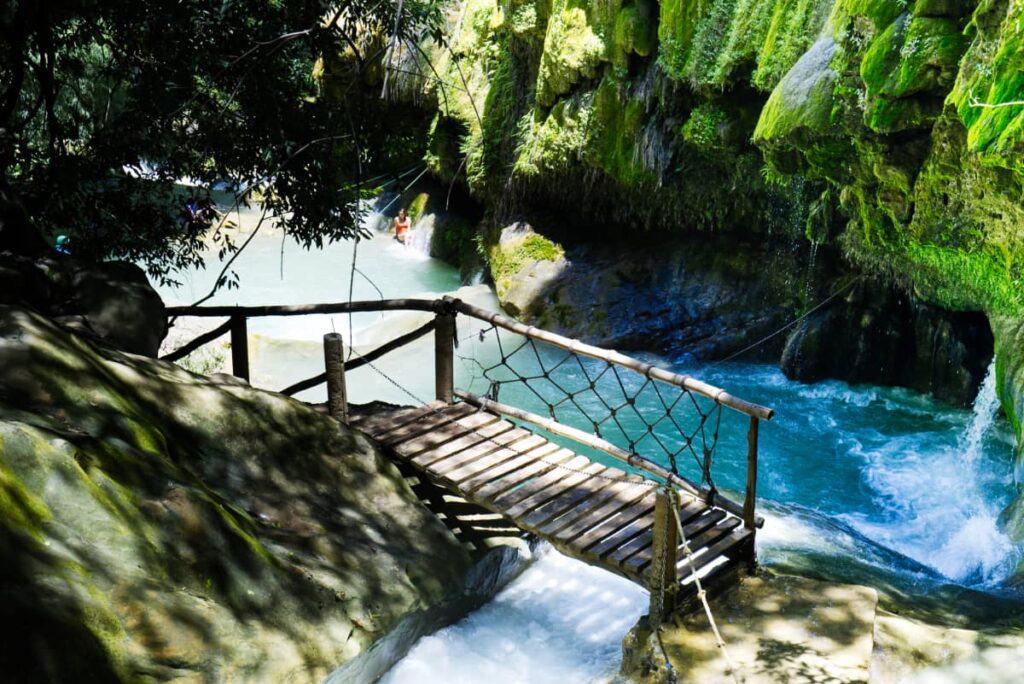 Spend a day relaxing at Pozas Azules, the blue pools located in the nearby town of Atzala. The 100 peso entrance fee gives you access to all nine pools which vary in size and blue intensity.
When you first arrive, I recommend following the path past all of the pools until you reach the area where you need to pay a guide (cost by donation) to take you further.
Once you finish exploring this area, you'll have a good idea of which swimming areas you prefer. And you'll be ready to cool off!
Other activities include a zip line that flies high above the pools. Food and drinks are available to purchase from several vendors or you can bring your own. Tables and chairs are available for an extra cost. Although there are also places to sit along the edge of the pools.
Pozas Azules is a great way to spend the day with your family. If you're traveling solo but prefer company (like me), try to go on a weekend (ideally Sunday) when lots of Mexican families are there.
Hours – 8 am to 6 pm, every day
Cost – 40 pesos to enter and 50 pesos for the mandatory life jacket
How to Get to Pozas Azules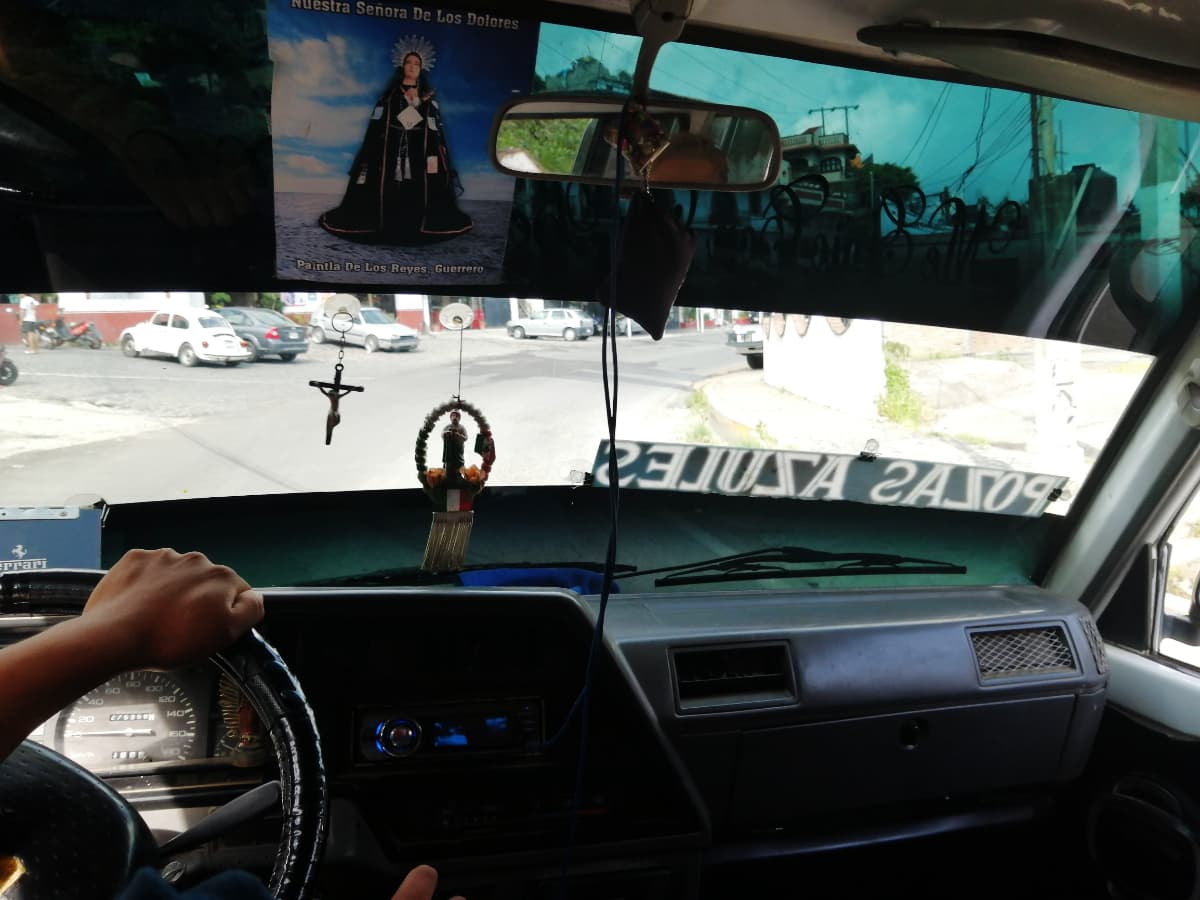 The colectivo to Pozas Azules leaves from in front of the Coppel department store (location) every hour or when full. Look for "pozas azules" on the front windshield.
I recommend arriving early. When I arrived at 11, the 12 pm colectivo was leaving in a few minutes and the next one wasn't until 1 pm. The cost is 27 pesos each way and takes about an hour.
Food: What and Where to Eat In Taxco Mexico
I found the restaurants in Taxco Mexico to be slightly underwhelming. For the best traditional food, go to the mercado where you can find pozole (see below) and one of my favorite dishes in Mexico, barbacoa.
For nontraditional food, I did enjoy the view, coffee, and crepes (sweet and savory) from Bálsamo Café. And in the afternoons, La Bambina is a good spot for a beer and wings on the patio with amazing views.
Pozole
This stew is made using large kernels of corn, called Cacahuacintle. It's the same corn that is ground into masa, a flour used for tamales, tortillas, and other corn dough items.
Pozole can be found throughout Mexico. There are different broth variations – red, green, and white. In the state of Guerrero, it's most common to find white and green pozole. And it's often topped with chicharrones (fried pork skin).
So where is the best pozole in Taxco? While Pozoleria Tia Calla is the most popular, I thought it was a bit uninspired. I found the best pozole at Cocina Economical Varón in the local mercado.
Mole Rosa
This striking pink sauce gets its color from the use of beets, among other rose-colored ingredients. Mole rosa has a mild flavor. Although, like most moles, it also includes various seeds, nuts, and spices.
You'll often find this signature dish of Taxco, Guerrero served with chicken and garnished with petals of rose or bougainvillea flowers.
Ice Cream at Tepoznieves
Okay, this isn't strictly a thing to eat in Taxco since this ice cream hails from another pueblo magico nearby. But the ice cream from Tepoznieves is so popular, that they've expanded outside of their native Tepoztlan, Morelos.
If you have trouble deciding from the long list of flavors, I suggest picking a base you like, such as chocolate, and pairing it with a more unusual flavor.
Final Thoughts about Taxco Mexico
Taxco, Guerrero is truly a unique town in Mexico. It's one of the most charming pueblo magicos I've visited and well-deserving of the title.
Whether you're drawn by the desire to shop for fine silver or just become enchanted by its streets, Taxco should be added to your ever-growing list of places to visit in Mexico.
Have you been to Taxco, Mexico? What did you think? Let me know, I'd love to hear from you!
Questions About Visiting Taxco, Guerrero
Is Taxco Mexico worth visiting?
Taxco, Mexico is absolutely worth visiting. The narrow streets that weave through the hilly terrain, lined with white buildings stacked into the mountainside make Taxco one of the most picturesque pueblo magicos in Mexico. In addition there are several adventurous day trips from Taxco.
What is Taxco Mexico known for?
Taxco Mexico is known for its fine silver jewelry. It is considered the center for silverwork in the Western Hemisphere. It is also known as a stunning pueblo magico with twisting streets lined with colonial buildings and Volkswagen Beatles used as the official taxis.
Does Taxco have an airport?
Taxco does not have an airport. The closest airport to Taxco is in Cuernavaca, though you may find nearby Mexico City to be more convenient for flights. You can take a bus from Cuernavaca to Taxco in less than two hours. The bus from Mexico City to Taxco takes approximately two and a half hours.
How many days do you need in Taxco?
You should spend at least three days in Taxco. You only need a day or two to see the town itself. However, there are several nearby day trips that should not be missed. They include the Grutas de Cacahuamilpa – one of the largest cave systems in the world, La Mil Cascadas (The Thousand Waterfalls), and Las Pozas Azules (The Blue Pools) of Atzala.