Cartagena Beaches: Ultimate Guide to the Best Beaches in Cartagena, Colombia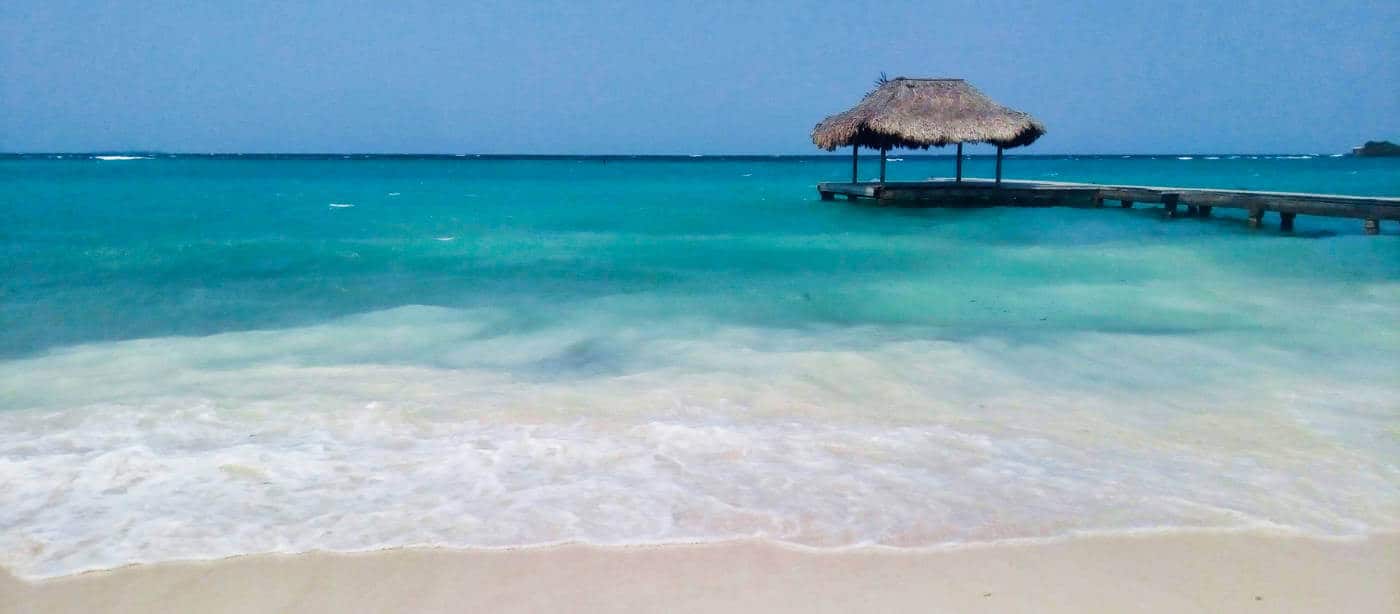 Cartagena, Colombia is an alluring seaside city dripping with colorful Caribbean charm. It sits right on the coast with many vantage points of the surrounding ocean. But as you start to plan a day of sun and sand in this wonderland, you quickly realize that Cartagena beaches are not exactly the Caribbean paradise you were dreaming of.
But fear not, there are nice beaches near Cartagena. And while you may have to get on a boat to get there, the prices are quite affordable. Of course, you can also splurge and rent an entire boat for the day with your friends, if that's your style.
When I first wrote this list of the best beaches in Cartagena, I started with those closest to the city. That resulted in the nicest beaches listed all the way at the bottom. And well, let's face it, I was afraid you wouldn't read that far. So I flipped the list around to highlight the Rosario Islands because that's where your Caribbean Instagram dreams are made.
This article may contain affiliate links. This means if you click a link on our blog and make a purchase, we earn a commission at no additional cost to you. For full information, see our disclaimer here.
The Top Cartagena Beaches
Rosario Islands: The Cartagena, Colombia Beaches You Dreamt Of
This archipelago is a mix of private and public islands that make up part of the Rosario and San Bernardo Corals National Park. You can easily make any of these excursions a simple beach day, though I recommend staying overnight if you have the time.
There are also options to take a boat tour around the islands but I've heard you get only get a little bit of actual beach time. Instead, go to the tourist docks in Cartagena, Muelle de la Bodeguita (see on Google Maps), to arrange transportation to the island of your choice.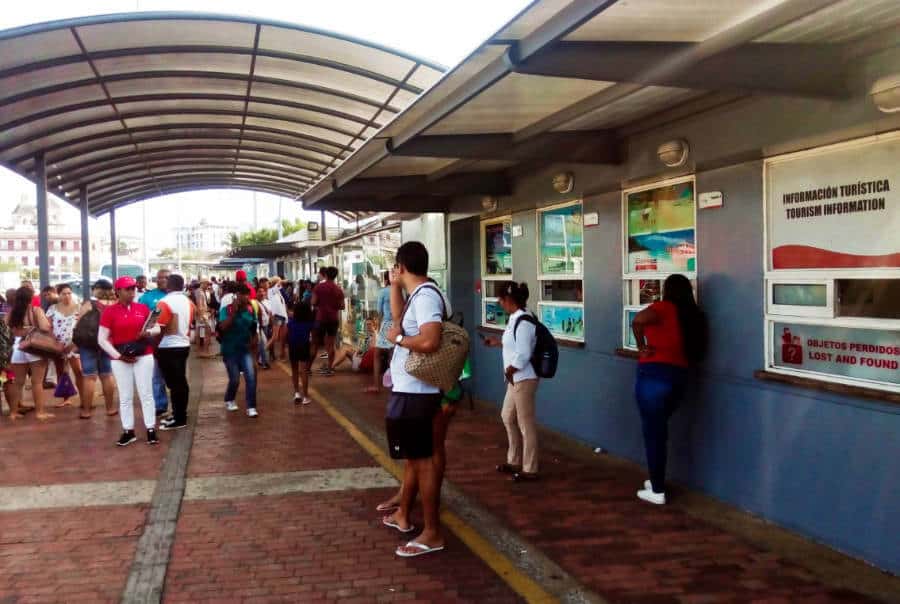 COST: A one-way ticket to the islands is 50,000 COP per person. Keep in mind, there is also a 19,000 COP fee to enter the national park which will be collected when you enter the docks.
TIP: If you don't reserve ahead of time, make sure you arrive no later than 8 am. There are several agencies selling tickets daily as well as a kiosk for tourist information.
Continue reading to see which of the Rosario Islands is right for you.
---
Playa Blanca on Isla Baru
The most popular beach on Isla Baru is Playa Blanca. Not only is it beautiful, but it's also easily accessible by boat or car. Yes, that's right, you can drive to Playa Blanca (more about that later). Of course, the accessibility also means it's full of people and obnoxious vendors.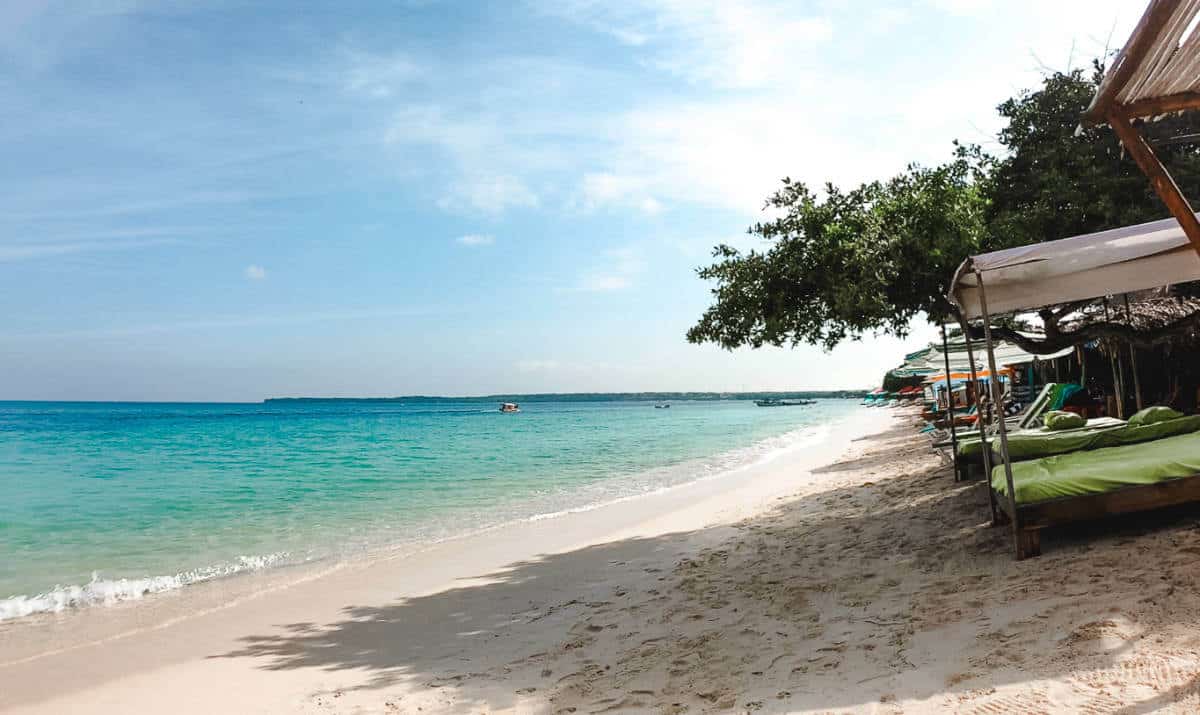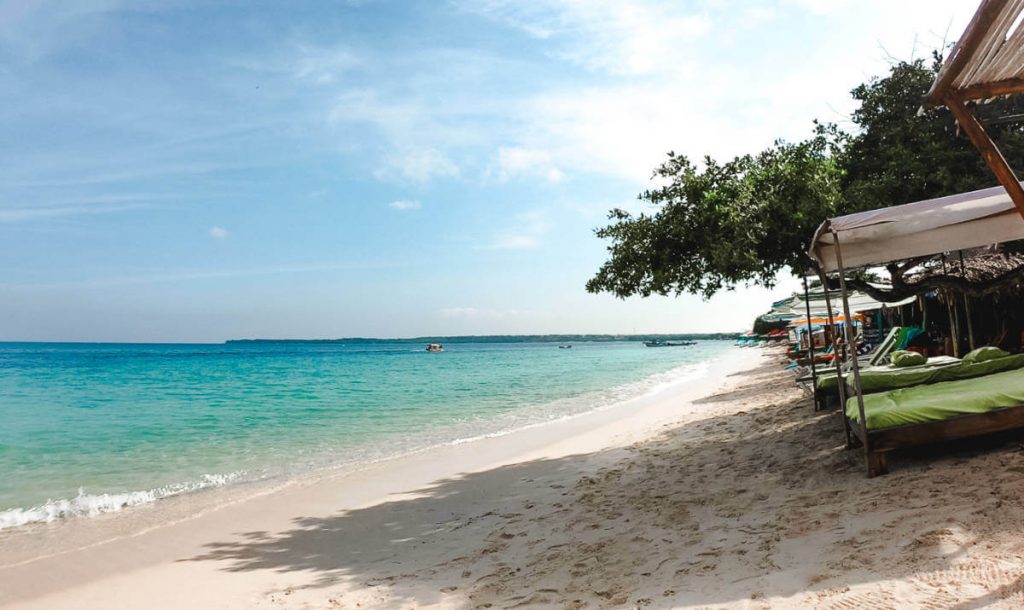 To avoid the crowds, walk down the beach to the right until the crowds thin out (and with it, the vendors). You can also rent a beachside bungalow for the night so you can enjoy the beach after the daytrippers have gone.
My recommendation… Fall asleep to the sound of crashing waves and wake up to breakfast on the beach when you book a stay at Vista Linda Cabaña. A private room for one or two is quite affordable and the beach in front of their cabanas is beautiful white sand with crystal clear water.
How do you get to Playa Blanca?
It is possible to travel to Playa Blanca by land because Isla Baru is actually not an island. In fact, the peninsula was part of the mainland until the Spanish dug a canal in 1582 to connect the Cartagena shipping trade to the mighty Magdalena River.
To arrive by boat, go to the Cartagena docks and follow the instructions detailed above. To arrive by car, there are two options – an organized shuttle or public transport.
Hostel Mamallena runs a daily shuttle to Isla Baru. The air conditioned van leaves for Playa Blanca at 8:30 am, 12 pm and 5 pm and returns from Playa Blanca at 10.30 am, 3 pm and 8.30 pm. A round trip ticket is 50,000 COP (half the cost of the boat). The ticket is interchangeable meaning you don't need to stay for a set amount of time and can return a different day should you decide to stay overnight.
By far the cheapest way to travel to Isla Baru is by public transport. From Cartagena, take a bus to Pascaballos south of town. From there you can catch a colectivo to Isla Baru. While I have not taken this option personally, I've been told the total cost is around 10,000 COP each way. If you're adventurous and know some basic Spanish, this may be a good option for you.
---
Playa Libre on Isla Grande
Only accessible by boat, Isla Grande is a great choice if you want to get away from the crowds but still do your own thing. While many offer tours to the island, it's easy to reserve a seat on one of the many boats leaving from the Cartagena docks. You'll also save money and avoid the beach club mob.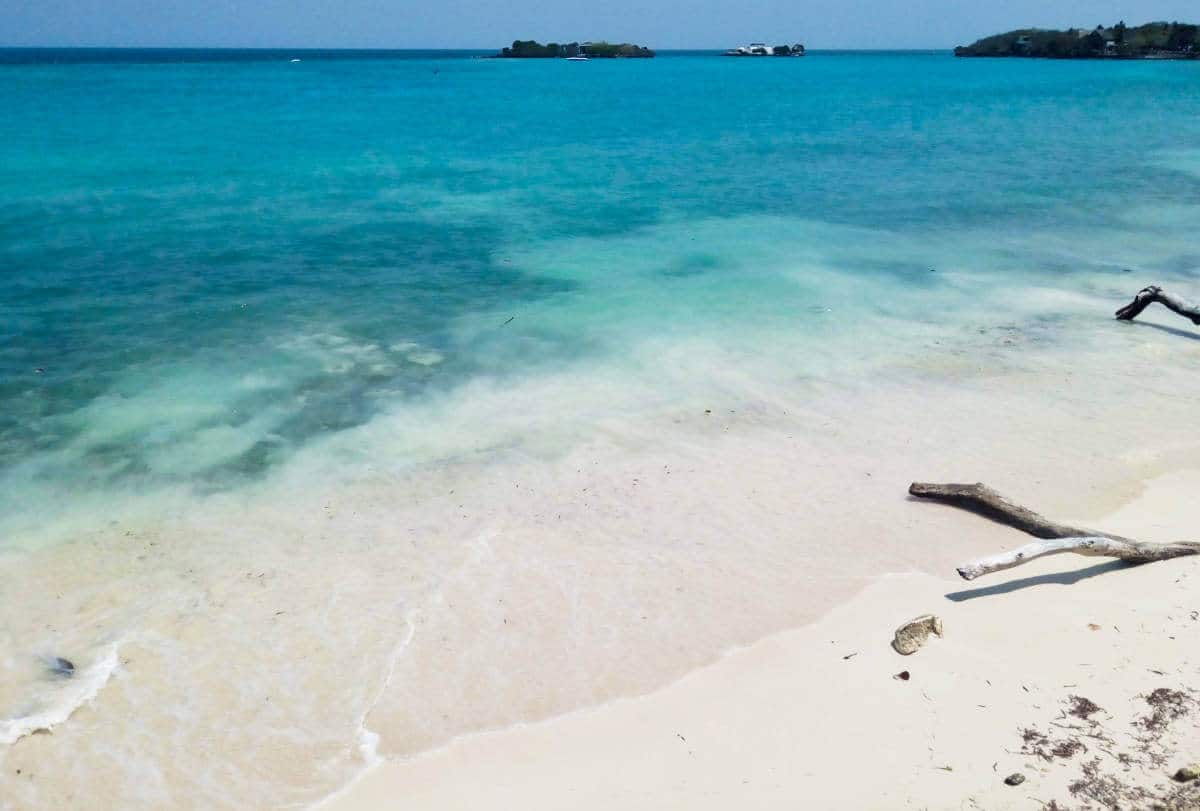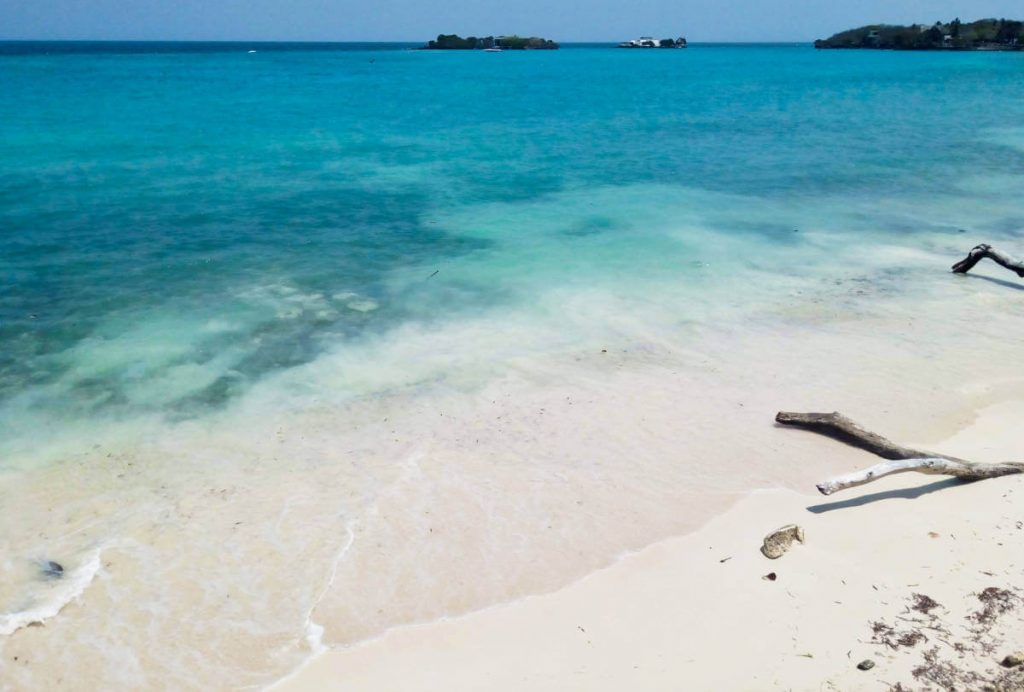 The best public beach on Isla Grande is Playa Libre. You can ask the boat to drop you off there, or at the closest dock to your hostel, should you decide to stay overnight. This is the largest of the Rosario Islands and I definitely recommend you spend a night or two on this rustic tropical island.
---
Bendita Beach
This private island is the Caribbean island paradise you dreamed of in Cartagena. Bendita beach is an eco-touristic island with four different beaches to explore.
Depending on your beach day goals, you can opt to spend the day lounging on a sunbed, snorkeling, playing volleyball, or kayaking in the surrounding ocean. Tours are limited to 120 people per day, allowing for a tranquil beach day with fewer crowds. For that reason, you'll need to reserve tickets ahead of time (see below).
How to get to Bendita Beach
To book a tour to Bendita Beach, you need to request a reservation. A welcome juice and lunch (option of traditional fried fish or roasted chicken) are included in the ticket price. The total cost is 195 000 COP and a deposit of 50,000 COP (about $12.50 USD) per person is required to book. You will receive a ticket as a receipt of your deposit and reservation.
The remaining 145,000 COP per person is due when you arrive at the docks on the day of. Cards are accepted but subject to an additional fee. Please keep in mind, the ticket price does not include the required national park tax of 19,000 COP. This must be paid in cash as you enter the docks. Have questions? Please feel free to email me.
On the day of, arrive at the Cartagena port at 7:30 am to register and pay the remaining balance for the tour. At 8:15 am your boat will depart from the dock for the 45-minute ride to Bendita Beach. The boat will return to Cartagena around 4 pm, departing Bendita Beach at 3 pm.
TIP: It's important to arrive at the docks at 7:30 am to ensure you are on the first boat to the island so you can maximize your beach day.
---
Beaches of Bocagrande
Playas Bocagrande and Laguito
High-rise buildings line the skinny stretch of coastline of Bocagrande, resembling a small Miami Beach. The water here is not going to inspire your Caribbean Instagram dreams, but it's a place for sun and swim only a short taxi or bus ride from the heart of Cartagena. At these beaches, chairs under the shade of an umbrella are available for rent while vendors pass by selling ceviche and other treats.
Playa Castillogrande
This stretch of beach is on the far end of the Bocagrande peninsula and offers a longer expanse of sandy coastline with room to spread out. For this reason, Castillogrande feels more upscale than the other Bocagrande beaches.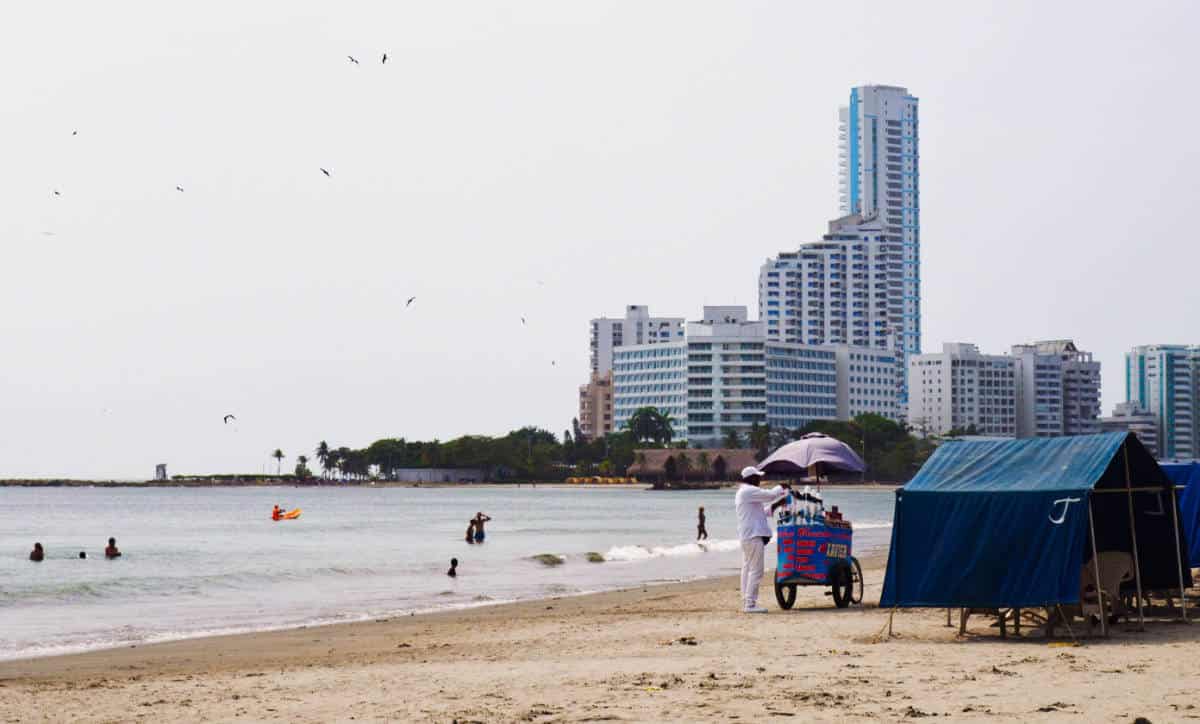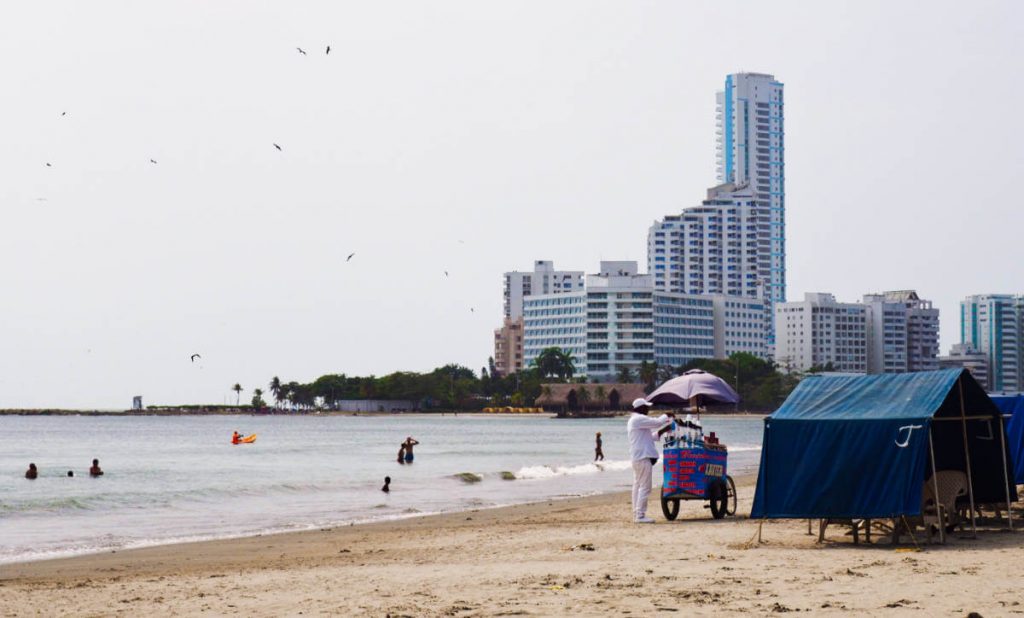 In addition to the area with tents and chairs for rent, there is plenty of open sand where you can lay a towel down without hassle. If you're looking for a quiet beach within the city limits, I recommend Castillogrande.
READ NEXT – Rincon del Mar, Colombia: A Corner of the Sea
Best Beaches Near Cartagena
Punta Arena, Tierra Bomba
Tierra Bomba is a large island near Cartagena with several beaches, the most popular being Punta Arena. These beaches close to Cartagena still won't blow your sandals off but it's a step up from the beaches on the mainland. Keep in mind, prices are higher and the beach clubs require a minimum purchase to use the chairs and umbrellas.
To get there, go to the hospital in Bocagrande. In front of the hospital, you can negotiate a ten-minute boat ride to Tierra Bomba for around 10,000 COP per person. I recommend purchasing only transportation to the island so that you have the day free to do as you please.
---
La Boquilla
La Boquilla is a small fishing village located on an island strip north of Cartagena. This is a local beach with bungalow restaurants that traditionally serve fried fish with coconut rice and bring it to you under the shade of a tent.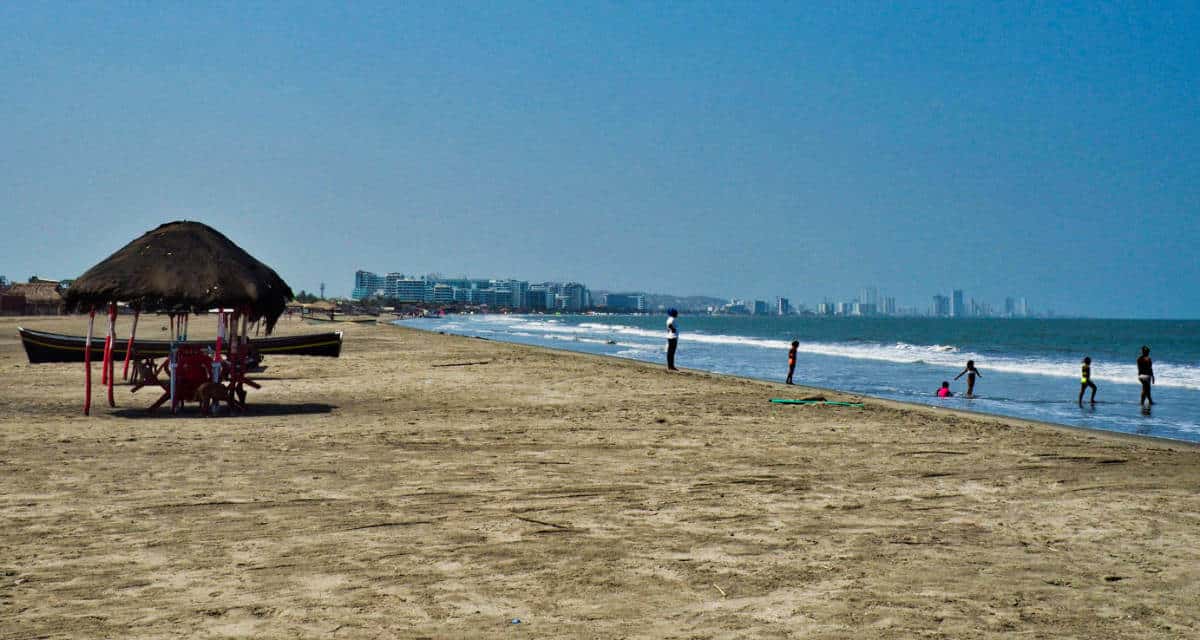 I really wanted to love this beach, but I can't ignore the fact that tourists are routinely taken advantage of. It happened to me and I'm thankful it wasn't worse.
After walking along the beach, talking with one of the local salespeople, he invited me to eat at his mother's restaurant. I was prepared for an overpriced lunch and after our long conversation, I wanted to support him. He insisted I sit under the tent near the ocean so I assumed it was free.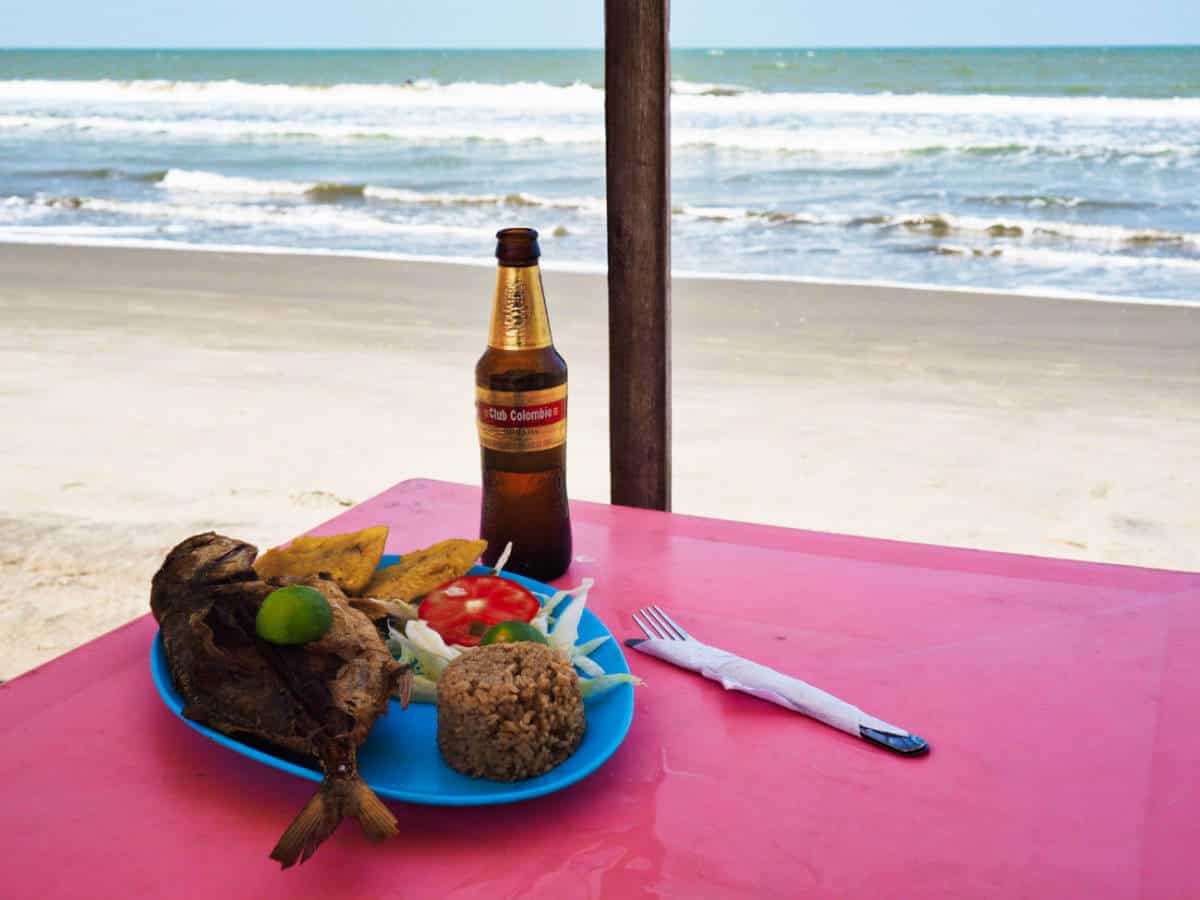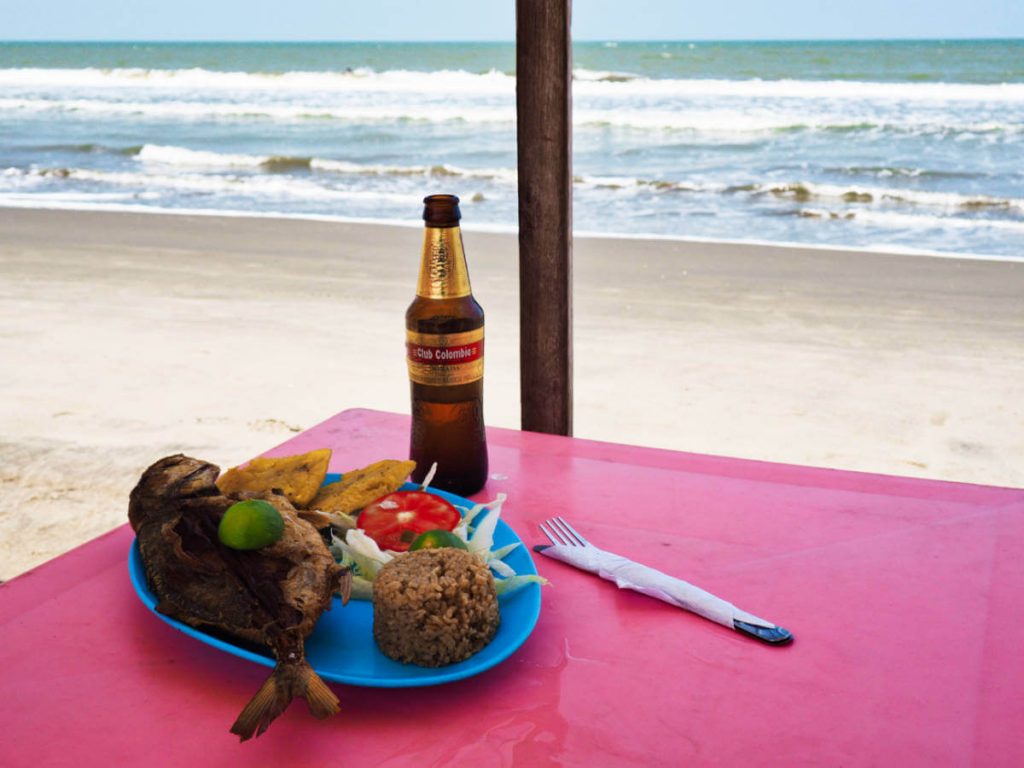 When it came time to pay, not only did he want to charge me an outrageous amount for the tent, but he added a hefty tip to the bill. And even then, the prices did not add up to the amount he was requesting. I argued the price down but still paid more than we had initially agreed upon.
I've since read reviews of similar and sometimes worse situations. Ultimately, you need to be clear about the prices of everything you order, including the tent that you sit under after ordering your exorbitant lunch.
Or, consider visiting La Boquilla simply for a tour of the Mangroves and through the tunnel of love. This tour picks you up at your hotel and brings you to La Boquilla where a guide paddles you in a canoe through the mangrove forest.
While you bask in the view of birds and other wildlife, you'll learn about the culture of this traditional fishing village. I didn't have time this day but I've taken several mangrove boat tours throughout my travels and I always enjoyed the peaceful view into the natural world. One of my favorites is in Celestun, Mexico.
How to get to La Boquilla
To get to La Boquilla from Cartagena, you can take a 30-minute bus from La India Catalina monument. Since I was flying out the next day, I stayed closer to La Boquilla at Wonderland Hostel (which by the way is a fantastic place if you need something walkable to the airport). You can easily catch a bus on Calle 70 from that area of Crespo to La Boquilla.
As the bus approaches La Boquilla you'll probably start looking at Google maps, wondering exactly where you should get off for the beach. But you're in for a surprise. The bus turns directly onto the beach!
The route continues a sandy path for quite a while before turning around. In fact, it's common to see other cars on the beach and motorcycles driving along the waterline.
---
Manzanilla del Mar
This is Cartagena beach is just past La Boquilla and is more friendly to tourists without being resorty like Bocagrande. The sandy beach is expansive. The water is clean and nice for swimming. You can also ride horses on the beach in Manzanilla.
For an adventurous beach day, contact Pure Kitesurf where you can take kitesurfing lessons, go parasailing, rent a stand-up paddleboard, and more. They're located at Zion Beach House, a 2-story open-air accommodation directly on the beach at Playa Manzanilla. Every Thursday, Zion hosts soccer and volleyball on the beach beginning around 4 pm, followed by a BBQ at 7 pm.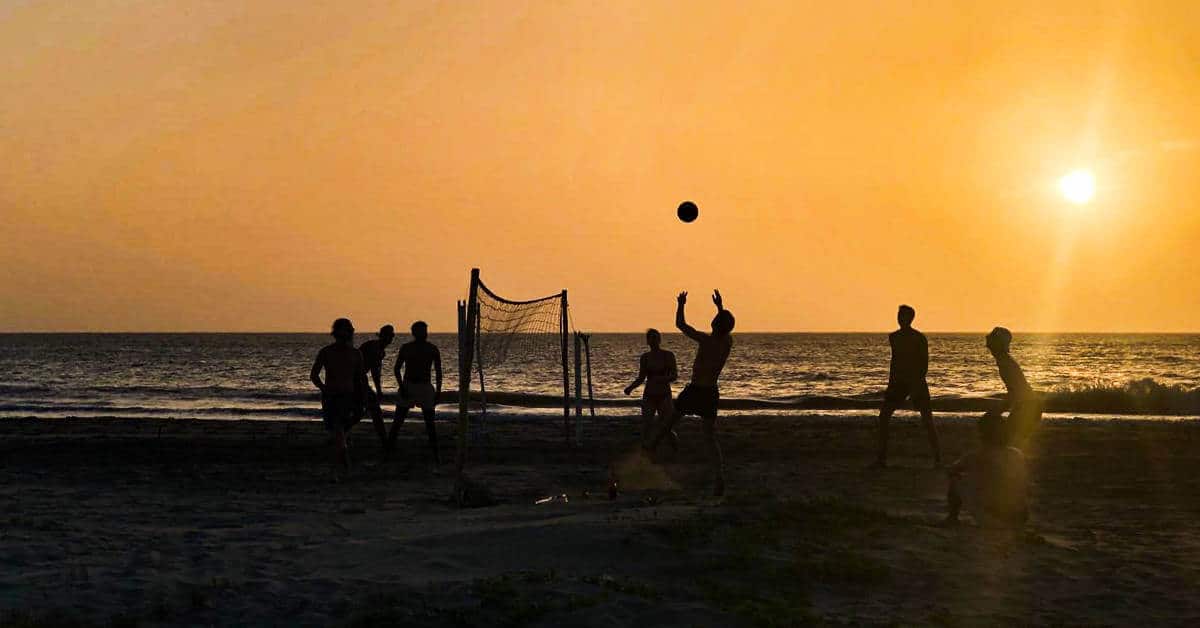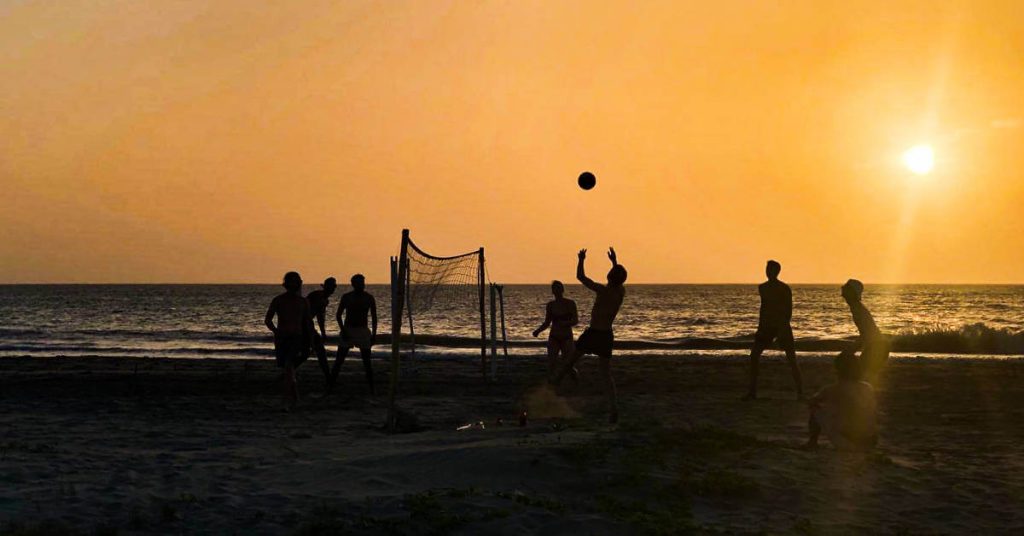 If being in the middle of the action at Playa Manzanilla isn't your thing, you can choose the more remote beach south of Manzanilla, Playa de Oro. It's tranquil and the waves are quite gentle.
How to get to Playa Manzanilla
To get to Playa Manzanilla it's best to hire a taxi, though you'll save money if you first take the bus to Crespo or La Boquilla and catch a taxi from there. Alternatively, Pure Kitesurf offers rides from Crespo. Space is limited and first reserved for those renting or taking a kitesurf lesson. You can find more info here.
---
Marbella-Crespo
I only mention this beach because it's the first one you'll see as you drive from the airport into Cartagena. And like me, you'll probably wonder if it's worth venturing to for a beach day. Well, I can tell you, it should probably be the last choice on your list.
Chairs under the shade of blue tents line the water and can be rented for 5,000 COP according to my taxi driver. I had an opportunity to get closer to this beach when I stayed at the Wonderland Hostel near the airport. It didn't look inviting to me so I opted to take a bus to La Boquilla instead. I later heard the currents here can be dangerous.
---
As you can see, there are many choices for a Cartagena beach to fit your style, budget, and vacation time. And after you feel the heat and humidity of the city, you'll have no trouble convincing yourself you are in need of a beach day.
Have you been to the beaches in Cartagena? Which one was your favorite? Tell me in the comments!
Want to save this article for later? Save it to Pinterest!