Hierve el Agua: Mexico's Petrified Waterfall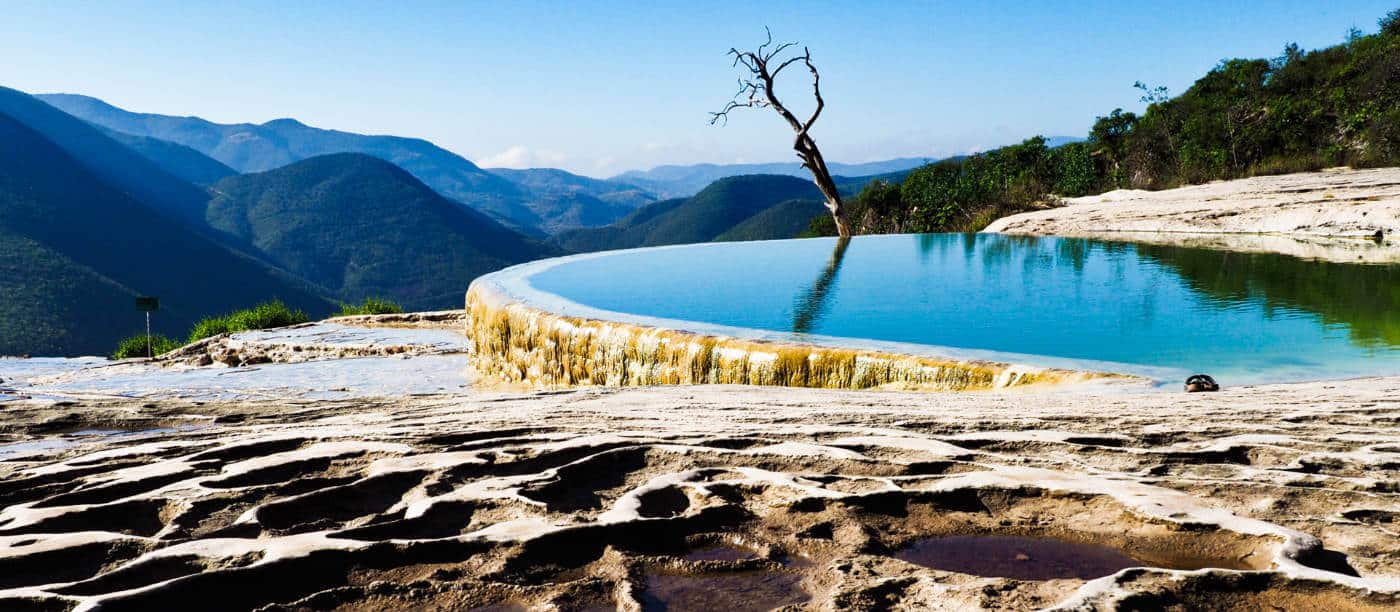 Imagine swimming in an infinity pool of natural spring water on the top of a cliff with endless views of the surrounding mountains. To your right is a beautiful petrified waterfall that cascades into the valley below, appearing as if it has been frozen in time. This is the gorgeous scene at Hierve el Agua, Oaxaca.
You can arrange to visit Hierve el Agua with or without a tour. Both have their advantages, but there is a little known secret that allows you to experience this beautiful place without crowds.
Continue reading as I share my tips for visiting Hierve el Agua on your own and how to make the most of your time.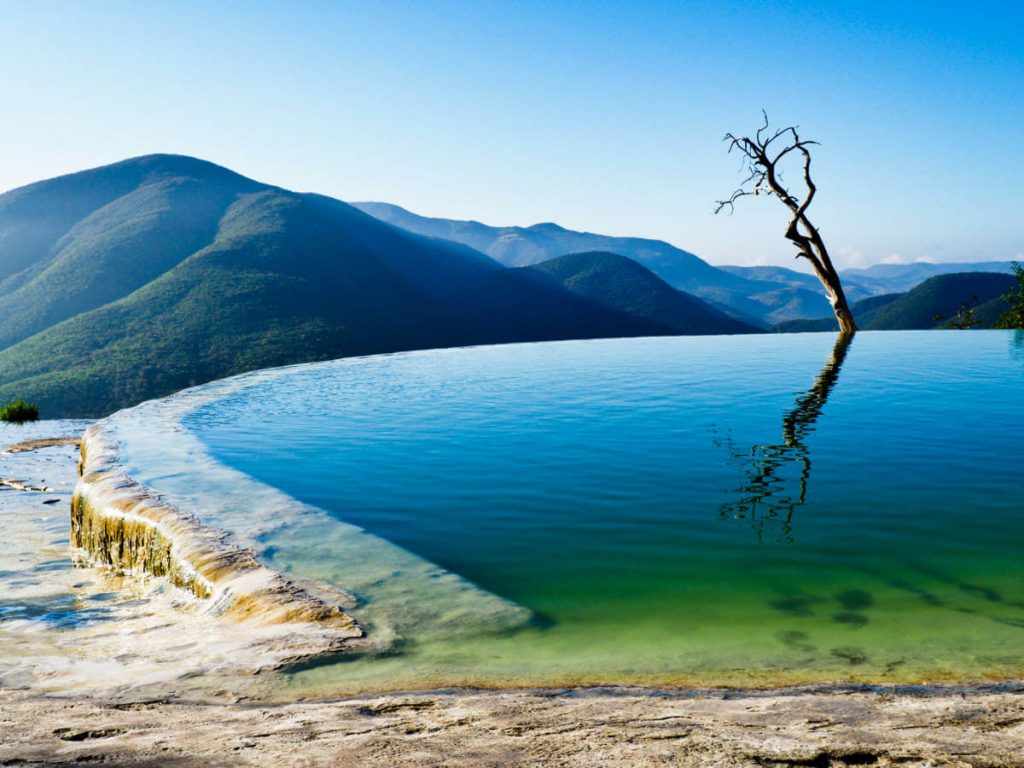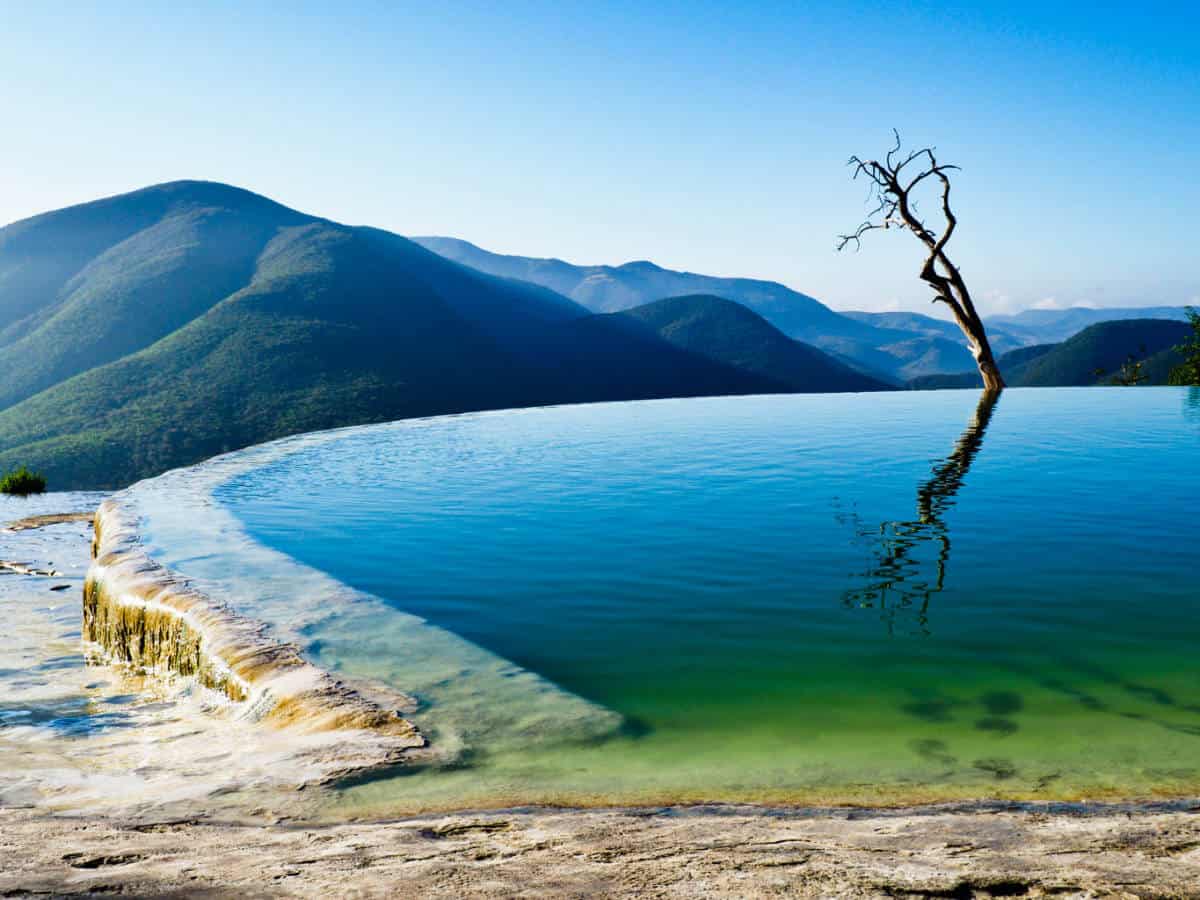 Hierve el Agua: How to Get There
To get to Hierve el Agua from Oaxaca City, you'll first need to go to Mitla. Most famous for the archeological site, Mitla is a small town 25 miles southeast of Oaxaca City. From Mitla, you'll drive along an unpaved mountain road to reach Hierve el Agua. It takes about an hour and a half to get to Hierve el Agua from Oaxaca City.
Hierve el Agua is one of the most popular tours in Oaxaca but it's also easy to get to on your own. Both options are detailed below.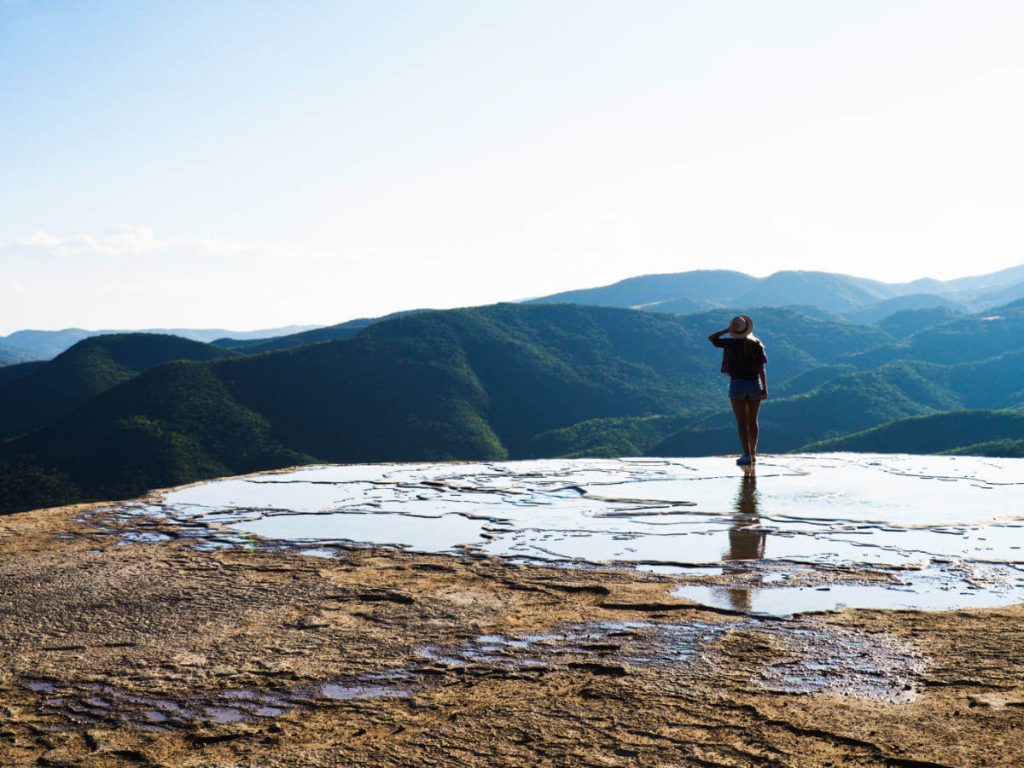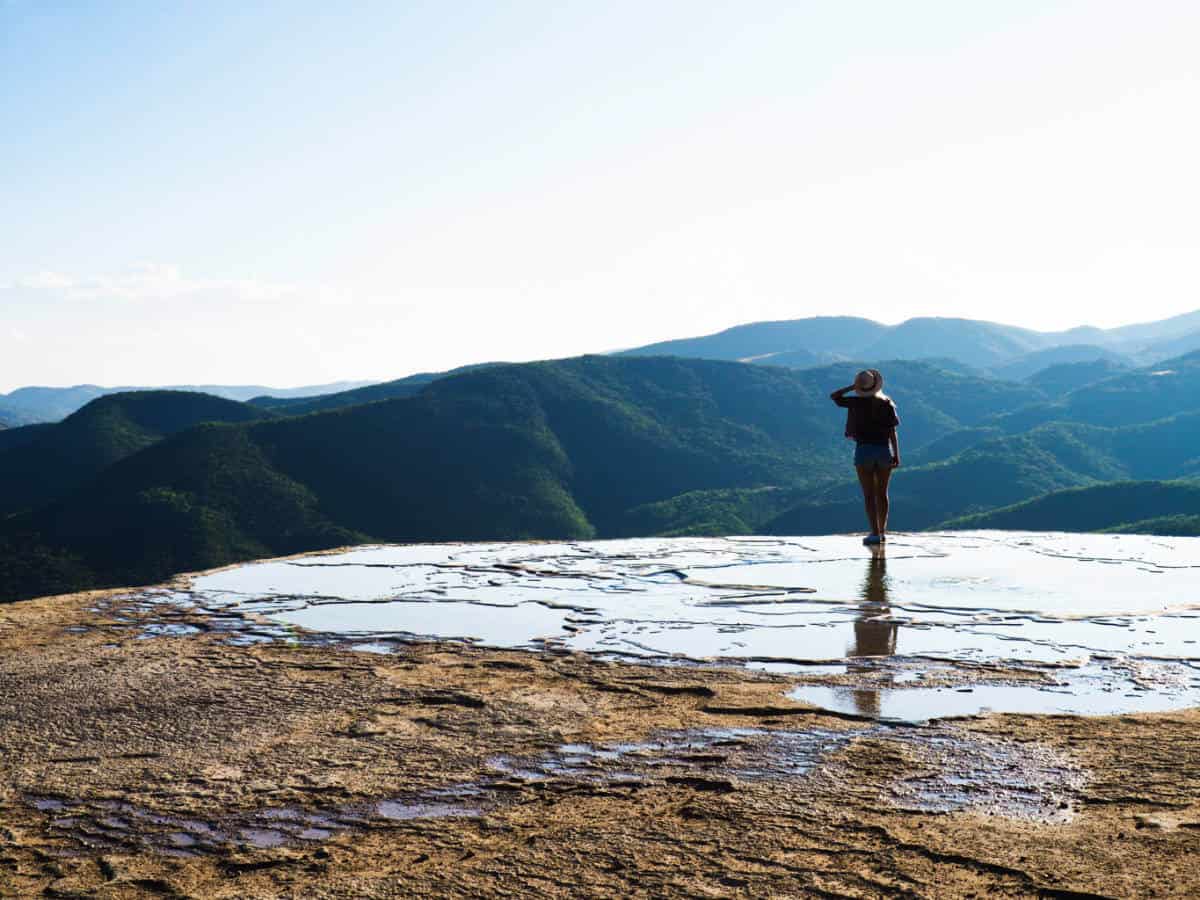 Hierve el Agua Tour
Booking a tour to Hierve el Agua is the best choice if you want to see as many places as possible but are short on time. Most tours include additional stops, such as the world's widest tree in Tule, a weaving workshop in Teotitlan, the ruins of Mitla, and a mezcal distillery.
It can be a great way to maximize your day, but it also means you'll have less time to spend at Hierve el Agua. And you'll arrive with your own crowd of people unless you book a private tour.
On the other hand, I have heard really good things about these tours, including from a friend that visited Oaxaca around the same time. And some tours leave early enough to beat the big crowds, such as this tour which allows up to two hours at Hierve el Agua and still leaves time for a Mezcal tasting afterward.
And if you really do want to see it all, this tour makes all the stops mentioned above with one hour devoted to Hierve el Agua. Both of these tours are more than eight hours in total, so plan for a long day.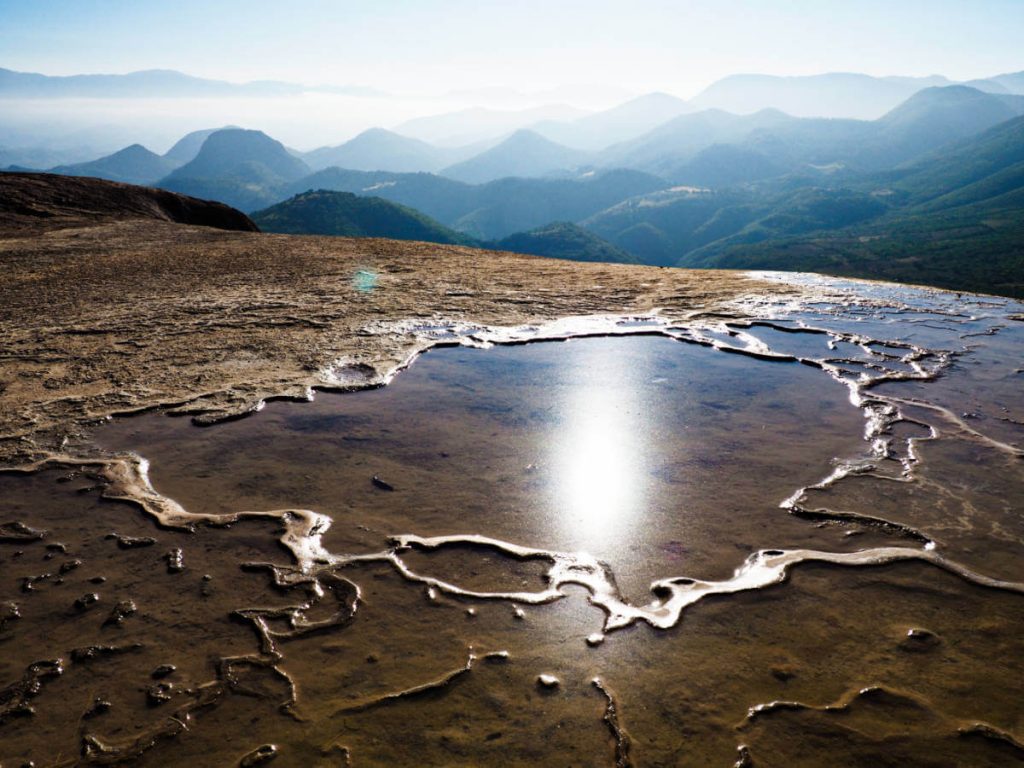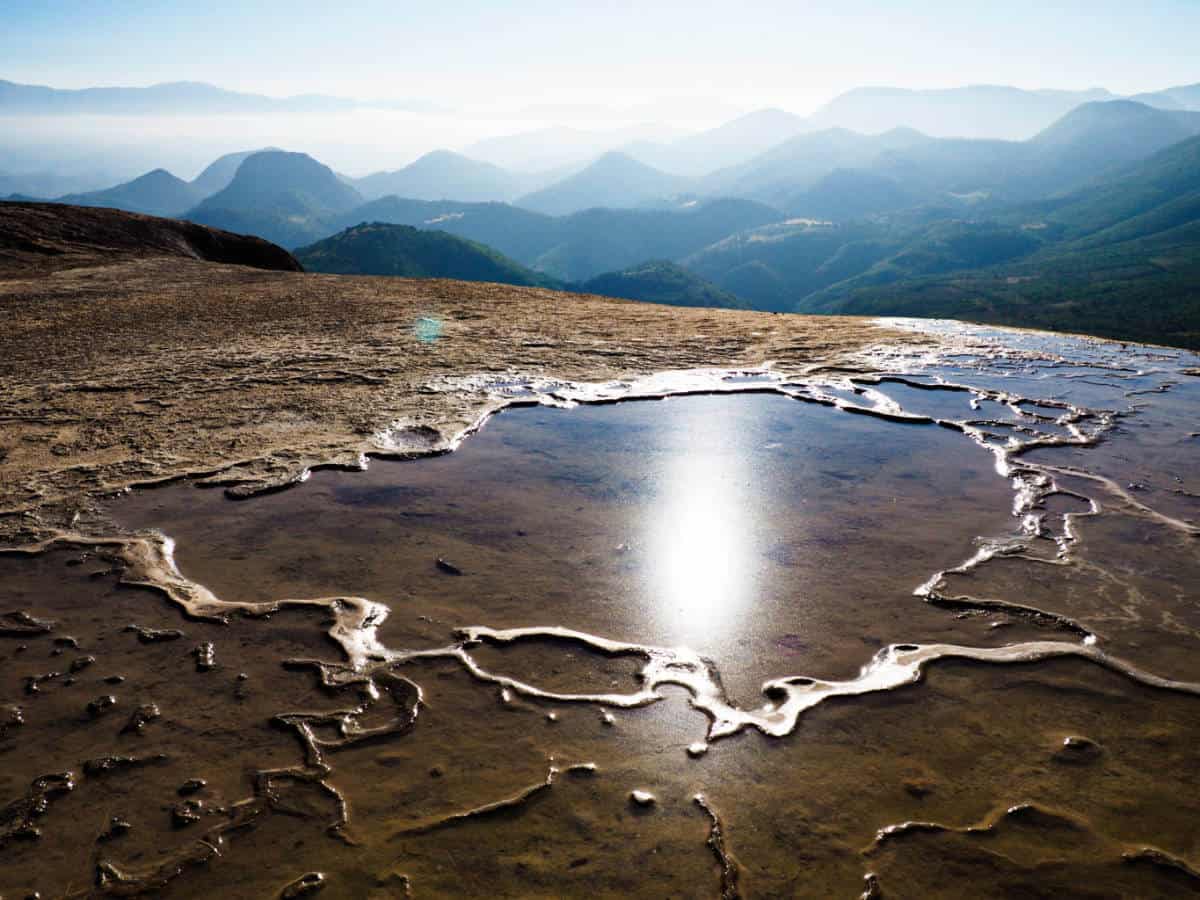 Hierve el Agua Without a Tour
It's also easy to visit Hierve el Agua on your own. If you have time, I definitely recommend it! To get to Mitla, you can take a bus for about 18 pesos or a shared taxi for 25 pesos. There are buses and shared taxis located near the baseball stadium in the north of the city.
If you are staying closer to the south of Oaxaca City, you can flag a shared taxi (look for Mitla across the top of the windshield) from the Periferico. If there are several people in your group, you'll need to find an empty collectivo taxi at Central de Abastos where they line up to depart. This is a large local market in Oaxaca. It can get pretty busy, so be mindful of your personal belongings.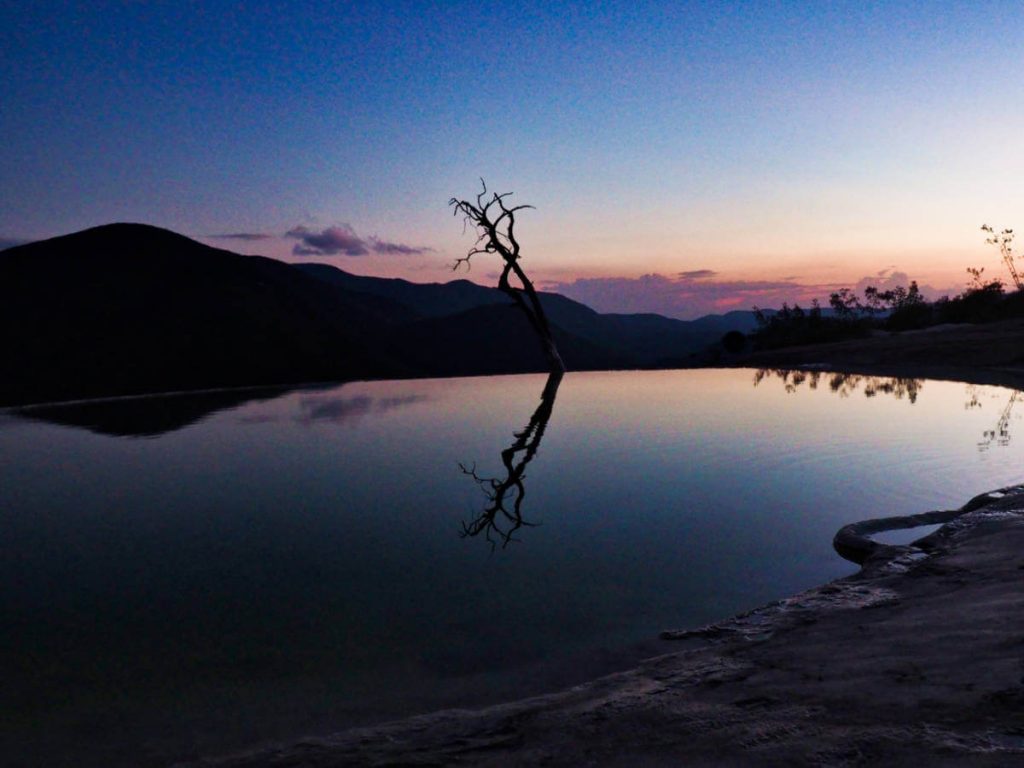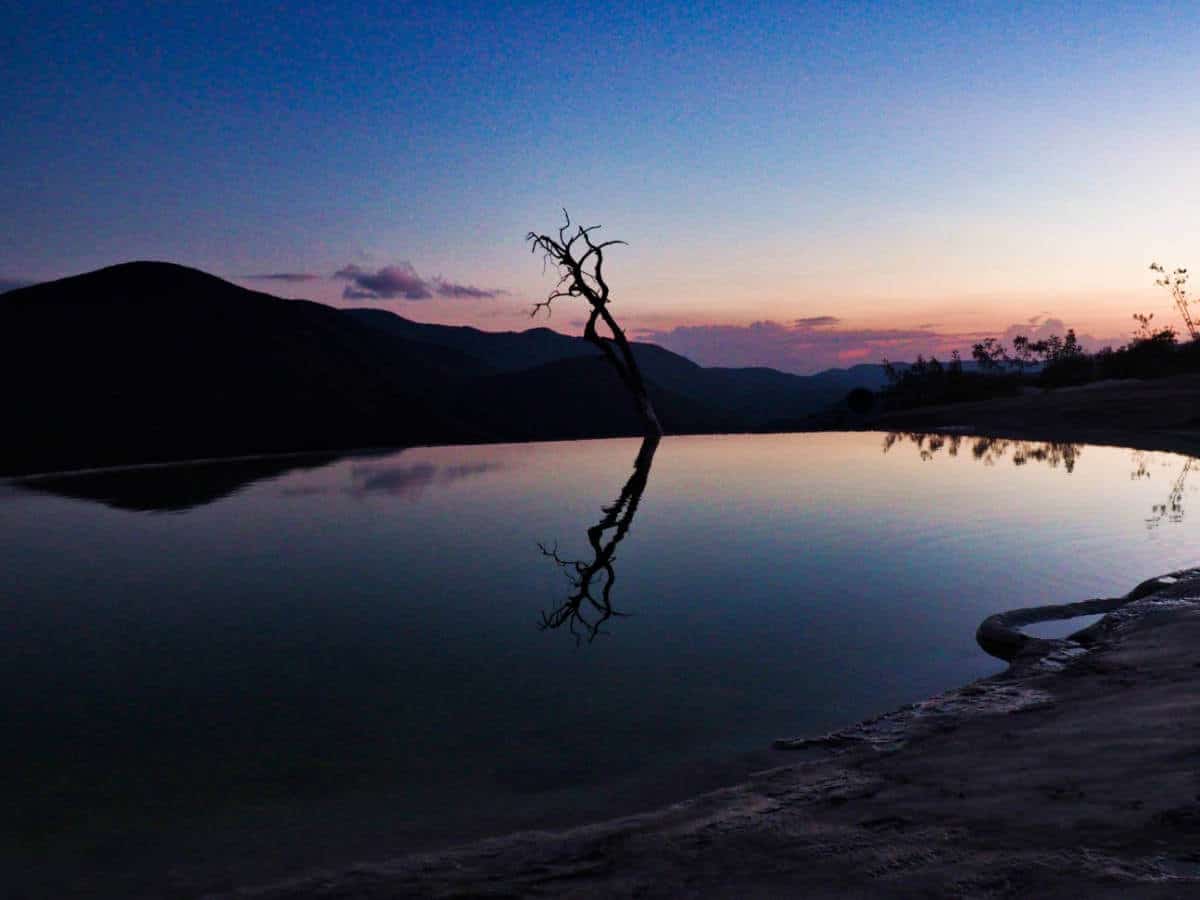 After about an hour, you'll arrive in Mitla where you can buy a seat in a collectivo pick up truck to take you to Hierve el Agua for 50 pesos each way. The trucks run between Mitla and Hierve el Agua every day from 8 am – 6 pm. There's space for five people in the front and many more in the back, which only has bench seating. It's a bumpy 45 minute ride on a mountain road, so try to snag a front seat if you can.
The driver will take you through the gate of Hierve el Agua where you need to pay an entrance fee of 25 pesos. From there it's a 10 minute walk down to the pools. There are several vendors selling food, mezcal, and micheladas so you won't go hungry or thirsty.
Click on the images to read these related posts
Hierve el Agua Cabanas
The secret to visiting Hierve el Agua without crowds is to stay overnight at the cabanas on site. You'll have access to the pools after the tour groups leave and in the morning before everyone arrives. The cabins are simple but with stunning views of the mountains and valley.
After scouring the internet and asking multiple tourist information centers in Oaxaca, I could not find any information about booking the cabins at Hierve el Agua ahead of time. And that's just it. There is no phone number, no reservations. The cabanas are available on a first come, first serve basis. But since no one seems to know about them, the availability is pretty open.


The cabin I saw has one double and one single bed, a private bathroom with hot water, and a back deck with amazing views. The cost is 200 pesos per person. To book the cabins, inquire at the front gate when you arrive.
Tip: If you rent the cabin, you'll either need to eat before the vendors pack up around 6 pm or bring your own food. Once the gates close you'll be locked in the grounds without access to a restaurant. It's a good idea to bring snacks and plenty of water regardless.
The driver told me about another accommodation in town that a family rents above their home. They also have a restaurant in front of their home called Comedor Citlaly, which makes meals in this small village convenient.
The cost is 100 pesos per person and while they have WiFi, access to Hierve el Agua is limited to the opening and closing times since it's outside of the gates. At the time I didn't realize the difference and he drove me there instead. It's nice to have a second option but I suggest asking about the Hierve el Agua cabanas first.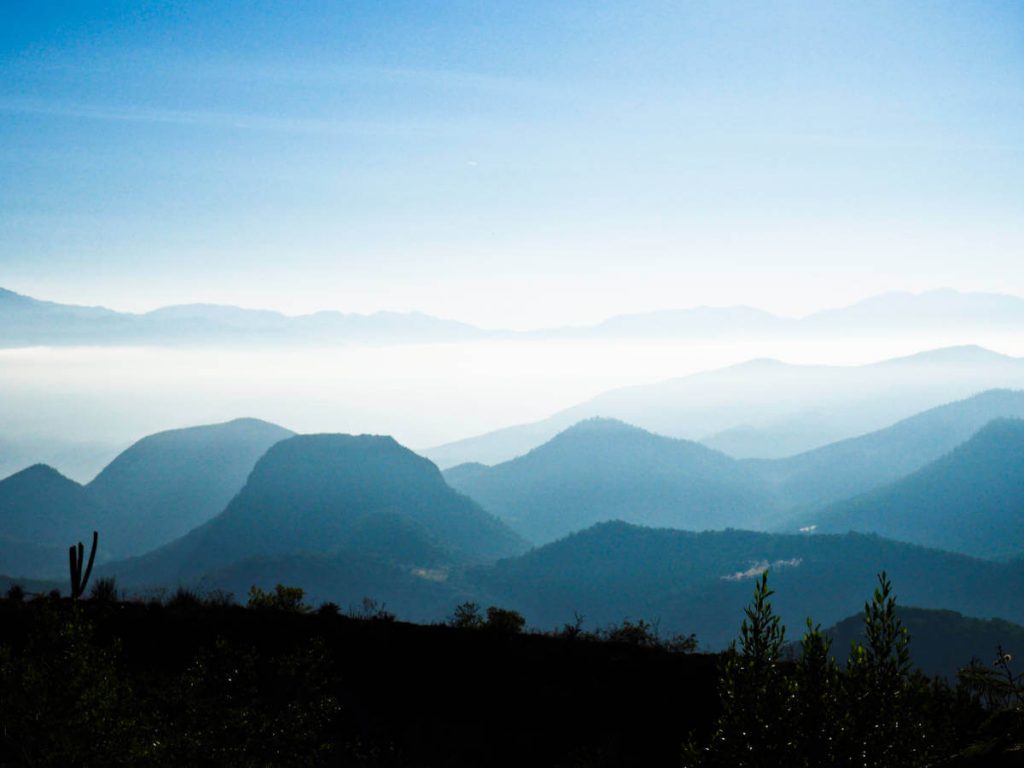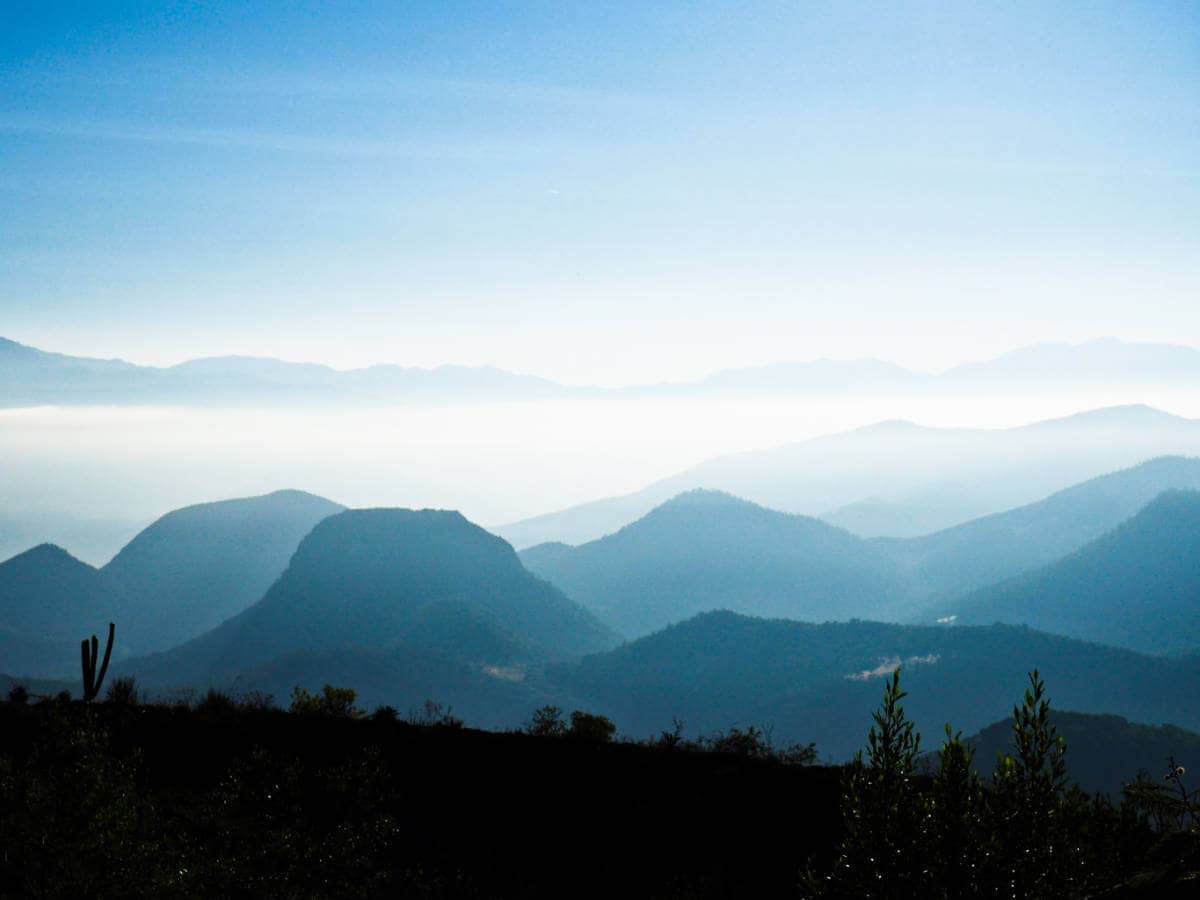 What is a petrified waterfall?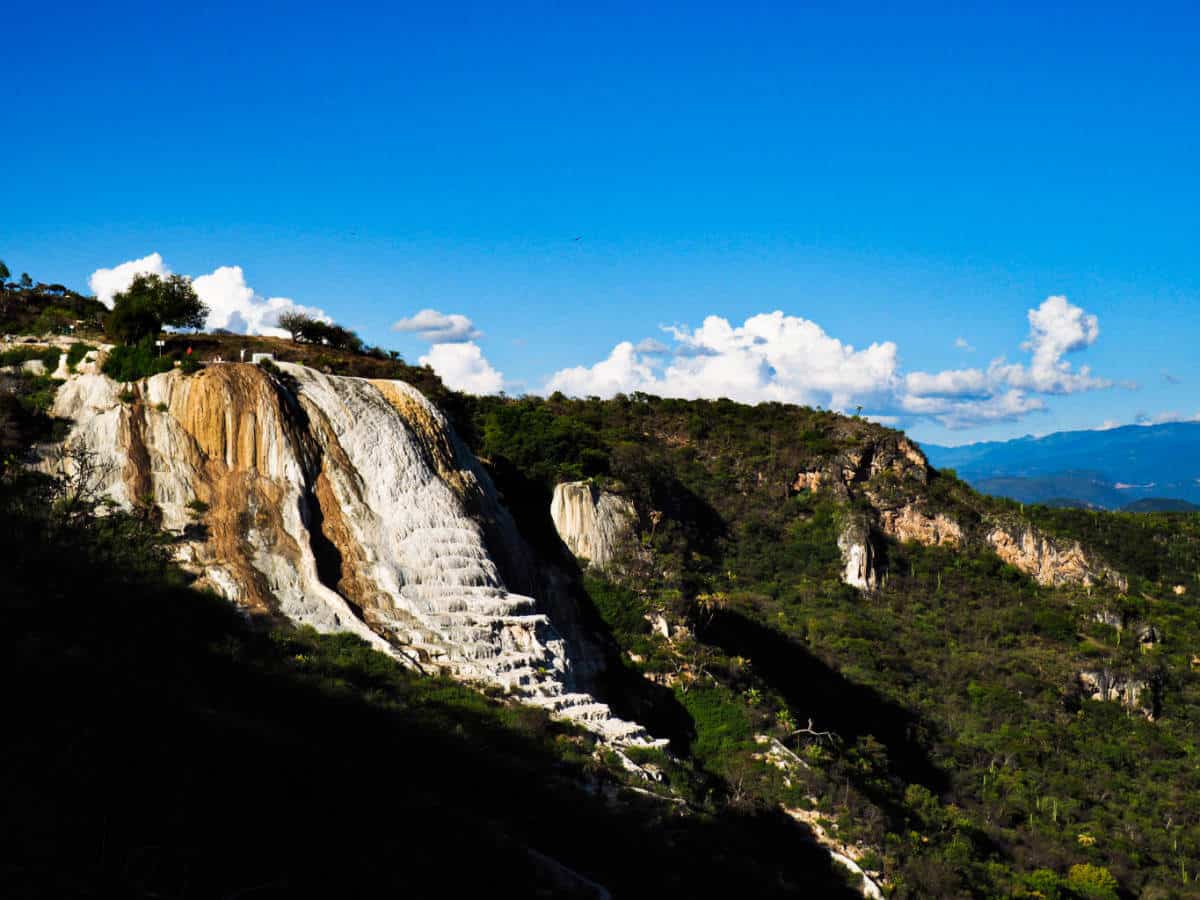 The petrified waterfalls at Hierve el Agua were created over thousands of years. They formed as a result of the mineral-rich spring water trickling down the cliff face from above in a similar way that stalactites are formed in a cave.
Hierve el Agua is one of two petrified waterfalls in the world. The other is Pamukkale (Cotton Castle) in Turkey. However, unlike Hierve el Agua, Pamukkale is a hot spring with thermal waters. The water at Hierve el Agua ranges from 72 to 81 degrees Fahrenheit.
Can you swim at Hierve el Agua?
Yes, you can swim at Hierve el Agua. The name translates to the water boils. However, the water is not hot. The man-made pools are filled from a natural spring that appears to boil up from the earth, hence the name. While it's not a thermal spring, the rich mineral content is known for having healing properties.
Funny story, I actually did not bring my bathing suit. When I heard the water wasn't hot, I figured it was too cold to swim. As soon as I arrived I realized my mistake. It was a sunny day and while the water was not as warm as I would have liked, it was not frigid either. Don't be like me. Bring your bathing suit! There are changing areas on site.
What Should I Bring?
You'll want to bring a hat, sunblock, sturdy shoes, swimwear, a towel, and cash. If you decide to stay overnight in the cabins, you'll need to eat early before the vendors pack up or bring a snack.
There are a couple of trails you can hike to see the waterfall from a different angle. The entrance to the trails start at either the pools or from the parking lot just before you get to the vendors.
Despite the altitude, it's not a very strenuous hike and the trailheads are clearly marked but make sure you bring plenty of water. If you have enough time, you'll want to take advantage of the gorgeous vistas you encounter along the hike, overlooking fields of agave, small pueblos, and crisscrossing mountains.
Have you been to Hierve el Agua in Oaxaca? What did you think of the petrified waterfall? Tell me in the comments, I'd love to hear from you!
Like this article about Hierve el Agua? Save it!