La Huasteca Potosina, Mexico | An Amazing Adventure in San Luis Potosí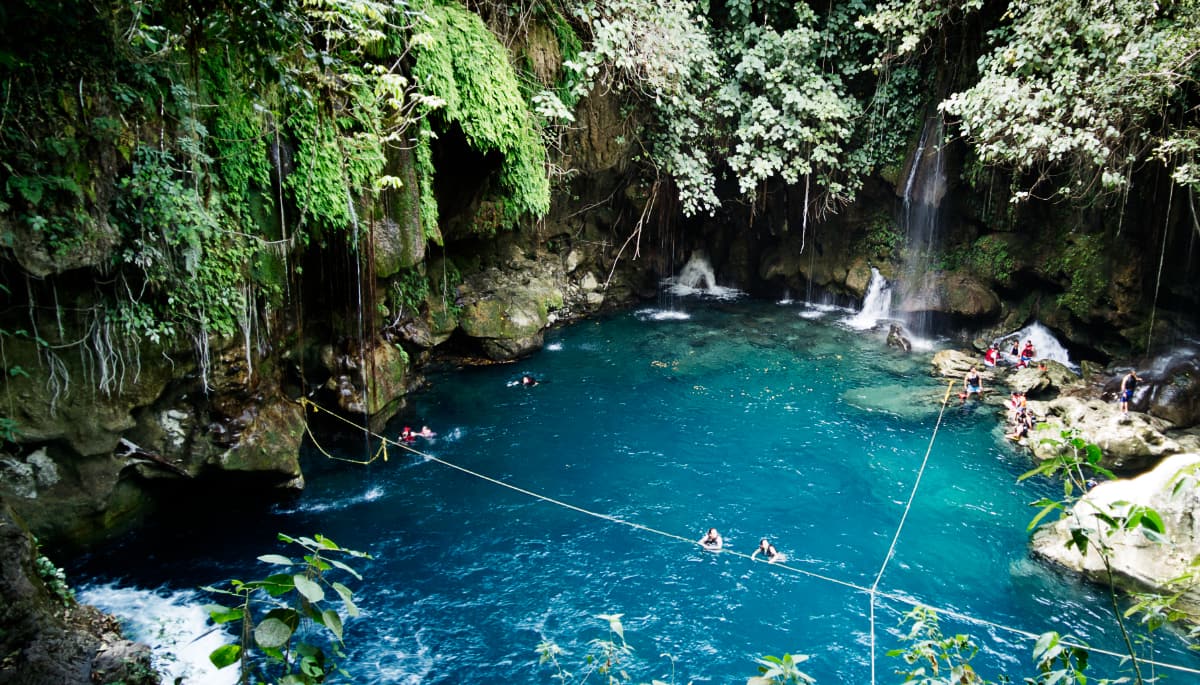 La Huasteca Posotina, Mexico is a lush tropical region in the state of San Luis Potosi. It extends towards but stops short of the state of Veracruz and the Gulf Coast.
The region owes its name to the Huastec people who lived in the area before the arrival of the Spanish.
Huasteca Potosina is characterized by a network of rivers and diverse natural attractions that draw adventure and nature lovers to the area.
While the Huasteca Potosina waterfalls are the main attraction, there are also caves to explore, exotic birds to identify, and a surrealist garden that's perfect for daydreaming.
Continue reading as we go on an adventure through La Huasteca Potosina, starting with some practical tips. If you prefer, you can skip ahead to the things to do in Huasteca Potosina.
This article may contain affiliate links. This means if you click a link on my website and make a purchase, I earn a commission at no additional cost to you. For full information, please see my disclaimer here.
Huasteca Potosina Travel Guide and Tips
La Huasteca Potosina is an incredible region that will take you through a journey of rivers, waterfalls, and caves.
It's an incredible area to explore on a road trip. Although it's also possible to travel by public transportation or take tours if you stay in the main towns.
Where is Huasteca Potosina, Mexico?
Huasteca Potosina, Mexico is located in the north-central state of San Luis Potosi. The area is about 8 hours northeast of Mexico City and 3 hours east of the city of San Luis Potosi.
La Huasteca Potosina is a sub-region of La Huasteca which refers to the area influenced by the Huastec people. It borders the Gulf of Mexico and includes areas in the states of Veracruz, Queretaro, Guanajuato, Hidalgo, and several more.
Is La Huasteca Potosina Worth Visiting?
One word. Waterfalls. Huasteca Potosina is full of them and their bright blue color will leave you in constant awe.
La Huasteca Potosina is definitely worth visiting if you enjoy nature, waterfalls, and exploring an area less visited by foreigners.
Best time to visit Huasteca Potosina
The best time to visit Huasteca Potosina is in the winter. At this time the rains have stopped yet the waterfalls are still full. Although, it is still a good time to visit Huasteca Potosina from roughly October through April.
The worst time to visit Huasteca Potosina is in the summer. The rainy season stirs up the sediments that turn the normally piercing blue color of the waterfalls a bit murky. The rains also make some, such as the Tamul waterfall so forceful that you are unable to get close.
How many days do you need to visit Huasteca Potosina?
You should spend at least four days in Huasteca Potosina. However, you could easily spend a week (or two or three) in this area of Mexico.
How many days you need to visit Huasteca Potosina will also depend on how you plan to get around – rent a car, public transportation (which can be difficult), or take one of these Huasteca Potosina tours.
Is Huasteca Potosina safe?
Huasteca Potosina is very safe. Traveling through the small towns, my father and I were warmly welcomed everywhere we went. Over our 10-day road trip, we never felt as though we were in any danger.
Huasteca Potosina Tours
If you are not going to rent a car to explore La Huasteca Potosina, you'll most likely need to take a tour.
In that case, it's best to base yourself in the centrally located city of Ciudad Valles for at least a few days since most of the tours leave from there.
I've detailed the most popular Huasteca Potosina tours below. But you should also read this guide to the best Huasteca Potosina tours if that's your preferred way to visit the region.
Huasteca Potosina Waterfalls
The waterfalls in Huasteca Potosina are incredible. And it's probably the main reason you're interested in visiting the region.
Discovering each one is an adventure. From the stunning turquoise waters of Cascada Minas Viejas to admiring the force of Cascada El Meco and swimming in the layered pools of Salto del Agua.
Not to mention, paddling in a panga boat to the Tamul Waterfall, adventuring in Micos, and swimming under the majestical Puente de Dios. All of these Huasteca Potosina waterfalls are included in the itinerary below.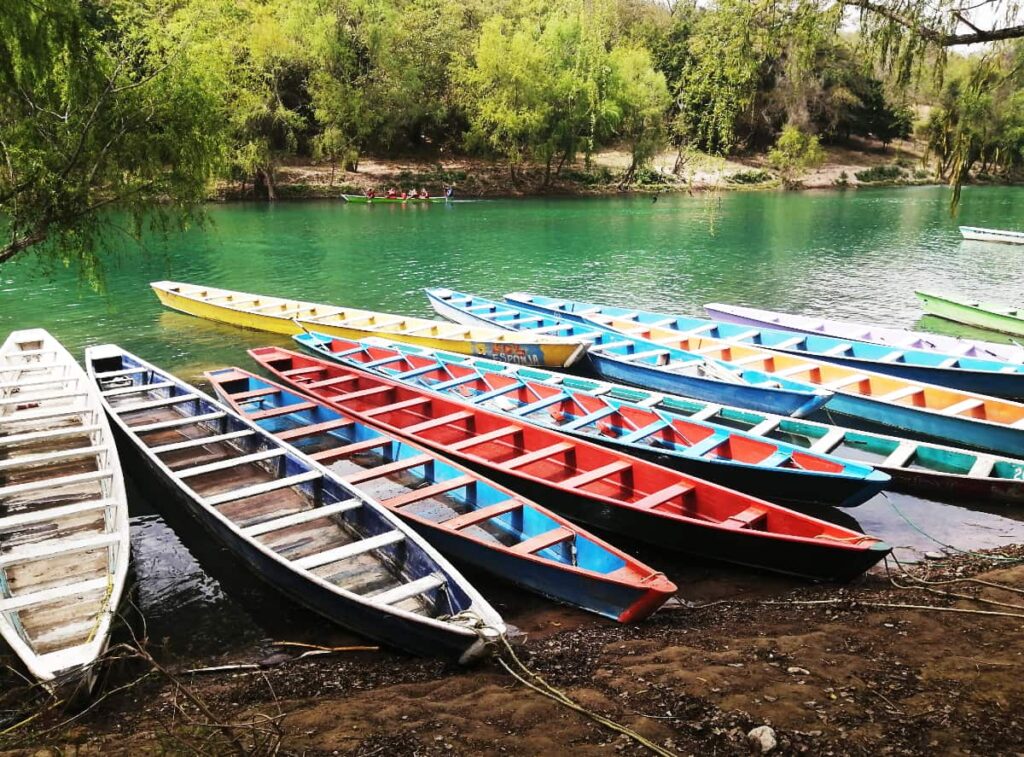 Things to Do in Huasteca Potosina – An Itinerary
This detailed itinerary will take you through the things to do in Huasteca Potosina. The route will work best if you rent a car to explore the region, which I personally think is the way to do it.
As you follow along with the things to do in Huasteca Potosina, feel free to stay longer in one place if you have the time or save parts of it to break up the trip on the return.
This Huasteca Potosina guide follows a route from San Luis Potosi since that's where most travelers start.
However, I did this road trip over 10 days, starting in Queretaro to explore the Sierra Gorda as well. Since these areas are so close together, I think they combine to make an amazing (action-packed) road trip.
If you decide to start in Queretaro to combine it with the Sierra Gorda, you can simply reverse this itinerary to start in Xilitla.
Tamasopo | Puente de Dios and El Trampolin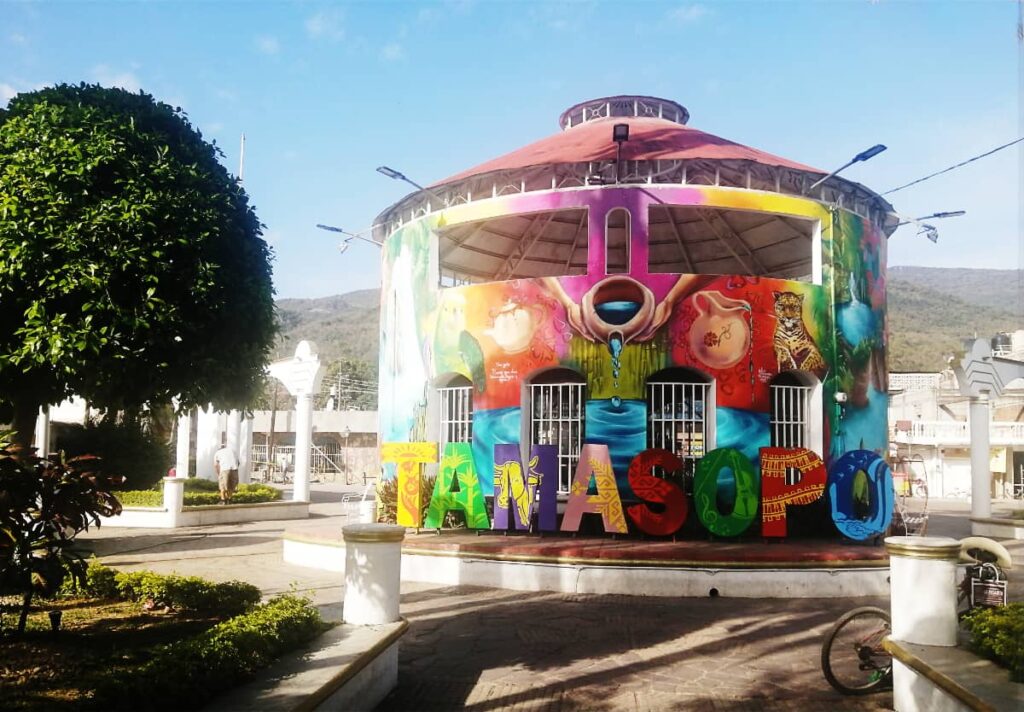 The area of Tamasopo, San Luis Potosi may just be my favorite part of the Huasteca Potosina.
This small town has a handful of restaurants, a bustling mercado, and a cute square. But the natural gems are Puente de Dios and El Trampolin. Keep reading to learn how to discover them both.
If you can, I recommend staying a couple of days in Tamasopo. I could have easily devoted an entire day to the Bridge of God alone.
Where to Stay in Tamasopo
Cabañas Rio Tamasopo ($$$) – Air conditioned cabins with views of the turquoise river.
Hotel Falcon ($$$) – Comfortable hotel with pool located on the river near El Trampolin.
Hotel Cosmos ($$) – Modern hotel in a great location with comfortable beds, air conditioner, and parking.
Hotel Merand ($$) – Centrally located hotel with comfortable rooms and air conditioner.
Puente de Dios | Bridge of God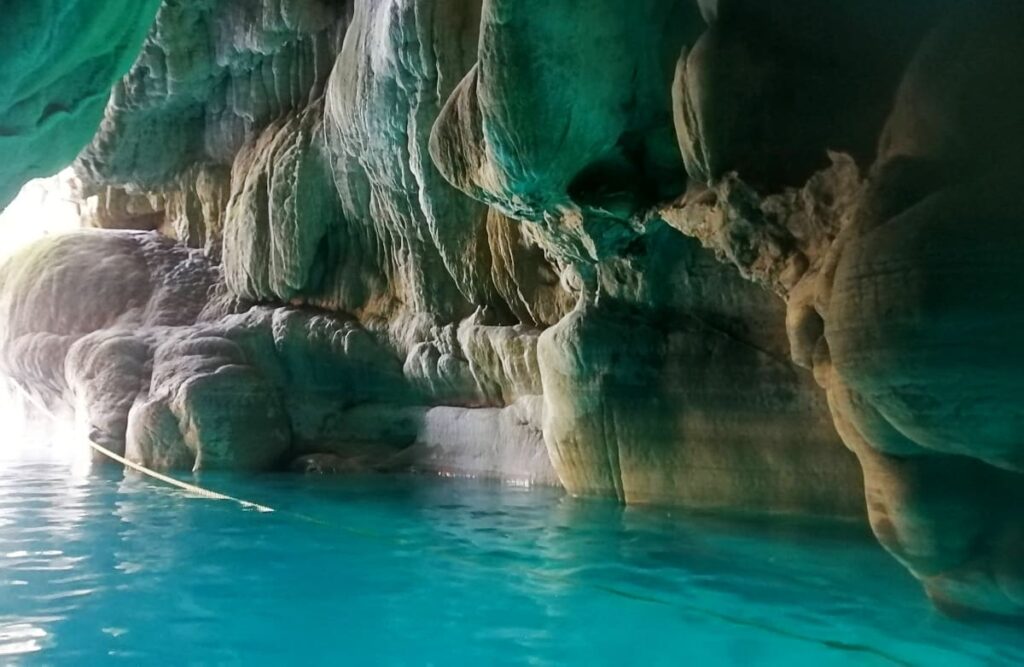 This natural area includes a series of walkways along the river with lovely places to swim and observe nature. The star of the show, Puente de Dios, gets its name from the bridge that formed as a result of water eroding the rocks away.
You could easily spend the whole day at Puente de Dios swimming in the river, exploring the bridge, and hanging out in the cenote-like swimming hole.
I recommend timing your swim under the bridge at midday, between 1 and 2 pm. At this time, the sun illuminates the water an electric blue color that's so incredible I couldn't believe it was real.
As you arrive at Puente de Dios, various parking attendants will try to sway to their lot. If you want to be closer, wait to park until you get closer to the railroad tracks near the entrance.
Many will try to sell you a life jacket rental but it's best to wait to rent one just before you enter to swim at Puente de Dios. They also have an area to guard your belongings (not locked) for a small tip.
Hours – 8 am – 4 pm, closed Mondays
Cost – 35 pesos entrance, plus life jacket rental
Tour – Puente de Dios and Tamasopo Waterfalls
El Trampolin | The Trampoline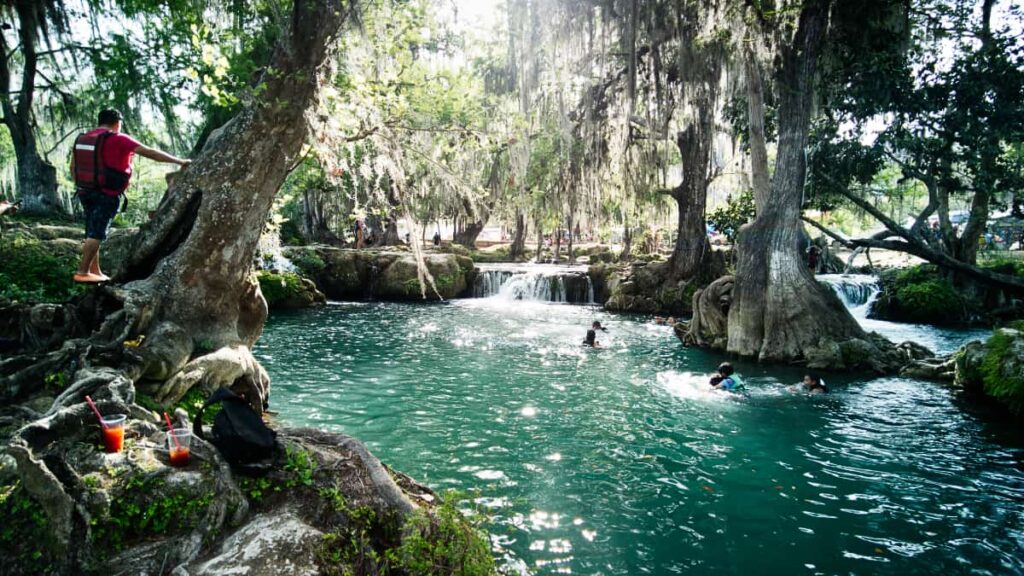 This public park is located along a beautiful river with nearby camping.
Small waterfalls are created as the water flows from one pool to another. And the dreamy atmosphere is enhanced by the large trees dripping with Spanish moss.
Families spend the entire day here, swimming and playing in the water. There are rope swings and areas to relax with a picnic or purchase food from one of the vendors.
El Trampolin is located just a short drive outside of Tamasopo. And amazingly, there is no entrance fee.
El Trampolin Details
Hours – 7 am to 7 pm every day
Cost – Free
El Naranjo | Minas Viejas, Salto del Agua, and El Meco Waterfalls
El Naranjo is a small dusty town with streets that switch from paved to dirt and back again with no real sense.
It's big enough to have more than one ATM and two gas stations – one on either side of town. But it's definitely not a destination in itself.
In fact, it was my least favorite of the small towns in La Huasteca Potosina. However, it's a strategic point to base yourself in to see the waterfalls in the area. And this is where renting a car is key.
If you don't have a car, you could alternatively stay in Ciudad de Valles and book this tour which takes you rappeling and waterfall jumping.
Taking public transportation to reach these Huasteca Potosina waterfalls will require a LOT of walking after being dropped off at the crosspoint.
Where to Stay in El Naranjo, San Luis Potosi
Bel-Há Ecoparque ($$) – Eco-friendly cabins located close to Cascada Minas Viejas.
Hotel Del Valle ($) – Centrally located basic hotel in El Naranjo with a pool and restaurant.
Cascadas de Minas Viejas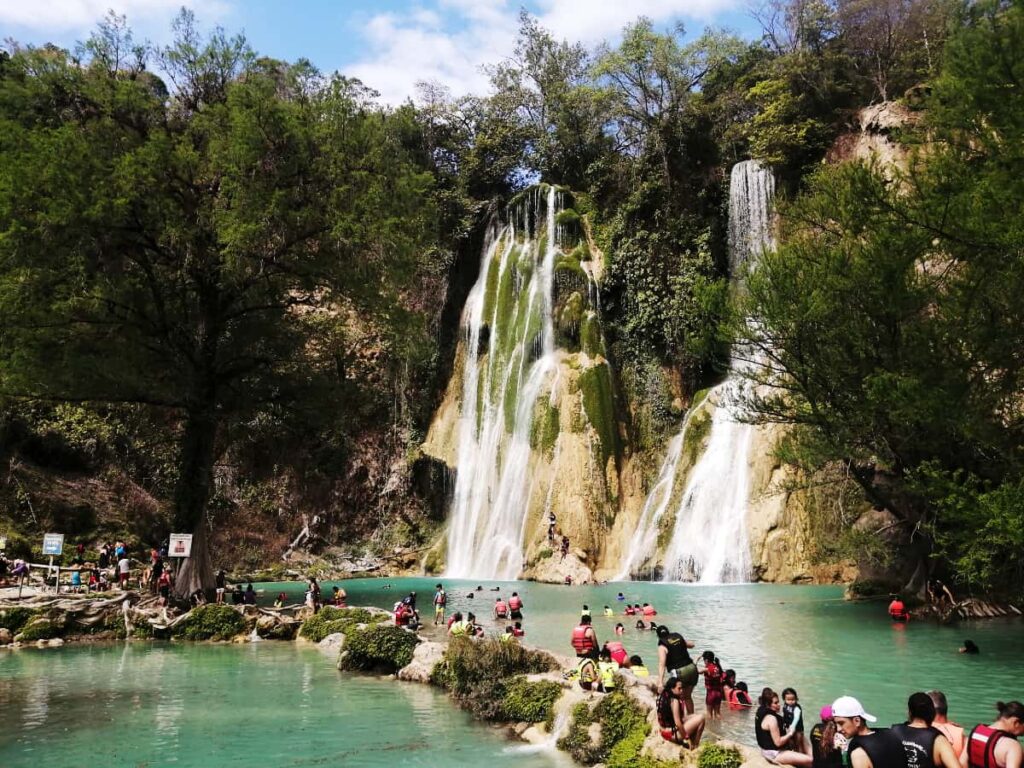 Two cascades of water flow down the rock face and into the turquoise blue water below. The seemingly endless pools flow from one to another with bridges and walking paths made from rocks and other natural materials.
The Minas Viejas waterfalls are one of the most popular in the area. When we visited on a holiday weekend (not recommended) many families camped on the surrounding grounds. They brought large coolers and looked as if they were staying the whole weekend.
The swimming area is mostly shaded, so if it fits your schedule, try to go in the early afternoon when the sun warms the frigid water. A life jacket is required to swim, which can be purchased at the water's edge.
How to Get to Minas Viejas Waterfalls
Whether you are staying in El Naranjo or Cuidad Valles, you will need to drive, taxi, or book a tour to the Minas Viejas Waterfalls. Once you arrive at the entrance, there is a paved path down to the waterfalls and swimming area.
If you don't want to rent a car, you can book this tour which leaves from Ciudad Valles.
Cascada Minas Viejas Details
Location
Hours – 8 am – 7 pm every day
Cost – 60 pesos to enter, 40 for parking, and 30 for a lifevest
Other – 50 pesos to camp (bring your own) or rent a rustic cabin at Bel-Há Ecoparque
Cascada El Meco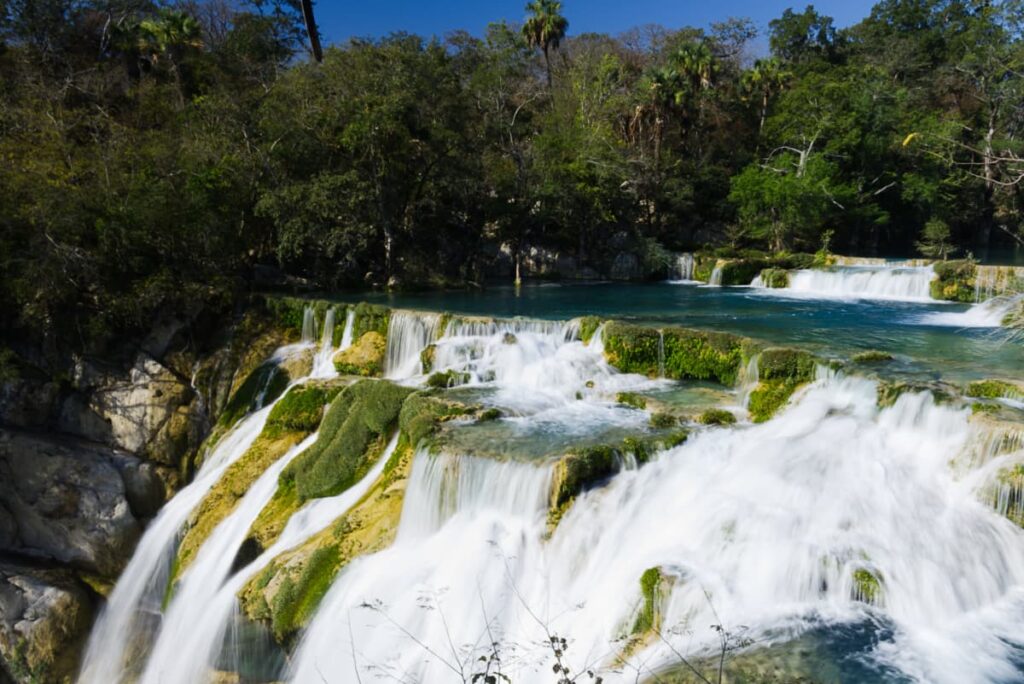 Located just north of El Naranjo, Cascada El Meco is a wide waterfall with a viewpoint.
Initially, I thought the viewing platform was all there is, but there are some activities you can do in the river below. I was offered an hour boat ride (150 pesos) in a wooden canoe that look similar to those at Cascada Tamul.
Since we were heading to El Salto del Agua next, we opted to enjoy the view and sounds of the rushing waterfall from the restaurant next door. There is another small viewing platform just below the restaurant that is accessible to patrons.
El Meco is also a good alternative place to stay to explore this area of La Huasteca Potosina. Several accommodations are located along the turquoise river, including the luxury villas at Hotel Mirador el Meco.
Cascada Salto del Agua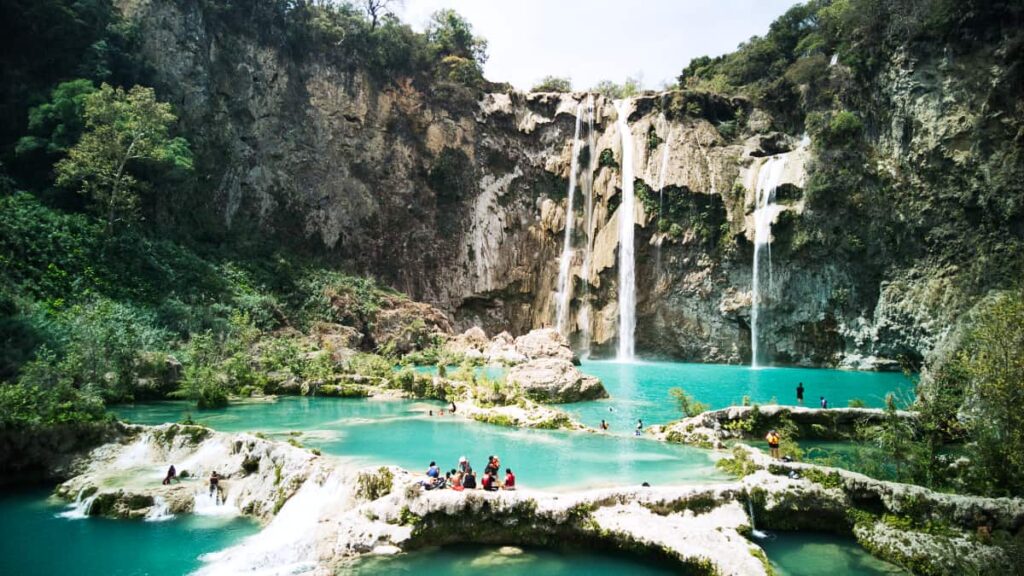 At over 200 feet tall, El Salto is one of the most impressive waterfalls in Huasteca Potosina. But the waterfall itself is not always flowing.
Sometimes the water is diverted by the hydroelectric power plant. I've read they allow the water to flow on the weekends for tourists. I've also read you can see the waterfall during the rainy season. But when we visited it was neither and the waterfall was visible.
Regardless, the area always has a series of pools with water of an incredible turquoise blue color. The natural formations that create the pools are also a comfortable place to rest between swimming.
This was one of our favorite things to do in Huasteca Potosina for three reasons. To start, it wasn't very crowded, despite it being free. Second, no life jacket was required, although they are available to rent if needed. And third, there was a platform to jump from located close to the waterfall.
How to Get to Salto del Agua
Salto del Agua is located just a 10-minute drive from El Meco. When you reach the power plant, turn left and continue down the dirt road.
Find a place to park and continue walking the dirt road until you reach the waterfall area. The walk is not strenuous and the drive was easily doable in our compact rental car.
Salto del Agua Details
Location
Cost – Free
Cascada El Aguacate
At over 70 meters tall (229 feet), Cascada El Aguacate is the second highest waterfall in La Huasteca Potosina, after the Tamul Waterfall.
When you arrive, descend the roughly 150 wooden steps to the base of the waterfall. While you can't swim here, the water flows into a series of small pools where you can swim.
This is one of the least visited Huasteca Potosina waterfalls. On a weekday, you may just have it to yourself.
Cascada El Aguacate Details
Location
Hours – 9 am – 6 pm every day
Cost – 50 peso entrance fee
Cuidad Valles | Micos and Tamul Waterfalls
Ciudad Valles is the biggest city in the region and thus the best place to base yourself if you plan to take Huasteca Potosina tours or hire taxis.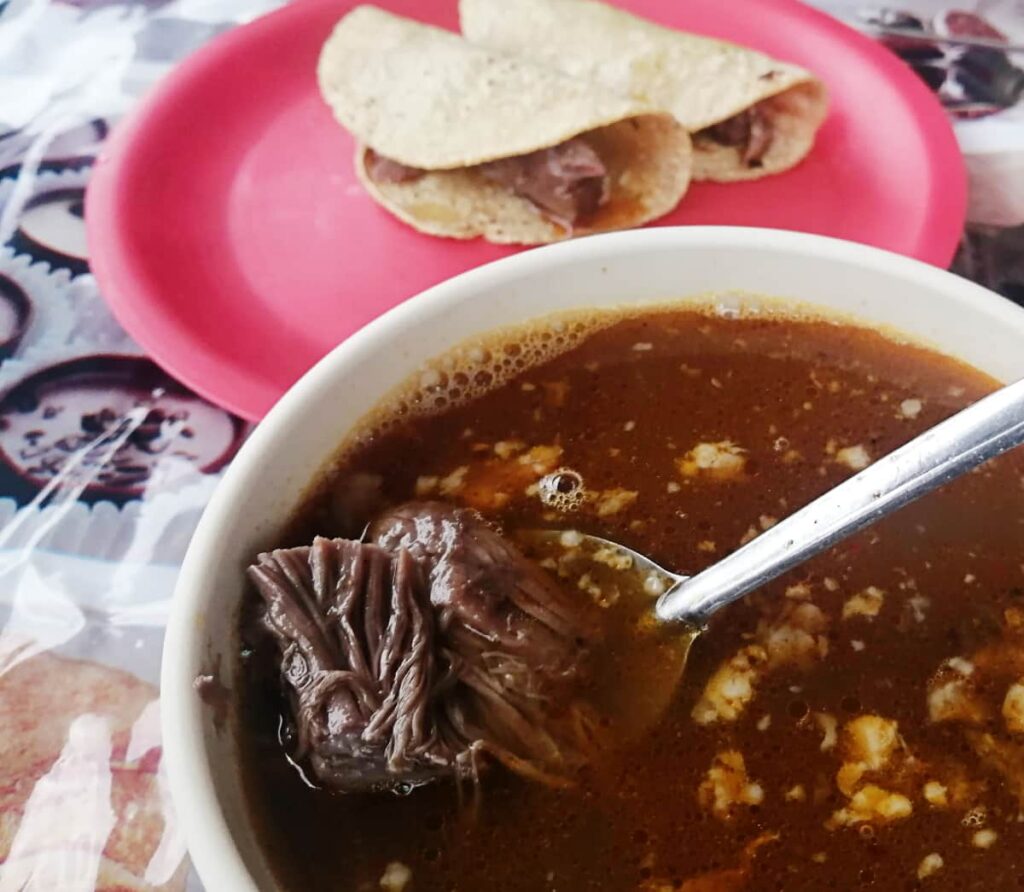 Other than this restaurant which serves some of the best lamb barbacoa I've ever had, Ciudad Valles doesn't offer much. In fact, the big city feels a bit jarring after spending so much time in nature.
If you have a car and want to stay outside of the city, book a room at Selva Teenek Eco-Park. They have both luxury tent stays (with a real bed) and larger wooden cabins with multiple beds and an air conditioner.
Where to Stay in Ciudad Valles
Hotel Valles ($$$$) – Colonial hotel with beautiful gardens, a pool, and two restaurants.
Casa Ammah ($$$) – Boutique hotel in a central location with a pool and shared kitchen.
Selva Teenek Eco-Park ($$$) – Glamping outside of Ciudad Valleys, near Minas Viejas. Need a car.
Hotel Tamtokow ($$) – Modern, comfortable rooms in a good location and at a good rate.
Hostal Casa Huasteca ($) – Centrally located hostel with shared and private rooms.
Cascada de Tamul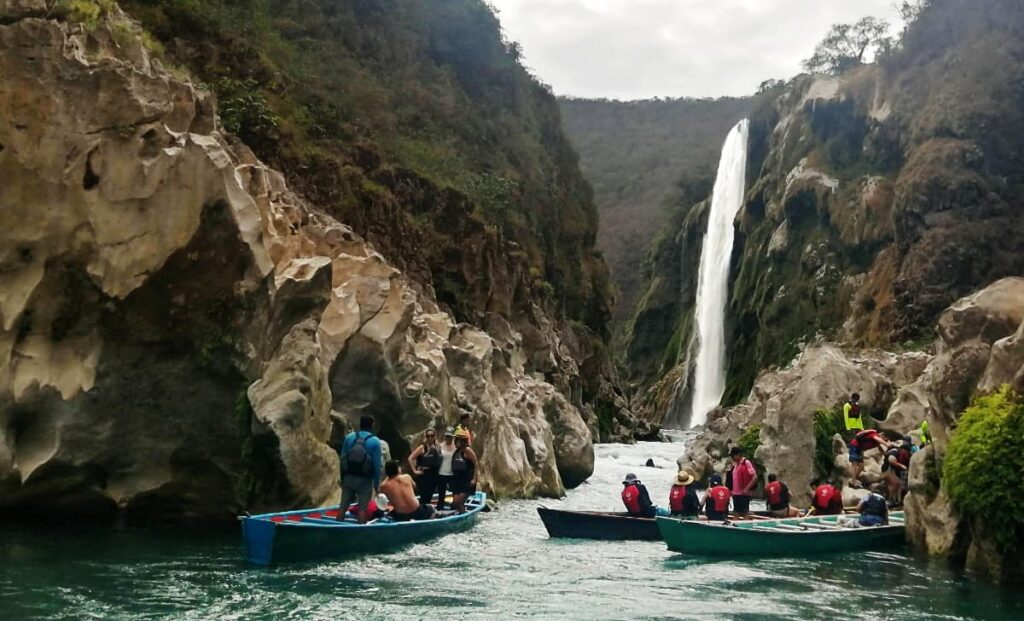 One of the most photographed waterfalls in Huasteca Potosina is Cascada de Tamul. Which means it's also one of the busiest. To get to the Tamul waterfall, you can choose to take a boat ride along the river or hike to an area to see the waterfall from above.
We only had a short time in the afternoon, so we opted to drive to where the wooden boats launch and see the Tamul waterfall from there, knowing it would be a little bit touristy.
I didn't realize how much fun we would have with our group and the other boats.
How to Get to the Tamul Waterfall
To take the wooden boats to the Tamul Waterfall, you will first need to arrive here. There is a large area for parking (free) as well as bathrooms and a changing area. The entrance is 10 pesos per person.
Then look for the kiosk to the left of the boats and put your name down to be called for the next available boat. The cost is 200 pesos per person in a shared boat or you can rent a private boat (1-10 people) for 2,000 pesos. The life jacket and paddle are included.
If you don't have a car, you can check on the price to hire a taxi for the day or book this tour to Cascadas de Tamul which includes transportation and boat rental.
Cascadas de Micos
Cascadas de Micos is a series of layered waterfalls. They aren't as tall as other waterfalls in Huasteca Potosina so you'll often see people jumping into the water. The entrance fee is 100 pesos, including a life jacket.
If you're not experienced with Alternatively, you can take this tour which includes rappelling at both Minas Viejas and Micos Waterfalls.
We were looking for adventure (and afraid of waterfall burnout) so we decided to spend the day at Adventureland instead. They've created a series of ziplines, bridges, and a really cool sky bike, all of which take you over the Micos Waterfalls.
There are various packages depending on which adventures you choose. We opted for all, even though I really wasn't looking forward to the bridge. And while it was the most adrenaline-inducing part, the sky bike was a little nerve-wracking as well.
Unless you are a lot of people, you don't need to make a reservation ahead of time. We just showed up, chose the package, and were included with a group of women visiting from northern Mexico.
Aquismon | Sótano de las Golondrinas and Mantezulel Caves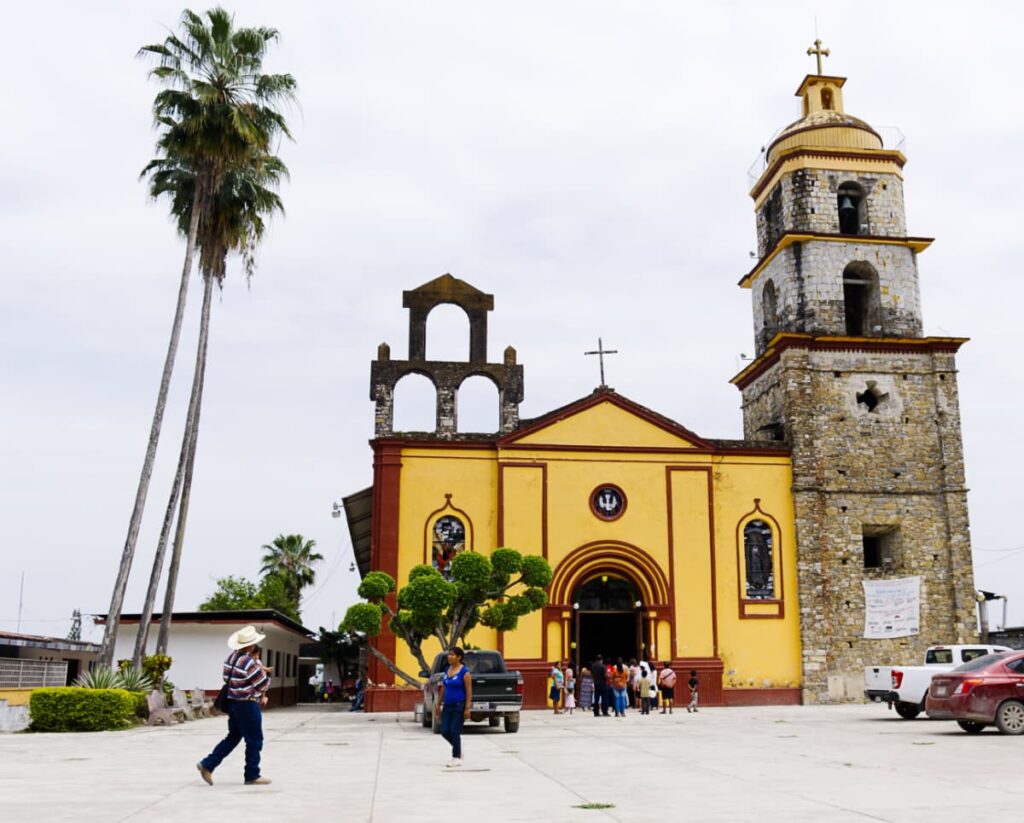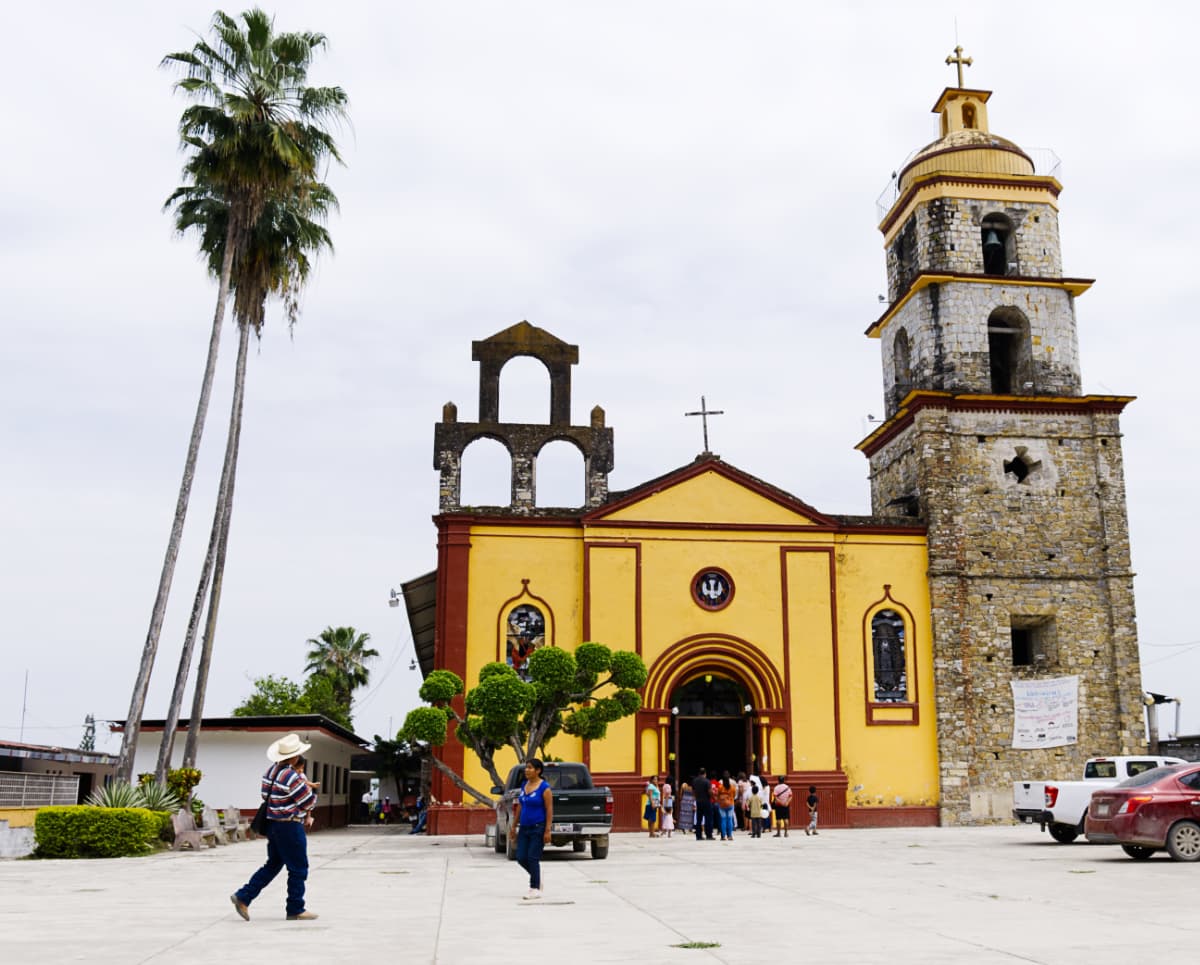 Aquismon is one of my favorite small towns in La Huasteca Potosina. I can't quite put my finger on it, but there was just bustling energy in this cute town.
And after exploring the Cave of Swallows and the Mantezulel Caves, we had a delicious and filling lunch of grilled chicken at Comiendo en Casa.
If you can book this place to stay in Aquismon or these cabins in nearby Tanchachin, I would highly recommend it as you'll benefit from being close to Sotano de las Golondrinas. Otherwise, you should stay in Xilitla (see next) and prepare for an early wake-up call.
Sótano de las Golondrinas | Cave of Swallows
Get ready for an early morning! When we arrived at The Cave of Swallows at 6 am, the entrance was already overwhelmed with a long line of people.
But the line moved relatively quickly. After buying tickets, go through the gate and descend the stairs to the viewpoints. There are many stairs but they aren't strenuous. Just be aware they may be slippery in the early morning.
The first viewpoint is less impressive but easier to access. If you don't have mobility issues, continue to the open clearing which marks the path for the segundo mirador (second lookout).
At the top are several guides with a rope that will harness those that want to look over the edge. I recommend waiting until more birds are flying out.
They fly out in waves so it will still be a bit of luck to see a large amount swirling through the cave as you're dangling your head over the opening.
How to Get to The Cave of Swallows
Google maps is pretty spot-on for the location of The Cave of Swallows, which I was a little worried about after reading some of the reviews.
We were lucky to follow several colectivos along the way which not only gave us confidence that we were on the right path but also alerted us to which turns and topes required putting on the brakes.
Once you arrive at the entrance, let one person out of the car to get in line for tickets while the driver continues forward to find parking along the side of the road.
If you decide not to rent a car, you can book this tour to visit the Surrealist Garden (see below) and a different cave similar to The Cave of Swallows called Sotano de las Huahuas.
TIP – The bathrooms here are very basic. While there is no fee, I do recommend bringing your own toilet paper.
Cuevas de Mantezulel | Mantezulel Caves
Within the community of Mantezulel is a series of three caves – Cueva de la Luz del Sol, Cueva del Aguacatillo, and Grutas del Espiritu Santo. It's located just north of Aquismon and is the perfect stop on your way back from The Cave of Swallows.
The Mantezulel Caves are abundant with stalactites and stalagmites. And if you're lucky, you'll spot the colorful parakeets that take shelter inside.
During the walk through the woods, our guide, Isidro, identified different trees and plants such as the copal tree, red cedar, and a vanilla plant. While he only speaks Spanish (and his native language at home), there are signs throughout the route with English explanations of the caves, flora, and fauna.
I also understood (as best I could in Spanish) that the area was a hideout during the 1810 Mexican Revolution. Those that didn't want to fight hid in the caves during the war. A year later they started building houses nearby and developed the community of Mantezulel.
How to Visit the Mantezulel Caves
The Mantezulel Caves are located here, just a short detour as you travel back to Aquismon from The Cave of Swallows.

In order to protect the caves and support the community, visitors are required to take a guided tour of the caves, given by one of the residents of Mantezulel.
You can book with Isidro directly ahead of time through WhatApp (+52 826-151-2170). Or you can show up and take a tour with whoever is available.
The cost is 300 pesos per group (up to 10 people) plus a 35 peso entrance fee per person. The last tour begins at 5:30 pm during the winter and 6:30 pm during the summer, but Isidro confirmed that it is better to visit in the morning.
We opted to take a two-hour tour of the two closest caves since the third one added about an hour to the trip and we felt we were tight on time. If you have more time, check out all three.
Xilitla | Surrealist Garden, Museum, and Coffee Town
Xilitla is a favorite place to stay for many travelers of Huasteca Potosina. But in my opinion, it's not nearly as charming as Aquismon or Tamasopo.
However, it's where you need to base yourself to visit the Edward James Surrealist Garden. And it's a good place to sleep the night before you visit the Cave of Swallows if you're unable to stay in Aquismon.
Where to Stay in Xilitla, San Luis Potosi
Las Pozas | Edward James Surrealist Garden
The biggest attraction in Xilitla is the Edward James Surrealist Garden, Las Pozas, located just outside of town.
Tucked away in the lush landscape are several waterfalls, a series of pools, and more than 30 structures fabricated from the wild imagination of Edward James.
The atmosphere of the gardens blends a bit of the Garden of Eden with ancient ruins. They are magical and mythical while taking you inside his mind.
How to Visit the Surrealist Garden in Xilitla
To visit the Edward James Surrealist Garden in Xilitla, visitors must now go on a guided tour.
It's also highly recommended to purchase tickets ahead of time which you can do online here. You'll receive the tickets by email which you can then present at the entrance on your cell phone.
The Surrealist Garden is typically closed on Tuesdays, although they occasionally open for particular dates. English tours are limited to two times per day (10 am and 3 pm, as indicated by a red dot when you purchase tickets).
Hours – 9 am – 6 pm, closed Tuesdays. English tours at 10 am and 3 pm.
Cost – 125 pesos for adults, 60 pesos for seniors (65+), and kids (6-12). Plus an extra fee for the guide of 25 pesos (Spanish tour) or 50 pesos (English tour).
Museo Leonora Carrington | Surrealist Sculpture Museum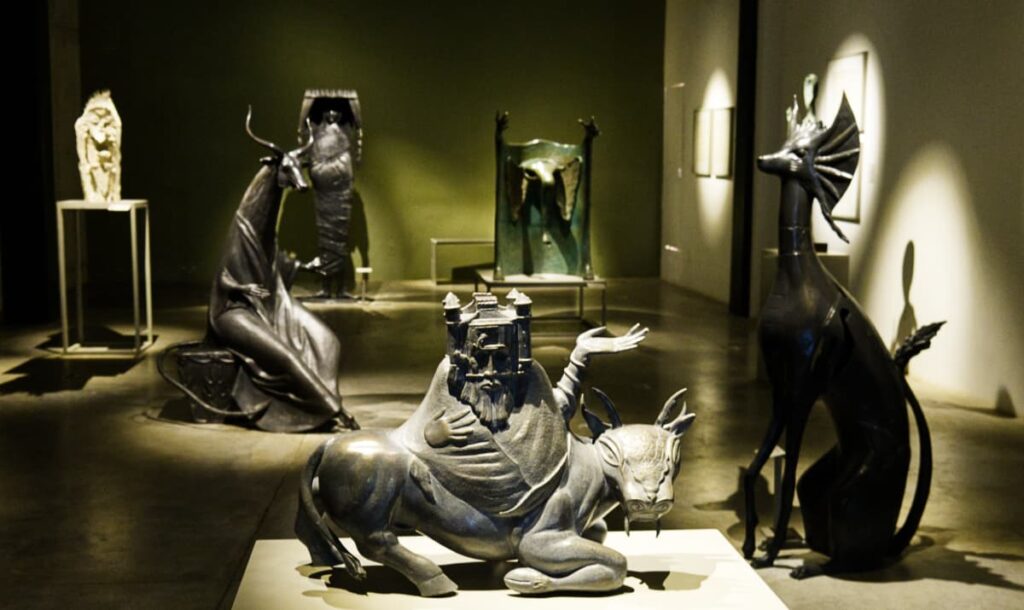 Explore the works of Leonora Carrington, one of the most prominent artists of the Surrealist movement.
The exhibit mostly consists of her sculptures which often depict a bit of fantasy blended with the present world. And the museum, which opened in 2018, does a beautiful job displaying these pieces.
The Leonora Carrington Museum is a great addition to visiting Xilitla's Surrealist Garden of Edward James who was a friend of Carrington.
Leonora Carrington Musum Details
Hours – 10 am to 6 pm, Closed Mondays
Cost – 55 pesos, no charge for children under 10 and seniors over 60
Questions about Huasteca Potosina, Mexico
Where is the Huasteca Potosina in Mexico?
La Huasteca Potosina is located on the eastern side of the north-central state of San Luis Potosi. It is a small region about three hours from the city of San Luis Potosi that stretches towards the Gulf of Mexico and the state of Veracruz.
How do I get to Huasteca Potosina?
To get to Huasteca Potosina, it is best to drive from the city of San Luis Potosi. However, some travelers opt to drive from Queretaro or Tampico instead. It is also possible to take a bus from San Luis Potosi to Ciudad Valles, although exploring the area by public transportation can be difficult.
Where do you fly into for Huasteca Potosina?
Most people fly into San Luis Potosi to visit Huasteca Potosina. However, it's possible to fly into the Queretaro airport or Tampico airport instead. While Tampico is closest, it's not as often traveled and has experienced violence in the past.
When should I go to Huasteca Potosina?
The best time to go when Huasteca Potosina is from October through April. It is best to avoid the rainy season when the waterfalls become more full and sometimes brown. It is also more humid and hot during the summer rainy season.
Can you swim in Huasteca Potosina?
Yes, you can swim in Huasteca Potosina. This area has an abundance of waterfalls, rivers, and other natural attractions. The rivers and waterfalls in Huasteca Potosina are often an incredible hue of turquoise blue.
Is Huasteca Mexico safe?
Yes, Huasteca Potosina, Mexico is considered safe. The area is dotted with mostly small towns that are known for sugar cane and coffee. You should be aware of your surrounding just as you would anywhere. But generally Huasteca, Mexico is safe.
How do you get to Huasteca Potosina from Mexico City?
To get to Huasteca Potosina from Mexico City, it is best to first drive or take a bus to San Luis Potosi. From there, the region of La Huasteca Potosina is more accessible whether you decide to travel by car or public transportation.
How do you get from San Luis Potosi to Huasteca Potosina?
To get from San Luis Potosi to Huasteca Potosina, travel east on Highway 70 towards Tamasopo. Alternatively, you can take Highway 57 to the north towards the 75D toll road which will take you to Rioverde.