Lamanai Mayan Ruins: Explorations of Submerged Crocodile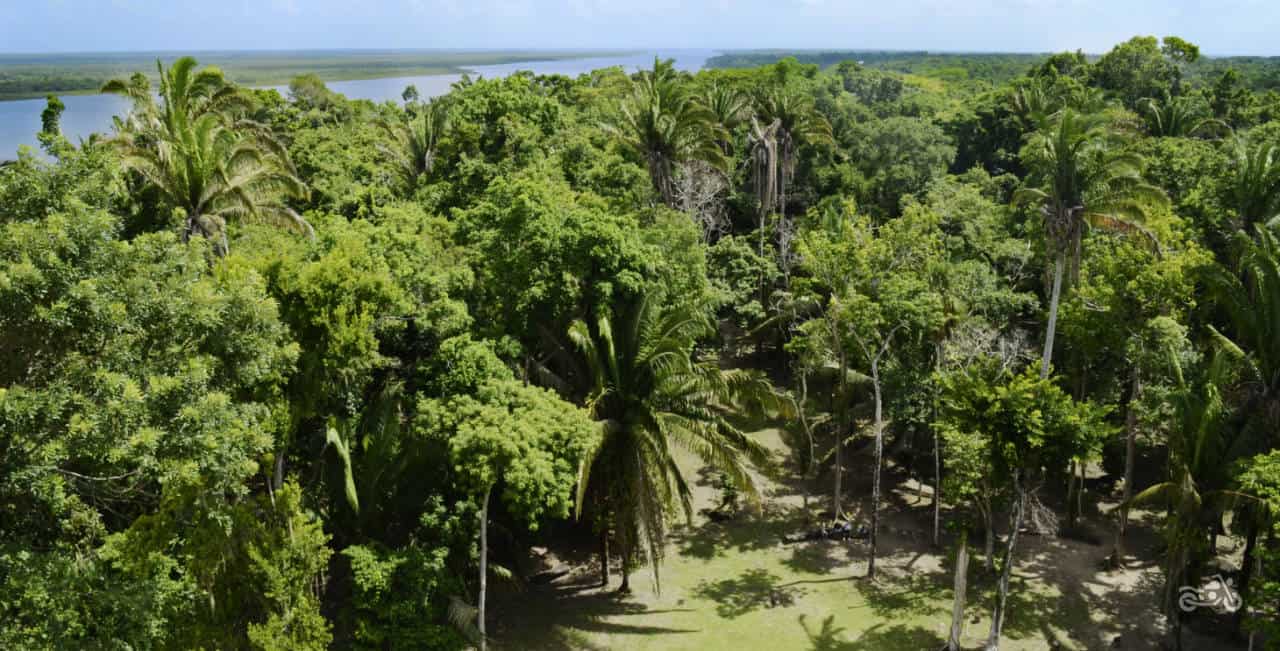 I love Belize. It's a country with so much natural beauty, caring people, lots of wildlife, and plenty of inexpensive delicious rum. The Lamanai Mayan Ruins is a short distance from Orange Walk Town, which has only 13,500 people but being densely populated, feels like it has a population of 40,000. Located just west of the New River, it doesn't seem to incorporate the river into daily life like a lot of other cities. In fact, we kinda stumbled onto it by accident while exploring the town. There's not a ton of stuff going on, but it's also not a sleepy town, and there are a lot of different cultures, so the food was great.
Visiting Belize and staying in Orange Walk Town
Belize is expensive compared to Mexico. The exchange rate seems to always be 2:1 USD, which means booking rooms and eating out is basically US pricing. The place that we stayed in Orange Walk Town is called Casa Rickys. Our room was above a bar, but the place wasn't loud thankfully. In fact, he's created a nice hostel environment that fits well with laid-back Orange Walk. Ricky knew a guide for Lamanai, so he hooked us up with his guy, and I believe we got a small discount at $50 a person. It's the most expensive ruin we've been to, but it included a boat ride and lunch, again, Belize is expensive.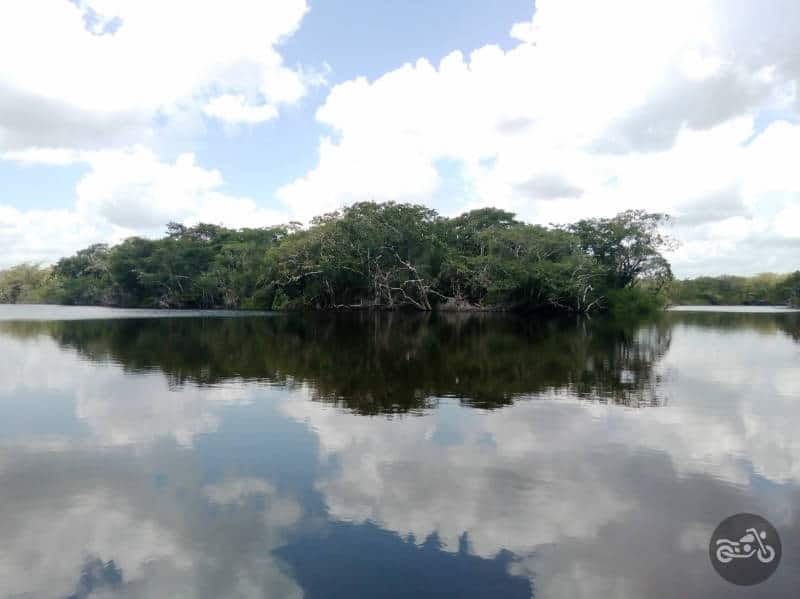 Getting to Lamanai Mayan Ruins
If you're staying in Orange Walk, the best way to get to Lamanai Mayan Ruins is by boat. The boat ride is an hour and a half long, which is the same as by car, but the boat ride is absolutely beautiful. Our guide began the tour by taking us to a location where a previously domesticated spider monkey hangs out. We fed it some watermelon and mango, while closely guarding our possessions because Sven the spider monkey likes to steal things. I'm always on a quest to see monkeys, and even a formerly domesticated monkey is good enough for me.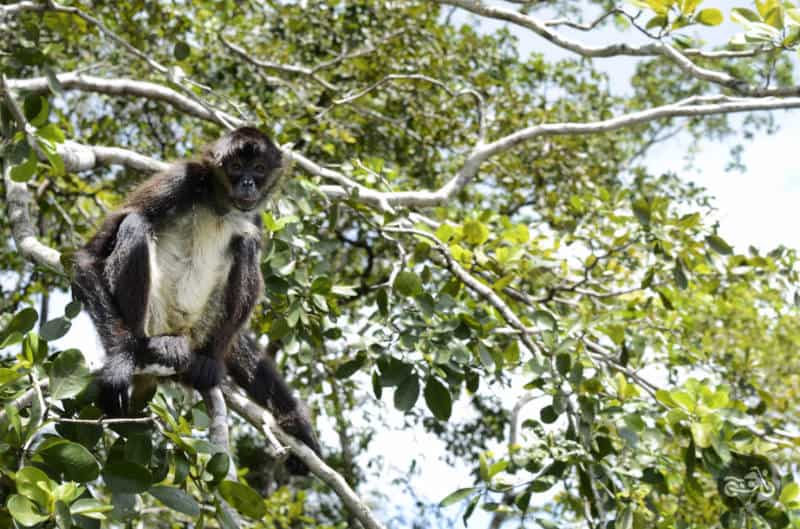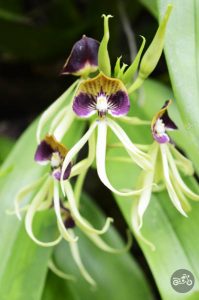 The tropical rainforests of Belize are beautiful and heading south down the New River, we see many different types of orchids growing among the tree canopy that hangs over the river. We pass many types of birds: egrets, herons, hummingbirds, kingfishers, hawks, and eagles. There are lily pads with white flowers, crazy colored butterflies, and dragonflies. We see all this traveling at a fast pace. The river isn't very wide for this portion of the river and the blind curves are a little scary. The captain maneuvers us through them always sticking to the right side of the turn to avoid collisions.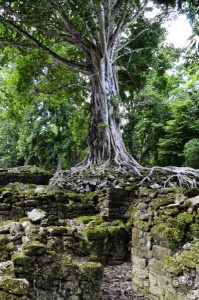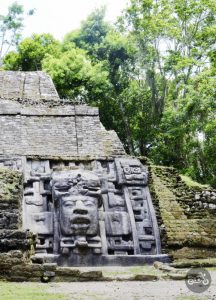 The Temple of the Masks was impressive. The carvings are quite large and were made using only rudimentary tools. Clearly the same can be said for every building in the complex. It's always awe-inspiring to think of ancient cultures doing this back-breaking labor, with little more than stone tools, and a will to appease a god. Julien and I really enjoyed that it was in the middle of the forest. A lot of the Mayan ruins that we visit in Mexico don't have the same jungle feeling, even when they are in the jungle, because they are cleared of vegetation to give a better sense of how archaeologists imagined the grounds were kept. The view from the tops of the two climbable temples at Lamanai Mayan Ruins are some of my favorite of the ruins that we've been to. While it's not the most excavated or restored, the stories from our guide, the river trip, and seeing a freakin' monkey, were very memorable.
Lamanai Mayan Ruins Facts
Lamanai means "submerged crocodile" in Mayan, as is evident by the numerous representations throughout the site.
Lamani has one of the longest histories of any Mayan site. Beginning around 900 B.C., it was occupied for 2,500 years before Spanish missionaries arrived.
At its height, Lamanai had a population around 35,000 and trade extended over the borders of modern-day Guatemala, Honduras, and Mexico.
The layout of Lamanai is different than many other Mayan ruins. Ceremonial structures are located along the west bank of the New River rather than in plazas as seen in many other sites.
Also unlike many other Mayan sites, Lamanai was built in layers. New structures were built on top of previous temples rather than destroying them.
Liquid mercury was found in an offering below the ball court. This is only one of two examples found in the Maya world. The other was also in Belize, at the Caracol Mayan Ruins.
How to Get to Lamanai Mayan Ruins
If you're staying in Orange Walk Town, the best way to get to Lamanai is by boat. Ricky, the owner of Casa Rickys, booked our tour and we were scheduled for a boat with 5 other tourists. The cost was $50 per person in 2017 and includes the 90-minute boat ride to Lamanai, a nice lunch, and a tour of the Mayan Ruins with an experienced guide.
From Orange Walk, the tour company will drive to a boat launch along the New River where you will meet with the other passengers and start the boat excursion towards Lamanai.
We made several stops at the beginning; first to see the Spider monkey, an old rum distillery, and our guide even pointed out some small bats that were resting on a tree.
Lunch was ready for us when we arrived at the Lamanai Mayan Ruins. We took about 45 minutes to eat and look around the museum on site. Then we began the tour of the ruins which lastest about 2 hours.
Like this article about Lamanai Mayan Ruins? Pin It!