23 Best Things to do in Oaxaca City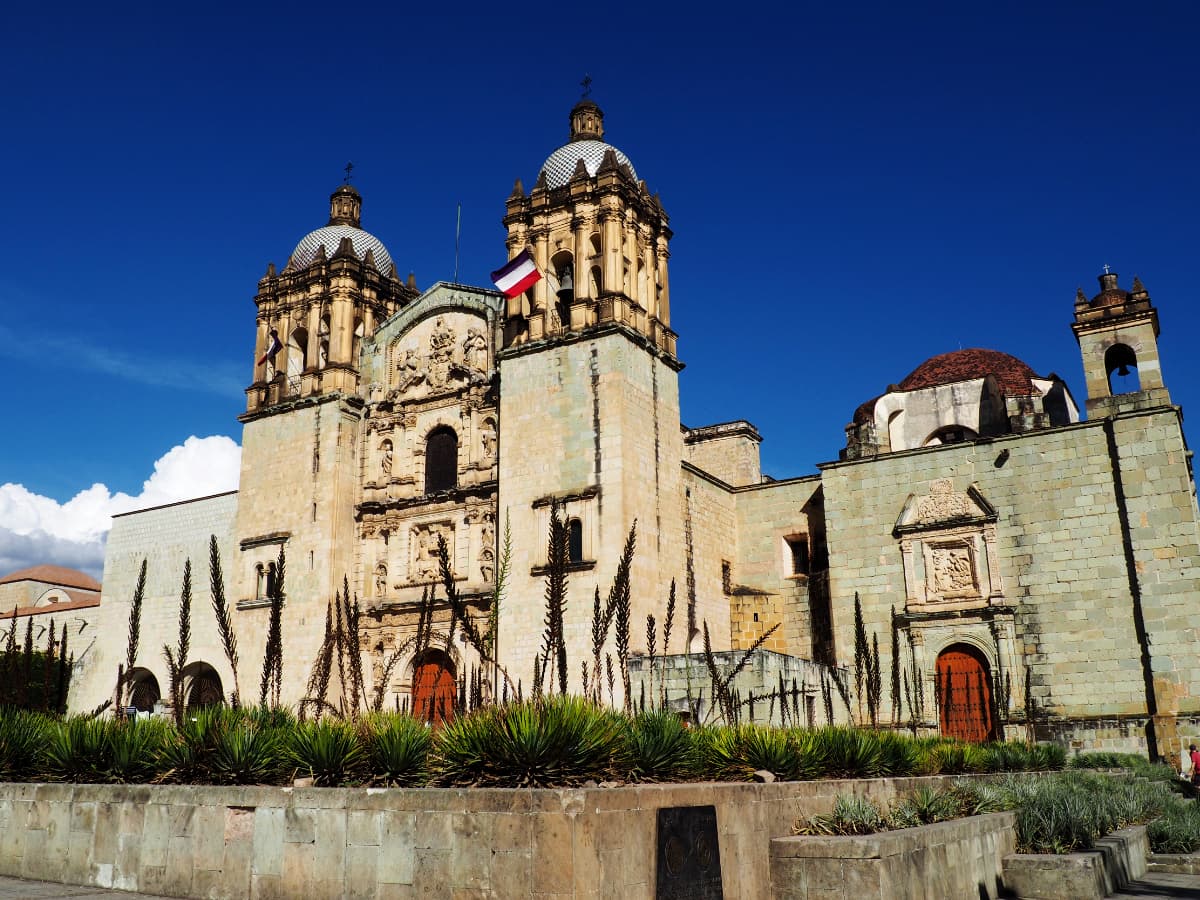 Oaxaca City is magical. The residents of Oaxaca are deeply tied to their indigenous roots and their traditions infuse vibrancy into this colonial city. Between the bustling markets, incredible food, ancient ruins, and lively street parades (calendas), you'll find plenty of things to do in Oaxaca.

Are you planning to visit Oaxaca but need help deciding what to do? Continue reading to discover the best things to see in this captivating city!
Visit the Templo de Santo Domingo
The impressive 17th-century Santo Domingo Church features a skillfully carved Baroque facade flanked by two domed towers on either side. Even if you're not into churches, you should step inside for a peek.

Don't miss the Rosary Chapel located on your first right after the entrance. The sheer amount of gold gilded into the sculptures is incredible. It rivals the Chapel of the Rosario in Puebla.

Chances are you'll pass by Santo Domingo Church more than once while visiting Oaxaca City. It's located in Centro, a few blocks north of the Zocalo. The square outside of the church is a gathering point for different events and several walking tours. There is no fee to enter.
Museum of the Cultures of Oaxaca
Located in the former monastery connected to Santo Domingo Church, Museo de las Culturas de Oaxaca takes you on a journey from pre-Hispanic to modern-day Oaxaca. The building, which is impressive in itself, is surrounded by amazing views overlooking the Santo Domingo square with a mountain backdrop. The other side has great views overlooking the botanical garden (see next).

Of all 23 rooms housing the permanent exhibition, the most impressive is Room 3 which displays items that were found in Tomb 7 at Monte Alban. The collection which has been dubbed the "Treasure of Monte Alban," consists of over 600 pieces of jade, gold, jaguar bone, and other pieces. The museum is interesting, though some rooms only require a quick pass through in my opinion.
Hours: Tuesday to Sunday from 10 am – 6:30 pm
Cost: 80 pesos, free admission on Sundays
READ NEXT – Oaxaca Hostels: 10 Best Hostels in Oaxaca City
Ethnobotanical Gardens
To be honest, most people tour the botanical gardens for an opportunity to capture a version of the photograph seen above. But you should also come here to learn about the native plants of Oaxaca.

The idea for an ethnobotanical garden was developed in the early 1990s as a place to "show the interaction of plants and people." Nearly all the plants are wild native species with a small section containing domesticated plants, the most fascinating of which is the heirloom corn.

Corn has been a staple in Mexico since it was first domesticated near Oaxaca about 10,000 years ago. There are over 50 varieties of maize (corn) in Mexico, but their existence is threatened by commercial agriculture. However, in the past decade, there has been a resurgence in the demand for heirloom corn varieties and an effort is underway to preserve the diversity of maize in Mexico.

You can easily combine a tour of the botanical gardens with a visit to the Santo Domingo Church and Culture Museum as they are all in the same location. However, you are only permitted to enter the gardens with a scheduled tour. Non-Spanish tours are 100 pesos.
Spanish Tours: Monday – Saturday at 10 am, 12 pm, 5 pm
English Tours: Tuesdays, Thursdays, and Saturdays at 11 am
French Tours: Tuesdays at 5 pm
German Tours: Wednesdays at 5 pm
This article may contain affiliate links. This means if you click a link on our blog and make a purchase, we earn a commission at no additional cost to you. For full information, see our disclaimer here.
Go on a (Free) Walking Tour
Oaxaca is such an enjoyable city to walk around and it's even better when you have a local resident to guide you. This free walking tour was created by locals with a mission to help visitors discover the best places to visit in Oaxaca. Points of interest include the old aqueducts, the Organic Market, and several of the graphic art shops (more on those later) located along Porfirio Diaz.
A walking tour, whether free or not, is a great way to get acquainted with a new city. It usually tops my list as one of the first things to do. If you prefer a smaller group, you can book a paid walking tour to show you around the city.
Discover the Street Art in Oaxaca
The street art in Oaxaca is rarely just decorative. There are powerful messages behind many of the pieces on walls throughout the city. They tell a story about Mexico and its people whether it's political, social, or economic in nature.
Admiring Oaxaca's street art has become so prevalent that tours have been developed to take visitors to different street art around the city to learn the history and meaning behind them. You can choose to explore the street art by bicycle or book this walking tour to learn about the history behind each piece.
Explore the Graphic Art Studios in Oaxaca
In addition to street art, Oaxaca is home to a lot of talented graphic artists, many of which embed similar messages as the street art into their screen prints. You'll find small shops throughout the city featuring graphic art.
Many of these small print shops have formed a cooperative of artists that work together to have a venue where they can display their art. There is some real talent here and it is definitely a must do in Oaxaca.
Look for a map called Pasaporte Grafico which details the location and mission of twelve graphic art studios in Oaxaca.
Some of the print studios that stand out are Taller Burro Press which specializes in traditional printmaking techniques, Hoja Santa which is dedicated to graphic art created by women, the collective of twelve artists that make up Galeria Gabinete Grafico, and Taller Artistica Comunitario which supports artists from Oaxaca's indigenous communities.
Get Lost in the Markets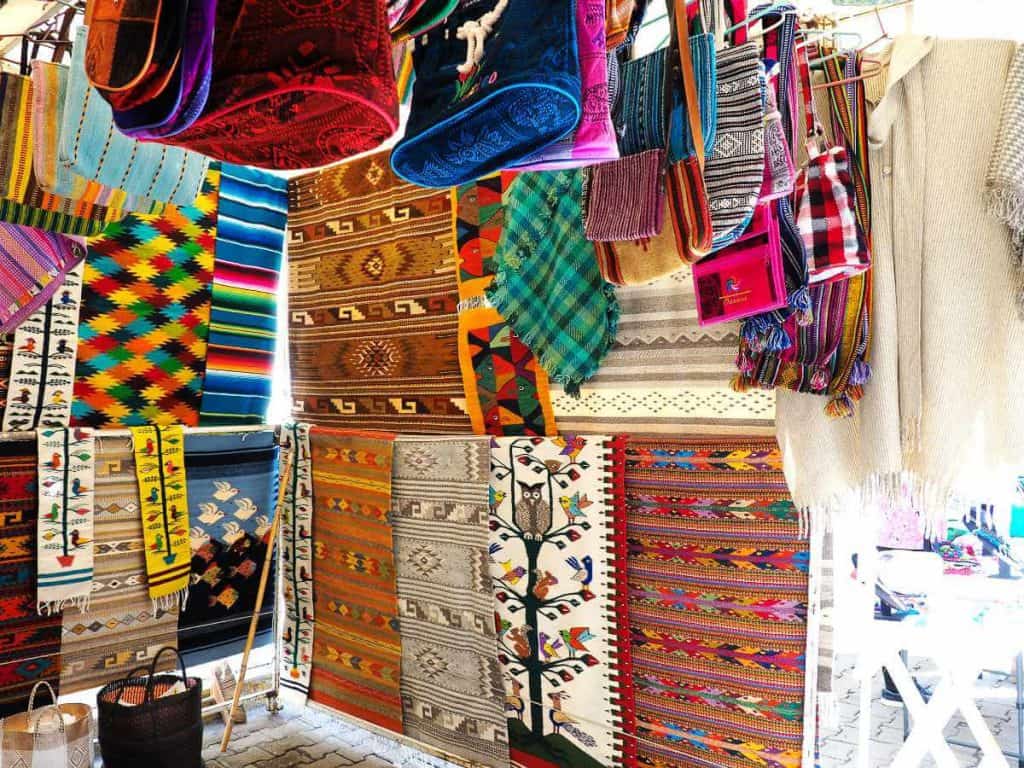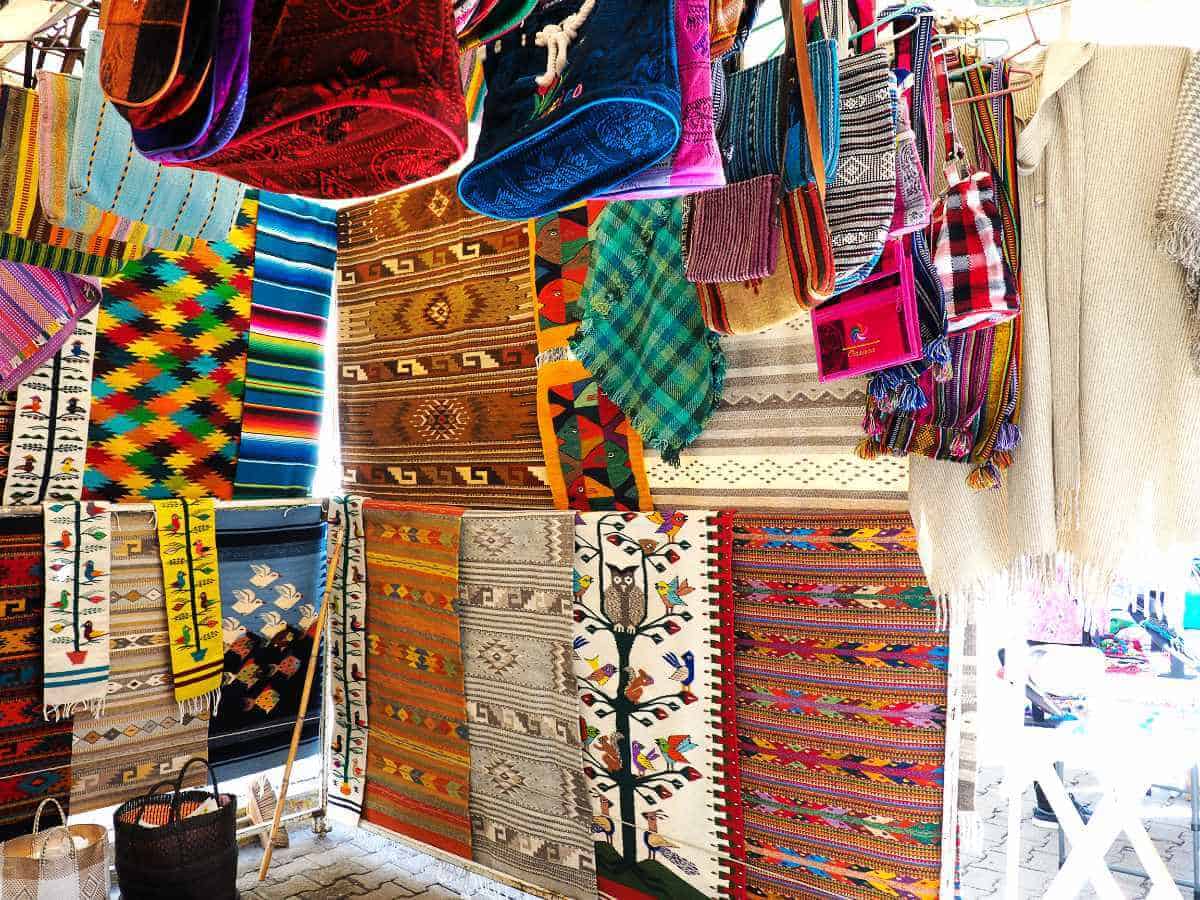 There are different markets of varying sizes in nearly every neighborhood of Oaxaca. In the center of the city, you'll find Mercado Benito Juárez which takes up an entire city block with vendors selling crafts, produce, and some prepared foods. Just one block south is Mercado 20 de Noviembre which is more of a food court (in a good way!) selling lots of prepared foods. It's a great place to eat an inexpensive lunch.

And you certainly shouldn't miss Organic Harvest Market which is located in an intimate courtyard and resembles a small farmers market. In addition to organic produce, you can find fresh juices and many prepared foods to eat.

Many of the surrounding villages also have a market, or tianguis, on a set day of the week. One of the most well known among tourists is the Sunday Market in Tlacolula. That being said, this sprawling market still maintains a very local feel.
Taste the Traditional Food
The food in Oaxaca is some of the very best in Mexico. Many of the most delicious foods are found in the markets, on the street, and in the small towns surrounding Oaxaca.

Food highlights of Oaxaca include tlayudas (a large flat tortilla sometimes called a Mexican pizza), mole, barbacoa, tasajo (a thin salty cured beef), tamales, and quesadillas made with squash blossoms or huitlacoche (an edible fungus that grows on corn, also called corn smut). You'll also want to keep your eyes out for chapulines (crispy fried grasshoppers) often sold at the markets.
Looking for the Best Restaurants in Oaxaca? Read this article next.
Drink Tejate
You may know that Oaxaca is famous for its chocolate which is both drunken by the cupful and use as an ingredient in mole. But the oldest chocolate drink in Oaxaca is tejate, a cold beverage made by the Zapotecs and Mixtecs.

Tejate is made by grinding cocoa beans, maize, mamay pits, and rosita de cocoa which are flowers of the funeral tree (not associated with cocoa) and then blending it with water.

Look for women with large clay pots selling tejate outside of the area markets. It's traditionally served in a decorative gourd bowl that you bring back when you are done. The flowers rise to the top to form a sort of chalky layer that also adds texture to this pre-Hispanic drink.
Take a Cooking Class
If all the food in Oaxaca has you drooling, book a cooking class so that you can learn how to prepare it yourself. Classes usually start with a visit to the local market to learn about and purchase the ingredients.

It's a great way to get a mini-tour of a market by a local guide. You'll likely discover new fruits and vegetables and learn more about the market than if you went on your own. After buying the ingredients at the market, head into the kitchen to learn the traditional way to cook Oaxacan food.
Mezcal Tasting
Your list of places to visit in Oaxaca should definitely include a visit to one of the many mezcal distilleries to see the process. But if you really want to discover mezcal, start with a more formal tasting at one of the mezcalerias in Oaxaca City.

One of the most well-known is the appointment-only Mezcaloteca where an intellectual vibe surrounds the teaching of mezcal production. A mezcal tasting at Mezcalería Cuish is a little more laid back while still upholding the traditions of artisanal mezcal.

Other notable places to taste mezcal in Oaxaca include In Situ and Mezcalogica. Check out this site's detailed description of mezcal tastings to learn more.
Reset with a Temazcal Ceremony
After gorging yourself on food and mezcal, reset your body with a traditional temazcal in Oaxaca. This ancient steam bath ceremony is rooted in cleansing the body, mind, and spirit. While each one is different, a temazcal ceremony generally starts with a ritual offering that honors the four directions and of course, the sun. After a purifying cleanse using copal, you will then kneel down and ask permission to enter the temazcal where hot rocks and water fill the room with steam.
After the doors to the temazcal are closed, darkness sets in, and the person leading the ceremony begins singing to call the spirits. The theme of the songs may include the four elements – earth, water, wind, and fire, around which the ceremony is based. I find the experience is heightened when you participate by singing or chanting along. And it's always a good idea to spend some time before going to the temazcal to think about why you are there or something spiritual that you want to focus on.
In search of a traditional temazcal, I found Holistik Temazcal and Masaje located in the mountains of Matatlan which is ironically the capital of mezcal. While temazcal and mezcal sound similar, I recommend keeping these experiences separate.
To get there, you can easily take a colectivo taxi to Matalan. However, if you schedule the temazcal in the morning you may need to first go to the town of Tlacolula. Later in the day, you can find a colectivo direct to Matalan. The total trip should cost about 50 pesos and will take an hour and a half. Ask the colectivo to drop you off at the restaurant El Pirul and then use google maps to follow the roads up the mountain to the temazcal.
Experience a Festival in Oaxaca
Day of the Dead
Dia de los Muertos, or Day of the Dead, is perhaps Mexico's most well-known festival. This celebration is as much about life as it is death. For pre-Hispanic cultures, death was simply a phase of life before continuing on.

To celebrate, families gather at the cemeteries with candles and offerings for the dead who they believe come back for a brief visit. While Mexico City hosts a larger celebration, Day of the Dead in Oaxaca feels more spiritual. 

There are two days on which Day of the Dead is celebrated in Mexico. November 1st is el Dia de los innnocentes, or Day of the children. And on November 2nd, they celebrate the adults that have passed away. Dia de los Muertos is a festive time to be in Oaxaca with events and comparsas (street parades) throughout the days leading up to the celebration.
Guelaguetza Festival
Oaxaca, Mexico's most ethnically diverse state, comprises over 16 indigenous communities, each with its own language. Each year in July, they meet in the capital city to share their traditional music, dance, food, and dress while celebrating Centoetl, the corn goddess.

The formal festivities of the Guelaguetza Festival take place in an amphitheater on the hill on the 3rd and 4th Mondays in July. But like most celebrations in Oaxaca, the festivities spill into the streets and encompass the days surrounding the event.

The largest non-formal event is held on the Saturday before the 3rd Monday in July. A large group of people parade down the pedestrian street from the Santo Domingo Church to the Cathedral of Oaxaca near the Zocalo. As they make their way, they encourage Oaxacans and visitors to join in. Once everyone meets in front of the church, they perform the songs and dance of their regions.

Guelaguetza is a Zapotec word that translates to "a reciprocal exchange of gifts and services." The festival dates back to pre-Columbian times when indigenous groups would come together to share their culture and celebrate the corn goddess.
Street Parades in Oaxaca City
You don't need to be in Oaxaca during a festival to experience a vibrant street parade, called a calenda. Oaxaca City is lively throughout the year and calendas happen nearly daily. You'll probably happen upon one to celebrate a wedding, baptism, or another special event simply while walking around the city.

You may in fact hear the calenda before you see it. There is always music (often a brass band), sometimes fireworks, and a large group of people that grows as spectators join in to dance and parade down the street.


Women are dressed in traditional skirts that blend bright white and vibrant colors with embellishments of gold. Holding a basket of arranged flowers on top of their heads, they allow the colorful fabric of their dress to flow with the essence of their dance.

The calenda procession is guided by a marmota, a round lantern covered with white fabric and simply decorated with a variety of solid color flags. Towering above the parade of people are large puppets called monos de calenda. Their bodies are formed of wooden reeds, their heads of paper mache, and their arms fling about wildly as they dance to the music.
Hang Out in Jalatlaco
This charming residential neighborhood located northeast of Centro feels likes Oaxaca of 100 years ago. There's not a lot to do in the Jalatlaco neighborhood itself but the narrow cobblestone streets give way for a slower, more tranquil pace of life. Even cars drive more slowly in Jalatlaco. There are several small restaurants, coffee shops, and of course a church.
Museum of Pre-Hispanic Art
This museum showcases pre-Hispanic art from the personal collection of Rufino Tamayo, a Oaxacan-born painter. Tamayo selected these pieces more for their artistic qualities than their historical significance.
In the museum, they are displayed by theme rather than by any sort of chronological timeline. As a result, this museum refreshingly feels more like an art museum than an archeological museum.
He created the museum in the 1970s to ensure the pieces would stay within Mexico for all to appreciate. The entire five room museum should take you an hour or less to admire.
Belber Museum
Museo Belber is the private collection of Oaxacan native, Federico Jiménez. Inspired by the art of the American Southwest, he opened a folk art gallery in Southern California that included pieces from Mexico, Latin America, and the Southwest. In 2008, he and his wife donated their Mexican art collection and the centrally located Oaxaca building to create this museum.
The most impressive collection is the silver pieces which range in size from a small lapel to full pieces of hanging art. It's an extensive array of silver that shouldn't be missed. Best of all, the museum is free to enter.
Hours: 10 am to 7 pm, every day Location: View on Google Maps Cost: Free
Visit an Archeological Site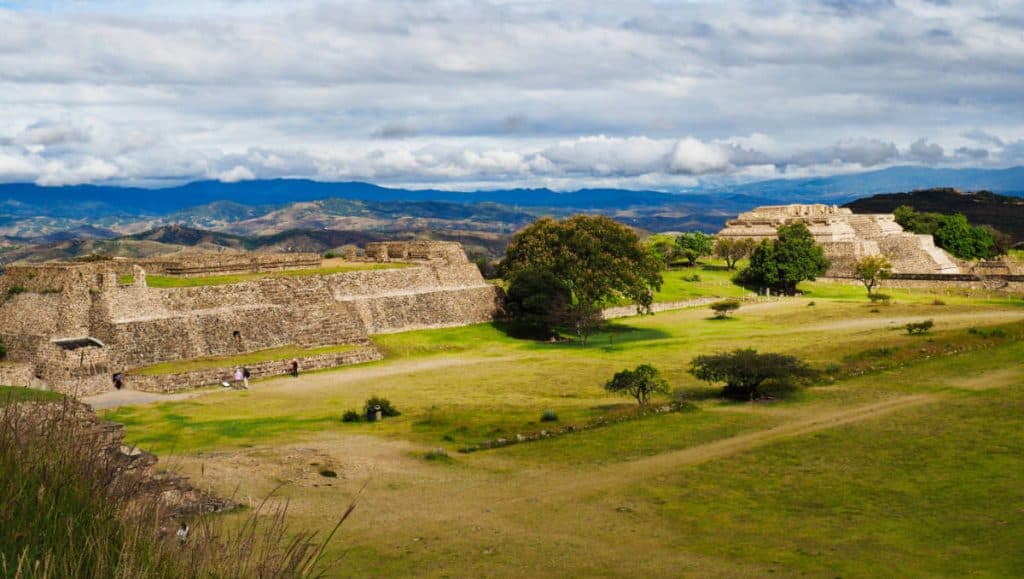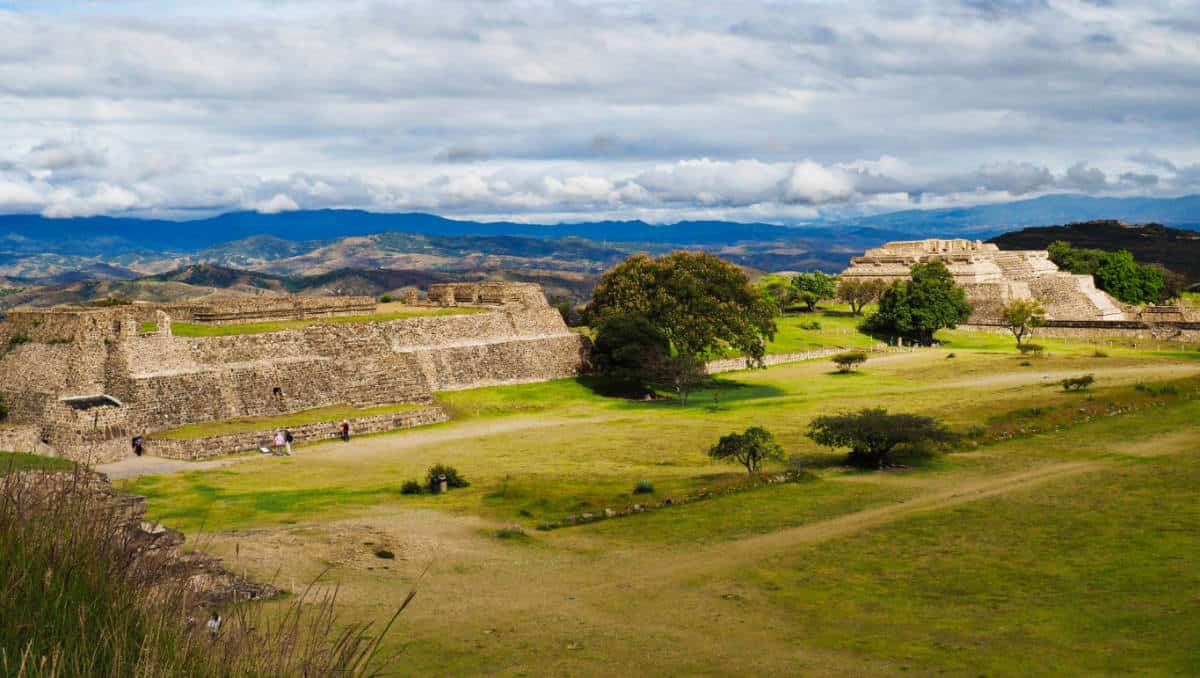 Monte Alban
Located just 25 minutes outside of Oaxaca City is Monte Alban, which translates to White Mountain. The original name is actually not certain, but the name Monte Alban is believed to reference the white flowers of the cazahuate trees that are prominent on the hillside.
This UNESCO World Heritage Site was inhabited over a period of 1500 years, most notably by the Zapotecs. At that time, the site held considerable influence over the entire region of Oaxaca while receiving external influence from their trading partners at Teotihuacan.
Tip: For an educated tour of the ruins, hire a guide when you arrive. But first, gather a group of other visitors to split the cost. When I was there, the guide even recommended it!
You can reach Monte Alban by bus which leaves from the corner of Mina and Diaz Ordaz. However, considering the first bus doesn't leave until after Monte Alban opens, I recommend spending a little extra money on a taxi so that you are one of the first people to arrive.
Hours: 10 am – 4 pm, every day
Entrance Fee: 80 pesos
Mitla
The Zapotecs established Mitla as a religious center outside of Monte Alban. It's considered the second most important archeological site in Oaxaca.
The most interesting aspect of these ruins is the geometric designs that adorn most of the buildings. Pieces of rock fit together like a puzzle without the use of mortar. The site itself is in the heart of the town of Mitla which you'll visit to catch the shared transport to Hierve el Agua (see next).
Yagul
This is a small Zapotec site located between Oaxaca City and Mitla. The name translates to "old tree," though locally it is referred to as Pueblo Viejo or Old Town. The most impressive section is the Palace of the Six Patios which looks like a labyrinth from above.
Plan a Day Trip From Oaxaca City
One of the best things to do in Oaxaca City is to take a day trip (or two or three) to explore the small towns outside of the city. You can opt to book a tour or create a self-guided itinerary. Click this post to discover how to navigate these using public transportation. Points of interest include natural sites like El Tule and Hierve el Agua, markets, artisan workshops, and of course, mezcal.
Hike and Swim at Hierve el Agua
Perched at the top of a cliff in the mountains of Oaxaca is an infinity pool of natural spring water. The mineral-rich water flows out of the pool and down the side of the mountain, which over thousands of years has created a petrified waterfall. Of all the things to see in Oaxaca, Hierve el Agua should definitely top your list.
The site itself is easy to get to on your own via Mitla, or you can choose to book a tour. Once you are there, you can hike around for better views of the waterfall and then cool off in the pool. Read this post to learn how to get to Hierve el Agua without a tour and the secret to enjoying the area after the tours have left for the day.
Visit Artisan Workshops in Nearby Villages
Oaxaca is a haven for art lovers. The vibrant culture combined with a massive amount of creativity and skill has created a rich tradition of artisanal products. Many of the villages in the valleys surrounding Oaxaca City specialize in different art mediums.
Discover the weavers of Teotitlan del Valle who use wool dyed with natural elements to hand-weave rugs. Learn about the craft of carving and meticulously painting the colorful alebrijes in San Martin Tilcajete. Visit the barro negro workshops in San Bartolo Coyotepec who continue to use a black clay that can be dated to Monte Alban. Or discover the green glazed pottery pieces of Santa María Atzompa.
Visit a Mezcal Distillery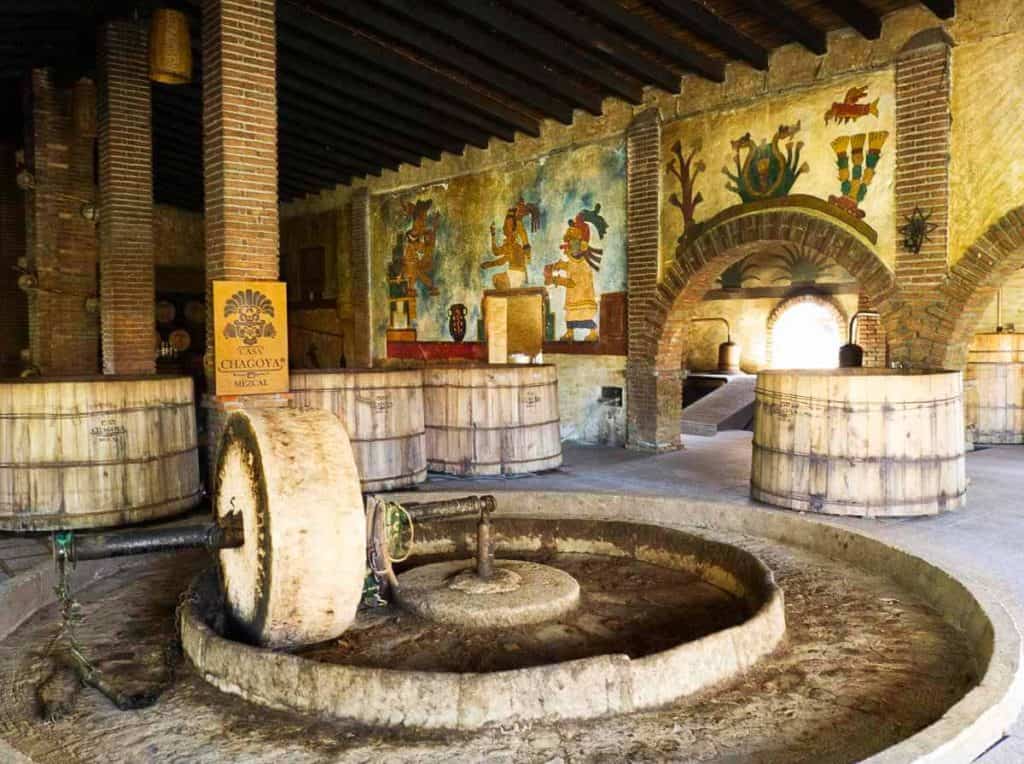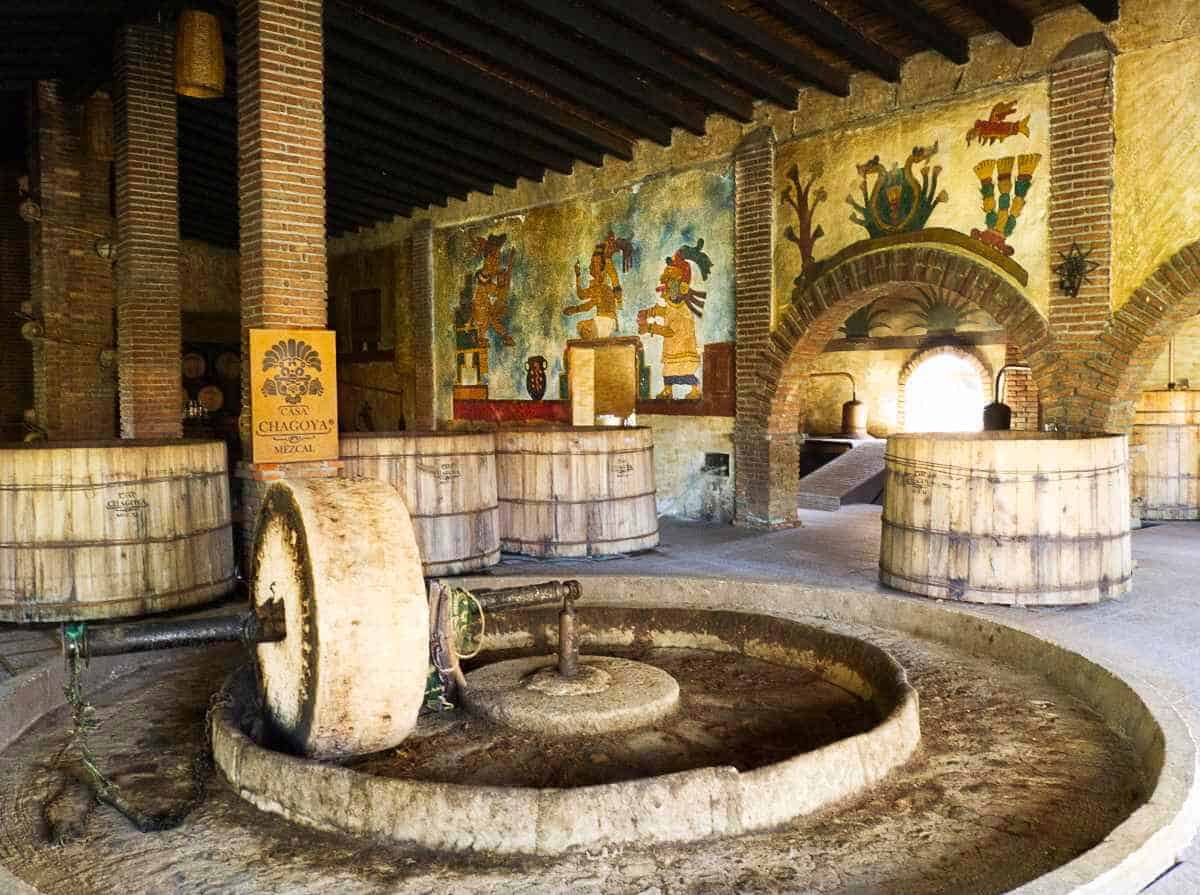 While mezcal is legally produced in nine Mexican states, Oaxaca produces 90% of the mezcal in Mexico. You simply cannot visit Oaxaca without learning about mezcal. Many of the Oaxaca tours include a visit to a mezcal distillery as part of a tour to Hierve el Agua. If you really want to learn about mezcal, you should take a tour dedicated to the spirit specifically. You can read my account of an ancestral mezcal tour or book it directly using this link.
If you prefer to do things on your own, an hour southeast of Oaxaca is Santiago Matatlan, the self-proclaimed "World Capital of Mezcal." Here you'll find an abundance of fabricas de mezcal. They should be open for you to do a tasting and learn about the process. And if you're lucky, you'll get to see a tahona in action.
Well, that wraps up this article about what to do in Oaxaca. What's your favorite thing to do in the city?