9 Fun Things to do in Valladolid, Mexico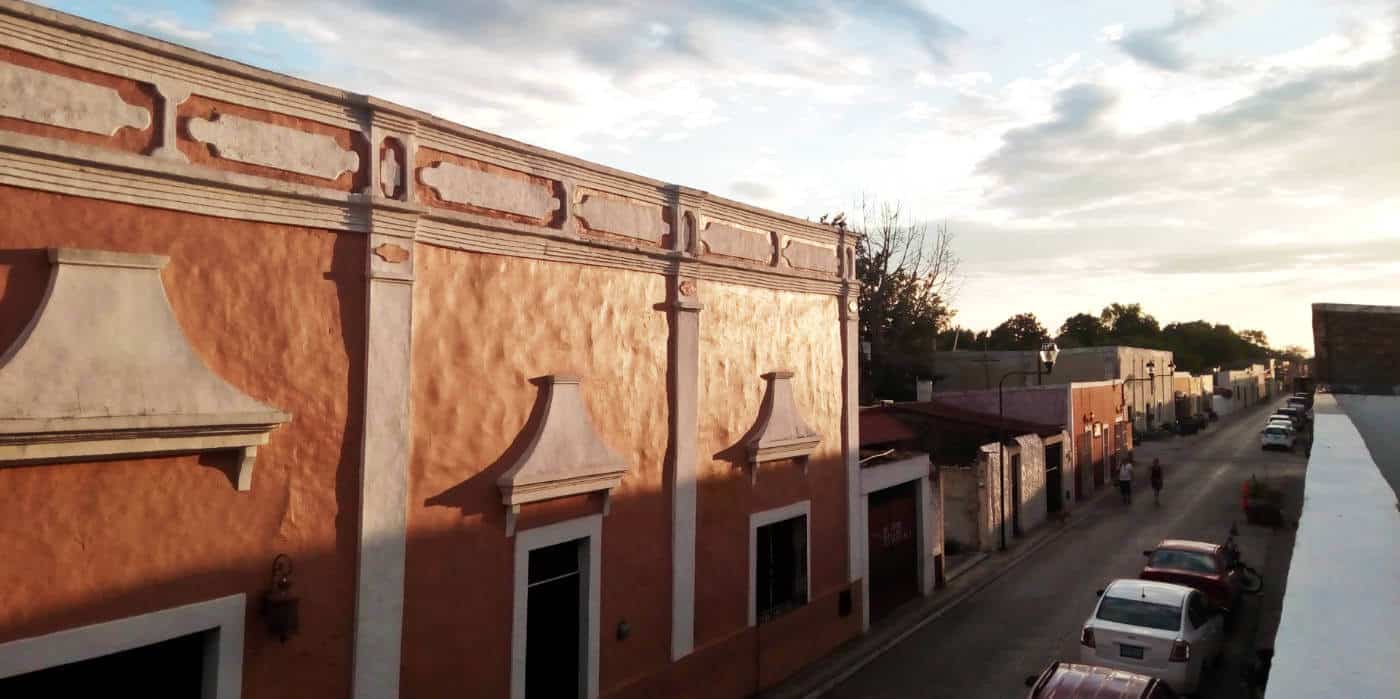 I'm not sure what it is about the colonial city of Valladolid, Mexico that makes me as happy as it does. I'm still not sure how to pronounce it, Ba-ah-doe-leed, Va-jah-do-leed. When you ask people that originate from the area, everyone says it differently.
There's not a lot of things to do in Valladolid. You eat, you drink, you sleep. So what makes this Yucatan town a place that we've returned to several times now?
Valladolid is a small, walkable city that can easily be discovered in an afternoon. But you'll want to rent a car, hire a tour, or become familiar with colectivos (shared taxis) because it makes a great base to travel the Yucatan Peninsula. The region has a high concentration of cenotes, Mayan ruins, and cute pueblos that beg to be explored.
On my latest trip, I created a fun pueblo and cenote tour near Valladolid. It was a full day excursion, stopping to take a ton of photos and swim in multiple cenotes. And I found a small cantina in the jungle to order beers and a small bowl of guacamole.
Let's check out the best things to do in Valladolid, Mexico and the surrounding area..
Things to do in Valladolid, Mexico
Walk Around Historical Valladolid, Mexico
I love walking around Valladolid to admire its charming streets and colonial buildings. The town is easy to navigate on your own but if you want to learn more about the history, I recommend taking a Free Walking Tour of Valladolid.
Jesus started giving tours out of a love of sharing his culture with visitors. He is also a wealth of information about the surrounding areas of the Yucatan. By speaking with him, you may discover even more things to do in Valladolid!
People Watch at the Zocalo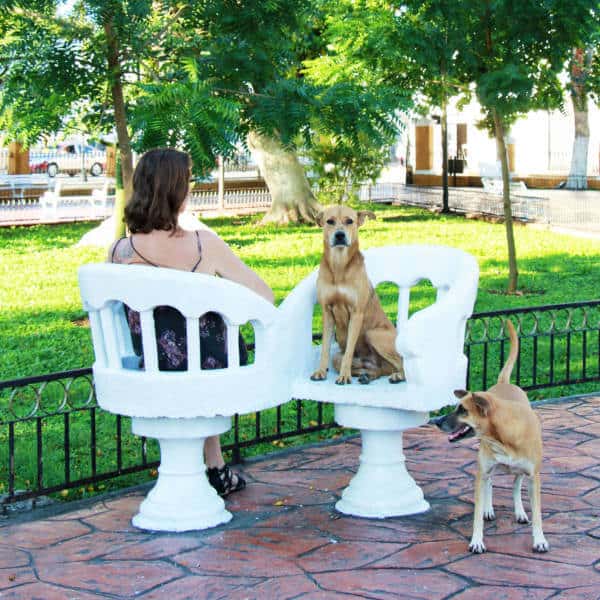 Like most towns in the Yucatan, the Zócalo is a meeting point and place to rest. Big trees provide shade to sit in the traditional Yucatan chairs known as "sillas tu y yo" (you and me chairs). These white chairs sit opposite each other, bound by an armrest so that friends and lovers can face each other to conversate.
Visit the Churches in Valladolid
Valladolid's main church is located on the Zócalo. It's an impressive structure which won't require a lot of time to see, but there are five other churches in the historic center. I recommend Candeleria Church in my favorite area, or San Bernardino, which was built as a church and fortress. At night they host an impressive light show that tells the history of the building. Check the schedule before you go as the days vary by the season. 9 pm Spanish, 9:15 pm English.
Eat Breakfast at the Mercado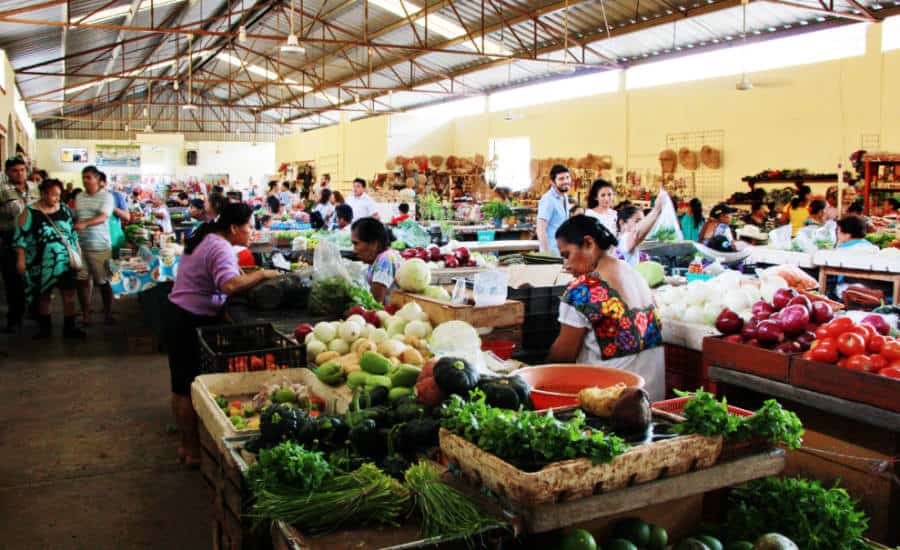 Valladolid has an easy to navigate Mercado (open-air market). The size is manageable, so you don't feel like you'll never see your travel partner again, unlike the huge Mercado in Merida. It's also a great place to have an inexpensive local meal.
Mercado visits are a staple for every town that I visit, but it took me three stays in Valladolid to visit this market. It's now one of my favorite things to do in Valladolid.
Casa de los Venados
This private home showcases an impressive collection of more than 3,000 pieces of Mexican folk art. The homeowners, who consider themselves 'custodians' rather than owners of their collection, open their doors to the public every day for tours in English and Spanish. There is a suggested donation of 60 pesos which is donated to regional charities. Tours are every day at 10 am and a reservation is not required.
Shop for Mexican Folk Art
After admiring the beautiful art at Casa de los Venados, go shopping in Valladolid for your own treasures to take home. Before visiting Oaxaca, this was my favorite town to shop for alebrijes – the mythical creatures carved from Copal wood and delicately painted. Two shops in Valladolid to find quality Mexican art are Yalat Arte Mexicano and Kux Tal Arte Popular.
Visit a Mayan Ruin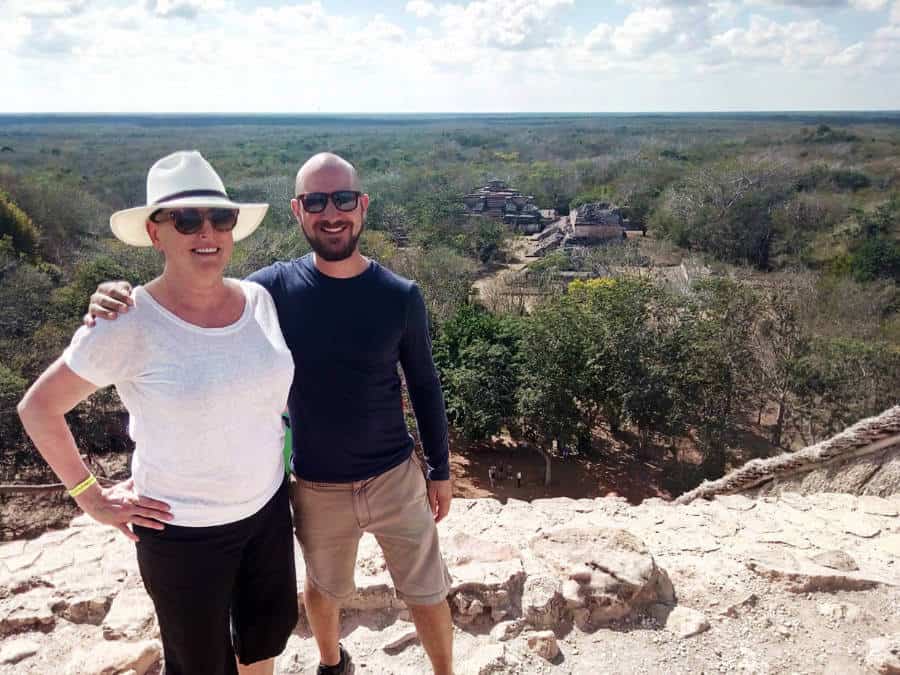 Chichen Itza is the most popular Mayan Ruin when staying in Valladolid. You'll have to wake up early to make the drive and beat the crowds. However, Ek Balam is an easy 30-minute drive north of Valladolid and often less crowded.
Both are amazing architectural sites of Mexico, but we enjoyed Ek Balam more since there are fewer people and you can still climb the ruins. It's a great view of the jungle below and on a clear day you can see the temples of Coba and Chichen Itza. Click here to discover all my favorite Mayan Ruins in the Yucatan.
Swim in a Cenote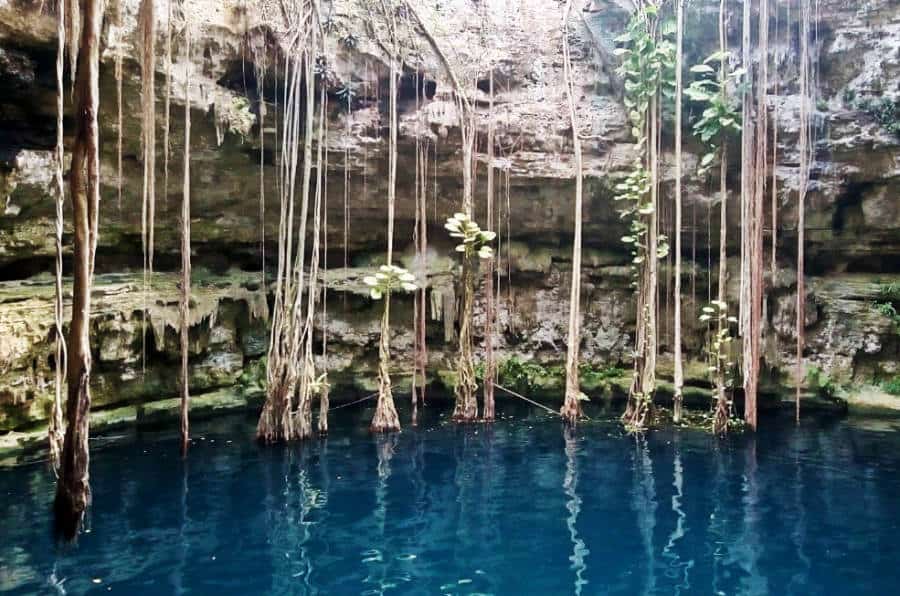 Cenote Zaci is located in the town of Valladolid, just a few blocks from the main square. Cavernous walls with carefully carved walkways lead you to a refreshing pool of cool water that can feel like a godsend after a day in the Yucatan heat and humidity. But don't limit yourself to just one cenote during your travel to Valladolid. There are thousands of cenotes within a couple hours drive, but many are close to Valladolid.
Tip: The best photos of the cenote are around midday since the sun is centered over the opening.
READ NEXT: Finding Flamingos in Celestun, Mexico
Indulge in the Smoked Meats of Temozon
On your way back from Ek Balam, stop in Temozon for lunch. This small Yucatecan town is known for its smoked meats, including the popular longaniza sausage. When I researched Temozon, I read I would see longaniza hanging in small vendor shops along the main road. While this wasn't the case during my visits, I did find a small shop a couple of blocks in town that happily sold me a small amount.
For lunch, I recommend sharing a plate of mixed smoked meats (with tortillas, of course) and ordering a couple cervezas. El Negrito Ahumado does not disappoint. I also purchased a killer homemade hot sauce as I was leaving.
---
Where to Stay: Hostels and Hotels in Valladolid
Tucked away on the square near Candelaria church, this is my favorite place to stay in Valladolid. You can rent a single dorm bed or a private room for up to four people, making it a great value. My favorite aspect is the tropical courtyard where you can meet new friends at night and enjoy a fabulous complimentary breakfast by morning.
But the secret is out, so you'll need to book ahead to reserve your stay at Hostel Candelaria.
Check Availability on Booking.com: Hostel Candelaria
---
This is another great hostel in Valladolid. Spacious dorm rooms with comfortable beds and modern bathrooms, or you can rent a private room up to four people. The tropical outdoor areas include various hammocks and a small kitchen. Great location close to the center.
Check Availability on Booking.com: Tunich Naj
---
A great value for a rental in Valladolid with a small pool and plenty of outdoor space. Dorms and private rooms are basic but comfortable. The location three blocks from the main square makes it a great value.
Check Availability on Booking.com: Guesthouse Ka'an
Tip: If traveling with 3-4 people, book a private room at a hostel. You'll have the social aspect of the hostel with privacy, (and sometimes a private bathroom!)
---
This unique accommodation in Valladolid features a regular swimming pool and a heated saltwater pool nestled in an underground cave. Natural elements and Mexican folk art infused into the rooms create a beautiful environment. The on-site restaurant makes a complimentary breakfast for its guests.
Check Availability on Booking.com: Hotel Zentik Project & Saline Cave
---
This historic colonial home was converted into a hotel featuring long verandas overlooking the swimming pool. The rooms are light and airy with luxury bathrooms and accents of traditional Mexican tile. This Valladolid hotel is located next to the main square and includes a complimentary breakfast.
Check Availability on Booking.com: Hotel Pasada San Juan
---
Where to Eat in Valladolid
The food in Valladolid is some of the best in the Yucatan. It's not pretentious, and it's nothing special, but every cook puts effort into what they're creating. Every dish you order has been recreated for hundreds of years, but the consideration for quality ingredients is evident. The community has a love for their heritage and the traditional ways of doing things.
Mercado de Comida
Just off of the Zocalo undoubtedly you will pass by this 'mercado' numerous times as you're out exploring. There are close to 12 restaurants to choose from making it quick and easy if you're out and about, especially with a group. While there are variances, the stalls offer similar foods with subtle differences. The exception being the small Chinese restaurant. There is plenty of seating and food court style service as this is a local cheap eat. The food vendors here are just a touch assertive, but very friendly.
---
Yerba Buena
A luncheria on the cusp of being expensive (for Mexico), but the food is done very well – Yucatecan and plated in an appealing way. I have mentioned plating twice now, but you don't get to see much 'flare' in a lot of the places that we've been in this part of Mexico. There are many choices for vegans/vegetarians, plenty of options to satisfy anyone's hunger.
---
Ik Cat Ix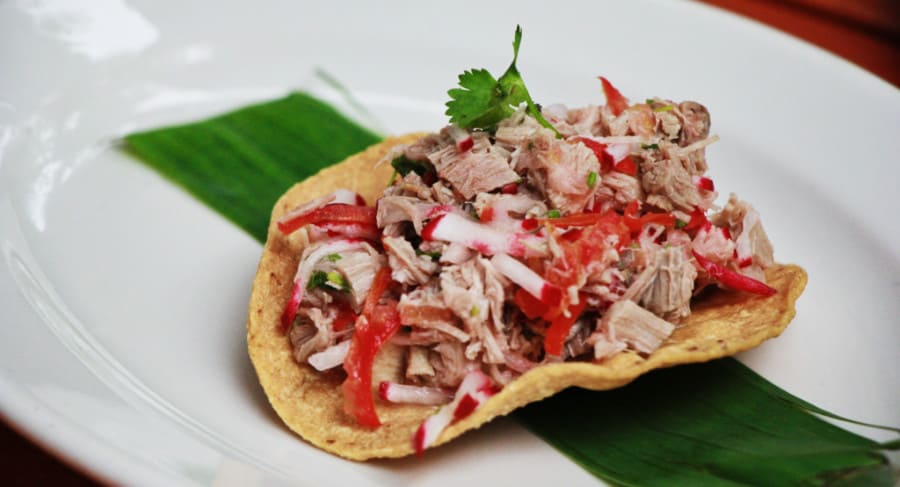 A Mayan restaurant that delivers high-quality ingredients made in the time honored fashion of the Maya people. Jose, the owner met me at the door and gave a quick tour, highlighting the plants and techniques used in traditional cooking. Everyone employed at his restaurant are of Maya descent. The menu includes vegan/vegetarian options, but I believe more can be prepared upon request. This is a truly unique dining experience, unlike anything I've experienced in the Yucatan.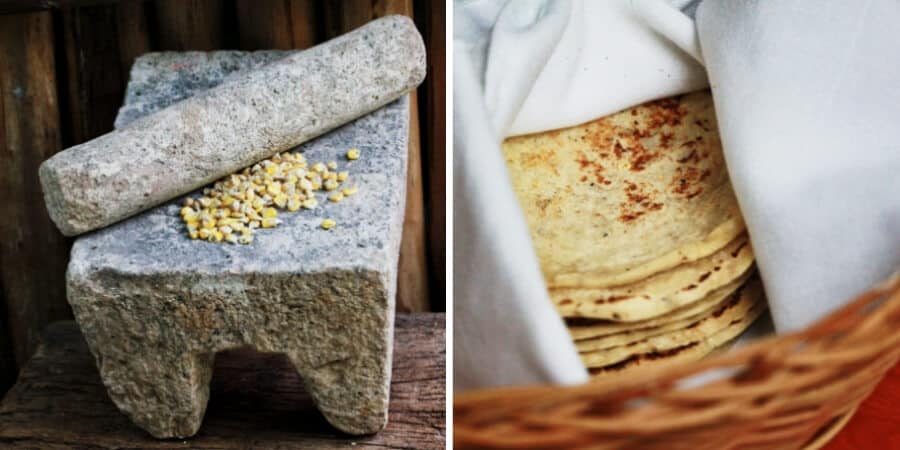 Valladolid Nightlife
Nightlife in the conservative city of Valladolid is limited. There are a handful of cantinas spattered around the city center where you can have a drink with men in their late 30's-60's. On Friday and Saturday, there's a lively youth that goes out to have a few drinks with friends.
This is not a city for raging parties, or drinks out past 10:00 pm on a weeknight. That doesn't matter, you're going to be trying to take in everything that you did during your day touring around Valladolid and prepare for your next ruin and cenote tour from Valladolid early the next day anyway.
How to Get to Valladolid, Mexico
Centrally located in the Yucatan Peninsula, Valladolid is easy to get to by car or ADO bus. 90 miles west of the Riviera Maya, it takes less than two hours to drive to Valladolid from the closest airports of Merida and Cancun. And less than an hour from Tulum and Playa del Carmen.
You can take a bus to Valladolid from Cancun, Playa del Carmen, Tulum, or Merida. While you can only buy tickets online with a Mexican credit card, you can check the ADO bus schedule and buy a ticket when you arrive. The ADO buses in Mexico are clean, comfortable, and have a bathroom. But wear warm clothes because the AC is ice cold.
Tip: If you're already in Mexico and know the day you want to travel to Valladolid, buy a ticket a few days ahead of time to save money. Check if there is an ADO satellite office nearby to save time traveling to the station.
Important Note: There is not a bus from the Cancun airport to Valladolid. Instead, you'll have to take the bus from the airport to the city of Cancun and take another ADO bus to Valladolid.
Have you traveled to Valladolid, Yucatan? Tell me what you think in the comments.
Did you discover new things to do in Valladolid? Save it for Later!