Oaxaca: Tours and Day Trips from Oaxaca City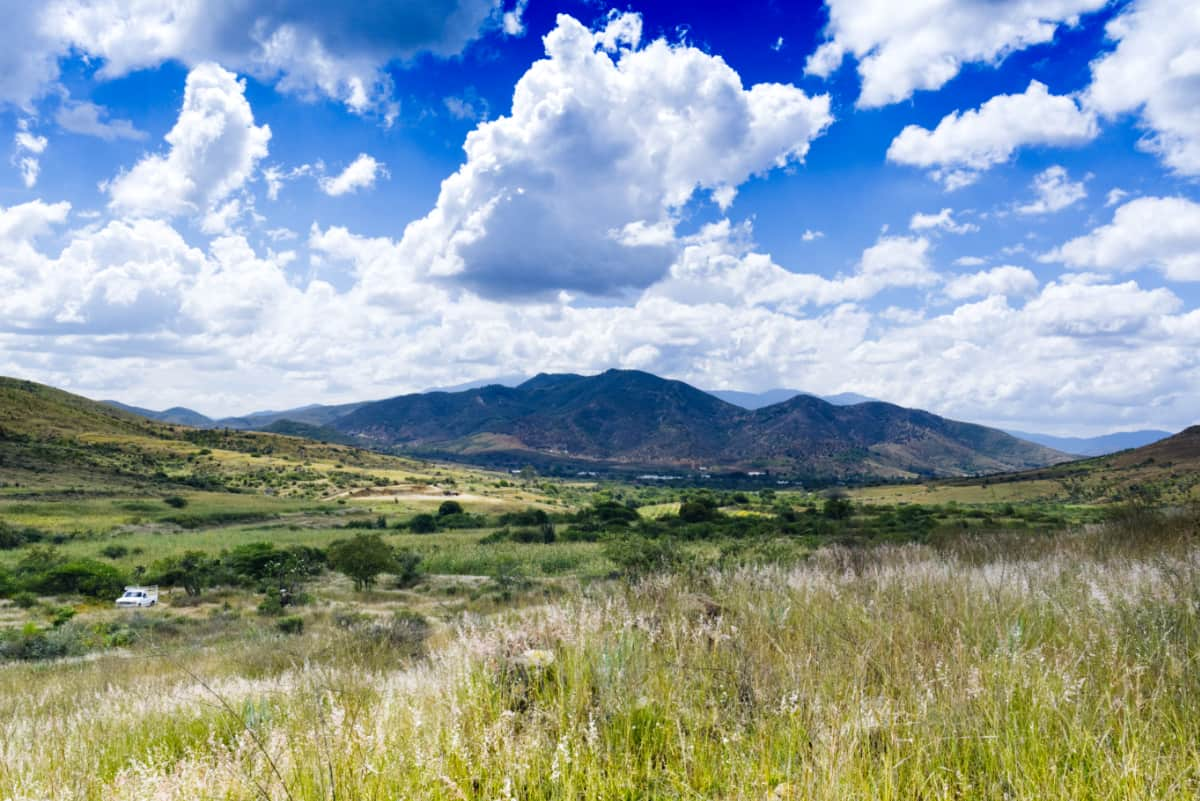 Oaxaca tours manage to mix nature, history, and artisans in one, often with a mezcal tasting for good measure. The beauty of basing yourself in the city is the abundance of day trips from Oaxaca to the surrounding valleys. Of course, there's still plenty to do in the city itself so prepare for packed days if you want to see it all.
While I'm a big proponent of using public transport to do things on your own, the tours in Oaxaca are an incredible value since they combine different Oaxaca day trips into one tour. And if you're short on time, they may be especially appealing.
That being said, I had nearly two weeks to explore, so I decided to curate my own tours in Oaxaca. These excursions are grouped by direction from Oaxaca City. Feel free to use these exactly as they are, or as a guide to design your own Oaxaca tours.
Continue reading for my guide to public transport in Oaxaca. And keep in mind, the best plans factor in room for itinerary changes!
This article may contain affiliate links. This means if you click a link on our blog and make a purchase, we earn a commission at no additional cost to you. For full information, see our disclaimer here.
Magical Route: East of Oaxaca Day Trip
This is easily the most ventured tour in Oaxaca. There are slight variations among the paid tours but generally, they include a visit to El Tule, Teotitlan del Valle, and Hierve el Agua while finishing with a Mezcal tour. I've thrown in a couple of extras you can add in if you're doing these day trips on your own or plan to base yourself in Mitla for a night or two as I did.
The Tree of Tule
At an estimated 2000 years old, this tree located in the center of el Tule is the widest tree in the world. The circumference of its extremely buttressed trunk measures 42 meters. It's one of many Montezuma cypress trees in the surrounding area, which is the national tree of Mexico and is regarded as sacred by the Zapotecs.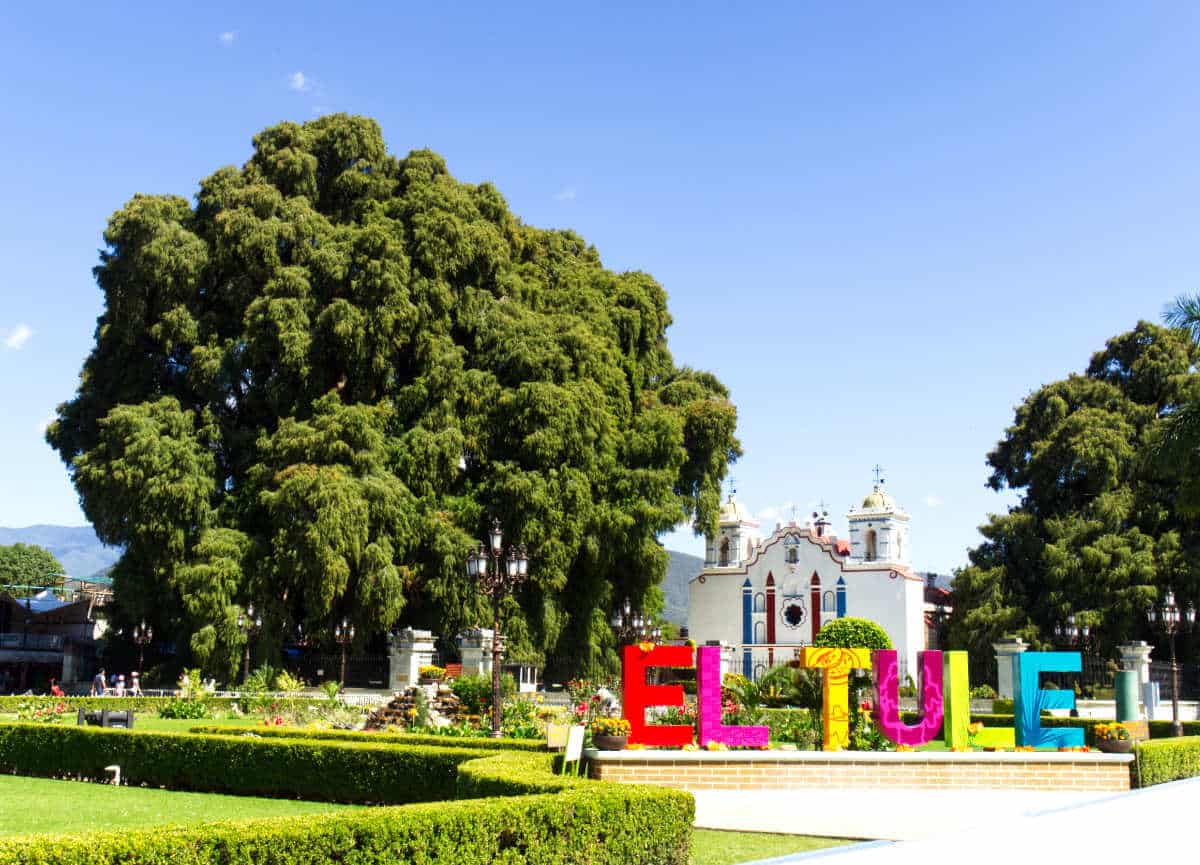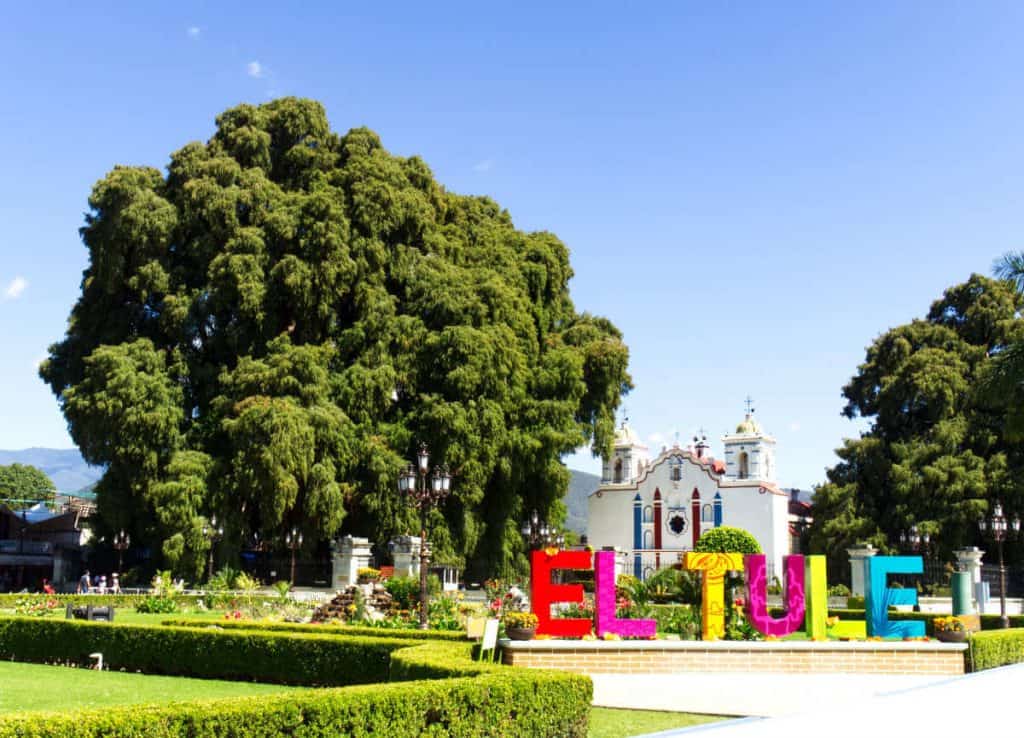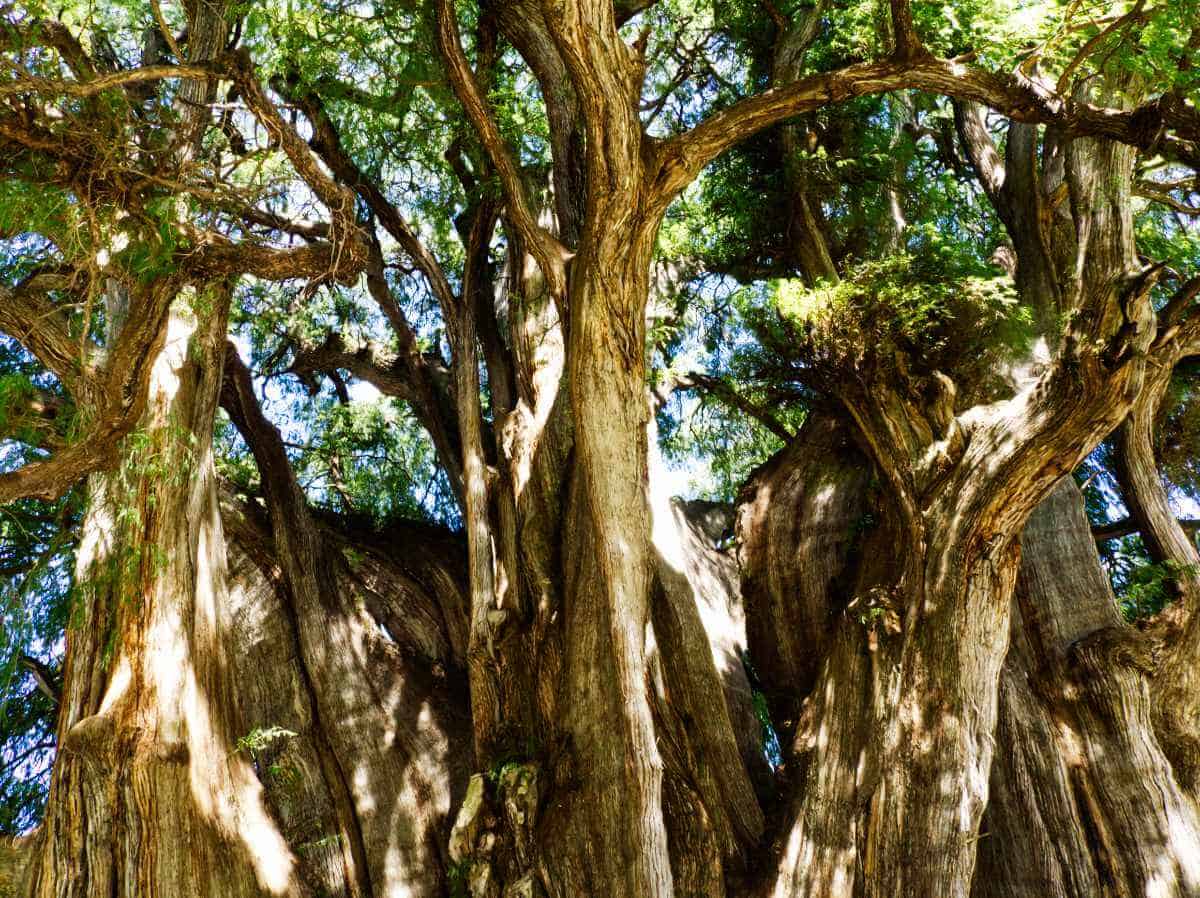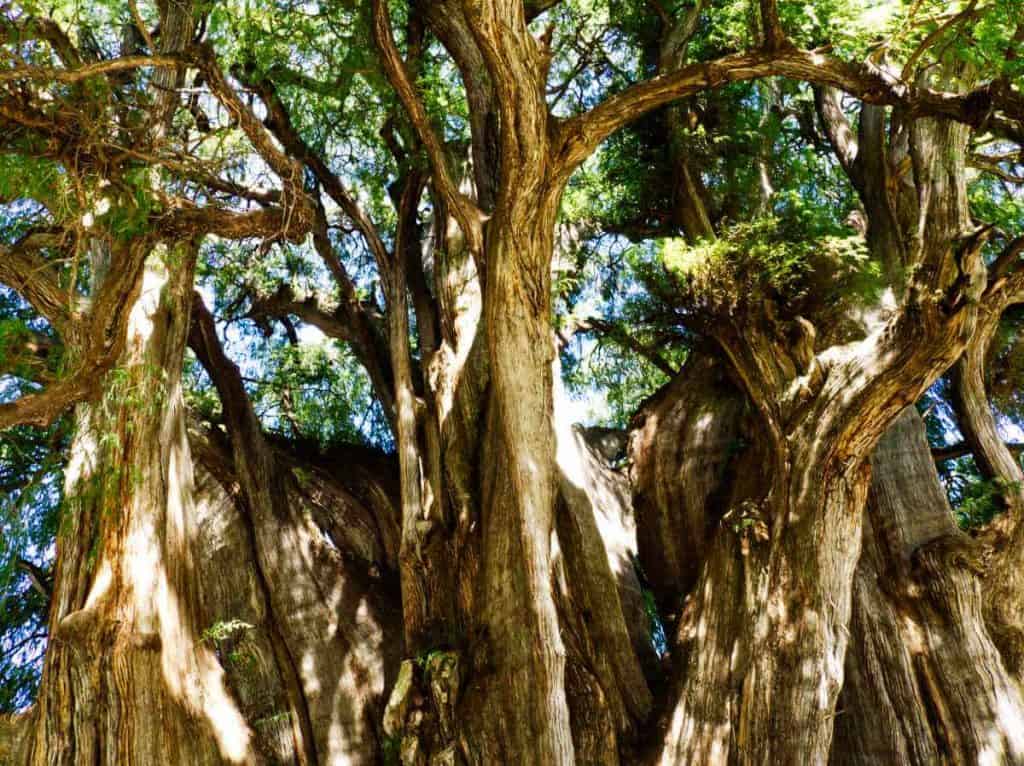 The Tree of Tule is sometimes referred to as the Tree of Life because of the animal figures that appear in the trunk, including a magnificent elephant. Look for school children who use a flashlight to highlight the figures for visitors as part of an official local project.
Hours: 8 am to 8 pm Daily
Entrance Fee: 10 pesos
Oaxaca Textile Tour: Weavers of Teotitlan del Valle
Located at the foothills of the Sierra Juarez mountains, Teotitlan del Valle is known for its acclaimed Zapotec weavers. Using handlooms, they create incredibly beautiful pieces such as rugs and purses. After the wool is collected, brushed, and spun into thread, it's dyed with natural materials like indigo and cochineal, an insect that burrows into cactus leaves.
As you can imagine, creating these works of art involves countless hours and lots of skill. To get a full educational experience, book a tour to visit a weaving workshop in Teotitlan del Valle. It's actually a cooperative of more than eight families, started by husband and wife, Josefina and Javier.
Beginning with preparing the wool, they will take you through the entire process of creating these beautiful pieces. You'll even be able to use their 100-year-old loom to make your own small piece to take home!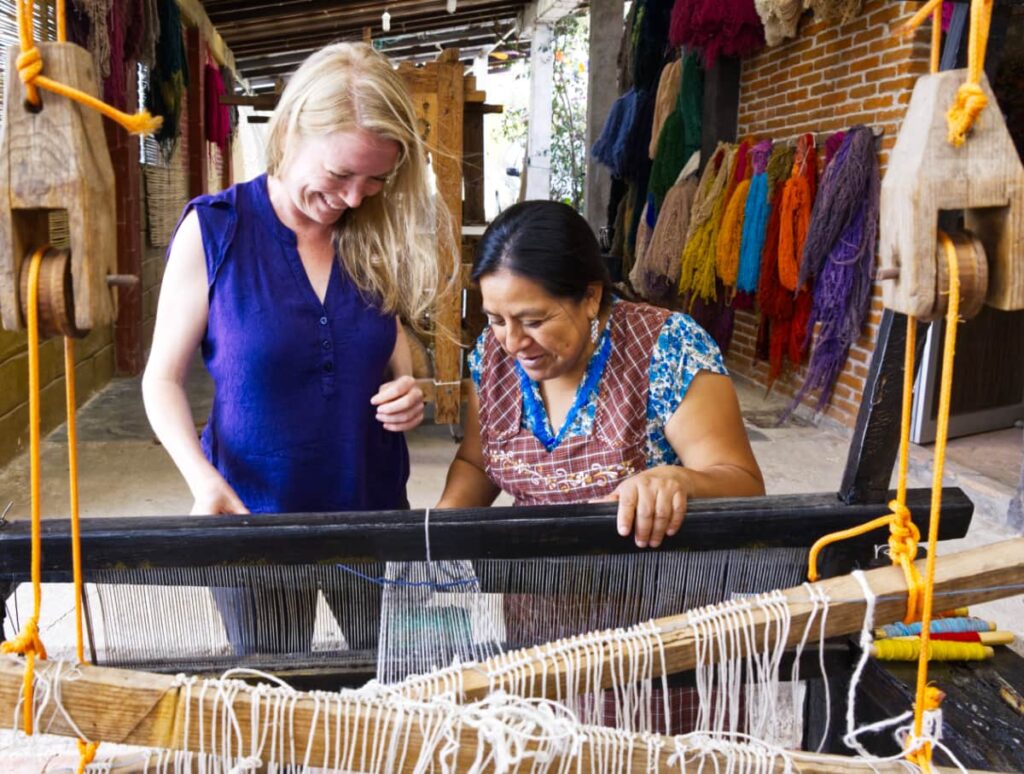 Yagul Archaeological Site
If the archeological sites of Mexico interest you, you'll enjoy exploring Yagul which is a small Zapotec city known to locals as Pueblo Viejo, or old town. Yagul is best known for the Palace of the Six Patios which forms a bit of a labyrinth when viewed from above. This site also has a well-preserved ball court.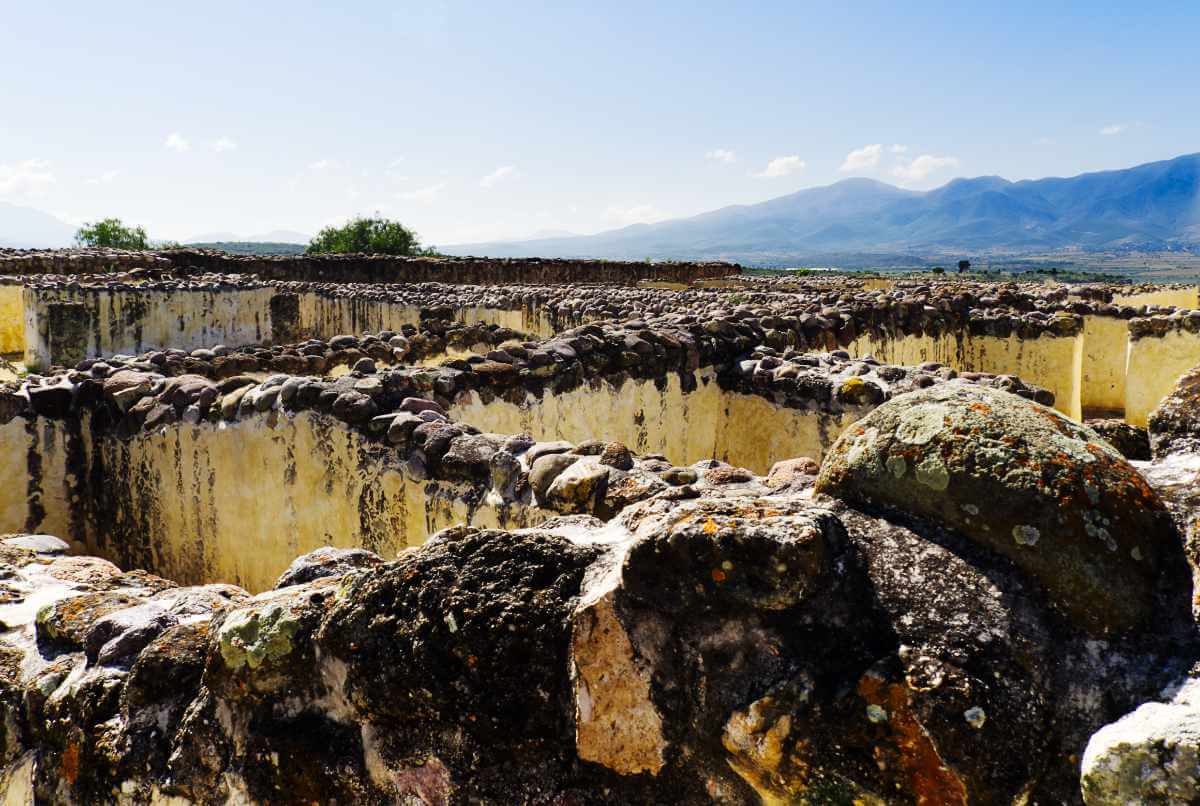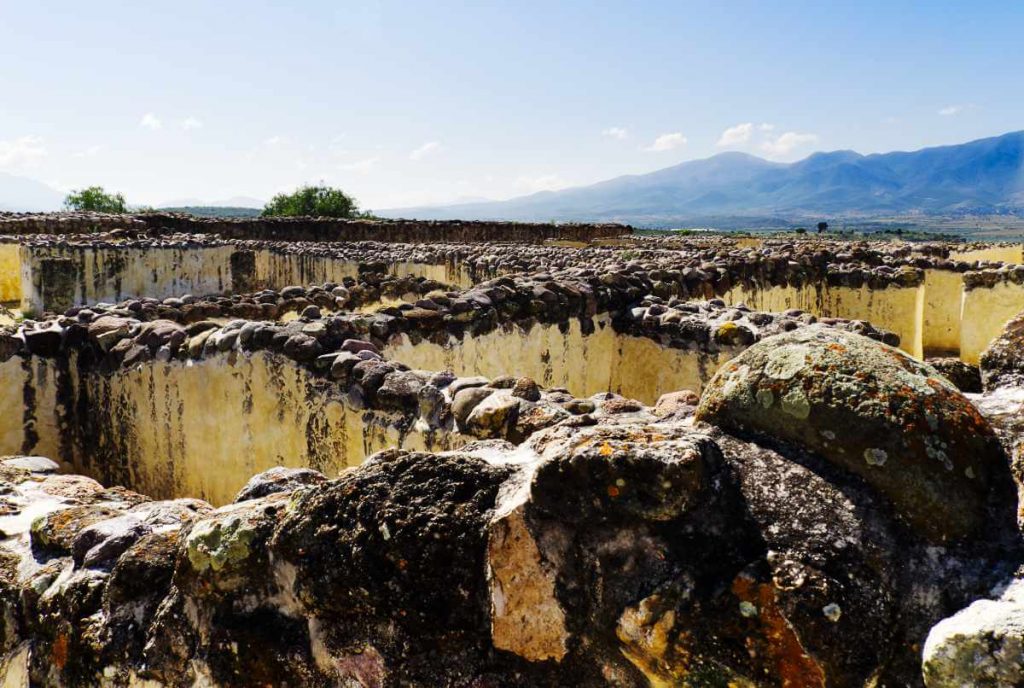 This is the type of ruin you'll likely share with only a few others or have all to yourself. I still recommend arriving early as a tour bus arrived just as I was leaving. Colectivo taxis will drop you off at the head of the road, from which you'll need to walk 15-20 minutes to the site. The walk is pleasant, past fields of agave, and looking in awe as Yagul comes into view atop the mountain.
Hours: 10 am to 4 pm Sunday – Wednesday
Entrance Fee: 75 pesos
Mitla Archaeological Site
Mitla was a sacred site for the Zapotecs who inhabited the areas around Oaxaca City. Still occupied when the Spanish arrived, Mitla (from the word Mictlan) was considered where the souls go to rest. And where they travel from during Dia de los Muertos.
The archeological site is known for the geometric mosaics that adorn many of the structures. The mosaics are made of small stone pieces and that are arranged together without the use of mortar.
Mitla is easier to get to than Yagul as it's located in the town of San Pablo Villa de Mitla. There are lots of colectivos going to Mitla from Oaxaca City since it's where you'll travel to catch one of the camionetas going to Hierve el Agua (see next).
Hours: 10 am to 3 pm Wednesday – Sunday
Entrance Fee: 75 pesos
If you're really into exploring the archeological sites, you should book a tour that visits the main archeological sites near Oaxaca, including Monte Alban, Atzompa, Yagul, and Mitla.
There are also prehistoric caves near Mitla and Yagul where found items such as seeds and corn cobs indicate the Zapotecs began domesticating plants nearly 10,000 years ago. They seem difficult to get to, though there are a few people offering tours.
Hierve el Agua, Oaxaca Day Trip
This is the most popular day trip from Oaxaca. And it's easy to visit Hierve el Agua without a tour! Perhaps you've seen the stunning pictures on Instagram of an infinity pool overlooking the mountains? It's definitely a must-do if you're in the area.
UPDATE: Hierve el Agua is open! Rumors began swirling in early Fall 2021 and I visited a couple of months later. I've updated my post to include the most up-to-date tour options and details for getting there on your own.
Read my full experience about how to visit Hierve el Agua without a tour, including how to get there and where to stay in order to experience this beautiful place after the tour groups leave. Hint: It requires staying overnight in one of the cabins on site.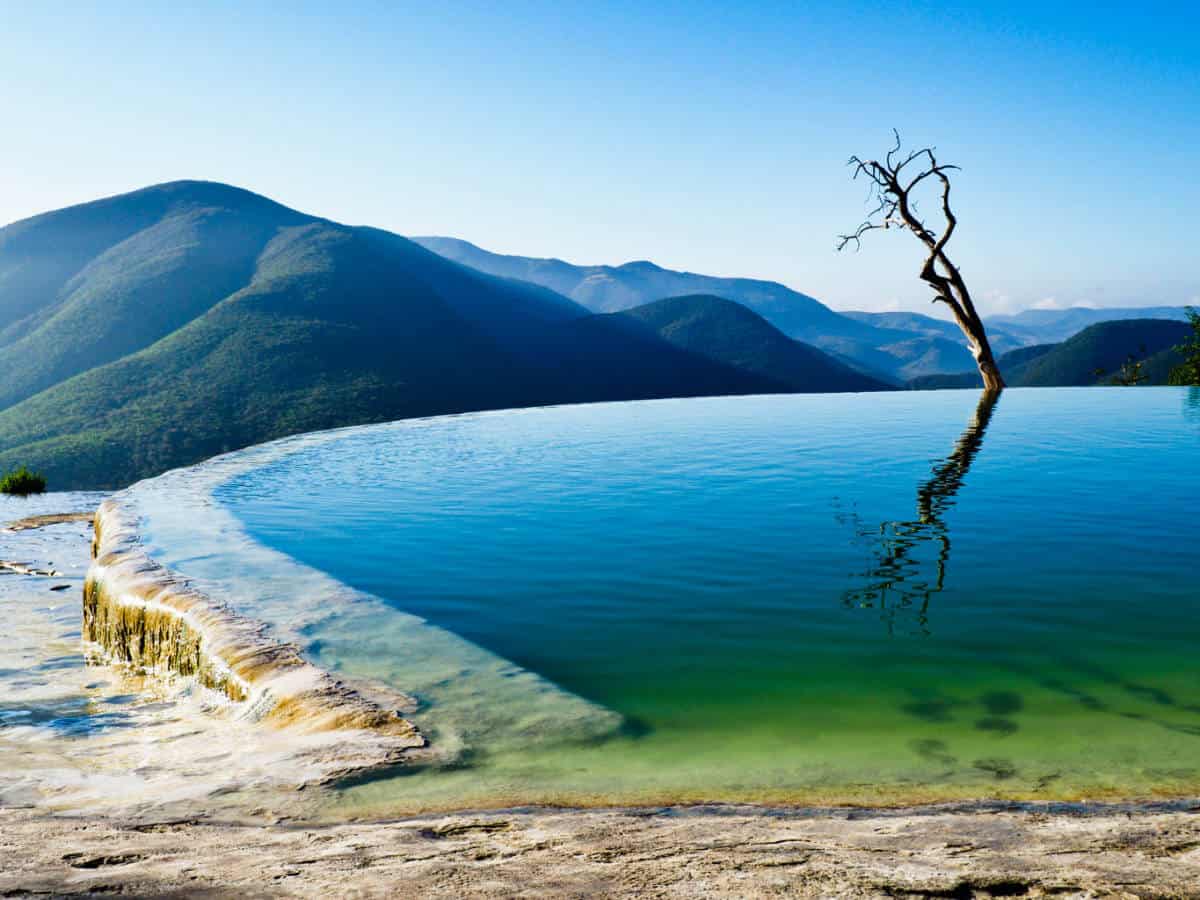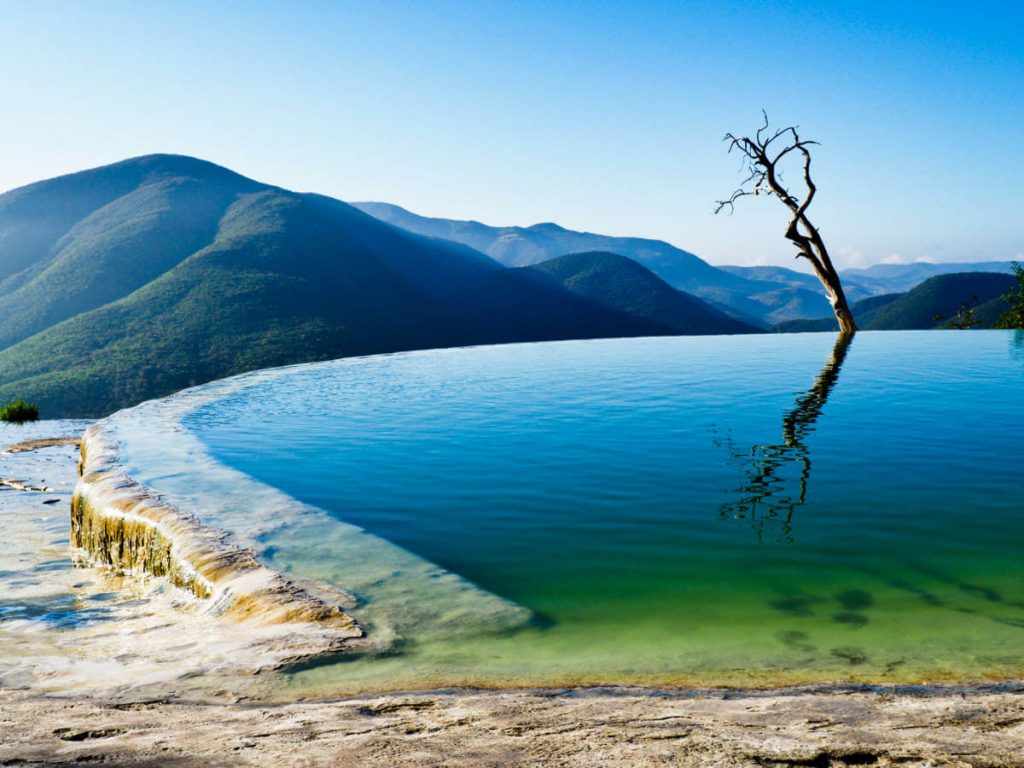 Hierve el Agua is a natural spring that bubbles up from the ground in the small village of San Isidro Roaguía. For thousands of years, the mineralized water has run down the face of the mountain and created mineral deposits that form what looks like a waterfall, frozen in time.
The local community built an infinity pool at the edge to collect the water for swimming and still allow the mineral water to run down the cliff face. Despite the name, which translates to "the water boils," the water is not hot but rather warmed with the sun.
A lot of people hire a tour to Hierve el Agua, which may be the best option if you're short on time since the tours include multiple points of interest. I've narrowed down a couple of the best tours. You can book this private tour or this one that visits other attractions after.
To get to Hierve el Agua, take one of the shared camionetas (pickup truck) from Mitla for 75 pesos each way. It's a scenic one-hour ride curving through the mountains.
Hours: 9 am to 6 pm Daily
Entrance Fee: 50 pesos
Mezcal Tour
For a mezcal tour and tasting, most of the Oaxaca tours visit the small town of Santiago Matatlan which greets you with a sign welcoming you to the "World Capital of Mezcal." The town is small, so you can explore different distilleries once you take a bus into town.
If you're short on time (or aren't aware of Matatlán yet, like me!) there are also mezcal distilleries along the main highway between Oaxaca and Mitla. I visited two after touring Yagul simply by a mix of walking and public transport. Both were a fun, minimal introduction to mezcal. Each offered a completely different experience.
If you really want to dive into learning about mezcal, I recommend booking an ancestral mezcal tour. This tour takes you from field to bottle as you spend the day in the life of a mezcalero. You even get to plant your own baby agave, which you can return to drink in about nine years! Read more about my experience here.
Rancho Blanco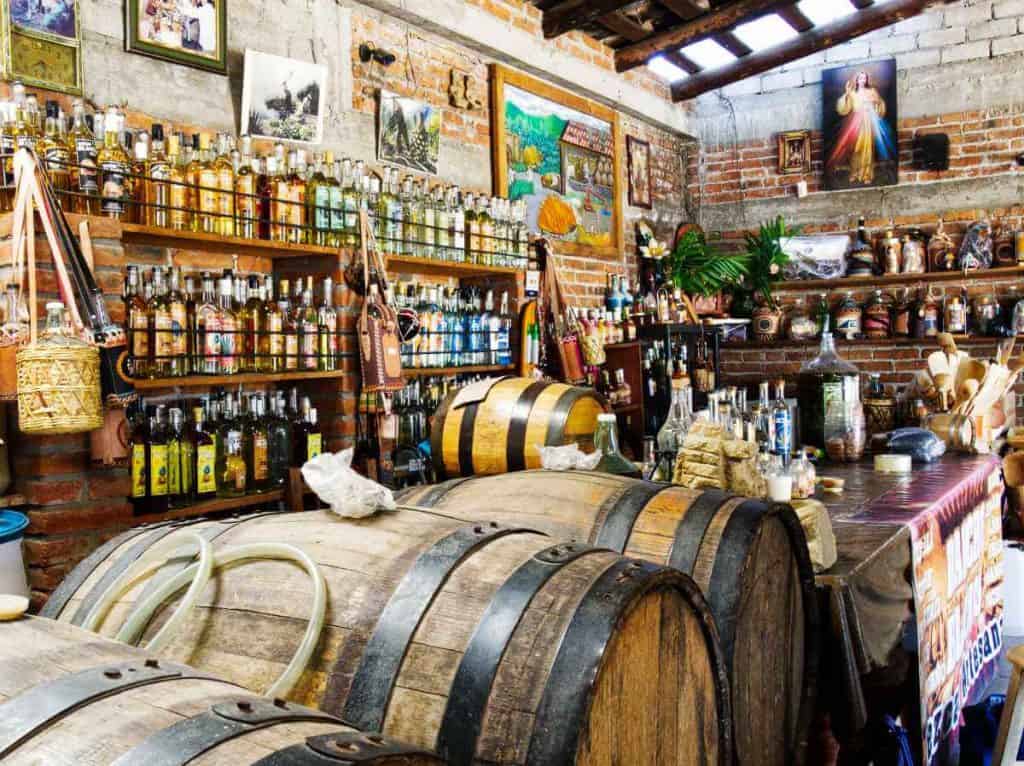 Rancho Blanco is a low key operation that feels like walking into your friend's covered patio. We were immediately welcomed to sample our choice of mezcal. As we continued the tasting, we were taken on a tour of their small operation with an explanation (in Spanish) of the process.

The distillery was active that day so we were able to see the tahona in action. This large stone wheel crushes the maguey cuttings as it is pulled around a circular stone path by a donkey. The fibers are then gathered to begin the fermentation process.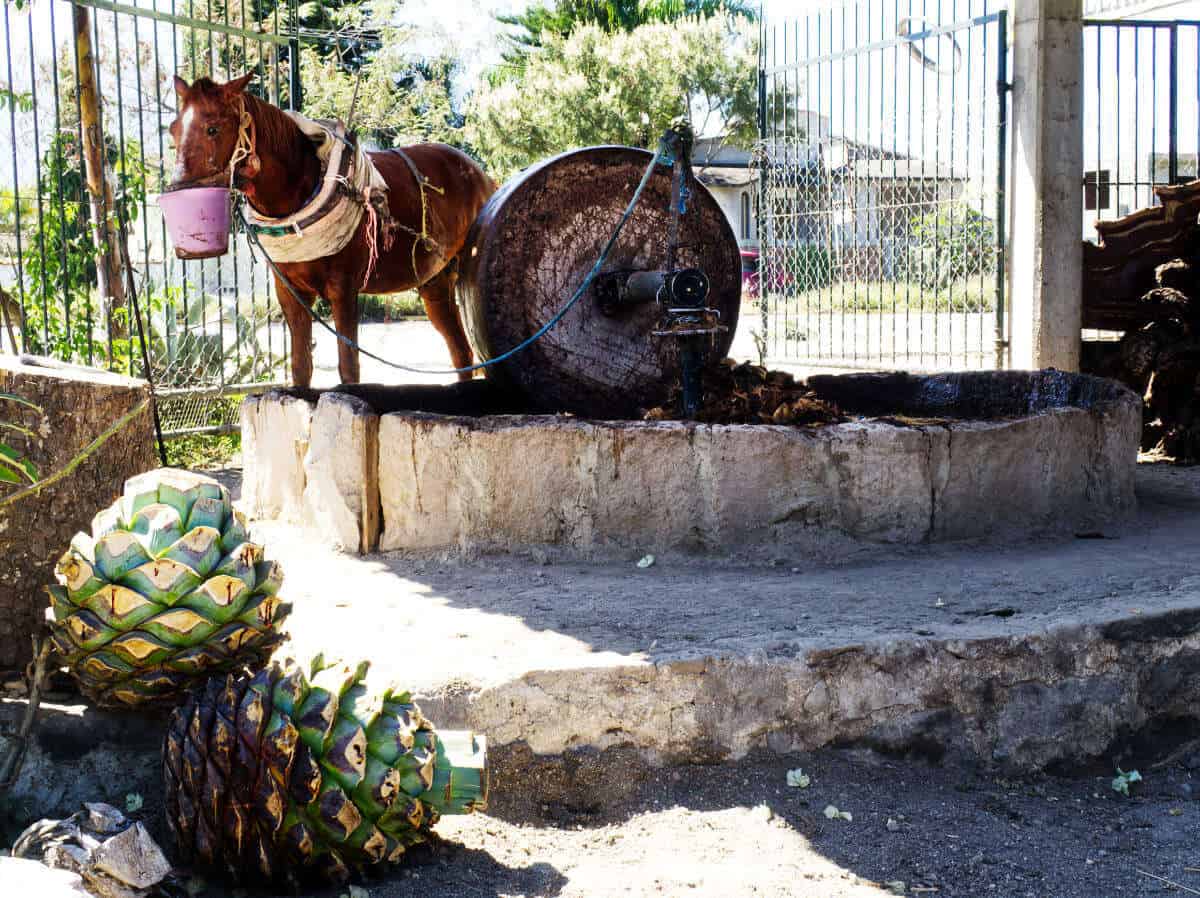 Casa Chagoya
At Casa Chagoya we were also warmly welcomed to sit at the bar for a mezcal tasting. The palenque was quiet that day but the grounds were peaceful with space in the back to enjoy a glass of mezcal looking over the property.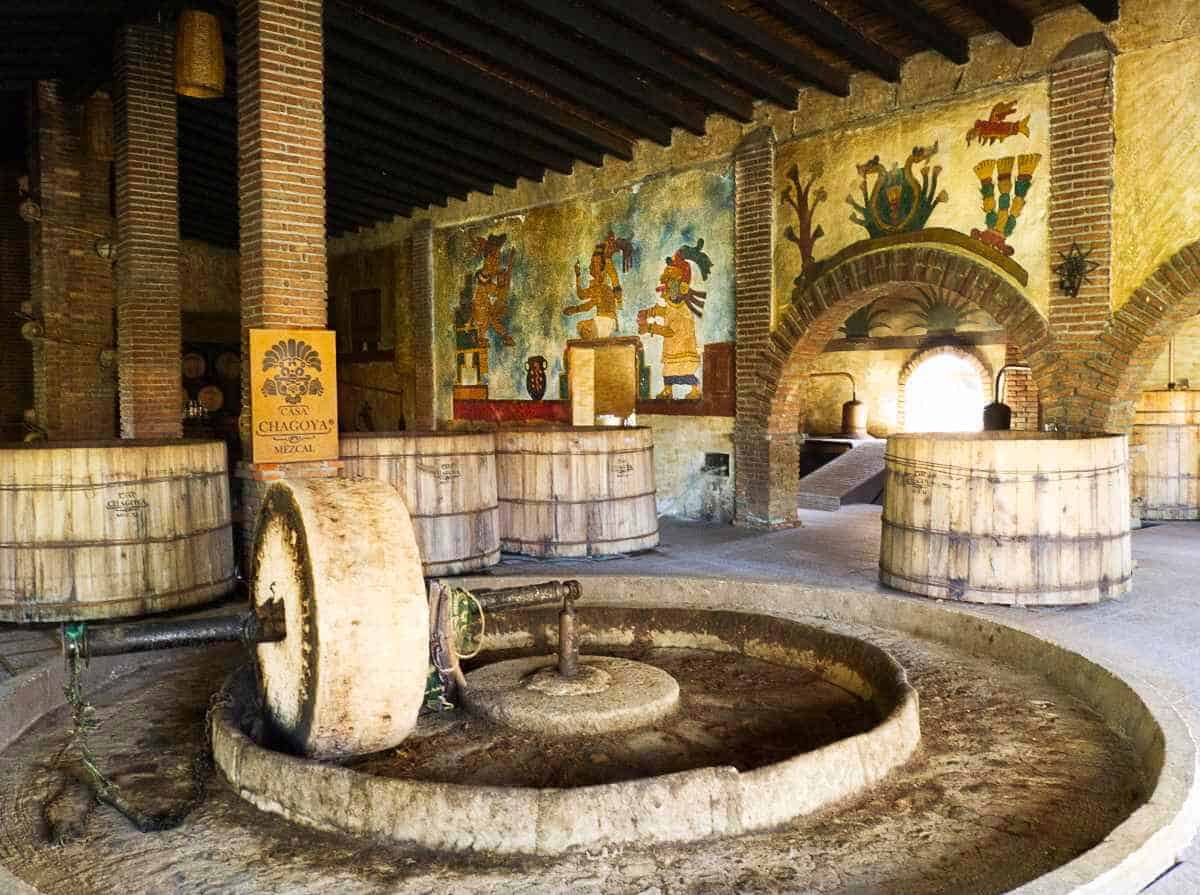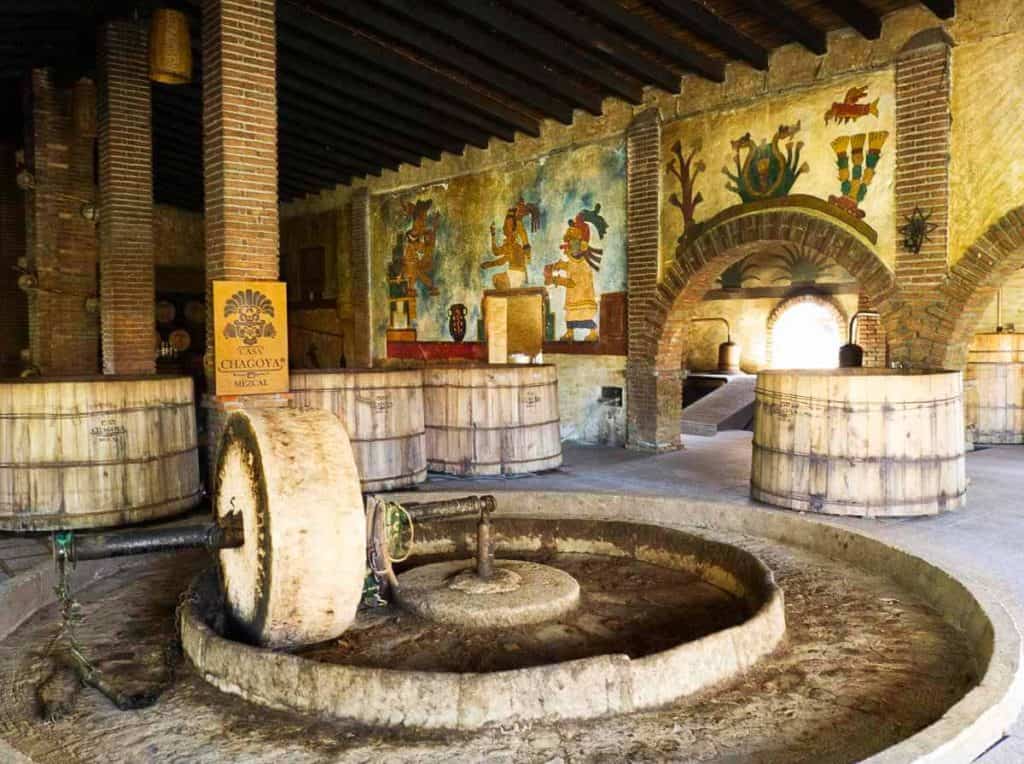 The man behind the bar, a fifth-generation mezcal producer, offered to take us on a tour of the distillery. The space is beautiful with high ceilings and thick walls decorated with colorful Zapotec depictions. Brick lined arches differentiate the different rooms and barrels of aging mezcal line the back wall. There was also an area in the center showing the old process of producing mezcal which he was proud to point out.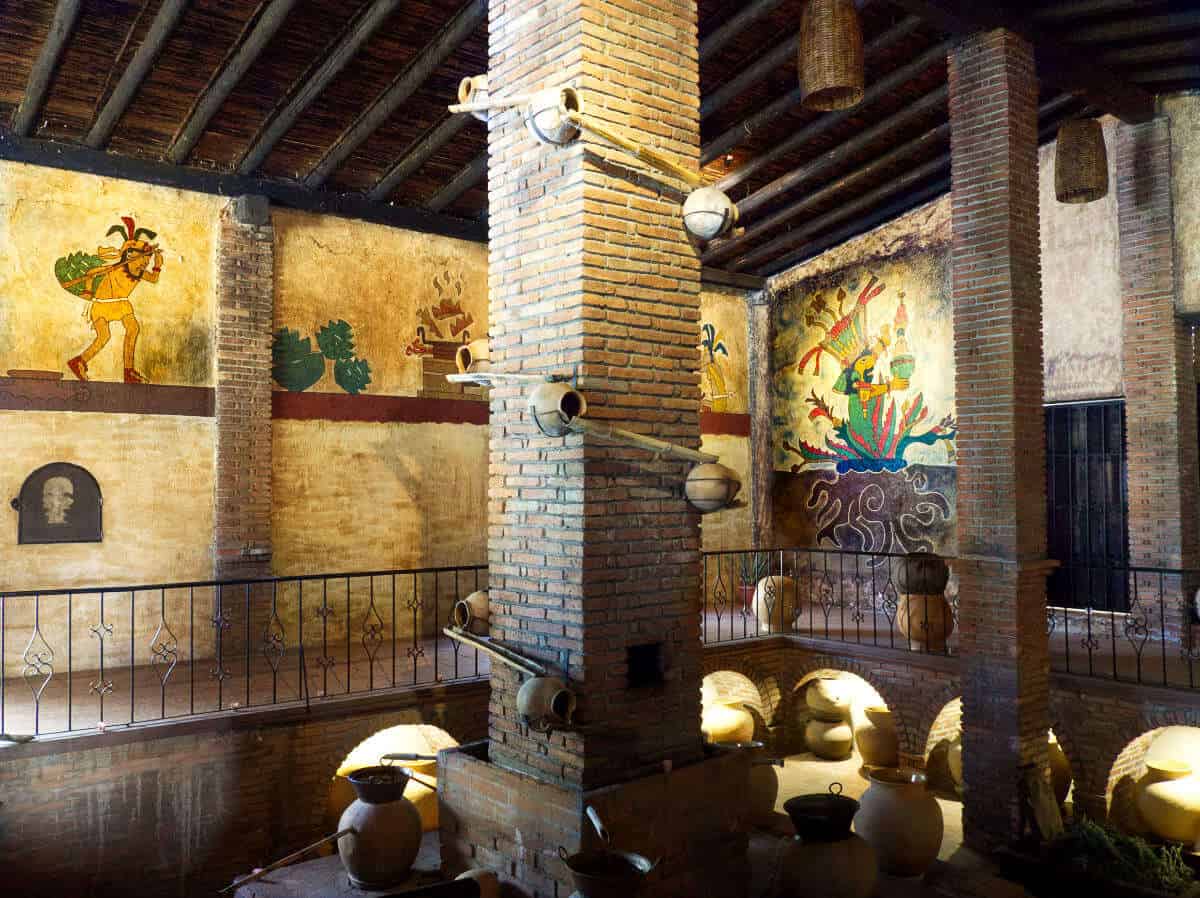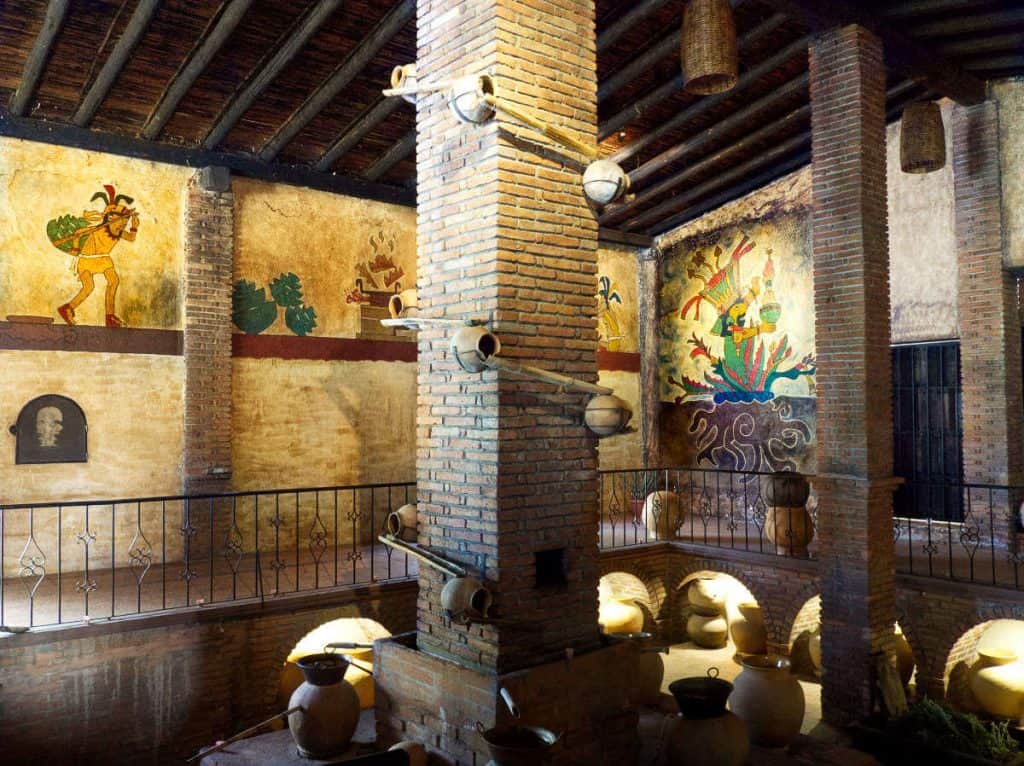 Read Next – 25 Oaxaca Restaurants You Need to Try
Artisan Route: South of Oaxaca Tour
This tour includes two of my favorite Oaxacan traditional arts – the black pottery of San Bartolo and the colorful alebrijes of San Martin Tilcajete. If you start early and schedule it with the Friday market in Ocotlan, it would be possible to see all three. If that's the case, I recommend doing this tour in reverse order, starting with Ocotlan.
We had a little trouble finding shared transport between San Bartolo and San Martin Tilcajete which meant we didn't make it to Ocotlan. On market day there will likely be more colectivos going in both directions. However, if the black pottery and alebrijes are also on the top of your list, you may not want to risk it.
Alternatively, you can book this private tour that visits the top black pottery and alebrije workshops, Ocotlan, and Santo Tomás Jalietza where you'll find beautiful cotton products made using a back-strap loom.
San Bartolo Coyotepec: Oaxaca Black Pottery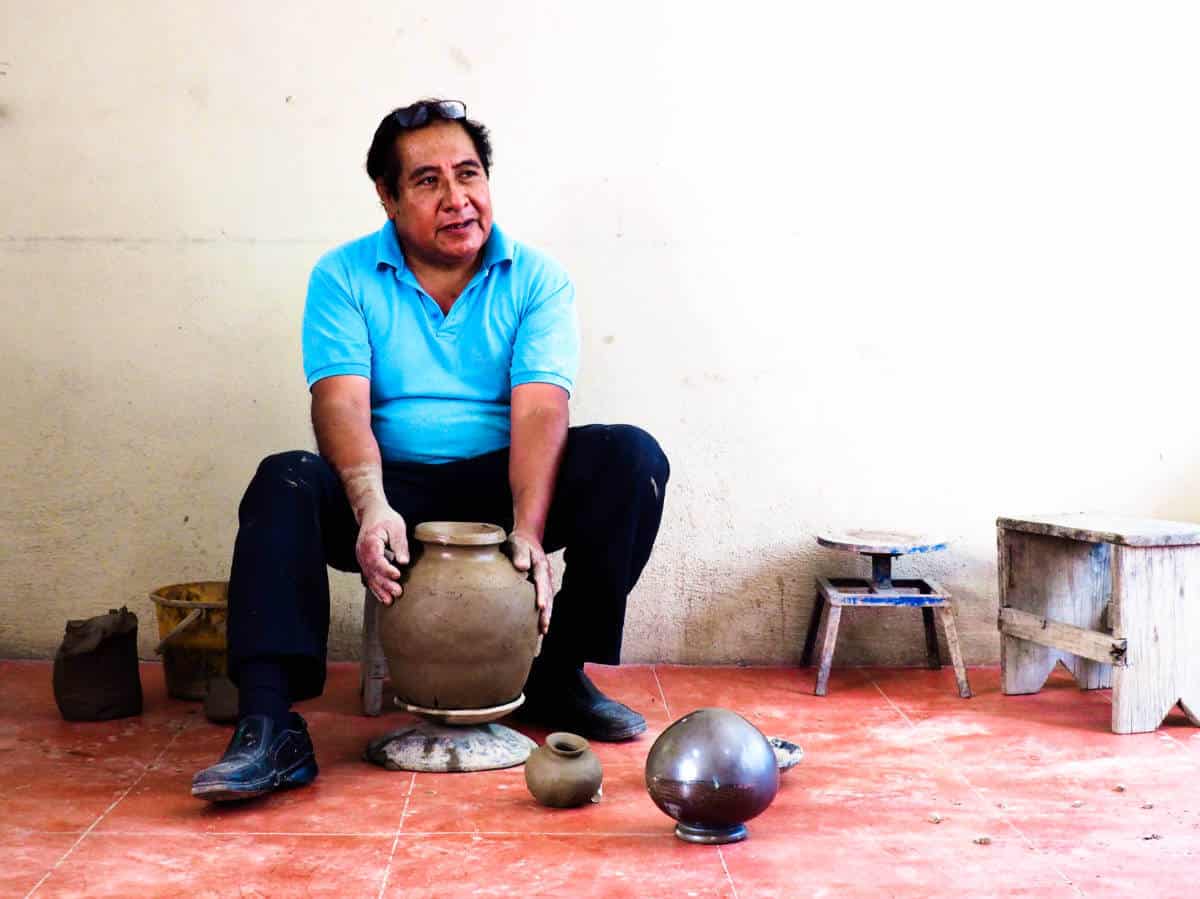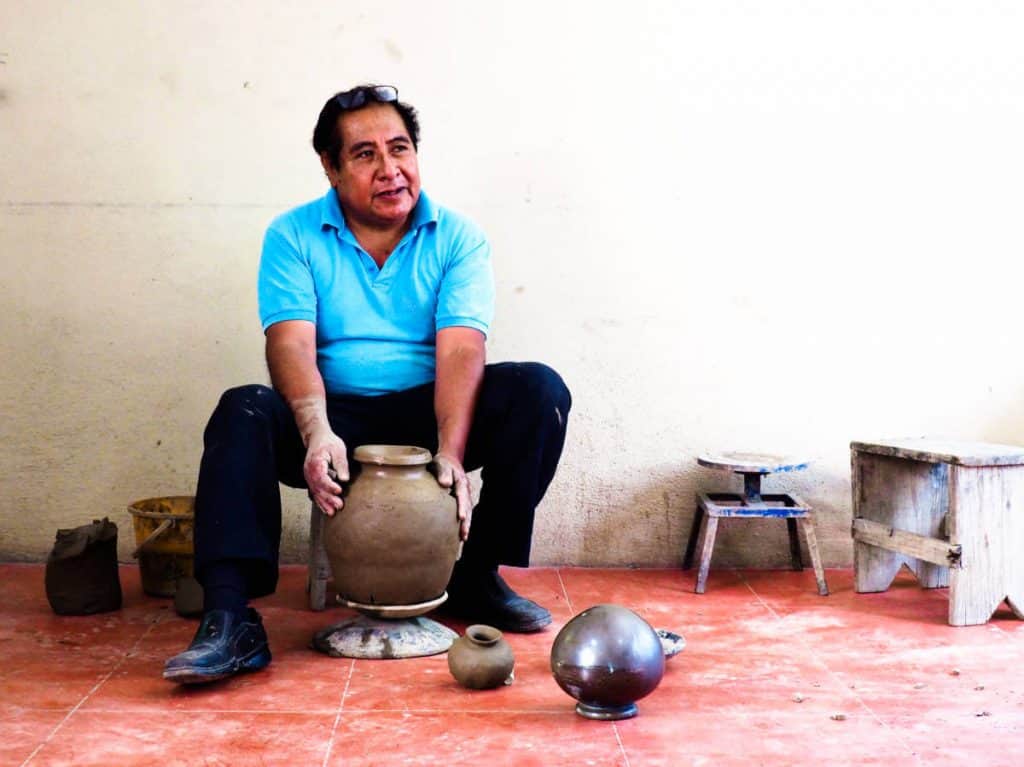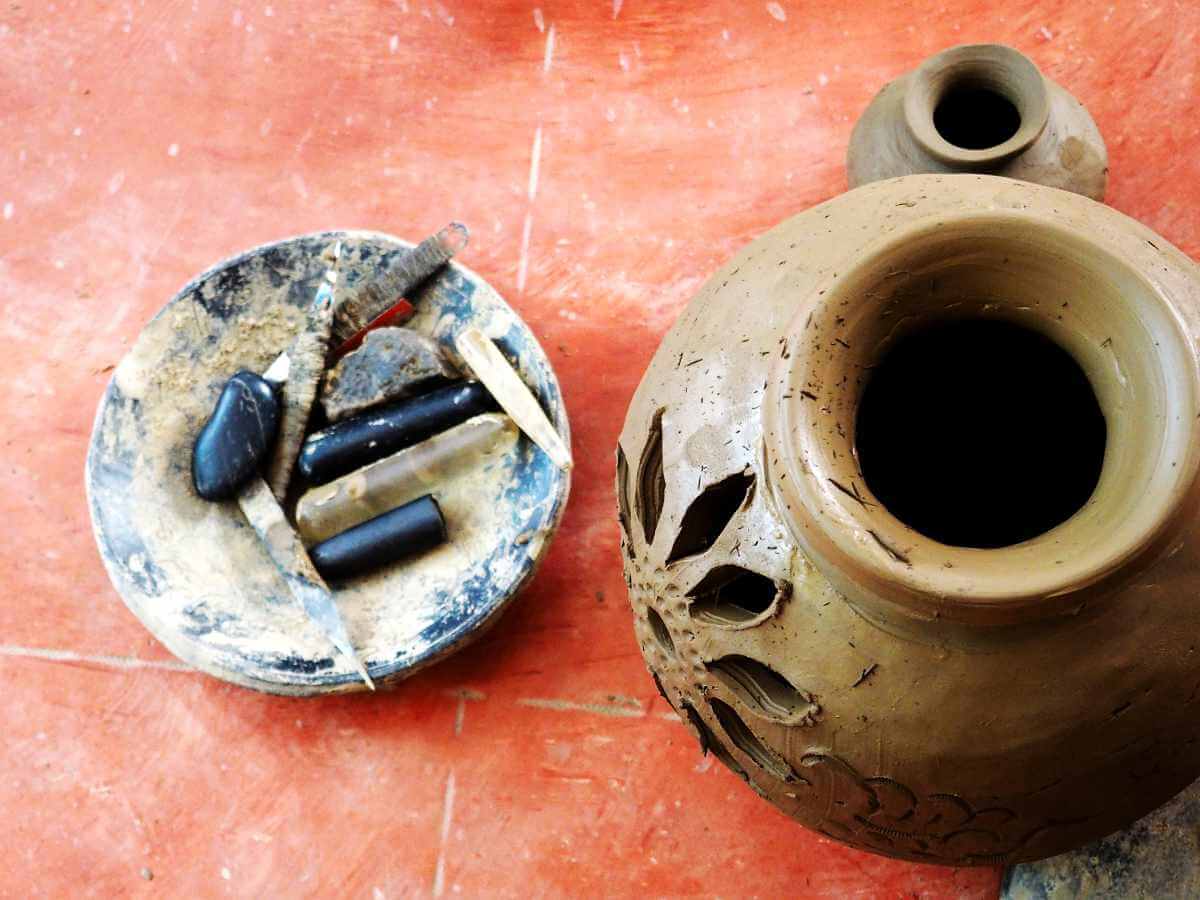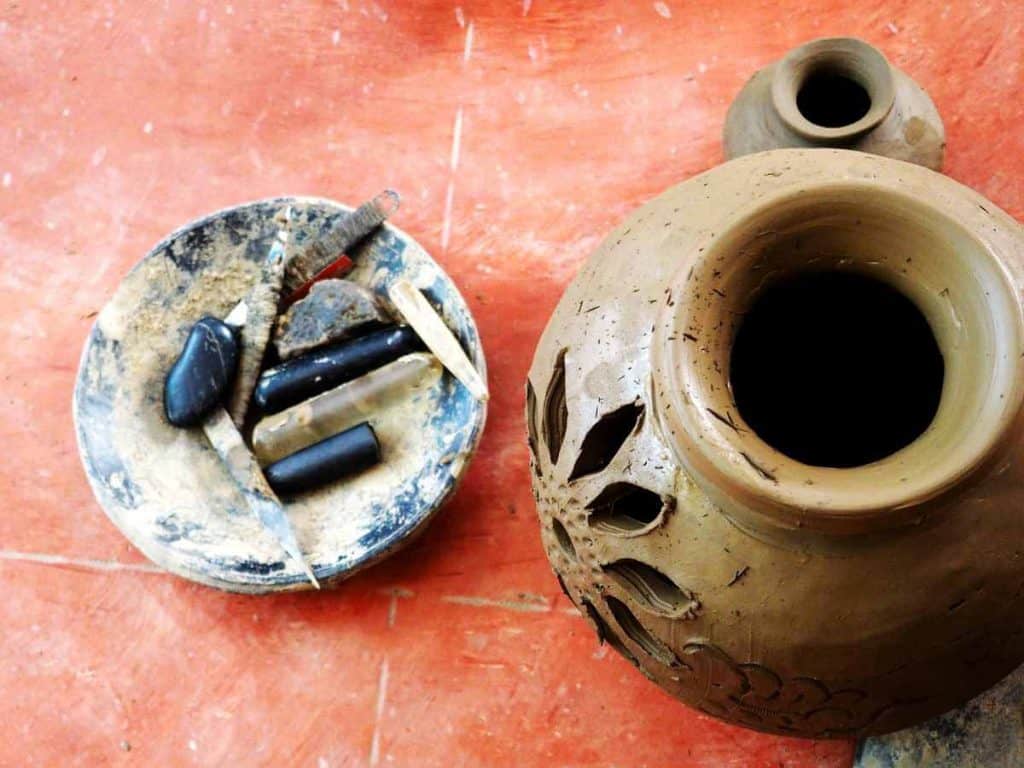 The creation of barro negro, or black clay, is dated as far back as Monte Alban, an ancient city established by the Zapotecs around 500 B.C. Until relatively recently the pottery was a lackluster gray color mostly used for utilitarian purposes such as large vessels for mezcal.
In the 1950s Dona Rosa discovered a new technique that gave the pottery a dark black color and shiny finish. When the clay was nearly dry, she used a quartz stone to sand the piece before loading it into an underground, wood-fired kiln.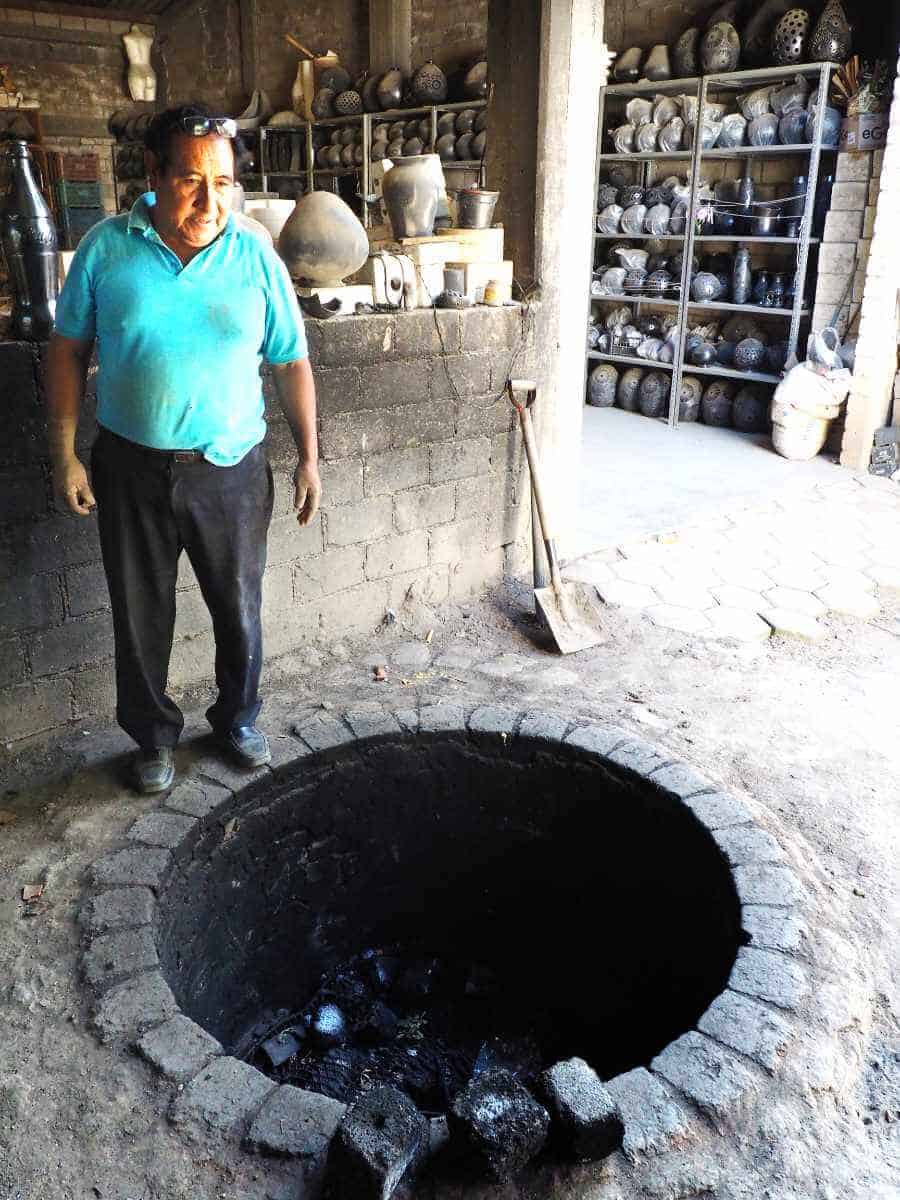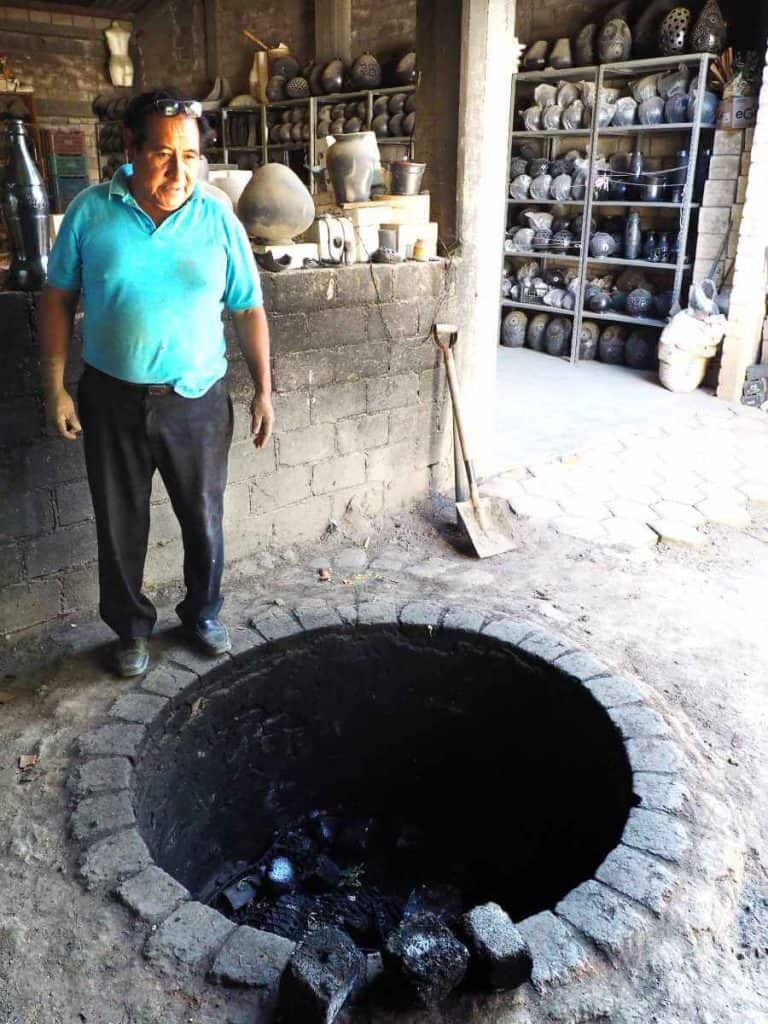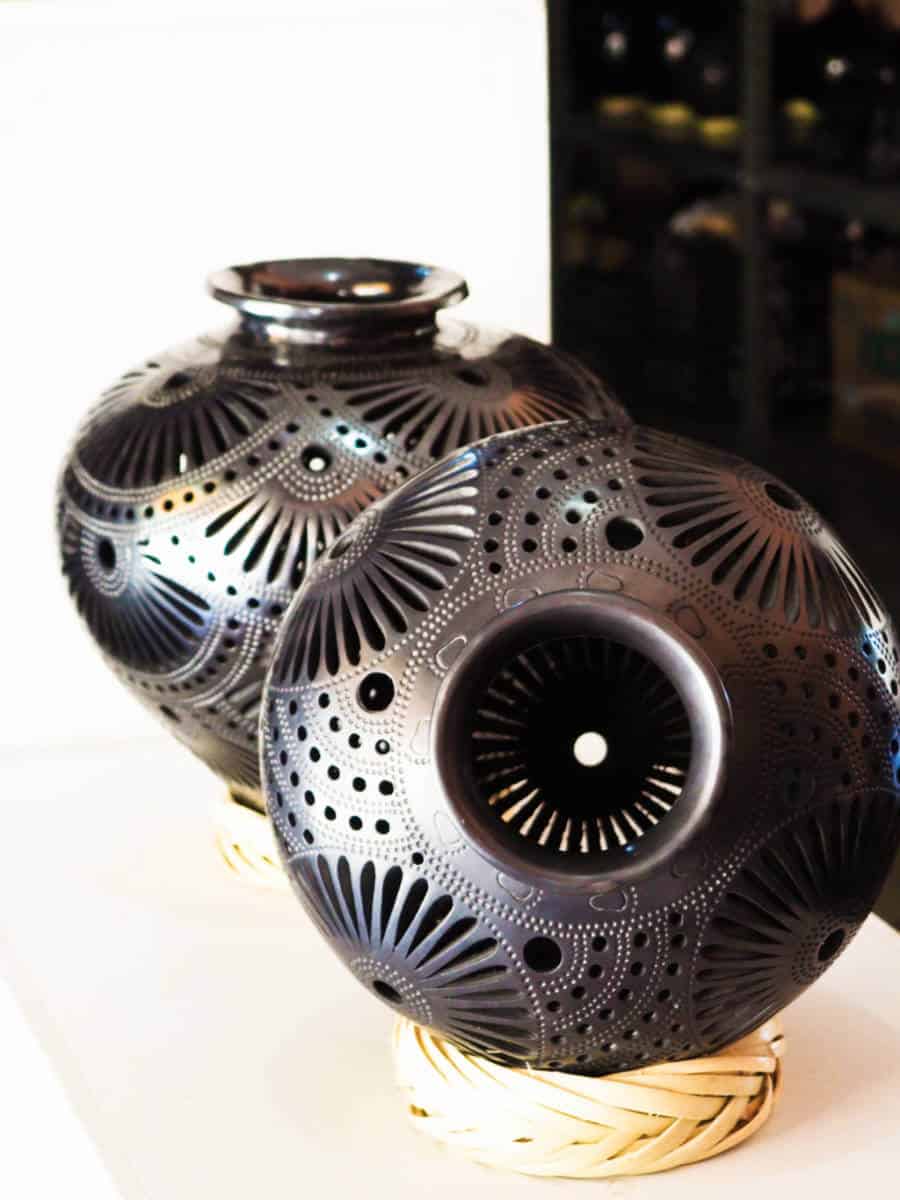 While this style only requires about two-thirds of the time to fire, it also renders the pieces useless for holding liquid. As a result, the shiny black pottery of Oaxaca is completely decorative. But thanks to Oaxaca's emerging tourist market, the style caught on and today only a few potters continue to make the traditional gray style.
Today Dona Rosa's family continues to make pottery at their studio and shop in San Bartolo Coyotepec. But due to the historical significance, it's also one of the black pottery workshops most frequented by the tour companies.
If you're doing this excursion on your own, I recommend you visit one of the other talented ceramic artists in town, such as Taller De Barro Negro Fabian. It's actually a bit confusing because there are two workshops with the name Fabian next door to each other.

I found both to have beautiful pottery but I felt the one further from the corner was more down to earth. We were also shown a brief demonstration of the process. You should be able to walk into both unannounced and discover your preferred style.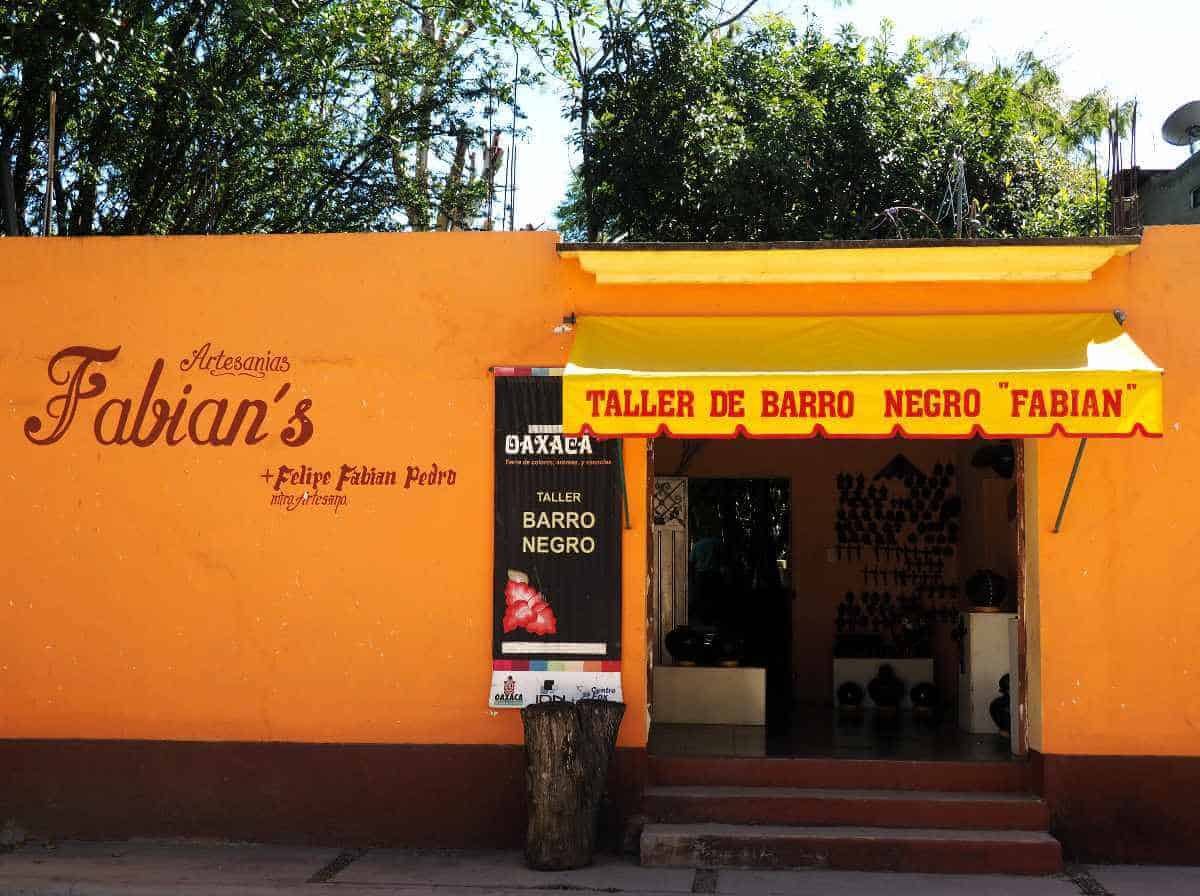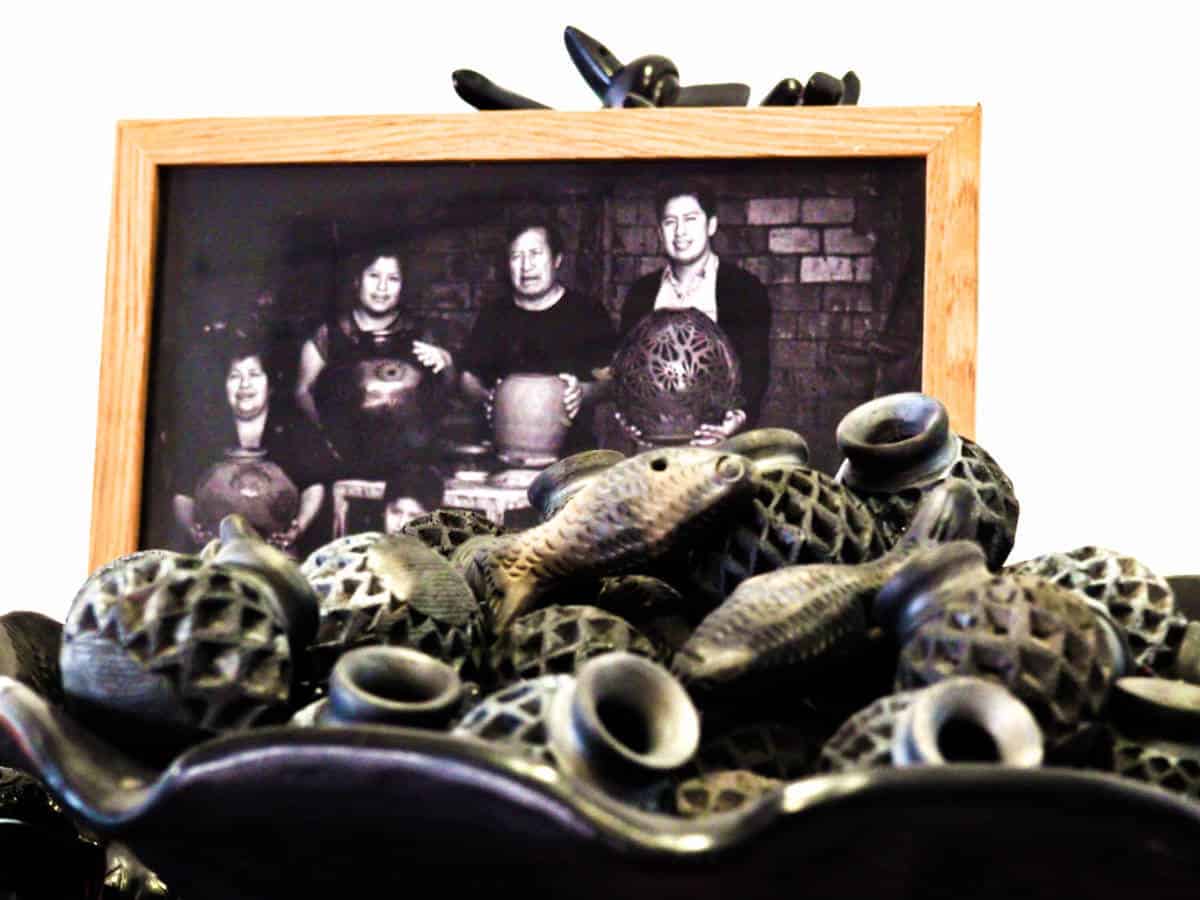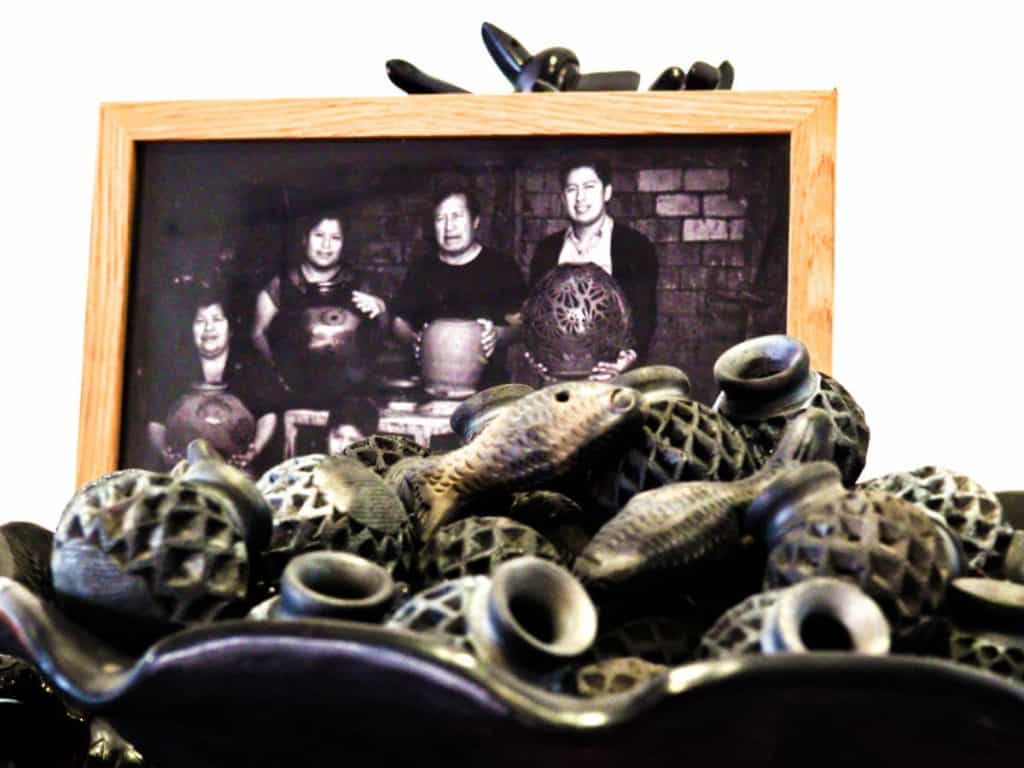 Hours: 9 am to 7:30 pm, Daily
Location: Calle Progreso between Hildago and Independencia (map)
TIP: Enjoy lunch at the small corner restaurant, El Sazon de Esther, which is attached to one of the workshops. They serve delicious traditional food.
How to get to San Bartolo Coyotepec: In addition to the colectivos, there is a bus to San Bartolo located on Bustamante between Arista and Nuno del Mercado.
Alebrije Workshops in San Martin Tilcajete
On the second stop of this Oaxaca tour, you'll discover the colorful hand-carved figurines of San Martin Tilcajete. These whimsical creatures were first envisioned by Pedro Linares, a Mexico City artist. At the age of 30, he developed a fever that caused him to hallucinate.
He dreamt of a forest of mythical animals, many of which had horns, wings, and tails. Throughout the forest, the meaningless word "alebrije" was being chanted by the creatures. When he recovered, he recreated the figures in paper mache and painted them the same bright colors he saw in his dreams.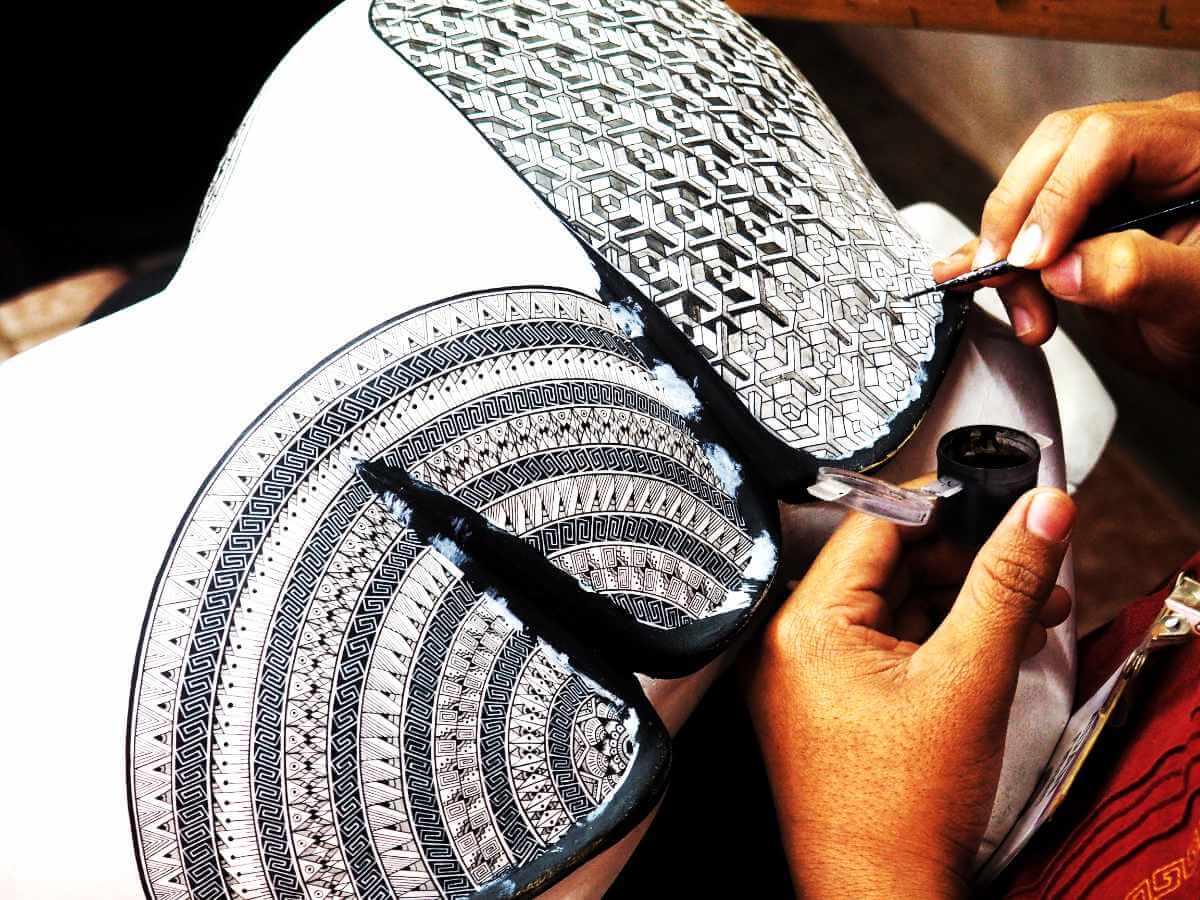 His works were discovered by Diego Rivera and the art form was later introduced to Oaxaca where they are made of copal, a native softwood. The shape of each alebrije is inspired by the natural curves of the wood, with the only limitation being the imagination of the artist. After carving, the piece is left to cure in the sun where the wood will develop cracks. The cracks are repaired using glue and wood shavings from the carving process. The pieces are then sanded by hand and meticulously hand painted.
Do you want to paint your own alebrije? Book this tour to visit two alebrije workshops which also includes transportation and lunch.
If you chose to visit on your own, there are small independent artists to be seen as you walk through the streets of San Martin Tilcajete. My friend and I were greeted by an artist and his wife who had a small booth set up on the edge of their yard, near the street. They were lovely to speak with as they carefully unpacked each piece for display.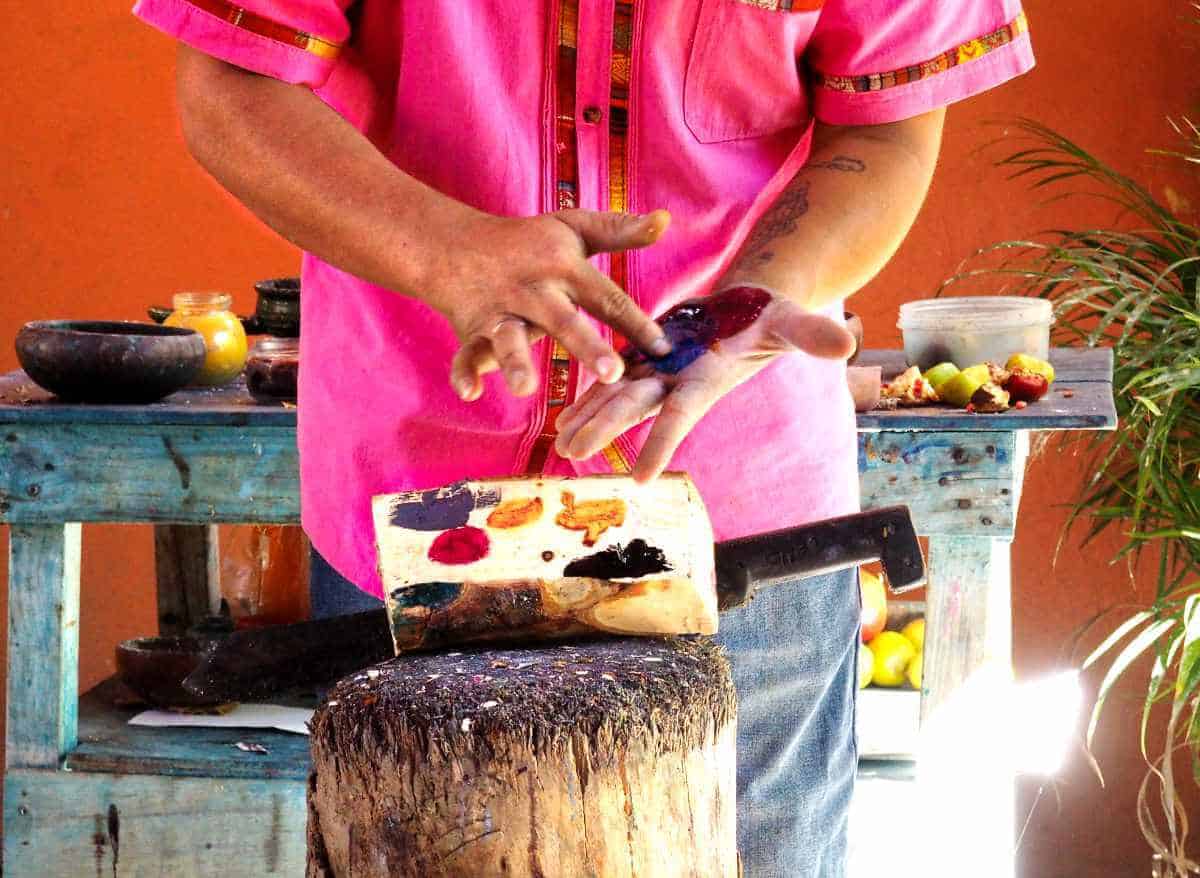 But I saw the most impressive work at Taller Jacobo y Maria Angeles and that's probably why most of the tours take you there. Taller means workshop in Spanish and that's exactly what they have created.

From what I can tell, they are an organization that is intent on preserving the artform and providing support to the local artisans that work for them. And it gives you an opportunity to see the artists in action. When we visited there was a table of artists carving alebrijes and a second table of artists painting intricate designs. While normally I wouldn't promote the big guys, take a moment to read their story and mission via their website. You can also arrange a class to paint your own alebrije.

The finished pieces at this workshop are exquisite and it's reflected in the price. You may want to reserve time to visit some of the other workshops as well if you're looking to bring gifts back home. However, I also see it as another example of their devotion to their craft.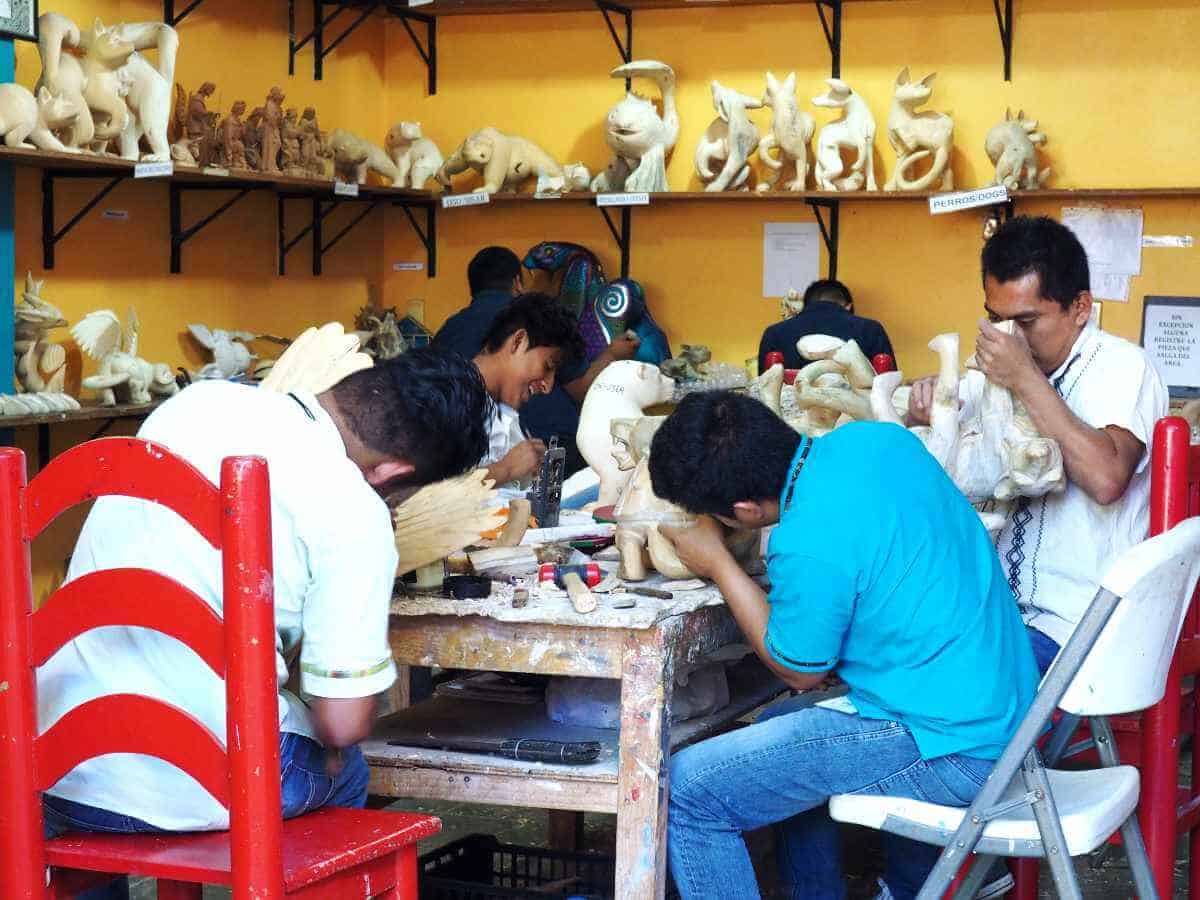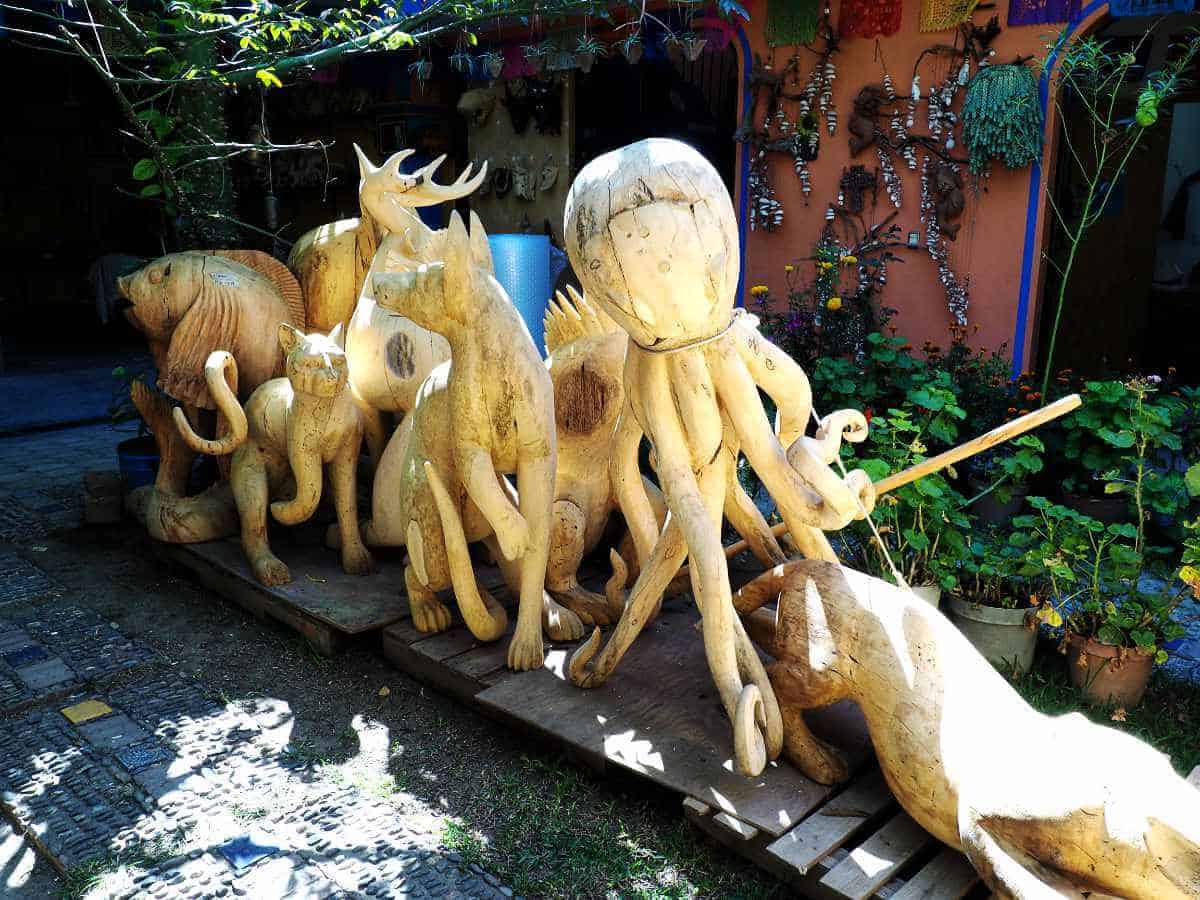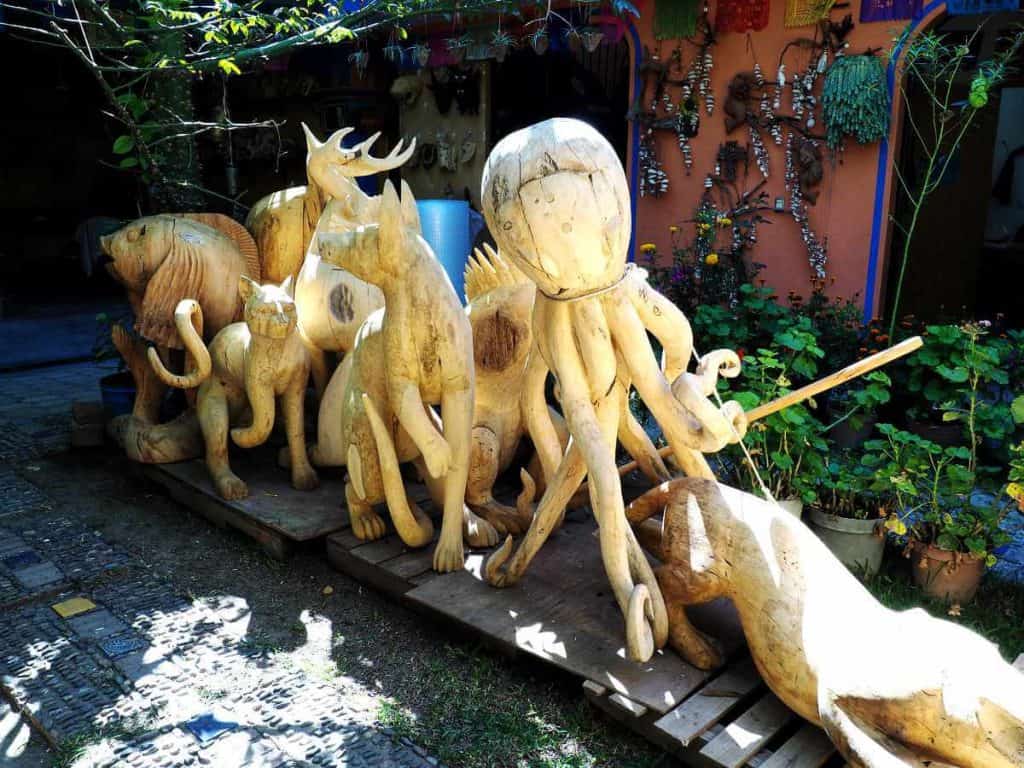 Other alebrije talleres, or workshops, in San Martin Tilcajete that caught my attention on Google maps are Taller David Hernández, Taller Zeny Fuentes y Reyna, and Zoológico Mágico.
How to get to San Martin Tilcajete: In addition to the colectivos, there is a bus to San Martin located on Arista between Miguel Cabrera and Bustamante. Then it's a short walk through town to any of the workshops.
Ocotlán de Morelos
If you're taking this tour on a Friday, consider starting early and adding Ocotlán to the route since Friday is the market day. The town centers around the Santo Domingo convent which was restored by the famous Mexican artist and native of Ocotlán, Rodolfo Morales. The nearby cultural center he created includes beautiful murals of his work which evokes the culture of Oaxaca in deep hues of color.
The town is also known for red pottery, knives, and kitchen utensils. While doing research, I got really excited about seeing handcrafted knives. Since we didn't make it to Ocotlán, I can't comment on them but it seems there is at least one traditional blacksmith, Apolinar Aguilar Velasco, that still honors the craft.
How to get to Ocotlán de Morelos: In addition to the Abastos market, there is a bus to Ocotlán located on Miguel Cabrera between Zaragoza and Arista in Oaxaca city.
Monte Albán Route: Day Trip From Oaxaca, West
Monte Albán Ruins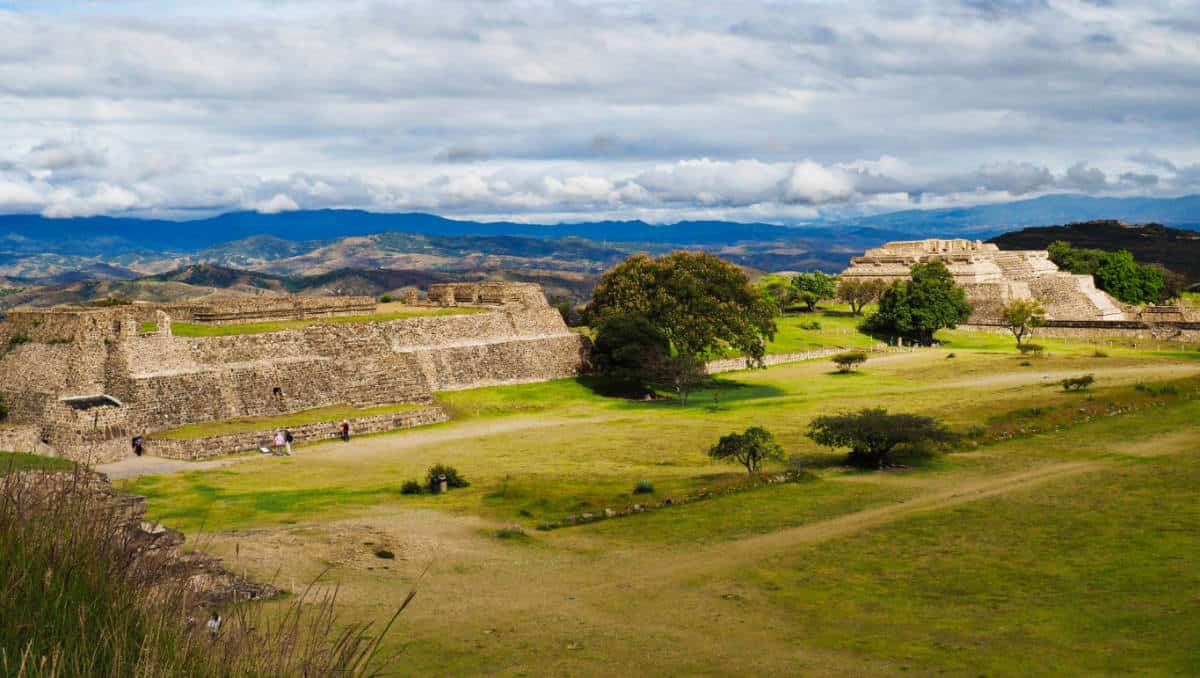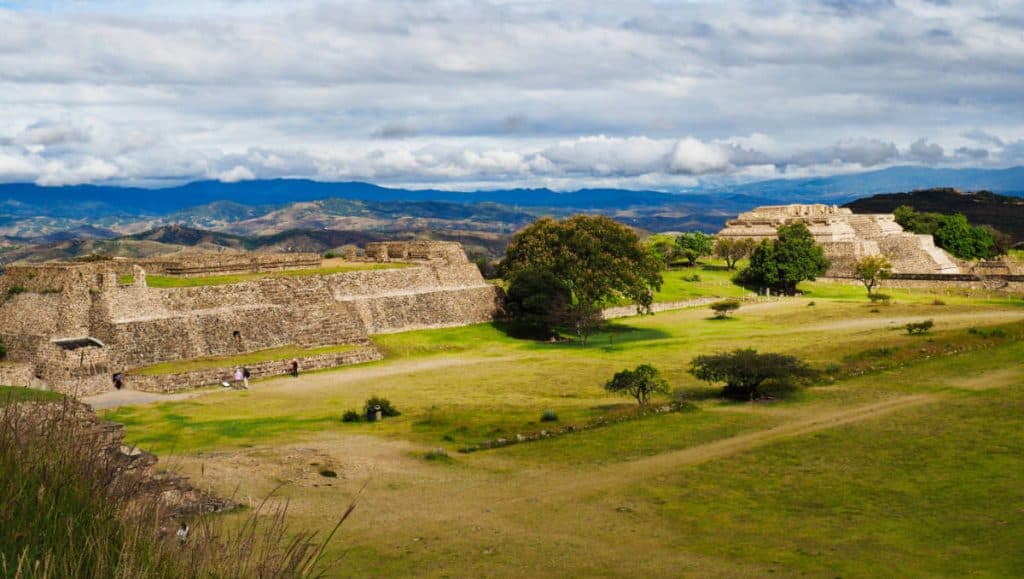 Most visitors to Oaxaca will include a day trip to the Monte Albán archeological site, located 30 minutes outside of the city. There are buses to Monte Alban that leave from the corner of Mina and Diaz Ordaz, but the first bus doesn't leave until half an hour after the site opens. While that might not sound like much time, when you're going to see a Unesco Heritage Site, it makes all the difference in the world.
I recommend paying a little extra to take a taxi earlier in the morning instead of arriving with a bus full of other tourists. The tour guides at the entrance were willing to gather a group of people together to divide the cost, which I definitely recommend doing to learn more about the ruins. On the way back, see about sharing a taxi with others to save money.
If your focus is on seeing both of these archeological sites, you can book this private tour with a knowledgeable guide.
Santa María Atzompa
The city of Atzompa was built as a satellite city of Monte Alban. Today it is known for making ceramics with a glassy green glaze which was introduced by the Spanish in the 16th century. The Atzompa archaeological site is significant for its three ball courts. Unfortunately, Atzompa is another village I ran out of time to visit.
Along this route, you can also plan to visit a few other sites, though it would involve a small amount of backtracking after visiting Monte Alban and Atzompa. They include Arrazola, a small town also known for alebrijes; Cuilapam de Guerrero, a convent from the 16th century; and Zaachila (see markets) which was the last capital of the Zapotec empire.
Tour Oaxaca Markets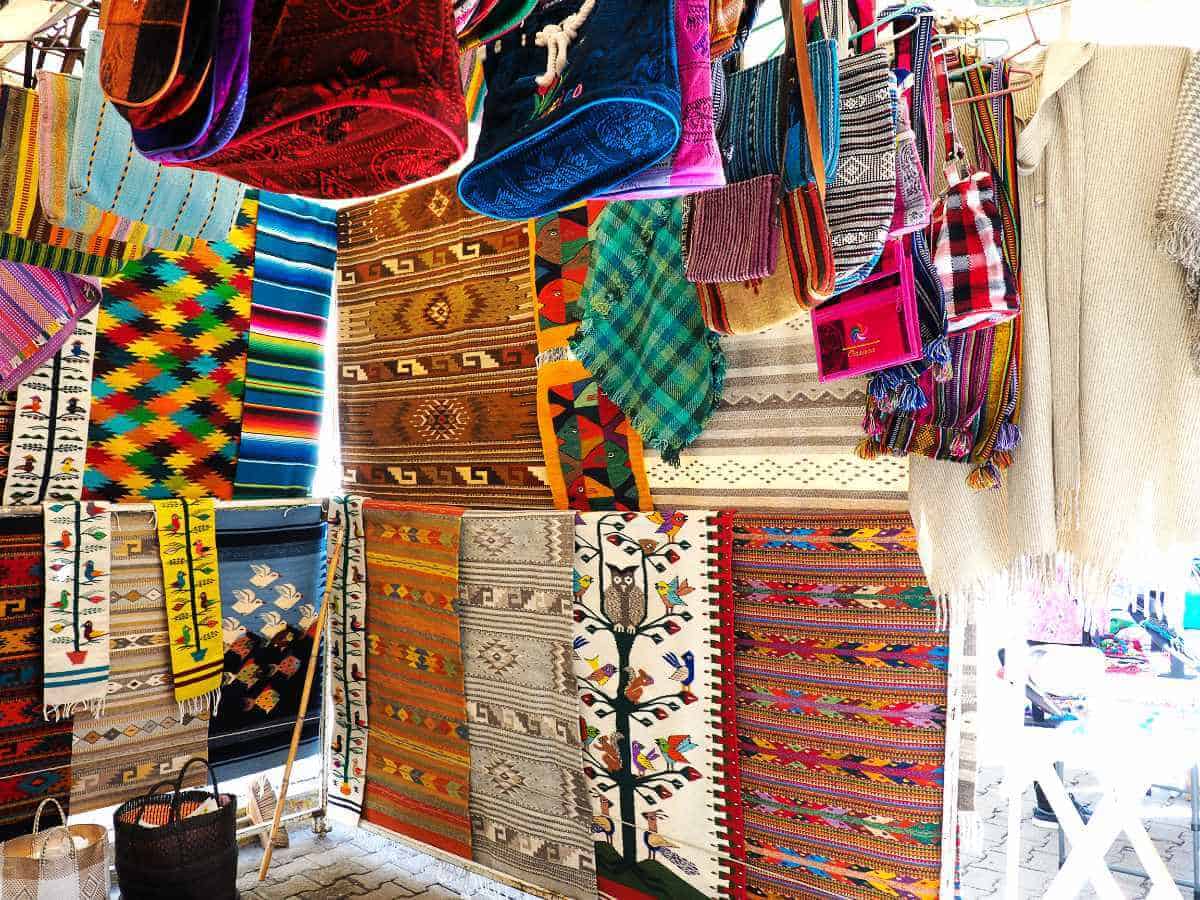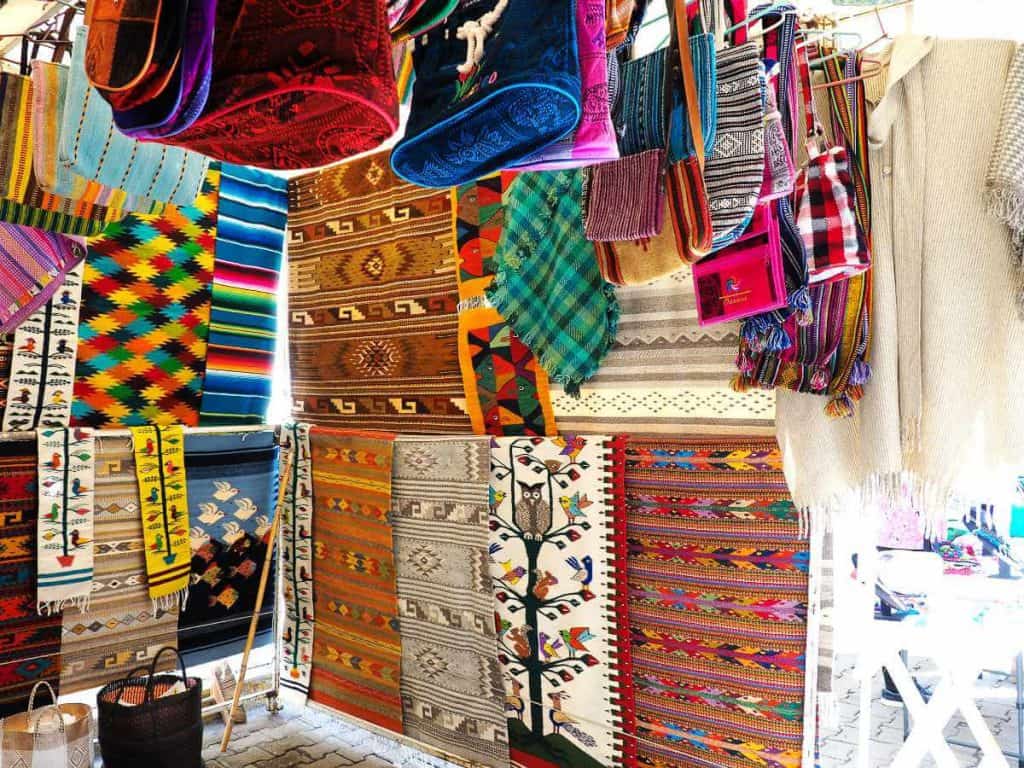 You could create an entire set of day trips from Oaxaca by visiting the surrounding villages during their weekly markets, or tianguis. These mercados are vibrant and bustling with products ranging from fresh fruits and vegetables to meat and cheese, household items, clothes, and prepared foods.
While some markets are known for specialties, I also saw a lot of overlap so I don't actually recommend going to a different one every day, but the scheduled day for each small town is good to keep in mind while planning your trip. A few that stand out are:
Sunday Market: Tlacolula
This is the biggest and most popular market in Oaxaca with a wide range of products from throughout the valley. The traditional lamb barbacoa drew me here but I later learned you can find it at other markets as well.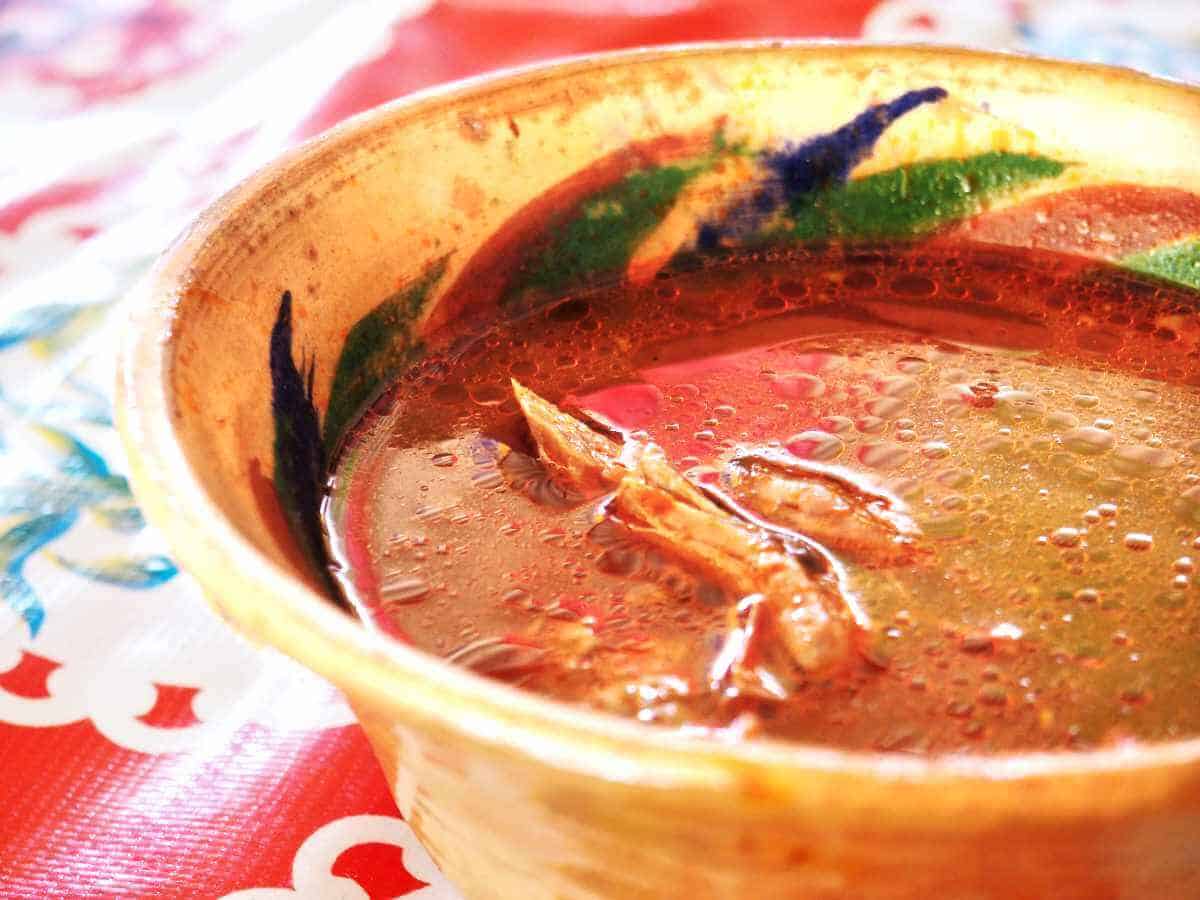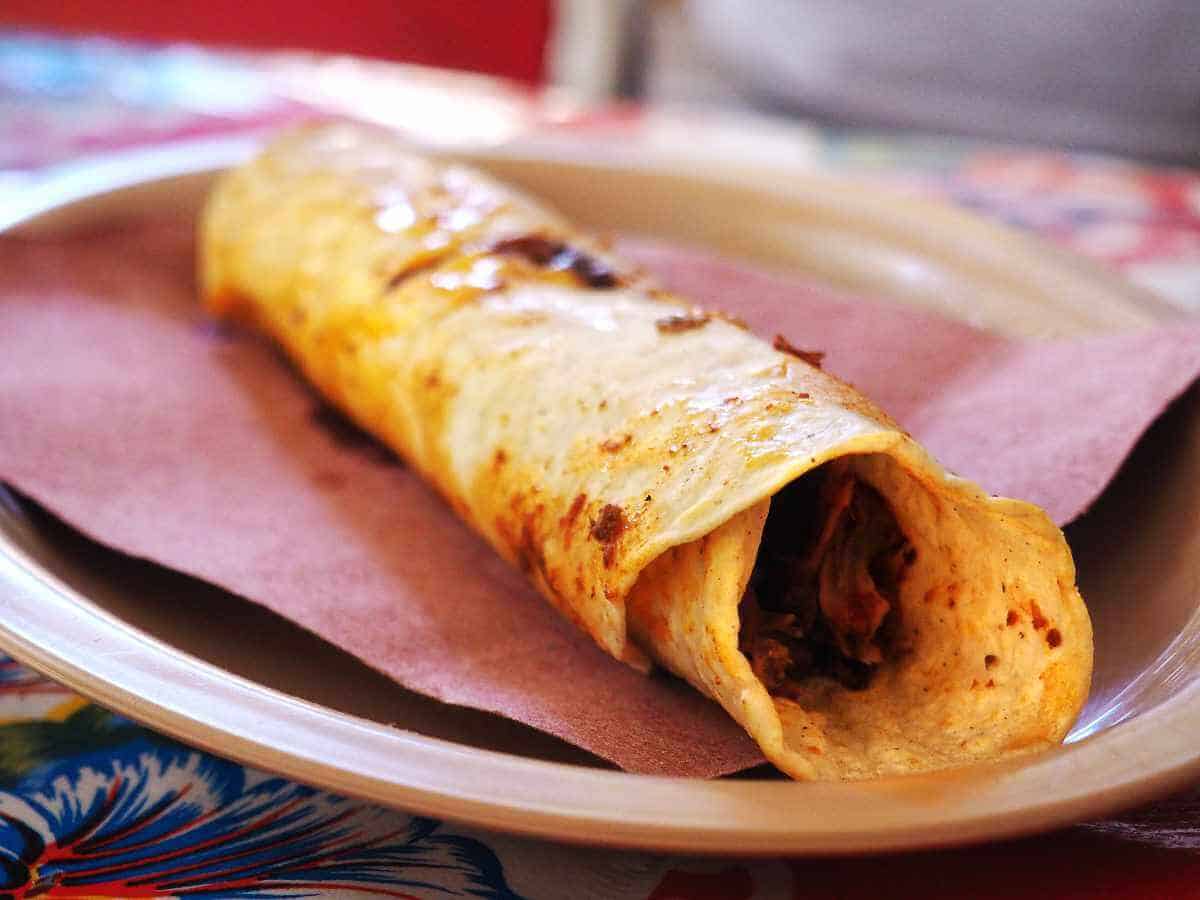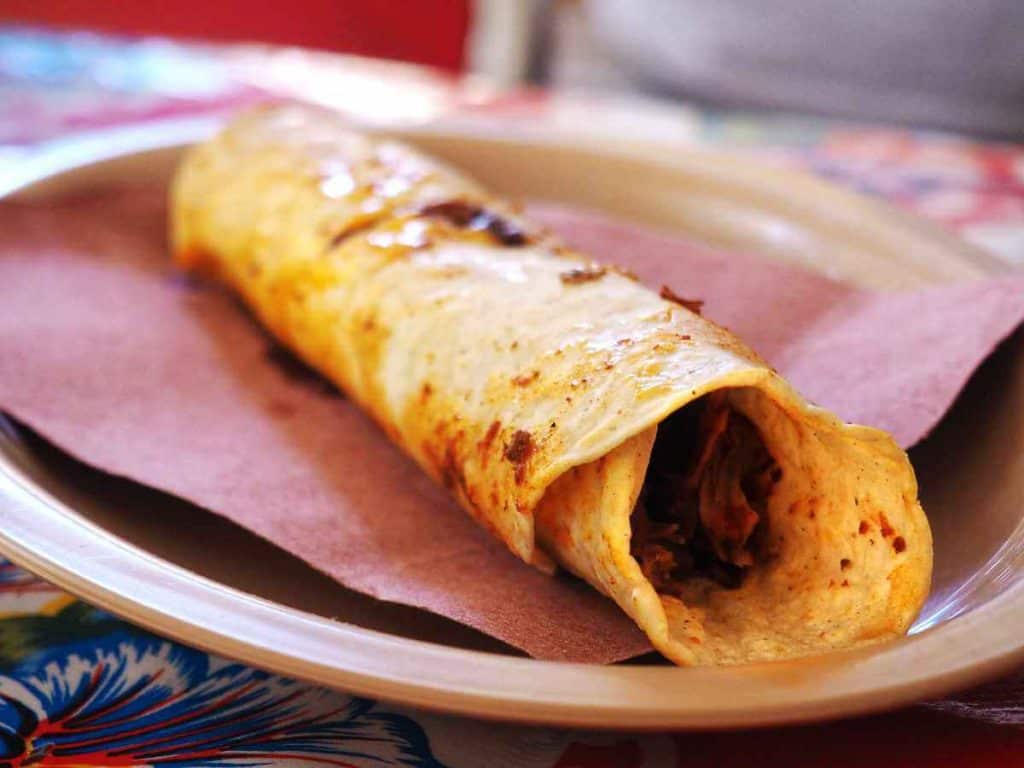 Even though Tlacolula is the most popular Oaxacan market for tourists, I would definitely recommend coming here. It was large but manageable and still very local. My favorite area was at the end when we got to the meat section. In the center of the aisles, grills were ready for you to cook your purchased meat immediately!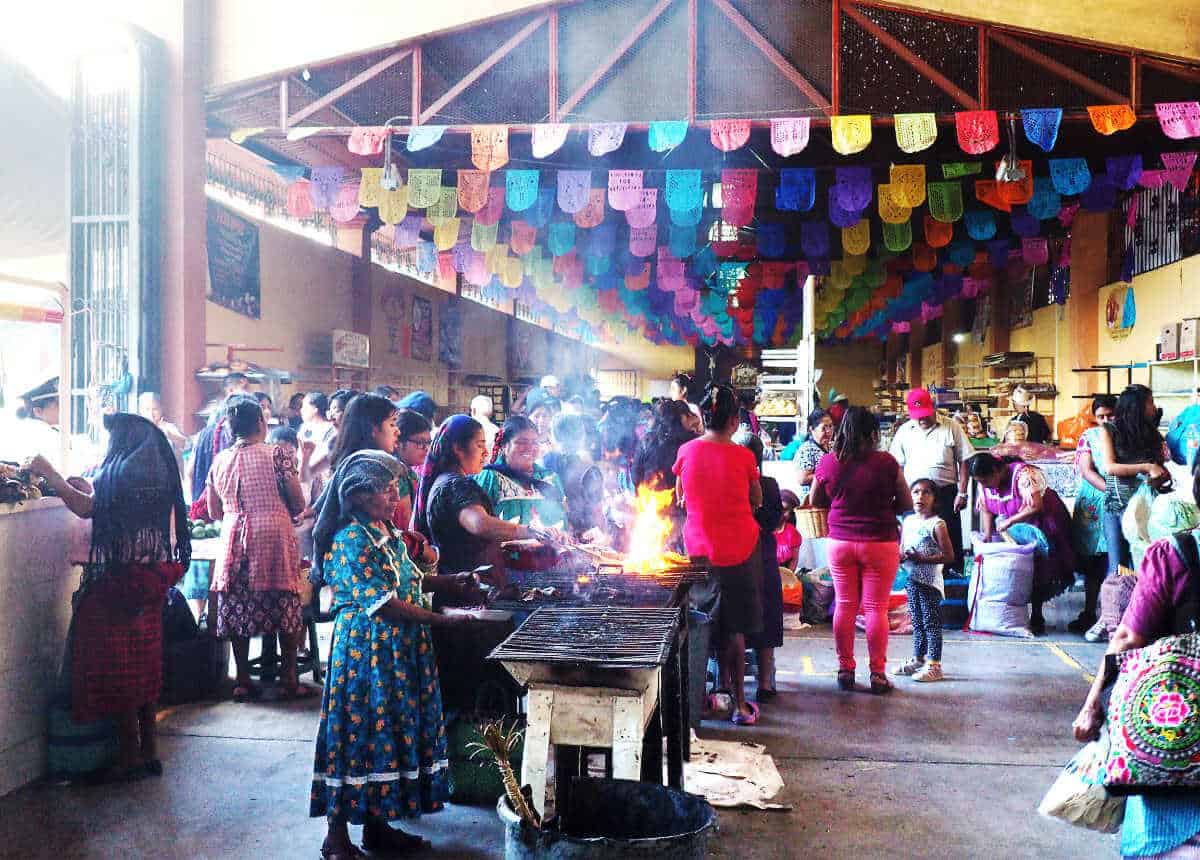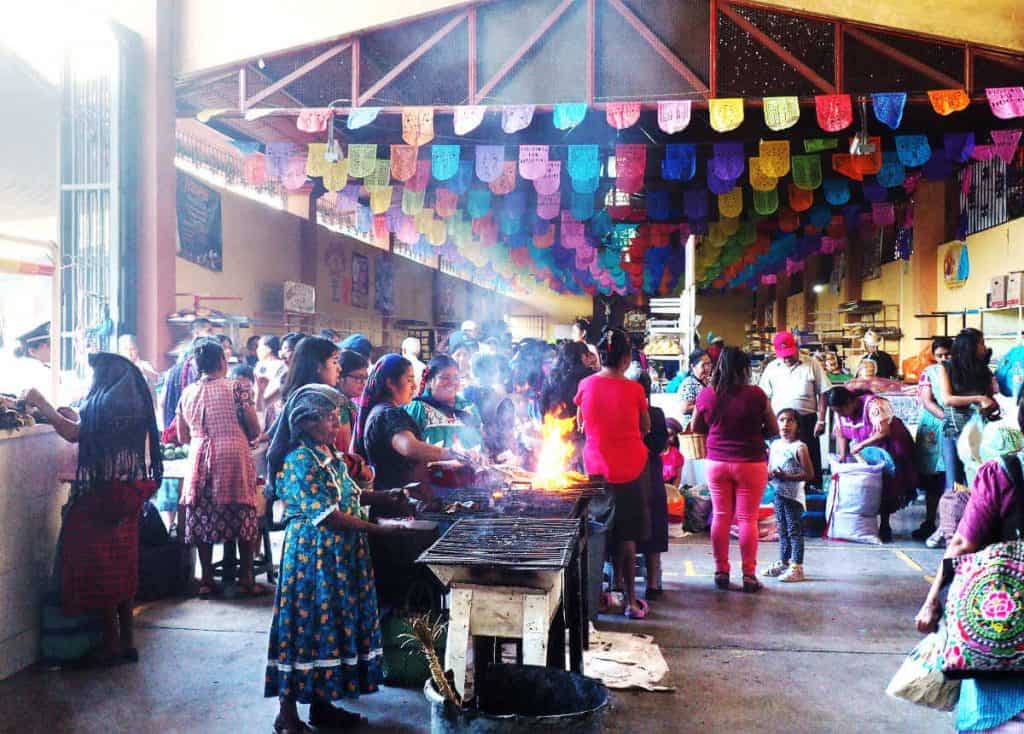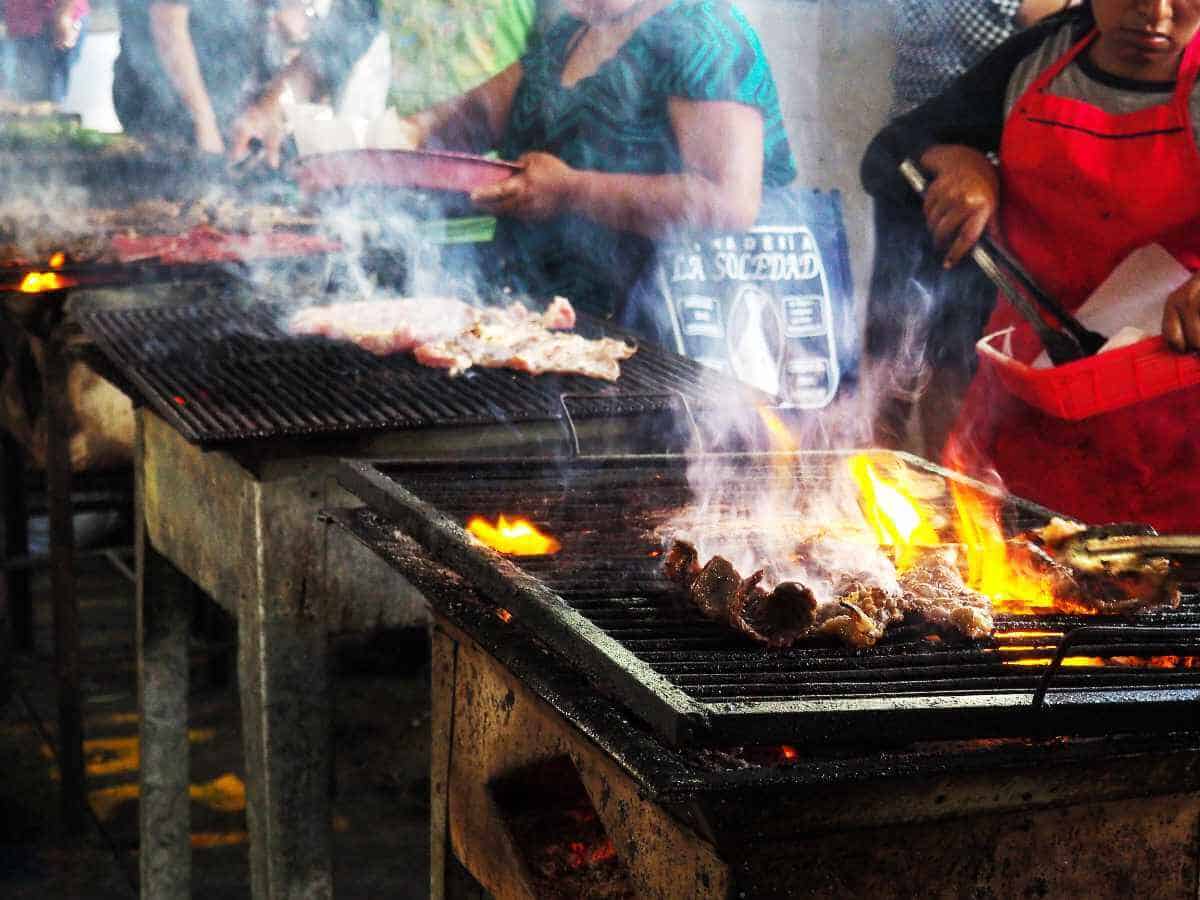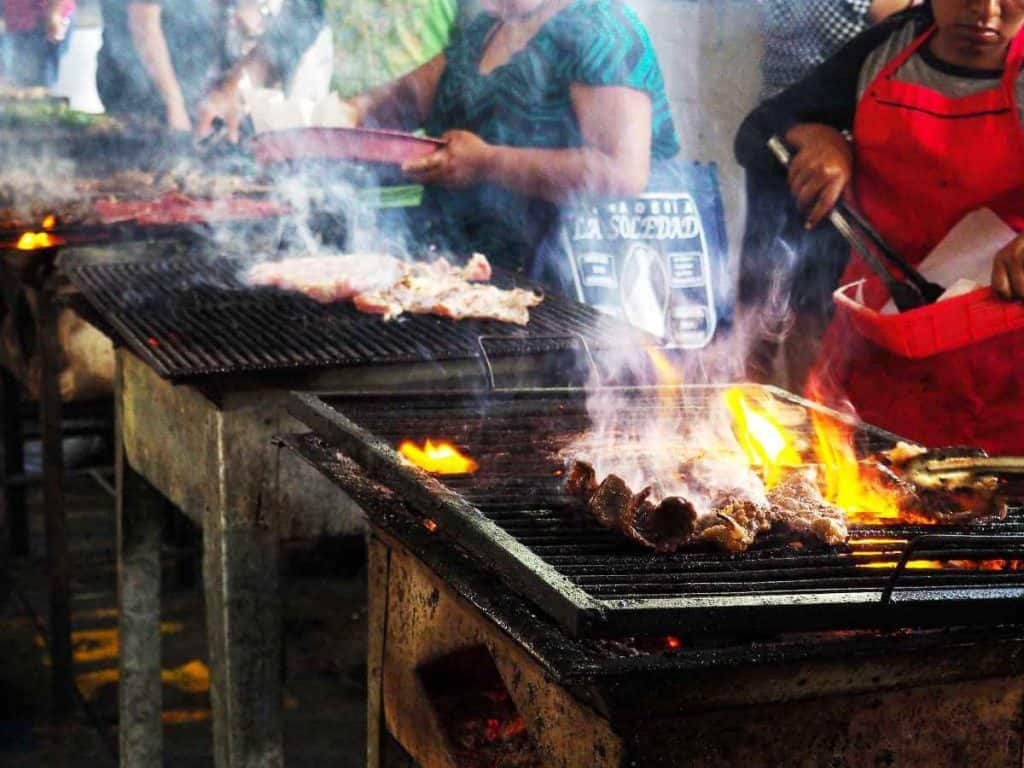 Wednesday Market: Etla
Many chefs from Oaxaca flock to this market for the specialty made cheese, quesillo, which is sold in ropes. Other specialties include pan amarillo (yellow bread) and tasajo, a Oaxacan specialty of thin, salty beef regularly found as a topping on tlayudas. Yummy!
Friday Market: Zaachila
Since we were visiting Oaxaca during Day of the Dead, it was suggested to visit Zaachila to see a special art being created with colorful sand, glitter, and flowers along the sidewalk surrounding the cemetery. It also happened to be market day in Zaachila, which made it all that more special. I've since learned Zaachila is also known for barbacoa which we ate at Mercado Gastronómico de Zaachila. It's a great place for a snack before the market!
Sierra Norte: Hike the Pueblos Mancomunados
Keep in mind, most of these communities remain closed through 2021. It's important to check before you go.
The mountains northeast of Oaxaca are one of the most biodiverse areas in Mexico. In an effort to protect their rich natural habitat, these mountain villages together decided to close their gold and silver mines. Instead, they created a cooperative called Pueblos Mancomunados to promote the ecotourism of the region.
You can purchase tours from groups within the city itself at a premium price (we were quoted $250+ per person!) But if you are adventurous and know even a touch of Spanish, it's possible to visit by public transport, rent a cabin, and hire a guide for much less. And by going to the towns directly, you put more money in the pocket of the people that make up these communities. Win-win!
This is another tour that we simply ran out of time for, but it's high on my list when I return to Oaxaca (which I've been dreaming of!) You can read about all of the pueblos in this guide which details the things that make each village unique as well as their culinary specialties.
And this post gives a detailed account of getting to Cuajimoloyas by bus as well as their personal experience there. I believe direct buses now travel from the second class bus station located next to the Abastos Market to the towns of Cuajimoloyas, Llano Grande, and Benito Juarez.

Whichever way you decide to visit, I definitely recommend you hire a guide for the hikes since the trails are not always well marked. English guides are available and they will be able to point out the native flora, including many plants used for medicinal purposes.
Keep in mind the altitude and the temperatures. While warmed by the sun in the day, temperatures at night drop considerably. Fortunately most cabins have a fireplace and for a very modest fee someone will build a fire for you and supply extra wood for the evening. If you make this journey, I'd love to hear your experience!
Public Transportation in Oaxaca
For the purpose of this article, I'm talking strictly about public transport from Oaxaca City to the surrounding towns and between the towns so that you can create your own tours. There is a separate bus system within the city itself that I found much more confusing.
Buses and shared taxis, or colectivos, are the two main ways to get around using public transportation in the Oaxaca region. This was the first time I had seen shared taxis and I love the concept. In this area, they are small red taxis with the final destination printed across the top of the windshield.
From my experience, the colectivos will drop you off anywhere along their route just like the buses. While they usually cost a little more, they are still quite affordable and often faster. If you're flagging one down along your route, the driver will hold up fingers to indicate how many spaces he has left in the car.
TIP: In an effort to maximize capacity, a sixth seat has been added between the driver and front passenger. Yes, it's tight and as uncomfortable as you'd expect. Thus, if it's available, I suggest choosing the backseat.
There are also motorcycles that have been transformed into three-wheel covered transportation. These are mostly used to go between two small towns but sometimes I'd see them on the edges of Oaxaca city going to a nearby town.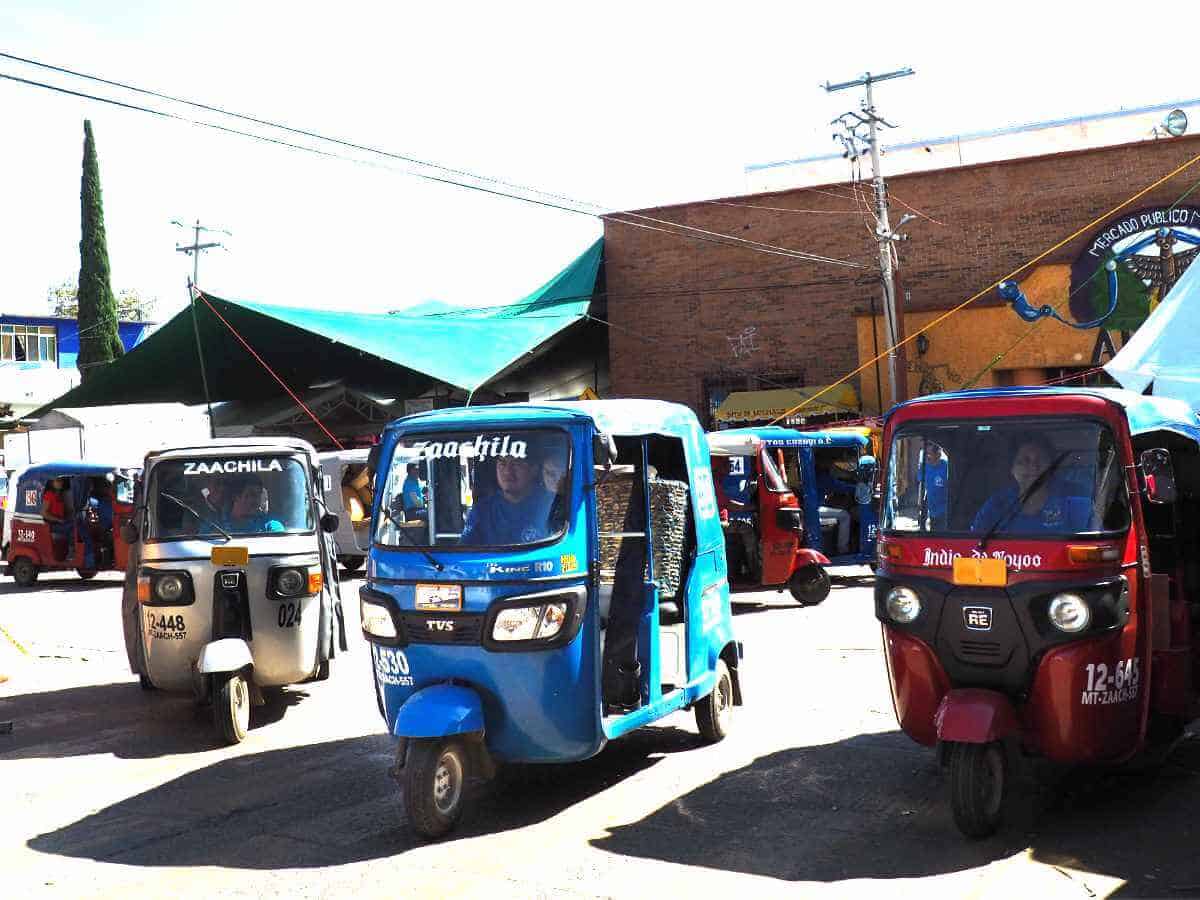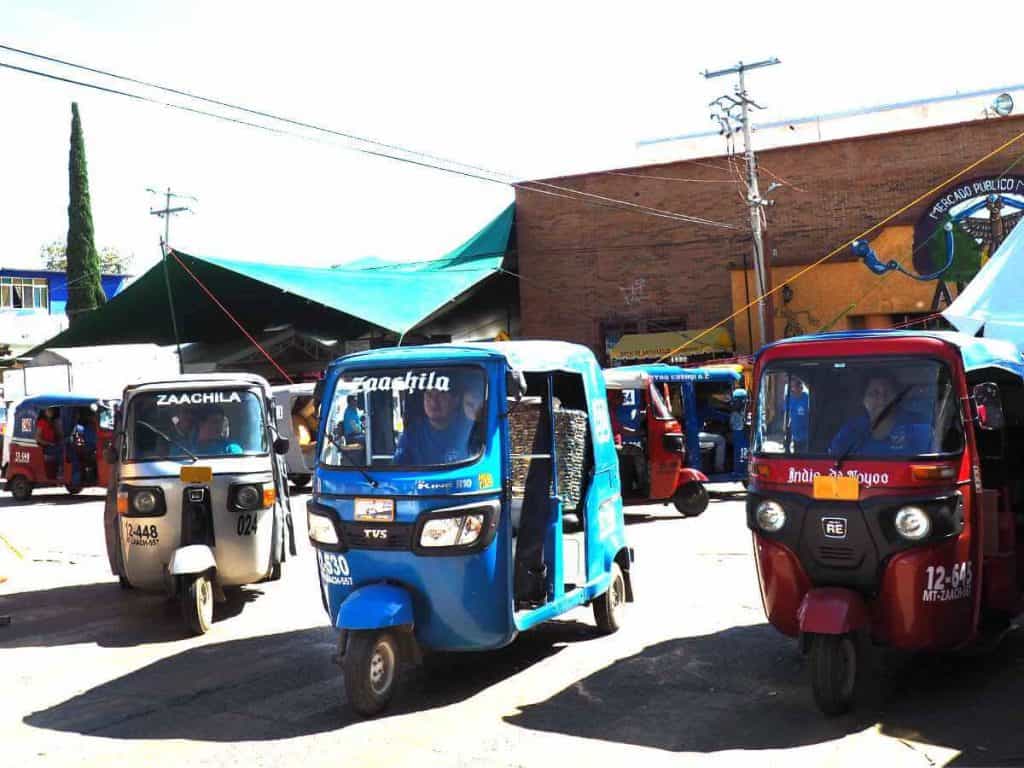 Where do you find the buses and colectivos in Oaxaca?
There are two main locations. The largest is the Abastos Market. In addition to the Second Class Bus Station where you can find buses to all the nearby villages, there are two areas that colectivos queue. On the East side of the market, colectivos can be found heading to towns south and east, such as Teotitlan del Valle, Tlacolula, Mitla, Ocotlan, and Zaachila. On the North side of the market, past the bus station is where colectivos line up that are going north and west to towns such as Etla and Atzompa.

However, the Abastos Market is a big cluster of people where you should be careful of your personal belongings. Rather than go directly to the market, we would often catch the colectivo along their route either on the Periferico if heading east or one of the major roads heading south out of town. If you are only one or two people this should not be a problem. With a larger group, you may find that the colectivos are already full.
The other area to catch colectivos is in the north of the city. On Chapultepec between the baseball stadium (map) and the McDonald's you can find colectivos going east to towns like Tule, Teotitlan del Valle, Tlacolula, and Mitla.
There are also a few bus outposts in town which I mentioned above with the corresponding day trip. They include a bus to Ocotlan, a bus to San Bartolo Coyotepec, and a colectivo to San Martin Tilcajete.

On a side note, I found most of this information with the incredibly helpful maps created by a current resident that generously left them for viewing at the Oaxaca English library. They are in the magazine section in a plain plastic sleeve. It also includes a colored detail of the Oaxaca City bus routes, but I still found it difficult to navigate.
I hope these details inspire you to create your own tours in Oaxaca as I think you'll find the freedom rewarding, not to mention a great taste of local life.
Like this post? Pin it for later!