Xochimilco: The Floating Gardens of Mexico City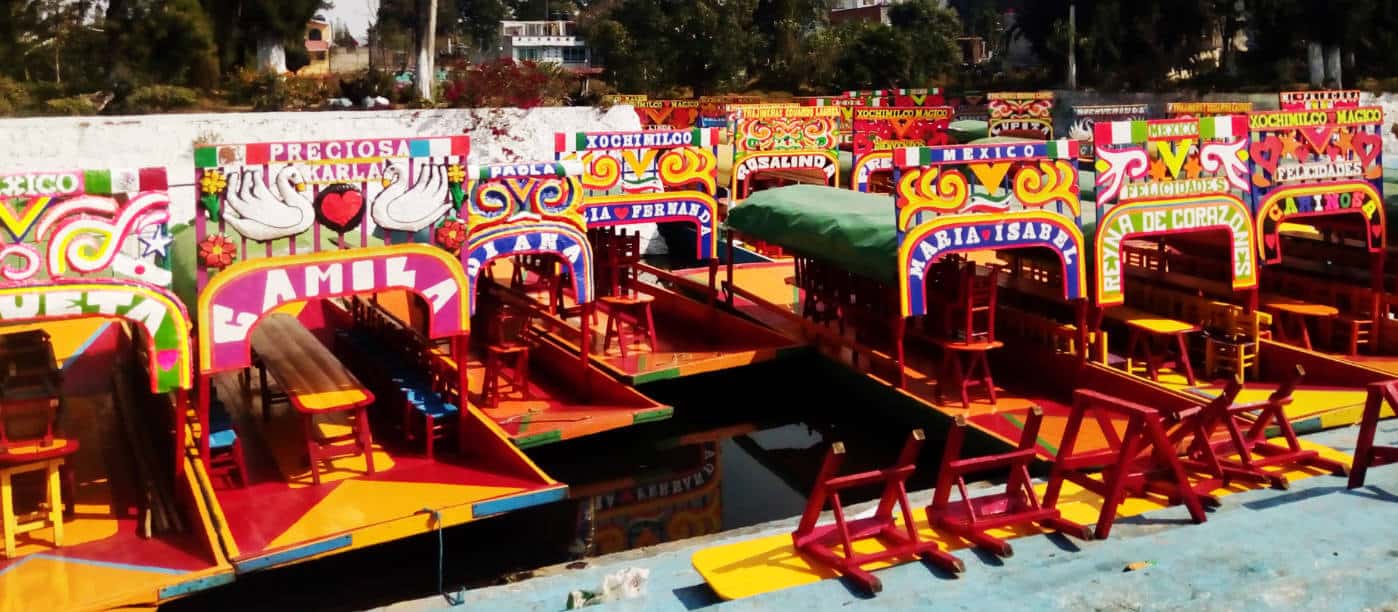 Xochimilco is a lot of fun and traveling there using public transportation from Centro Mexico City is a sightseeing adventure in itself. For us, traveling is as much about the experience getting to the destination as it is experiencing the destination. Not having a car is typically the more affordable way of traveling if you're not afraid of a little adventure and this way you have an opportunity to experience a lot of really cool things along the way. This vacation to Mexico City was my first time ever riding the subway and climbing to the top of a skyscraper.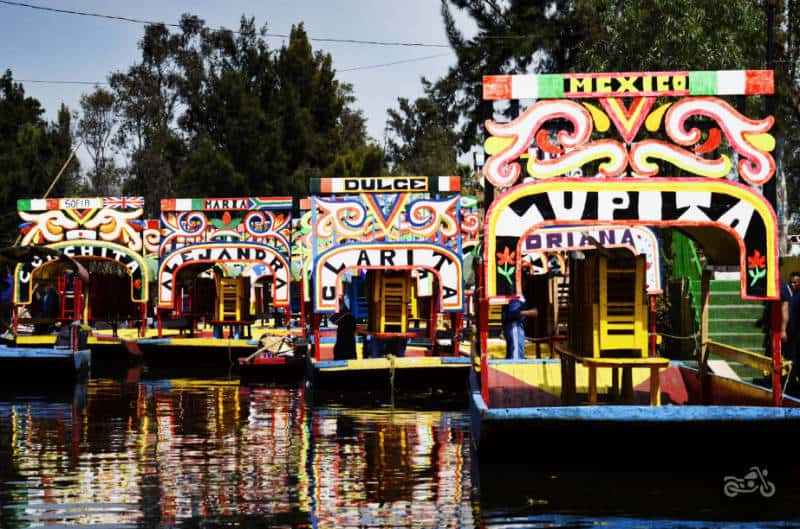 [penci_button link="https://culturestraveled.com/teotihuacan-mexico-city/" icon="" icon_position="left" align="center" background="00c0ce" target="_blank"]Read Our Guide to Teotihuacan for More Mexico City Day Trips[/penci_button]
We start the day off lazy because Xochimilco is a place people go to party. Hell, we saw a large Quinceanera trajinera (boat), and those 15 year-olds were quite drunk. Out the door at 10 am, we took the blue line Metro to the last stop, which is Tasqueña. That specific metro ride was the only time during our week in Mexico City that I was a little concerned. I was nervous because of how cramped we were in there, but it was only for a couple stops in Centro. It was way worse than the chicken buses in Belize. I've read the Mexico City metro is like that for most of rush hour, so I'm grateful that we never had to take the Metro during those times.
How to Get to Xochimilco Using Public Transportation
From the Metro make your way to the light rail where you will see signs for Xochimilco. The rail is above ground, so it's a fun way to see the different neighborhoods surrounding Mexico City. I always enjoy seeing the infrastructure and architecture when we travel to different cities. I was quite surprised how clean Mexico City is, but I attribute that to the older men, employed by the city, who clean up the streets using handmade brooms everywhere you look.
The train drops you in Centro Xochimilco, less than a kilometer walk from the canals. While this is not too difficult to navigate, you do need to be aware that there are guys who ride around on bikes trying to direct you to their boats. Some of the tour guide websites call them pirates. If your Spanish is good, and you feel like haggling then, by all means, give it a try. But we clam up and get nervous for some reason, which is why we chose Nuevo Nativitas where the rates are fixed and posted. Don't forget to stop for refreshments along the way to avoid the higher costs at the embarcaderos. We stopped for fried plantains, fresh strawberries, and of course cerveza.
Hiring a Boat Tour at Xochimilco
A quick visit to the information center at Nuevo Nativitas, we spot two Russian girls that are by themselves, and we all agree to split the cost for two hours for the boat. The posted tourist price at this embarcadero was 500 pesos per hour, per boat in February 2018. I suggest hiring a boat for 2-3 hours. We went on a Tuesday, but we really wish that we would have done it on a weekend. Typically crowds are not our thing, but we do enjoy people watching, and with more people, the density of the 'come-buys' lessen. There were not a ton of vendors that day, and I don't know what to call street-corn on the water, but the canal-corn from one of the food vendors was the best I've ever had.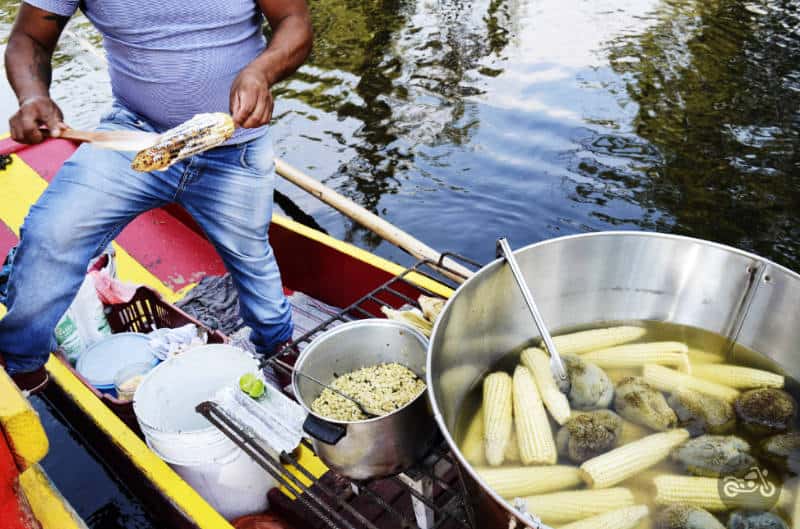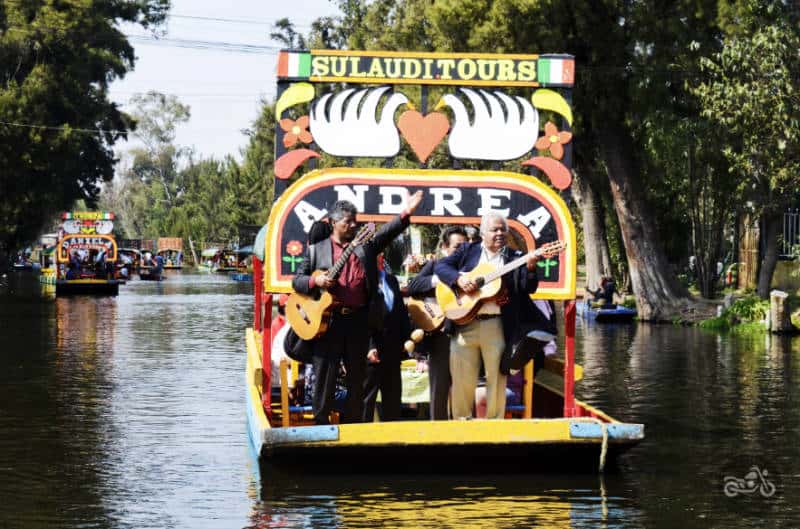 We had a nice lazy afternoon slowly being pushed through the ancient web of canals. Our group did not hire our own mariachi band, but we did enjoy some music as they serenaded others. I never suggest going to big attractions on the weekends, especially on Sundays, when things tend to be free for a lot of Mexicans, but this is one of those occasions where the atmosphere would be so much more electric. Trajineras hold up to 20 people, or you can tie two together if you have a large group. There's also Collectivo boats on the weekends which allows you to share the boat with others for a lower cost. Xochimilco is a must do when you travel to Mexico City. Get out there and enjoy the party!
How to Get There
From Mexico City, take the Metro Line 2 (blue line) to Tasqueña and catch the light rail (Tren Ligero) to Xochimilco, which is the last stop on the line. Exit the station and follow the signs towards the embarcaderos.
If you're not feeling adventurous, or you're tight on time you can hire an Uber to bring you directly to the embarcadero of your choice.
Xochimilco Facts
All the islands in the Xochimilco area, known as chinampas, are man-made.
One island is a tribute to a young girl who drowned. That island is covered with children's dolls.
Xochimilco means 'Place of the Flower'
The chinampas (floating gardens), were constructed by the Aztecs by combining reeds and sticks together and then covering them with mud from the bottom of the lake.
The chinampas have since taken root and are considered islands.
Like this article about Xochimilco? Pin It.

More Pictures from Xochimilco