10 Best Mexico City Taco Tours You Need to Taste (2023)
Craving an authentic taco tour, Mexico City style?
Excellent choice! As the capital of Mexico, there are an incredible range of flavors to explore. Every time I visit Mexico City, it seems as though there is a taco stand around every corner, teasing a yummy adventure.
But how do you know where to eat the best tacos? That's where these Mexico City taco tours join your travel adventures. The city's street food scene really comes alive at night, so it's the perfect time to have a local guide show you the way.
I've scoured the bustling streets to bring you the best taco tours in CDMX. They are all led by local experts whose insights into the city is nearly as fascinating as the tacos you're about to stuff in your mouth.
From a taco and mezcal tasting to a taco bike tour, you'll satisfy your taco cravings while immersing yourself in the city's vibrant culture. Keep reading to discover the best taco tour in Mexico City for you.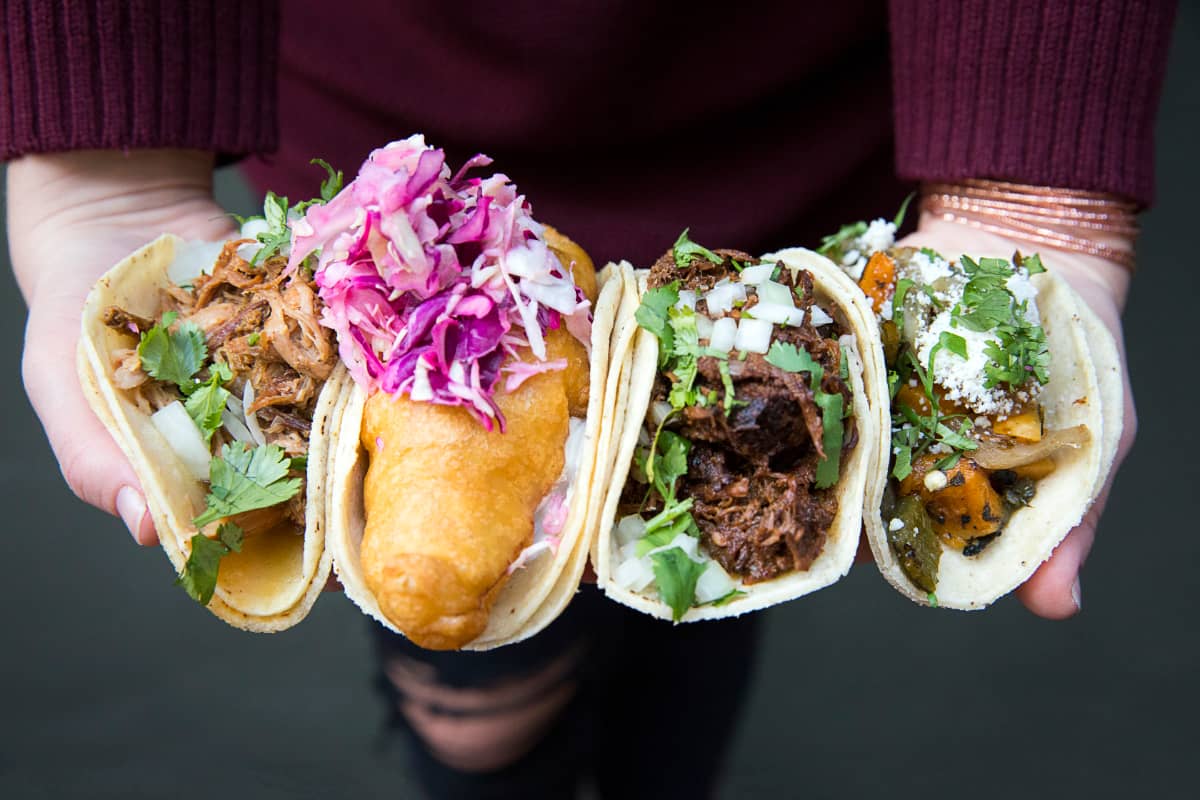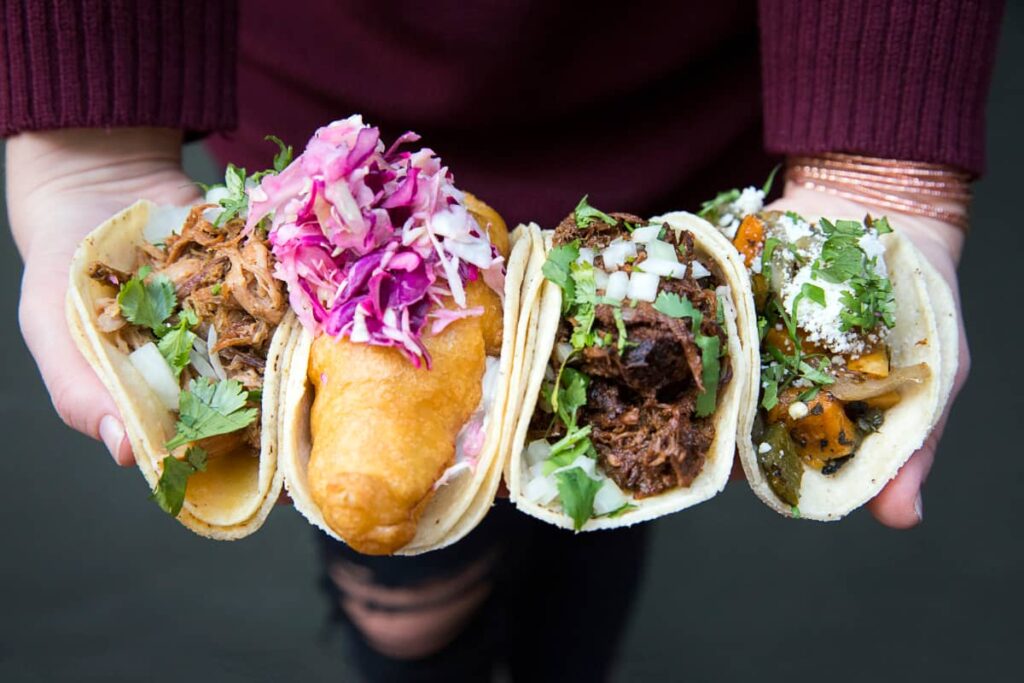 This article may contain affiliate links. This means if you click a link on my website and make a purchase, I earn a commission at no additional cost to you. For full information, please see my disclaimer here.
Top 3 Mexico City Taco Tours
Don't have time to read about all of the best taco tours in Mexico City? I've included my top three picks below.
📍 Narvarte Neighborhood
⌚ Tuesdays – Saturdays, 7 pm
⌛ 3.5 hours
⭐ Read Reviews and Book
✅ Taco Tasting, Cantina Visit, Artisanal Mezcal Tasting with a Local Chef
Delve into a local neighborhood when you book this taco, beer, and mezcal tour through the vibrant Colonia Narvarte. This neighborhood is a hidden gem – just off the tourist trail but exploding with flavor.
It starts at a classic taquería, where you'll uncover the best street food, master the salsas, and sip on a refreshing agua fresca.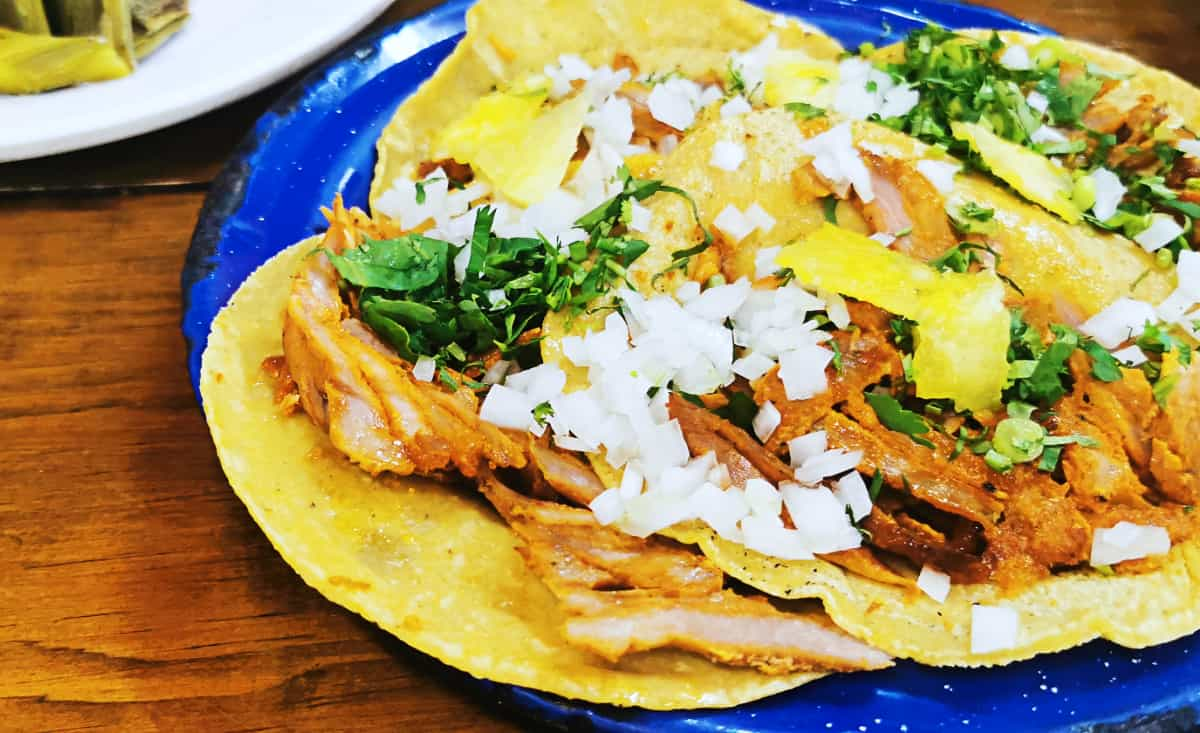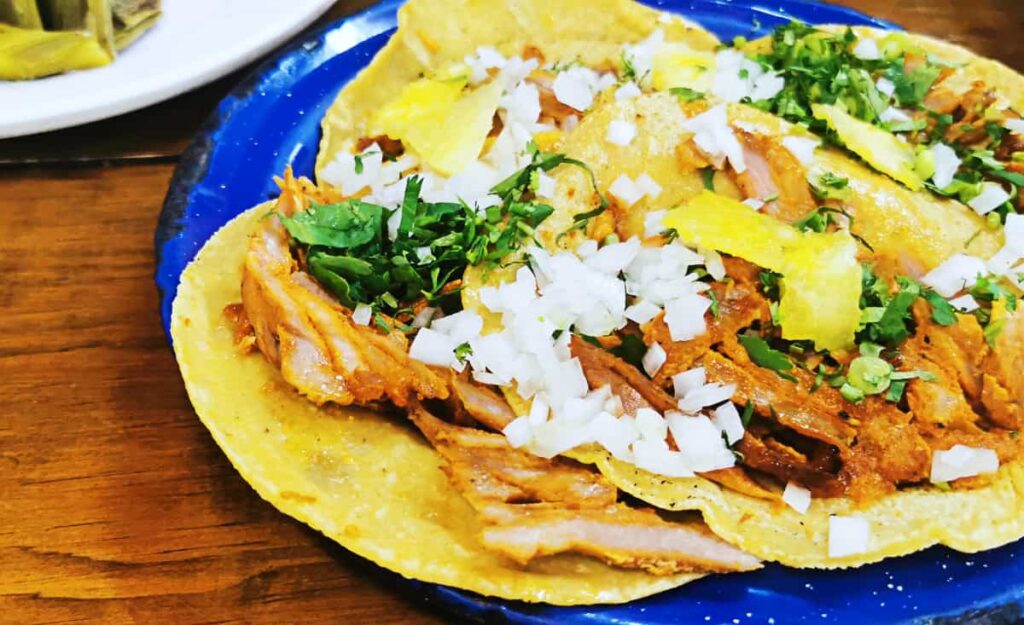 A stop at a lively cantina is included – where sipping on cold chelas with live music and local patrons blend into a whole new experience. Join fellow travelers on this adventure with your local guide, Adrian, by your side as you soak up the cantina culture.
The grand finale of this food tour is a mezcal tasting at a one of the best restaurants. Led by a chef and mezcal expert, this small batch mezcal tasting captures the realm of this trending spirit. You'll learn about the distillation process while learning how to savor its unique flavors.
📍 Roma Norte and La Condesa
⌚ Everyday, 11:30 am
⌛ 3 – 3.5 hours
⭐ Read Reviews and Book
✅ Bike, Taco Tour, and Beer or Mezcal Included
Love tacos and bikes? Then you should book this taco bike tour through the trendy Roma Norte and La Condesa neighborhoods. With bikes and helmets included, you'll pedal your tastebuds alongside a cool guide, Stefan, and fellow taco lovers to four unique taquerias.
Each taquería dishes up regional delights from around Mexico. You'll discover Baja shrimp tacos, pork carnitas from Michoacan, and mouthwatering duck tacos from Mexico City. After sampling as much as possible, wash it down with a refreshing beer or Oaxacan mezcal.
What are you likely to see on this Mexico City taco bike tour? You'll soak up the art deco architecture, colorful markets, and charming cafes along the route in search of the best tacos. Those with a sweet tooth will love the churros or ice cream finale.
📍 Centro CDMX
⌚ Tuesdays, Fridays – Sundays, 3:30-7 pm
⌛ 3-4 hours
⭐ Read Reviews and Book
✅ Tacos, Beer, Mezcal, and Lucha Libre Wrestling Match Included
Few additions to a CDMX taco tour tops a thrilling lucha libre wrestling match! Book this Mexico City taco tour with lucha libre to experience a whirlwind of flavors and action that's sure to be the BEST NIGHT EVER. It's led by a local guide with an extensive knowledge of Mexico City tacos and wrestling.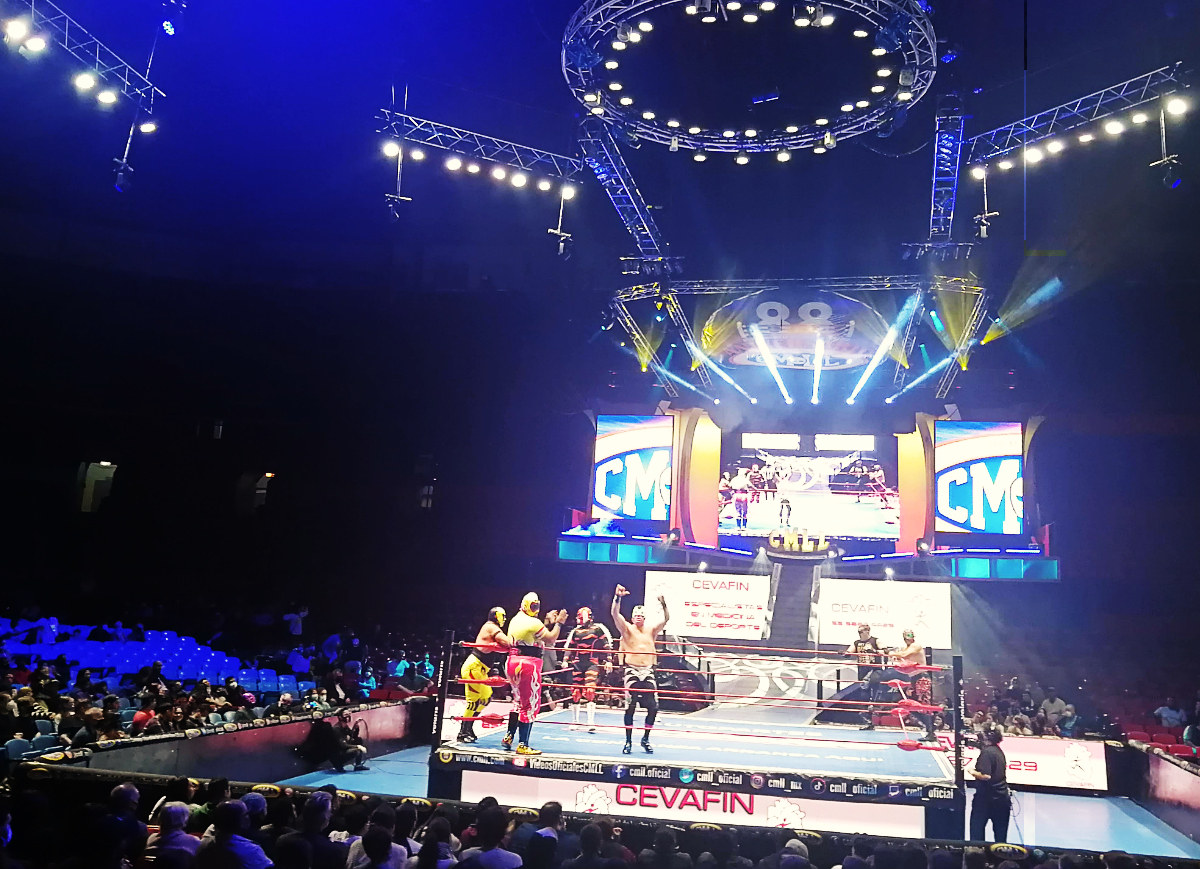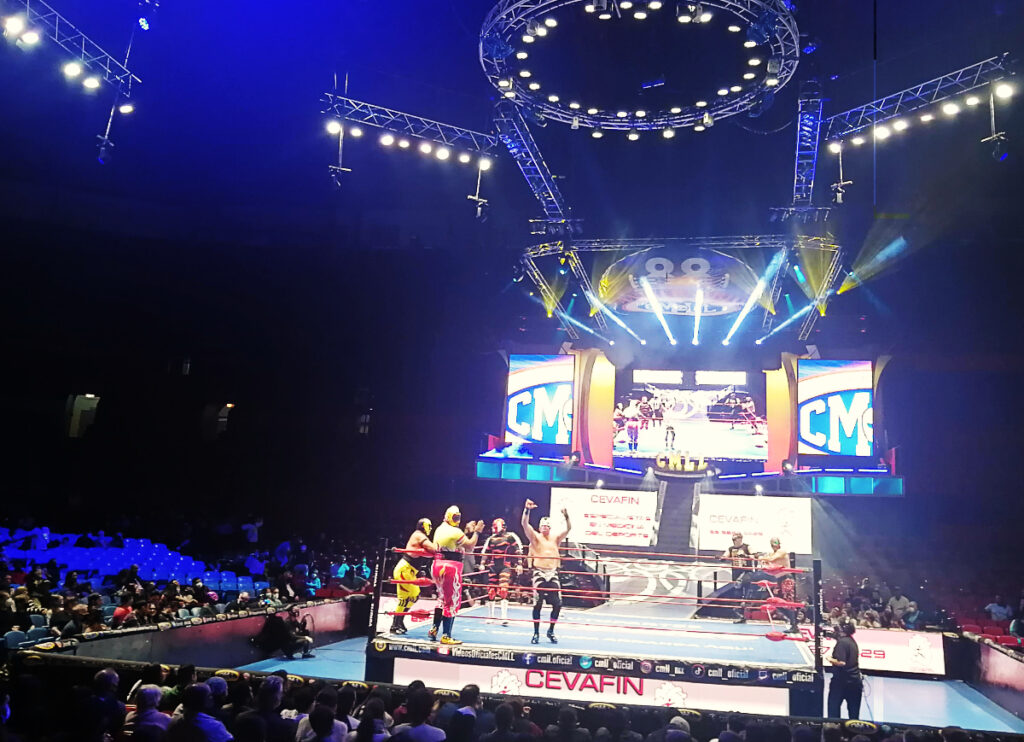 Start by diving into the backstory of this ultimate street food at an authentic taquería. Learn to eat tacos like a local – with onion, salsa, and a squeeze lime, while washing it down with a cold beer. Then sip on a mezcal at a local cantina while learning the ins and outs of Mexican wrestling.
Next, the exciting world of lucha libre wrestling awaits. What should you expect? Athletic acrobatics, colorful masks, and scripted narratives. Settle into the arena and put on your mask while your trusted guide leads in cheering for your favorite side – the heroes or the villains.
In addition to tasty tacos, this is one of the best lucha libre tours in Mexico City.
📍 Hotel Pickup
⌚ Mondays – Saturdays, 7:30 pm
⌛ 4 hours
⭐ Read Reviews and Book
✅ Private Transportation, Personalized Taco Tour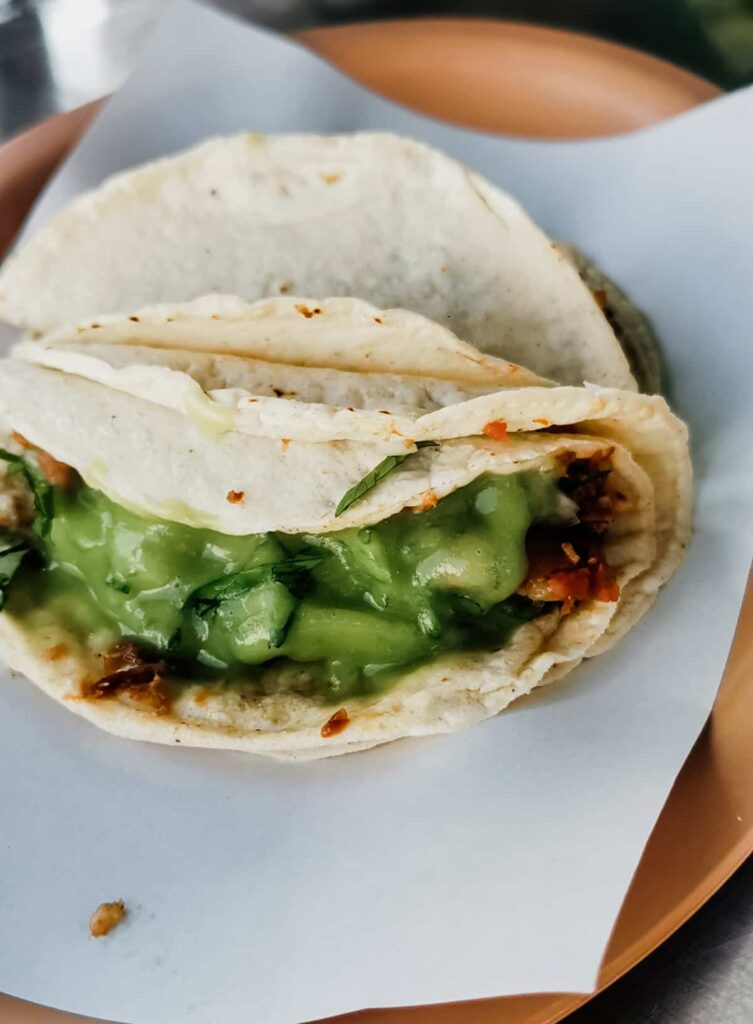 It's the little things that transform your tour into an unforgettable adventure. And with your friendly local guide, Carlos, you can experience the magic of this private Mexico City taco tour in all its tasty, bite-sized pleasures.
When you book this private taco tour, Carlos and your private driver will whisk you from your hotel to the best street food in Mexico City. From Roma Norte to Cuauhtémoc, each stop reveals a different type of taco.
Pair your tacos with mezcal or beer while you soak up the history and culture of each place. You'll make new friends and satisfy your cravings as you delve deep into this personalized Mexico City taco tour.
📍 Avenida Reforma
⌚ Everyday, 5:30 pm
⌛ 3.5 hours
⭐ Read Reviews and Book
✅ Taco Tour, Mezcal Tasting, Insider Tips about Mexico City Included
Experience the vibrancy of Mexico City and its tacos like never before when you book this CDMX taco tour with Queso, a guide who really knows his way around the city.
Your insider's guide to Mexico City begins along Avenida Reforma in the heart of the city, which is known for its beautiful monuments and skyscrapers. You'll start by tasting delicious tacos with influences from the regions of northern Mexico.
Then hop in a private van for a neighborhood tour on your way to the next stop: an underground mezcal bar in Mexico City. A mezcal expert will lead you through a mezcal tasting while exploring the sweet, smoky, floral, and herbal flavors of this trending spirit.
After mezcal, your taco tale continues as Queso guides you to three different taquerias. Sink your tastebuds into the flavorful al pastor tacos and handmade tortillas. Throughout the tour, Queso will share local tips on Mexico City, which alone is worth every peso.
📍 La Condesa
⌚ Everyday, Flexible Times
⌛ 2-3 hours
⭐ Read Reviews and Book
✅ Customized Tour, Taco Tasting, Beer or Soft Drinks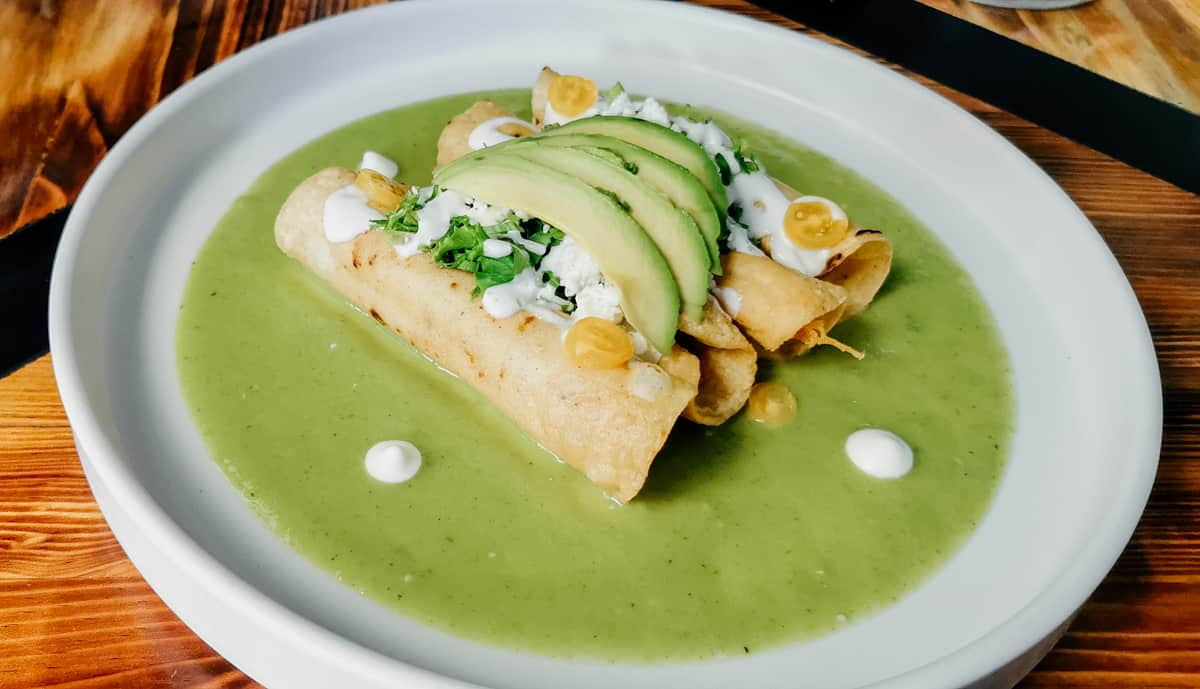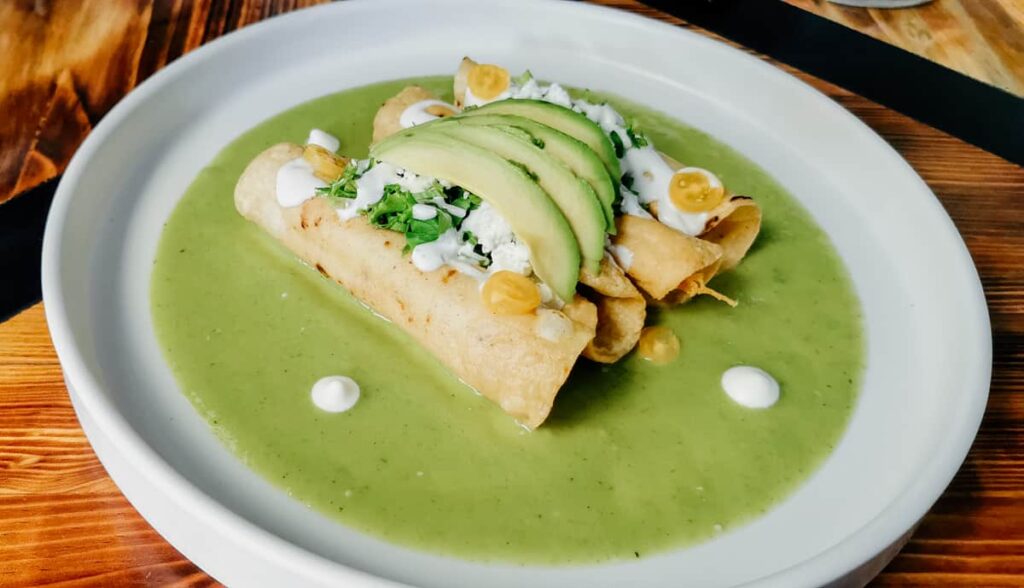 Dive into the world of a personalized and private taco tour in Mexico City guided by a local taco enthusiast who truly understand your cravings.
When you book this private taco tour in Mexico City, you'll choose your preferred time and follow your guide as he takes you to the best taco spots chosen based on your interests and preferences.
Your stomach begins to fill as your foodie guide navigates you through the Mercado de San Juan in the center of Mexico City and its tasty bites. Enjoy beer or other drinks along the way with the company of your guide as they also spill the beans on what to explore next in the city.
What's unique about this tour is its local connection – leaving you with a newfound taste, city insights, and perhaps even a new friend.
📍 Roma Norte
⌚ Everyday, 5 pm
⌛ 2.5 hours
⭐ Read Reviews and Book
✅ Visit Netflix featured Taco Stands, Alcoholic and Non Alcoholic Drink Included
This tour promises a grand taco adventure in Mexico City's Roma Norte neighborhood. When you book this CDMX taco tour, you'll join a local guide touring legendary taco stands, including some places featured on Netflix.
The first bite starts off in the hip Roma Norte neighborhood. You'll meet your guide and head to four different taco stands, starting with tacos de canasta.
Be sure to come hungry because these next street food stands are where this taco tasting comes to life. From the popular al pastor taco to delicious vegan tacos you'll diving into all the intricate flavors. Along the way, you're guide will tell you about Mexico's culinary culture, history and traditions.
8. Street Taco Cooking Class and Market Tour
📍 Roma Norte
⌚ Tuesdays, Thursdays, Saturdays, 9:30 am
⌛ 4.5 hours
⭐ Read Reviews and Book
✅ Market Tour, Taco Cooking Class, Beer, Mezcal, Wine, or Agua Fresca Included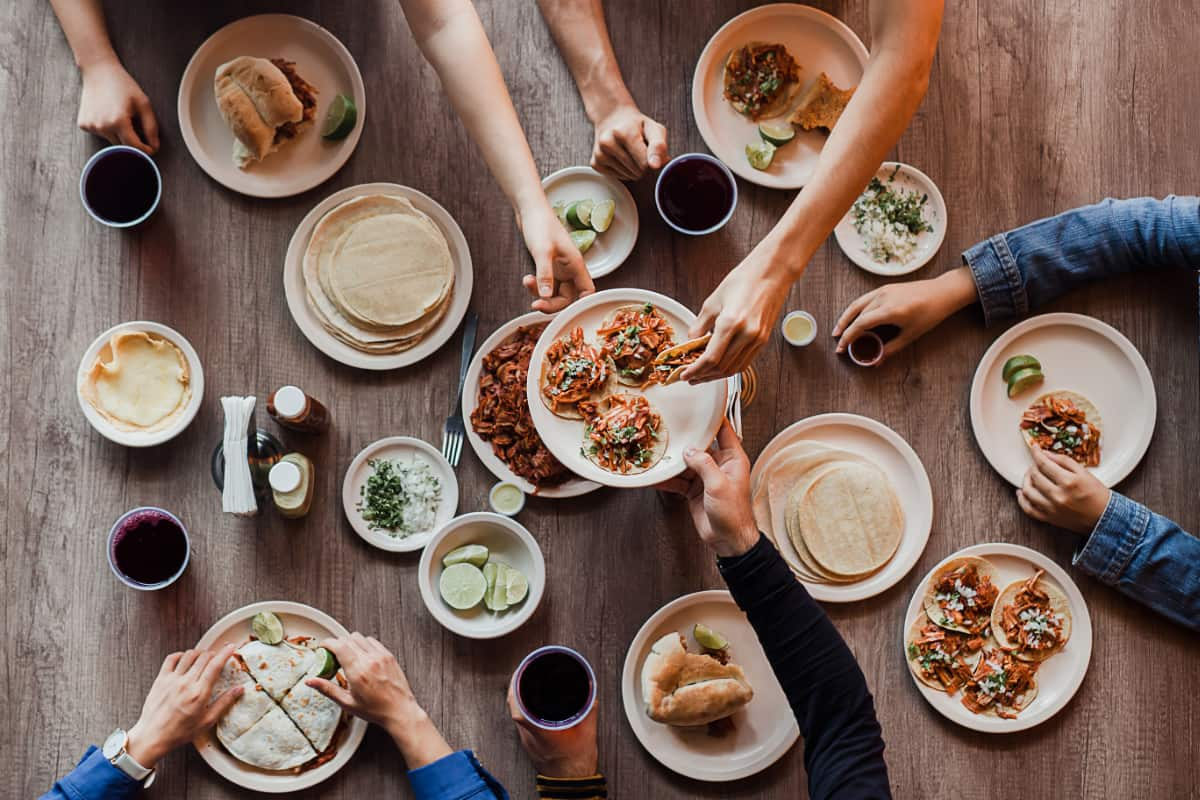 Look forward to mastering the art of salsa, spices, and the tortilla when you book this street taco cooking class and market tour in Roma Norte. You'll learn how to make all the taco building essentials: corn tortillas, meat fillings, and salsas.
It starts with local market tour where you will learn about the ingredients for cooking Mexican tacos and sample snacks from selected food stands.
Then you'll bring your goodies back to the well-equipped kitchen where you'll don your apron and learn how tacos are made. Lorena and her team will guide you through how to make three mouthwatering tacos – tacos al pastor, beef barbacoa, and Campechanos.
You'll finish by eating the Mexican tacos you prepared with a pairing of artisanal mezcal, Mexican craft beer or Mexican wine.
📍 Roma Norte
⌚ Tuesdays – Saturdays, 6:30 pm
⌛ 3 hours
⭐ Read Reviews and Book
✅ Mezcal and Tacos Included
In the mood for a blast of flavor in Mexico City? This taco and mezcal crawl dives into the food scene with a group of fellow foodies and a local guru, Natalia. You'll kick things off with a welcome drink and tasty appetizers at Franca Bistro.
Then prepare for a taco takeover – four taquerias, each with its own style and specialties. You'll love learning the history and secrets behind the incredible flavors. Don't forget the mezcal – discovering its unique flavor profile that sets mezcal apart from tequila.
Pro Tip: Take it all in! Soak up the culture of Roma Norte. Just when you think it's only about the tacos and mezcal, vibrant streets, stunning art, and vibey nightlife hits the scene.
Natalia will spill the beans on it all. Meet the taquería legends themselves. Hear their stories, their passion, and their love for tacos and mezcal.
📍 Narvarte
⌚ Everyday, 8 pm
⌛ 2 hours
⭐ Read Reviews and Book
✅ All You Can Eat Tacos, Vegetarian Option Available
Being all about the food, this Mexico City taco crawl explores the Narvarte neighborhood and its best taquerias.
Join a local foodie who will take you on a taco expedition to five mouthwatering taco spots. You'll discover under-the-radar hotspots only frequented by locals while your guide gives you an insider's perspective on Mexican cuisine.
Make sure you come hungry because this taco tour is all you can eat and yes, there are vegetarian options, too. The showdown starts in Narvate, an authentic neighborhood famous for its taquerias.
You will have an opportunity to sample the famous tacos al pastor, volcán, quesadillas, micheladas (a spicy beer concoction), and freshly squeezed juice.
Along the way you'll soak up the city's vibe and lore from your guide's exciting stories and knowledge of Mexican cuisine.
What is the most popular taco in Mexico?
The most well known tacos in Mexico are no doubt the famous tacos al pastor. Although, the most popular tacos in Mexico would probably be a toss up between al pastor, suadero, and tacos guisados.
Let's take a closer look at the different types of tacos in Mexico. Still have questions? Scroll to the end where I answer other questions about tacos in Mexico City.
1. Tacos al Pastor
Tacos al Pastor are a true gem of Mexican street food, and they owe their uniqueness to Lebanese immigrants who brought the concept of shawarma to Mexico.
These tacos are made by cooking layers of marinated pork on a rotating spit. The marinade typically includes a blend of chili peppers, achiote, spices, and pineapple juice, lending a sweet and savory flavor profile.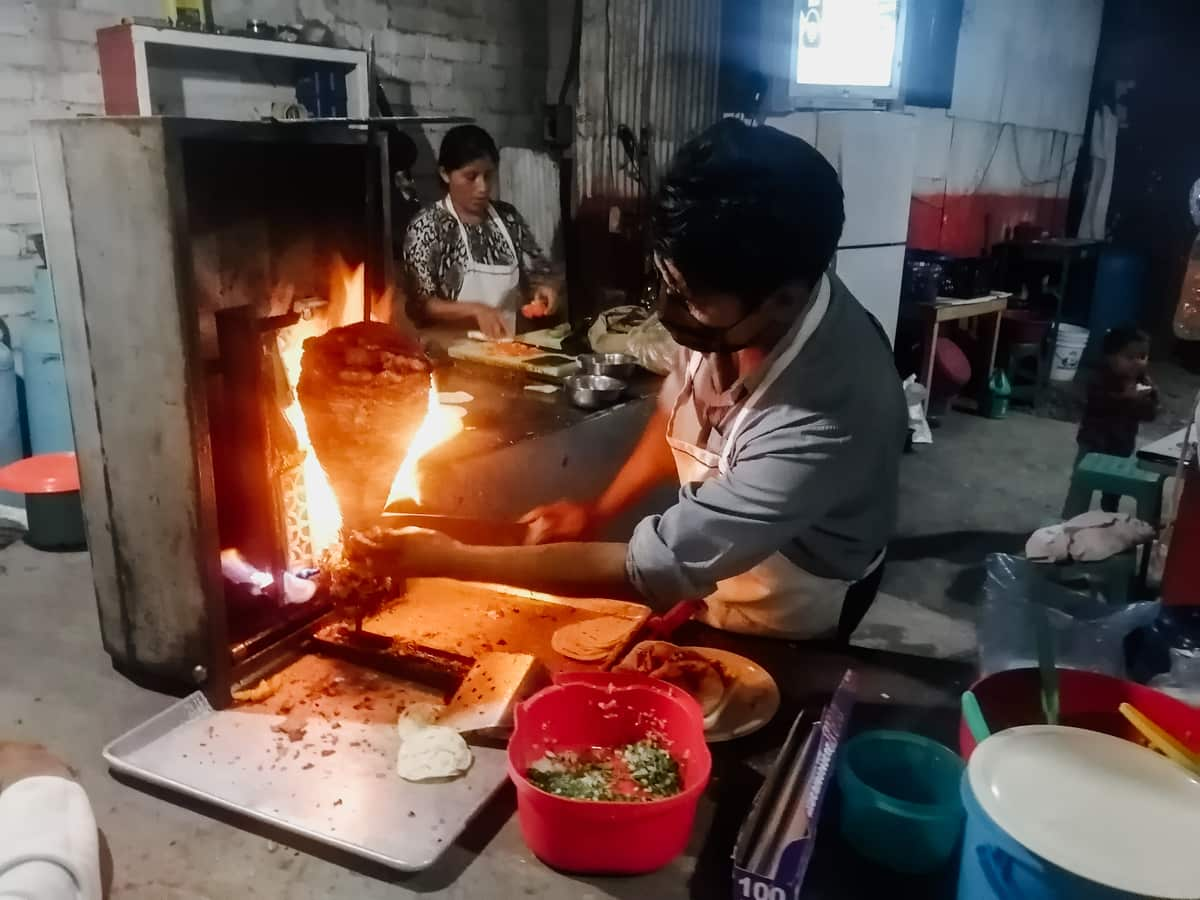 To make pastor tacos, the chef thinly slices the meat from the spit with a long knife, allowing it to fall into the two small corn tortillas in their hand below. They then top it with a slice of pineapple that is skewered on top of the meat.
The best tacos al pastor that I've tasted include meat that is beautifully marbled with fat and has a juicy slice of warm pineapple on top.
2. Barbacoa Tacos
Barbacoa is a testament to Mexico's rich culinary heritage. These tacos consist of meat (traditionally lamb, goat, or beef) that is slow-cooked overnight in an underground pit, a technique that was present in Mayan civilizations.
The pit is often lined with maguey (agave) leaves, which impart a unique earthy flavor. And below the meat is a pot that catches all the drippings to create a rich broth called consome. Is your mouth watering yet?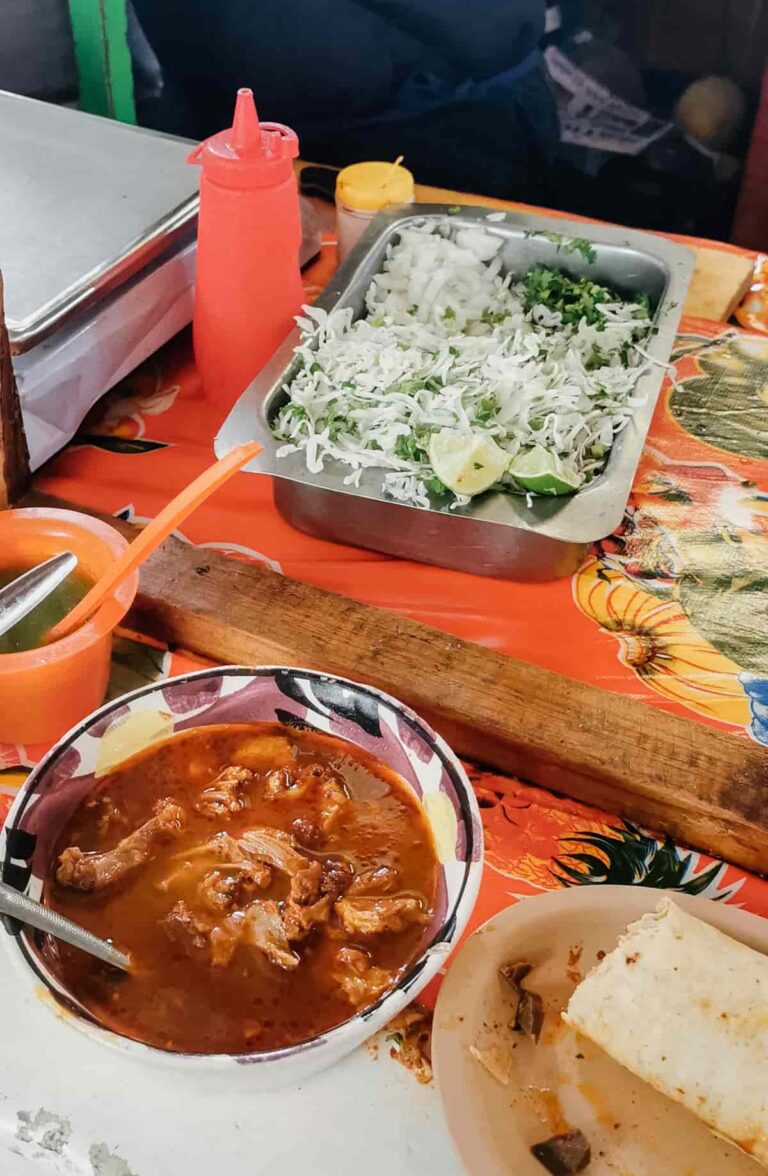 Barbacoa, which translates to barbecue, is quite different from American BBQ other than the slow cooking method. Similarly, the resulting meat is incredibly tender and flavorful.
Barbacoa is most closely associated with the neighboring state of Hidalgo, which is also where the gorgeous Grutas Tolantongo Hot Springs are located. Although you can find barbacoa throughout Mexico, with a few regional differences.
Pro Tip: Lamb and goat barbacoa is a Sunday morning tradition although you will find some places that sell it on both Saturdays and Sundays or even during the week. You'll also find taco stands that sell beef barbacoa throughout the week.
3. Suadero Tacos
Suadero is a beloved street taco in Mexico City. Made from thinly sliced beef or pork, the cut is essentially brisket or flank. Since the meat comes from the area between the leg and the belly, suadero meat is known for its smooth texture.
In Mexico, the meat is often cooked confit style (in a lot of fat) so it's incredibly flavorful. Like most, these tacos are best eaten simply topped with onions, cilantro, lime, and salsa.
4. Carnitas
Carnitas, which literally translates to "little meat," are associated with the state of Michoacan. Heavily marbled pork (think pork butt) is seasoned and braised in lard or oil for 3-4 hours. Once the meat is sufficiently tender, the heat is turned up to allow the meat to get crispy. It's then chopped or pulled apart.
5. Tacos de Canasta
Some would say these are the original street tacos in Mexico. Tacos de Canasta (aka basket tacos) can be found morning or afternoon. Sellers will carry them in a large basket, usually by bike, and set up in an area for a while before changing location.
Tacos de canasta are stuffed with various fillings, such as papas con chorizo, chicharrón, and frijoles before being bathed in oil or butter. Besides their convenience, what makes these tacos different is their texture. As they absorb some of the moisture produced by the heat while sitting in the basket, it results in a soft, supple tortilla.
6. Tacos Guisados
I love eating at a taco stand with guisados simply because of the variety of fillings. Guisado translates to stew which isn't so far off in its description.
You know you've found tacos guisados when you see a handful of clay pots (called a cazuela), each filled with a different deliciousness. The traditional options include tinga de pollo, mole, poblanos con elotes, chicharrón, and more. These flavorful stews are spooned into fresh tortillas for a rich and comforting taste of home cooked Mexican food.
7. Birria Tacos
Birria tacos are like the cousins of barbacoa. While it's also common to find these made with beef, when you find a delicious lamb birria, gaaaahhhh!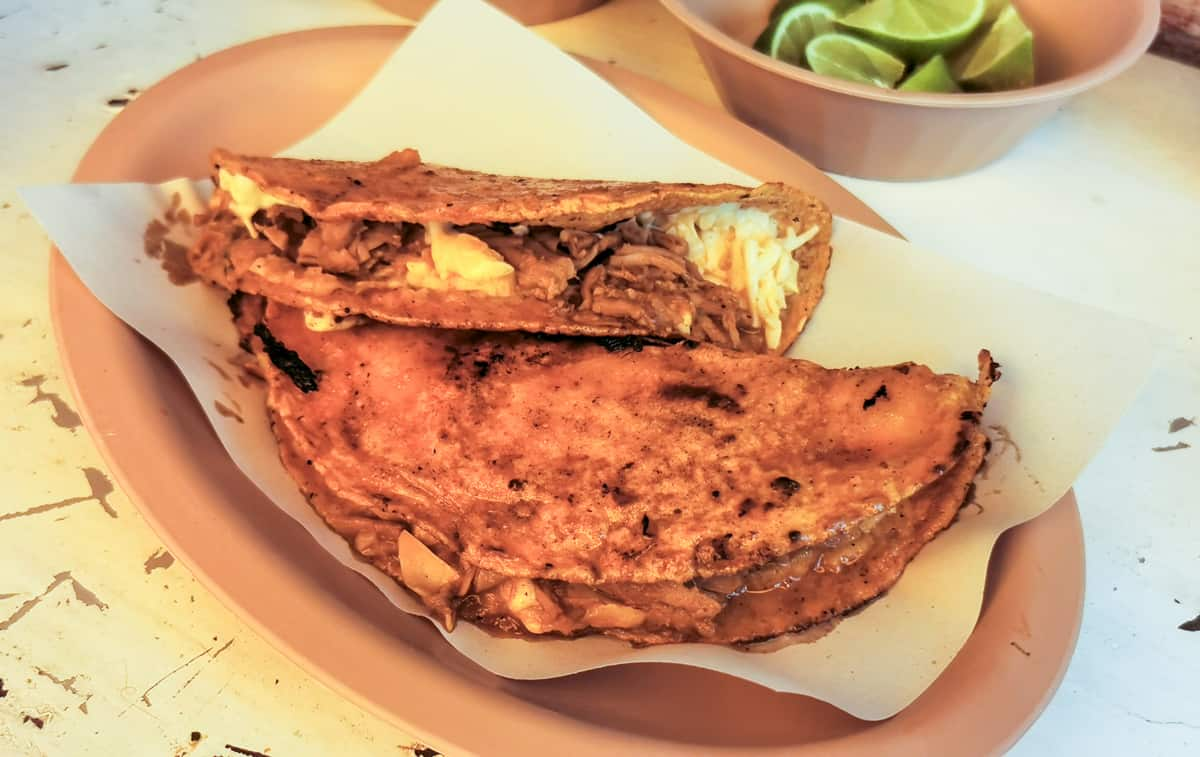 The slow cooked meat is also offered as a stew or a filling for tacos. And while I tend to be a purist with my tacos – onion, lime, cilantro, and salsa only, quesabirria is on another level. Think birria meets quesadilla.
Birria stew originated in Jalisco, while quesabirria is thought to have been created in Tijuana. Although you can find both throughout Mexico.
FAQ: Mexico City Taco Tours
What is a taco tour in Mexico?
A taco tour in Mexico is a guided culinary adventure that takes you to various street food vendors and taquerías to sample a variety of tacos. These tours often provide insights into the history, culture, and regional diversity of Mexican tacos.
What city has the best tacos in the world?
Hands down, Mexico City has the best tacos in the world. One contributing factor is the diversity of Mexican cuisine in the capital city. It's like a melting pot of Mexican food among the incredible variety and quality of its street food vendors and taquerías.
What is the most authentic Mexican taco?
The most authentic Mexican taco is a matter of personal preference, but some classic options include tacos al pastor, suadero, barbacoa, and carnitas. Authenticity depends on the region of Mexico you're in, as each region has its own specialties.
Can you eat street food in Mexico City?
Yes, you can eat street food in Mexico City. Street food is an integral part of the city's culinary culture, offering a wide range of delicious and affordable options. Just be mindful of food safety practices and choose vendors that appear clean and popular with locals.
Why do Mexican street tacos have 2 tortillas?
Mexican street tacos often use two tortillas for structural support. The fillings are typically generous and can be quite juicy, so the double tortillas prevent them from falling apart. The second tortilla is also useful to pick up any ingredients that do fall out.
How much does a street taco cost in Mexico City?
Street taco prices in Mexico City can vary depending on the type of filling and location, but on average, you can expect to pay anywhere from 5 to 20 Mexican pesos per taco. Fish and shrimp as well as specialty tacos may cost more.