10 Hot Springs in Colombia You Need to Visit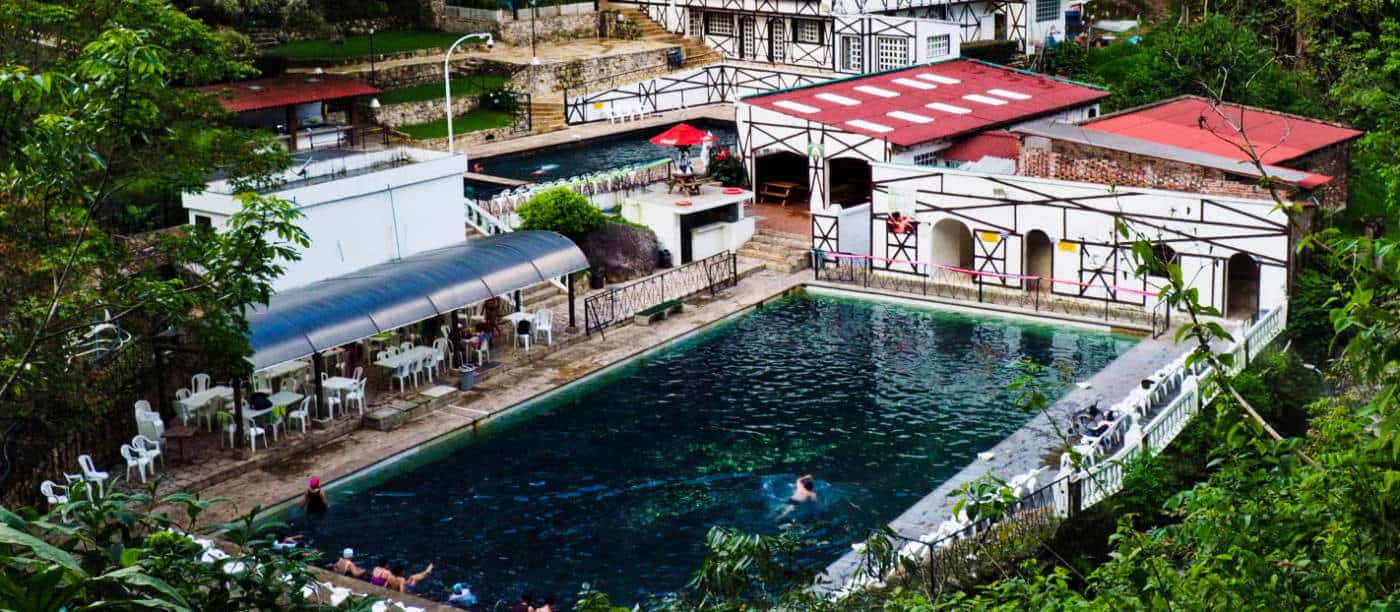 If you're searching for relaxing hot springs, Colombia has a variety located throughout the Andes mountains. And the often chilly weather creates the perfect environment to enjoy soaking in the thermal baths.
I spent more time in the mountains of Colombia than anticipated. Something about the small towns, culture, and mostly temperate weather drew me in. The hot springs, called termales, were just an added bonus!
After a visit to the Santa Rosa de Cabal hot springs, it became a hobby of mine to find the best hot springs in each region. Perhaps my sometimes weekly visits prevented me from getting sick during my five months of travel throughout Colombia.
When you're visiting any of the small towns, use this list as a reference for where to find nearby hot springs in Colombia.
This article may contain affiliate links. This means if you click a link on our blog and make a purchase, we earn a commission at no additional cost to you. For full information, see our disclaimer here.
Santa Rosa de Cabal Hot Springs
Santa Rosa de Cabal has become a tourist destination because of the hot springs close to town. It's also famous for its chorizo sausage of all things. The town itself isn't particularly charming but it's fine if you want to have a look around. There are two main thermal baths – Termales Santa Rosa de Cabal and San Vicente Thermal Reserve.
Termales Santa Rosa de Cabal
As you enter the grounds, the main focal point comes into view. A gorgeous waterfall that divides into several different streams cascading down the wide rockface. It's definitely the highlight of the Santa Rosa de Cabal hot springs.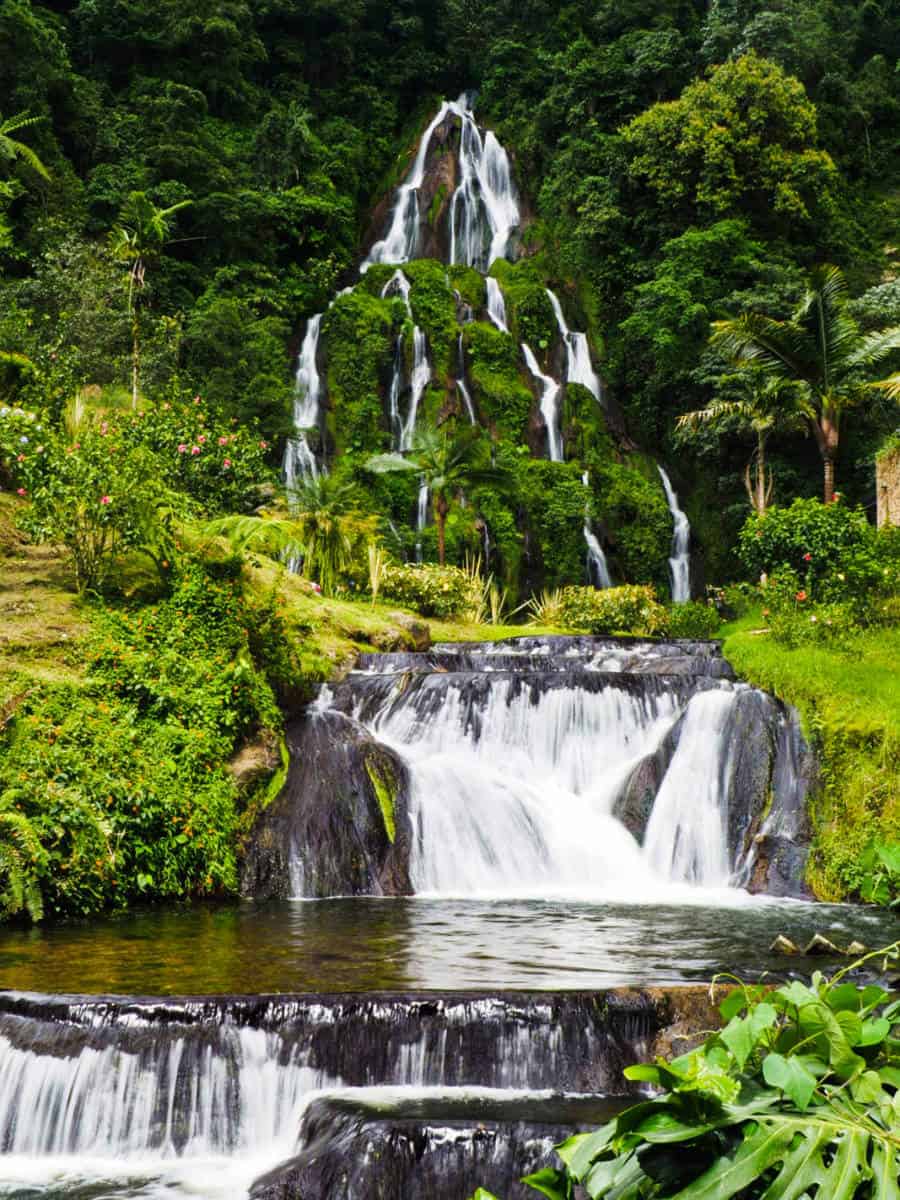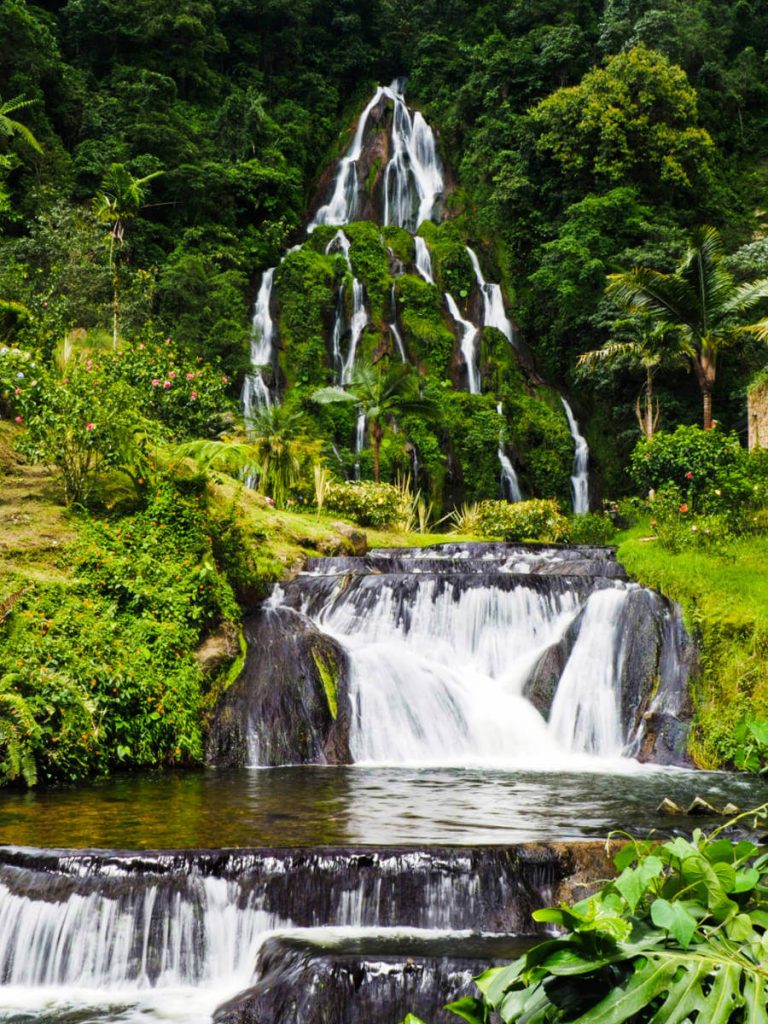 While the facilities feel like a sterile resort, the surrounding natural elements make up for it. This is the type of hot spring you could spend the entire day. Or if you prefer, reserve a room to stay the night so that you can enjoy the hot springs in the morning as well.
The thermal baths consist of three pools at varying temperatures, a children's pool, and several cold water showers. Listening to the sounds of the water as your muscles melt in the heat of the springs is magical.
I visited on a weekday after Semana Santa and I was surprised by how busy it was. It wasn't hard to find a space of your own but I found it difficult to find a space where kids were not splashing around. For a different experience, you may look to visit San Vicente instead, though I'd hate for you to miss that stunning waterfall.
Entrance Fee: 45,000cop
Hours: 9 am-midnight, Every day
Lockers: Yes but bring a lock.
Swimming Cap: Not required
Food: Yes. The menu includes breakfast, fast foods, entrees, and picadas to share. Natural juices, water, beer, cocktails, and wine are also available to order.
TIP: Public transport leaves for the Santa Rosa hot springs every 2 hours from 8 am – 6 pm. It leaves the termales every 2 hours from 8:50 am – 6:50 pm. But it's always best to check on the final departure when you are dropped off.
San Vicente Thermal Reserve
San Vicente claims to be the most natural hot springs in Colombia, most likely because of the natural thermal river on the property. While I choose the other termales, I later made friends in Salento who made me wish I had chosen these instead. The thing is, there isn't public transportation to San Vincente so it's more expensive to get there.
However, it's a more intimate thermal bath, definitely recommended for couples. There are six pools surrounded by nature as well as a natural bubble pool, thermal river, and two steam rooms. In fact, if it's within your budget, book a cabana at San Vicente for a truly romantic weekend. You'll have access to the hot springs throughout the evening as well as the next morning since check out is not until 1 pm.
Bonus: As a hotel guest you'll have access to two other private thermals. And some cabanas include a small private thermal bath in the suite.
Entrance Fee: Adults 50,000cop ~ Seniors 40,000 ~ Kids (3-10 years) 22,000
Hours: 8 am-midnight, every day
Lockers: Yes
Swimming Cap: Not required
Food: Breakfast, Lunch, and Dinner served from the restaurant.
Tierra Viva Termales, Manizales
A short taxi ride from the city, this hot spring in Manizales is a welcome retreat from the often cold and rainy metropolis. Natural elements surround the three pools, giving it a pleasant tropical vibe. Arrive in the late afternoon to relax when it's less busy, but stay into the evening to experience the atmosphere of Tierra Viva at night. Or if you prefer, you can rent a room to stay overnight at the hot springs.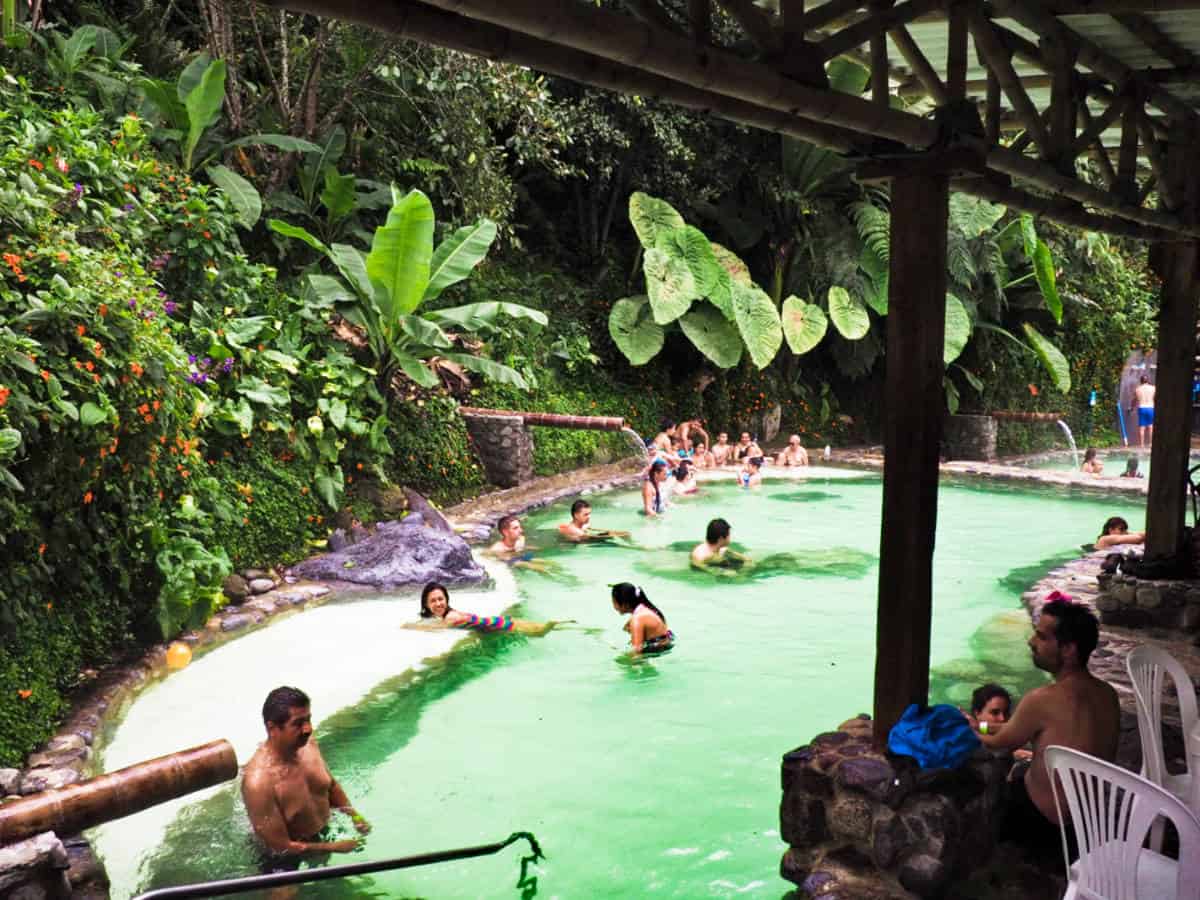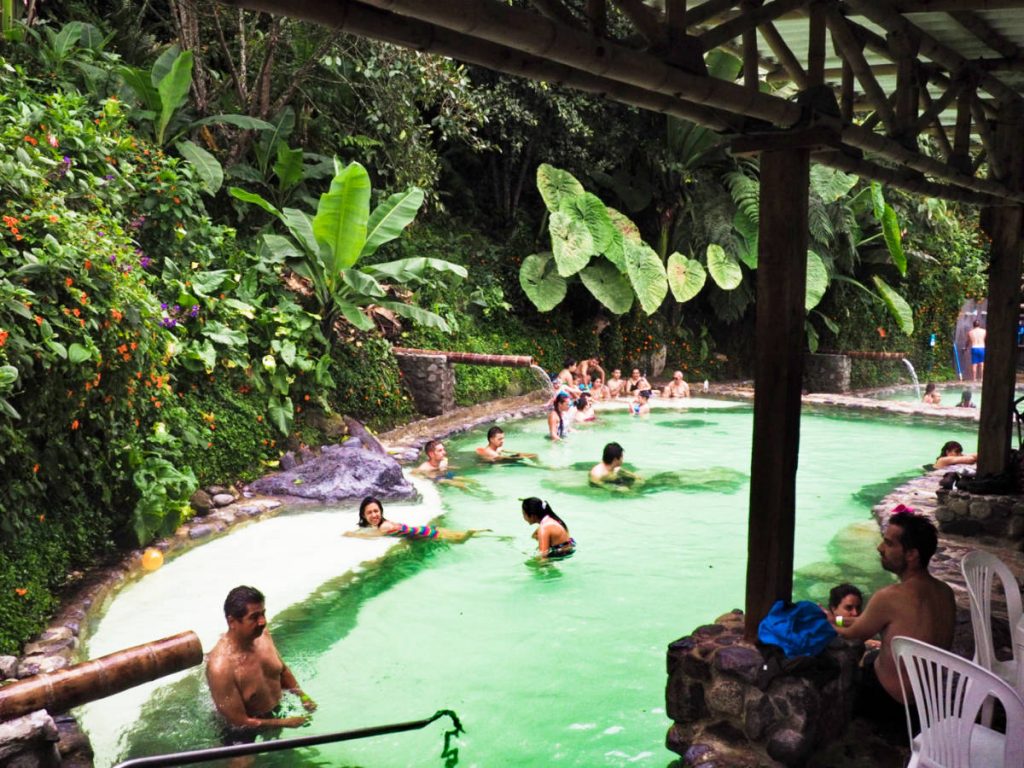 Late night, the weekends get a bit of a crowd with lots of couples arriving to enjoy the thermals. This was the only Colombia hot spring where I saw multiple people buying full-size bottles of liquor that are often on the menus. However, it was the weekend of Semana Santa. By 8 pm it was getting crowded but we were ready to leave.
Entrance Fee: Mon-Thur 15,000cop ~ Fri-Sun 20,000cop ~ Holidays 27,000cop (Jan 1st – 15th and April 12th – 21st)
Hours: 9 am – 11 pm every day
Lockers: Yes, for a returnable deposit of 20,000cop
Swimming Cap: Not required
Food: Yes. A selection of appetizers and entrees. Natural juices, beer, wine, and cocktails are also available.
Los Volcanes Termales, Macheta
At Los Volcanes, mountain tops peek into view from behind the full-service hotel that looks like a Swiss chalet. On the grounds are four pools of piping hot thermal waters and a steam sauna. This is the perfect cool, misty climate that beckons you to soak in the thermal waters all day, which you absolutely should.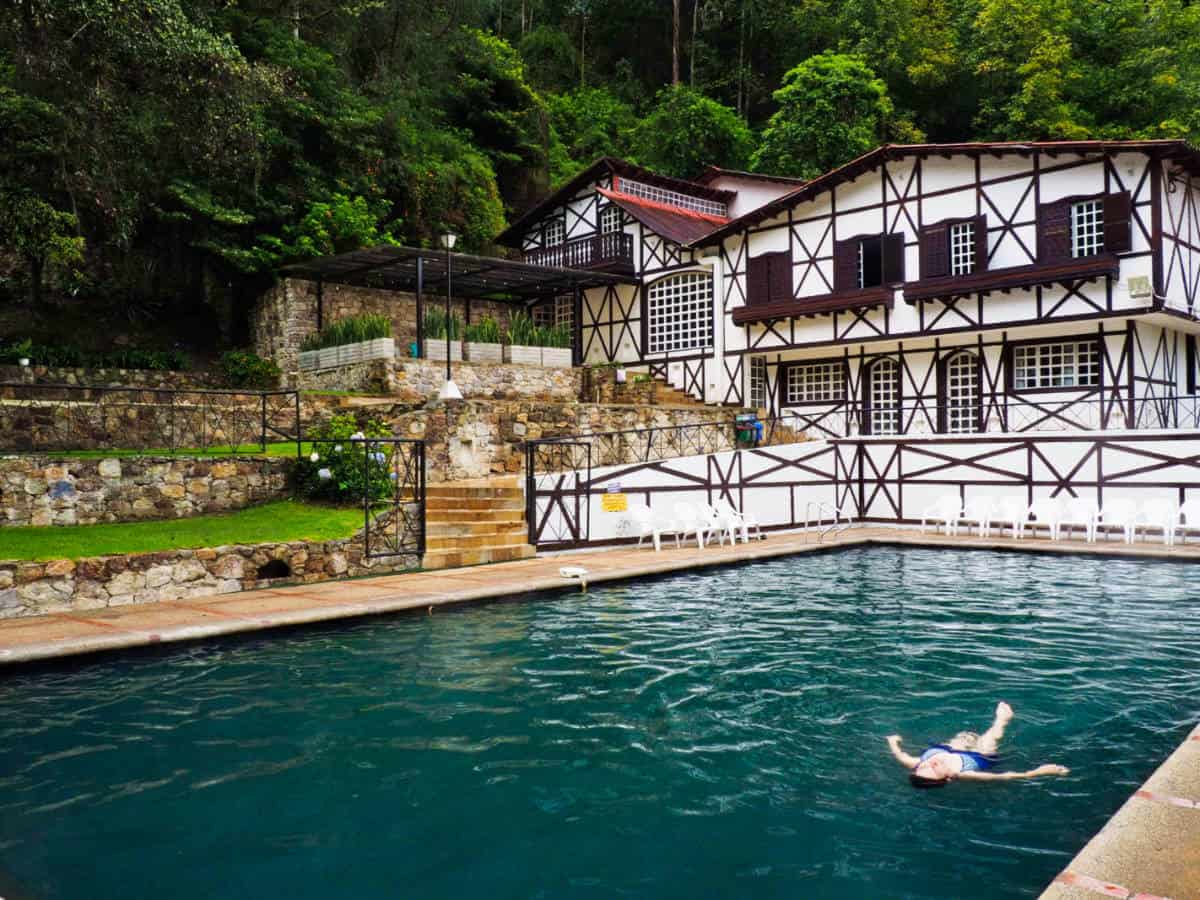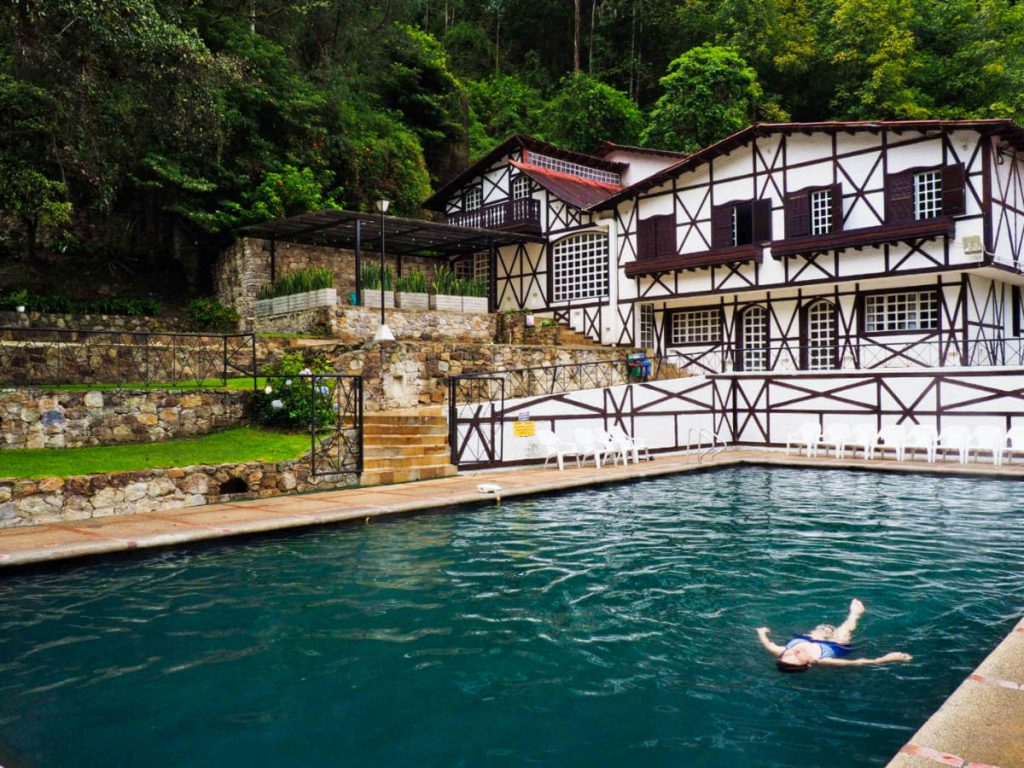 If you book a room at Los Volcanes, you'll have access to the thermal pools on the day you arrive and the following morning. Checkout time is a generous 1 pm. The hotel itself consists of modern rooms with private bathrooms and WiFi. Breakfast is included and the restaurant on site was one of the better dining options at a hot spring in Colombia.
The 25 minute drive from La Playa to Macheta is also beautiful. Along the road of rolling hills, generous curves open to expansive views of Sisga Lake. If you decide to take the bus from here, let the bus driver know you are going to Los Volcanes Termales and you'll be dropped off directly in front. Complimentary parking is also available on site.
Massage services start at 50,000cop for 45 minutes. Both of my travel friends booked a massage, which they said was quite good. This is my favorite hot spring in Colombia.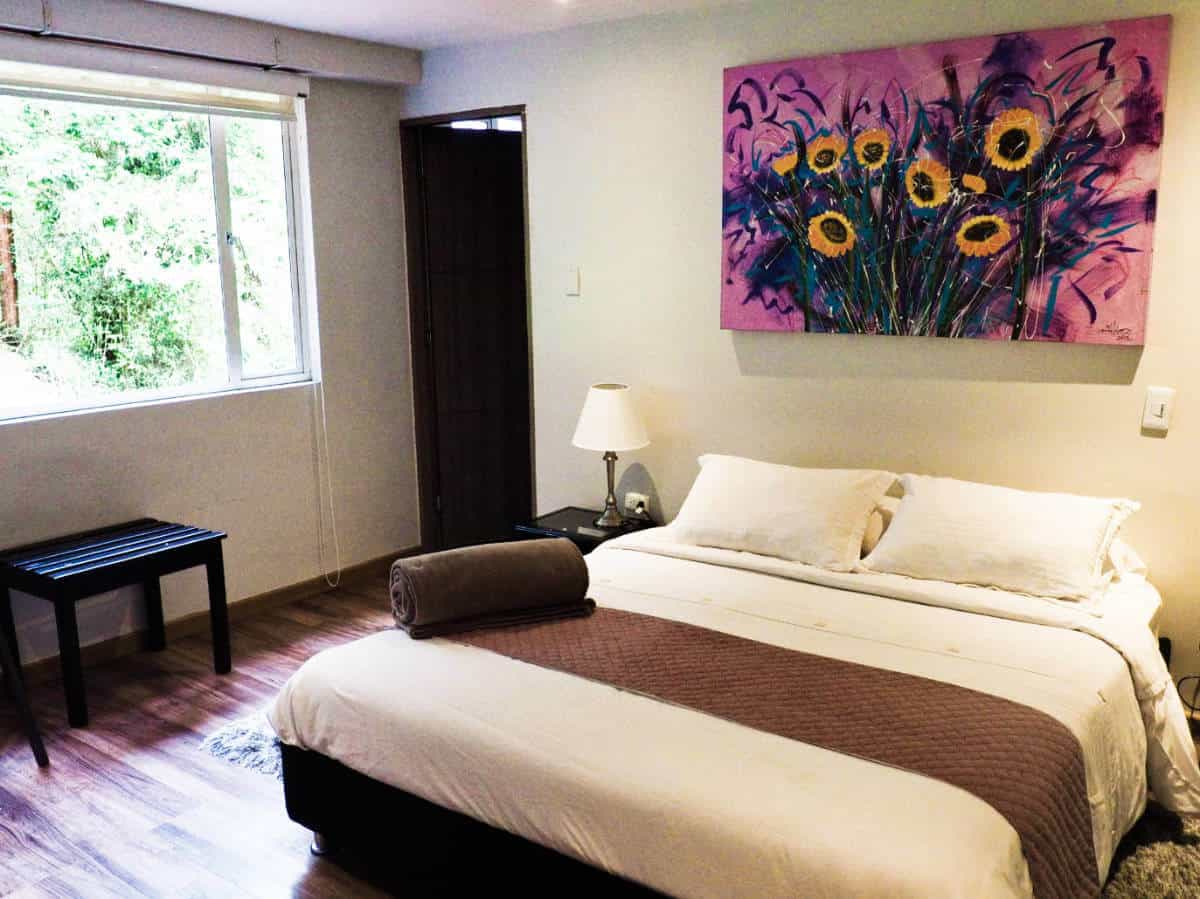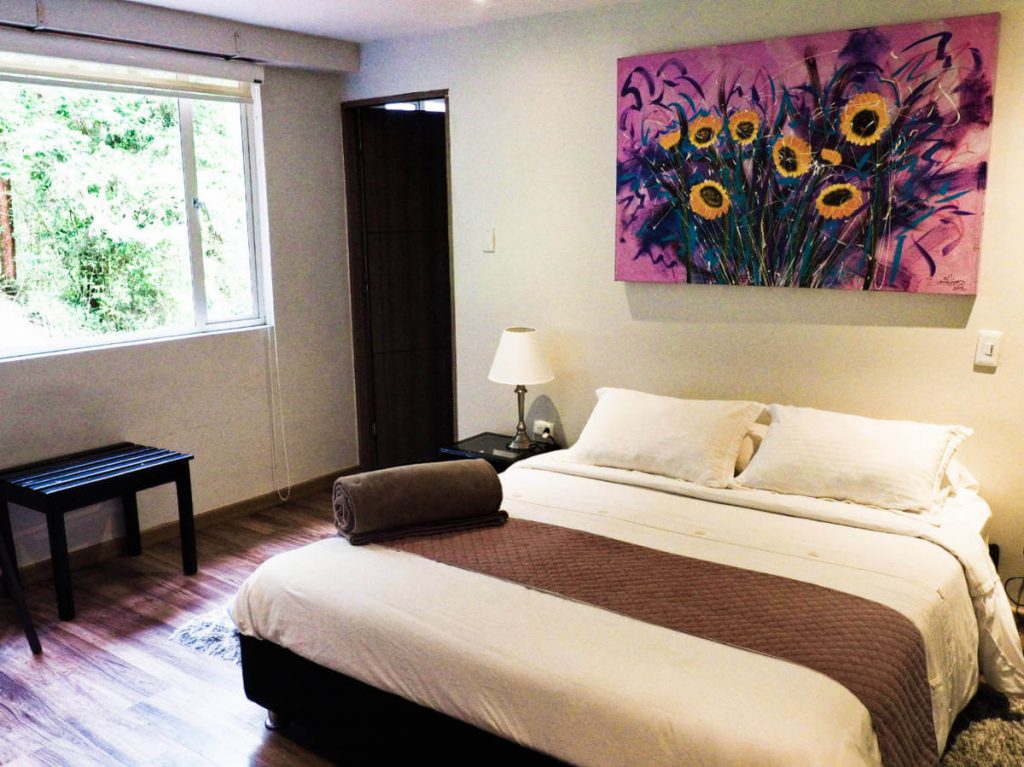 Entrance Fee: Mon-Thurs Adults 20,000cop ~ Kids (3 to 12 years) 17,000cop Except during holidays (June 15th – July 31st and December 1st – January 31st) Fri- Sun (and holidays) Adults 27,000cop ~ Kids 20,000cop
Hours: Everyday 7 am – 5 pm
Lockers: Yes but you need to bring a lock
Swimming Cap: Required
Food: Snack area with sandwiches, yogurt, chips, beer, coffee, and cappuccino. Full restaurant as well.
Tip: Every Friday at 4 pm a woman arrives with a small suitcase of essential oils for the sauna.
Paipa Termales
Paipa, Colombia is known for its thermal waters, both public and private, which flow from a subterranean lake. I chose to visit the public hot springs, ITP since the entrance fee is about half that of Hacienda Salitre and it is reachable by public transport. But please learn from my mistake. The history of the hacienda itself is enough of a reason to warrant a visit.
TIP: There are a few food items Paipa is known for including a hard, aged cheese that is slightly bitter, kumis – a sweet yogurt-like fermented milk, and lamb. Yum!
ITP Termales
The facilities at ITP are nice, though not particularly beautiful other than the mountain backdrop just past the highway. Yes, that's right these termales are located next to the highway. And while the view of the highway is obscured, it is still noticeable.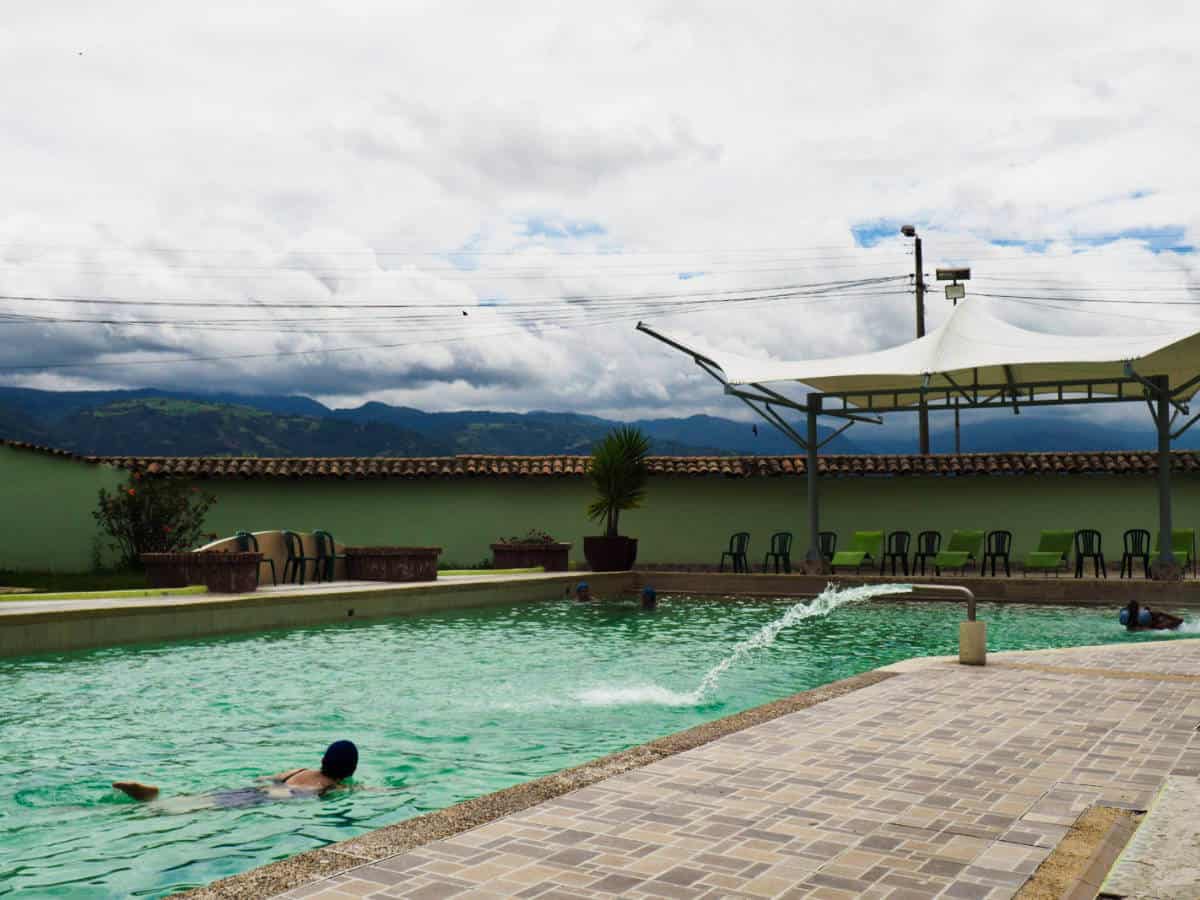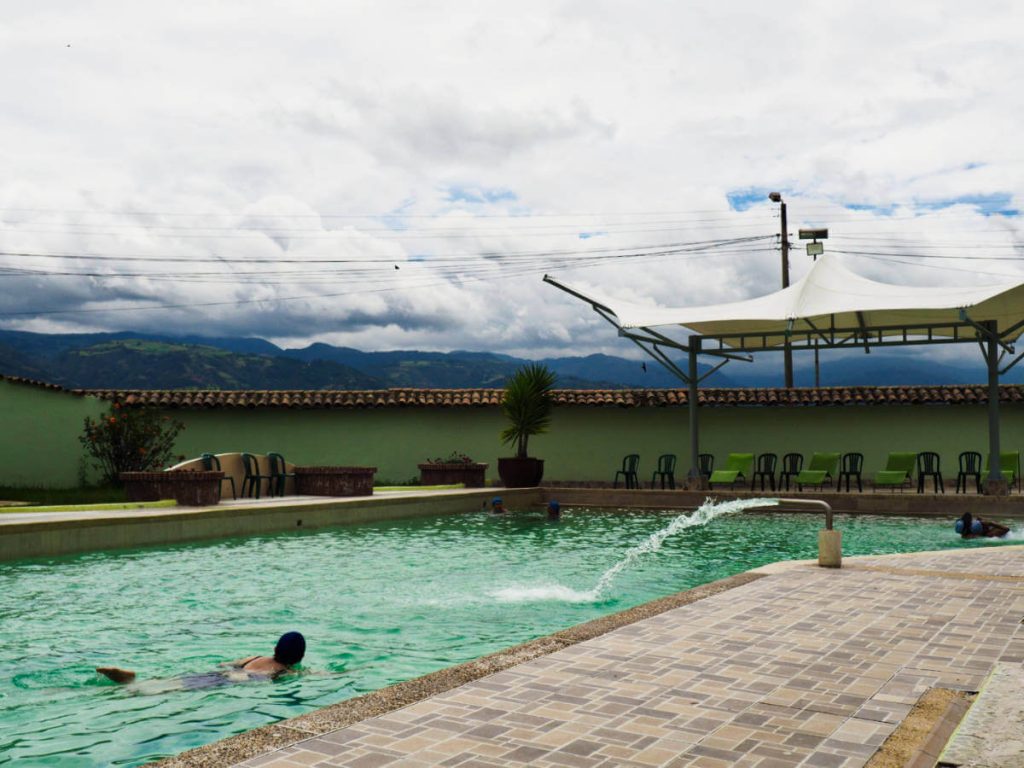 There are two large pools with sufficiently hot thermal water though lacking shade. In fact, I soon realized everyone was huddled in one area of the pool because of the shade it offered, not warmer water. In addition to the pools, there is a long slide that ejects you into a plunge pool of cold water, which is tolerable on warm days.
The slide was closed when I first arrived, but around midday, hundreds of school kids arrived on a field trip. After the madhouse in the locker area subsided, the slide opened and kids filled the pools.
The calm atmosphere of a few mature Paipa residents soaking in the pools quickly changed to that of a water theme park. While I was told this was a rare occurrence, it is something else to consider when choosing which hot spring in Paipa to visit.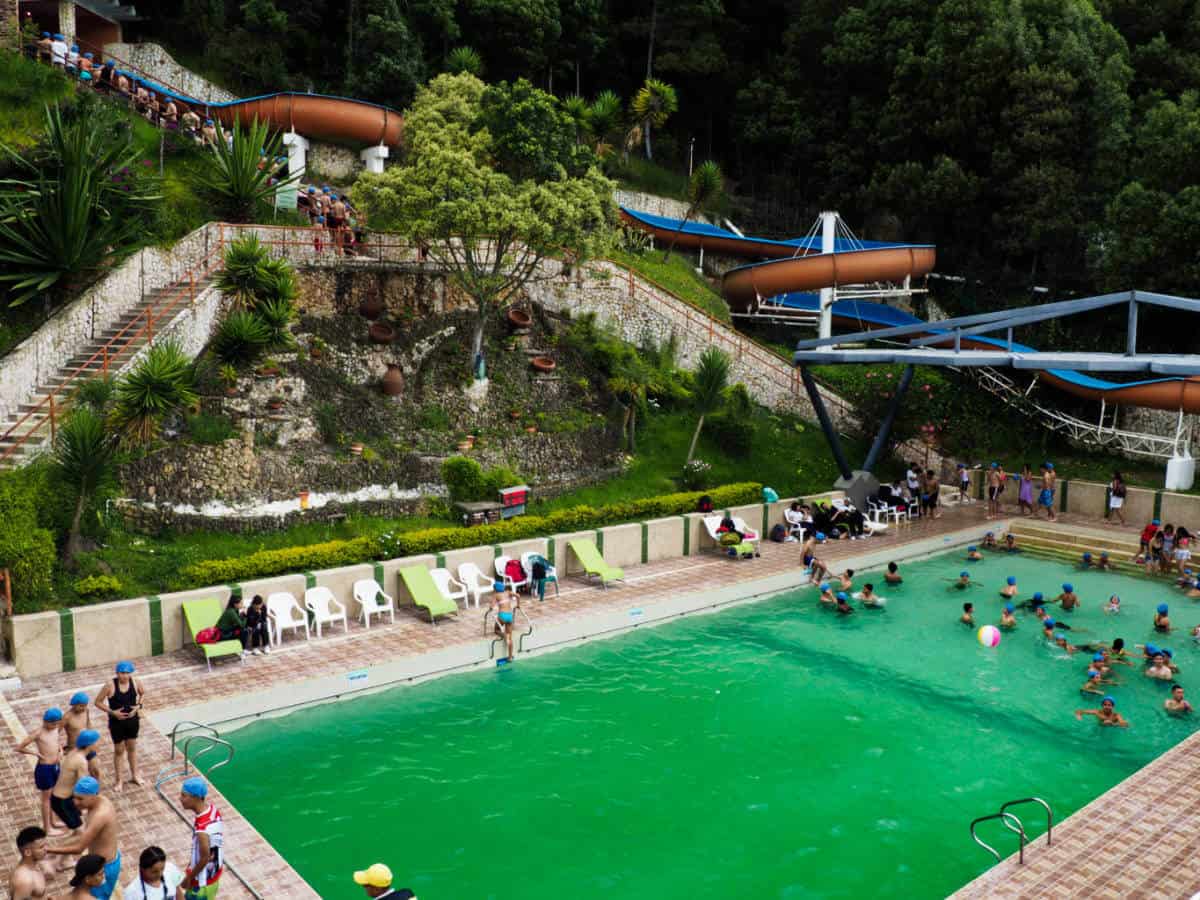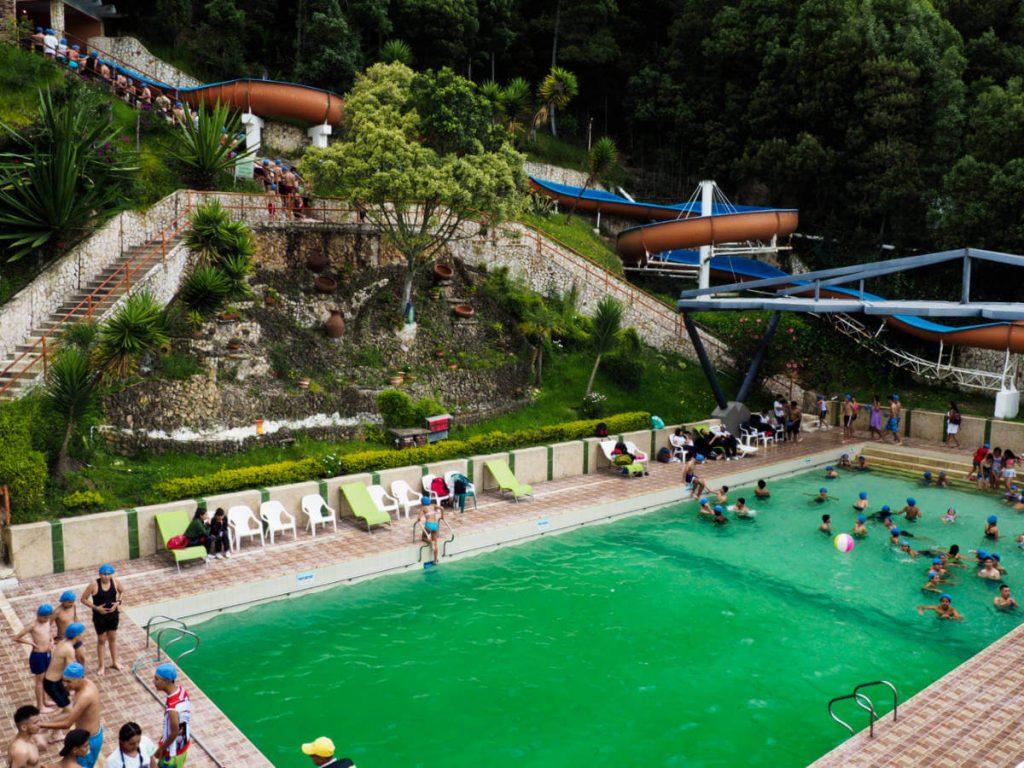 Entrance Fee: Adults 18,000cop ~ Seniors (over 60) 14,000cop ~ Kids (4-10 years) 12,000cop
Hours: 6 am – 9:45 pm
Lockers: Guarded area to keep your bag free of charge.
Swimming Cap: Required
Food: No

Hacienda El Salitre
Built in 1736, this fully restored hacienda was declared a national heritage site and is now a hotel with thermal pools. The expansive grounds include 23 guest rooms, a beautiful dining room, and a small chapel. If you have the time, book a stay on these historic grounds where you'll have access to the thermal pools into the evening and the next day.
The gorgeous stone archways and other architectural details transport you back in time to when Simon Bolivar slept here before the crucial Battle of Boyaca. In fact, for the real history buff, you can request to stay in his room, the Lanceros Suite.
Day passes to the termales are available with a reservation where you'll be able to soak in the history of this beautiful estate. The hacienda is located in a valley, three miles from Paipa. A taxi will cost about 7,000cop.
Entrance Fee: 40,000cop
Hours: 8 am – 8 pm
Lockers: Yes
Swimming Cap: Required
Food: Full menu served from the restaurant.
El Batan Termales, Iza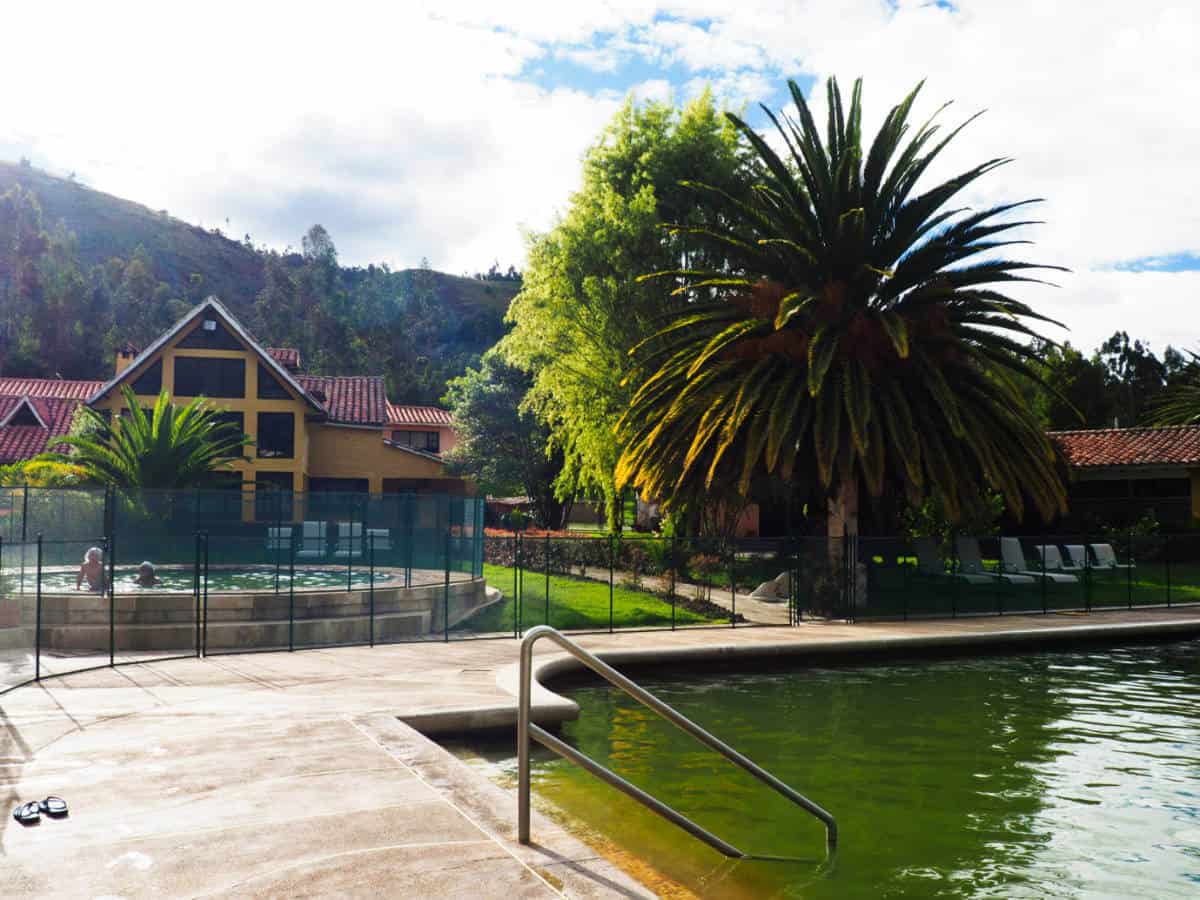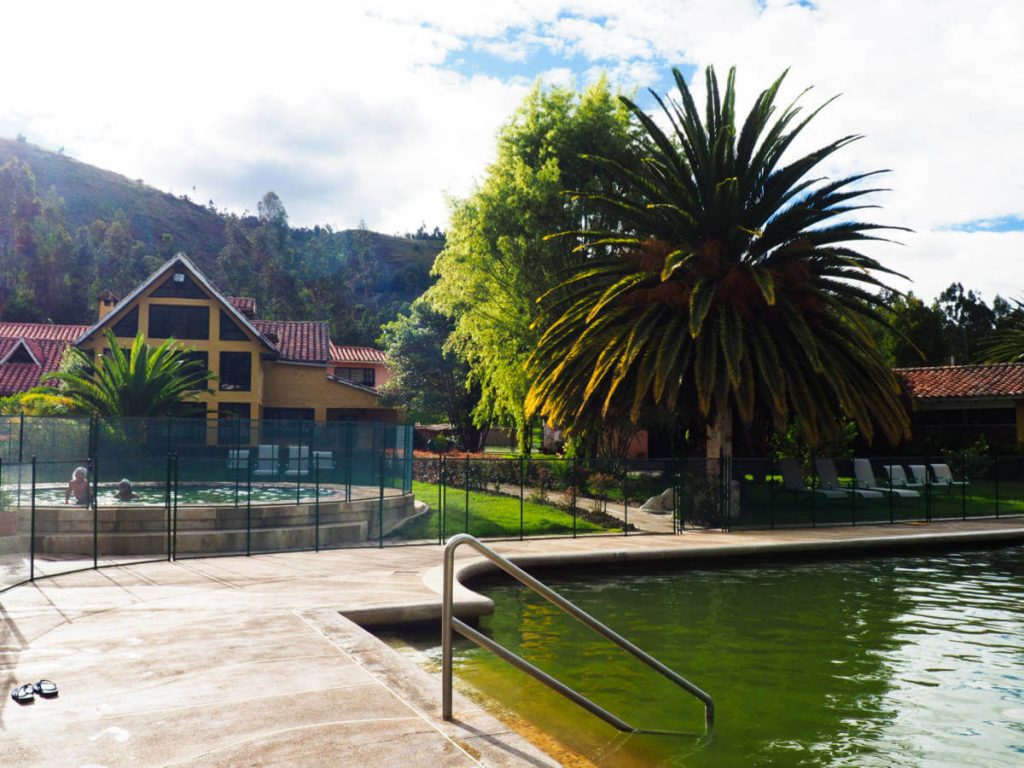 When a member of a Colombia backpacking facebook group said, "Iza is a photographer's dream!" I immediately put it on my list and looked for nearby hot springs. While I'm still baffled by their love for this tiny town, the El Batan Termales are quite relaxing. The hotel itself feels like a mountain lodge with wood beam ceilings, thick leather couches, and animal skin rugs.
The sauna and thermal baths are simple but peaceful, tucked away on a hill about two miles from Iza. You can walk to the termales from town or a taxi costs 12-15,000cop.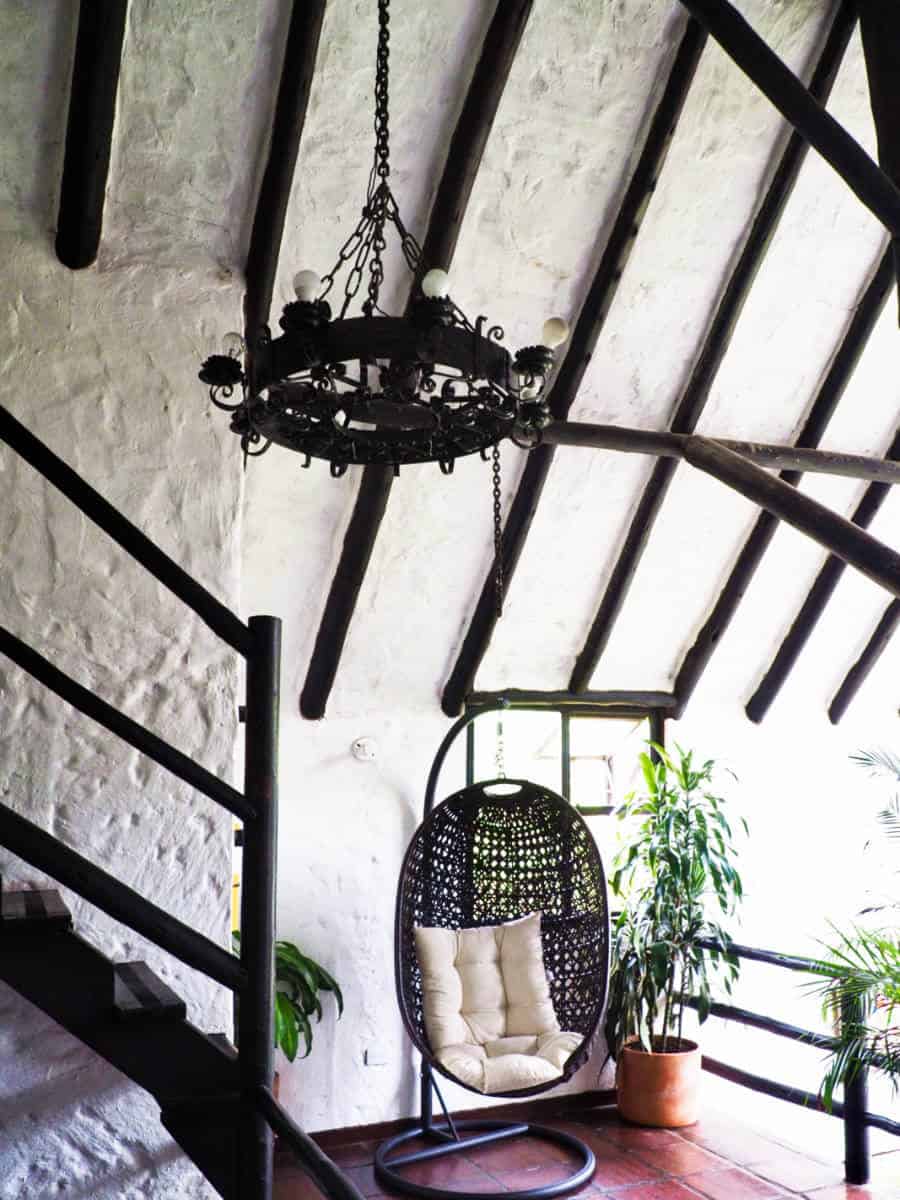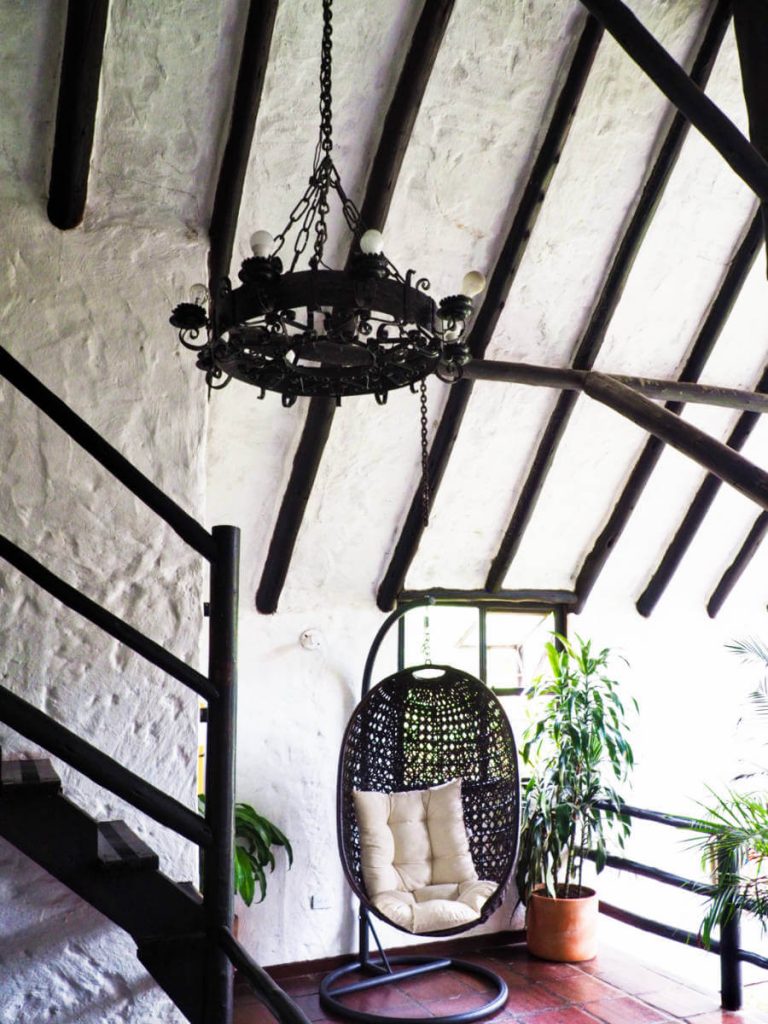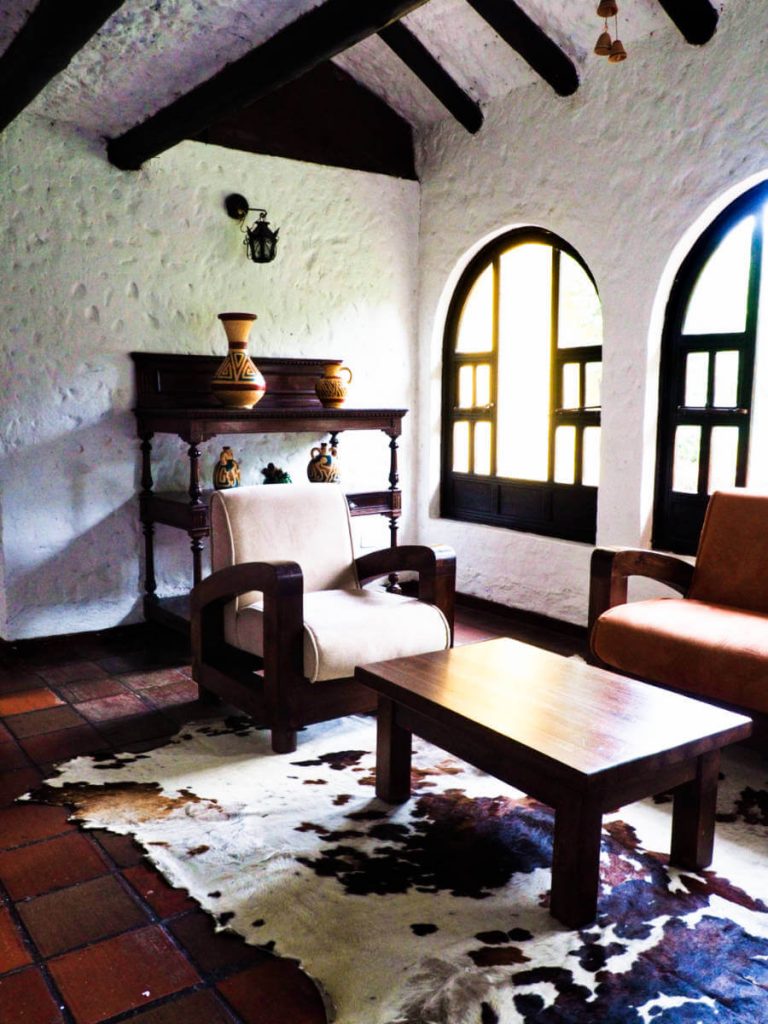 A family from Bogota that had booked a room in the hotel said it was the first time they had visited during the week and that it was much quieter than the weekend. At most, there were eight people in the pools, but usually only a few at one time.
Iza is a cute town, but if you've visited other small towns in Colombia you may be underwhelmed. There is a lot of surrounding nature and I definitely recommend booking a stay at the hotel at the termales or in this upscale glamping spot with views of the countryside.
Entrance Fee: 19,000cop
Hours: 8 am – 7 pm every day (the clock was sneakily set 15 minutes fast which I didn't realize until I got out)
Lockers: Yes, bring your own lock.
Swimming Cap: Required
Food: Limited serving times. Small but varied menu with natural juice and beer also available.
Coconuco Termales
The small town of Coconuco, Colombia and its thermal waters are a great day trip from Popoyan since it's only an hour by bus. The largest and most well-known is Termales Agua Tibia. This is an expansive property with other activities such as paddle boats and zipline for a fee, but if you want a more unique experience, travel to the Salinas Termales instead.
Salinas Termales, Coconuco
Set in the hills of southern Colombia, this hot spring was opened to the public by the indigenous community in Coconuco. There are some unique qualities at Salinas that I had not experienced at a hot spring in Colombia, so if you're in the area I definitely recommend checking it out.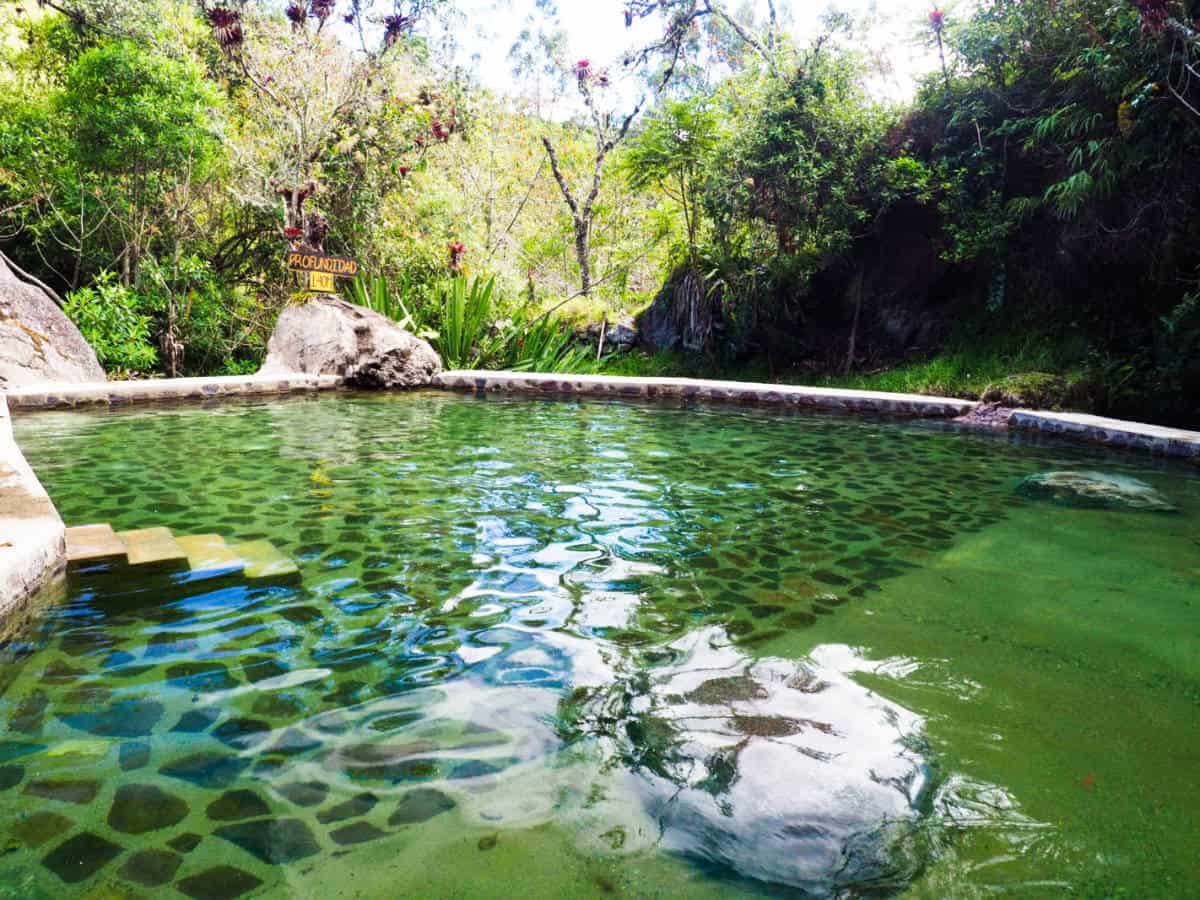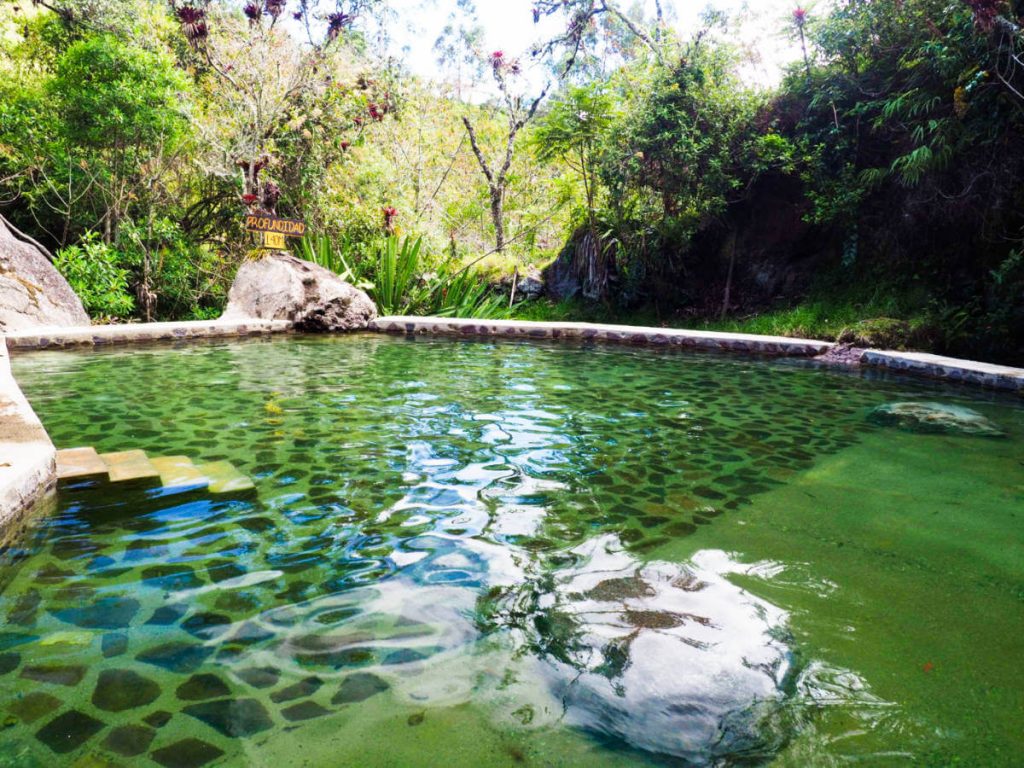 When we arrive, Andres greets us with a smile and show us to the changing area and lockers. We're then guided to a thermal mud where he instructs us to dig around the edges to find an area of warm mud bubbling up from the ground. "Caliente!" he says. And he's right. It's warm and smooth. After applying mud to my face, arms, and decollete, he leads us to the nearby Salinas waterfall.
The water is cold, but I'm promised to be taken to a warm thermal bath promptly following. And boy, it's hot! In fact, after the frigid waterfall this is a termale you need to slide into bit by bit, but once you do you can feel your entire body begin to relax.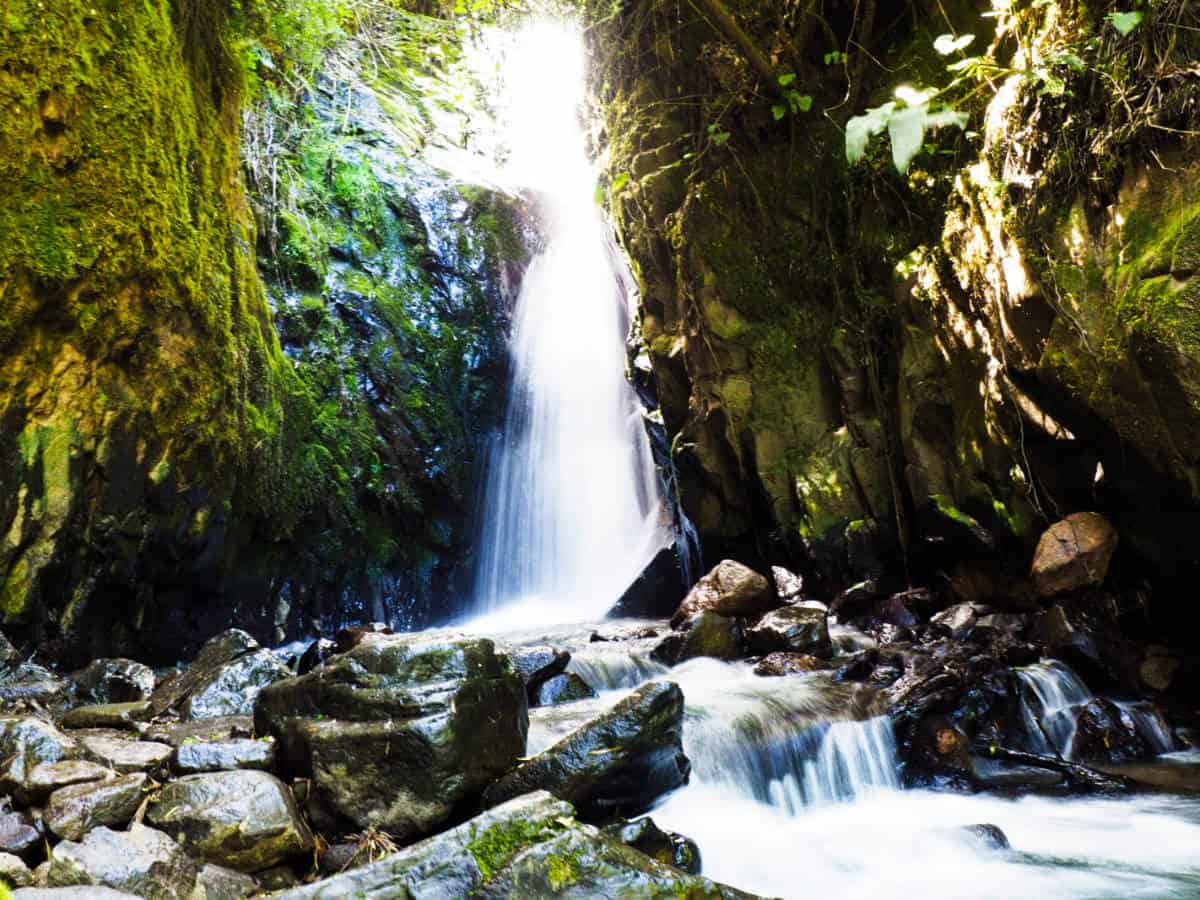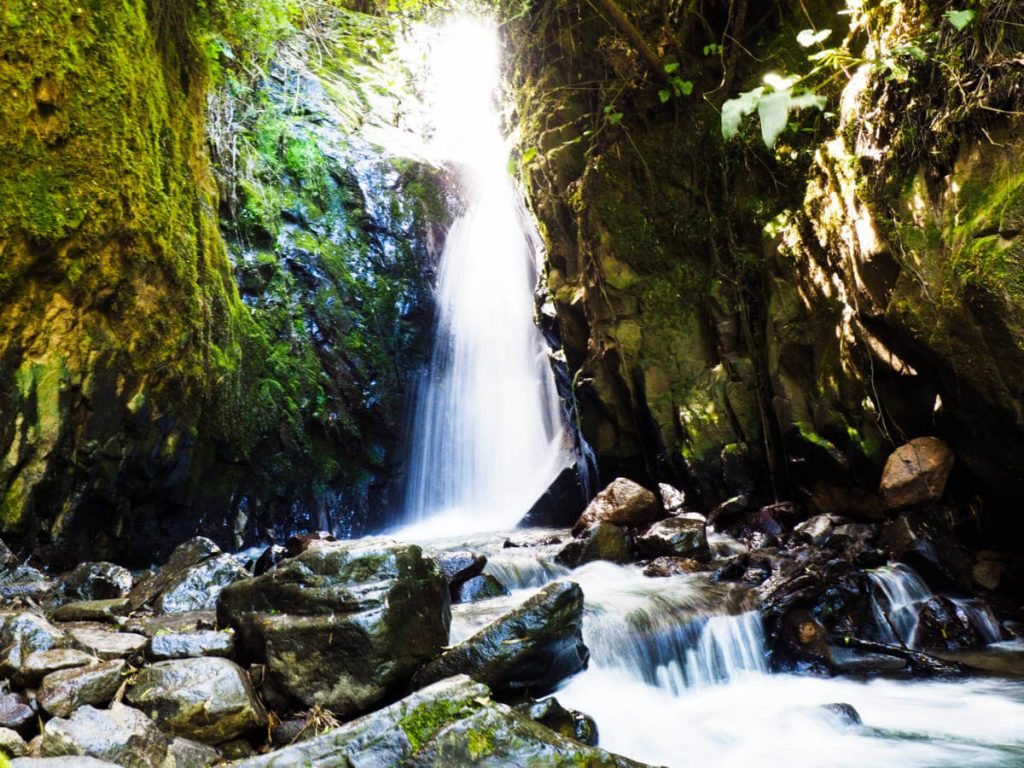 Andres comes to check on us and leads us to the next part of the journey – a natural steam room built directly over a thermal bath. He gives us each a fresh eucalyptus branch and returns about 15 minutes later with water infused with local herbs.
We were then left to enjoy the other thermal bath which was warm though not nearly as hot as the other.
It's best if you have your own car to visit the Salinas hot springs in Coconuco, but it is possible without. Since it's accessed by a long dirt road, the transport was expensive and time is limited by however long you pay for the transport to wait for your return. On the other hand, the price quoted to Agua Tibia was nearly the same.
Entrance Fee: 10,000cop
Hours: 8 am – 5 pm
Lockers: Yes
Swimming Cap: Not required
Food: Yes. Typical restaurant on site.
Transportation: 40,000cop round trip (up to 4 people)
El Zipa Termales, Tabio
These are the closest thermals to Bogota, one hour by car, in the small town of Tabio. The grounds are rather basic, with two large pools and two jacuzzis filled with thermal waters. This is such a cute town, that I'd recommend booking a place to stay in Tabio for one or two nights.
I unexpectedly enjoyed wandering around the town of Tabio so much that I arrived at the termales late in the day and the main pools weren't hot enough for me. Thus I spent most of the time in the jacuzzis where there was sometimes a wait to get in and the water was hot enough but just barely.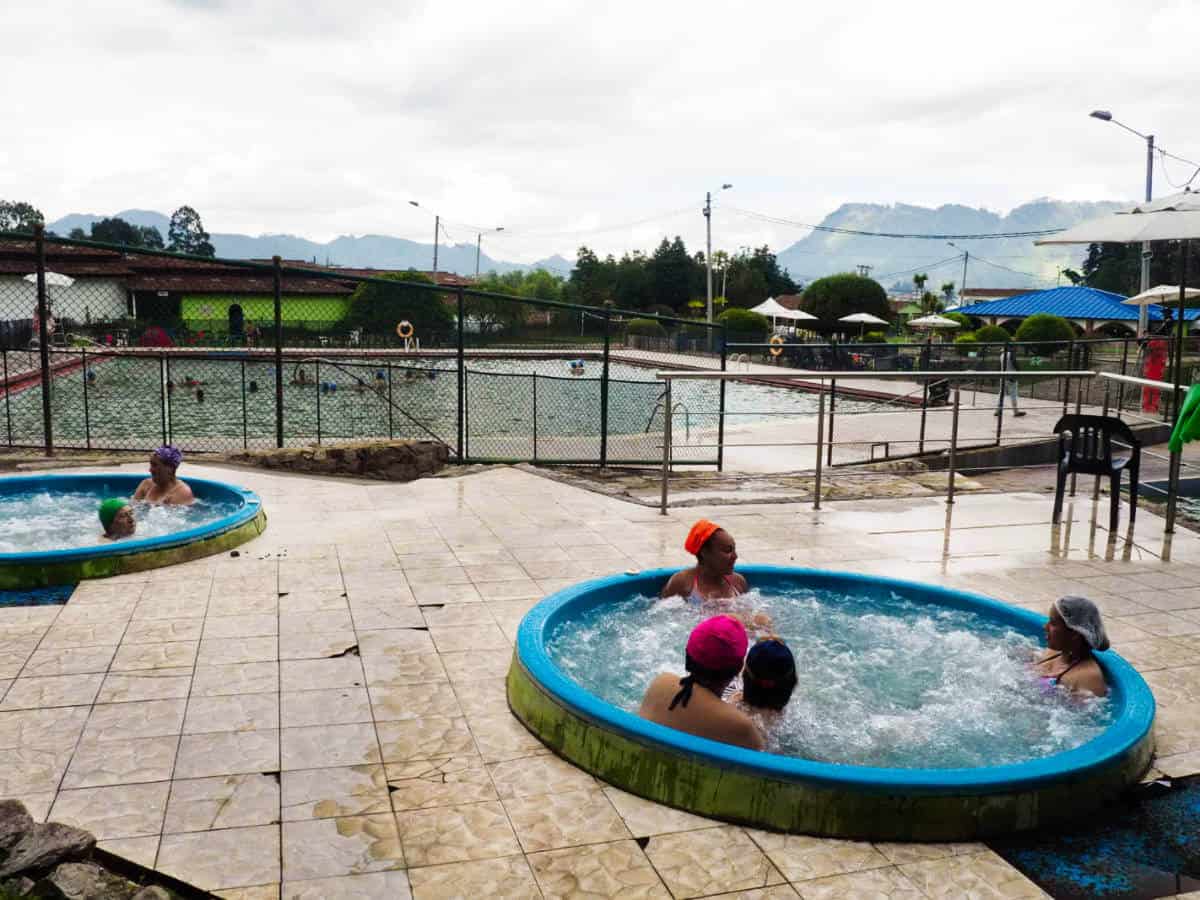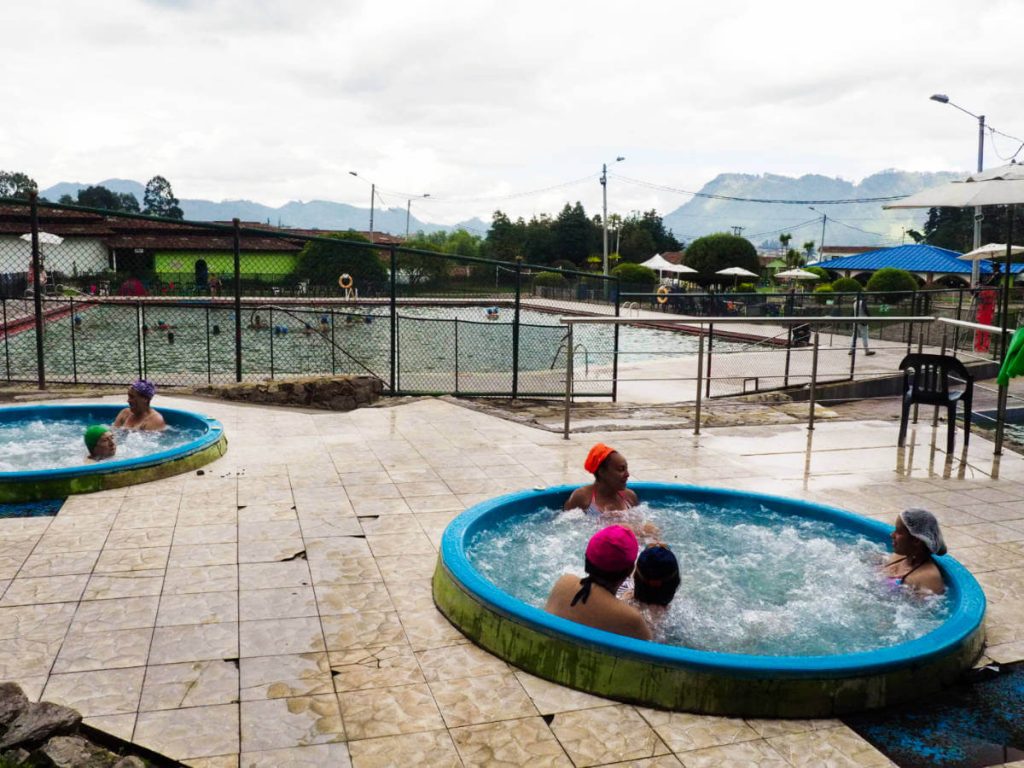 I wouldn't go out of my way to go to these thermal baths, but if you're staying in Tabio, it's a 15 minute walk from town. And if you're in Zipaquira for the salt cathedral, Tabio is an hour bus ride and definitely worth exploring.
Entrance Fee: Adults 18,000cop ~ Kids (3 to 11 years) 12,000cop ~ Parking – 3800cop
Hours: Wed-Sat 8 am – 5 pm, Sun 9 am – 5 pm. But be aware of weeks with a holiday Monday in which case they will be open Monday but closed Tuesday and Wednesday.
Lockers: Guarded area to keep your bag, free of charge
Swimming Cap: Required
Food: No
Los Angeles Termal, Rivera
My Colombian friend thought it was a bit strange to visit a hot spring near the Tatacoa Desert. "Termales in a hot land?" he said. But the pictures of Los Angeles Termal in Rivera were too pretty to pass up. And it's true, it is a beautiful space in a hot land.
Stone pathways lead you through manicured tropical grounds with seating areas. There are four small thermal pools, one of which is cold and thoroughly enjoyed by the younger guests. The low rock borders between pools allow the waters to gently flow into each other without disrupting the temperature.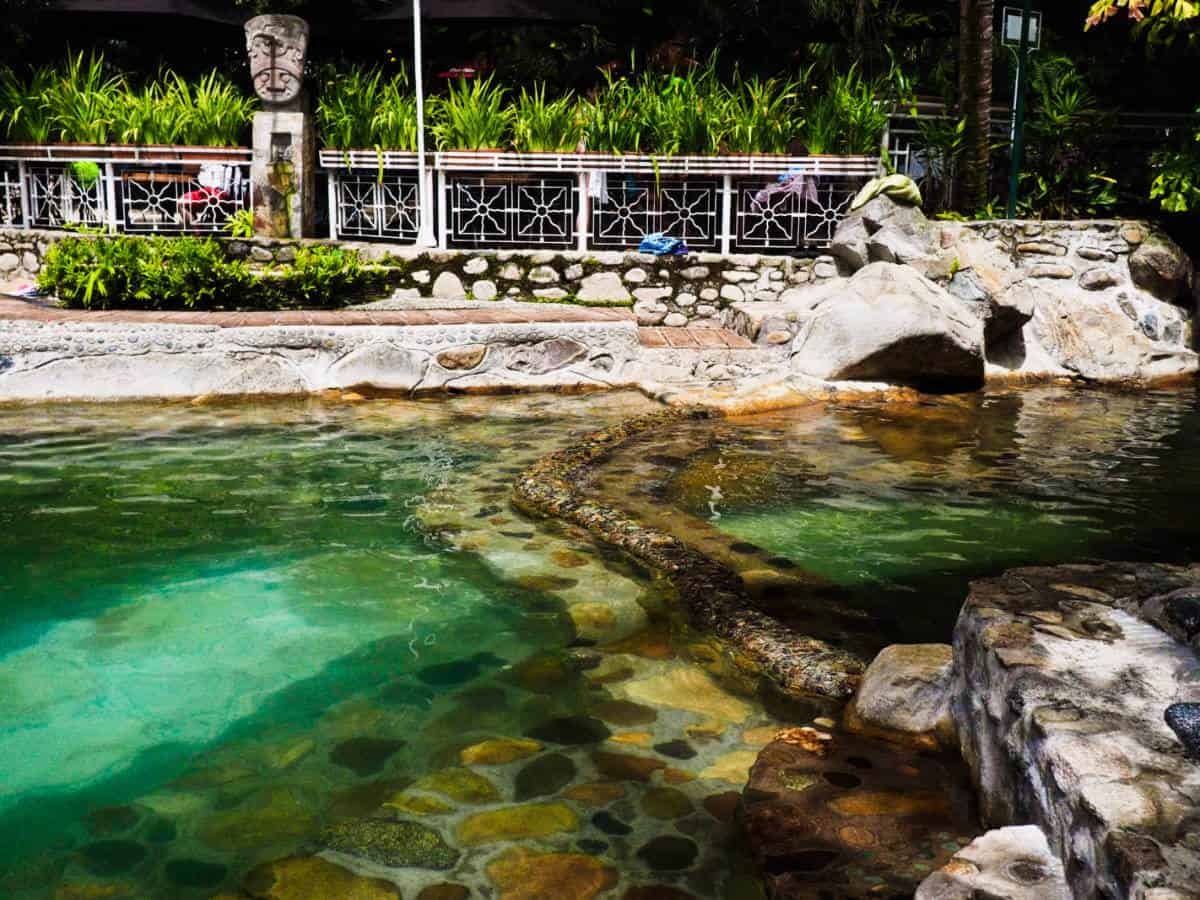 In fact, the difference in temperatures among the pools is nice and not always found in Colombia's hot springs. However, my friend was right. I love warm water but it was a sunny day and the climate was not enjoyable for a long hot soak. Perhaps at night or days when the weather cools, I would return.
Rivera is a charming small town south of Neiva with buses between the two leaving about every 30 minutes (or when they are full). At the main square in Rivera you can find tuk tuks to transport you to the termales for about 10,000cop each way. The last bus returning to Neiva leaves before 7 pm. So while the termales are open late, you'll need to drive or arrange accommodation in Rivera if you plan to stay into the night. Our tuk tuk driver told me they continue tuk tuk transport in Rivera until 1 am.
Entrance Fee: Adults 15,000cop ~ Kids (3-10 years) 11,000cop
Hours: 8 am – 10 pm Everyday
Lockers: No
Swimming Cap: Not required
Food: Menu includes breakfast items, entrees, and picadas to share. Natural juices and beer are also available.
Tips for Visiting Hot Springs in Colombia
I learned a few tips along my quest for the best hot springs, including when to go and what to bring. Here are the basic guidelines. It's best to avoid holidays and weekends if you can. Lots of Colombians use the termales during this time so they are often busy. For this reason, some of the termales offer weekday discounts on the entrance fee.
And generally, I like to arrive in the morning to allow for a full day of soaking and sauna if I feel like it. Some of the hot springs are perfect for lounging all day while taking a break with a good book.
Many of the hot springs in Colombia have accommodations on-site. Booking a room allows you to really take your time to enjoy the thermal waters. Most will allow you to enter the pools before check in. And they tend to have a late check out time, which means you get to relax and benefit from the termales two days in a row. Ahhhhh…
They do tend to be in remote locations, so you'll need to factor in eating at the hotel restaurant or taking a taxi to the nearest town. The restaurants are open to day visitors as well, though I always preferred to have a nice breakfast before and bring a few snacks.
What to Bring to the Termales
So that brings us to what to bring. Most facilities include changing areas, lockers (though you may need to bring your own lock), and cold showers. Some also have a sauna and availability for spa services such as massage and facial masks for an additional cost.
A traditional swimming suit is the preferred attire and some baths request t-shirts and other clothing not be worn in the pools. A few places, especially near Bogota, require a swimming cap for both men and women which you can purchase upon entering if you don't have one.
What to Bring
Bathing Suit
Towel
Money
Plastic bag for wet clothes
Water (lots of water to stay hydrated!)
Optional
Hat/Sunscreen
Swimming Cap
Snacks
Book
Lock