Jardin, Colombia: A Weekend From Medellin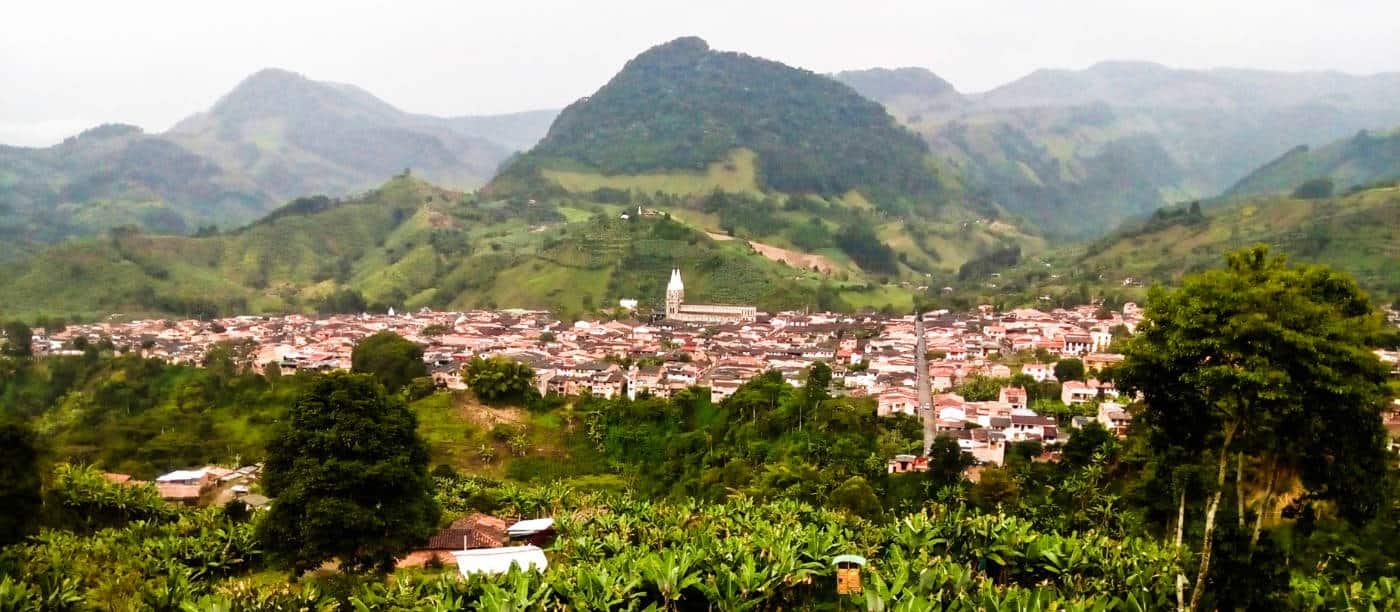 The small town of Jardin, Colombia has nudged its way into the tourist trail by way of its colorful colonial architecture and proximity to Medellin. But it's the outdoor attractions, such as hiking to Cueva del Esplendor, birding, and paragliding, that keeps travelers engaged.
Chances are somewhere along your travels in Colombia, you've been told you must visit Jardin. But you probably have more questions. How long should you stay? Is it doable in a day? What are the top things to do in Jardin?
I definitely recommend spending at least two nights in Jardin. Since it's located three and a half hours by bus from Medellin a day trip would only allow you to see the town itself. And as a result, you'd miss out on so much that the area has to offer.
As a slow traveler, I spent one week here, splitting my time between a farmhouse about one mile (uphill!) from the center of town and a room in an Airbnb just a few blocks from the main square. Here I'll detail everything there is to do in this intriguing Colombian town.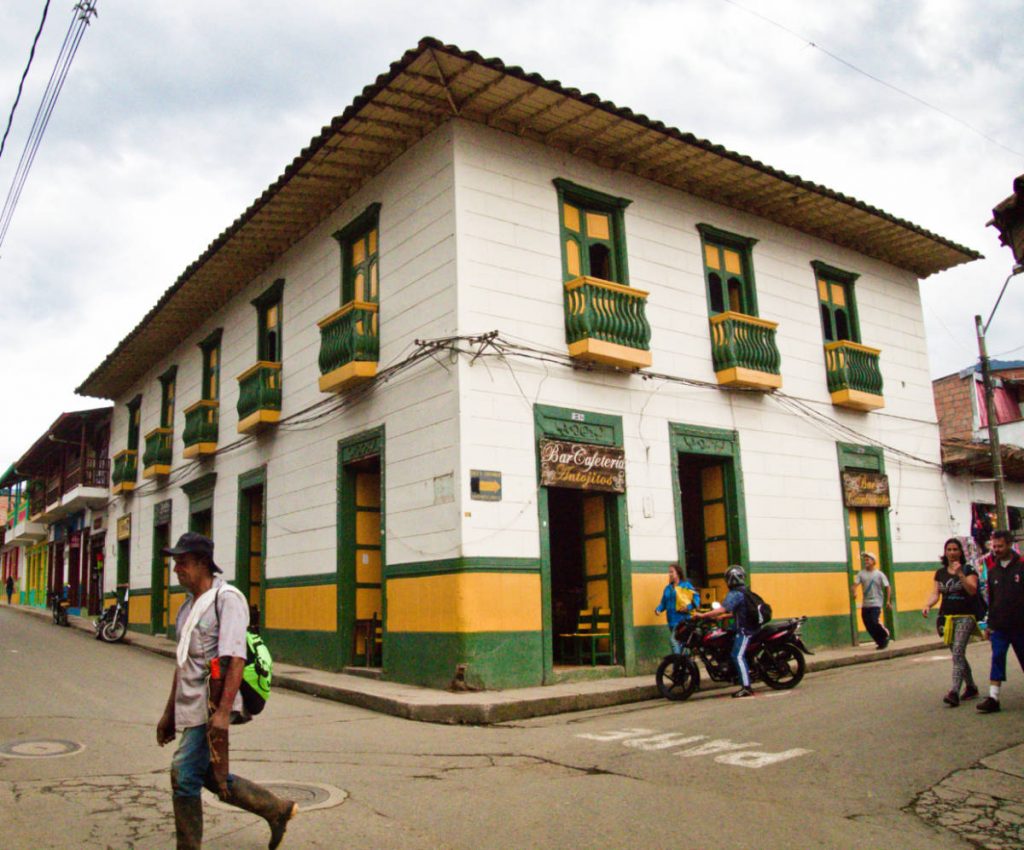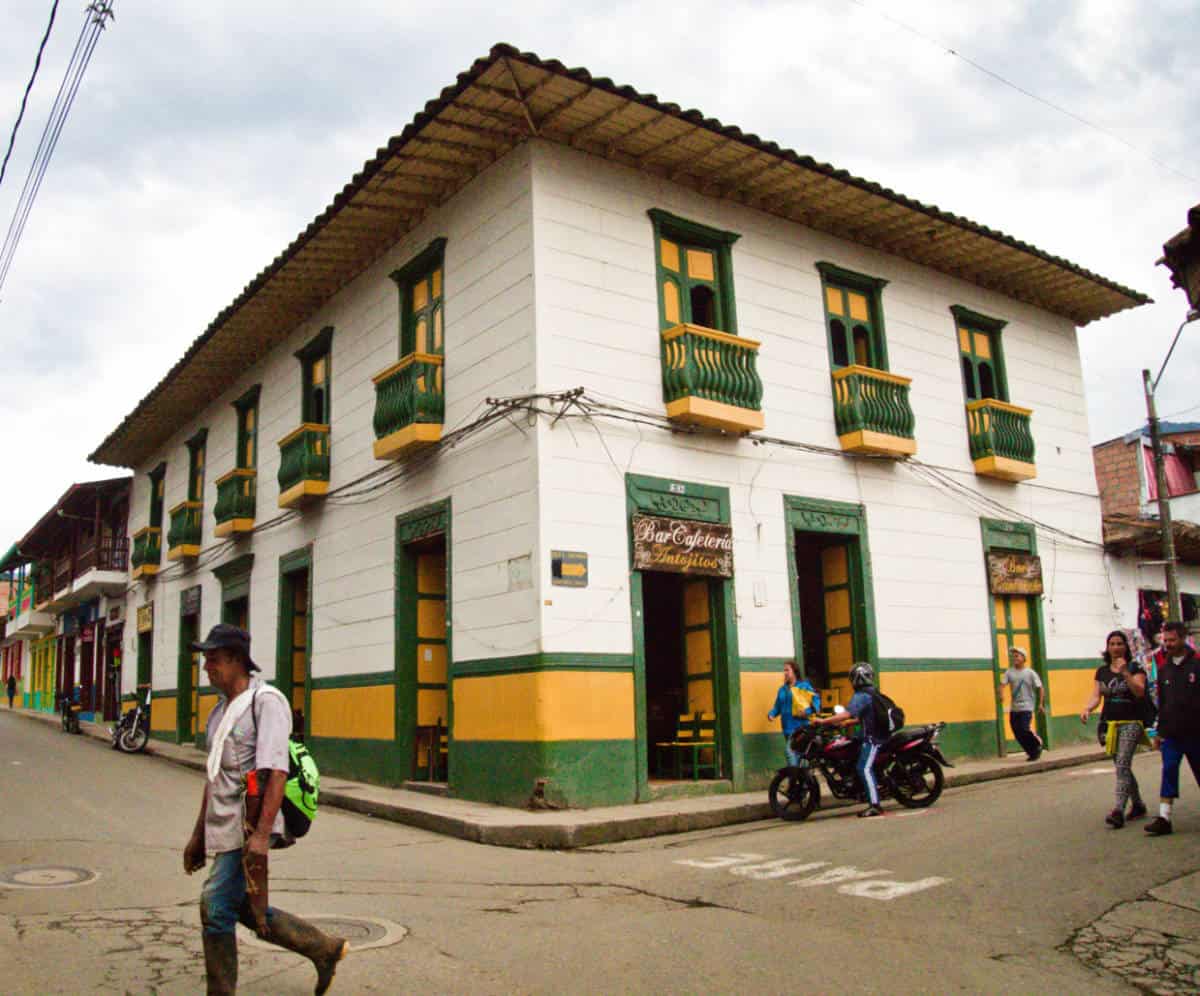 What to do in Jardin, Colombia
Hike to Cueva del Esplendor
If you're a nature lover, you will thoroughly enjoy a guided hike to Cueva del Esplendor, or Cave of Splendor. Now limited to 40 visitors per day, you can only access the cave by paying a fee for entrance and a guide.
While technically you don't need to hire a tour, it's the easiest way to get to the access point unless you're keen on walking a few miles up to the mountain before you start the hike. For budget reasons, I decided on a group tour of about 15 people but there are options for smaller or even private tours by horseback.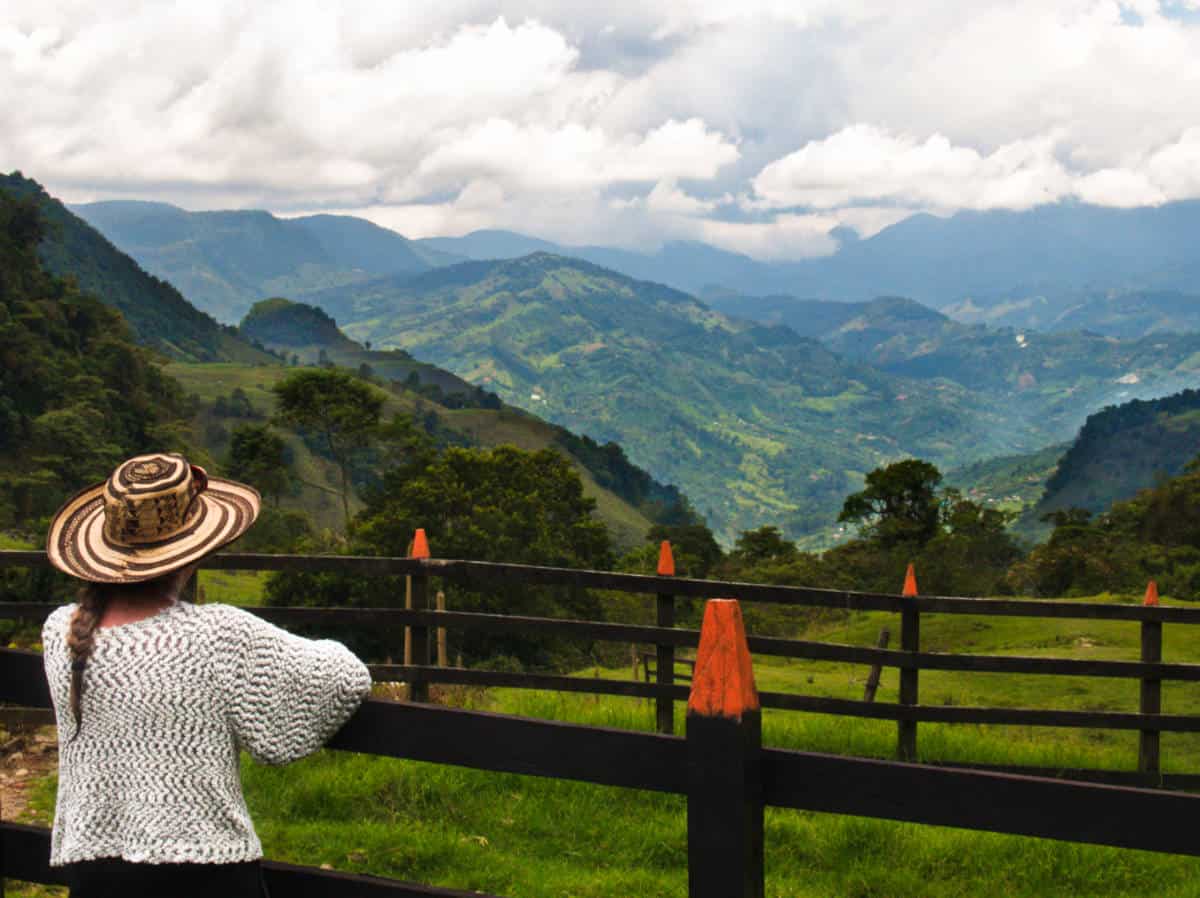 After a scenic hour Willy (if you don't know what a Willy is, click here) ride through the landscape surrounding Jardin, everyone on the tour had properly bonded and we set off for the hike. We stopped at a traditional rural Antioquian house which acts as a pit stop to refuel and a way to control the daily visitors. After being served a snack of chocolo (a sweet arepa) with cheese and cafe con panela we took off for the entrance to the hike.
The sweeping valley views disappeared as we started down the trail. Enveloped by tropical plants, the humidity noticeably increased and all the plants became a rich, vibrant green. A cable handrail proved useful during slippery parts of the trek and I certainly recommend wearing good shoes, even better if they can get wet.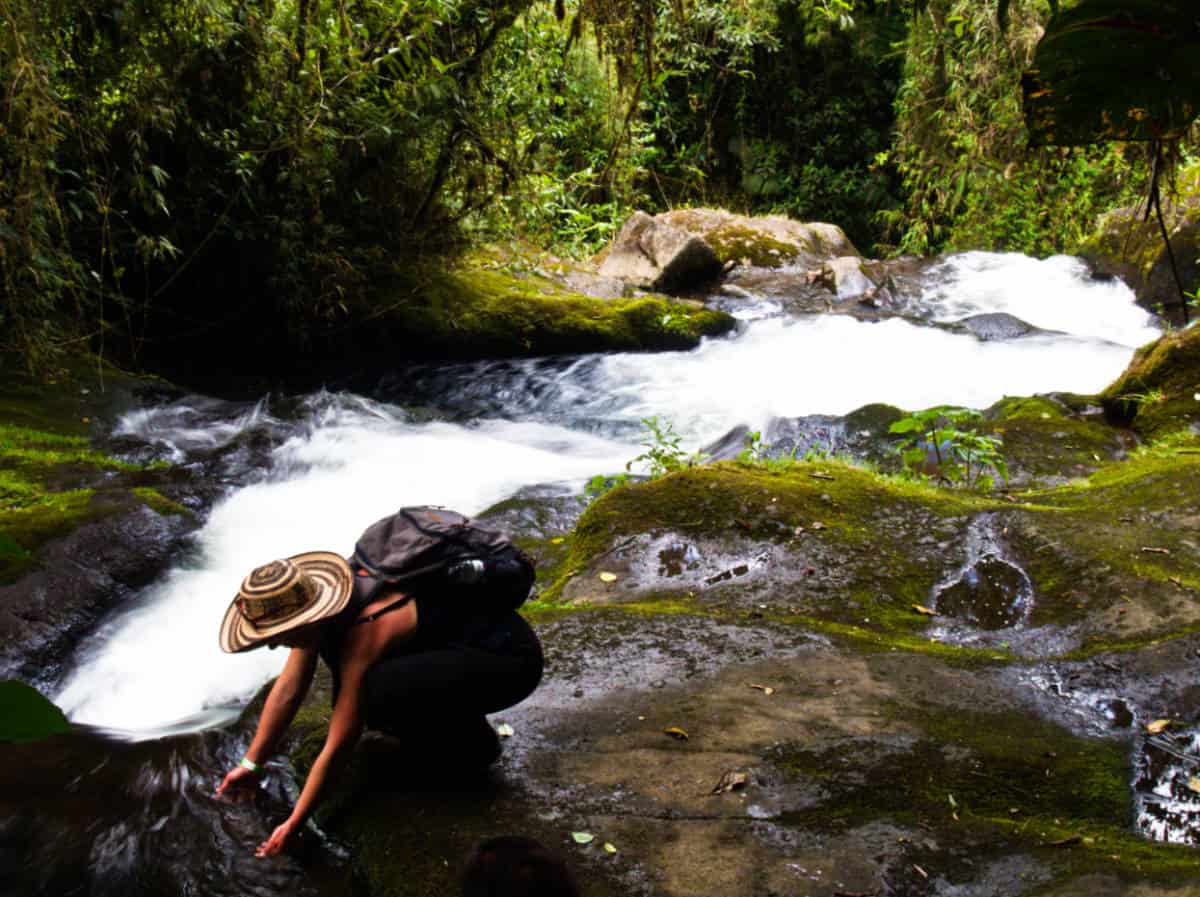 At one point we crossed a small stream that required taking off your shoes and socks. Again, the cable provided assurance as the cold water passed over our feet and ankles. At the entrance to the cave, we were greeted by large rock walls covered with small plants flourishing in a mist of water falling over the rockface. It was beautiful.
Then as I turned towards the cave, my eyes met with a column of water streaming through the opening at the top, into the pool below. The sound of the water, amplified by the rock walls was powerful. It is then that I realized its splendor.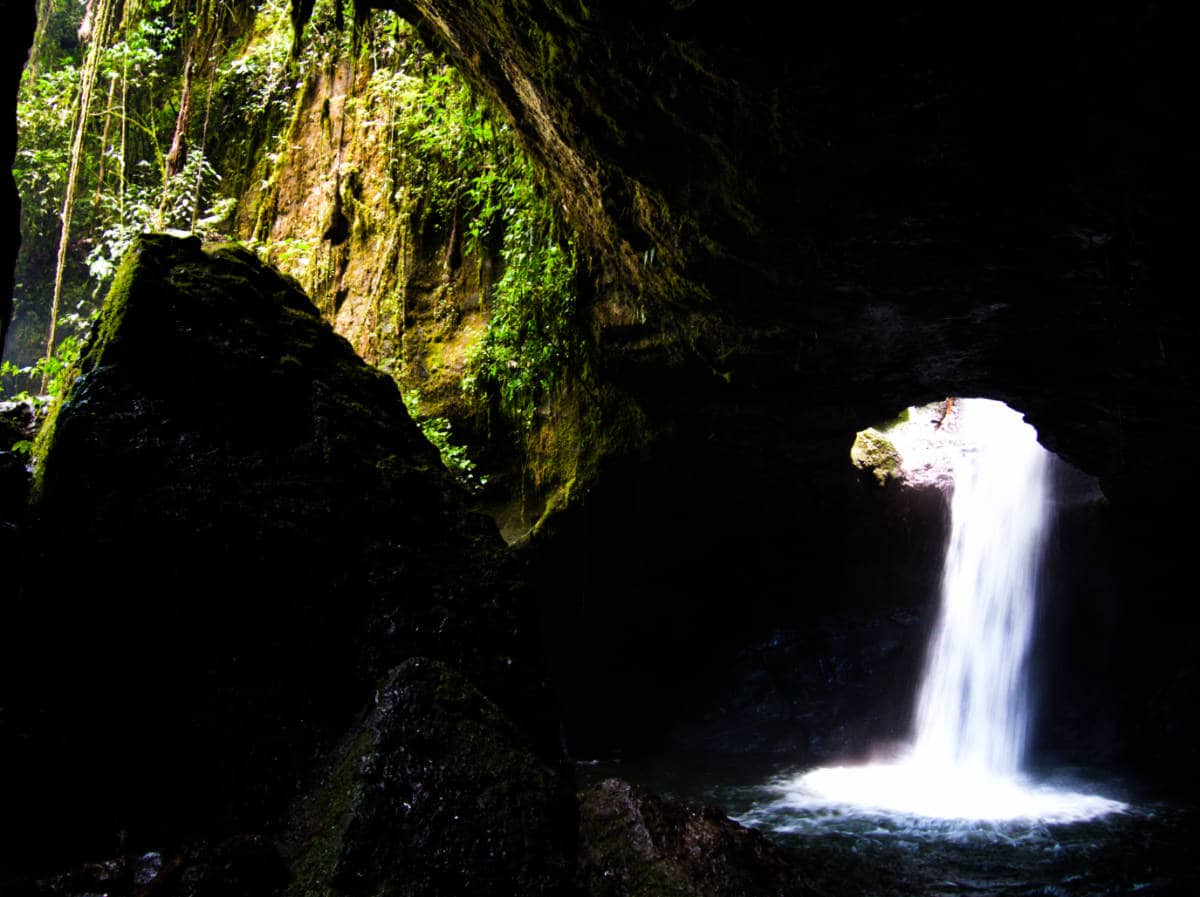 Birding in Jardin, Colombia
The lush landscape of the rolling hills surrounding Jardin makes it a haven for tropical birds. Keep your eyes and ears open for a sighting anytime you are hiking. If you don't have a lot of birding skills (ie. patience!), there are two easy places to see striking birds in Jardin.
Reserva Natural Jardín de Rocas
On the edge of town, by the river is a forested ravine – the perfect habitat for the Andean Cock of the Rock. Living throughout the Andes mountains of South America, it is perhaps one of the most recognizable birds because of its dazzling orange-red color and fan-shaped crest.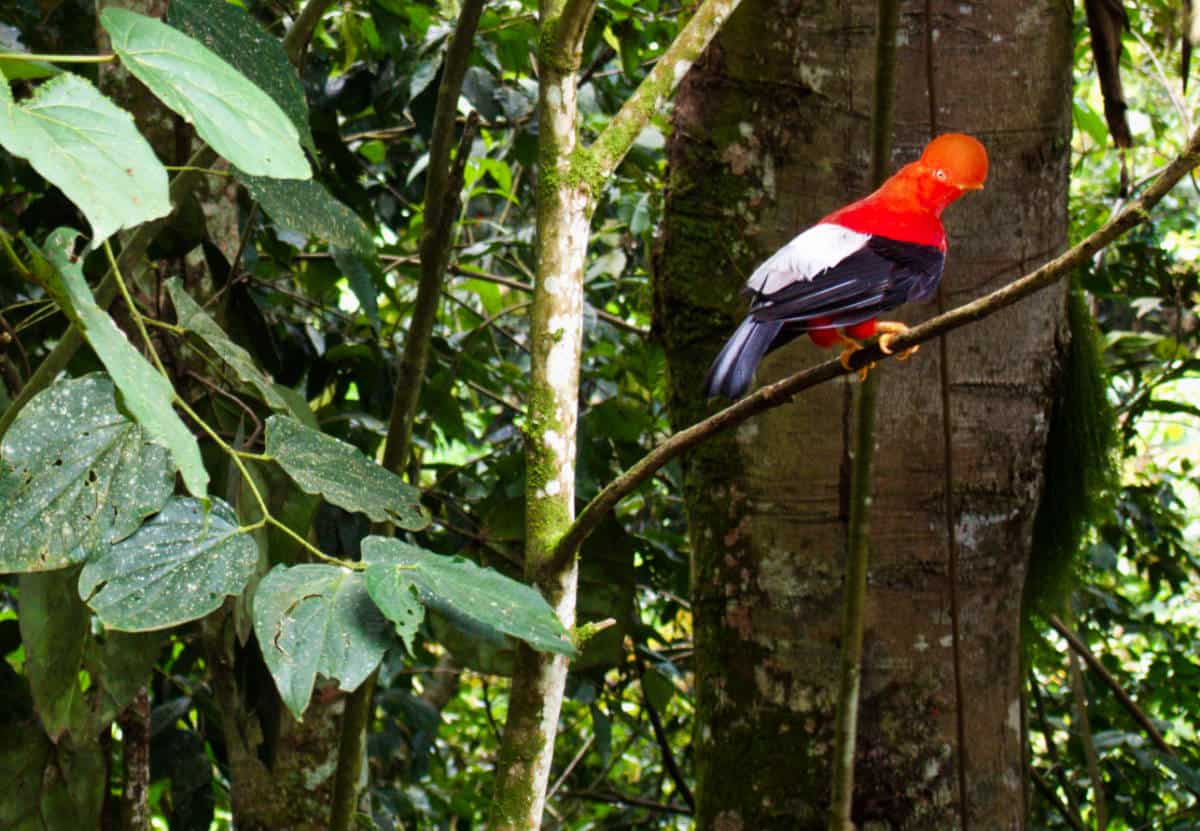 A woman that lives at the edge of the ravine built viewing platforms and opens her yard to inquisitive guests for a few hours each morning and afternoon. After reading about it, most people concur that the best time to visit is in the afternoon. Immediately upon arriving I could hear the call of the male birds and spotted their bright plumage.
Mi Jardin Encantado
With a love of plants, cactus, and succulents, the owners of Mi Jardin Encantado (My Enchanted Garden) have planted an array of fruit trees, orchids, and other tropical plants at their home just outside of the town. They also set out fresh fruit on several simple platforms to attract nearby birds. You can book a stay at their home or simply visit for a short time during the day. Unfortunately, I found out about this place too late to visit, but it gets rave reviews.
Send an Email or WhatsApp: +57 312-845-3628 or +57 312-607-9336
Discover the Architecture of Jardin
It goes without saying, Jardin is the type of small town in Colombia where you're perfectly content to simply wander the streets, admiring the colors and detail in the architecture, the flowers, and the day to day life. Put the map away and just wander, taking in the sites of colorful doors, flower filled balconies, and windows decorated with hand painted wooden cutouts.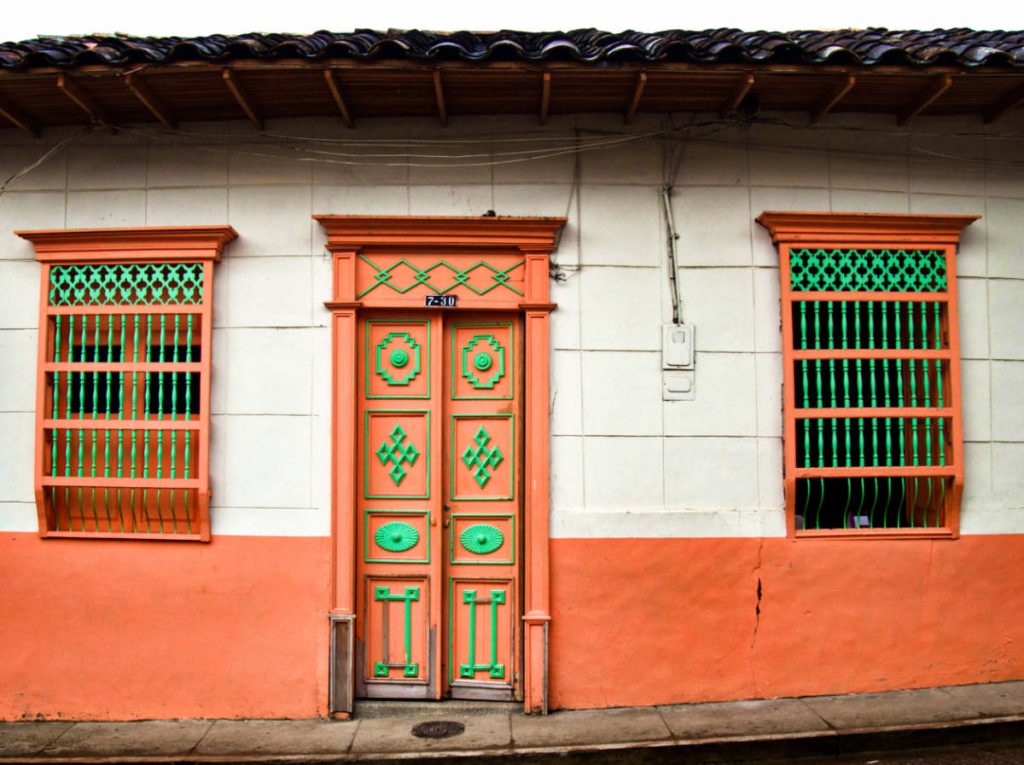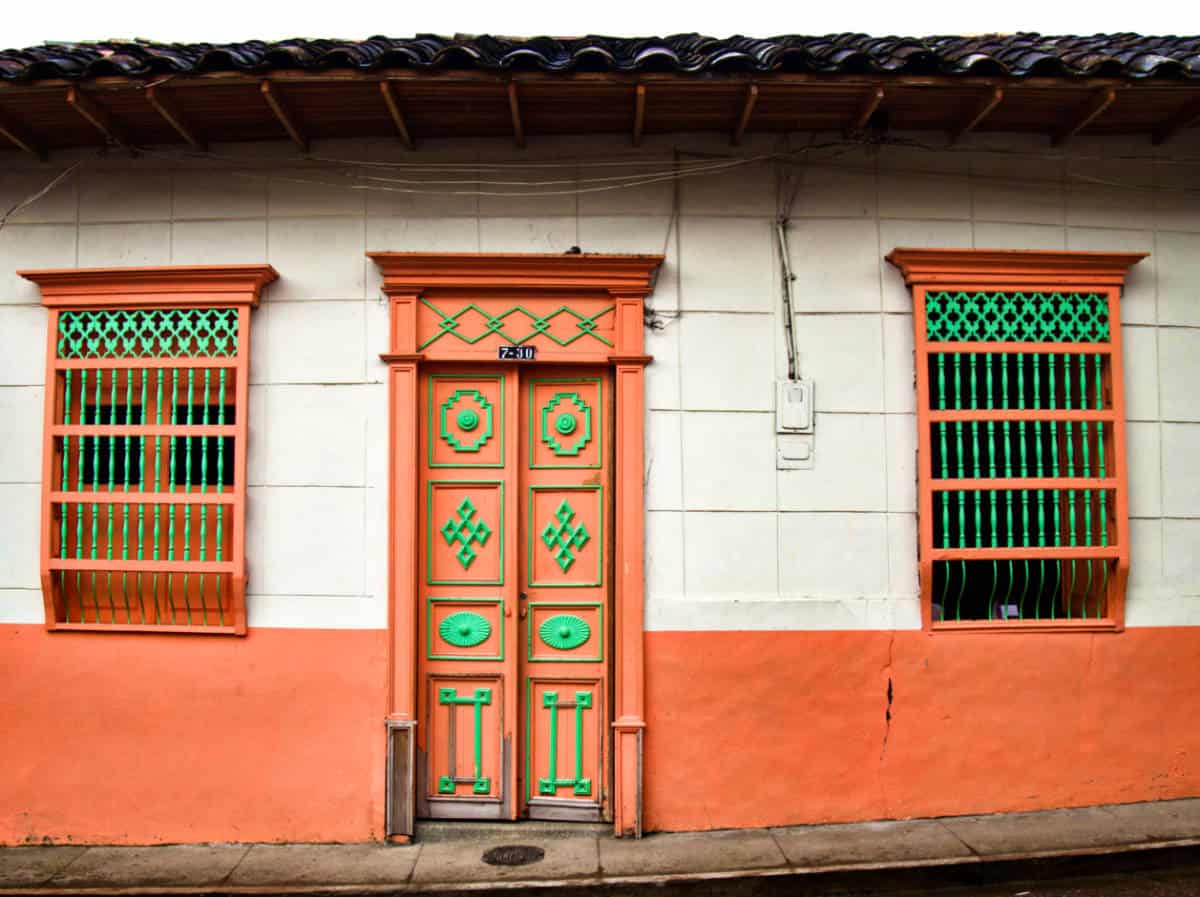 Once you've had your fill, enjoy a tinto or beer in the main square while you people watch. The color of the tables and chairs correspond to the cafe in which they belong. Have a seat and someone should be with you shortly.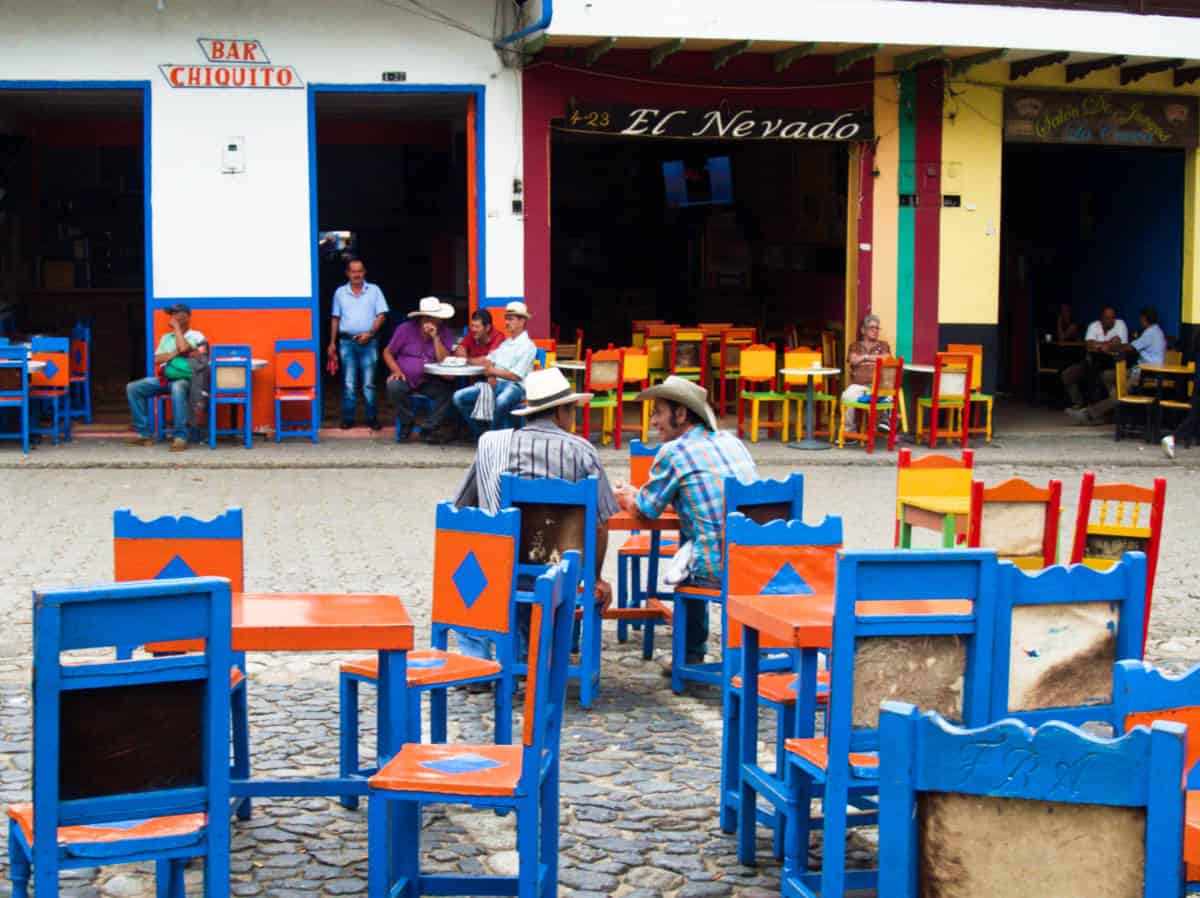 Ride the Cable Car
As the single 10 horsepower motor turns, this self-made cable car rises from town, above a valley of verdant banana trees. Turn around for lovely views of the town from afar. It's a short but scenic three minute ride from the edge of Jardin to the Serranias neighborhood.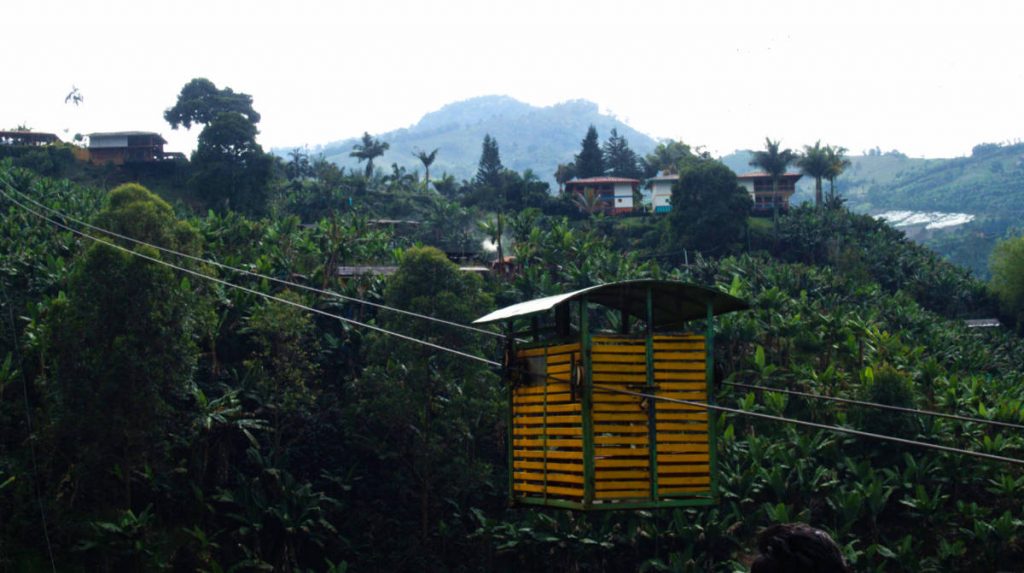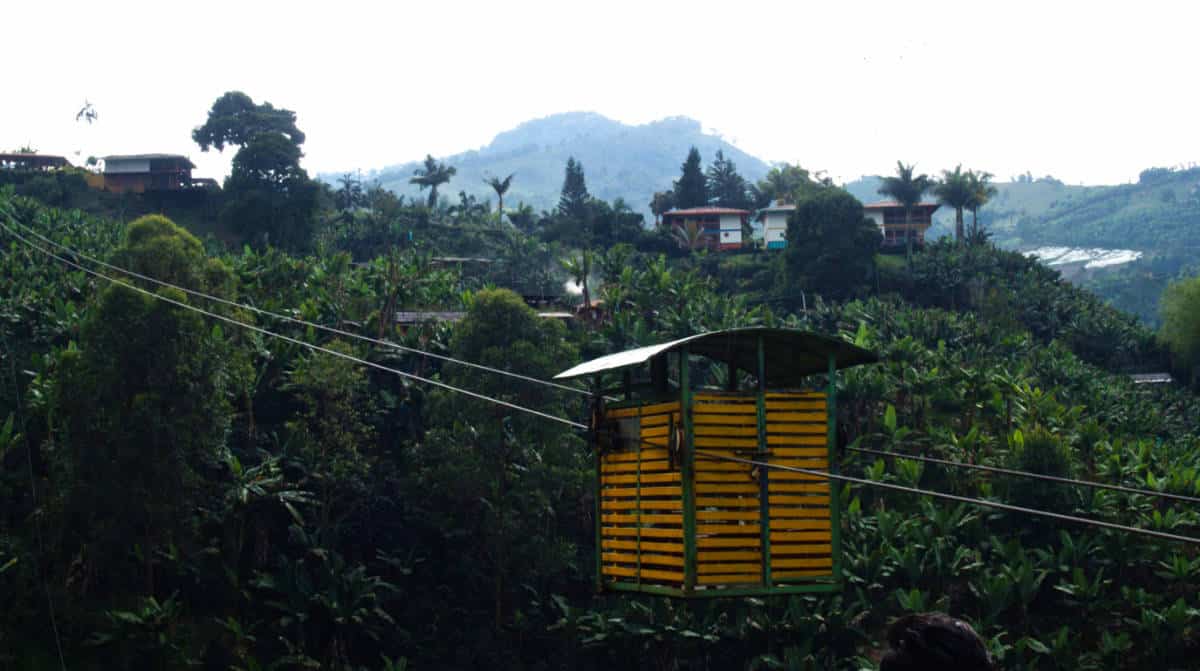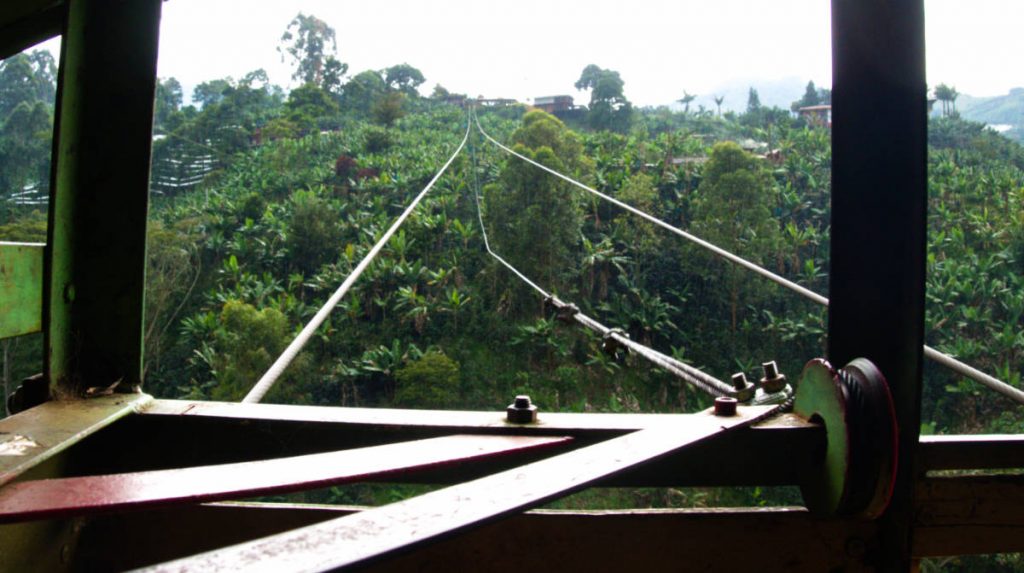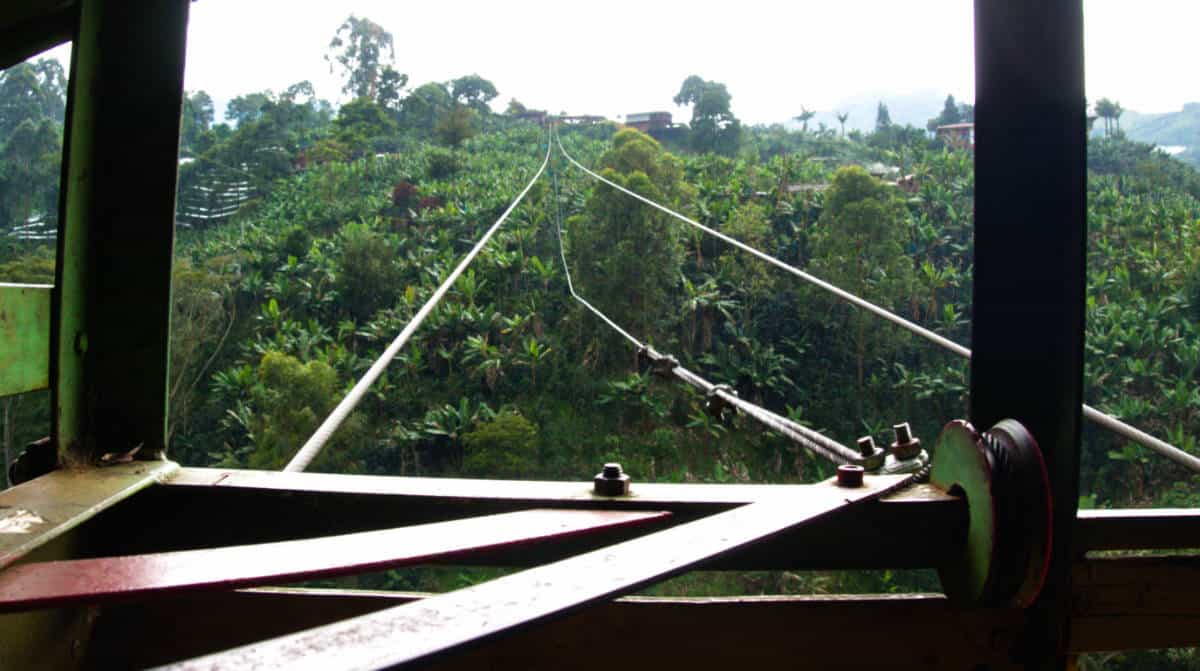 The cable car was built by Jardin resident, Alejandro Velez, in 1995 as a way to get from his house to town more quickly. It became a convenient mode of transportation for those in the area, thus it was opened up to residents and tourists. There is a small cafe at the top where you can order coffee, beer, and snacks. I recommend riding the car up and if you feel like it taking the short walk down to town.
Cost: 8,000 pesos roundtrip Hours: Mon – Fri 9:30-12:30 and 1:30-6:00, Sat and Sun 9:30-7:00
Dulces del Jardín
If you like sweets, you are in luck! This family run sweet shop and cafe has been serving Jardin for over 20 years. They have a cafe on site with a few snacks, sweets, and of course coffee. It's a great place to buy some gifts from the wall of various arequipes (Colombia's name for dulce de leche), natural honey, cookies, candies and jams made from fresh local fruits. In fact, you are encouraged to try before you buy.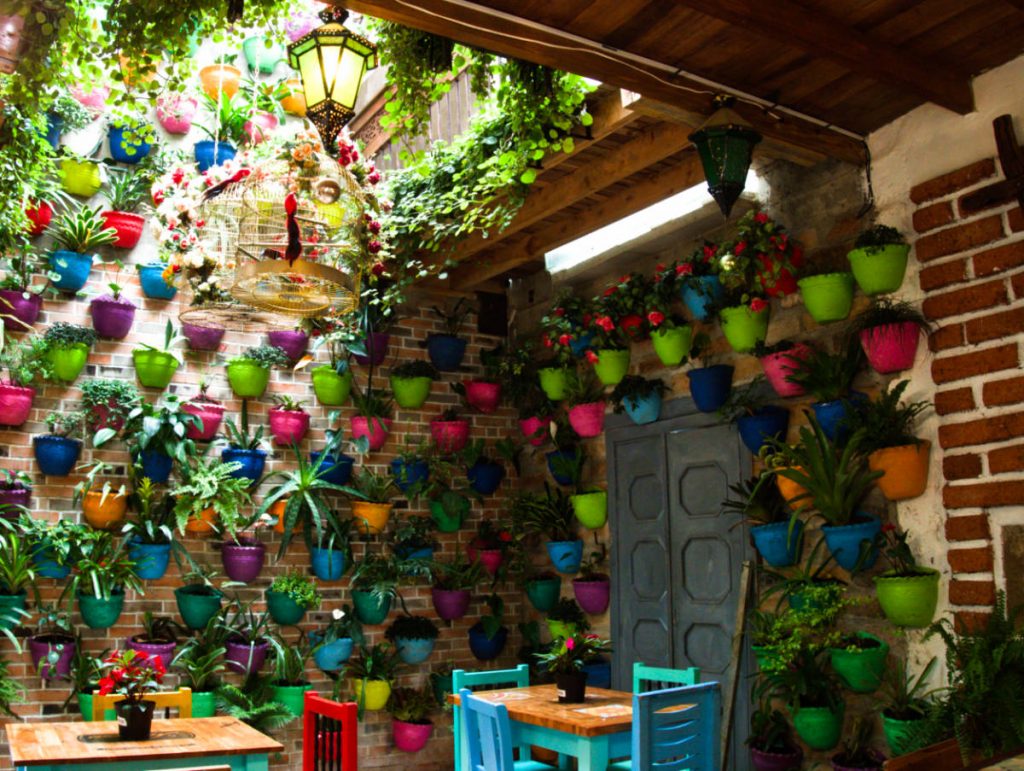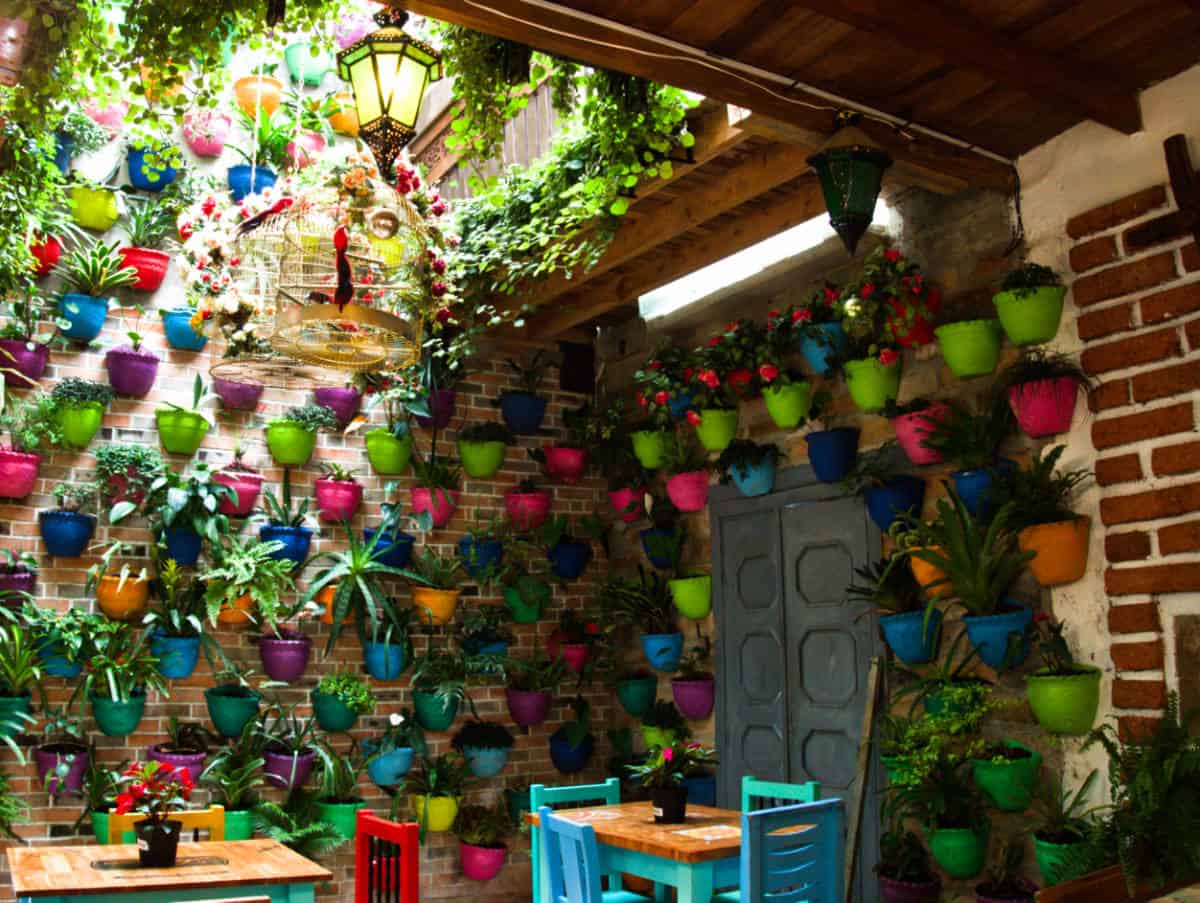 Cascada del Amor
From Dulces de Jardin, find the path labeled Camino de la Herrera (Calle 13 y Carrera 6) which takes you through a cobblestone path and towards Cascada del Amor, or Waterfall of Love. It's an easy walk, which is good since the waterfall is a simple yet beautiful stream flowing down the rockface. Continue past the waterfall and over the bridge to the swimming holes, Charcos Corazón.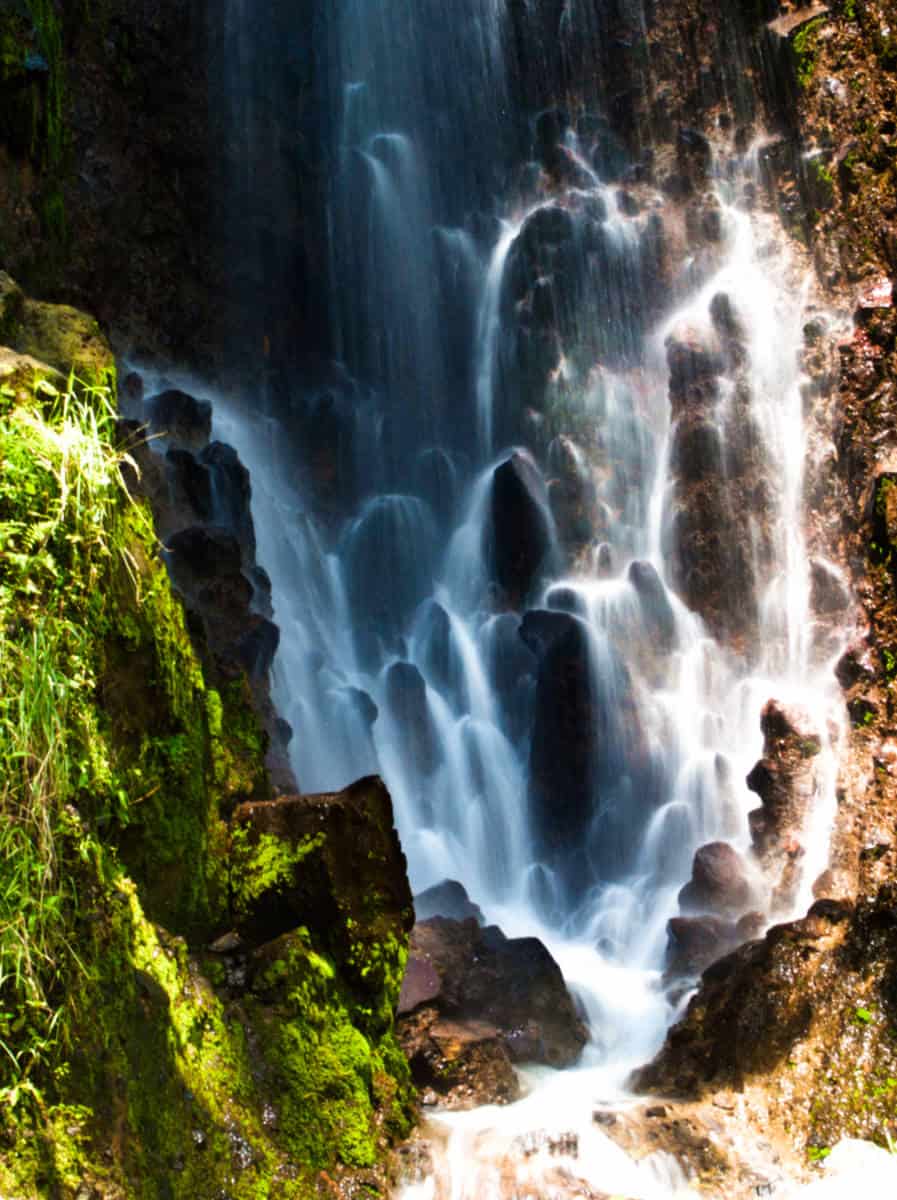 Past the bridge to the right is the main swimming area and Charco Corazón Restaurante. On my visit, these pools were churned up with sediment so I followed others back to the left side of the bridge where the water was much more clear for swimming. The landscape of this area is also more interesting as pools tier from one to another with several areas to rest along the side of the river.
Go Paragliding in Jardin
If you've been wanting to try paragliding, Colombia is a fantastic place to get off the ground! And paragliding over the Andes mountains surrounding Jardin proves to be a great warm-up to Chicamocha Canyon near San Gil, another place you should definitely plan to go paragliding.
In Jardin, I chose La Tienda de Parapente because of their great online reviews. They did not disappoint. The guides were experienced and the entire operation was professional. After meeting at their shop, four of us plus two guides rode in a jeep to the top of the mountain. After setting up the equipment, we took off for the skies in groups of two, each gliding for over 20 minutes (air time varies based on the weather).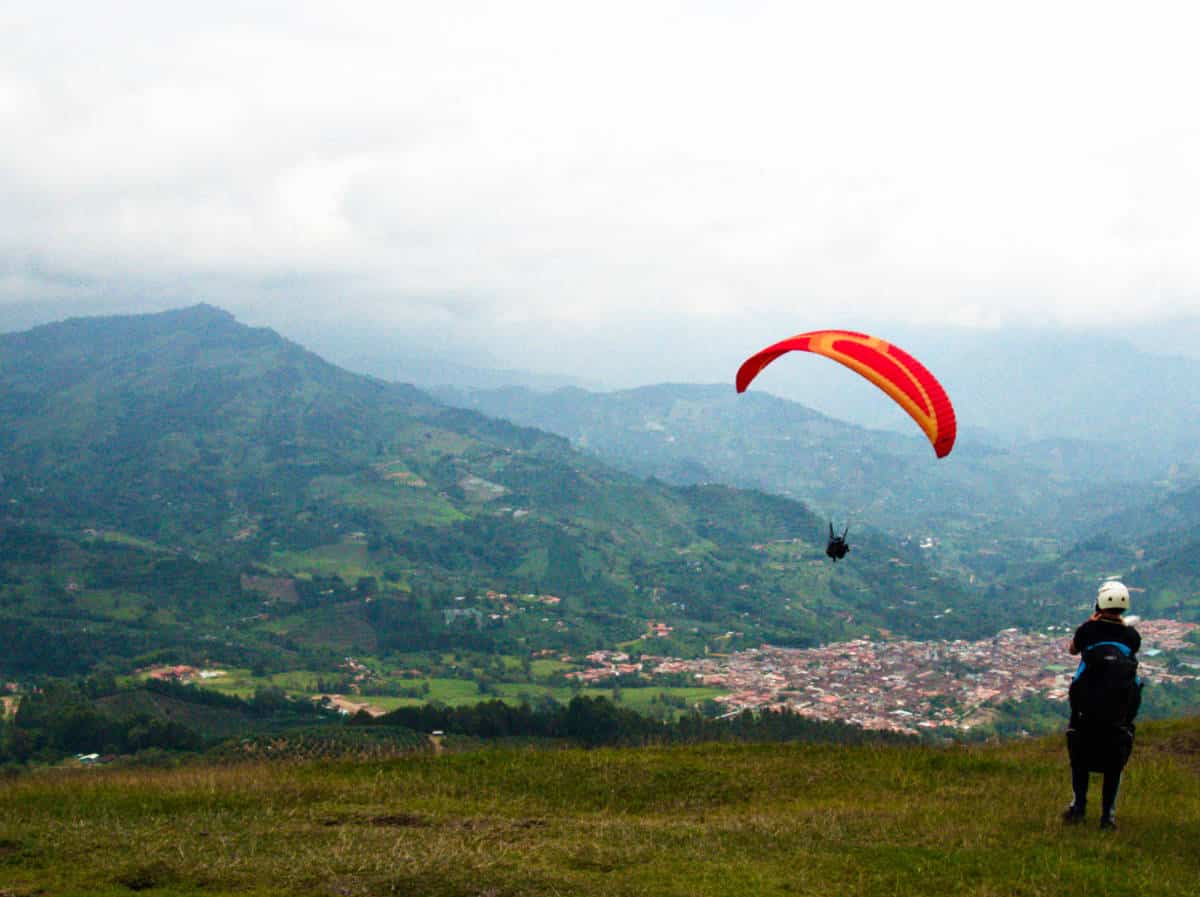 I was lucky to be in the second group since we descended into the town of Jardin (the first group returned by Jeep). As we lowered into town, views turned from hidden jungle waterfalls to the colorful houses, main square, and church of Jardin that I admired throughout the week. As we got closer, my guide checked in and determined I was ready for a few tricks.
He tested playing with the thermals, sending us into light spins and as I approved, he continued. Throughout the flight, I could tell he loves his job and takes the care of each client into his hands. It's an experience I highly recommend, even if it means cooking at home an extra night to keep things within budget.
Time: 2-3 hours total, starting with paperwork at the office.
Cost: 110,000 pesos or 130,000 pesos for the use of their GoPro (bring a usb to transfer)
Note: I've since seen many people bring their own camera. For my first go-round, I didn't want to worry about anything so I paid the extra money to rent a camera. Luckily in Jardin, the guide let me hold it myself so I could shoot the scenery and not just selfie mode.
This article may contain affiliate links. This means if you click a link on our blog and make a purchase, we earn a commission at no additional cost to you. For full information, see our disclaimer here.
Places to Stay in Jardin
The popularity of Jardin has exploded in the past few years and so have the accommodations. Colorful Antioquian homes have been turned into hotels and hostels conveniently located near the main square. Or you can opt to stay in a relaxing rural home with breathtaking views overlooking Jardin.
If you're looking for peace and quiet but still want to stay in town, avoid a hotel or hostel directly on the main square. While the balcony overlooking the square is enjoyable during the day, it can become noisy at night and especially during the weekends.
TIP: Like most popular places in Colombia, try to avoid visiting during the weekend when the town is more crowded and prices for accommodations double.
Hostels in Jardin
Sergeant Pepper's Hostel
This is a traditional house turned affordable hostel in the heart of town. Shared and private rooms are upstairs with a balcony overlooking the central courtyard. Breakfast is included and the staff makes you feel welcome with proper guidance about what to do in Jardin. Great location for solo travelers.
Ayahuasca Casa Artística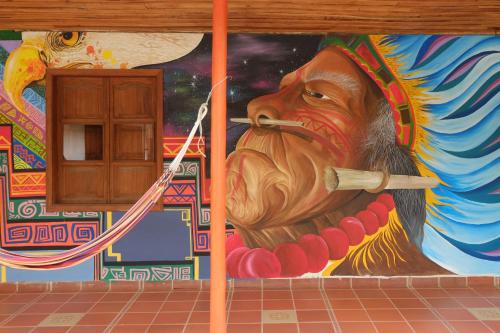 This Jardin hostel is a great place to stay if you're looking for a community feel with beautiful mountain views. Located about one mile outside of town, towards Andes, there are large balconies with hammocks and incredible artwork adorning the walls. Activities include free salsa lessons, movie nights, and campfires.
Hotels in Jardin
Casa Passiflora Hotel Boutique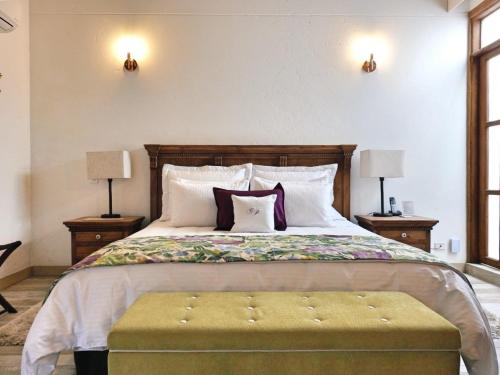 If you're looking for a luxury hotel in Jardin, this is the place. The traditional building boasts spacious rooms with queen beds and air conditioner. This boutique hotel in Jardin also features relaxing outdoor spaces and a garden hot tub.
La Casa Amarilla
This traditional house with bright yellow balconies is light and airy. But it's the host, Maria Victoria, that will make your stay memorable. She promises to be more than your host, but also a friend and guide to Jardin. With an excellent location and shared kitchen, this is a great budget option for couples and families.
Rural Homes in Jardin
La Tángara Hostal Rural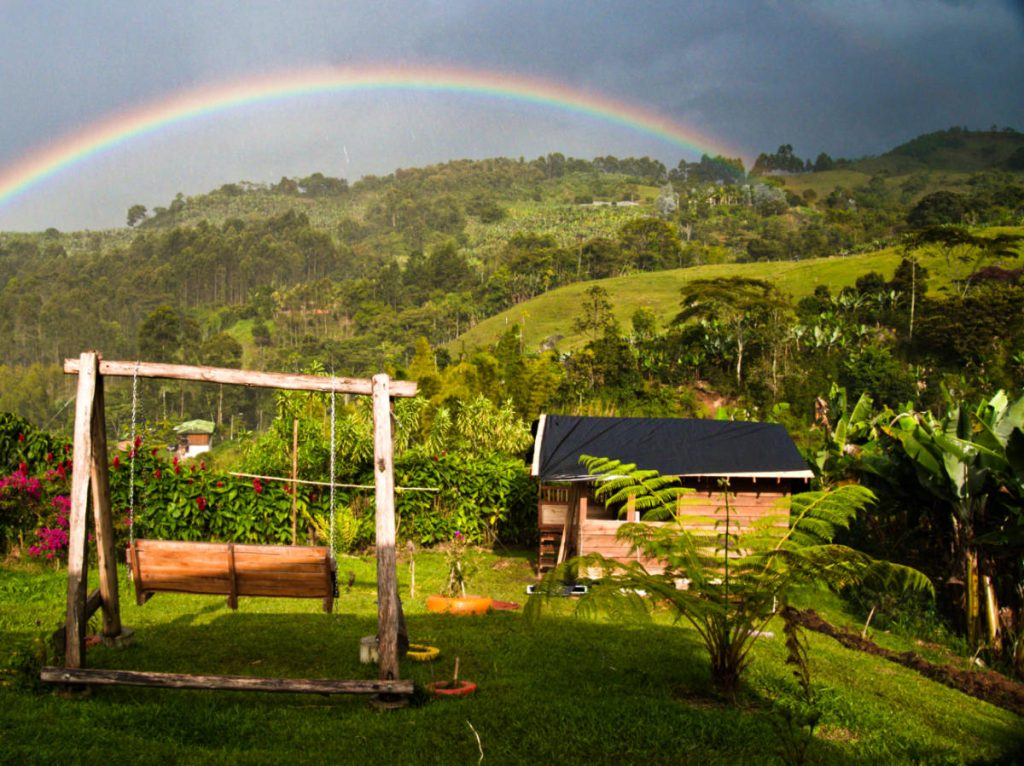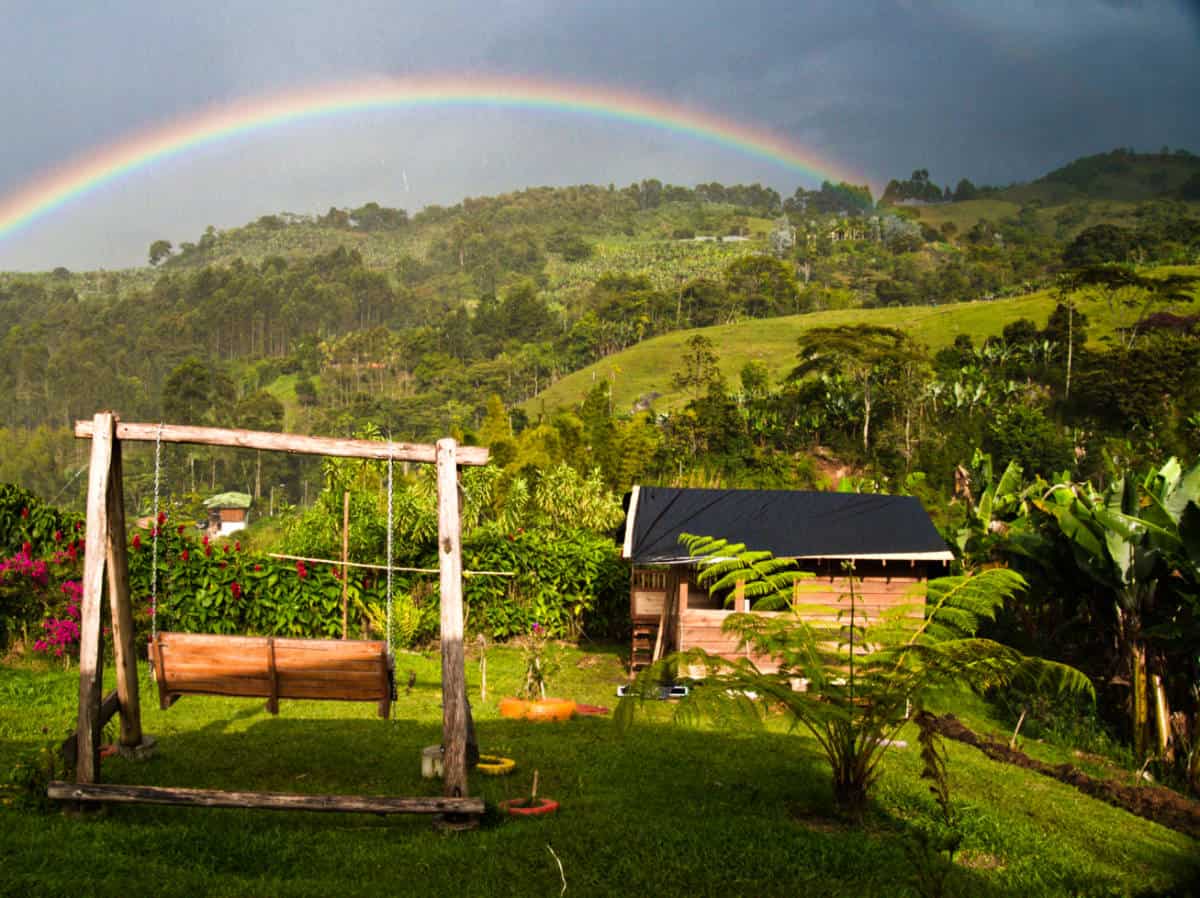 Staying at La Tangara feels like staying with a good friend at their country house. Owner Nathalia, who speaks perfect English, gives her guests great ideas for nearby hikes and things to do in Jardin. Her space is quiet and peaceful, with both private rooms and a shared room. Breakfast is included and the kitchen is free to use.
Note: This property is a little over one mile from town, which turns into a 40 minute uphill walk to return. It's possible to hire a tuk tuk for about 15,000 pesos.
Cabañas Filo de Oro
These beautiful independent cabins are a little closer to town and offer a more private feel. Named after the mountain in which they are located, the cabanas include a hammock on the balcony with breathtaking views of Jardin and the surroundings. This is the place to be if you want to relax in your own rural apartment with a private kitchen.
Restaurants in Jardin
Like places to stay, the restaurant options in Jardin have expanded as well. There are a few traditional places to eat such as Restaurante Gloria, which was always packed with locals. But there's also an opportunity in Jardin to take a break from traditional Colombian food. I thoroughly enjoyed an incredibly flavorful vegetarian lunch at Destino Silvestre. I also recommend the delicious, thin pizzas at Café Europa, the pressed sandwiches at Cafe Habana, or Las Brazzas – a reasonably priced restaurant specializing in flavorful meat.
Medellin to Jardin by Bus
Leaving Terminal del Sur, buses regularly travel from Medellin to Jardin beginning around 5 am until 6 or 7 pm. Between 8:30 and 3, the buses are more frequent (leaving every couple of hours). It will take three to four hours depending on the stops along the way. The bus station in Jardin is located in the center of town, making it easy to walk to most accommodations. There are also tuk tuks for hire.
If you are headed back to Medellin, you'll find regular bus schedules for return. However, if you are going to another small town from Jardin, such as Salento or Jerico, I recommend checking the bus schedule ahead of time. You may even need to buy a ticket one or two days in advance.
Enjoyed this Post about Jardin, Colombia? Pin It!