Mexican Cantina Guide to Cozumel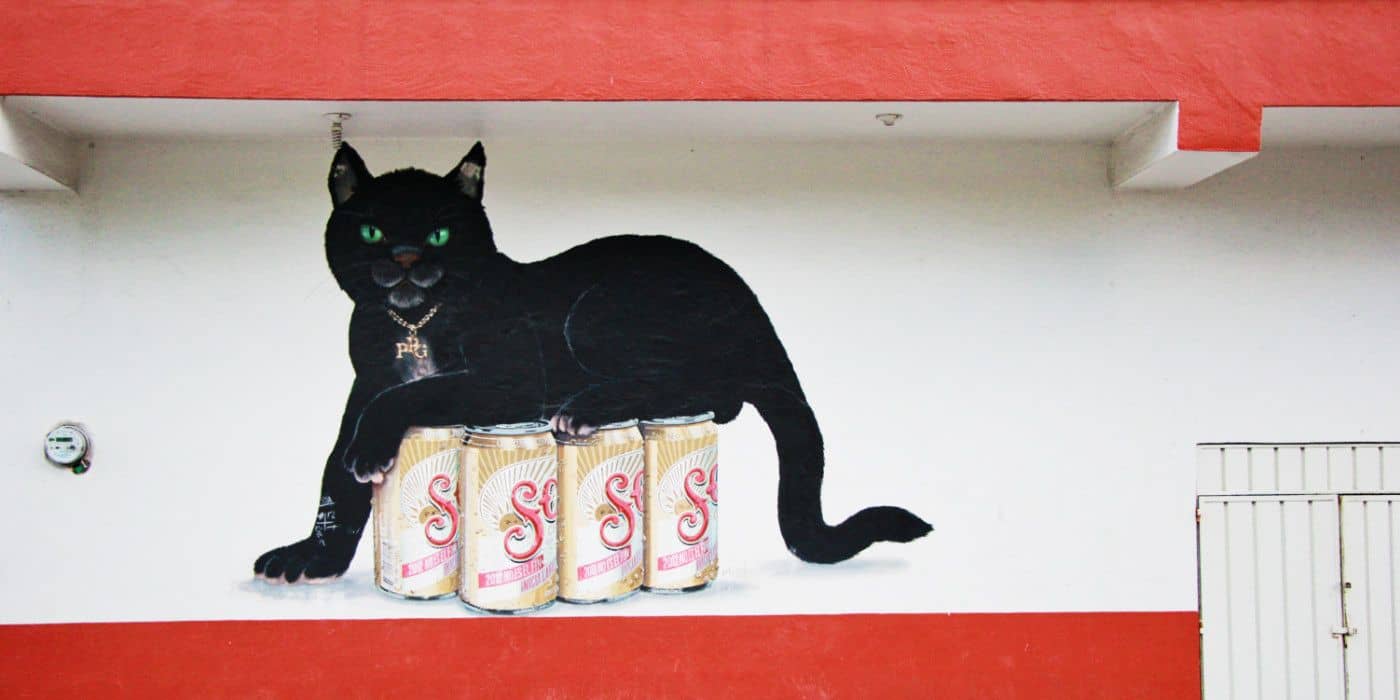 A trip to Mexico is not complete without spending an afternoon in a traditional Mexican cantina. It's a budget-friendly way to enjoy a few beers and snacks with friends while traveling in Mexico.
What is a Cantina?
A typical cantina is a neighborhood bar with a handful of beer options and a small selection of liquors. The best part is the FREE botanas (snacks) that improve with each round of drinks. The cervezas are sold at a low price (25-30 pesos), which leaves us scratching our heads as to how the bar makes money.
There is an increasing number of bars now calling themselves a cantina. If there is a proper menu and a fancy drink list, it is not a true cantina. The tables and chairs should be plastic and embossed with a cheap Mexican beer logo, such as Tecate, Sol or Superior. Order a bucket of beer for the table and let the botanas flow.

History of the Mexican Cantina
The cantina culture began in the mid-1800's as a place for men to gather away from the home, drink a cold beer, and play dice or dominos. It was once taboo for women and children to patronize these bars, and that's made evident by the state of most cantina bathrooms. But many have loosened their rules and it's now common to see groups of women gathered around a table gossiping and laughing.
Look around when you first enter. You'll be able to feel and see if women are welcome. Even in the more traditional cantinas, there is typically a section, "familiar", where woman and children are welcome in a separate, more tranquil area.
Some Mexican cantinas can be rowdy, but most offer a fun atmosphere to enjoy music and a few libations. Our best advice for determining if an establishment is too seedy is to look for borrachos (drunks) hanging around outside the door. Reputable cantinas will send overserved patrons home to sleep it off.
How do I find a Mexican cantina near me?
Finding a cantina in your neighborhood is not difficult. Many have a Facebook page and are listed on Google maps. Or if you follow loud music, there's a good chance you'll come across a neighborhood bar and a group inside with a penchant for a fun afternoon. Most cantinas are open from 1-7, but some stay open into the night, especially in larger cities.
Cantinas are everywhere in Mexico, especially the Yucatan peninsula. Small towns will have one or two, while larger cities, such as Merida will have enough to do a cantina tour with friends. One of our favorite places to craft our own cantina tour is in Cozumel (see below). If you find yourself with a quiet afternoon, get out to a Mexican cantina and enjoy the fiesta.
A guide to cantinas in Cozumel Mexico
We find the cantinas in Cozumel have the best botanas accompanied by a friendly island vibe. Nearly all Cozumel cantinas serve small plates of conch ceviche and it's guaranteed to be among the first round of botanas. Other typical dishes are local cucumber with tajin, stewed local squash, beets, a Yucatecan dish of pureed pumpkin seeds called Sikil P'aak, meat dishes and of course, tortilla chips.
One of our favorite cantinas in Cozumel and a good place to begin your cantina tour. Most afternoons you will find long tables full of divemasters and visiting divers sharing stories. This cantina is famous for serving whole fried fish with your second round of drinks. It's not a huge fish, but where else have you ever heard of such a generous complimentary bar snack?
Location: Calle 6 North between Avenida 20 and 25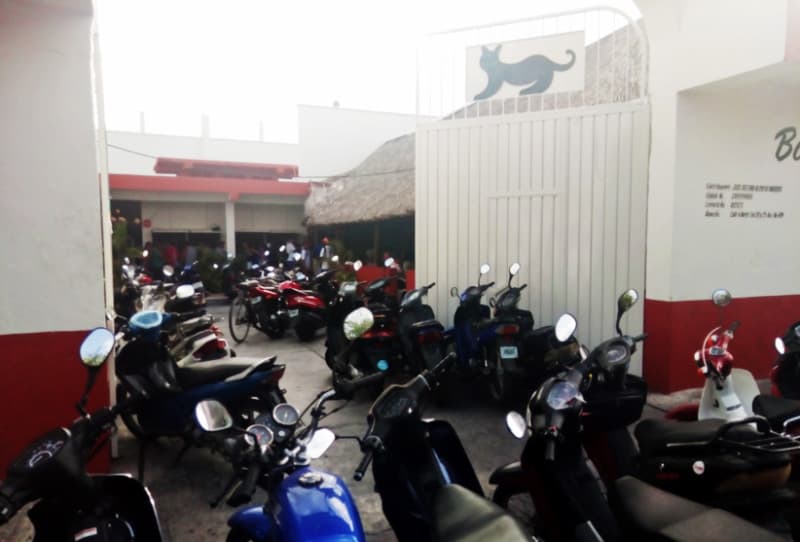 This is the most charming cantinas in Cozumel. Located in a bright yellow house with red trim, the details inside this Cozumel cantina make you feel like your in a colonial Yucatan town like Valladolid. It is not a traditional cantina in that they have a food menu and serve Mexican craft beer. But they also serve complimentary botanas, which is our main criteria for determining if a bar is a true cantina. The sophistication, the charm, the pasta tiles (Ooooohhh!)
Location: Corner of Avenida 10 North and Calle 6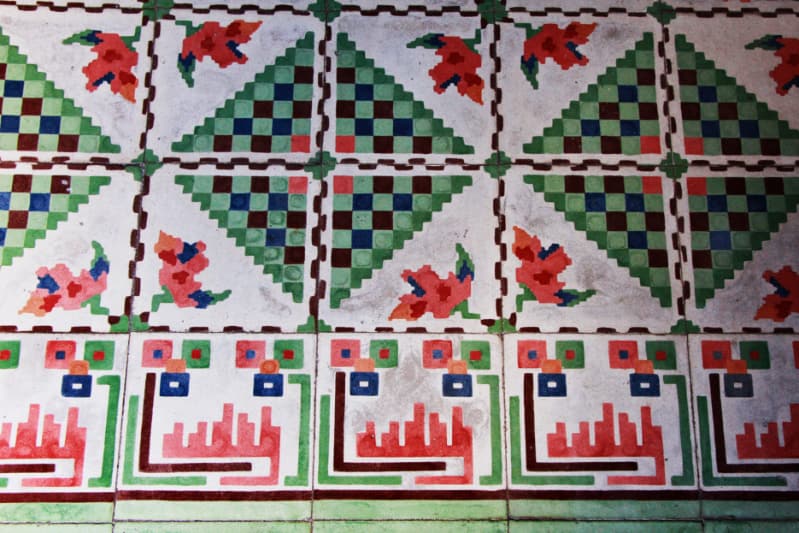 A sports themed cantina with several TVs to watch your preferred game. The service here is on point. We've frequented this bar for several World Cup matches and even when it's busy they take care of everyone. There is a food menu in addition to the complimentary botanas. They also serve delicious licuados (fruit blended with water) – the coconut looked amazing but we stuck to beer for the soccer match.
Location: Corner of Avenida 50 North and Avenida Benito Juarez
This is one of the smaller cantinas in Cozumel. It's dark and lively, just like a traditional Mexican cantina should be. The botanas are good and plentiful. Expect to be served enchiladas, chicharrones, and of course, ceviche.
Location: Avenida 65 between Calles 3 and Morelos
La Revancha – The Rematch
This is also a smaller cantina, but with large windows that open to the street. The amount of botanas they bring is insane – ribs, stewed chicken, and the other usual fare. Last time we visited we were entertained by a mariachi band hired for a birthday celebration and the Oaxacan cheese vendor popped in looking for customers. We always meet new friends and have a great time at this cantina.
Location: Corner of Avenida 65 and Calle 23 South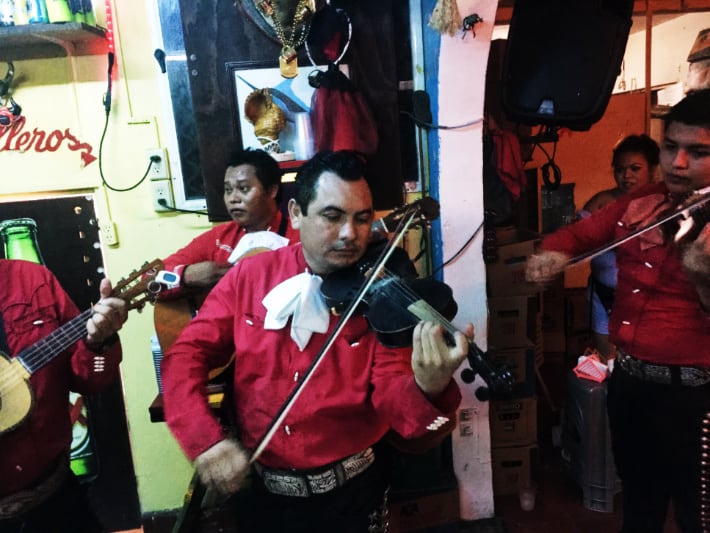 Live music is often playing at this Mexican cantina. I've also heard there is a taxi driver with a great singing voice that occasionally stops by to sing a few songs after his shift. The open-air atmosphere fits the name, with buoys and other boat gear hanging from the ceiling in true island style. This Cozumel cantina also has a small food menu if you want to order more than the free botanas served with your drinks.
Location: Calle 3 South between Avenida 15 and 20
Bar Flamboyanes
A centrally located Cozumel cantina named after the tropical tree with bright, flame-like flowers. This was our first Mexican cantina experience and while we've spent a few fun afternoons here, I hesitate to recommend this cantina to women. There is often live music and scantily clad women dancing on stage. While I have occasionally seen women here, it's clear that this Cozumel cantina is more for men.
Location: Corner of Avenida 25 and Avenida Benito Juarez
Los Mangales
This Mexican cantina is affectionately called Mangalitos since Mexicans love adding "ito" to just about everything. Our first introduction to this cantina was on Thanksgiving Day and we later learned it is a favorite among locals. In a shaded outdoor atmosphere, they serve what many think is the best conch ceviche. During our first visit, our friend took us to Pescaderia San Carlos and bought a whole fish on the way. He then asked the cantina to fry it up for us. It was delicious.
Location: Avenida 75 between Juarez and Calle 1 South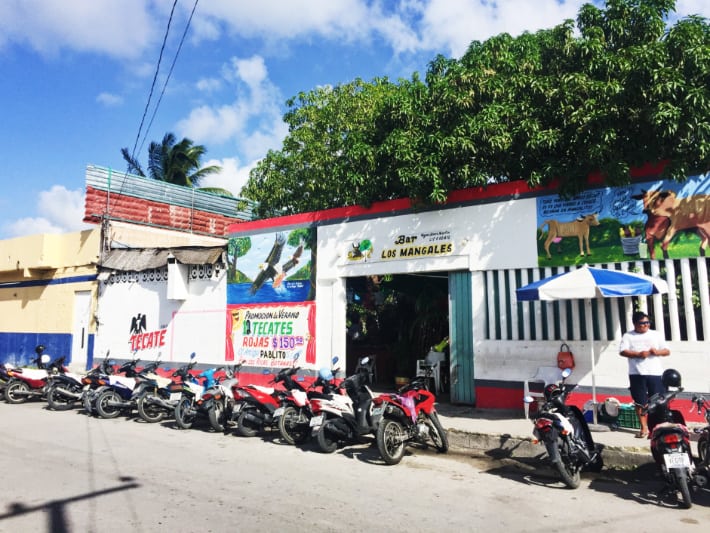 mHave you spent the afternoon in a cantina during your travels to Mexico? Tell us about your favorite Mexican cantina in the comments!