Villa de Leyva: More Than a Weekend From Bogota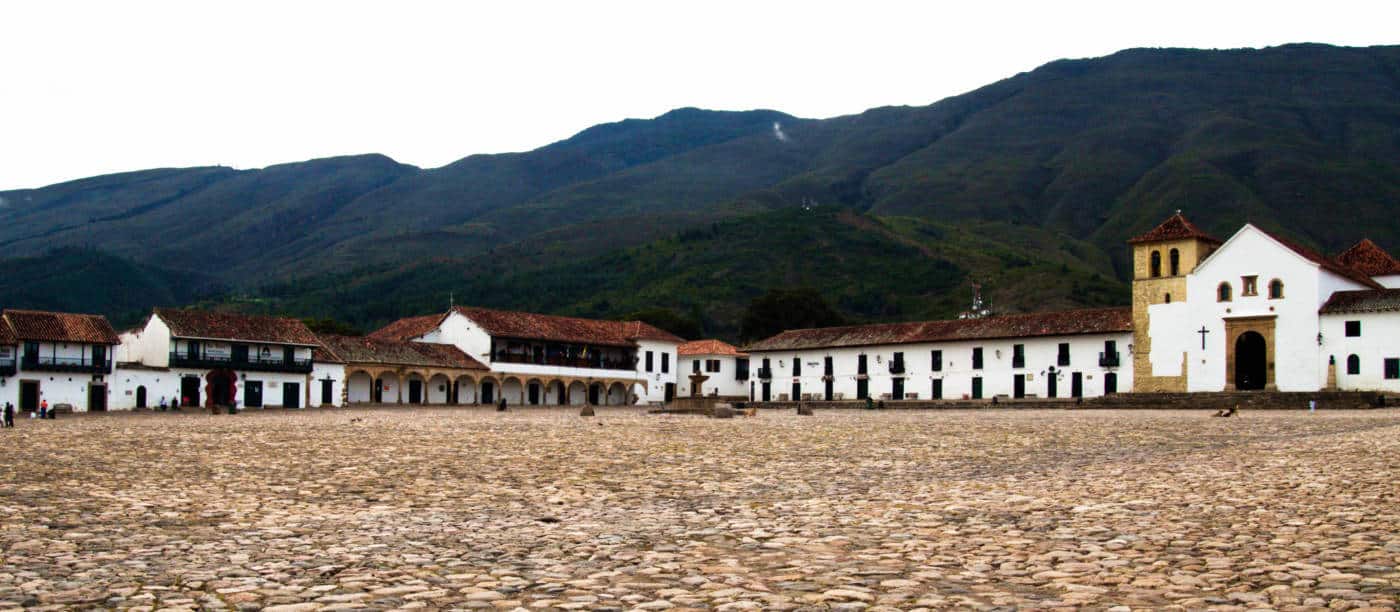 Away from the trade routes and major highways, Villa de Leyva has remained nearly untouched for hundreds of years. With the main streets and central plaza still paved in cobblestones, it's one of the only towns in Colombia that has preserved its colonial style as a whole. Even the culture of day to day life in Villa de Leyva feels very European.
But the preserved history in Villa de Leyva, Colombia dates back to well before colonial times. In fact, the area is known for being rich in fossils from the Cretaceous period when it was covered by a shallow sea. And the historical significance of the Muisca people who inhabited the area for centuries before the Spanish arrived is very much evident in the astronomical traditions of the surrounding area.
A Week(end) in Villa de Leyva
The fabulous thing about spending time in Villa de Leyva is that all of this history is accessible in various forms and you can choose exactly what to do. You could spend an entire weekend in the center of town, enjoying the various restaurants, cafes, museums, and historic houses. Or venture outside of town for the many hikes and other attractions along the way.
In this complete guide, I detail it all including what to do in Villa de Leyva, where to stay, and where to eat. You know, all the important things in life. Continue reading to plan your perfect stay.
Did you know? Villa de Leyva was once a major producer of olive oil. My curiosity peaked when I saw a sign for pure extra virgin olive oil produced since 1916. When I spoke with the producer, he explained it is made completely by hand, using wooden tools instead of a machine. The house, which was his grandfather's, still contains some of the original tools. He plans to turn it into a museum one day.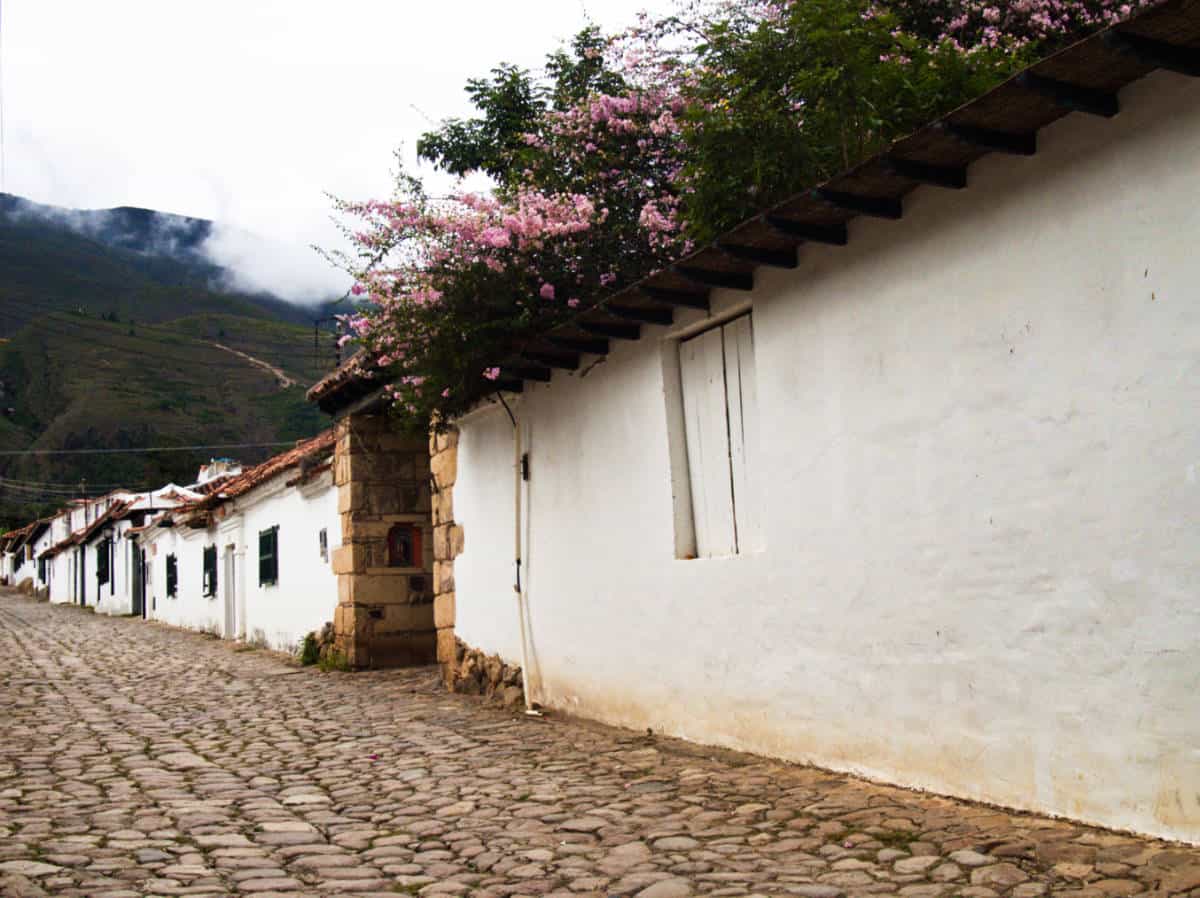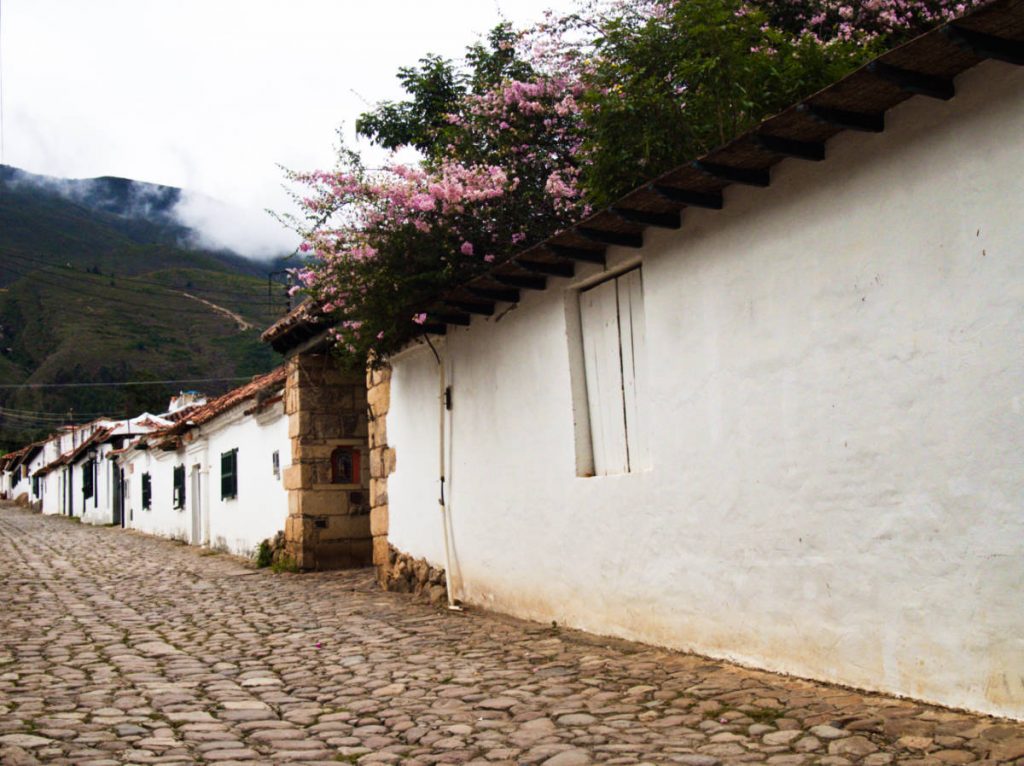 This article may contain affiliate links. This means if you click a link on our blog and make a purchase, we earn a commission at no additional cost to you. For full information, see our disclaimer here.
Where to stay in Villa de Leyva
As one of Colombia's top tourist destinations, there are many options for places to stay in Villa de Leyva that range from backpacker hostels to luxurious accommodations. That being said, you'll want to secure a place ahead of time if you plan to travel during the weekend and especially during a holiday. If you can, avoid the weekends when accommodations often sell out and prices double.
Hostels in Villa de Leyva
Several hostels in Villa de Leyva collaborate to create social events and help bridge connections among travelers. It helps to maximize the people you meet. Because we all know the feeling when you arrive at a hostel hoping to meet people but you feel like the only one there. Even if you can't participate in the events, there is a group WhatsApp text that guests use to connect with others.
Breakfast is often not included at the hostels in Villa de Leyva, which makes the price a bit more expensive than is typical. I also found the food in Villa de Leyva to be some of the most expensive in Colombia. Eating breakfast outside of the hostel was not economical other than the baked empanadas I found at Panaderia Empanadas Horneadas (see Restaurants in Villa de Leyva).
Hostel Xué
Fabulous artistic touches and cozy community spaces make Hostel Xué feel like a boutique hotel. It's located just outside of the historic center and a short walk from the bus station. With a map presented upon arrival and several books detailing the things to do in Villa de Leyva, it's clear they are passionate about helping travelers explore the area.
Check prices and availability on Booking.com or Agoda.com
Hotels in Villa de Leyva
I found a great budget-friendly private room in Villa de Leyva when I discovered Hospedaje Villa Monica. But upon further research, there is another option further from the center but with a small private balcony. Both options offer an incredible price for a double room with a shared or private bathroom, especially if you book during the week.
Hospedaje Villa Monica
Located in the heart of Villa de Leyva, this small hotel has comfortable beds in spacious double rooms. The private bathroom was modern and clean with the best hot shower in my entire travels through Colombia. Breakfast is served on a small table in the hallway at your desired time. Otherwise, the small kitchen is free to use at night. The only odd thing was that the only window in the room opened up to the hallway. There was a fan in the room so air circulation was not an issue.
Hostal Everest
This isn't really a hostel, but more of an inn located on the edge of town just a short walk to the center. At a rate of $12 for a couple to rent a double room (shared bath) during the week, you won't likely find a better deal for a private room in Villa de Leyva. The rooms are spacious, located in a shared house with a small kitchen available to use. Some rooms include a small private balcony.
Tip: If you're looking for an amazing day trip from Bogota, you should definitely add the salt cathedral in Zipaquira to your list. It's about one hour north of the city – perfect for a single day excursion.
Things to do in Villa de Leyva
There are many things to do in Villa de Leyva. In fact, I spent 10 days as a bit of a rest in my travels, and I still didn't get a chance to experience everything. The surrounding towns are closely connected by bus and it's possible to link some of these activities together for a full day of exploration as you'll likely be passing by one activity on the way to another.
Villa de Leyva is located in a high altitude valley with semi-desert terrain. It becomes quite visible when you get outside of the town and can see the landscape somewhat dramatically shift from green mountains to desert brown.
I've created a list of eleven different things to do in Villa de Leyva, some of which are broken down even further. I think you'll find a nice mix of traditional and unusual, most of which you can do on your own.
Casa Terracota
The Clay House is the largest piece of pottery in the world. All 5,400 square feet are made of clay that was strengthened by conducting fires room by room. As you approach Casa Terracota, the various shapes and textures catch your attention, drawing you towards this oddity. But the artistic details inside the home are equally if not more intriguing. It's definitely a must do in Villa de Leyva and even better if you learn a little about the history of its creation before you go!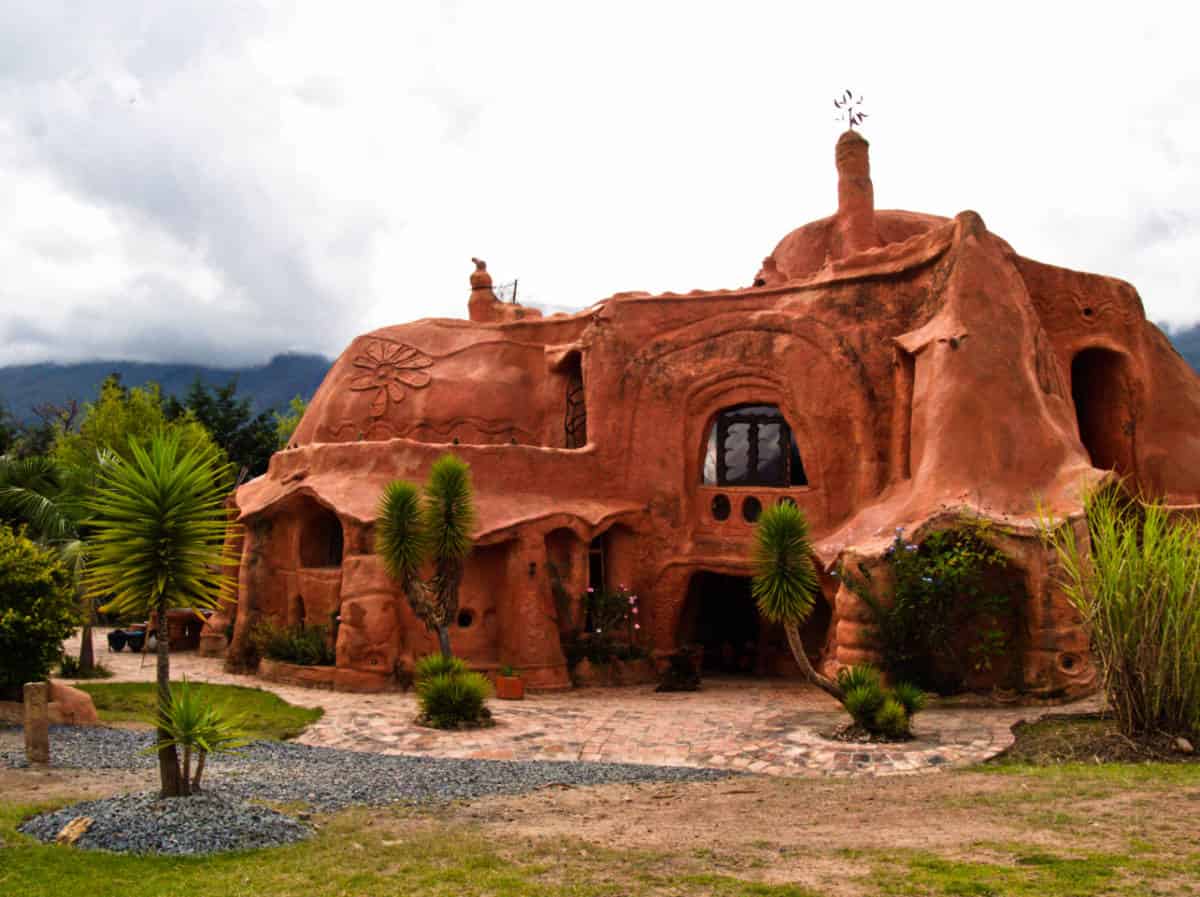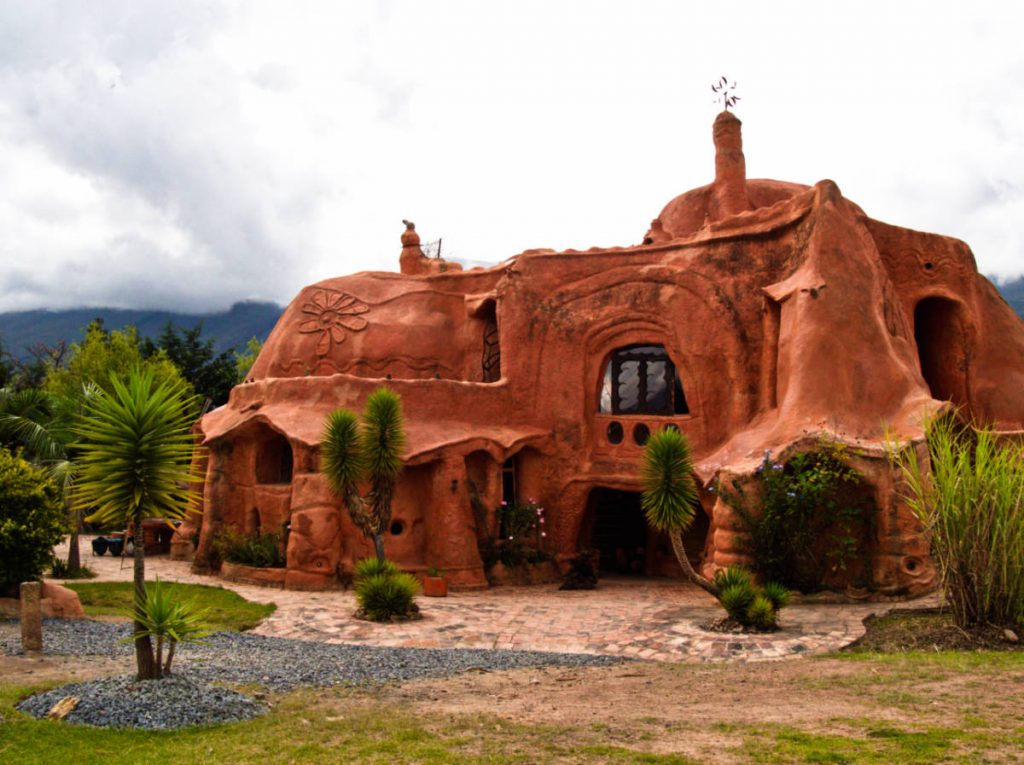 To get there, it's an easy 20 minute walk from the edge of town towards Santa Sofia. Or you can take a bus from the station in Villa de Leyva. Look for Casa Terracota listed as one of the stops in the bus window.
Hours: Everyday 8:30 am – 5:30 pm
Cost: 15,000 pesos
Learn about the Muisca People
As an advanced society with a great understanding of astronomy and a wealth of gold, the Muisca were one of the most important prehispanic societies. Their knowledge and respect of the sun, moon, planets, and stars is evident throughout their culture, from the gods they worshipped to the east-west orientation of their houses and temples.
Just outside of Villa de Leyva is the archaeological site, El Infiernito, and a Muisca interpretive center where you can learn more about their culture. To get there by public transport, take the bus towards Santa Sofia and get off at Hotel Aire Libre. From there it's a 15 minute walk on a mostly flat dirt road with beautiful views of the valley.
Solar Observatory – El Infiernito
Over 100 upright standing stone columns have been excavated at this site as well as a burial ground. These large stone pieces of pink sandstone rise straight up from the ground with a ring carved towards the top.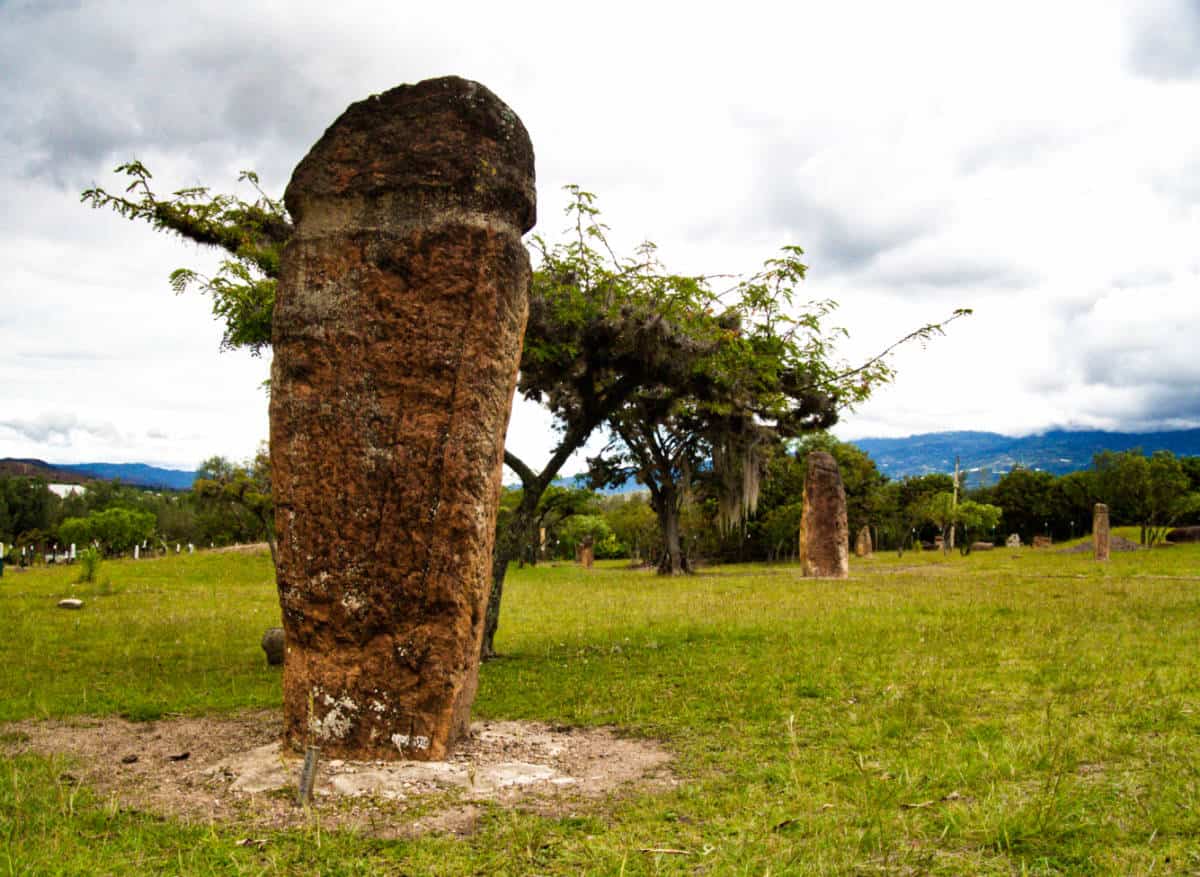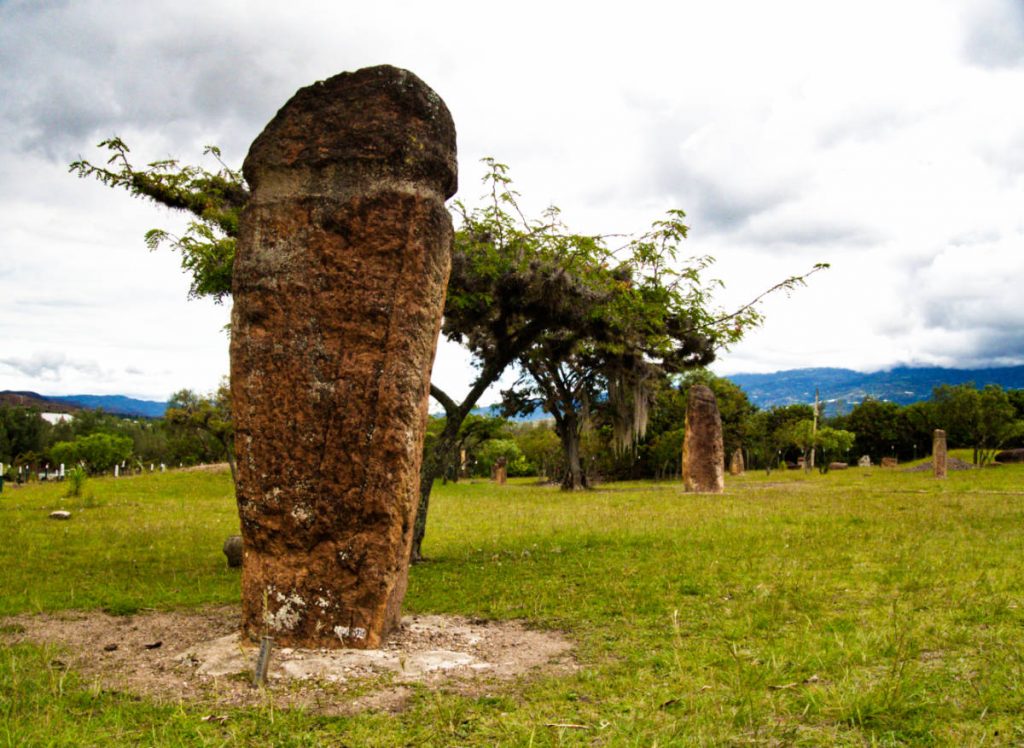 Arranged in an east-west orientation, these monoliths were used to track the solstices and equinoxes, which indicated the change of seasons for planting and harvesting crops. During the solstices, the shadows of the stones line up with the sacred Lake Iguaque, where according to the Muisca religion, the mother goddess Bachué was born. This site is also where the Muisca gathered and exchanged goods with other pre-Columbian societies.
When the Spanish arrived in the 16th century they named the site El Infiernito (Spanish for Little Hell) and destroyed it. Over the years it was plundered until official restoration began in 1981 and it was later deemed an archaeological park.
Cost: 8,000 pesos for adults; 6,000 for seniors, students, and children 2 to 5 years
Hours: Tues-Sun 9 am – 12 pm and 2 pm – 5 pm. Also open on holiday Mondays.
Sol Muisca
I strongly recommend first visiting Sol Musica across the street from El Infiernito to learn more about the Muisca people, how they lived, and the famous Legend of El Dorado. I arranged a tour the night before and met Natalia, the creator of Sol Muisca, for a tour in English at 10 am. Her knowledge and passion for this part of Colombian history is infectious.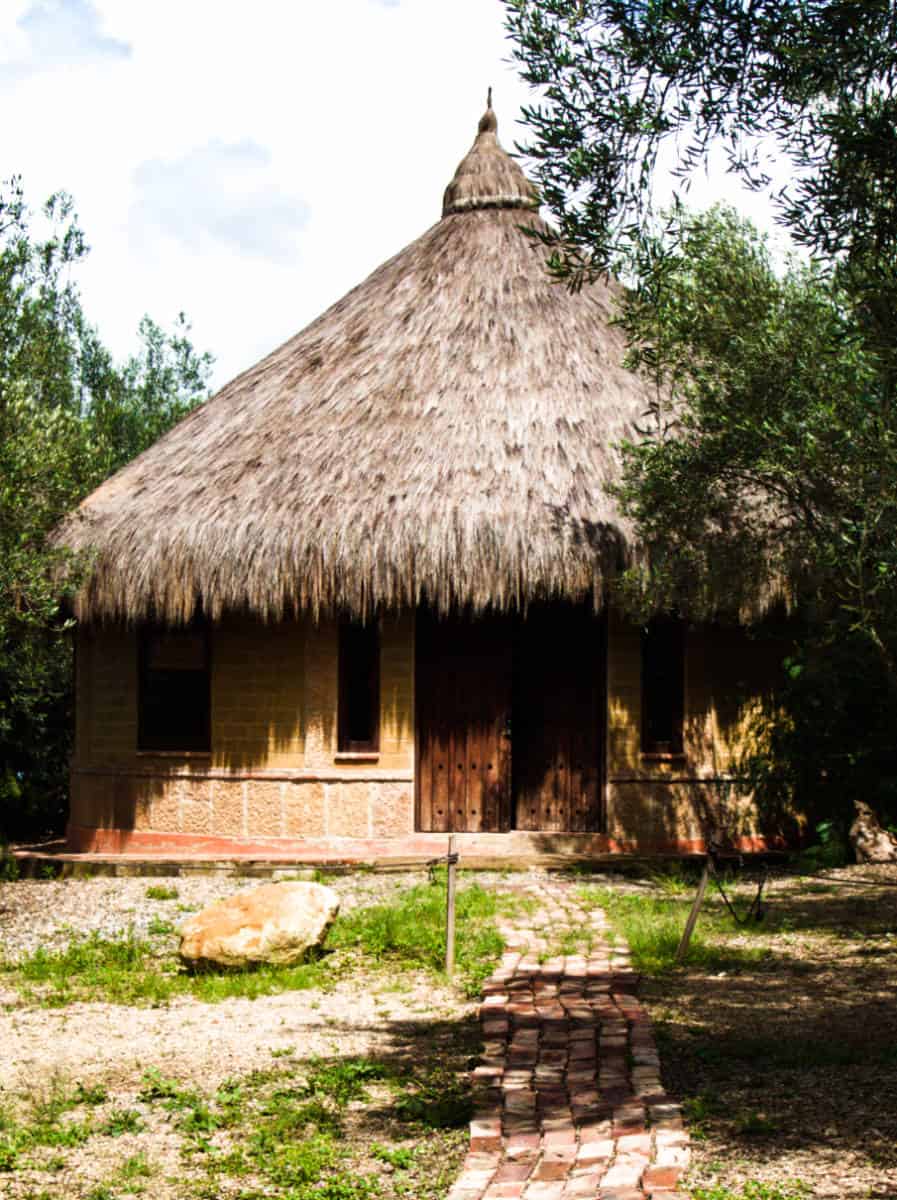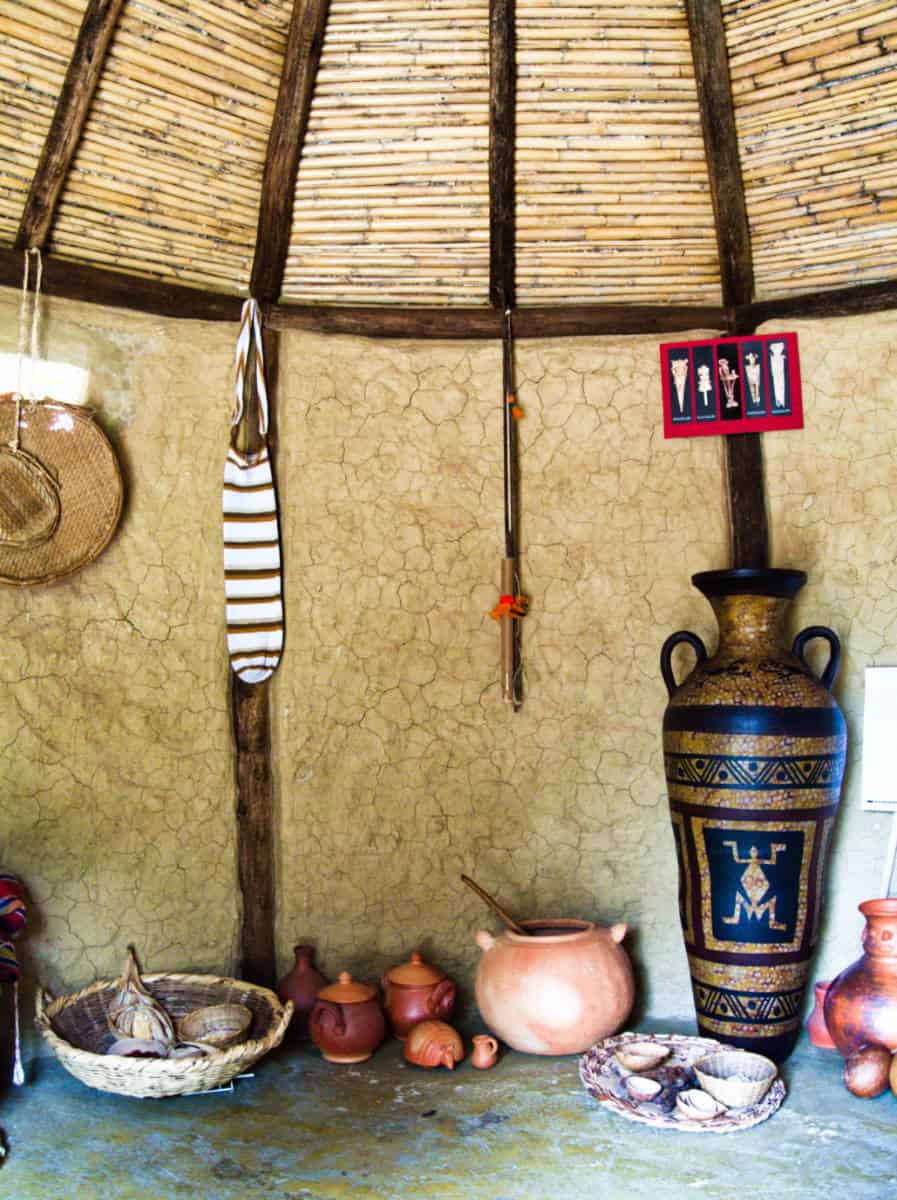 The interpretive center is compact but informative with lots of information in both Spanish and English. It's evident that their intentions are to act as an accompaniment to the archeological site by bringing a better understanding of the Muisca culture. I learned a lot about the Muisca and it felt great to support their cause.
Cost: 10,000 pesos for a tour and explanation of the Muisca people.
Contact: +57 313-291-7448
Note: The midday siesta hours of El Infiernito made timing a little tight for a 10 am tour of Sol Muisca with enough time to still see the site after. It left about 30 minutes for El Infiernito which was enough for me but could feel rushed if you're really into the site itself or taking in the beautiful valley scenery.
Drink Chicha – a fermented corn beverage
When Natalia of Sol Muisca told me about the Muisca people drinking chicha, I immediately wondered where I could taste it. When asked, her eyes got wide and excitement spread across her face. She described a small white building with green trim near Parque Antonio Narino. When she mentioned there is a for sale sign out front, I immediately remembered the building.
Look for the building located on Calle 11, near the intersection with Carrera 8a. You'll often see someone sitting in the chair out front, perhaps with a dog, and watching life go by. Look for the handmade sign (also dark green) that lists several specialties such as almojabanas.
When I went inside, I was informed the chicha batch wasn't ready yet and to come back on Tuesday. When I did, it still wasn't ready so I never got the opportunity to taste chicha in Villa de Leyva. If you find yourself out of luck as I did, there are other opportunities to try chicha in Colombia, such as during the free walking tour in Bogota.
However, nothing beats finding a small batch production in one of the small towns of Boyacá. At the square in Monguí, I found a couple proudly selling their home brew. It was properly sour and sweet – the best chicha I had in my travels.
Discover Prehistoric Villa de Leyva
Many fossils have been discovered in Villa de Leyva and the surrounding valley. Most prolific are the fossilized sea creatures that are used in some of the buildings and churches in town. But most famous is the fossilized Kronosaurus, a prehistoric marine reptile with an elongated head, short neck, four flippers, and long sharp teeth.
El Fosil Museum
In 1977, a farmer discovered the nearly intact Kronosaurus just three miles from Villa de Leyva. After suggestions that it should be moved to a museum, the local community protested and built a museum around the large fossil instead. Since then, a smaller Kronosaurus was found nearby and moved to the museum which has more than 500 pieces on exhibit.
When I was visiting, the main attraction was being restored and was thus closed to the public. I've heard the restoration has since been completed. This is a great activity paired with the nearby research museum.
Hours: Everyday 8 am – 5 pm
Cost: Adults 15,000; Kids 10,000
Paleontology Research Museum
This museum is sponsored by the National University of Colombia Science Faculty and includes a laboratory used to prepare and conserve fossils. Over 2,000 pieces are on display, some of which are part of the permanent exhibit. Tours are available in English with advance notice, although there is plenty of material in both Spanish and English as well.
There are also options to pay a little more for some hands-on learning experiences such as excavating for fossils and molding your own ammonite, which are the now extinct mollusks that were prevalent in the area. This museum is definitely educational and fun!
Hours: Monday – Thursday 8 am – 12:30 pm and 2 pm – 5 pm; Friday- Sunday 8 am – 5 pm
Cost: Adults 12,000; Kids 6,000
Gondava Dinosaur Valley
Welcome to Colombia's Jurassic Park. This theme park is no doubt riding on the coattails of the other two attractions, but I mention it because it gets great reviews from travelers with dinosaur-loving kids. This outdoor attraction features life-size dinosaur sculptures among the trees and a small manmade lake.
Be sure to bring a hat, sunscreen, and plenty of water. It's about a 30 minute walk from the other attractions, so you may prefer to find transportation since you'll be walking a lot once you are there. If you're limited on time or unsure about spending the entire afternoon dedicated to paleontology, this activity can easily be skipped.
Hours: Tuesday – Sunday and holiday Mondays 9:30 am – 5:30 pm (last entrance at 4:15 pm)
Cost: Adults 16,500; Seniors 14,000; Kids (ages 3 to 11) 15,500
Wine Tasting at Vineyard Ain Karim
I know what you're thinking. Does Colombia produce good wine? Actually yes! Viñedo Ain Karim has been producing internationally awarded wine for over 30 years using vines imported from France and Napa Valley. They found the cooler than average temperatures of Boyacá to be a fine place to make wine. And the setting among the low mountains is quite peaceful.
I know, the answer surprised me too. I was expecting some overly sweet red juice, but their Cabernet Gran Reserva actually has depth and flavor. At the tasting following the tour, they paired it with chocolate which made for a rich combination. And the Sauvignon Blanc was crisp, again not too sweet, with hints of green apple which paired beautifully with uchuvas, one of my favorite Colombian fruits.
This is a great activity to pair with any of the other things to do in Villa de Leyva located in the same direction as Santa Sofia, such as a short hike, the Fossil Museum, or El Infiernito/Sol Muisca. If you're using public transportation, it will require a little more coordinating to pick up the bus again and continue your journey, but I did it with no problems.
To get the vineyard by bus, get on the bus headed towards Santa Sofia and tell the bus driver where you are going. The road leading to the vineyard is clearly marked. From there, it is a 10 minute walk along a flat dirt road. The last bus going back to Villa de Leyva leaves Santa Sofia at 5:15 pm.
Hours: Open every day 10 am – 5 pm. The last tour begins at 4:30.
Cost: 25,000 pesos for a vineyard tour and tasting. Other packages available include charcuterie plates and more tastings which are purchased in quantities of two or more people and range from 69,000 pesos to 99,000 pesos per person. Or you can choose to purchase the charcuterie plate and glasses of wine separately to be served following the tasting. I preferred this option as I was able to choose exactly what I wanted to order.
Explore Historic Villa de Leyva
One of the most charming things about Villa de Leyva is the colonial architecture and cobblestone streets. Well actually after the second day, you may find yourself cursing the cobblestones. But the slow vibe is also part of the charm of Villa de Leyva. Even when there are a lot of tourists in town on the weekends, everyone is required to walk slowly or risk breaking their ankles.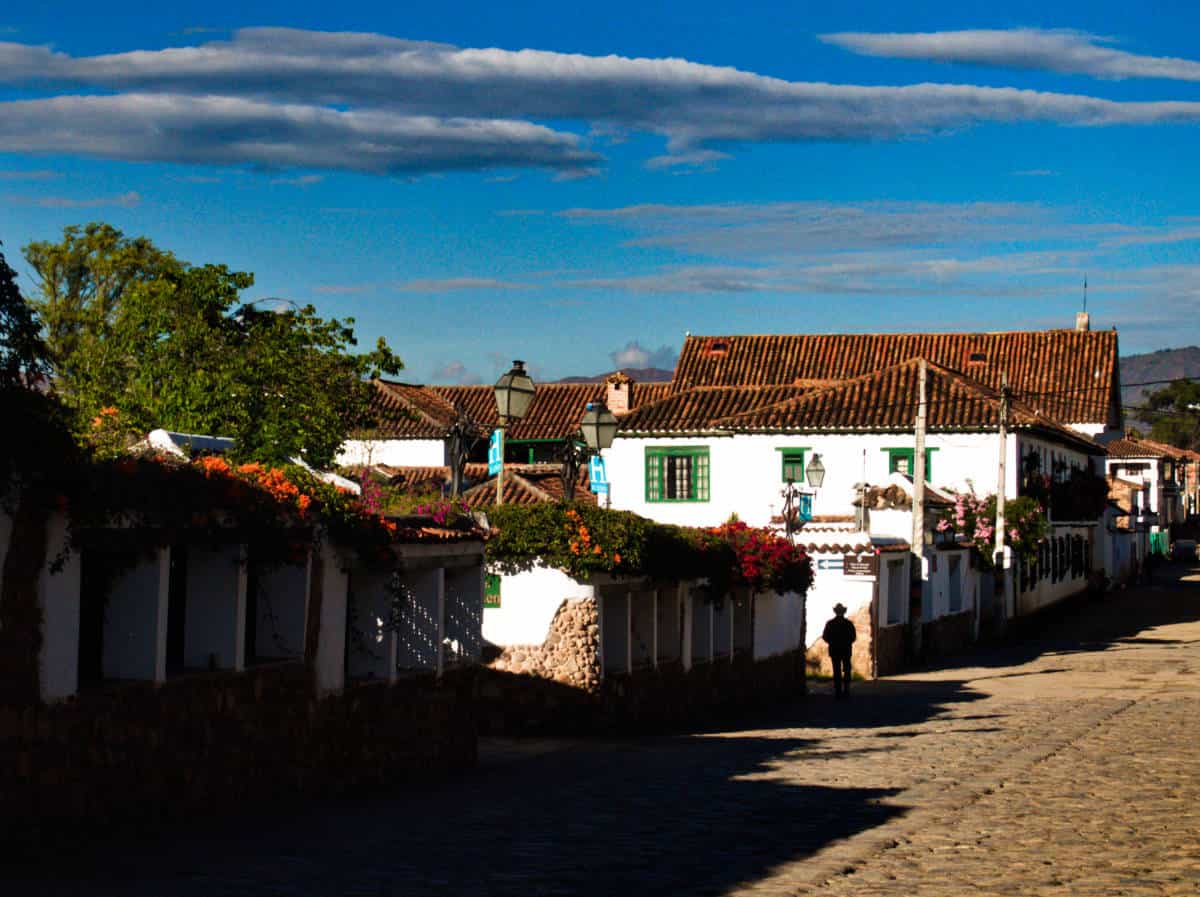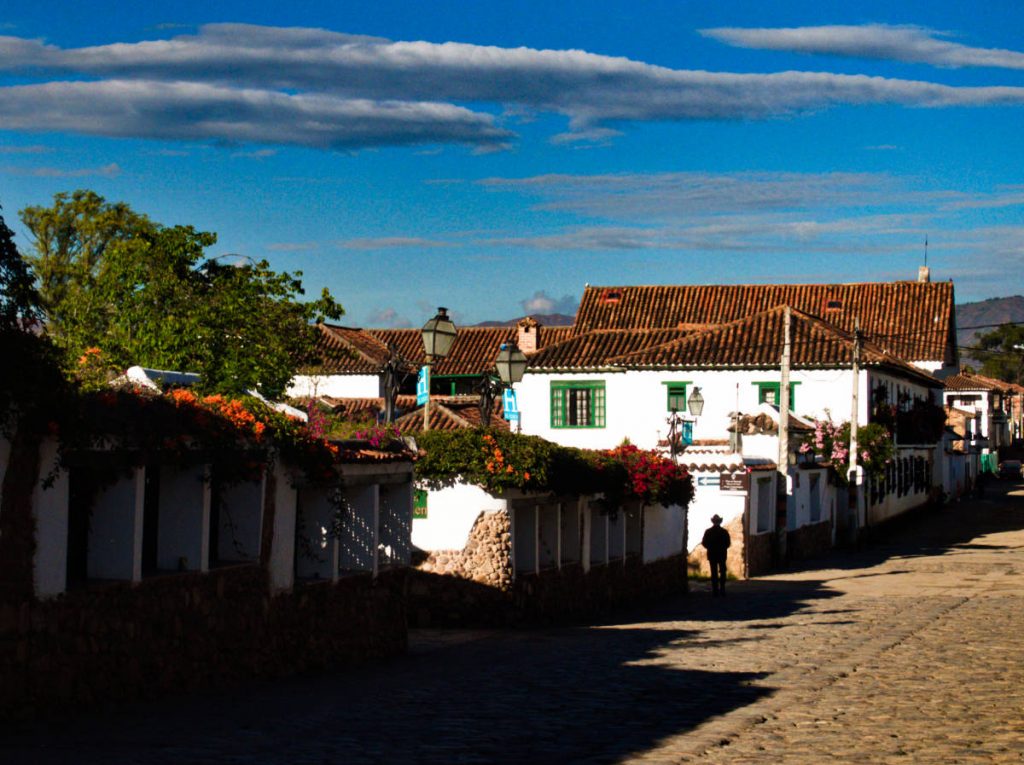 Often in a small town like Villa de Leyva, one of the things to do is "get lost" in the streets. And you totally should, but there's also an opportunity to visit some historical sites along the way. Of all the Casa Museums in town, I would say Casa Museo Luis Alberto Acuña is a must see!
Did you know? Villa de Leyva's Plaza Mayor is the largest square in Colombia. With an impressive 14,000 square meters of cobblestones, it's also believed to be the largest cobbled square in South America.
Enjoy Besitos de Novia in the Square
Girlfriend Kisses. Every time I saw the signs for this traditional sweet of Villa de Leyva, I giggled. A family from Villa de Leyva created Besitos de Novia sometime in the 1930s. They are essentially a crumbly piece of cake covered with meringue and left to harden before they are wrapped in brightly colored paper.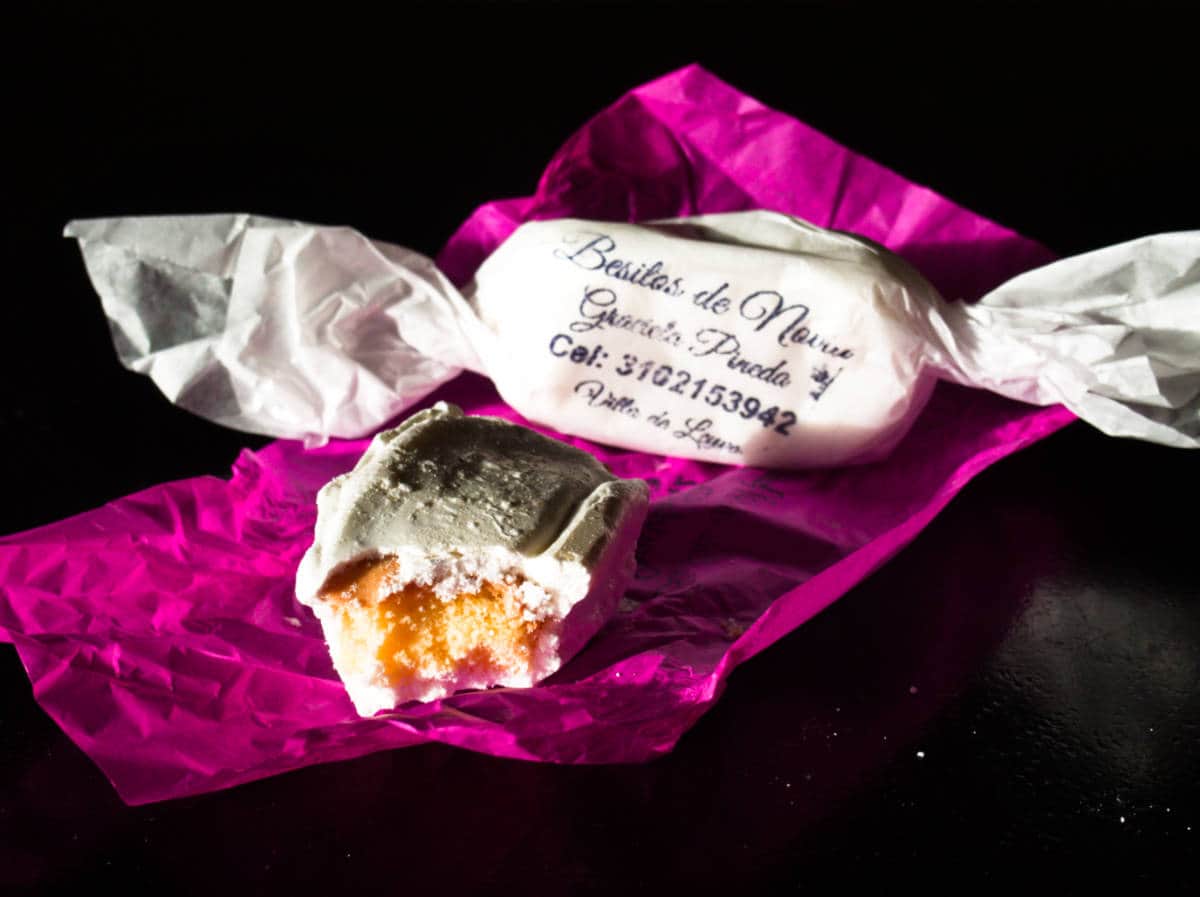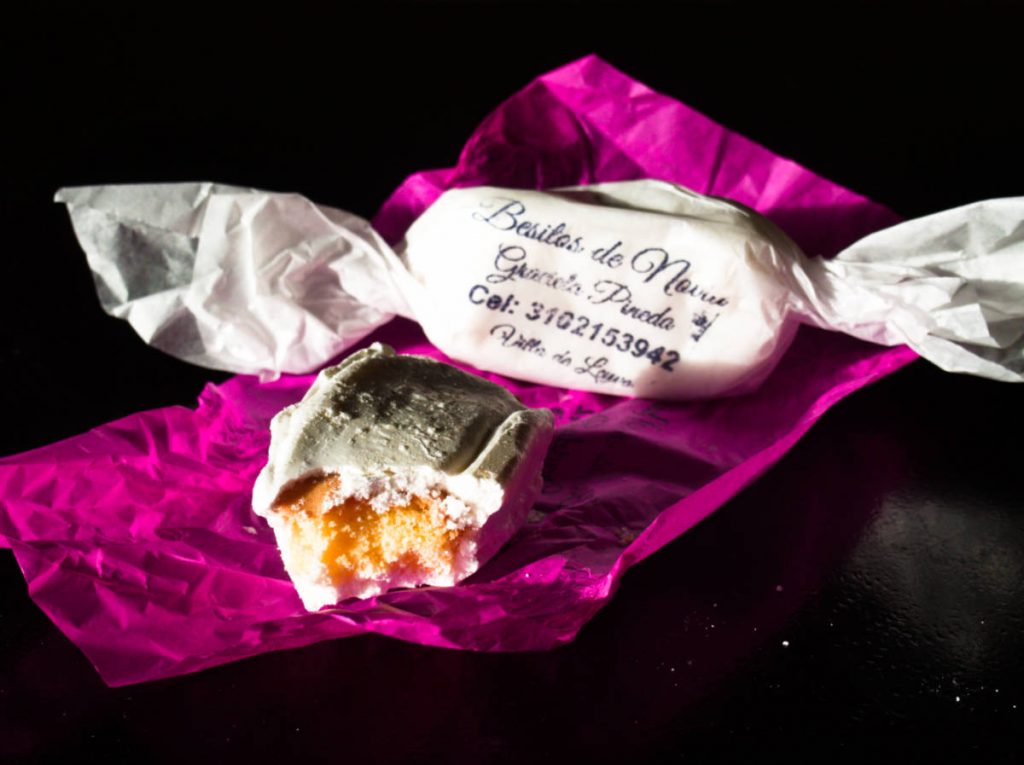 I was told there is a traditional baker of besitos de novia next door to Pizzeria Italia on Calle 13, just a few blocks from the square. So off I went. When they didn't have coffee to pair with them, I walked to the square to find a coffee shop and enjoy my besitos. I decided on a craft beer from Tunja instead, but walking to the square was the perfect place for a late afternoon of people watching and girlfriend kisses.
Go Shopping
Maybe you've been eyeing a brightly colored hammock, a finely woven jacket, or some trinkets to take home as gifts. When researching things to do in Villa de Leyva, many people mention a day trip to Raquira to buy souvenirs. While there is an abundance of shopping in Raquira, it felt like a tourist trap. Every shop sold the same items, block after block. They rarely felt handmade.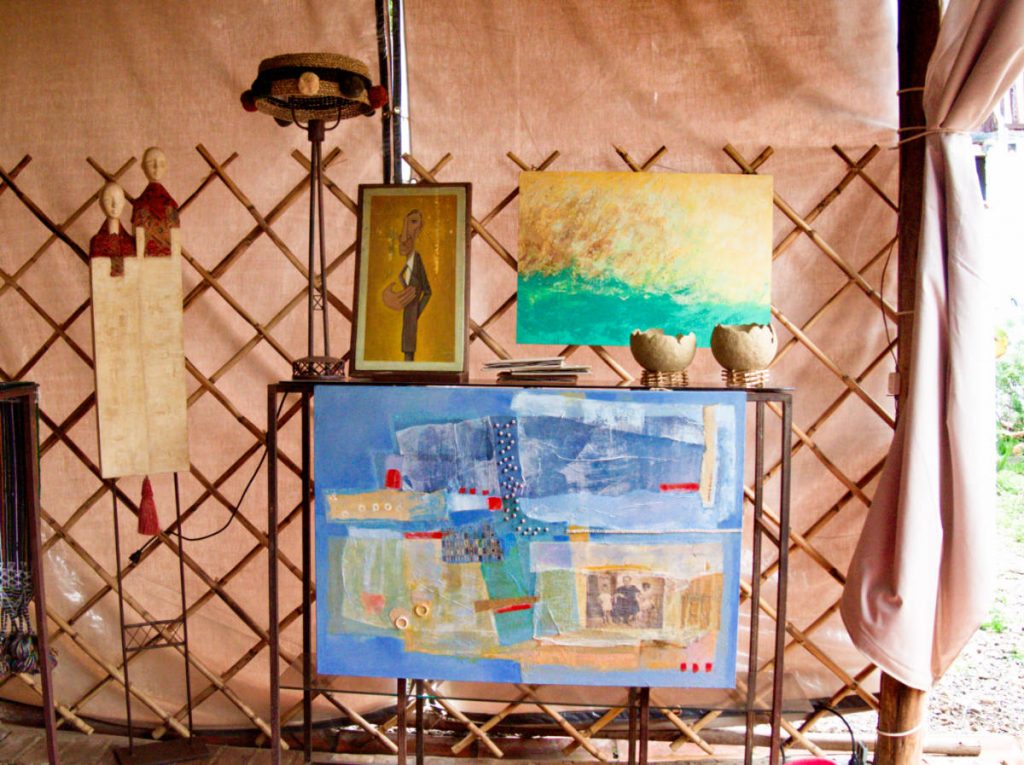 I found the items in Villa de Leyva to be much more interesting. Sure, there are still some shops with the same mass produced items, but there are also some small artisanal shops to be found. Carerra 9, beginning at Plaza Mayor towards Calle 14 is a pedestrian only street for two or three blocks. It creates the perfect atmosphere to leisurely stroll and shop.
Saturday Market
There's not a daily market in Villa de Leyva, but every Saturday until 3 pm, farmers fill the Plaza de Mercado to sell their fresh produce. If you plan on cooking any meals in Villa de Leyva, it's a great alternative to the limited grocery store options. And even if you're not, it's a nice slice of life in small town Colombia. There are also food vendors selling prepared foods such as sausages and fried goods.
Swim at La Mesopotamia Hotel Colonial
Built over 400 years ago, this colonial building was previously a wheat mill. It's now a restored hotel surrounded by lush grounds and pathways embedded with sea fossils found nearby. A natural spring flows through the terrain and is collected into a large stone pool at the back of the property. The water is cool and a welcomed relief from the hot days in Villa de Leyva.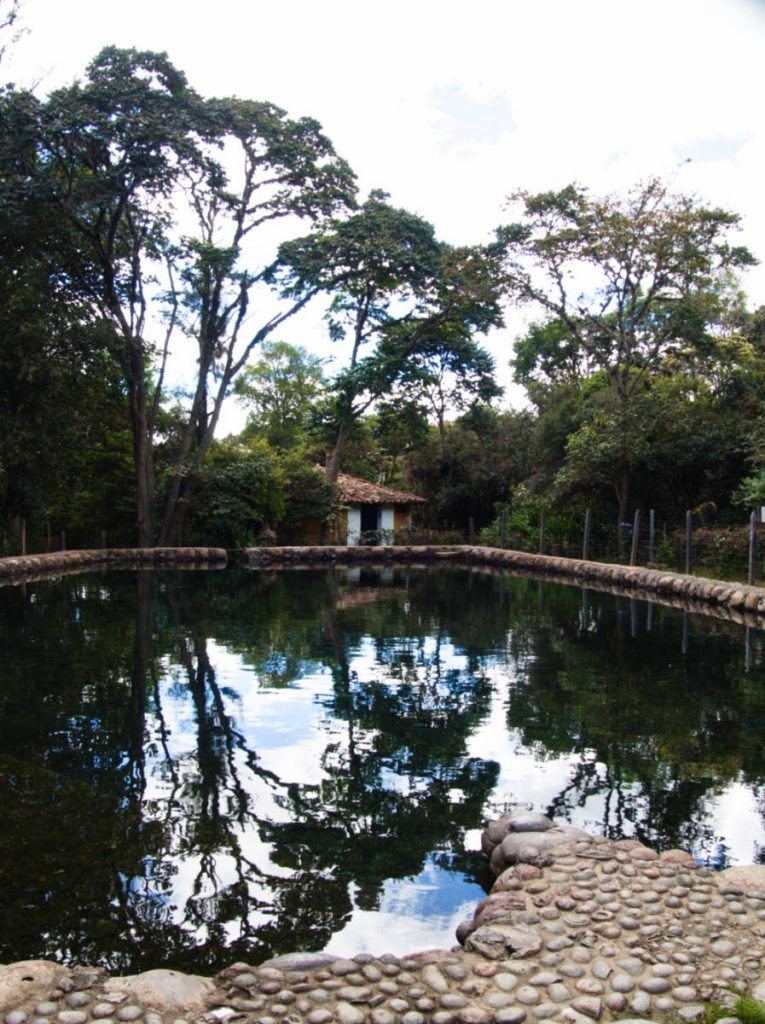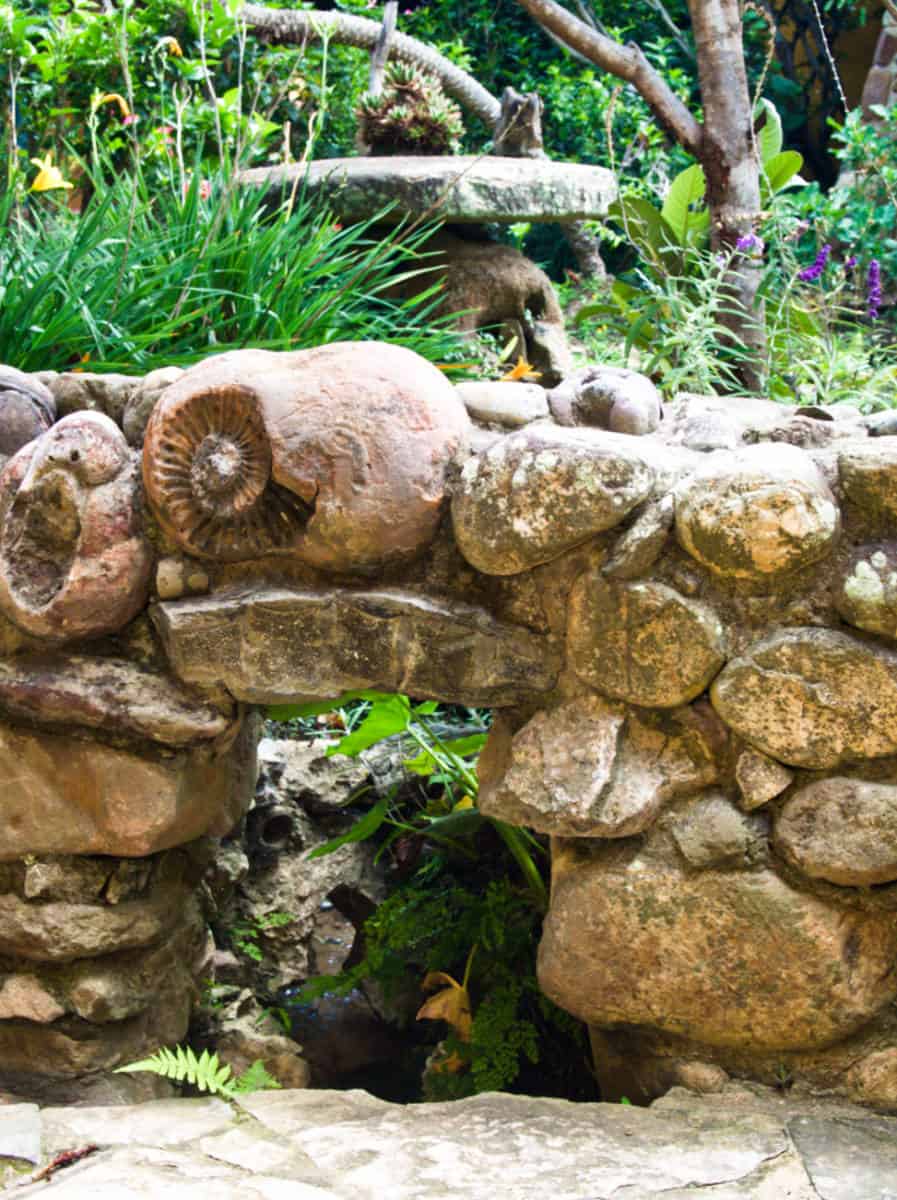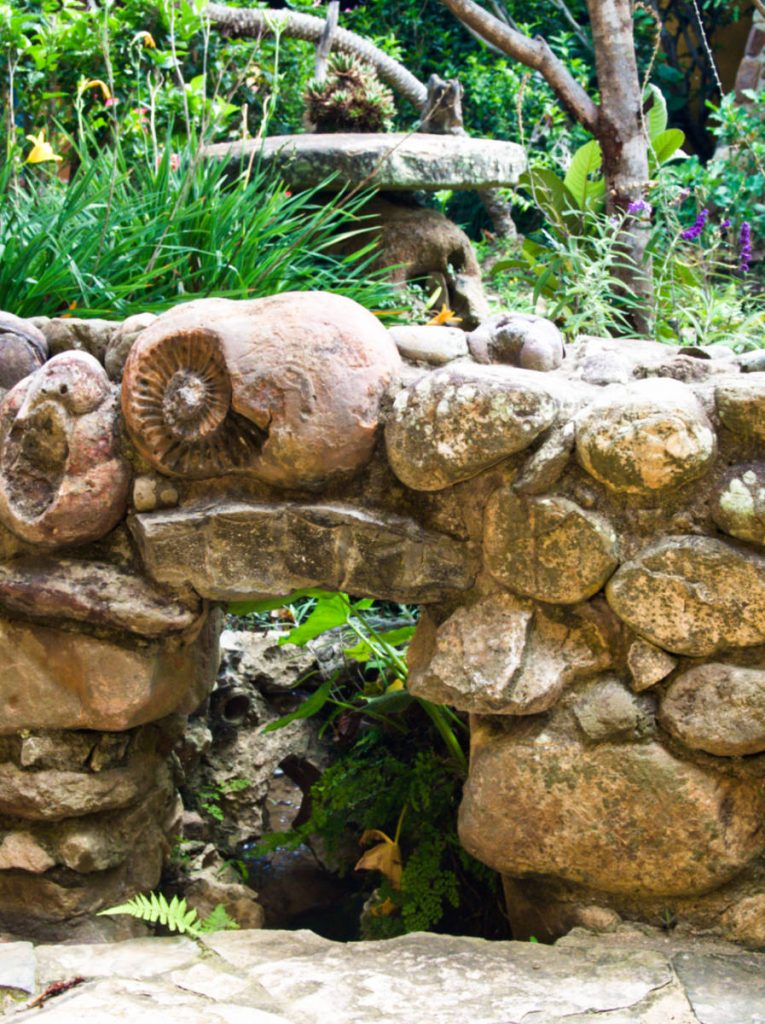 When the owner of Magna Hostel told me I should visit to explore the grounds and swim, she mentioned needing to purchase a smoothie for 15,000 pesos. It seemed a bit steep, but I figured it was an opportunity to explore a unique place in Villa de Leyva's history.
I arrived late morning and the hotel was nearly empty of people. I felt free to walk around the grounds and peek into the common areas, including the dining room where the old mill is kept. The atmosphere feels old century luxury with a country cabin twist. Reviews of the hotel itself indicate the property is in a bit of disrepair but I didn't notice that as a guest for the day. I never found a place to purchase a smoothie, though a small snack shop was opening up as I was leaving.
Go on a Hike near Villa de Leyva
There are many waterfall hikes in the valley surrounding Villa de Leyva. And you can easily combine one of the shorter hikes with a second adventure since you'll likely pass by one of the other things to do in Villa de Leyva on the return trip. Experienced hikers will likely be interested in the all day hike to the Iguaque Flora and Fauna Sanctuary, though with an altitude of 3,800 meters, it looked a bit too strenuous for me.
Near Santa Sofia is Paso de Angel (see below) and Cascada el Hayal where there is also a cave that was used by indigenous communities for special ceremonies. A little further, past Gachantiva is Cascada La Honda and in the other direction is Cascada La Periquera. Keep in mind, many of these hikes are considerably longer unless you hire transport from town to the entrance point of the trail.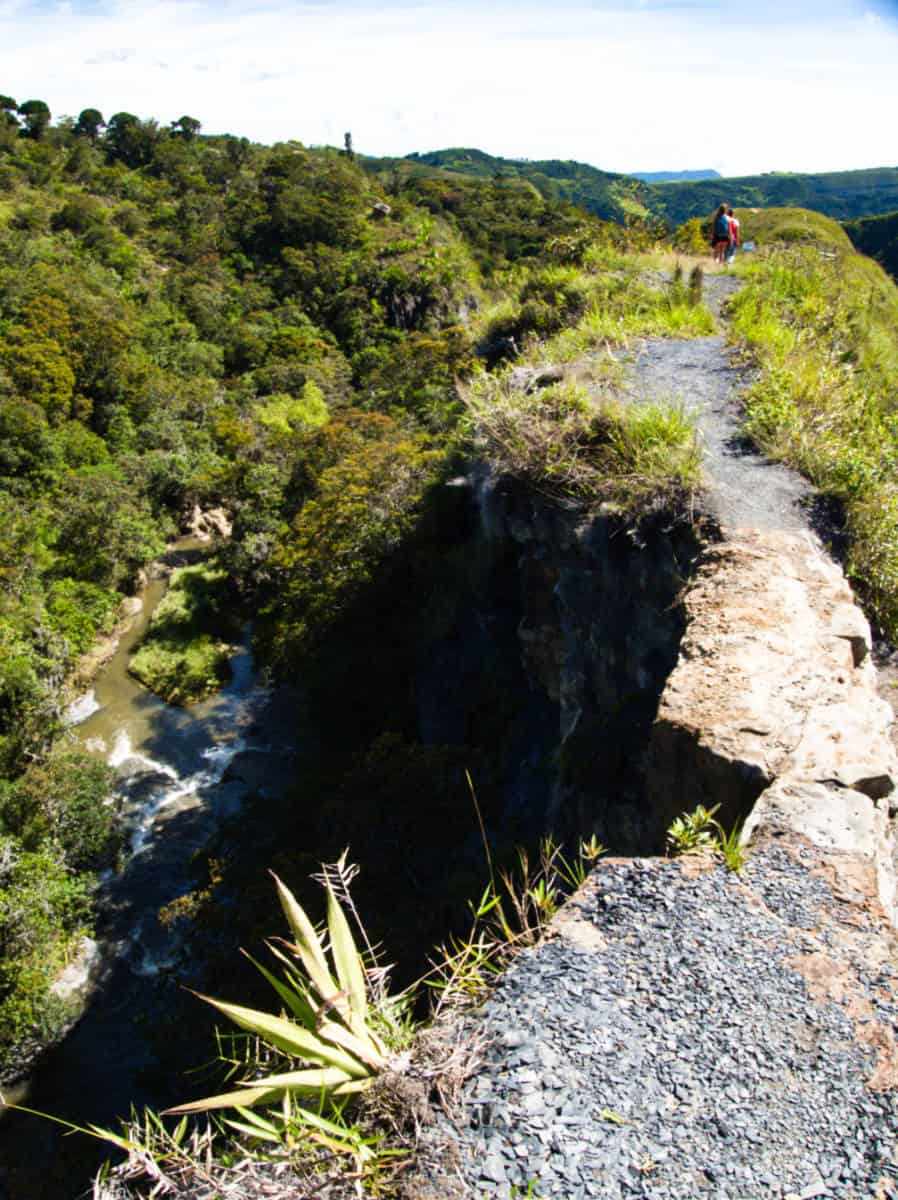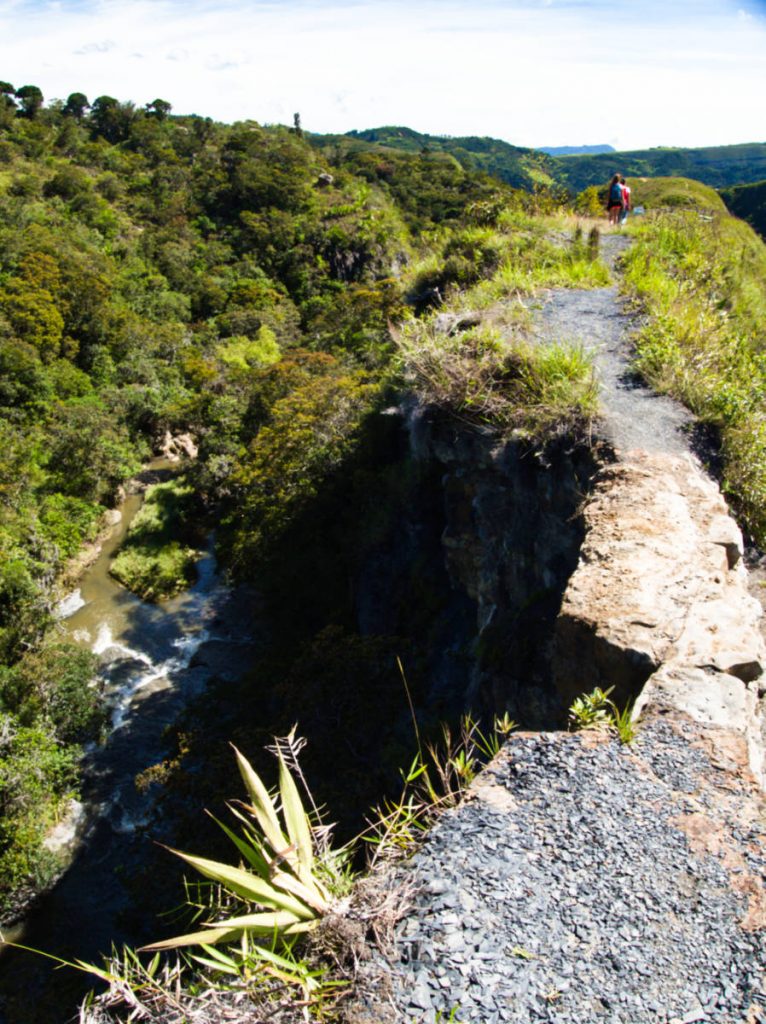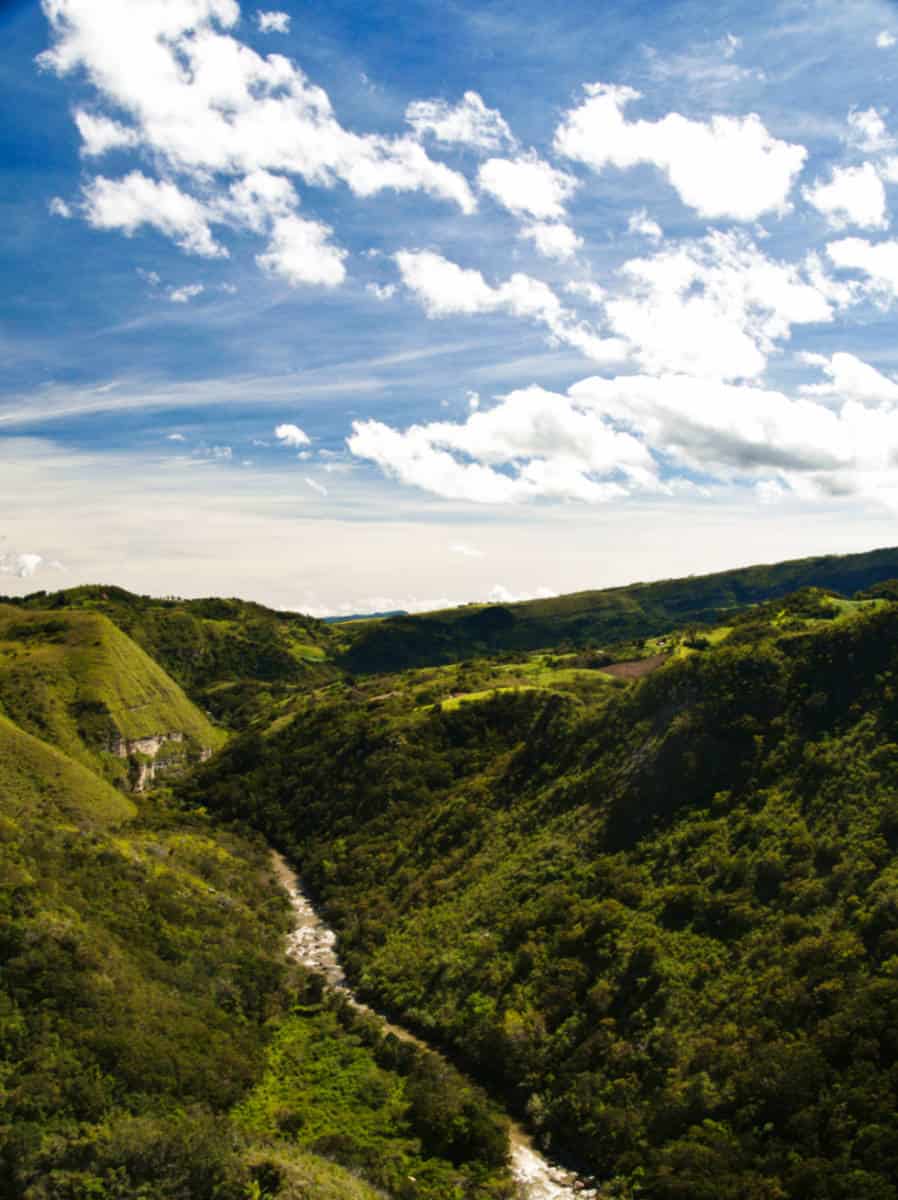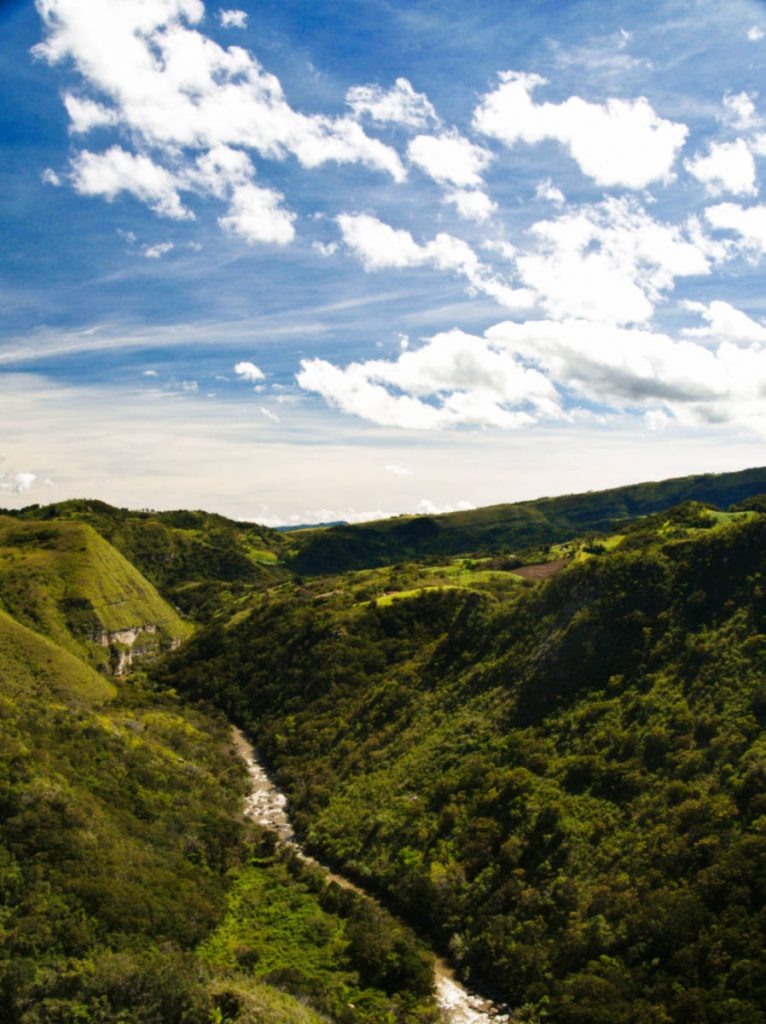 Through the group WhatsApp organized by Hostel Xué, I joined a few other travelers to hike to Paso del Angel near Santa Sofia. Spectacular vistas left us in awe as we hiked the mountain ridge to Casada Guatoque. This hike is named "Step of the Angel," for the one and a half meters of skinny path with cliffs that drop down on either side. It was a bit nerve racking to cross but only lasted a moment. After that is a wide ridge that winds down to a layered waterfall.
Note: I've since discovered Paso del Angel is closed until further notice, with locals citing the need to restore the area.
Restaurants in Villa de Leyva
Prepare to spend more money on food in Villa de Leyva than in other parts of Colombia. While there are a few menus del dia to be found, prices averaged 15,000 pesos per person rather than the average 10,000 in many other small towns. On the other hand, the quality of the cooking is better and the variety of restaurants, cafes, and wood fired pizza is fabulous.
Restaurante El Cocó Gourmet
This small restaurant offers one menu del dia option per day for around 15,000 pesos. While the server wasn't the friendliest, the chefs made up for it with their professional, friendly attitude and high end food. The salad included beets and uchuvas in a flavorful dressing and was the highlight of the meal.
Restaurante El Chipa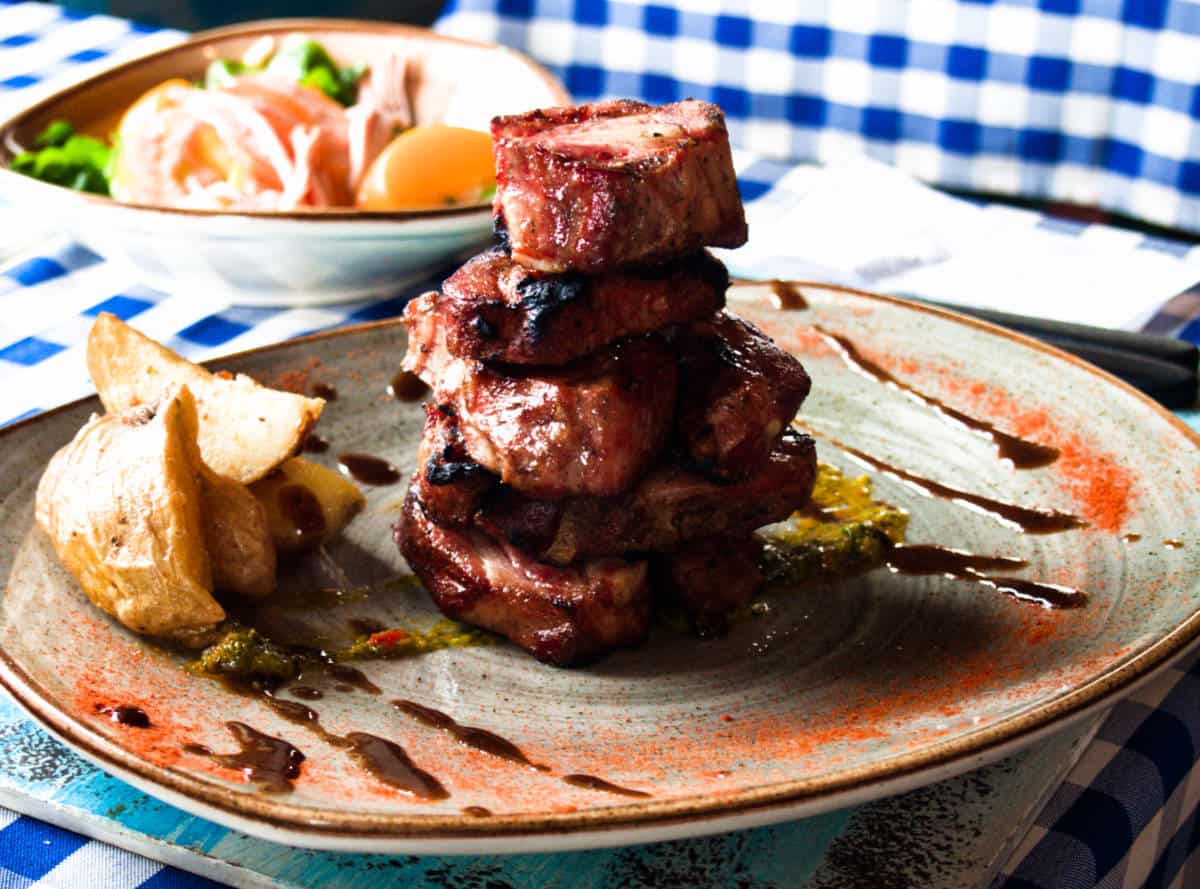 The view overlooking Plaza Mayor is enough of a reason to eat here. And the food is good enough that I ate here twice. A menu del dia is only offered during the week and non holiday Mondays. The regular menu is a bit more expensive, but the food edges on gourmet. The service was some of the best I received in Colombia.
Comida Coreana
Authentic Korean food in Colombia. Yes, you read that correctly. And it was delicious. If you're determined to eat here, arrive when they open to secure one of only a handful of tables in this tiny restaurant. Prices were high for Colombia, but if you're anything like me, your tastebuds will start salivating with the thought of good Asian food in Colombia. Dumplings were also on the menu and I heard they sometimes have sushi.
Pizzeria Ristorante Italia
Authentic Napolitan pizza created by an Italian chef and cooked in a wood fired stone oven. In a town with lots of pizza options, this one is regularly rated as the best pizza in Villa de Leyva. The wide open dining room was full on a Friday night as diners enjoyed a glass of red wine with delicious pizza.
Panaderia Empanadas Horneadas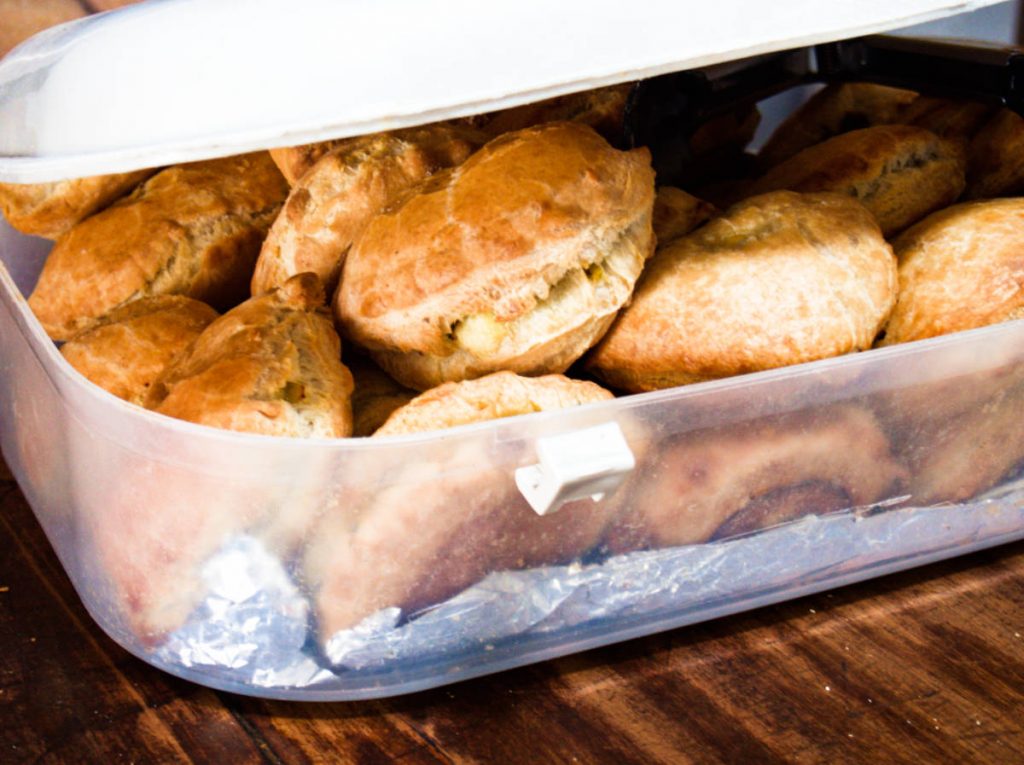 Finally, baked empanadas in the land of fried! These proved to be a quick, filling, and inexpensive breakfast before going on one of the many adventures around Villa de Leyva. Choose from three fillings, including a vegetarian option, for less than 2000 pesos each.
Pastelería Francesa
This traditional French bakery brings a little bit of Paris to Villa de Leyva. There is an impressive array of baked goods daily, including several individual quiches. Prices aren't a steal but they don't break the budget either.
Where is Villa de Leyva?
Villa de Leyva is located about three hours northeast of Bogota. It sits in a high altitude valley in the department of Boyacá an hour west of Tunja, the department's capital. Most people arrive as a weekend trip from Bogota either directly or via Tunja.
How to Get to Villa de Leyva From Bogota
You can take a bus from Bogota to Villa de Leyva from both El Salitre and Terminal Satelite Del Norte. Salitre is conveniently located near the center of Bogota, close to Candelaria and Chapinero, though you will spend more time weaving through the city itself than if you left from the north terminal. There are several bus companies with routes to Villa de Leyva, but many only operate on the weekends. Still, there should be plenty of availability to buy your ticket upon arrival.
If you're already staying north of Bogota or want to cut some travel time, leaving from the North terminal may be best, though a bit more expensive since it's difficult to get there by public transport and a taxi from Bogota to Terminal Norte is about 25,000 pesos. There is one company that does a direct bus from this terminal, but times are limited. Otherwise, the route is through Tunja which is an hour east of Villa de Leyva.
Whichever terminal you decide on, check the total travel time as some stop in several cities and can take up to six hours. Depending on which bus and route you take, the cost to get to Villa de Leyva from Bogota is about 30,000 cop.
Have you been to Villa de Leyva, or are you planning to visit? It was one of the most anticipated stops on my Colombia travels and I'm happy to say that it did not disappoint. Is it a hidden gem in Colombia? Hardly, but it still maintains its charm.
Like this Villa de Leyva Travel Guide? Pin It!