Where to Stay in Cartagena, Colombia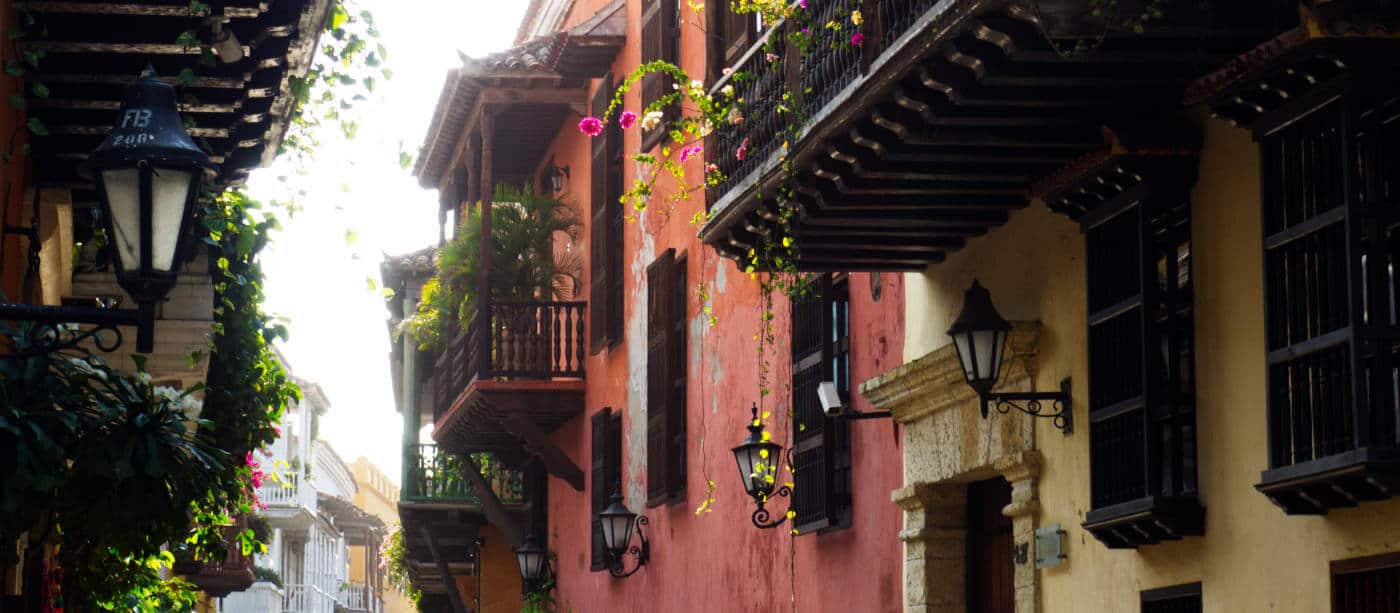 So the Caribbean jewel of Colombia has lured you in and now you're wondering where to stay in Cartagena? As Colombia's main tourist destination, you won't be short on options. However, if you're asking, what is the best area to stay in Cartagena? I'm here to tell you the answer is, it depends.

Do you want to stay in the historic walled city where you are immersed in the charm of Cartagena's colorful sun-soaked buildings and narrow streets? Or does being close to the nightlife in Getsemani sound more appealing?

If you're traveling with young kids, you may want to be close to the beaches of Bocagrande. Or perhaps you'd like to get away from it all and lounge by the beach for a few days in the remote area of Manzanillo del Mar?

Wherever you decide to stay in Cartagena, make time to visit Isla Grande, the best of the Rosario Islands, to experience a rustic Caribbean island vacation.
Use this article to guide you through the different areas to stay in Cartagena.
Where to Stay in Cartagena for the First Time: Historic Walled City
The historic walled city of Cartagena is the most popular area for tourists. And while that statement won't necessarily appeal to many (myself included!), the center is close to many things to do in Cartagena, as well as restaurants and bars. Plus it's incredibly beautiful and romantic. So, if you're visiting Cartagena for the first time, I recommend finding a place to stay in the walled city.

If you choose an accommodation near Plaza de San Diego, you can still stay at a hotel in the walled city and not feel like you are in the center of a tourist mecca. In fact, this is where I chose to stay when I first arrived in Cartagena. It was still a busy area but not the hustle and bustle I experienced closer to the center.
This article may contain affiliate links. This means if you click a link on our blog and make a purchase, we earn a commission at no additional cost to you. For full information, see our disclaimer here.
Best Hotels in Cartagena, Walled City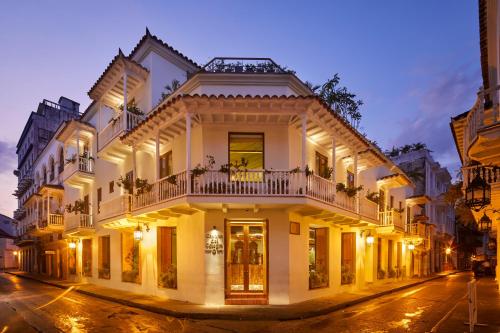 Outside, white wooden balconies dotted with tropical plants draw your attention to this traditional building. Inside, this stylish boutique hotel in Cartagena blends tropical colors with modern design elements. It's clear there is an acute attention to every detail, right down to the optional music in the suite bathrooms. The hotel staff is equally attentive with helpful itinerary planning and restaurant recommendations. The rooftop pool with gorgeous views of the historic walled city is the icing on this beautifully crafted Cartagena accommodation.
Pure luxury. Large rooms with tasteful, high-quality furnishings, and spa-like bathrooms that exude opulence. The rooftop pool is perfectly designed for lounging, though more space could have been provided for chairs. Inner courtyard gardens deliver a relaxing sanctuary. Amenities include a small gym and spa.
Modern furnishings complement colonial architecture in this former 17th century Monastery, now a hotel. The showstopper is the open courtyard and pool surrounded by lush tropical plants, a dining area, and the building itself. Beautiful stone archways open to tropical plants that fill the courtyard. The vibe is palatial.
Two words. Rooftop view. The spectacular 360-degree views of the historic walled city from the top of this Cartagena hotel can be seen from the pool. In addition, the rooms are spacious with tasteful modern decor that leaves room to breathe. The location is fantastic – central, yet on a small, quiet street.
Best Hostels in the Walled City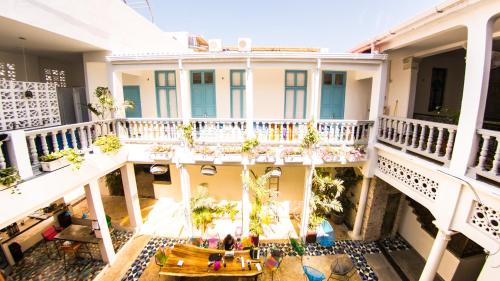 You'll swoon for the central courtyard surrounded by intricate wood carved balconies and turquoise doors. There is a pool to relieve the Cartagena heat and while it's small, it is larger than the postal stamp pools found at other hostels in Cartagena's walled city.

Inside the air conditioned dorm rooms are super comfortable capsule style beds for a more private feel. Private rooms are available but price wise, there may be better options in Cartagena.
Best Area to Stay in Cartagena for Nightlife: Getsemani
While it still feels like part of the historic center, the neighborhood of Getsemani is more dynamic and lively. The street art is bold and the nightlife is abundant. This is the area to stay in Cartagena if you want to party. And even if you don't, you can find accommodations in Getsemani for a great value.

Getsemani has historically been a working class neighborhood and it shows through its gritty vibe. Though in the past decade, it has been undergoing a transformation. While this area is generally known as a great place to stay for backpackers, it's beginning to appeal to a wider range of travelers.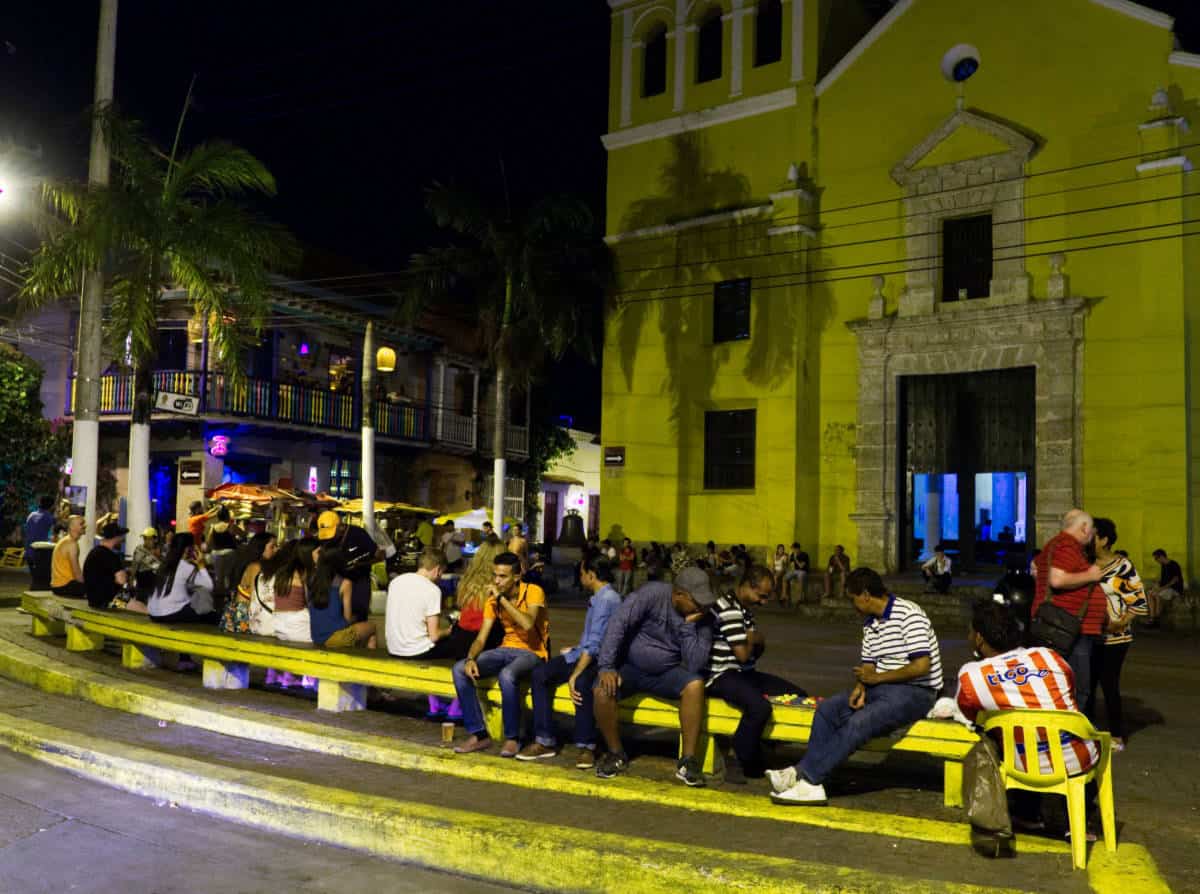 Best Hotels in Getsemani
A boutique hotel in Cartagena offering modern, airy rooms with a long balcony overlooking the central courtyard and pool. Breakfast, which is included in the modest rate, is served on the rooftop with views of the city. The location, just a few blocks from Plaza Trinidad, is perfect for experiencing all that Getsemani has to offer.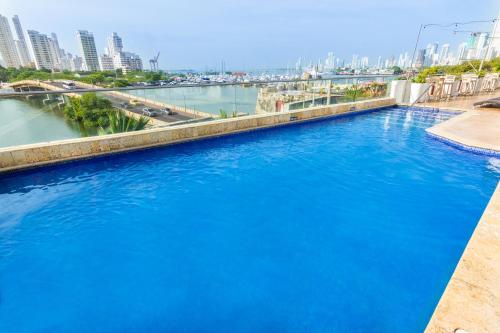 Located in a historic colonial building, this hotel is a 10-minute drive to the beaches of Bocagrande while still being walkable to the historic center. Amenities include a rooftop pool and bar, gym, and spa. The inner courtyard is a peaceful sanctuary with tropical plants centered around a large fountain. The large rooms feature wood beam ceilings, modern bathrooms, and a small desk.
Best Hostels in Getsemani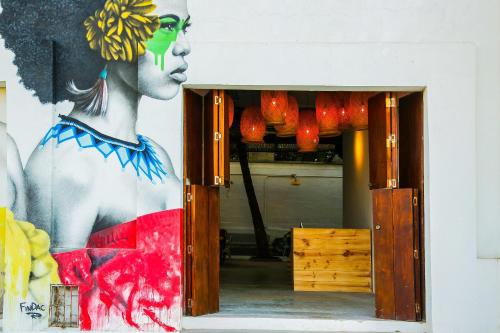 This new hostel in Getsemani offers single and double capsule style beds in air conditioned dorm rooms. The capsules include extra space on the sides for your belongings with lockers that play a double role as a bedside table.
Double occupancy, private rooms at this hostel are some of the lowest rates in Cartagena. The air conditioned rooms feature bright linens and artwork. The rooms are small, but some include a balcony to increase your living space. And while there isn't a pool at the hotel, there is a rooftop bar with shaded loungers and views of the city.
Best Place to Stay in Cartagena for Families: Bocagrande
With towering skyscrapers and accessible beaches, Bocagrande feels like a completely different world than the colonial center of Cartagena. A mini Miami Beach, if you will.

Due to its proximity to the beach, Bocagrande is a great place to stay in Cartagena for families. The best beach areas are further from town, towards Laguito and Castillogrande. But don't expect white sand and turquoise water. For that you'll need to visit Isla Grande near Cartagena – one of the most tranquil of the Rosario Islands.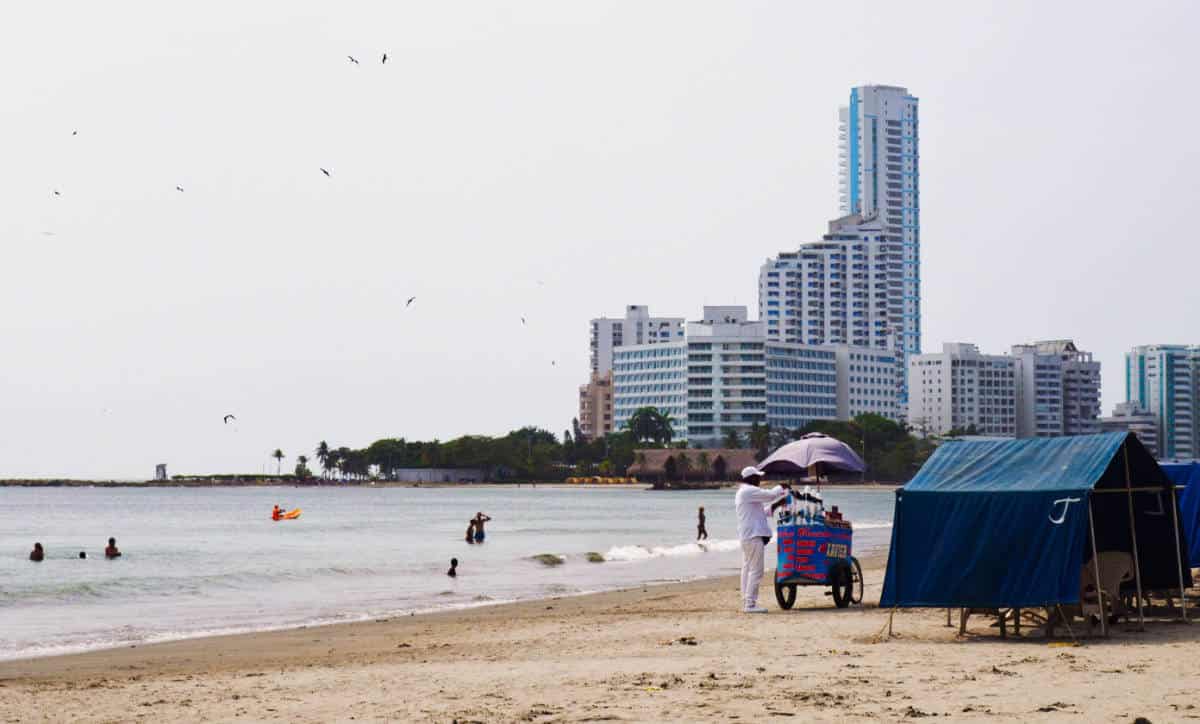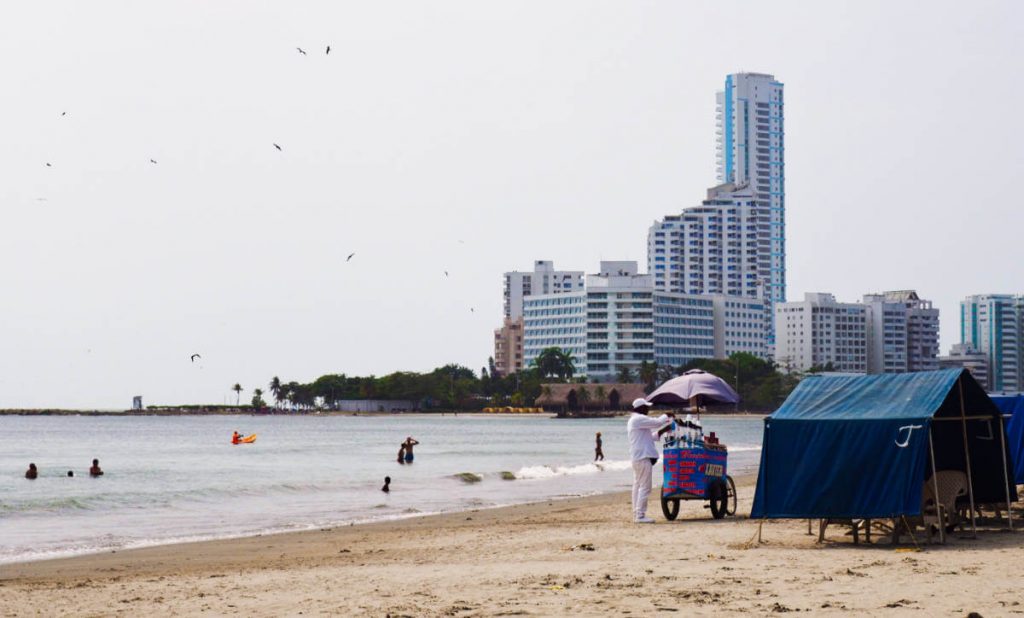 Best Hotels in Bocagrande
This Bocagrande hotel takes advantage of every opportunity to highlight the ocean views. From the main dining room located on the 12th floor to the 51 Sky Bar, you'll look over the sea from nearly every area of the hotel. And at the infinity pool, views flow seamlessly into the ocean. All 338 rooms have an ocean view which makes this hotel a great value. It's proximity to the historic center of Cartagena means it's easy to get into the walled city. However, to access the best beaches in Bocagrande, you may find yourself traveling further towards Laguito.
This hotel offers direct beach access to the nicest beaches in Bocagrande as well as a secluded pool with sun loungers. Though you'll pay a premium for ocean room views, large windows take full advantage of your upgrade. Some rooms include a balcony overlooking the beach as well. The rooms are otherwise fairly standard with tropical decor and rain head showers.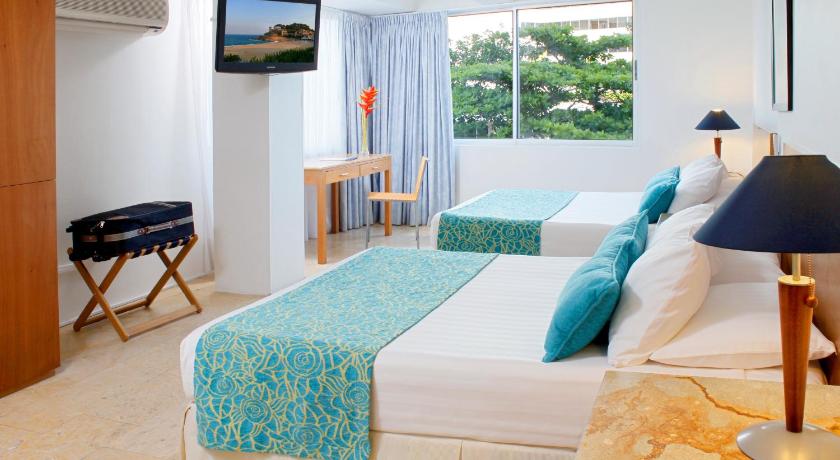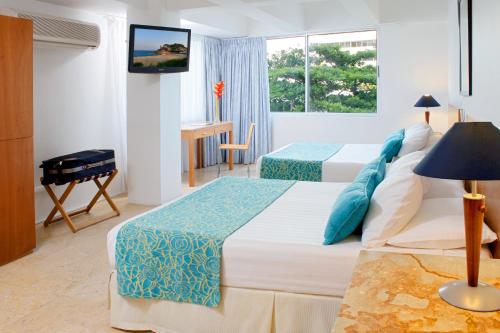 This budget friendly hotel in Bocagrande is located close to the beaches of Laguito. The rooms are basic without sacrificing space. The breakfast area is near the pool and garden which are surrounded by tall palms for privacy.
Best Neighborhood to Stay in Cartagena: Manga
This Cartagena neighborhood just outside Getsemani is another great place to stay for families or travelers looking for tranquility. Manga feels like a residential neighborhood you'd want to live in, with convenient grocery stores nearby.

While there isn't a beach in Manga, there is a pleasant area to walk along the water with nice views of Manga Bay. Plus, it's a short taxi ride to the beaches of Bocagrande. From parts of Manga, you can easily walk into Getsemani and the walled city.
Best Hotels in Manga
This boutique hotel is an incredible value in a great location that is walkable to Getsemani. The decor is stylish and modern with beautiful accents throughout. All of the rooms are spacious and include a private bathroom. They also have a small shared room at a great rate.
Best Hostels in Manga
Conveniently located a short walk from Getsemani this hostel offers capsule style beds in a shared room. Private rooms are also available, though the price is high unless you want to book a quadruple room to share with friends. There is however a small pool and rooftop terrace to extend the living space. This location is also very close to a nice Carulla grocery.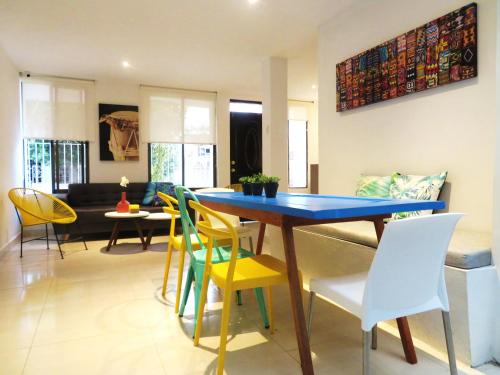 Bright colors and fun seating areas decorate this hostel which offers shared rooms and extremely reasonable rates for private rooms. The location makes for a bit of a long walk to the historic center of Cartagena, although taxis and buses are available.
Best Area to Stay on a Budget: El Cabrero, Marbella, Crespo
This stretch of coastline northeast of the city primarily has budget hotels located across from the beach (yes there's a major road between you and the beach). Many of the hotels in this area offer a pool and views of the sea and nearly all include breakfast.

If you're on a hostel budget, you're better off staying in Getsemani, however Crespo has a fabulous hostel within walking distance to the airport. These areas are easily accessible to the city by taxi and public transport, though you'd probably only consider walking to the center of Cartagena from El Cabrero, which is the closest to the city.
Tip: The Moovit app is great for navigating public transportation in a new city. You can search for bus routes based on the departure or arrival time and check the last departure time of the day. I used it several times in Cartagena with success!
Best Hotels in El Cabrero/Marbella
An incredible value considering the historic charm of the property and its proximity to Cartagena's historic center. The building is a former mansion turned hotel which is evident in the beautiful verandas with colorful tiles and a small sea view. The pool and courtyard adds a nice touch to a historic property not usually found at this price range so close to the center.
Casa Bustamante is also a renovated mansion but with perhaps more grandeur inside than Ines Maria, which is reflected in the (still modest) price. It's slightly closer to the beach and there is a swimming pool with lounge chairs on the property.
Located across from the beach, this is a budget option that's good for families and small groups since they offer a great deal on a quadruple occupancy room. Many of the rooms have a sea view, though they are quite small. The rooftop pool and bar area which also has views of the ocean is the highlight of this sleek looking hotel.
Best Hostel in Crespo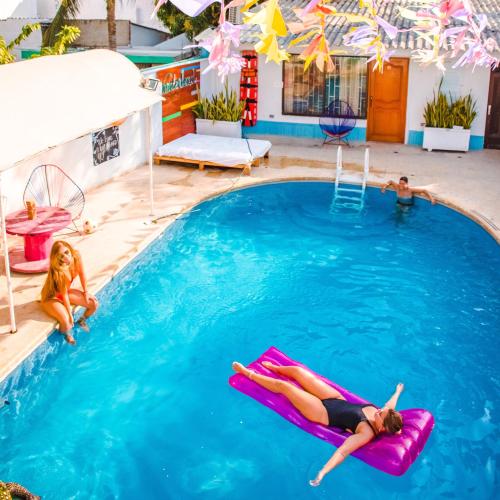 If you need a place to stay near the airport, this hostel is a comfortable accommodation within walking distance. Decorated with Alice in Wonderland graphics that glow at night, it has a fun vibe. A pool and bar at the back of the courtyard are a nice touch. Inside the dorm rooms are capsule beds for privacy with a locker. There are also a few private rooms but they are a bit pricey unless you are booking for a group.
Best Place to Stay on the Beach: Manzanillo del Mar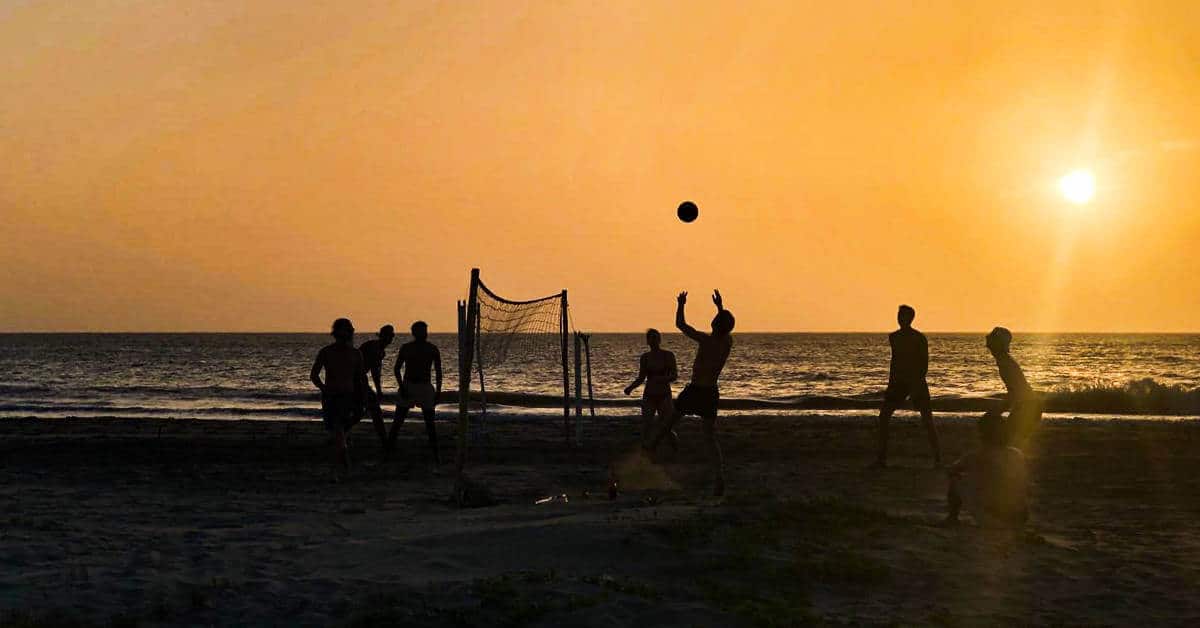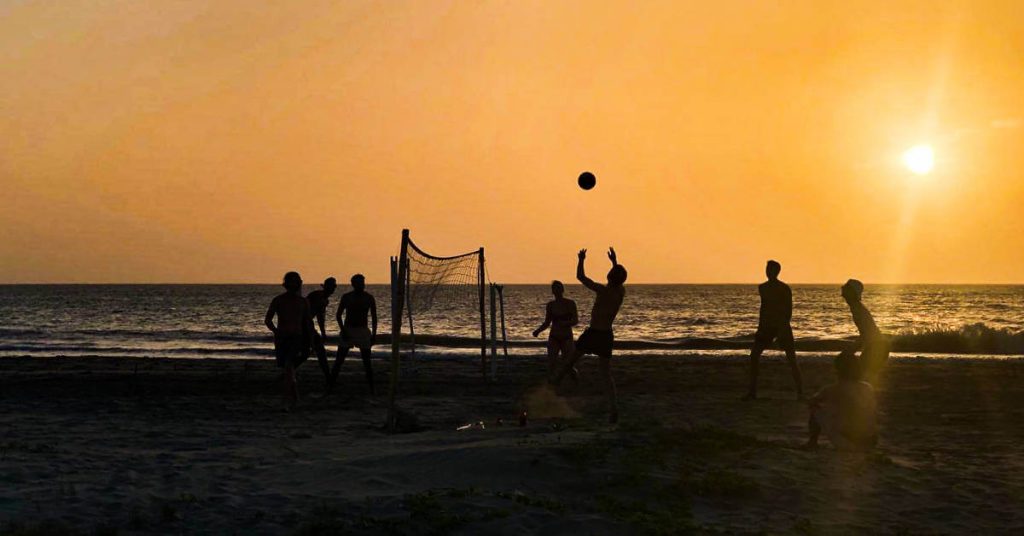 If you want to get away from it all and stay on the beach, consider Manzanillo del Mar. While this area is starting to show signs of development, it's still fairly low key. Between lounging on the beach, spend your days kitesurfing or paddleboarding.
This is the farthest area from the city mentioned in this guide on where to stay in Cartagena, so keep that in mind. But if you have a car or simply want to have a beach vacation for a couple nights before staying in Cartagena, it's a great location. It's also close enough to the airport that a taxi shouldn't cost an arm and a leg, though you should always establish the price before you get in. Some hotels offer a shuttle for free or a small fee.
Best Hotels in Manzanillo
You'll be lulled to sleep by sounds of the waves at this boutique hotel. The rooms are spacious and suite-like with areas to lounge. For a truly relaxing experience, upgrade to the beachfront bungalow and enjoy meals on your private deck overlooking the ocean.
This all-inclusive resort features three swimming pools and four restaurants on site. It's a good option for groups or families that want to stay on the hotel grounds for the duration of their stay. The rooms feel tropical with crisp white linens and a balcony to enjoy the ocean breeze. The resort also features a spa, gym, and tennis courts.
Best Hostel in Manzanillo
This accommodation feels like a beach house you would rent with your friends. The hostel takes full advantage of its location directly on the beach with an in-house kitesurfing school. And every Thursday, they host games of soccer and volleyball on the beach followed by a BBQ. Several of the rooms feature a sea view, including the shared dorm room.
What is the best area to stay in Cartagena?
Ultimately it's a personal decision. This guide was created to help you decide the best area to stay in Cartagena for you. And if you have the time, why not choose to stay in a couple of different areas of town?
Is Cartagena safe?
Yes, Cartagena is one of the safest cities in Colombia. Just like any large city, be vigilant about your valuables. And try to avoid walking alone at night unless you are in the center. The biggest risk I found while traveling in Cartagena is being overcharged by a taxi, tour, or beach vendor.
Are there beaches in Cartagena?
Cartagena is a coastal city, so there are many different beaches in and around the city. They are all different, so you'll need to decide which is best for you. Read this Ultimate Guide to Cartagena Beaches for more info.
Where to Stay In Cartagena – Pin It to Read Later!