7 Best Mayan Ruins in the Yucatan Peninsula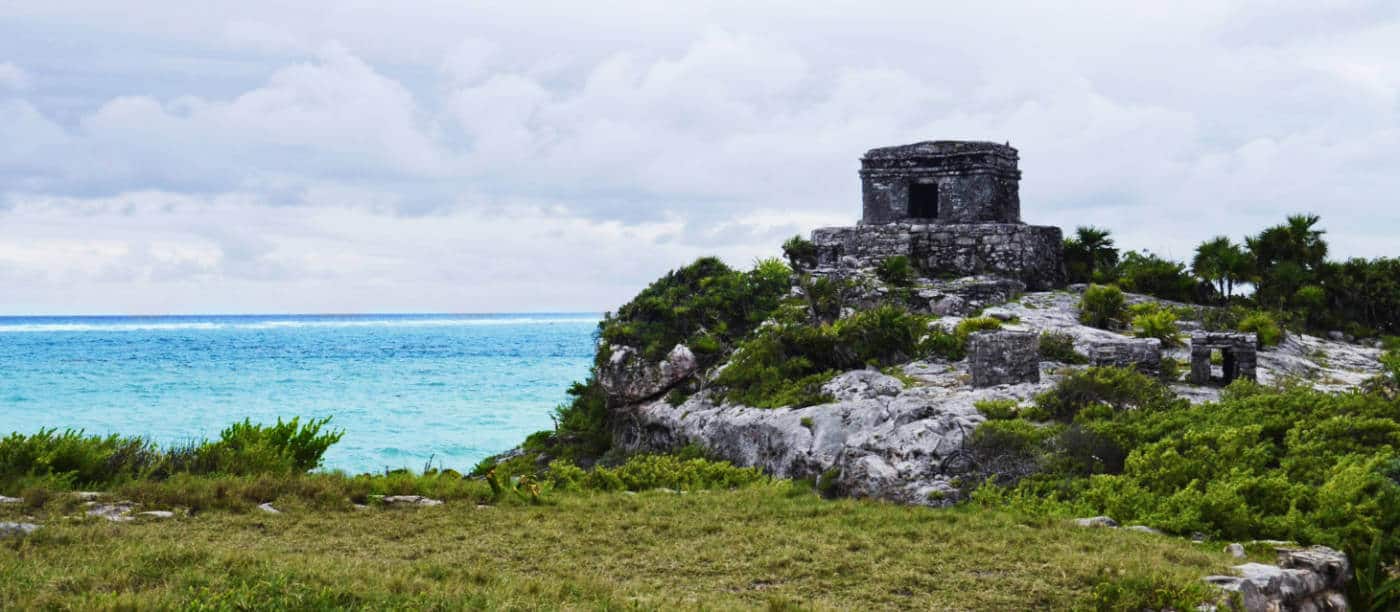 If you're traveling in the Yucatan Peninsula, you need to visit a Mayan ruin. Or two, or three. I was introduced to Mayan ruins in the Yucatan during a lecture given by the cruise ship director the night before I visited a small ruin south of Tulum.
Not knowing anything about the Maya I listened as he described, with adoration, the basic aspects of the Mayan culture. Little did I know that once I explored my first Mayan ruin, the same enthusiasm would be instilled in me.
Fast forward four years and I have now been to many ruins, each one with its own story directed by the lay of the land, water, and commodities available. The pyramids, carvings, and stelaes (large stone slabs) differ vastly, representing the statuses each society symbolized.
If you study a map of the Yucatan Peninsula, you'll soon realize there are many more Yucatan ruins than the famous Chichen Itza. And while it did make my list of the best Mayan ruins in the Yucatan, I've included some other cool sites you should check out as well. You'll also want to read my tips for visiting Mayan ruins in Mexico.
This article may contain affiliate links. This means if you click a link on our blog and make a purchase, we earn a commission at no additional cost to you. For full information, see our disclaimer here.
Tulum Mayan Ruins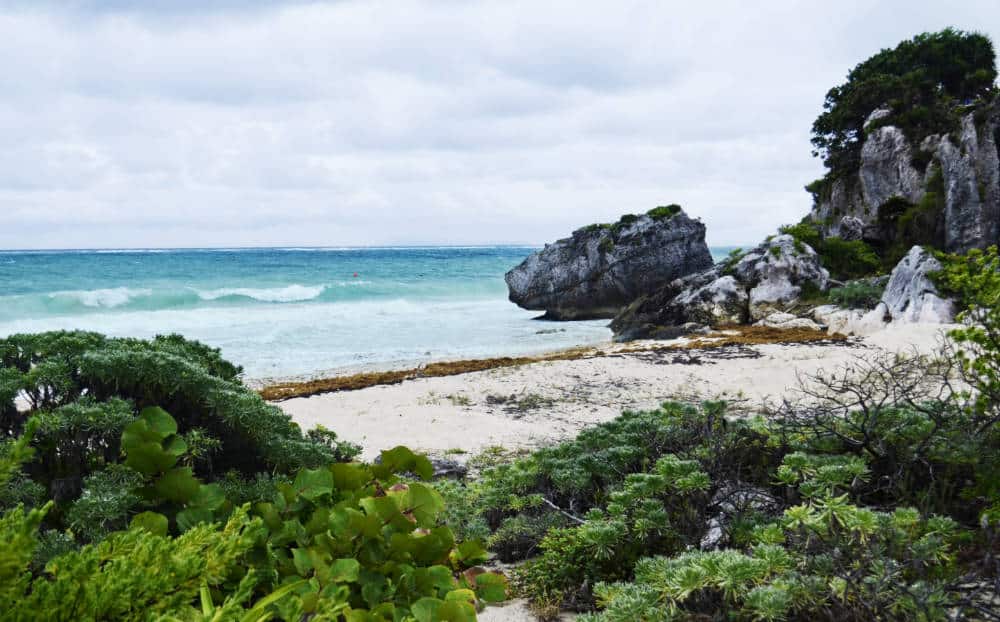 Perhaps one of the biggest draws to this Yucatan ruin is the stunning backdrop of the Caribbean sea. The ruin is perched on a cliff that drops into powdery sand and beautiful turquoise water. This is the third most visited archeological site in Mexico, behind Teotihuacan and Chichen Itza.
Tulum was an important stop for trade. Maya from all over Mesoamerica traded gold, copper, feathers, and most notably obsidian. These are just a few of the similarities to the Aztec Teotihuacan in Mexico City. El Castillo, for me, is the most impressive building on the archeological site, serving as a lighthouse for seafaring traders to mark exactly where the reef splits to safely land their canoes.
Location: 2 miles outside of Tulum | Google Maps Hours: Every day 8:00 am – 5:00 pm
Chances are you'll spend some time enjoying this small beach town that has exploded in popularity recently. Whether you want to be a beach bum or explore the nearby cenotes, read this guide for ideas of what to do in Tulum.
Coba Mayan Ruin
Located 45 minutes from Tulum, the Coba ruins are impressive. Climb to the top of the main pyramid for a stunning view of the lush jungle below. Controlling trade routes, and dominating much of the Northern Yucatan, this Mayan city was of great importance in the region. Older, but lesser known than Chichen Itza, Coba is easily accessible by bus, shared taxis, or renting a car. It does tend to get busy by midday.
TIP: To navigate this site more quickly, bicycles are available to rent for 100 pesos. Or opt to hire a transport bicycle that will ferry you and your travel partner down the covered pathway to the pyramid sites.
Location: Between Tulum and Valladolid | Google Maps Hours: Every day 8:00 am – 5:00 pm
If you're arriving to Coba by way of Playa, check out this list of the best things to do in Playa del Carmen.
Do you want to see flamingos in the wild? Read Next – Celestun Flamingo Tour
Ek Balam Ruins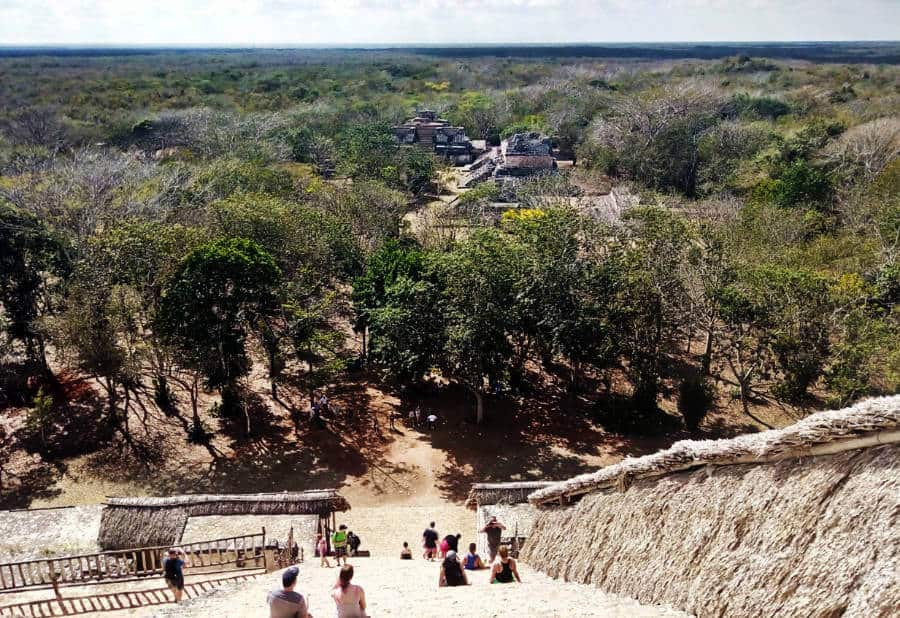 Just 16 miles north of Valladolid, Ek Balam has the most amazing temple. The doorway is a huge carving of a Jaguar with its mouth open. Huge teeth and all. The Maya warrior statues are extremely well preserved and intricate. There aren't a ton of tourists that visit this ruin, so you should be able to get some great views. On a clear day, they say you can see Coba and Chichen Itza from the top.
Location: 30 min north of Valladolid | Google Maps Hours: Every day 8:00 am – 4:00 pm
Chichen Itza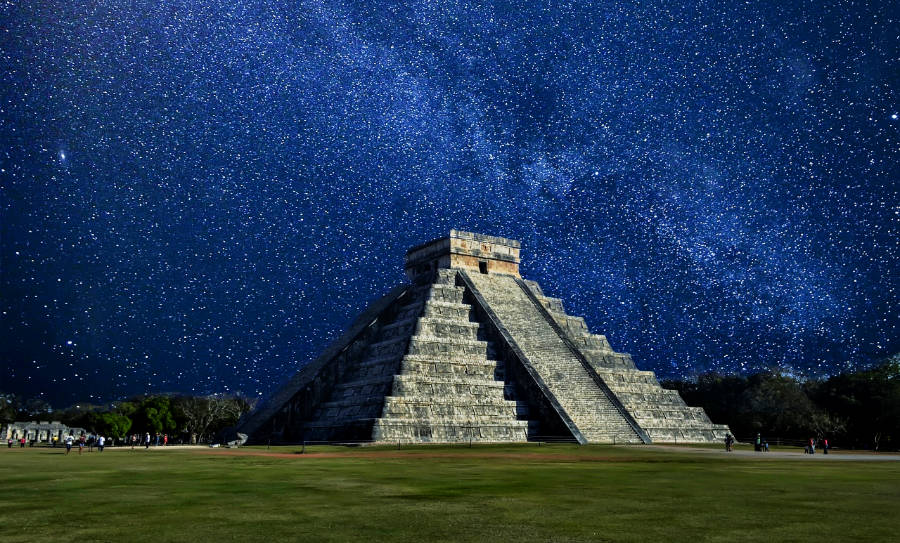 Chichen Itza is the second largest archaeological site in Mexico. This archeological site is easy to get to if you're visiting nearby Valladolid, but get there early. The crowds and vendors are crazy if you don't.
The main pyramid, El Castillo is quite impressive, given its size. I found the history of the sacred cenote quite interesting since they found many items of sacrifice, including human remains, at the bottom. Maybe it was because of the constant 'predatory vending' or the hoards of people even though I got there fairly early, but this has by far been my least enjoyable Mayan site.
TIP: Every night there is a sound and light show at Chichen Itza. If you have a car or are staying close by, check it out.
Location: 45 minutes west of Valladolid | Google Maps Hours: Every day 8:00 am – 4:30 pm
Uxmal
This site is very well preserved due to the cut stone laid into a bed of concrete. At over 100 feet tall, the Temple of the Magician is unusual for its oval shape. While you can no longer climb the Magician pyramid, you can climb the main pyramid at Uxmal for amazing views. Other interests at this Mayan site are numerous statues carved into the shape of turtles, birds, and snakes. The geometric art on the side of the governor's building is unlike other carvings that I have seen.
TIP: If you visit the Uxmal Mayan Ruins, consider doing the entire Puuc route which includes the caves of Loltun, several haciendas, cenotes, and the smaller nearby ruins of Labna, X-Lapak, Sayil, and Kabah.
Location: 1 hour south of Merida | Google Maps Hours: Every day 8:00 am – 5:00 pm
READ NEXT – Things to Do in Merida, Mexico
Mayapan
After the collapse of Chichen Itza, Mayapan became the next thriving capital of the Yucatan Maya. Only 45 minutes south of Merida, the ruins of Mayapan is a quiet archaeological site featuring many stone carvings and a circular observatory. The site is well excavated, though the original construction was not as sound as that of Chichen Itza, so a lot of roofs have caved in.
There is no ball court at Mayapan, but you are able to climb the ruins. This is an archaeological site that even if you arrive later than the gate opening you may still have the place to yourself. If you do find yourself arriving at 10 or later there are numerous cenotes in the area to cool off in after a visit to the ruins. A little out of the way is the Nah Yah cenote. Not only is saying the name kinda fun, but if you're scuba/cave certified you can contact a scuba outfit ahead of time and explore depths of this cenote.
Location: 45 minutes south of Merida | Google Maps Hours: Every day 8:00 am – 4:00 pm
Kohunlich Mayan Ruins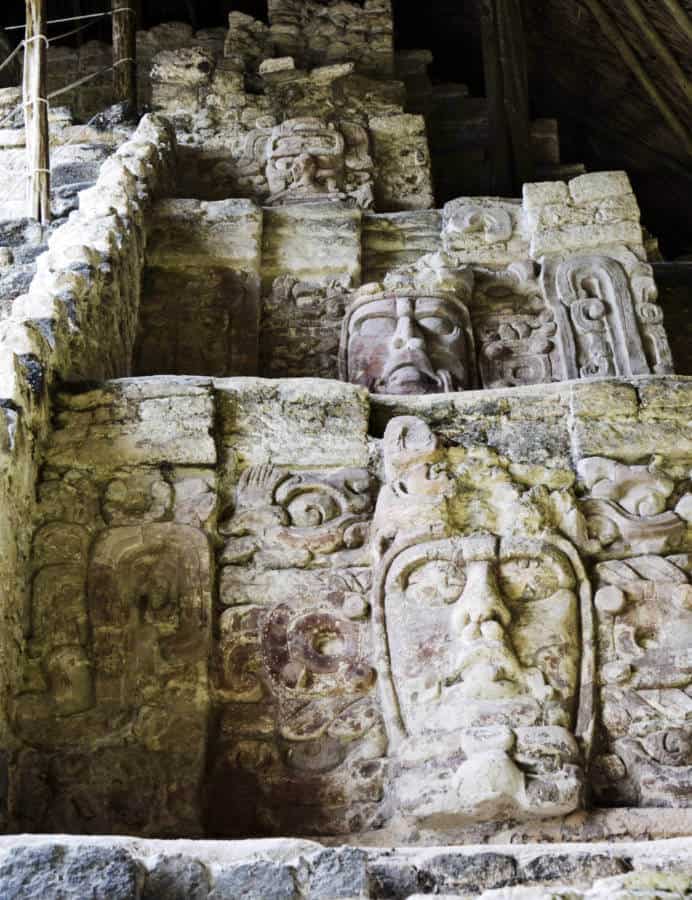 This is a smaller ruin in the southern Yucatan so I wasn't going to give it much attention, but the Temple of Masks is really amazing. Plus, when I visited this ruin in July with friends, we were the only ones here. It's amazing to visit an archeological site like this with the freedom to roam at your pace and explore the ruins.
Equally as impressive were the huge cohune palms, their fronds almost hitting the ground from the large height they originate from. You do need a car to get to Kohunlich. The ruins are located down a dirt road 5 miles (15 min by car) from the turnoff at Hwy 186. There are restrooms located on site next to the ticket office.
Location: 1 hour southwest of Bacalar | Google Maps Hours: Every day 8:00 am – 4:30 pm
---
Tips To Visit the Yucatan Ruins
Arrive when the site opens
This cannot be stressed enough. I've had some pretty early mornings to visit ruins in Mexico, but the beauty of sharing the site with only a few others is completely worth it. If you are looking for the perfect picture, get there before the tour buses full of photobombing people. Also, most of the vendors will just be arriving by the time that you're leaving.
TIP: Try to avoid visiting the ruin sites on a weekend, especially on Sunday when it is busiest and often free for Mexican nationals.
Wear solid shoes
A lot of the ruins in Mexico are in the middle of the jungle. Navigating the terrain can be tricky enough, but if you're allowed to climb the structures it can be nerve-wracking looking down. You certainly don't want to add poor footwear into the equation.
Bring water, sunscreen, and a hat
Perhaps it goes without saying, but the Yucatan Peninsula can be sweltering hot. The smaller ruins may not have water for purchase, so it's best to bring all you will need. (Don't worry there are always bathrooms!) Some ruins offer more shade than others, but most are exposed to the elements. I always bring sunscreen and a wide-brimmed hat.
Hire a guide
I have been to many ruins and each one has its place in the Maya lore. The guide's insight is steeped in a combination of archaeologist academia and personal family history of the area. The tour guides we've experienced have all been very proud of their Mayan ancestry, and the more questions you ask them the more information they will give you without prompting.
Tour guides in Mexico are all licensed by the federal government. They are trained to expertly explain the lives of the Maya and answer any questions about the flora and fauna you encounter.
TIP: As you enter the site, see if there are other visitors that would be willing to share the price of a guide.
Cool off in a Cenote after
Swimming in a cenote after visiting a Mayan ruin should be mandatory. There's no better way to cool off and reflect on the Mayan history you just experienced. Every ruin has at least one nearby, though they tend to be some of the most touristy. But not to worry, there are thousands of cenotes in the area!
Have you explored the Mayan Ruins in the Yucatan? Tell me about it in the comments!
Save our guide to Yucatan Ruins. Pin it for later!