25 Most Beautiful Cities in Mexico You Need to Visit
The most beautiful cities in Mexico showcase the country's vibrant culture, rich history, and diverse landscapes.
From colonial gems with cobblestone streets to coastal havens with breathtaking beaches, these beautiful cities in Mexico each have their own captivating allure.
After living and traveling in Mexico for more than five years, I've compiled this list of the best Mexican cities so that you can decide where you want to explore.
Whether you are a history enthusiast, a nature lover, or simply seeking an immersive cultural experience, you'll find that the prettiest cities in Mexico have something to entice every type of traveler.
Continue reading as we embark on a virtual journey through some of the most popular cities in Mexico.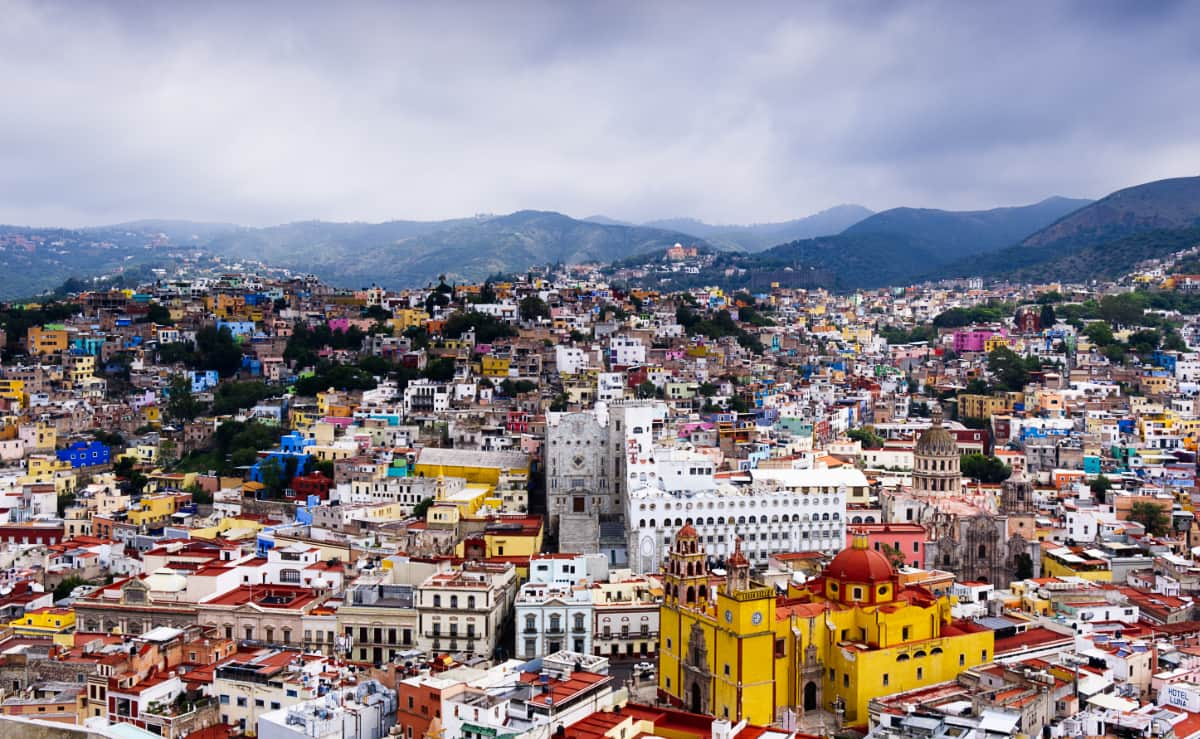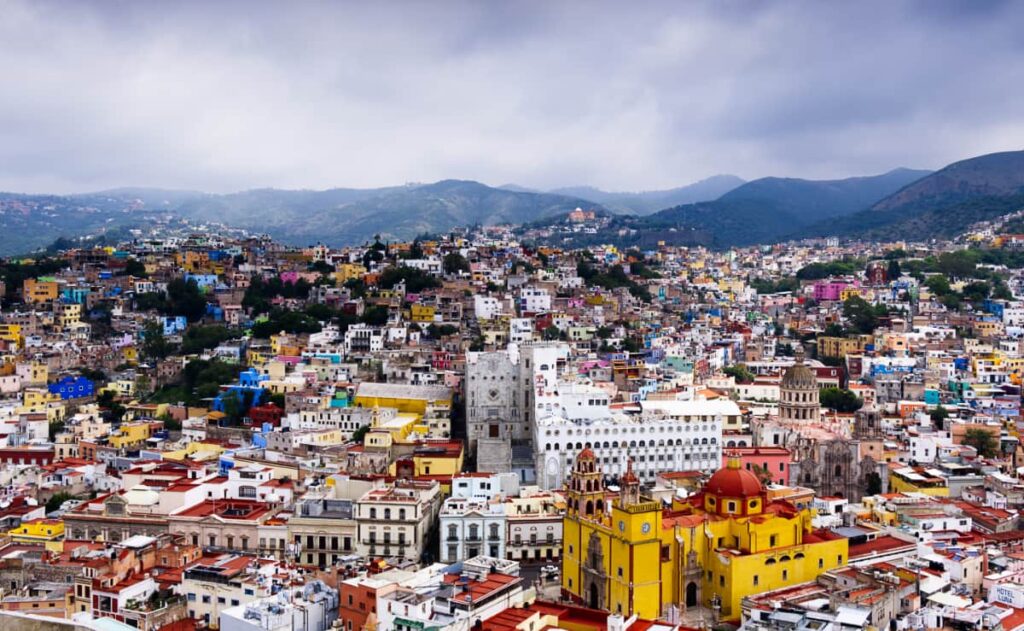 This article may contain affiliate links. This means if you click a link on my website and make a purchase, I earn a commission at no additional cost to you. For full information, please see my disclaimer here.
10 Top Cities in Mexico
If you're simply looking for the top cities in Mexico that are known for their beauty, this short list is for you. I've included a link that will take you to a more detailed description within this article so that you can learn more.
Guanajuato
Often called the most beautiful city in Mexico, Guanajuato is known for its many alleyways and beautiful mountain views.
Oaxaca City
Oaxaca City has become one of the most popular cities in Mexico because of its incredible food, beautiful churches, and rich culture.
San Cristobal de las Casas
This beautiful Mexican city blends its indigenous roots with its colonial past. San Cristobal de las Casas is also known for its vast nature nearby.
San Miguel de Allende
Loved by Mexicans and foreigners for its well-preserved architecture, San Miguel de Allende is one of the most popular cities in Mexico.
Mexico City
The capital city is one of the most famous cities in Mexico. As a large metropolis, Mexico City captivates travelers with its vast diversity. There is no doubt, this is one of the best cities in Mexico (and the world).
Merida
The appeal of Merida extends beyond its label as the safest city in Mexico due to its beautiful, historic mansions and rich culture.
Campeche
This small city in Mexico is also one of the prettiest. Campeche is a coastal city in the Yucatan whose buildings blend tropical hues with pastel colors.
Queretaro
The ornate architectural detail in Queretaro is the main reason it ranks up there with the most beautiful cities in Mexico.
Puerta Vallarta
Cityscapes meet the Pacific Ocean in Puerta Vallarta, one of the most popular cities in Mexico.
Mazatlán
This is another top city in Mexico on the Pacific Coast. Mazatlán is also known for its Carnival celebrations in February.
Most Beautiful Small Cities in Mexico
1. Guanajuato City
When you visit Guanajuato City, you'll immediately understand why it's considered one of the most beautiful cities in Mexico.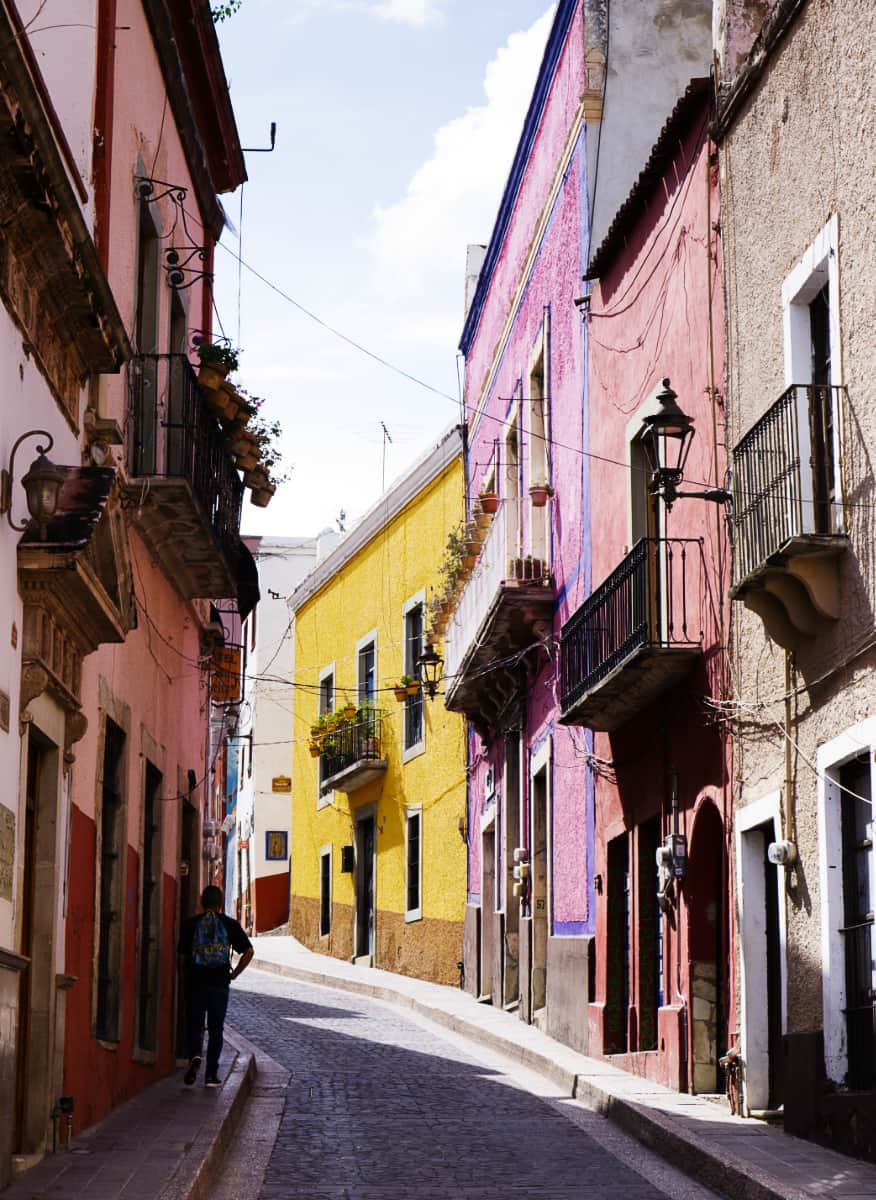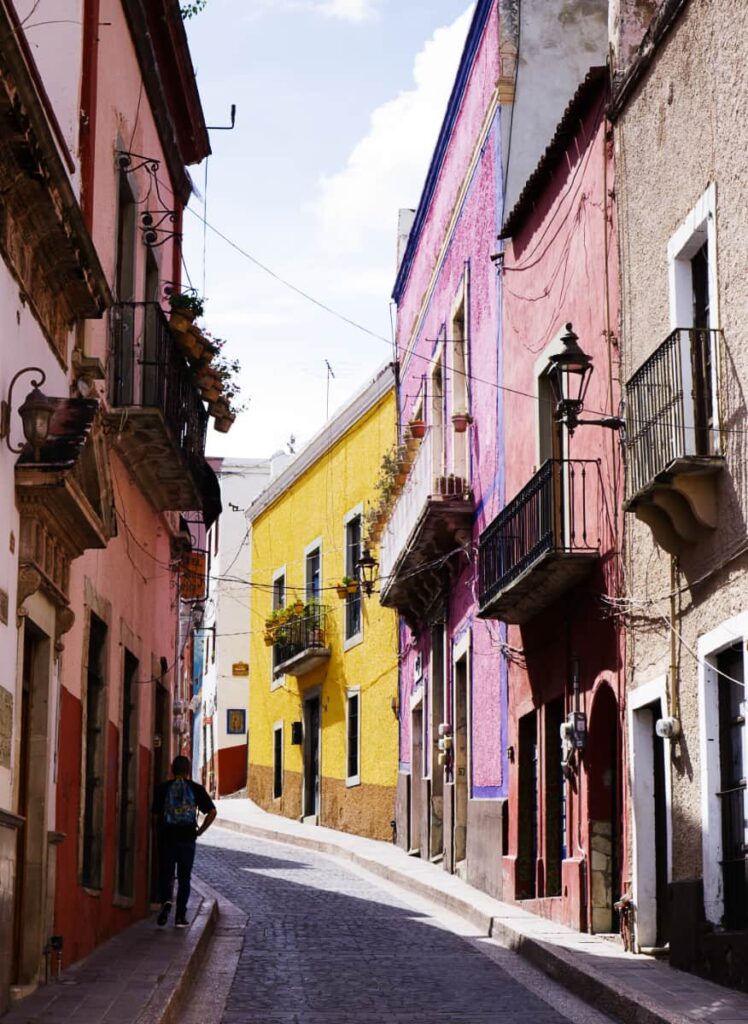 Its narrow alleys, called callejones, weave through the city and through the surrounding mountains. They are filled with stunning architecture, gorgeous churches, and incredible tree-lined plazas. And views overlooking the city are just as beautiful, with colorful homes stacked into the mountainsides.
Founded by the Spanish in the early 16th century, Guanajuato City has a fascinating history of silver mining, which played a significant role in developing the city's wealth and cultural heritage.
You can also see Guanajuato's rich history through its museums, theaters, and galleries. The vibrant arts scene in Guanajuato showcases the city's creative spirit and lively culture which is in part fueled by the more than 20,000 university students that attend the University of Guanajuato.
After spending more than a month in Guanajuato, I've included the top five things to do below. Click here to see the whole list.
Ride the Cable Car for Incredible Views
Hike the Top of Cerro de la Bufa
Join a Callejoneada Through the Streets of Guanajuato
Tour La Valenciana Silver Mines
Visit the Mummy Museum
Guanajuato is an enchanting destination for any traveler looking to experience the beauty of Mexico.
Whether you're exploring the well-preserved historical sites, admiring the charming colonial architecture, or simply soaking up the vibrancy of the city, you'll likely agree that Guanajuato is one of the prettiest Mexican cities.
2. San Cristobal de Las Casas
San Cristobal de Las Casas, located in the state of Chiapas, is a small city in Mexico that is rich in culture and surrounded by beautiful nature.
As you stroll through San Cristobal's charming streets, you'll be enticed by the smell of coffee and rich drinking chocolate emanating from the many cafes and restaurants in San Cristobal. Its mild to cool weather is the perfect atmosphere to get cozy with a hot beverage while watching life pass by.
Nature lovers will want to venture on a San Cristobal tour to explore the caves, canyons, and waterfalls that are dotted through the state of Chiapas.
This beautiful Mexican city's cultural heritage is also worth exploring. With a large indigenous population, you will find unique handicraft markets and museums showcasing the region's history and traditions.
And you won't want to miss out on the opportunity to visit the nearby indigenous community of San Juan Chamula. This traditional town is just a short day trip from San Cristobal and will offer you a unique insight into the traditional customs of the people of Chiapas, Mexico.
As a traveler to San Cristobal de Las Casas, I loved the mix of culture and stunning natural surroundings. To me, this is one of the prettiest cities in Mexico.
3. San Miguel de Allende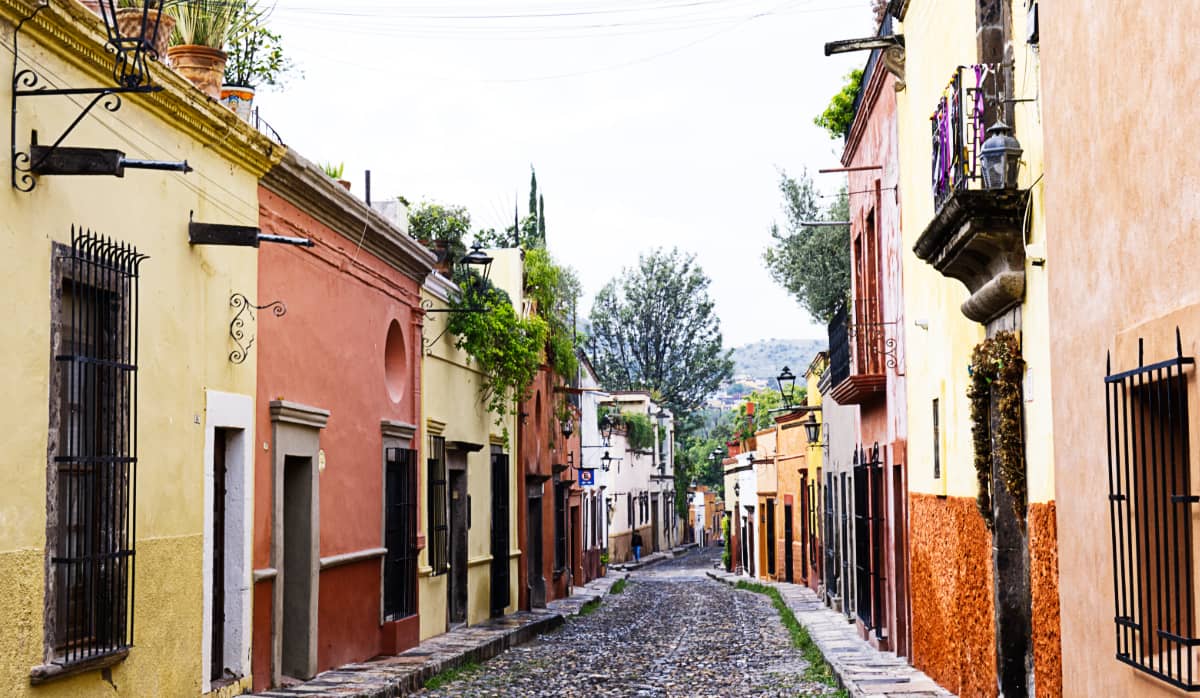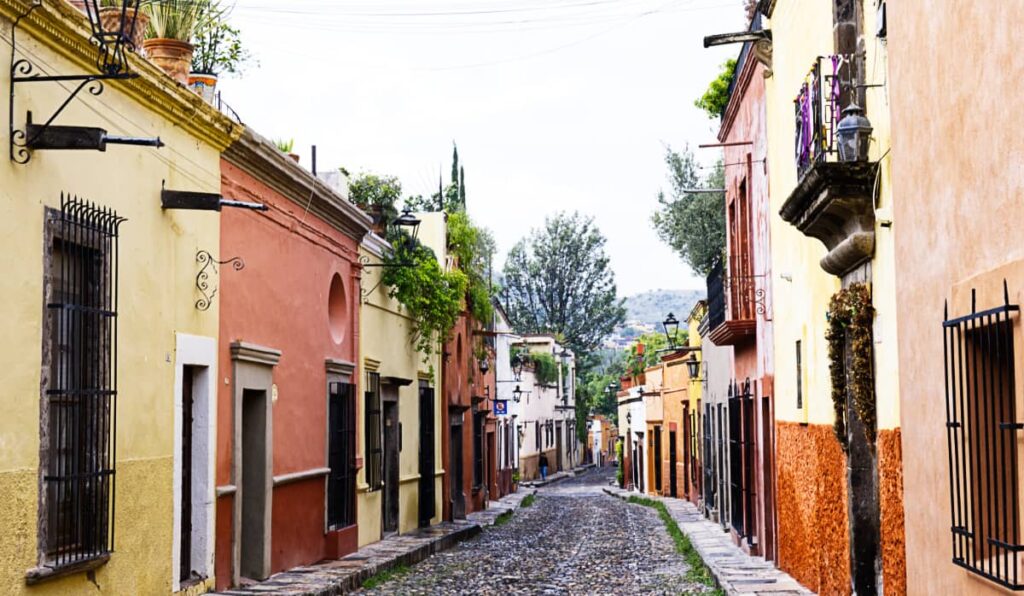 The small Mexican City of San Miguel de Allende is known for its well-preserved architecture, blossoming culinary scene, and unique things to do .
As you stroll down its charming cobblestone streets, it's not hard to see why it's considered one of the most beautiful cities in Mexico.
While marveling at the city's Baroque architecture and vibrant colors, you'll soon discover that San Miguel de Allende is a walkable city. You can easily explore its incredible restaurants, numerous art galleries, museums, and artisanal shops on foot. And even better, is to have a local guide you on a tour of San Miguel de Allende.
While exploring, make sure to visit the city's iconic Parroquia de San Miguel Arcángel, a stunning Gothic church that dominates the main square. Its pink limestone facade and intricate details are beautiful during the day and will leave you in awe when you see it lit up at night.
And your explorations aren't limited to the city. I've listed three of my favorite day trips from San Miguel de Allende below, although you'll want to click here to see the full list.
Atotonilco, referred to as the Sistine Chapel of Mexico
The Chapel of Jimmy Ray
As you soak in San Miguel de Allende's unmistakable charm you'll quickly understand why it is one of the most popular cities in Mexico.
Most Popular Cities in Mexico
4. Oaxaca City, Mexico
Oaxaca City is renowned for its colonial architecture, incredible food, and vibrant culture. Its historic center, a UNESCO World Heritage site, blends colonial buildings with beautiful churches and colorful buildings.
As you stroll through the streets, take note of the stunning architecture built from green quarry rock. One of the most impressive examples is the theater, Teatro Macedonio Alcalá. You'll also find numerous churches and cathedrals, such as the impressive Santo Domingo Church, which is an iconic landmark in Oaxaca City.
But the beauty of Oaxaca doesn't end at the city limits. Nestled within the Central Valleys, Oaxaca City is surrounded by small pueblos within its mountainous landscapes as well as the impressive archaeological site of Monte Albán. It's also a great base to explore Hierve el Agua, one of only two petrified waterfalls in the world.
5. Mexico City
No list of the best cities in Mexico is complete without talking about its capital, Mexico City. Despite a population of over 25 million in the metropolitan area, Mexico City remains one of the most beautiful cities in Mexico.
I love walking through the various neighborhoods in Mexico City, many of which feel alive with grand trees, parks, and walkable areas.
You could easily spend an entire day exploring the green spaces and historic sites within Bosque de Chapultepec, a sprawling city park that is just over twice the size of Central Park in New York City.
Cuidad de Mexico, or CDMX, is also a treasure trove for history lovers. The city is home to fascinating museums that showcase everything from art and anthropology to history and science. And no trip to Mexico City would be complete without visiting Teotihuacan, one of the most important archeological sites in Mexico.
If you travel about an hour and a half south of the city, you can hop aboard a colorful boat, called a trajinera, to explore Xochimilco, an ancient network of canals and floating islands.
While this short list barely scratches the surface, here are some of the best things to do in Mexico City during your visit.
Anthropology Museum
Chapultepec Castle
Palacio de Bellas Artes
Blue House of Frida Kahlo
Xochimilco Floating Gardens
Additionally, Mexico City is home to some incredible restaurants, amazing street food, and captivating markets.
6. Guadalajara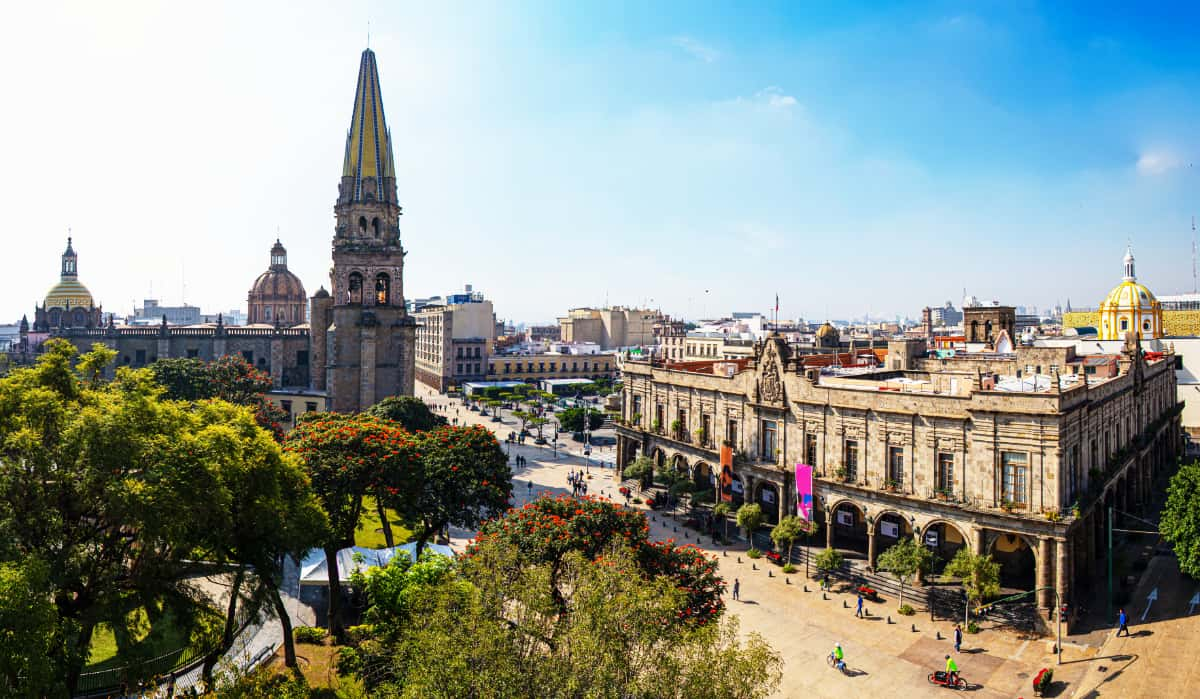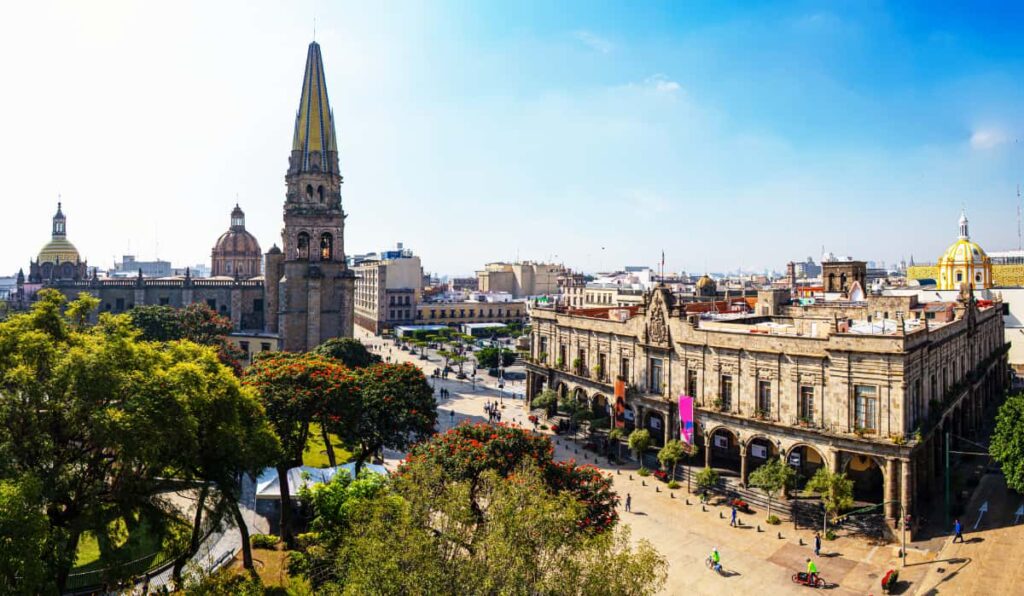 Guadalajara is the capital and largest city of Jalisco, a state known for tequila, sombreros, and mariachi bands. It's a popular city in Mexico with a captivating blend of tradition and modernity.
In Guadalajara's historic center, you'll discover gorgeous architecture, including the iconic Guadalajara Cathedral and the Hospicio Cabañas, a UNESCO World Heritage site.
You can't visit Guadalajara without sampling tequila, which is only produced in the state of Jalisco. The region around the city is full of distilleries that you can tour. You'll learn about the process and have an opportunity to taste various types of tequila.
Finally, you'll want to indulge in the local gastronomy. As one of the largest cities in Mexico, Guadalajara offers a wealth of dining options. Make sure you try Jalisco specialties such as birria and tortas ahogadas.
By exploring Guadalajara's beautiful architecture, cultural heritage, and delicious culinary offerings, you'll quickly understand why it is considered one of the best cities in Mexico.
7. Merida
Often called the cultural capital of the Yucatan, Merida is a vibrant city filled with a fascinating history, remarkable architecture, and daily cultural events organized by the city.
Founded by the Spanish in 1542, this beautiful colonial city has something for everyone – from exploring former haciendas to indulging in the region's unique gastronomy.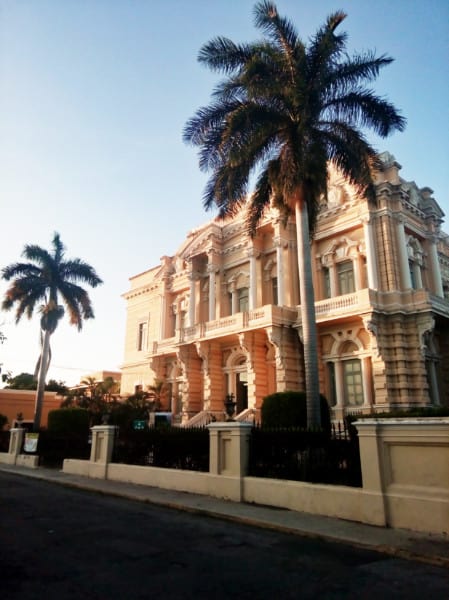 As you wander the streets of Merida, you'll be captivated by the colorful facades of the colonial buildings and the grandeur of its Cathedral, one of the oldest in the Americas.
You'll want to take your time to explore the city, as Merida is home to numerous art galleries, museums, and cultural centers that showcase the rich history of the region and its people.
To experience Merida's vibrant culture, make sure to attend one of the city's many cultural events hosted by the city. They include a re-enactment of the Mayan ballgame, Pok Ta Pok, as well as evenings filled with music and dance.
By visiting Merida, you'll be able to immerse yourself in the unique culture and history of the Yucatan, while also enjoying the modern amenities of this charming city. It's one of the best cities in Mexico to experience a blend of ancient traditions and contemporary lifestyles.
8. Puerto Vallarta
Tucked into Banderas Bay on the Pacific Coast of Mexico, Puerto Vallarta is renowned for its picturesque coastline and vibrant atmosphere.
When you travel to Puerto Vallarta, you'll be greeted by gorgeous beaches embraced by the lush Sierra Madre mountains. Tucked into the cliffsides are modern buildings that make up this Mexican city.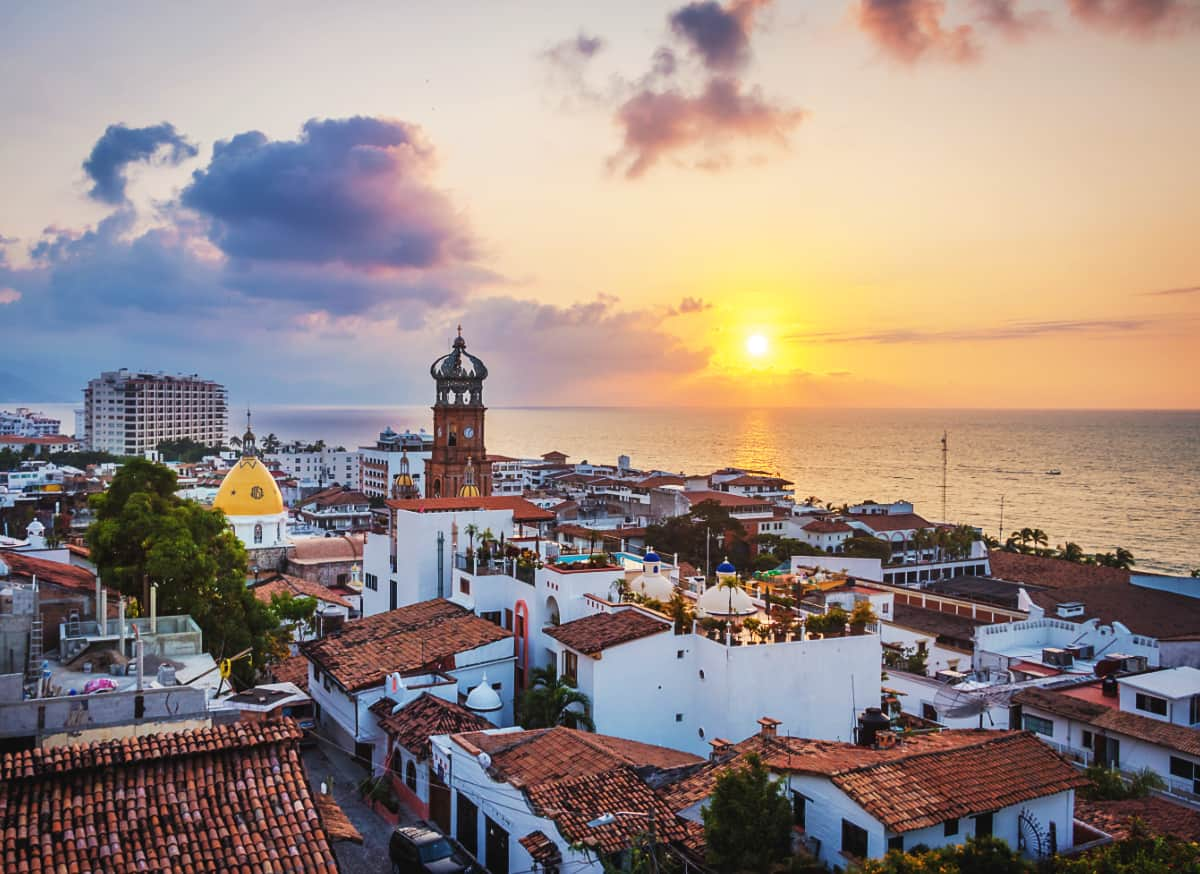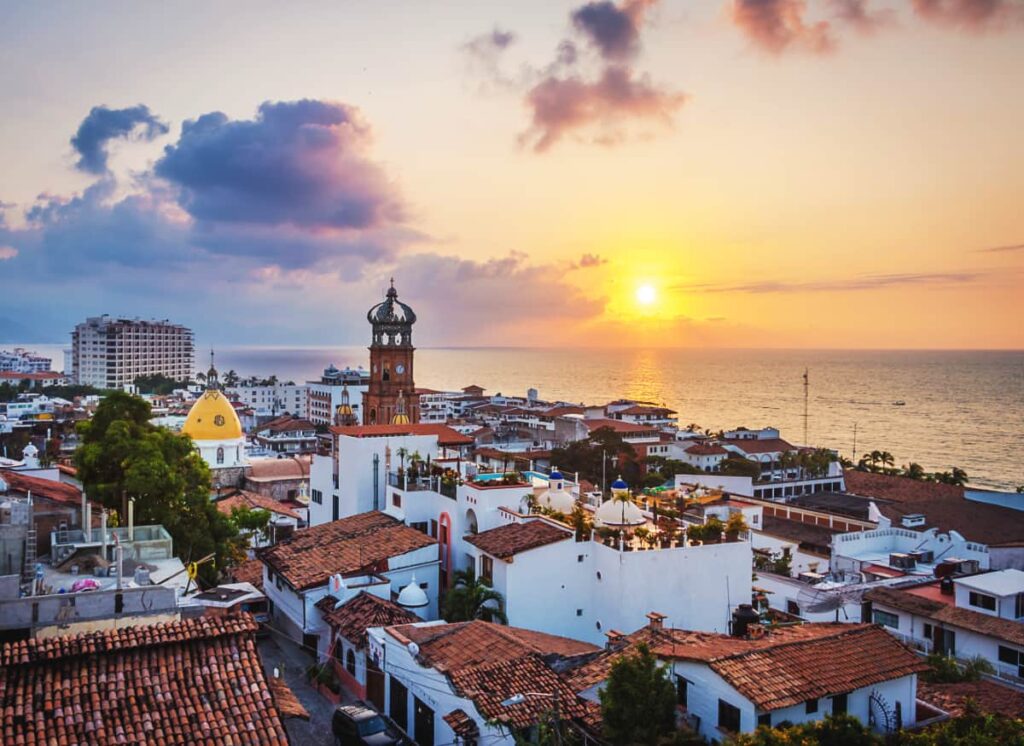 In my opinion, it's this contrast between the mountainous cityscape and gorgeous ocean waters that make Puerto Vallarta one of the best cities in Mexico.
The beauty of visiting Puerto Vallarta is the combination of beach and outdoor activities with a vibrant nightlife scene that's known for its inclusivity.
During the day you can soak up the sun and enjoy various water activities such as snorkeling and scuba diving. Or book a trip on a yacht and cruise to Yelapa Island, just off the coast.
In the evening you'll want to soak up the vibrancy of the city. There are a variety of fun performances, art galleries, and incredible restaurants and bars to explore throughout the city of Puerto Vallarta.
Most Underrated Pretty Mexican Cities
9. Campeche
Located along the Gulf of Mexico on the Yucatán Peninsula, the city of Campeche is a beautiful hidden gem known for its colorful colonial architecture.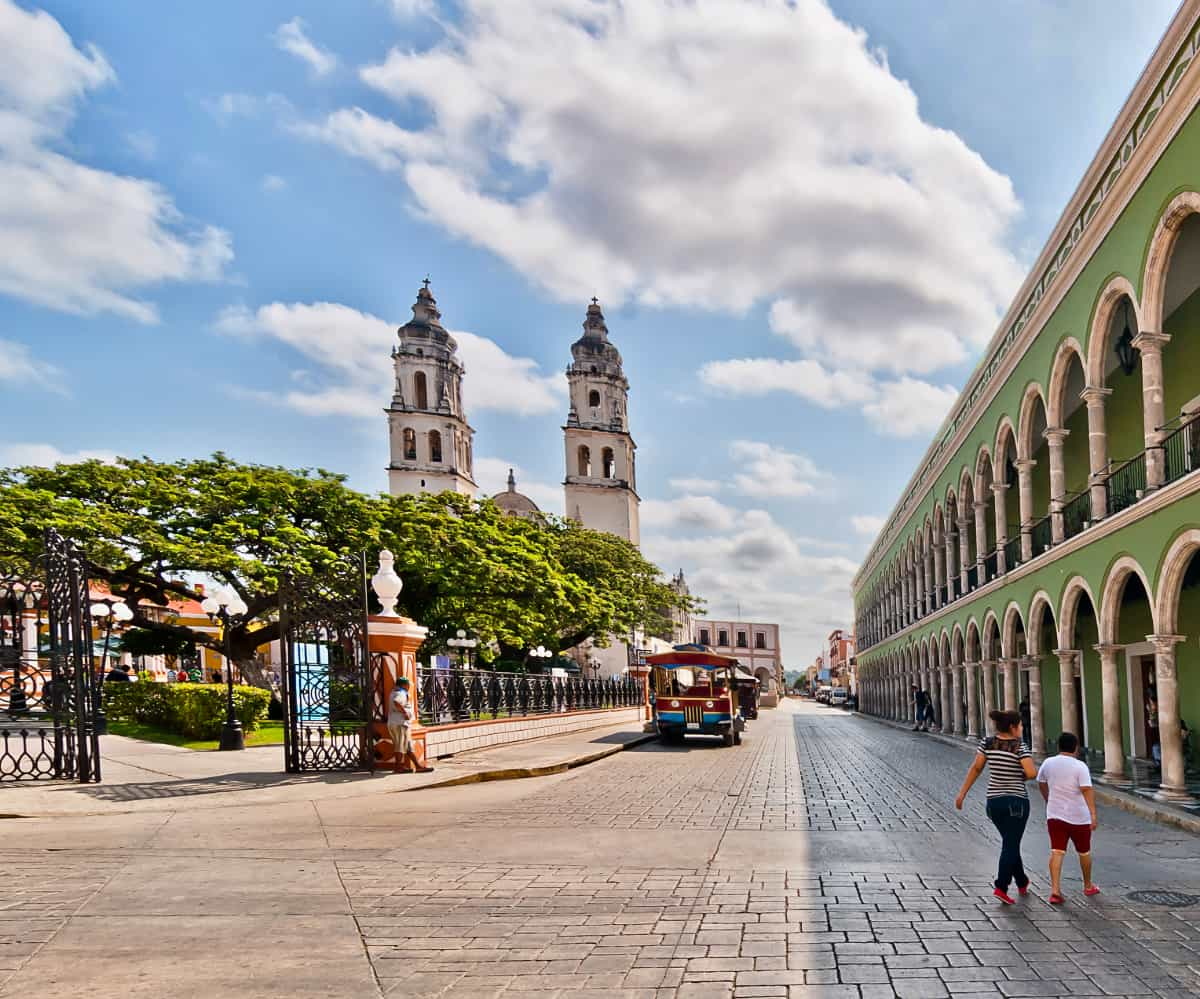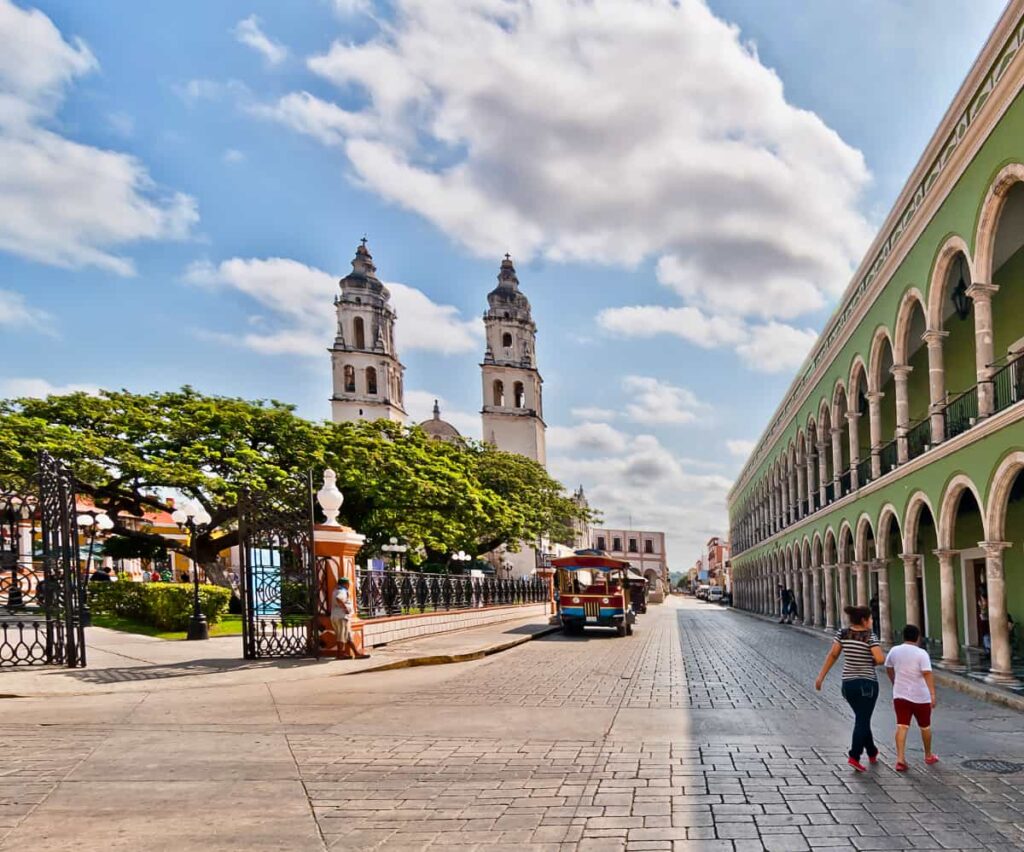 As you walk through the center, you'll notice a mix of vibrant colors and soft pastels. Many of the buildings are adorned with ornate balconies which creates a picturesque atmosphere in this coastal Mexican city.
Campeche is another city in Mexico with a rich heritage. Its strategic location on the western shore of the Yucatan Peninsula allowed it to flourish during the Spanish colonial period, and this history can be felt in every corner of the city.
Campeche also offers access to the nearby Calakmul Biosphere Reserve, home to diverse wildlife and some of the least visited Mayan ruins in the Yucatan.
10. Queretaro
Queretaro is a big Mexican city with a well-preserved historic center that showcases its baroque architecture. In fact, during my multiple visits to Queretaro, the stunning architectural details are what stood out to me the most.
Many of the buildings in Queretaro have been preserved to their original glory. Architecture lovers will revel in the houses with ornate gargoyles and unique door knockers.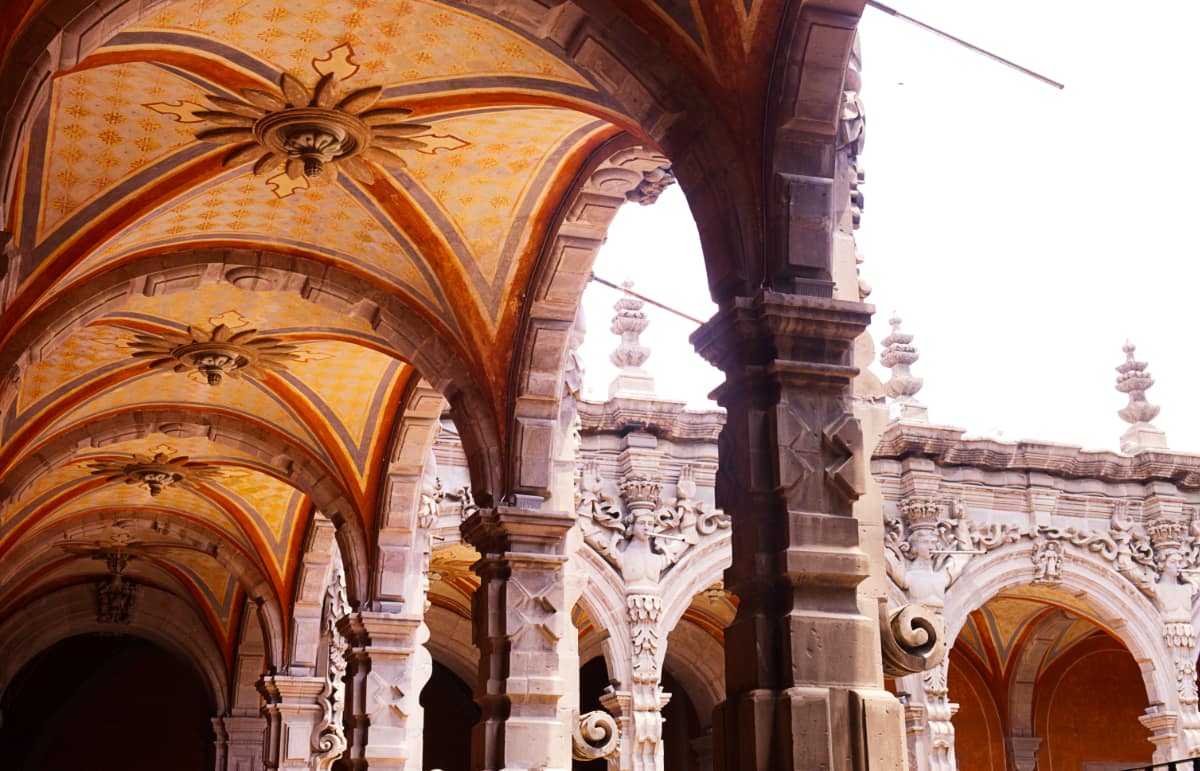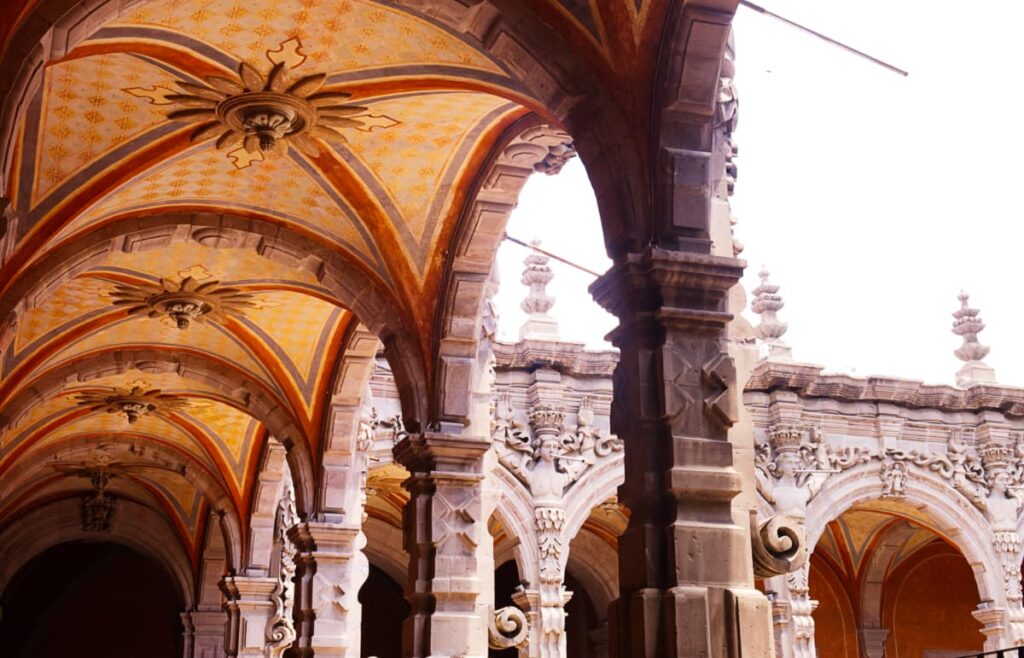 This beautiful city, also called Santiago de Querétaro, is also home to an incredible 1400 historic monuments. The numerous museums in Queretaro also stand out. Many of them are located in buildings so spectacular, they could be the museum itself.
Querétaro's beauty is enhanced by its surrounding natural landscapes, such as Peña de Bernal, a monolith considered one of the largest in the world. And spending a night at the cabanas at Cuatro Palos in the Sierra Gorda Biosphere Reserve to the east is a spectacular experience.
The city's rich history, lively arts scene, and proximity to the incredible Sierra Gorda region make Queretaro one of the most beautiful cities in Mexico.
11. Xalapa
Xalapa, the capital of Veracruz Mexico, is nestled in the lush landscapes of the Sierra Madre Oriental mountain range. Nicknamed the City of Flowers, Xalapa has an incredibly pleasant (although slightly humid) climate.
The city's streets are adorned with colorful colonial buildings while its numerous parks and gardens, such as the Botanical Garden Francisco Javier Clavijero, add to its natural beauty.
The city is also home to numerous museums, such as the Anthropology Museum and the Museum of Contemporary Art, which showcase Mexico's rich cultural heritage. With its beautiful surroundings and cultural offerings, Xalapa is easily one of the best cities in Mexico.
12. Orizaba
Orizaba is a beautiful Mexican city located in the state of Veracruz. Nestled at the foot of the Pico de Orizaba, the highest peak in Mexico, the city offers breathtaking natural beauty.
Orizaba's historic center features elegant 19th-century architecture, such as the Palacio Municipal and the Iron Palace.
This region of Veracruz is also famous for its coffee production. If you're in the area, you should explore the nearby coffee farms to learn about the process and taste the local coffee.
With its stunning mountain backdrop and cultural attractions, Orizaba is one of the most beautiful cities in Mexico for coffee and history lovers.
Other Beautiful Cities in Mexico
13. Puebla
Located just east of Popocatépetl, one of the most active volcanos in Mexico, Puebla is a city known for its exquisite architecture, rich history, and culinary specialties.
The city's charm lies in its buildings of Baroque influence which can be seen throughout the city. This beautiful Mexican city is also recognized for its Talavera pottery, which adds a vibrant touch to the city's streets and buildings.
I've listed a few of the top landmarks in the city below:
Capilla del Rosario
Puebla Cathedral
Biblioteca Palafoxiana
Teatro Principal
Puebla is also home to some of the best food in Mexico including mole, chiles en nogada, and cemitas.
14. Morelia
Morelia, the state capital of Michoacán, is another beautiful city with well-preserved colonial architecture.
While exploring this Mexican city, which has been deemed a UNESCO site, take note of the prominent pink stone that is used in many of the historical buildings.
I also love Morelia's plazas and gardens which are beautifully maintained and offer a tranquil space for relaxation.
The area surrounding Morelia is also a beautiful place to explore. The monarch butterfly reserves draw visitors to Morelia during the winter months when they migrate south. This area is also known for its rich culture which is perhaps best seen during Janitzio's Day of the Dead celebration.
15. Mazatlán
Mazatlán is a city on the Pacific coast of Mexico, known for its golden beaches, stunning sunsets, and lively atmosphere.
This center of Mazatlan is located on a small peninsula that juts out into the Pacific Ocean while the remainder of the city has sprawled north of the center.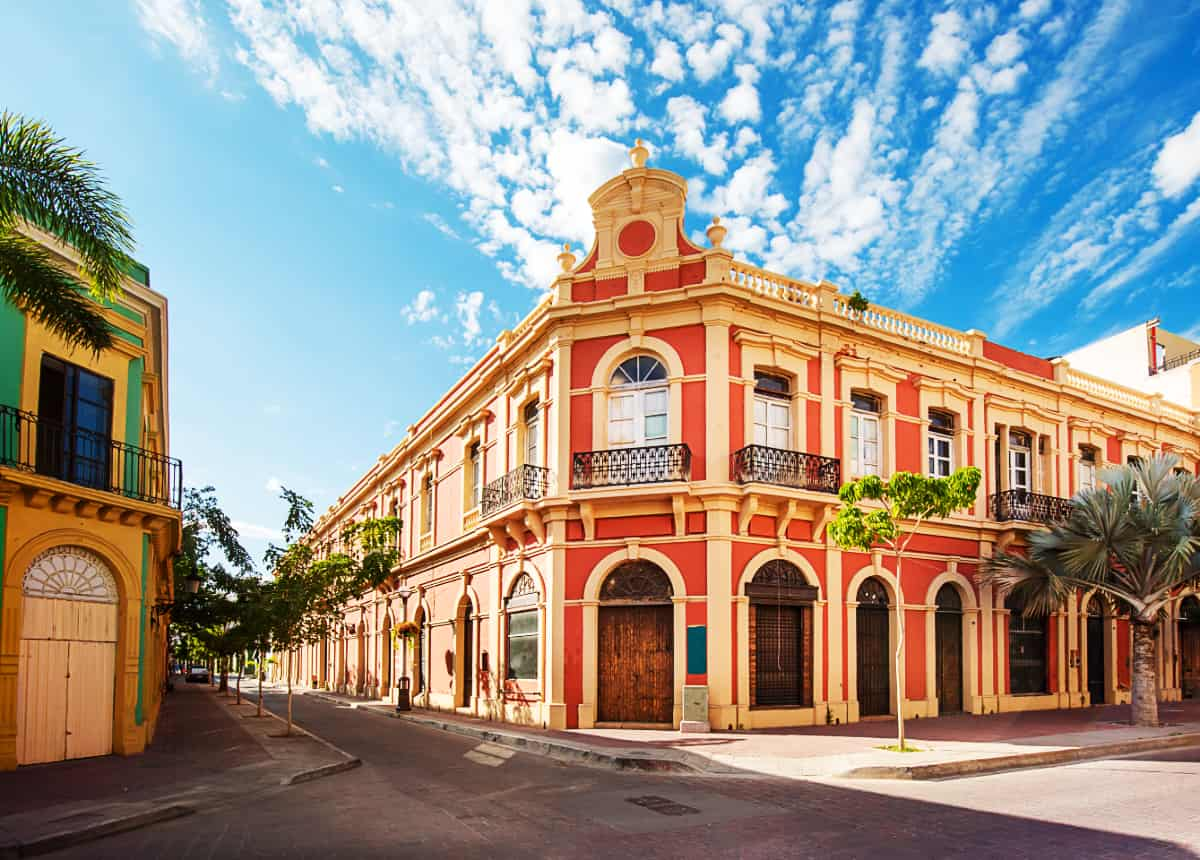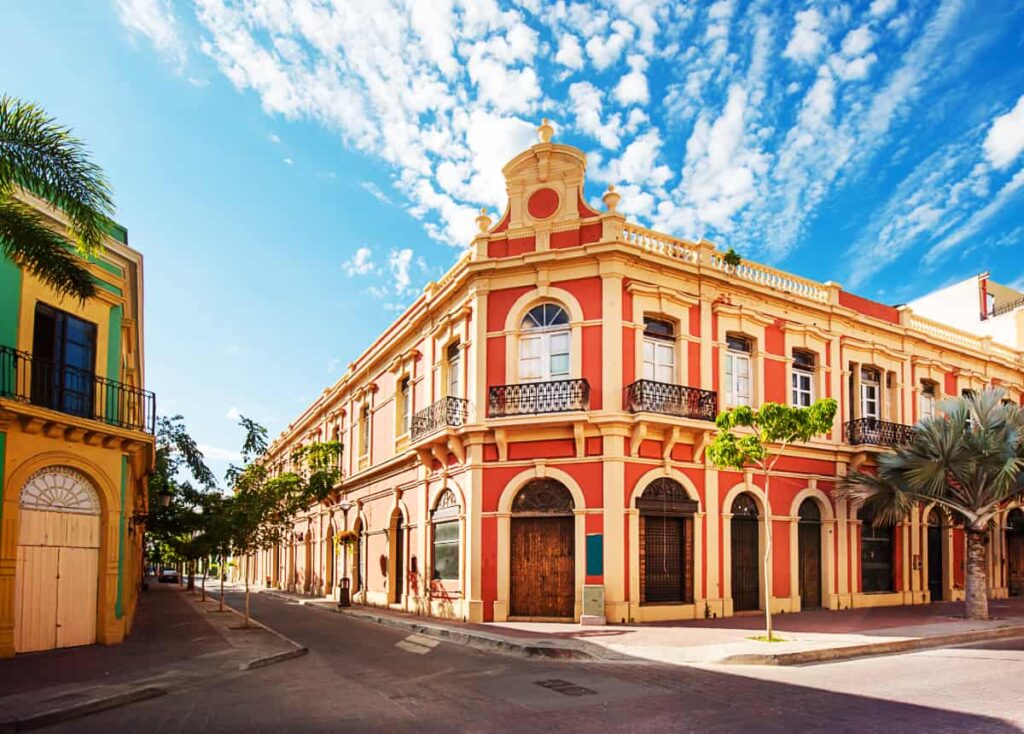 The historic center is a beautiful blend of colonial architecture and colorful buildings. And the Malecón is a scenic oceanfront boulevard with stunning views of the Pacific Ocean.
Mazatlán is also famous for its vibrant Carnival celebrations, where locals and visitors gather to enjoy parades, music, and traditional dances.
16. Cabo San Lucas
Cabo San Lucas is a renowned resort city located on the southern tip of the Baja California Peninsula. It's known for its breathtaking natural landscapes and luxurious beach resorts.
Along San Lucas Bay is a long stretch of pristine beach with crystal-clear waters called Playa El Medano.
And further south is Playa de los Amantes, a beach with incredible rock formations. At the eastern tip, the iconic El Arco formation provides a dramatic backdrop for stunning sunsets.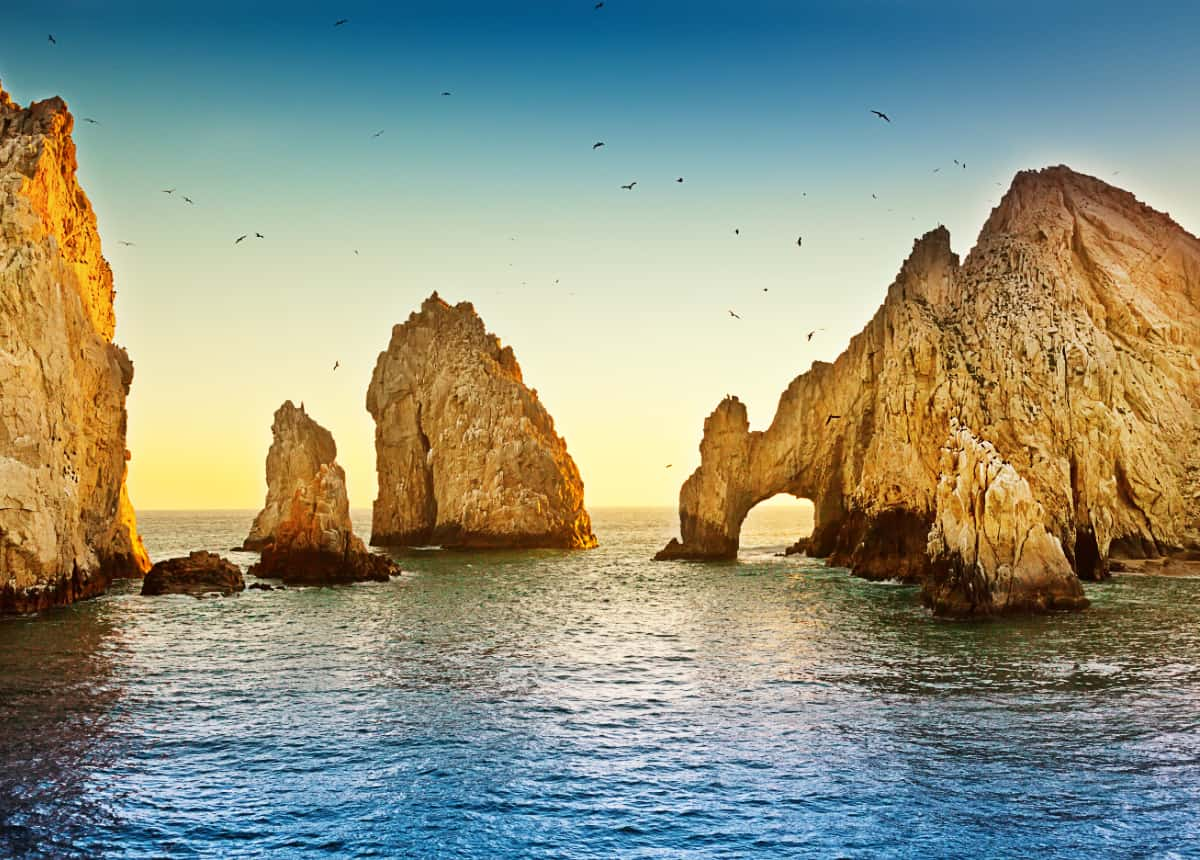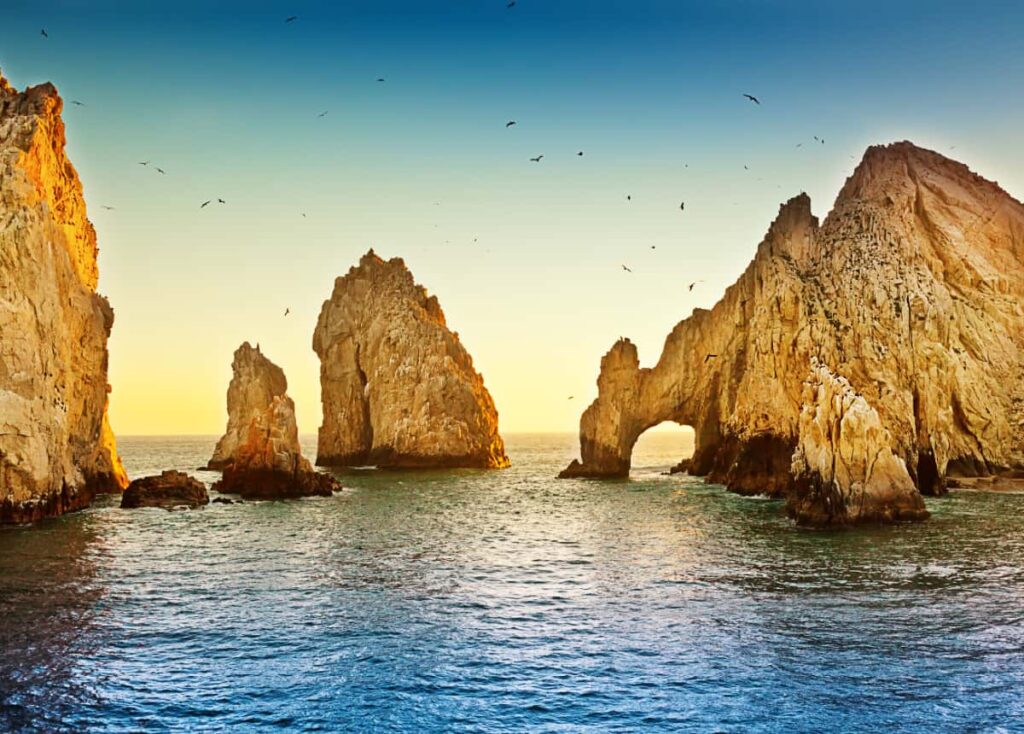 The city also offers a vibrant nightlife and a range of outdoor activities like jet-skiing, paddle boarding, and sport fishing.
And if you're a fan of snorkeling and scuba diving, Cabo San Lucas won't disappoint. The crystal-clear waters are home to a diverse array of marine life, including tropical fish, sea turtles, and even whales during their migration season.
While Cabo San Lucas has evolved from a sleepy fishing village into a bustling tourist hub, you can still find charming local markets and vibrant Mexican life.
17. Monterrey
Monterrey is the capital city of the northern state of Nuevo León, Mexico. Known for its modernity, thriving industry, and stunning mountains, Monterrey offers a unique blend of urban sophistication and natural beauty.
This modern Mexican city boasts impressive contemporary architecture, such as the Macroplaza, a long plaza filled with gardens and fountains, and surrounded by museums. In addition, Fundidora Park is a former steel mill that has been transformed into a cultural and recreational space.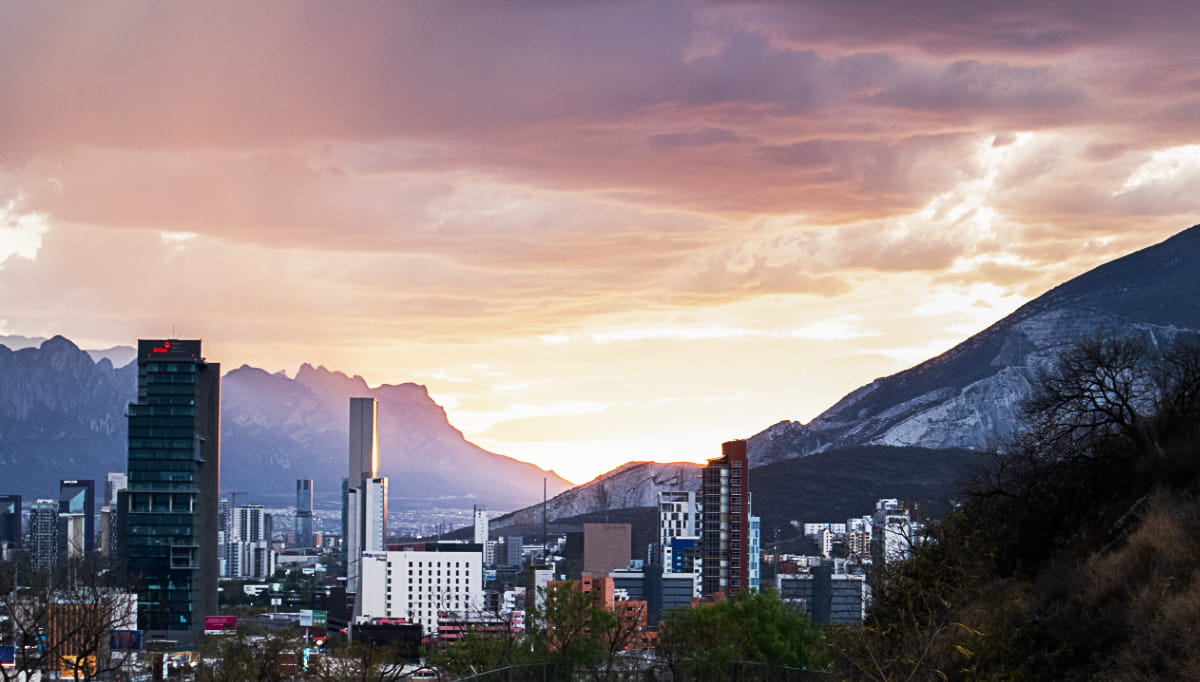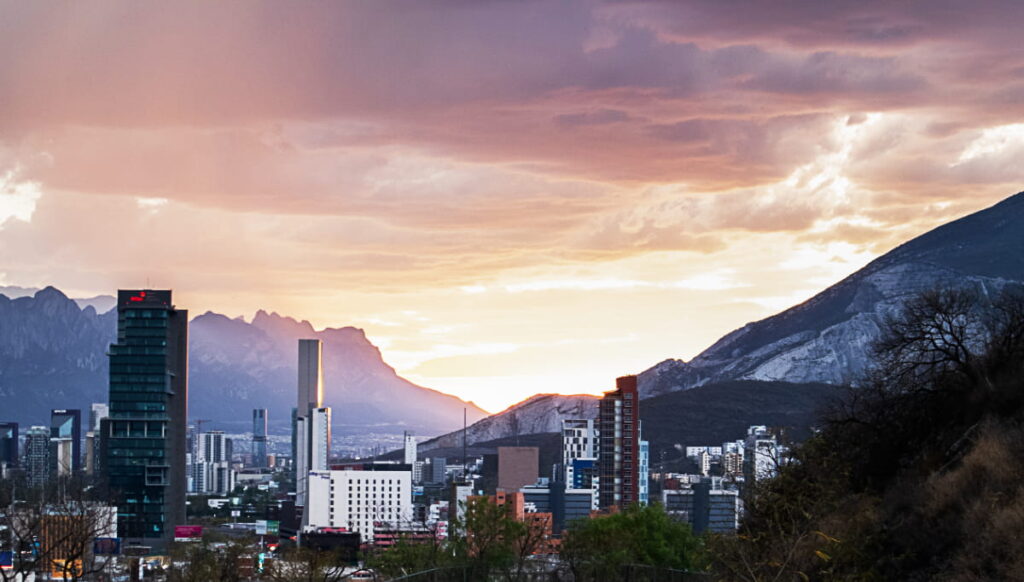 In addition to being the most modern city in Mexico, Monterrey is an outdoor enthusiast's dream. Nestled within and around the city are incredible mountain ridges including Cerro de la Silla and Cerro de las Mitras. And the southern edge of the city is bordered by Cumbres de Monterrey National Park.
If you love large cities with beautiful nature, you'll definitely see why Monterrey is one of the top cities in Mexico.
Most Beautiful Towns in Mexico
While I included a few small cities in Mexico above, I've included a special section for the most beautiful towns in Mexico below.
It just so happens that all of the small cities listed below are Pueblo Magicos, a designation given to small towns in Mexico based on their cultural significance.
18. Taxco, Guerrero
If someone air-dropped you into the middle of the beautiful streets of Taxco Mexico, you may think you had been transported to a European city.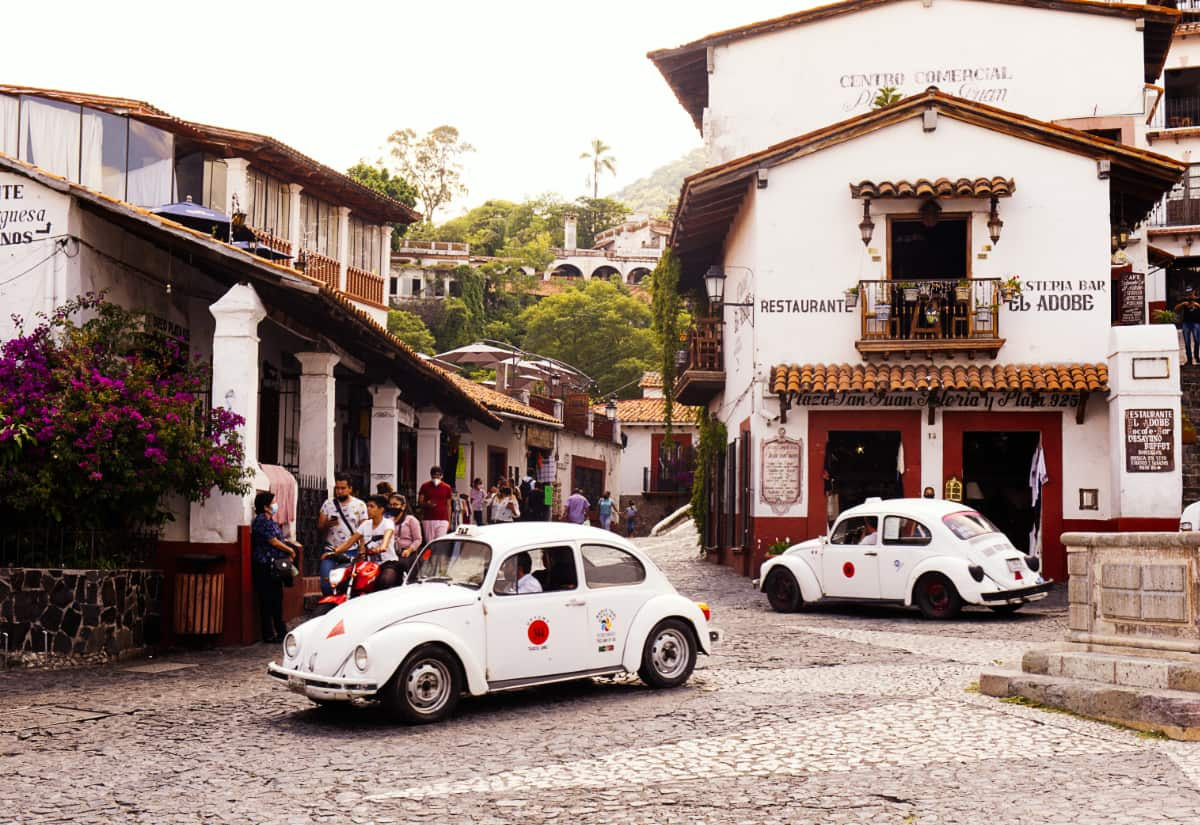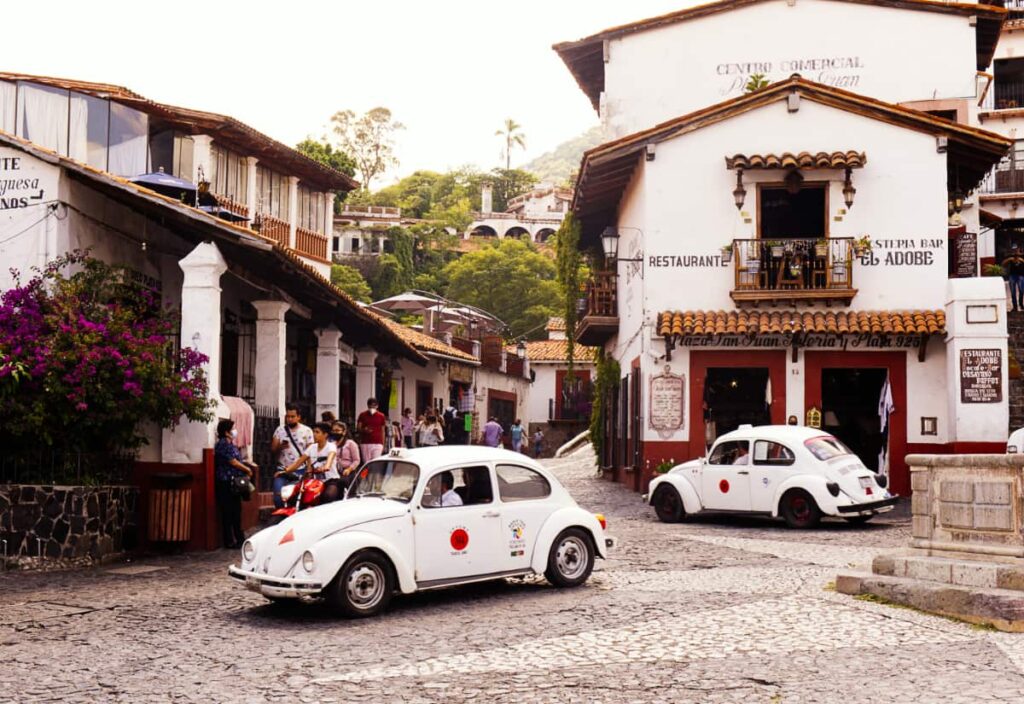 Nestled in the mountains between Mexico City and Acapulco, this pueblo magico is layered with white homes and narrow streets that wind through the surrounding hills, begging to be explored.
If you prefer to get off your feet, flag down one of the many white VW beetles as they drive by. They serve as taxis in Taxco and contribute to the charm of this beautiful Mexican town.
Taxco Mexico is known for its silver jewelry. Its history revolves around silver mining, earning it the nickname of "Mexico's Silver Capital."
For me, the beauty of this small town in Mexico is as much about the surrounding nature as the town itself.
If you're an adventurer, you'll want to spend the day exploring Grutas de Cacahuamilpa, one of the largest cave systems in the world. Or if you're looking for a day of relaxation, take a day trip to Pozas Azules, a series of gorgeous blue pools located about an hour from Taxco.
19. Patzcuaro, Michoacan
Nestled in the highlands of Michoacan, Patzcuaro is one of the most enchanting towns in Mexico. In fact, this area and its Day of the Dead traditions are said to have inspired the movie Coco.
Located about an hour from the state capital of Morelia, Patzcuaro sits on the southern edge of Lake Patzcuaro. You'll want to make time to fully explore Patzcuaro as well as other small towns around the lake.
The combination of its rich cultural heritage and natural surroundings is what makes Patzcuaro one of the most beautiful towns in Mexico.
20. Bernal, Queretaro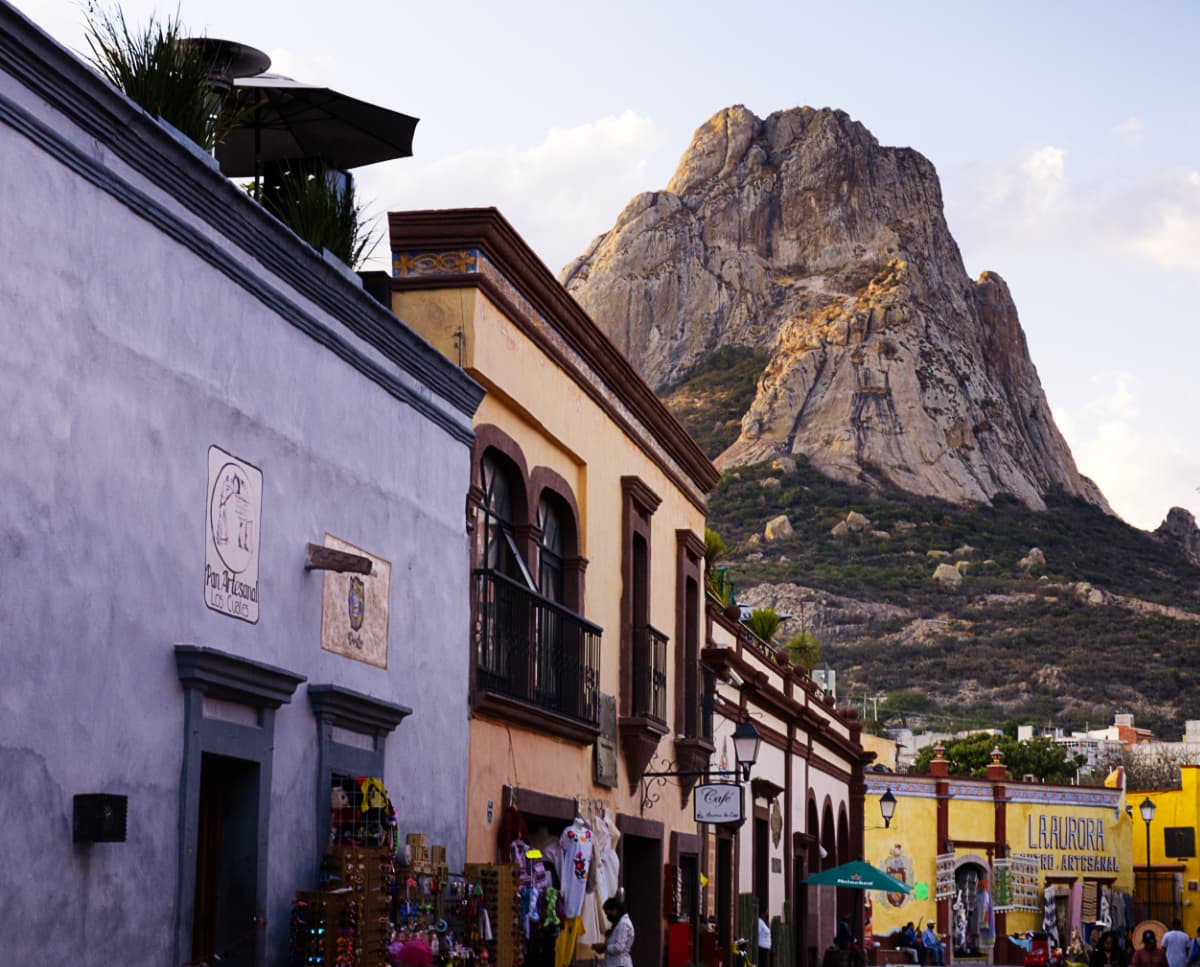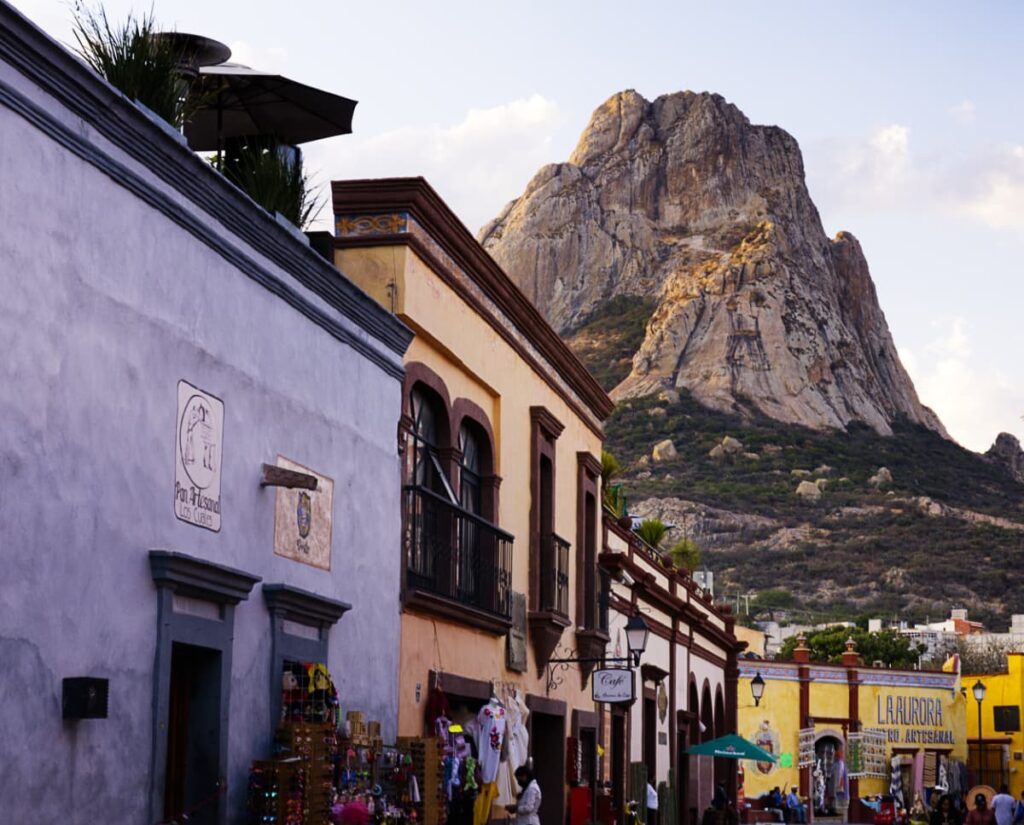 Bernal is a small town just 30 minutes east of the city of Queretaro. It's most well known for its imposing monolith, known as Peña de Bernal. This gigantic rock formation is one of the largest monoliths in the world.
Bernal, Queretaro itself is also a picturesque town that's worth visiting. While many visitors come on a day trip from Queretaro, I recommend staying one night so that you can climb the monolith early in the morning and spend the morning wandering through the streets of Bernal.
21. Izamal, Yucatan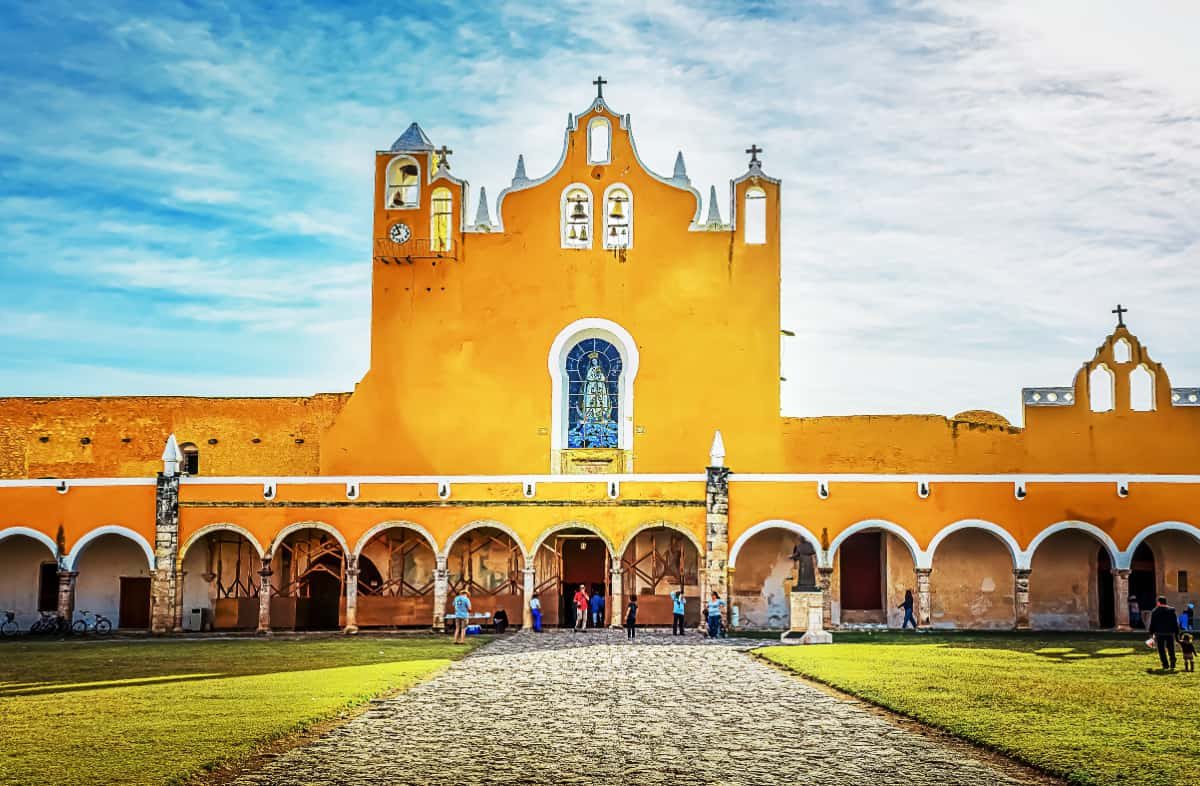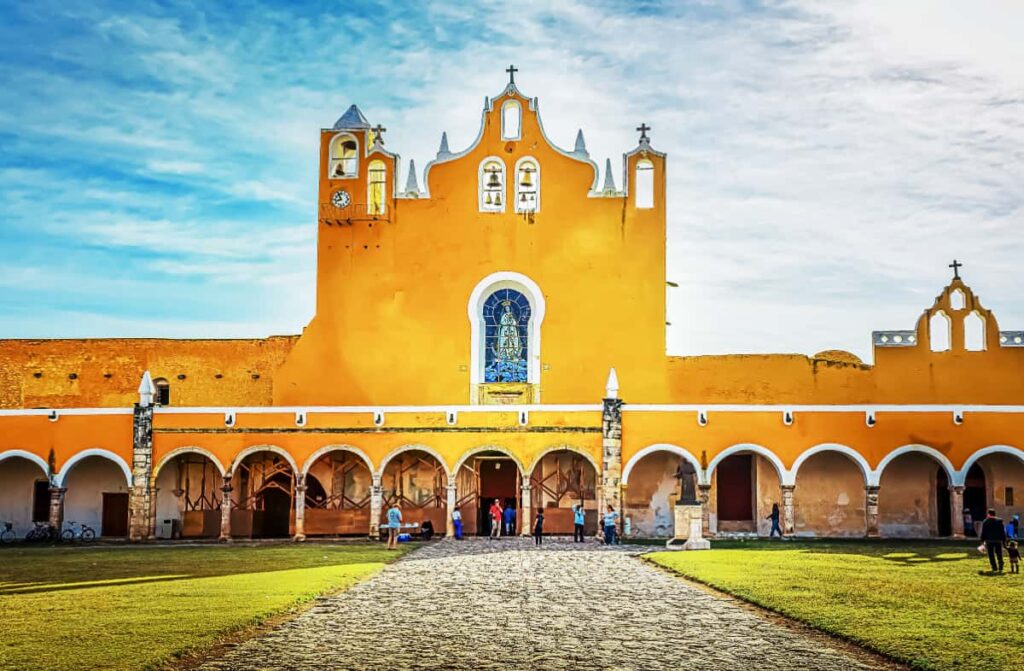 Known as the "Yellow City," Izamal is a town in the Yucatan Peninsula that captivates visitors with its distinctive color. Every building in Izamal, including its majestic Franciscan monastery, is painted a vibrant shade of yellow.
Strolling through the charming streets adorned with bougainvillea that contrast the bright yellow buildings, is a true delight for the eyes. This small town is located just an hour from Merida and can easily be accessed on a day trip from the city.
22. Valladolid, Yucatan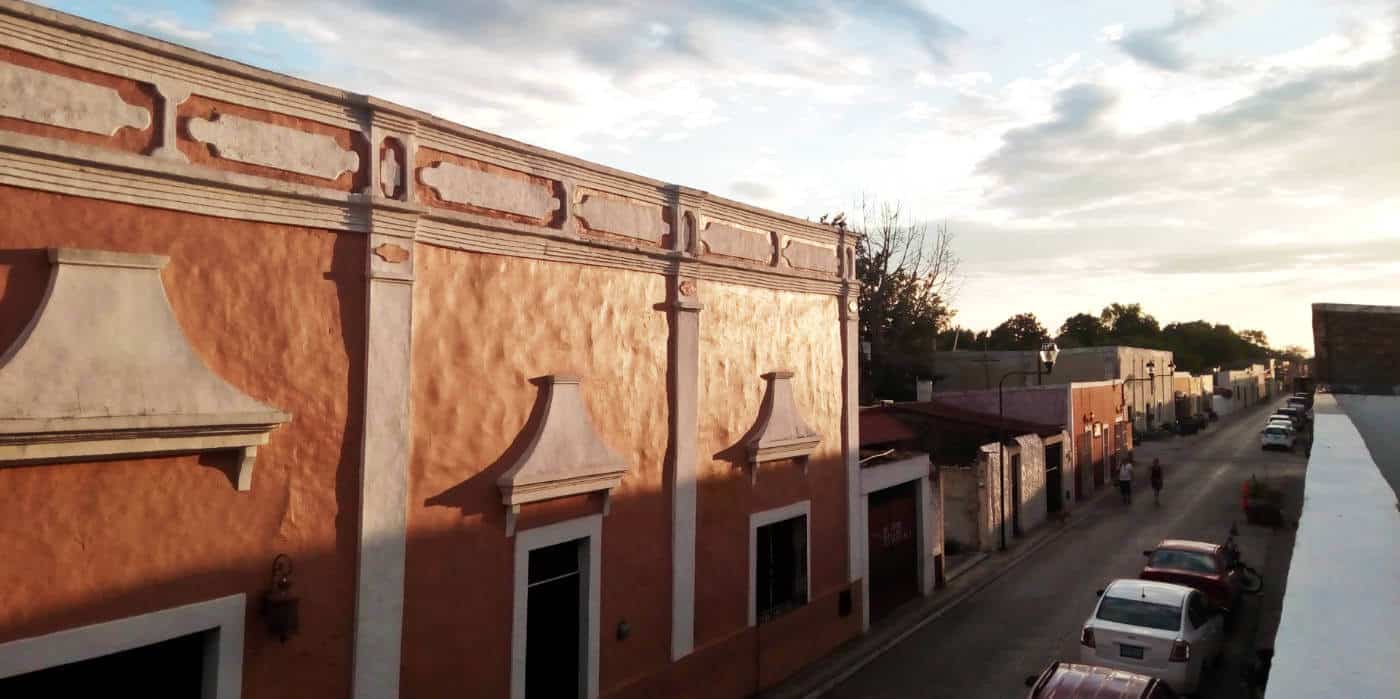 Located in the heart of the Yucatan Peninsula, visitors are drawn to the colonial charm of Valladolid. With colorful facades and quaint streets, visiting Valladolid feels like a journey through time.
And that journey extends beyond its colonial past, as Valladolid serves as a base to explore incredible Mayan ruins in the Yucatan such as Ek Balam, Coba, and Chichen Itza. The area around Valladolid is also home to a variety of cenotes which are a welcome relief from the relentless heat and humidity.
The town of Valladolid showcases Yucatecan cuisine which includes traditional dishes such as cochinita pibil, sopa de lima, and relleno negro.
Valladolid is a Mexican town that captivates visitors with its historical significance, architectural beauty, and culture of the Yucatan.
23. Cuetzalan, Puebla
Tucked away in the mountains of Puebla, Cuetzalan exudes an undeniable charm that has earned it a reputation as one of the most beautiful towns in Mexico.
Picturesque Cuetzalan is known for its traditional houses and cobblestone streets surrounded by the natural beauty of its misty mountains.
The town also has a strong indigenous culture, with the Nahuatl language still spoken by many of its residents.
The area near Cuetzalan is also home to incredible nature and various waterfalls such as the nearby Cascada de las Brisas and La Poza de las Madres. Cuetzalan's rich cultural heritage and stunning landscapes make it an unforgettable destination.
24. Tepoztlán, Morelos
Nestled at the foot of Tepozteco Mountain, Tepoztlán draws visitors for two reasons – spirituality and to drink mojitos on the weekends.
I know, it's an odd combination and one of the reasons I found Tepoztlan to not be my cup of tea. But there's no denying that this small Mexican town is gorgeous.
The first thing you notice in Tepoztlan is the rugged mountain range that runs along the northern edge of town. Its incredible presence can be felt throughout the town.
Spirituality in Tepoztlan seems to have a long history, beginning with the Aztecs who built the Tepozteco Pyramid perched on top of the mountain. In addition, this beautiful Mexican town is considered the birthplace of Quetzalcoatl, the Aztec feathered serpent god.
Drinking mojitos on the weekends is more of a new phenomenon. I'm not sure exactly how it started, but at some point, Mexicans from nearby Cuernavaca and Mexico City began visiting Tepoztlan as a weekend retreat.
Regardless, Tepotzlan has become a favorite destination for artists, writers, and those seeking tranquility. Although I recommend also visiting the tiny town of Amatlán de Quetzalcóatl located just down the road.
25. Ajijic, Jalisco
Located along the shores of Lake Chapala in Jalisco, Ajijic has a vibrant artistic community, charming village atmosphere, and beautiful natural surroundings.
Perhaps one of its biggest draws is its placement, nestled between the lake and a mountainous national park.
Lake Chapala, Mexico's largest freshwater lake, offers serene waters and mesmerizing views. Visitors enjoy activities such as boating, kayaking, or simply relaxing along the lakeshore while immersing themselves in the tranquility and natural beauty of the area.
The town of Ajijic has long been a haven for artists, writers, and musicians. Its vibrant artistic community is evident in its numerous art galleries, studios, and cultural events.
With a mild climate and beautiful views, this small town in Mexico has become a popular destination for foreigners. This influence can be seen in the town's culinary scene which includes a wide range of international restaurants.
Ajijic's pleasant climate also adds to its appeal. The area enjoys a mild and temperate climate throughout the year.
Whether you are seeking natural beauty, artistic inspiration, or a tranquil escape, Ajijic is one of the most beautiful towns in Mexico.
Final Thoughts About the Most Beautiful Cities in Mexico
As you can see from this incredible list of beautiful cities in Mexico, it's worth getting out to explore beyond Mexico's famous cities and tourist hotspots. Its most beautiful towns in Mexico offer a glimpse into the country's diverse nature, history, and traditions.
Whether you're a nature lover, a history enthusiast, or seeking a peaceful retreat, these beautiful Mexican cities will captivate you with their charm and breathtaking landscapes.