Oaxaca Breakfast: 15 Best Places for Brunch and Breakfast in Oaxaca City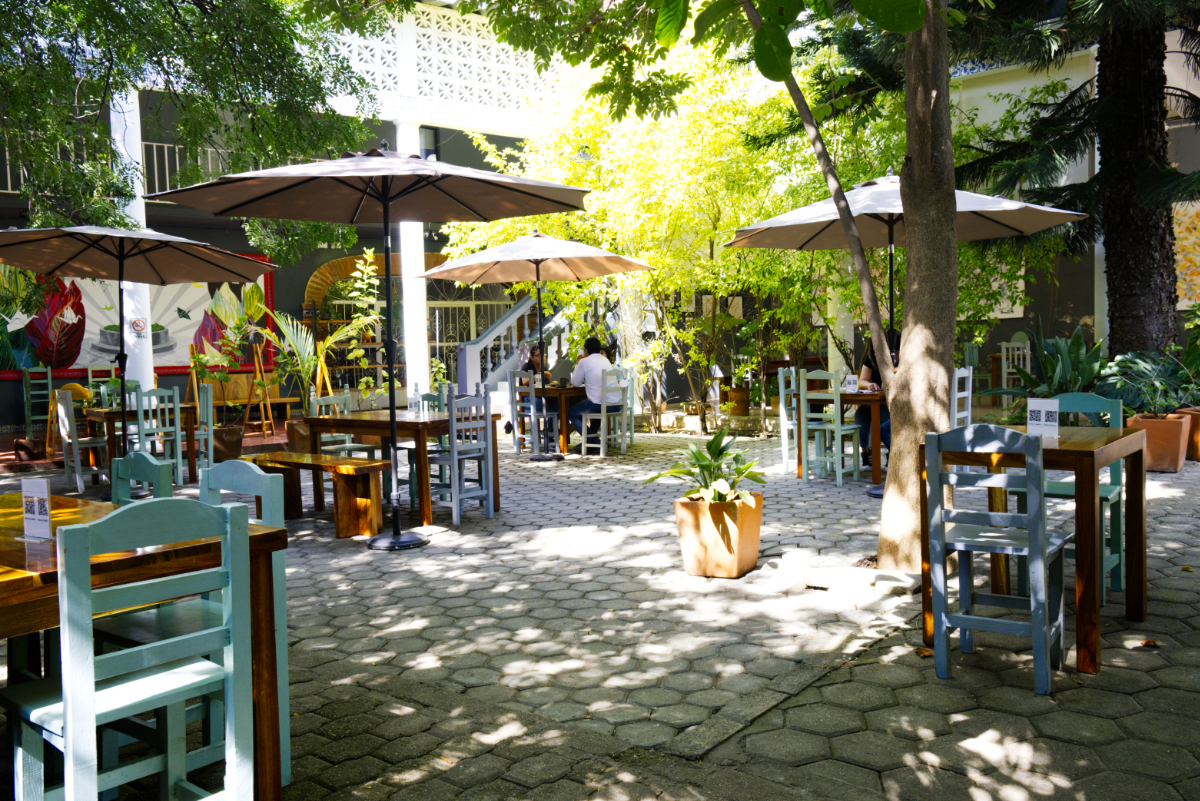 Honestly, I don't usually go out to eat breakfast. But going out for breakfast in Oaxaca City excites me. That's just how good and creative the food is.
I love the modern use of traditional ingredients that find their way onto Oaxaca breakfast menus. And as a result, I generally suggest ordering one of the house specialties. They tend to be more interesting than your standard plate of eggs, beans, and meat served with salsa.
There are a few places others may consider the best brunch in Oaxaca that I didn't include because they were already featured on my list of best restaurants in Oaxaca.
The biggest ones that come to mind are the restaurant and bakery, Boulenc, and Ancestral Cocina Traditional. While breakfast is not the focus of their menus, I do think these are also great restaurants for breakfast, so check out that list as well!
Las Chilmoleras: A Unique Breakfast in Oaxaca
This Oaxaca breakfast restaurant takes chilaquiles to a whole new level with its six different variations. But what impresses me the most about the menu at Las Chilmoleras is how traditional ingredients find their way onto the menu in untraditional ways. In addition, vegetarians won't have trouble finding a dish to satisfy since the menu leans heavily on the use of mushrooms, beans, and goat cheese.
The building itself is a bright turquoise cafe on the edge of Jalatlaco, towards centro. There are a few tables inside and at least as many outside on the grassy corner. Unfortunately, it also faces the busy street, República. But at this point, you should be used to loud noises in Mexico! Jaja. I would definitely put Las Chilmoleras on your list of breakfast restaurants in Oaxaca.
Chepiche Cafe: An Inviting Patio for Brunch
Genaro Vásquez 6 A, Xochimilco
The enchanting courtyard at Chepiche Cafe is filled with trees and tropical plants. On the edge, beautiful white columns frame a covered seating area that is decorated with large art canvases. On the menu, there are a lot of traditional plates of eggs, but I recommend adventuring to try one of their more creative dishes, such as La Santa.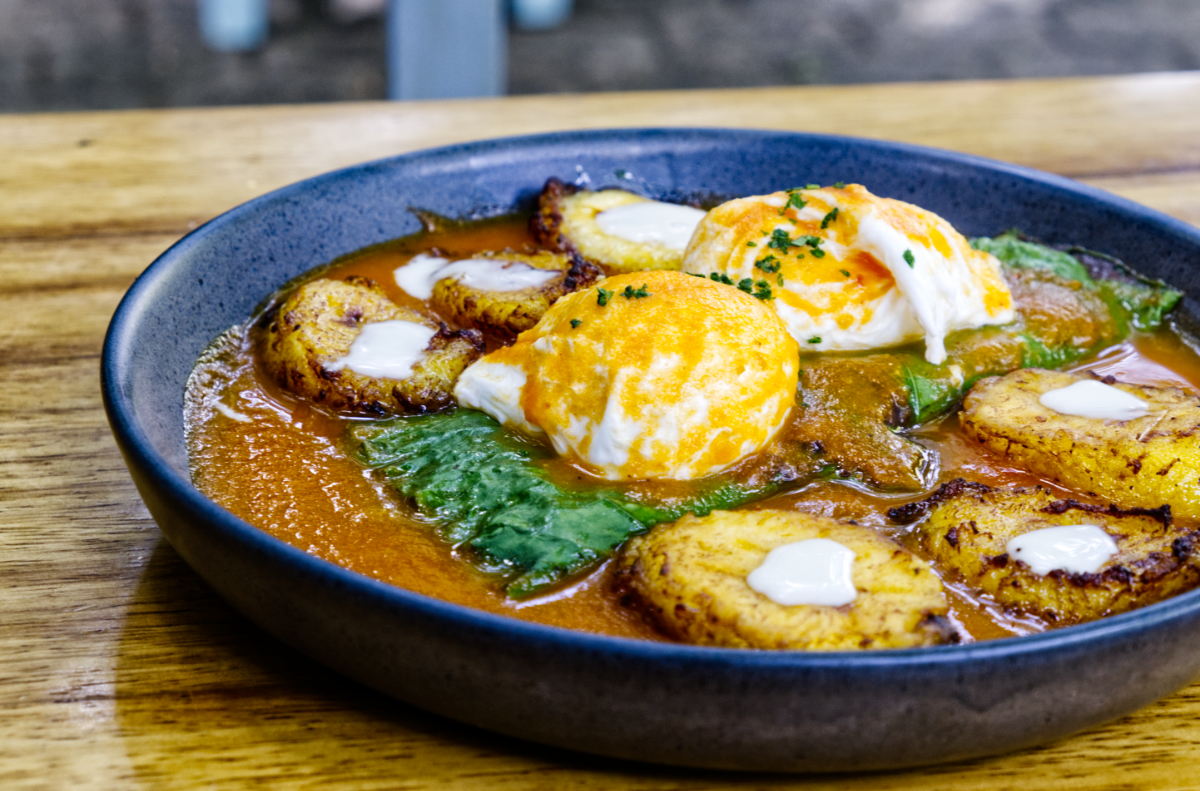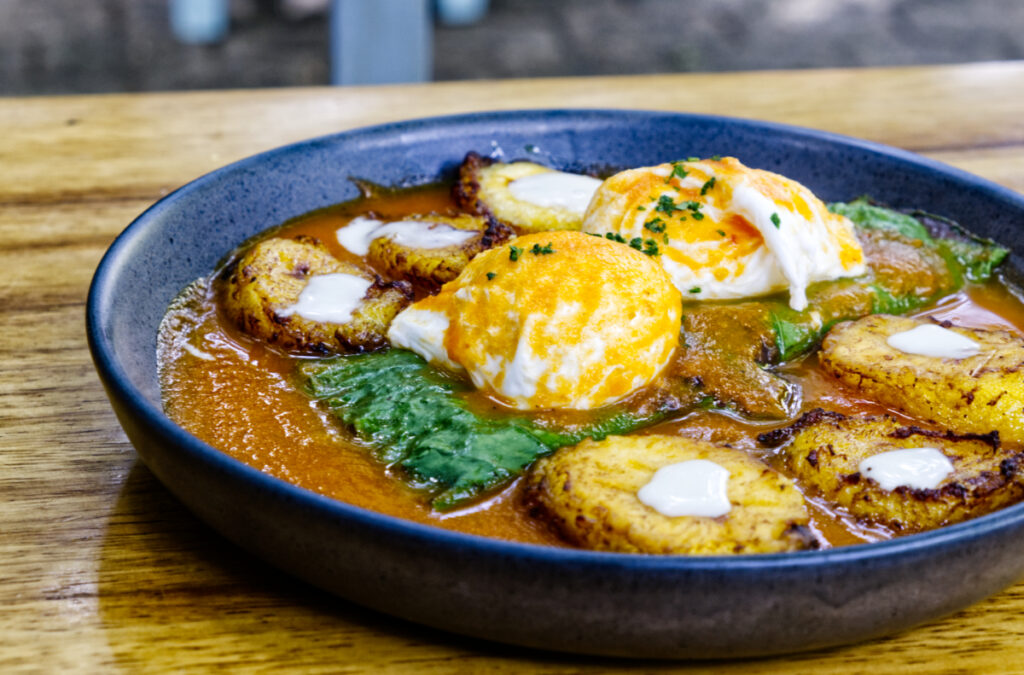 It's one of the best uses of the hoja santa leaf that I've discovered. The green leaf is stuffed with beans and cheese and enveloped in a red sauce that has an incredible depth of flavor. It's topped with perfectly poached eggs and served with fried plantains, which balance the slight spiciness of the sauce. I've been dreaming about eating breakfast here again ever since.
Filemón: Best Brunch, Oaxaca
José López Alavez 1409, Xochimilco
To fully enjoy this Oaxaca breakfast spot, you need to climb the three flights along the circular staircase to the shaded rooftop. Your effort will be rewarded with views of Xochimilco and the surrounding mountains. The small but interesting brunch menu includes chicken and waffles, a couple of salads, avocado toast, a kimchi and spinach sandwich, and more.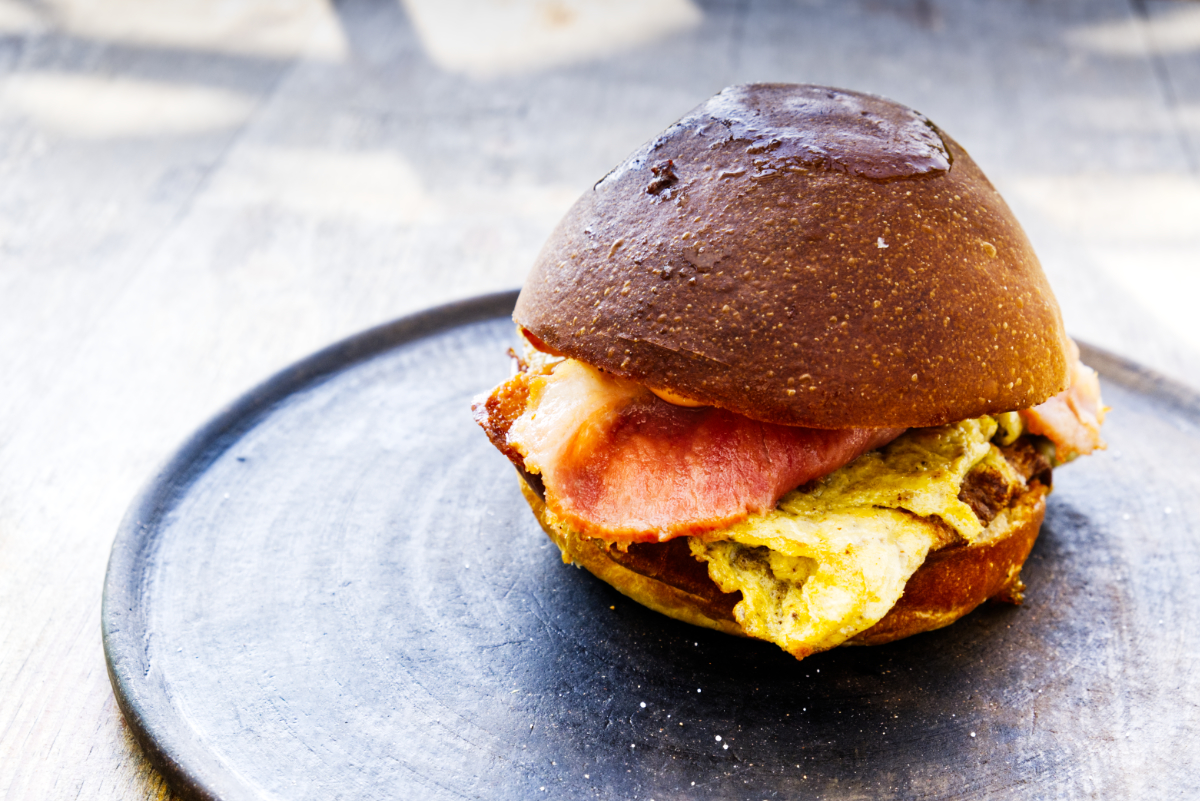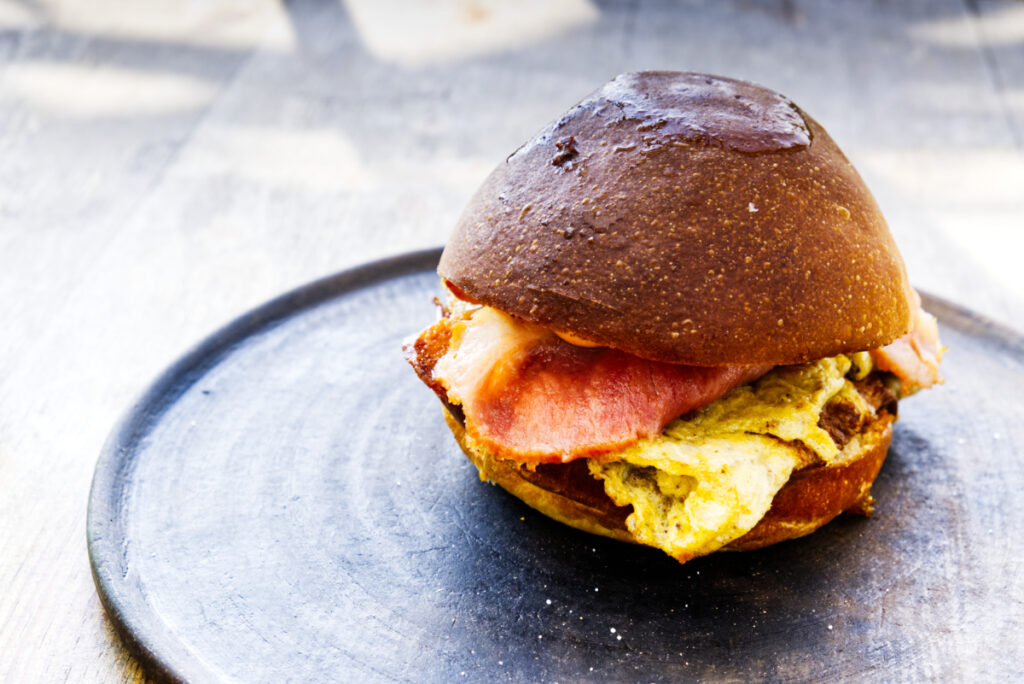 Honestly, I had trouble deciding because I didn't want a salad, but the sandwiches didn't seem to include much veggies. I decided on the bacon and egg sandwich which turned out to be incredible. The caramelized onions and sriracha mayo took this sandwich over the edge.
Filemón regularly hosts a Yoga and Brunch event on Saturday mornings. You can make a reservation by sending a message to their Facebook page.
Read Next – Oaxaca Mezcal Tour: An Ancestral Experience
Pan:am Oaxaca: A Must for Oaxaca Breakfast
Abasolo 103 B, Centro
Av Belisario Domínguez 809, Reforma
There are two locations for Pan:am, Oaxaca. The location in centro is close to Santo Domingo Church while the larger Reforma location is northeast of the city. The breakfast into lunch menu includes a lot of traditional Mexican breakfast dishes but with unique variations such as the use of nopales in their huevos divorciados. All of the eggs are local and organic too.
Many of the sandwiches are also rooted in Mexican traditions, such as the house made roasted pork leg in adobo on sourdough. There's also a hummus and vegetable sandwich available. And I had to chuckle when I read the option to add bacon to the veggie sandwich (my kind of veggie eaters!) All are served with your choice of potatoes or house salad.
The evening menu (after 3pm) looks very similar but thins out a lot of the breakfast dishes. Overall, this is a solid breakfast restaurant with courtyard seating at both locations.
Love Coffee: Homemade Breakfast in Oaxaca
Niños Heroes de Chapultepec 312, Jalatlaco
At first glance, it seems as if this teeny-tiny cafe in Jalatlaco could only be possible of serving coffee and pastries. But Love Coffee has a long and varied menu. You'd be missing out if you don't eat breakfast in Oaxaca at Love Cafe. In addition to breakfast items, they have sandwiches, salads, and bagels. As a fan of savory breakfast items, the enchiladas coloradito with chicken caught my eye.
It's one of their breakfast packages that include coffee or tea and a small plate of fruit. The coffee was strong but not bitter. And the small plate of papaya was a nice start. But it was the beautiful plate of enchiladas smothered in a rich mole coloradito that stole the show.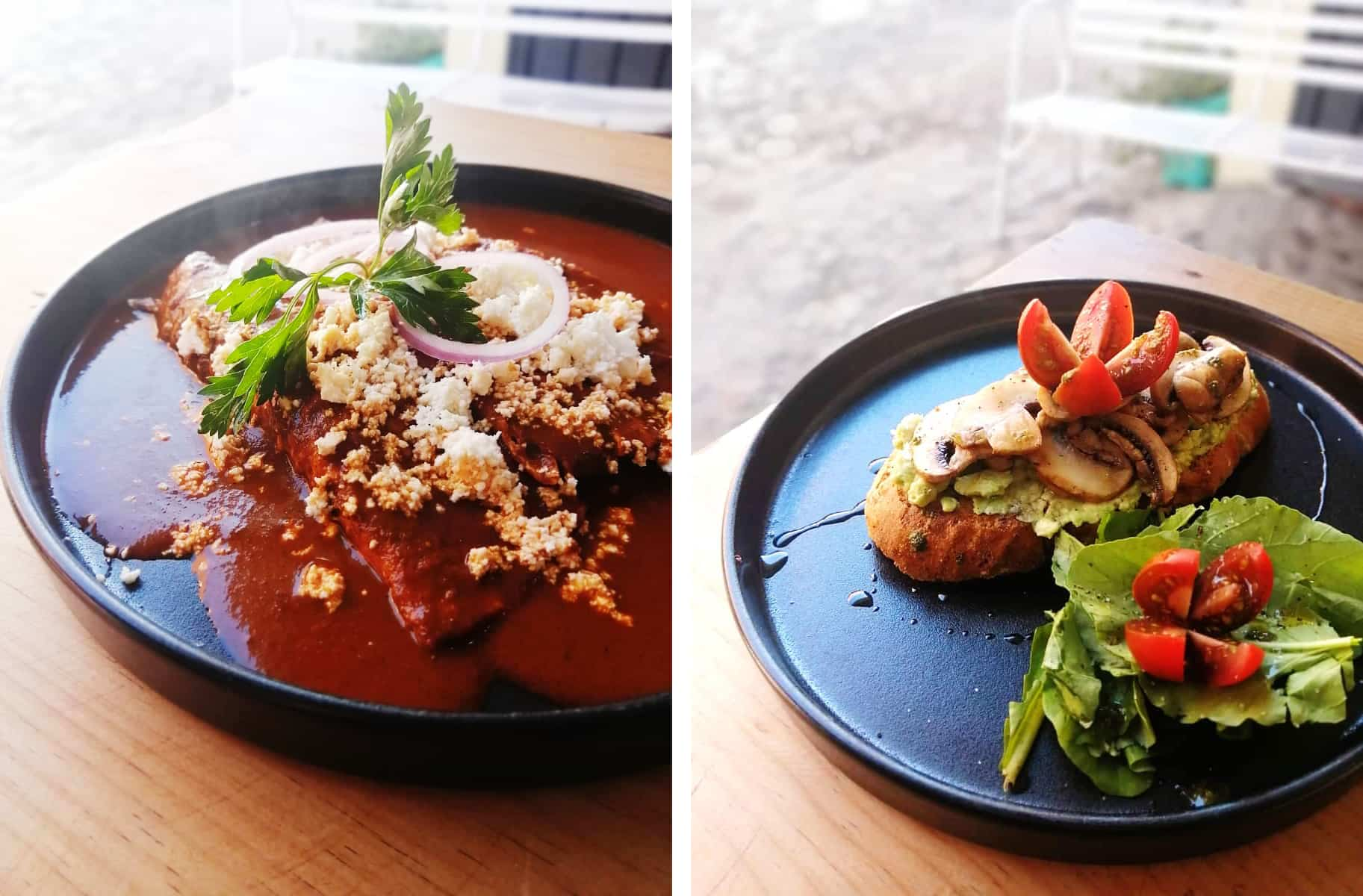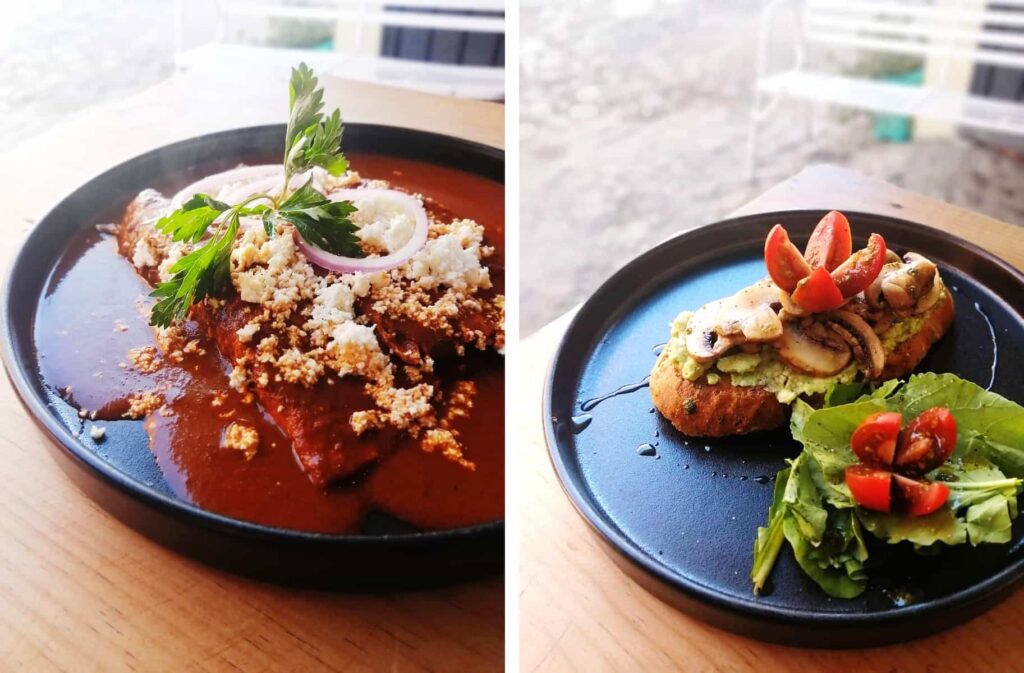 The mole was an incredible balance of spicy, chocolatey rich goodness. I made sure to soak up every ounce of sauce that I could with the tortillas. The owner and chef, Christian, even popped out to see if I enjoyed the meal. I've since returned to try the avocado toast with mushrooms.
Marito & Moglie Café
This cafe is owned by an Italian-Mexican couple, so you can imagine the espresso is good. And while the food menu is rather small, one reviewer describes Marito & Moglie as "simplicity refined." Plus, I find the low-key atmosphere on the back courtyard especially inviting.
The menu at Marito & Moglie includes some hipster classics such as yogurt and chia pudding with fresh fruit and avocado toast. But it also expands to Turkish eggs and a couple of sandwiches. So it's not exactly a full-on Oaxaca breakfast restaurant. But it is a gem of a cafe for coffee lovers.
Kiyo Café
Let's start with the drink menu at Kiyo Cafe. The list is impressively unique while seeming to maintain its composure. Their hot drinks (which are all made with organic milk, and often of the plant variety) go beyond the typical cappuccino to include a matcha latte and golden milk.
And the cold drinks are even more creative. There's a coconut ice cream shake with espresso and chocolate nibs. The lavender latte uses housemade lavender-infused almond milk. And the cáscara mojito blends coffee peel, mint, lemon, tonic water with mushroom extract.
This is another cafe where the items on the drink menu outnumber those on the food menu unless you include their decadent pastries. But it gets a mention as a great place for breakfast in Oaxaca because the food is just that good.
The vegetarian menu is simple. It includes a bowl of dairy free overnight oats with chia seeds, a goat cheese and veggie loaded quiche, and a croissant stuffed with spinach, mushrooms, and cheese. And don't forget about their signature pistachio and honey yogurt ice cream!
Read Next – Best Things To Do In Oaxaca City
Café Boca del Monte: Oaxaca Brunch With Views
The jewel of Café Boca del Monte is the third-floor rooftop terrace with stunning views of Oaxaca City and the surrounding mountains. The menu incorporates traditional food with more modern cafe dishes.
For breakfast, half of the menu includes traditional breakfast dishes such as chilequiles, enfrijoladas, and various egg dishes. The other half is labeled as specialties which include a very rich croque monsieur and two vegetarian omelets.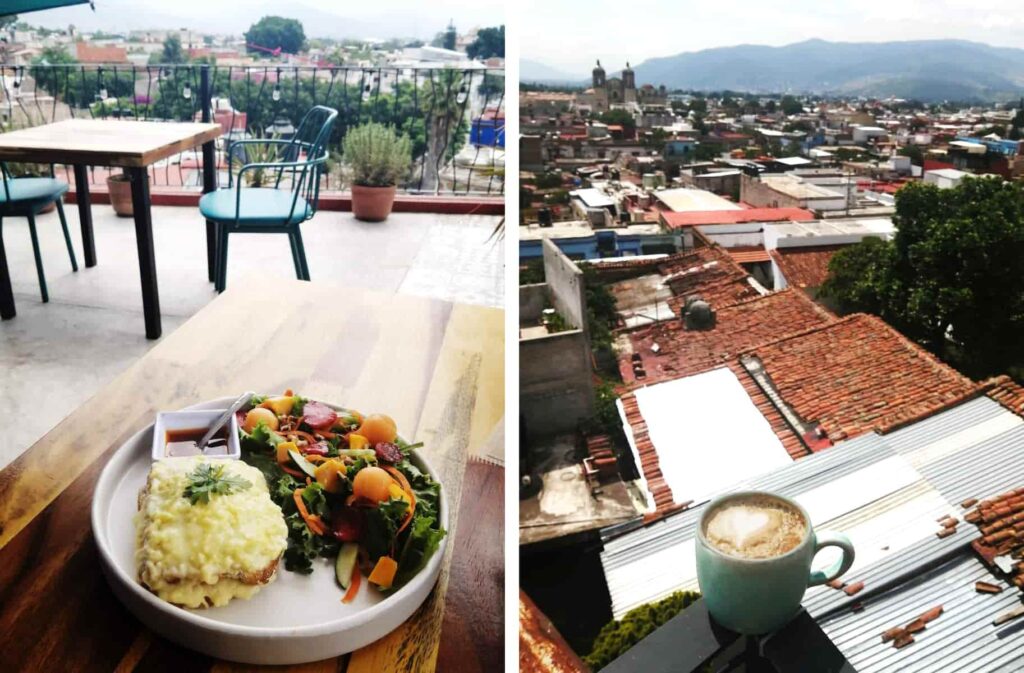 But perhaps most intriguing is the oaxaqueños in which your choice of grilled chorizo, cheese, or a combination of, is slow cooked in a sauce of chile de agua and served with beans. All of the dishes I saw looked great, including the enchiladas suiza and french toast. The lunch menu was also available when I was there. It includes a variety of sandwiches and salads.
Grano de Mostaza
Huerto Limonares 209, Universidad
C. del Salto 121, Jalatlaco
The double level warehouse-style building of Grano de Mostaza's original location embodies the university neighborhood in which it's located. And the fun, creative platings reflect the same.
In fact, every plate I saw was consistently beautiful. The waffles are topped with fresh fruit and edible flowers. The large salads appeared incredibly fresh. And the Mexican favorites, such as chilaquiles, proved to be a nice portion for the price.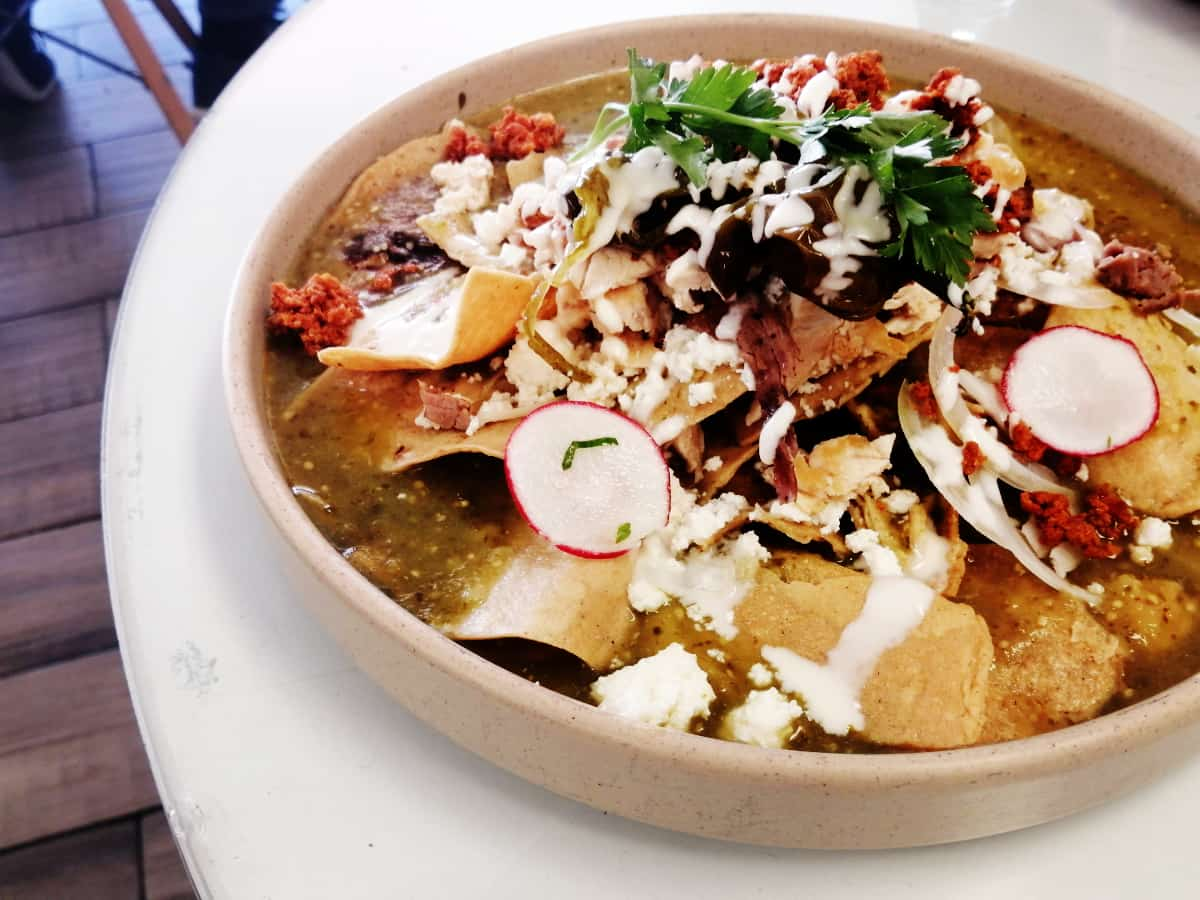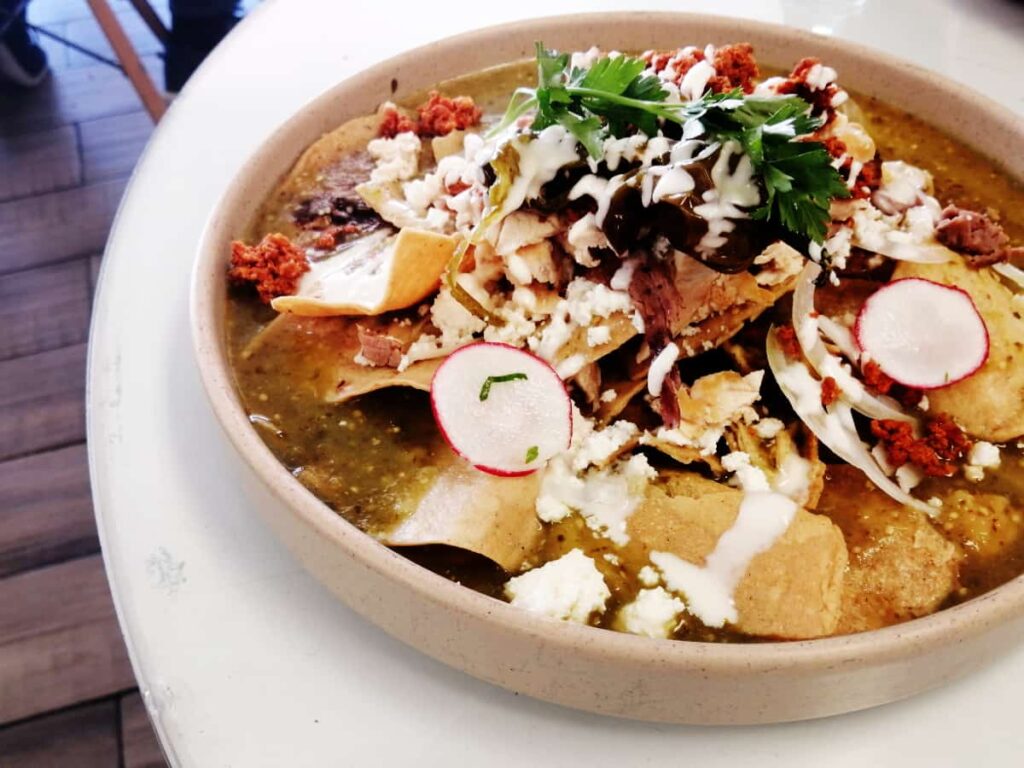 Even on a weekday morning, this place gets busy. The second location offers a more tranquil environment on the rooftop of Casa Curtiduria in the neighborhood of Jalatlaco.
The menu is similar, heavy on breakfast dishes with some sandwiches and salads to round it out. And if you like the fresh juices in Mexico, you'll enjoy the list of a dozen or so detox drinks on the menu at both locations.
Cafeteria Salamandra
My friend and I struggle to agree on restaurants, so we were walking to Mercado La Merced for a cheap breakfast when we stumbled upon this small, unassuming restaurant.
It was neutral ground. A new restaurant for both of us. So, we decided to give it a try.
The menu includes the usual breakfast items – entomatadas, enfrijoladas, enchiladas, chilaquiles, omelets, and eggs as you'd like. So I was expecting the usual for a place like this – a decent breakfast with the typical flavors.
But I came here to report the rich dishes coming out of the kitchen at Cafeteria Salamandra. The enchiladas suizas arrived as three soft tortillas stuffed with lots of shredded chicken, bathed in a flavorful salsa verde, and topped with very finely sliced onions.
They were the best I've ever had. And the dark red salsa on the table had a depth of flavor beyond just being spicy.
My friend's club sandwich was also fabulous. The bread was perfectly toasted and layered with chicken, ham, and a fried egg with all the typical accompaniments.
They also serve fresh juices and smoothies to round out your breakfast. While the menu is simple, I wouldn't hesitate to add this restaurant to the best breakfast in Oaxaca.
Cheap Breakfast in Oaxaca
Throughout Mexico, eating breakfast at the local mercado is one of the cheapest breakfast options. And fortunately, the mercados in Oaxaca are plentiful and spread throughout the city. You'll also find street food carts in the mornings selling memelas, tacos, tamales, and more. But keep in mind, on Wednesday street carts are not allowed in the city.
Mercado Breakfast, Oaxaca
You can't go wrong with eating a cheap breakfast at the bustling 20 de Noviembre market and the surrounding stalls. Although I prefer Mercado de la Merced for its more tranquil atmosphere. Inside you'll find the top-rated Fonda Rosita and Fonda Florecita. And at La Cosecha Organic Market you can eat a traditional Oaxacan breakfast and shop for organic produce, honey, and other items at the same time.
If you're up for an adventure, head to the biggest local market in Oaxaca, Central de Abastos where you'll need to watch your valuables (or better yet, leave them at home). It's easy to get lost in this sprawling market but you'll find some gems including the famous Memelas Doña Vale. I've even heard rumors of a stall with tacos for three pesos each at this market!
Street Food for Breakfast
Similar to the mercados, street carts are another place to find a cheap breakfast in Oaxaca. Those with more of a fixture in the city will have several women working the large comal and plastic stools for customers to sit. The memelas at Memelas San Agustín draw a quickly rotating crowd each morning and into the evening.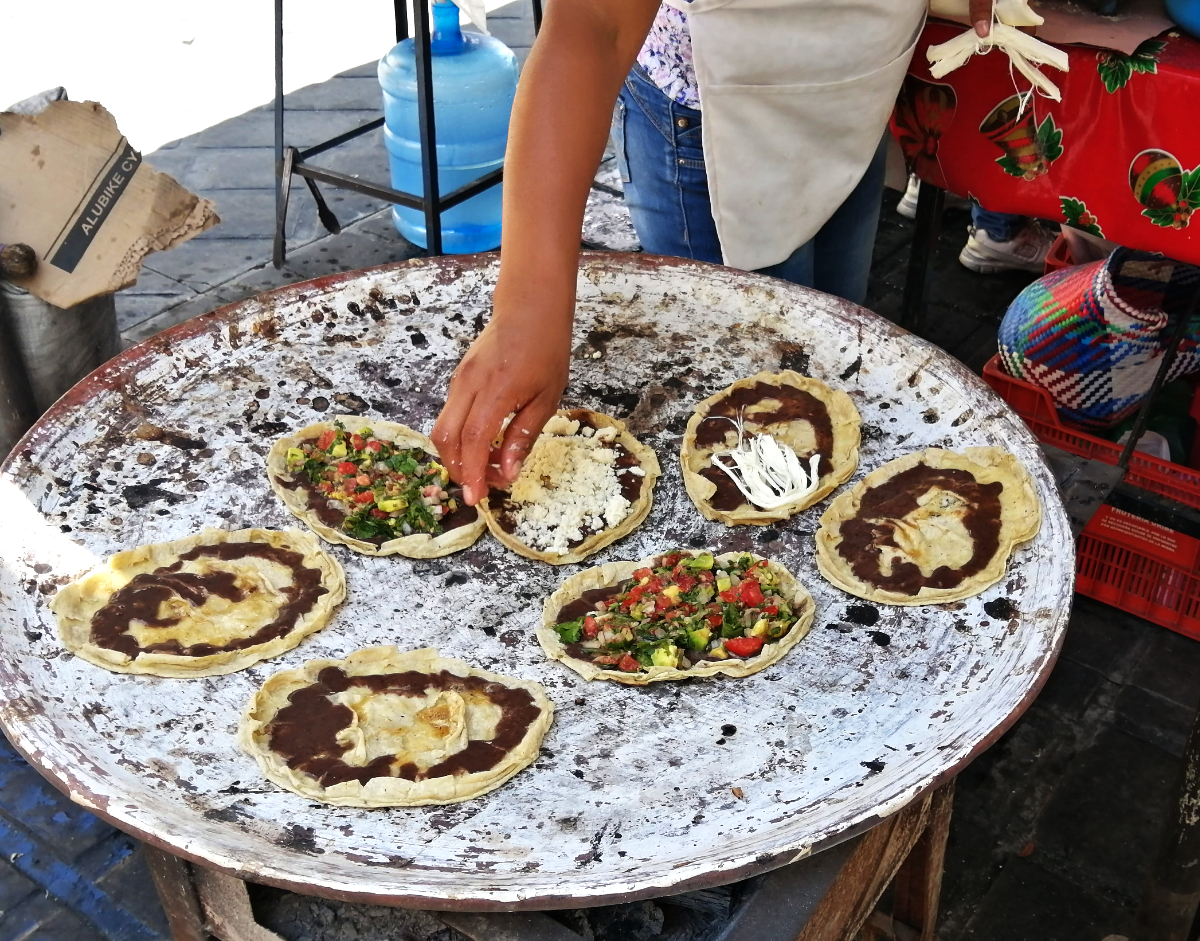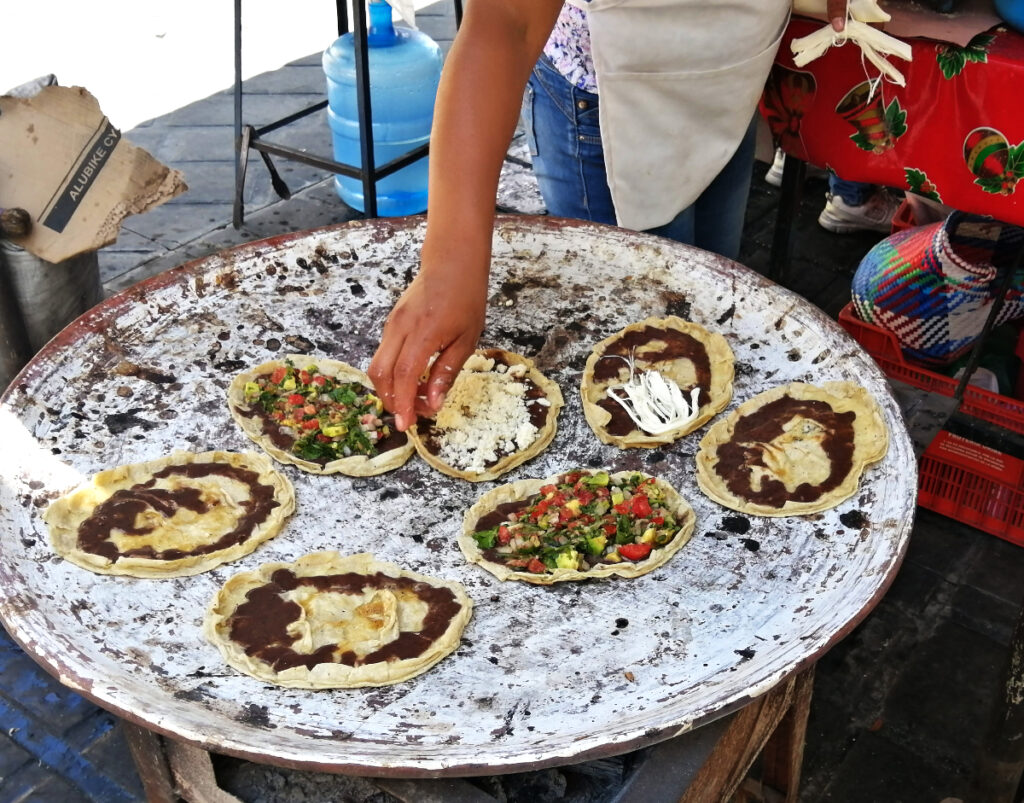 Another favorite of mine is Tacos Del Carmen. Since 1974, they have served quick snacks such as tacos (think the larger rolled variety), quesadillas, and memelitas. My favorite is the large empanadas amarillo. Oaxaca empanadas are of a different variety than you find in other parts of Mexico. In Oaxaca, they are heated on the comal instead of being fried. And in this case, filled with mole amarillo.
It took a little getting used to the idea of having a torta for breakfast. But I enjoy eating the chorizo and egg torta at Tortas La Hormiga, located on one corner of Conzatti Park. It makes for a quick breakfast that you can take with you or eat in the park since there is no seating at this stand.
Well, that rounds out my list of best places to eat breakfast in Oaxaca City, Mexico. Do you have any you'd like to see added to the list? Let me know in the comments.