Oaxaca Mezcal Tour – From Field to Bottle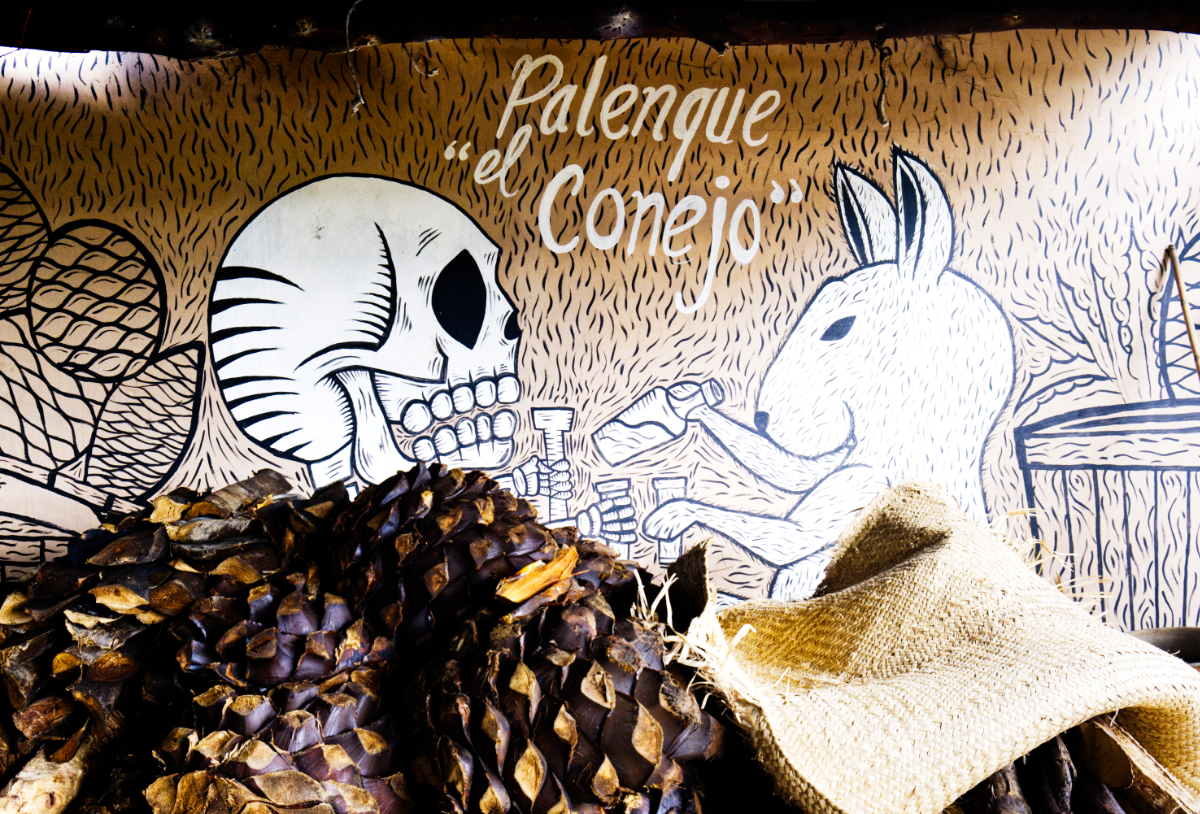 Oaxaca is the paradise of mezcal. And if you've been in the city for a few days, you've probably started to see it for yourself. It's the dominant liquor on most cocktail lists and there are even entire bars, called mezcalerias, devoted to sipping the spirit. 
But perhaps most interesting are the small palenques of Oaxaca. Many of these mezcal distilleries operate in small towns about one hour away. So it's no wonder most travelers seek to book a Oaxaca mezcal tour as part of their stay.
All of the mezcal tours bring you to a palenque for an explanation of the process and tasting. But the best mezcal tours in Oaxaca take you through a hands-on exploration of mezcal production. It starts with an introduction to the different species of agave. The wild agave fields and the mezcal palenque itself become like a classroom.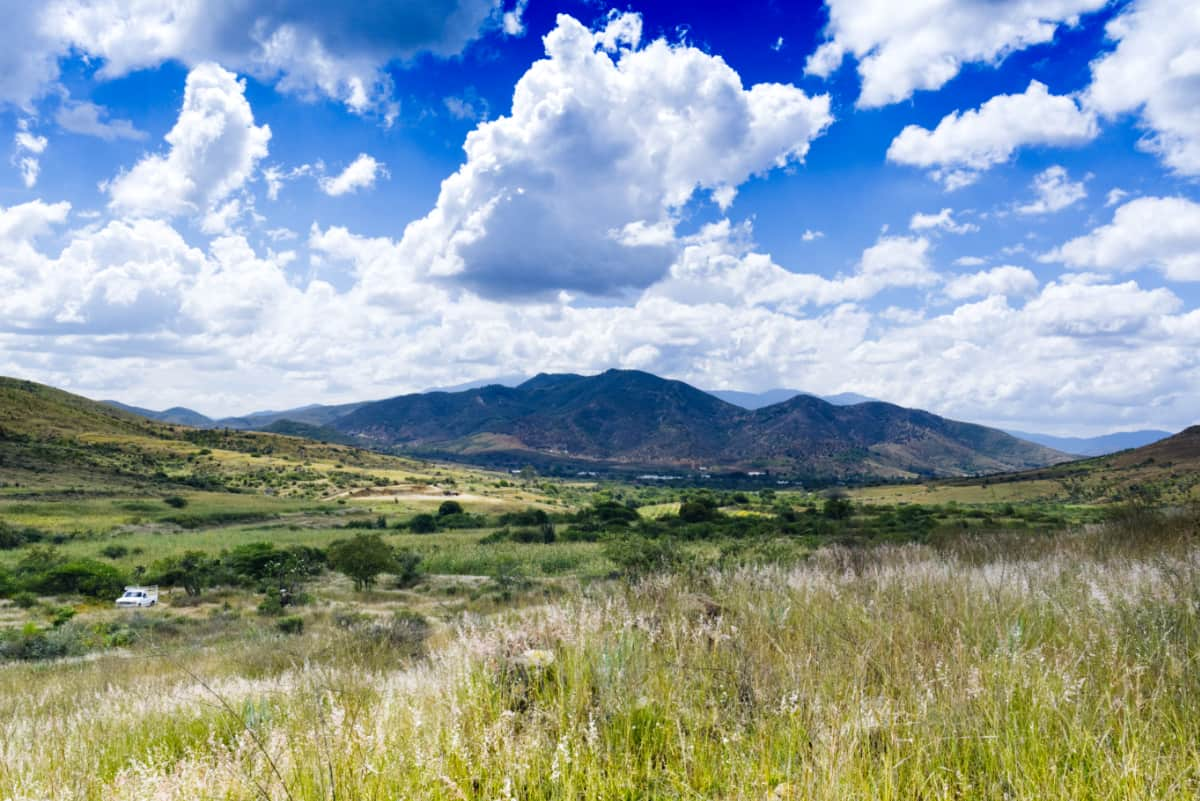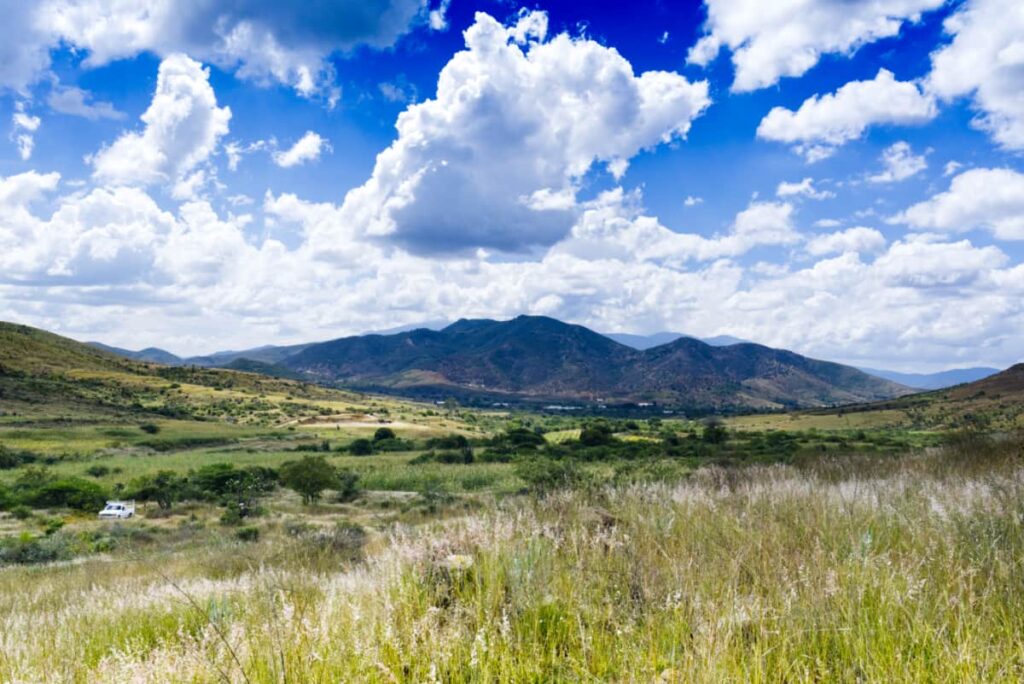 This article may contain affiliate links. This means if you click a link on our blog and make a purchase, we earn a commission at no additional cost to you. For full information, see our disclaimer here.
Why You Should Book a Oaxaca Mezcal Tour
I'm all about discovering ways to do things without a tour. But in this case, I recommend booking an authentic mezcal tour in Oaxaca. It wasn't until I went on this tour that I developed a better understanding of mezcal and its process.
Before the tour, I had spent the last two months discovering some of the best mezcalerias in Oaxaca. While doing so, I acquired a taste for sipping mezcal due to its wide-ranging flavor profile and lack of hangover-inducing additives.
But after the tour, I developed a new gratitude for its lengthy process and the mezcaleros who are devoted to the craft. By visiting a small batch mezcal producer, you are helping to preserve their livelihood and the tradition in the same way that it's been passed on for generations.
Did you know that mezcal is the purest mainstream spirit produced?
Mezcal Tour in Oaxaca: An Ancestral Experience
"This mezcal tour is a celebrational experience," our guide and translator, Victor, explains as he pulls out a map showcasing Mexico's diversity of agave species. "It's more than just a tour to get wasted."
"But we're going to do that too, right?" questions a fellow traveler. Everyone laughs and we turn our attention back to Victor who elaborates on the mezcal of Oaxaca.
The answer to the question is YES. There's plenty of tasting opportunities on this mezcal tour. But the beauty is that getting drunk is not the intention.
The intention of this Oaxaca mezcal tour is to spend a day in the life of a mezcalero and his family. Its purpose is to educate you about the entire process of mezcal production. To learn about the roots of mezcal, beginning with the agave plant itself.
Read Next – 25 Restaurants in Oaxaca You Need to Try
Palenque El Conejo: An Educational Mezcal Tour
Meet Conejo, a third generation mezcalero in the town of Santa Catarina de Minas. When we arrive at the palenque, we're greeted by Conejo and one of his four children, Gabriel. At the age of 12, he's shy but curious enough to accompany us in the agave fields for the day.
Before we go out to the fields, Conejo tells us to imagine we are in school. "Listen carefully," he says. "You can touch the agave, learn how to distinguish them, check the colors, the spine, and everything."
Then everyone climbs into the back of his pickup truck which is lined with wooden chairs for us to sit. It's the most comfortable ride in the back of a truck that I've ever experienced in Mexico. And I'll later learn the chairs serve a dual purpose.
As the pickup traverses the dirt roads, old Mexican tunes play through the large speaker in the back of the cab. The views are beautiful, with more mountains coming into view at every turn.
Mezcal Tour, Oaxaca: It Starts With Mother Earth
When we arrive, Conejo pours everyone a tasting of espadin and we circle around for a toast. He then tips his glass, allowing a small amount of mezcal to fall to the ground. Giving some back to the earth is his way of saying thank you to mother nature, he explains.
With one mezcal down, we set out to explore twelve different species of wild agave that pepper Conejo's fields. One by one, he describes the physical characteristics and flavor profile of each species.
It's fascinating to learn about the agaves that make up the mezcals I've been tasting in the city. We learn about some of my favorites, like madre-cuishe and tobalá, as well as others I'm not familiar with such as tobaziche.
Meanwhile, the mezcal is free-flowing from the bottle of espadin that Conejo carries under his arm. He isn't shy about offering more, but there's also no pressure. You can drink as much or as little as you want.
Click to check availability and book this Oaxaca mezcal tour
Lunch in the Agave Fields
With stunning mountain views encompassing every side, we cut across the ridge to connect with the path again. Conejo's son leads the way with an air of confidence that he didn't have when we started.
And it's at this moment that I realize this is his classroom as well. Only he already knows a lot about agaves. Today he's learning to become a mezcalero because one day he will lead groups on a mezcal tour.
He leades us to a table under the shade of a tree surrounded by the same wooden chairs from the back of the truck. As Conejo opens another bottle of mezcal, we pass around a simple yet delicious lunch.
As classic Mexican music plays through the speaker, I look around and pause a moment to take it all in.
Sitting in the middle of the agave fields surrounded by the seemingly endless Oaxaca mountains, I immediately recognize what a special mezcal tour we are experiencing.
It feels like an inside view into the life of a mezcalero and his family. An experience that doesn't just teach you about mezcal production. It develops within you a deep connection to its roots.
READ NEXT – 23 Best Things To Do in Oaxaca City
Plant Your Own Wild Agave
After lunch, we're asked to choose the species of agave we want to plant and return to the fields. Conejo identifies a baby agave in need of replanting for each of us and puts us to work! Using a long spade-like tool, we dig around the agave plant and voila, it's separated from its mother.
Just a quick note, this is one of two ways agaves reproduce. These baby agaves, called hijuelos, pop up from the ground near the mother plant. It's important for Conejo to keep an eye on these babies and identify when they need to be replanted. Leaving them connected to the mother agave for longer than one year will steal nutrients from the mother and ultimately kill it.
The other way is to allow the spike, called a quiote, to grow long and tall from the center of the agave. It will then flower and become pollinated by birds, bees, and bats to produce one to three million seeds. But the energy the plant puts into growing the quiote also steals sugars from the plant, resulting in less mezcal yield for that agave plant.
The idea to plant your own baby agave is fun and not one I've seen on a Oaxaca mezcal tour before.
And then, just as the last person is placing dirt around their replanted agave, it begins to sprinkle. We take that as a good sign and note to return in about nine years when our baby agaves will be ready to drink!
Did you know that some agaves take up to 15 years before they are ready to harvest?
Back at the Palenque: Mezcal Distillery Tour
We return to the palenque for a mezcal distillery tour to see how the agave is cooked, fermented, and distilled. Every species of agave has its own flavor and aroma but the way the agave is processed will also affect the flavor.
The beauty of these palenques in Oaxaca is that very few are industrialized, despite a significant rise in the popularity of mezcal. I can't think of any other mainstream spirits that are regularly made at a small scale the way that mezcal is. It's another reason to book a tour to a palenque in Oaxaca.
Tasting the Mezcals of Palenque El Conejo
We finish the mezcal tour in the tasting room where large glass bottles of mezcal line the back wall. Conejo is happy to let us taste each type of mezcal he has available. We of course taste every single one, noting the different flavor profiles of each.
In terms of mezcal to take with you, there are different sized bottles available for purchase. As you tell him which ones you'd like, Conejo fills each bottle in front of you while his wife and daughter help to label them. It's truly a family business.
With bottles of mezcal in our arms, we say our goodbyes and our many thanks for the mezcal tour that felt more like an experience, allowing us to hang out with Conejo for the day.
After the tour, we stop at the country restaurant and pool. It's bustling with local families enjoying time together as well. We share plates of grilled meats and vegetables as we reminisce about the day. As we drive home, I stare out the window at the beautiful mountains of Oaxaca's Central Valley with a new appreciation for every sip of mezcal.
Mezcal Tour, Oaxaca: The Important Details
Do I need to book a Oaxaca mezcal tour in advance?
Yes, you should book this Oaxaca mezcal tour online so that they can prepare the experience for you. Everything is included: transportation, lunch, distillery tour, mezcal tasting, and a stop at a nearby restaurant and pool for a tasting of classic Oaxaca snacks after the tour.
Where will I be picked up for the mezcal tour?
You can choose to be picked up at your hotel at 8:30 or 9:00 in the morning. The tour can last up to 10 hours, after which you will be dropped off at your hotel.
What should I bring on the mezcal tour?
It's recommended that you wear or bring long pants for the hike in the field. You'll do that part first before it gets too hot. There is a bathroom to change at the palenque. Here's what else you should bring: a hat, sunscreen, long sleeves or bug spray, comfortable shoes for the hike, and cash if you wish to purchase mezcal to take home. However, you should not feel pressured to buy. Conejo and his family are paid regardless.