Rio Claro, Colombia: A True Nature Reserve Near Medellin
Rio Claro, Colombia is a private nature reserve in Antioquia three hours southeast of Medellin.
It's a popular way to escape the city and immerse yourself in nature. If you can avoid visiting during a holiday or weekend, it's likely that you'll nearly have the place to yourself.
Let's explore this natural reserve and discover why it's a true eco-lodge.
Rio Claro, which translates to "clear river," flows through a marble canyon that has been shaped by the water over thousands of years. It provides a striking backdrop to base yourself in nature for a few days.
Its magnificence is further enhanced by the beauty of the surrounding tropical rainforest. The reserve is rich with wildlife, including tropical birds, monkeys, and the beautiful blue morpho butterfly.
Quick History of Reserva Rio Claro
In a world where "eco" has been overused and exploited for its popularity, Juan Guillermo Garcés has created the real deal. His passion for preservation is evident in his story of acquiring the land.
Growing up in Colombia during the last half of the 20th century, Garcés found himself visualizing the disappearance of the entire Middle Magdalena jungle within his lifetime. 
When a farmer told him a story of chasing a jaguar into the jungle only to discover a magical place with walls and floor made of marble, he set out with his brother to find the location.
After two days in the jungle, they discovered the transparent blue-green waters of Rio Claro and its surrounding natural beauty.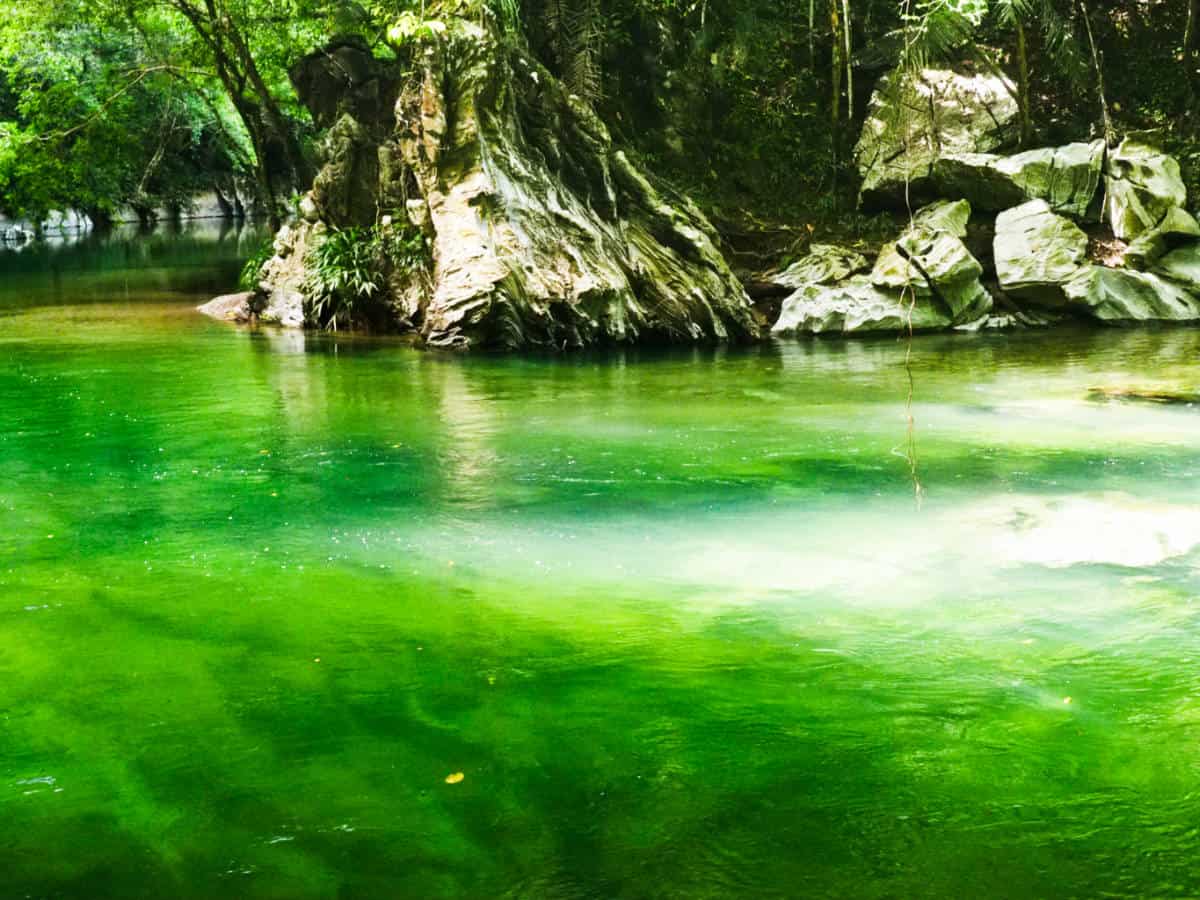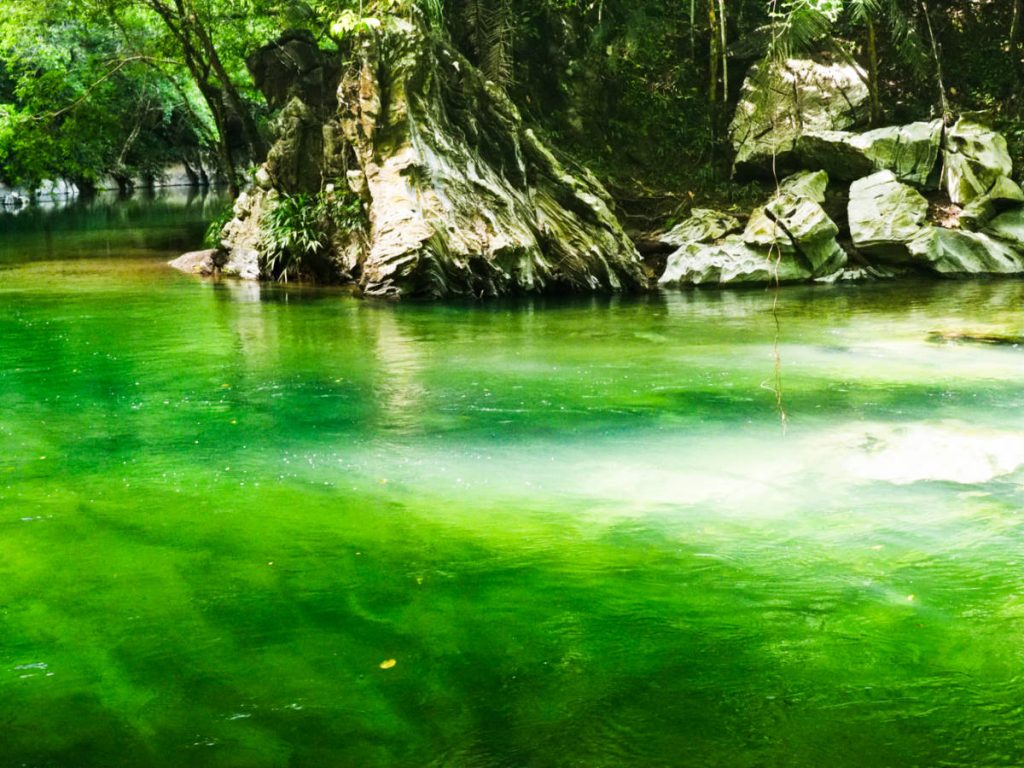 It was 1968 and the Medellin-Bogota highway was in the initial stages of being built. They knew it was only a matter of time before the forest would be destroyed. So, Garcés and his brother began to take possession of the land.
Many years passed, as Colombia experienced violent turbulence as a result of the drug trade. During this time, Garcés kept a low profile and only visited Rio Claro occasionally.
Then in 1997, Garcés was kidnapped. After a month in captivity, he managed to escape, all the while never giving up his dream of preserving the land. 
It wasn't until 2005 that he began to build Reserva Rio Claro. Today, he has created an eco-sanctuary that continues to preserve the tropical rainforest by reinvesting profits into the conservation of adjacent land.
Read Next – 10 Epic Day Trips from Medellin
Things To Do in Rio Claro, Colombia
The Rio Claro Reserve feels a bit like summer camp. There are activities for nearly every adventure level.
As you enter Reserva Rio Claro, you are greeted with a map of the reserve. Then it's a short walk on a shaded dirt road along the river to the restaurant and activity center.
A visit to Rio Claro does not require participation in any of the activities. If you'd rather do your own thing, continue along the path as you admire the river and reach other destinations, including Playa de Marmol, Templo del Tiempo, and Playa Manantial which sits across from Caverna de los Guacharos.
The most popular landmarks and activities are detailed below.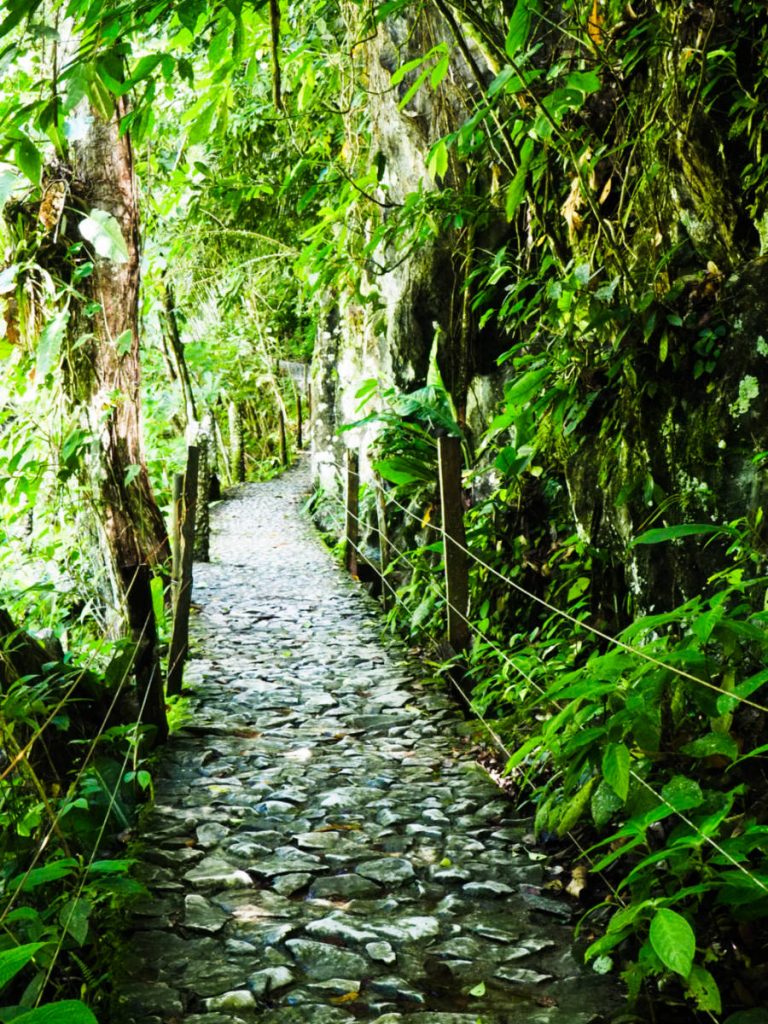 Playa de Marmol (Marble Beach)
A large flat piece of white marble juts into the river, creating the perfect area to sunbathe and an easy entrance to this swimming point along the river. Popular with families and groups.
Templo del Tiempo (Temple of Time)
This open cavern is a great example of how small mineral deposits form stalactites and stalagmites over millions of years. Located next to the trail, it's much easier to access than the cave.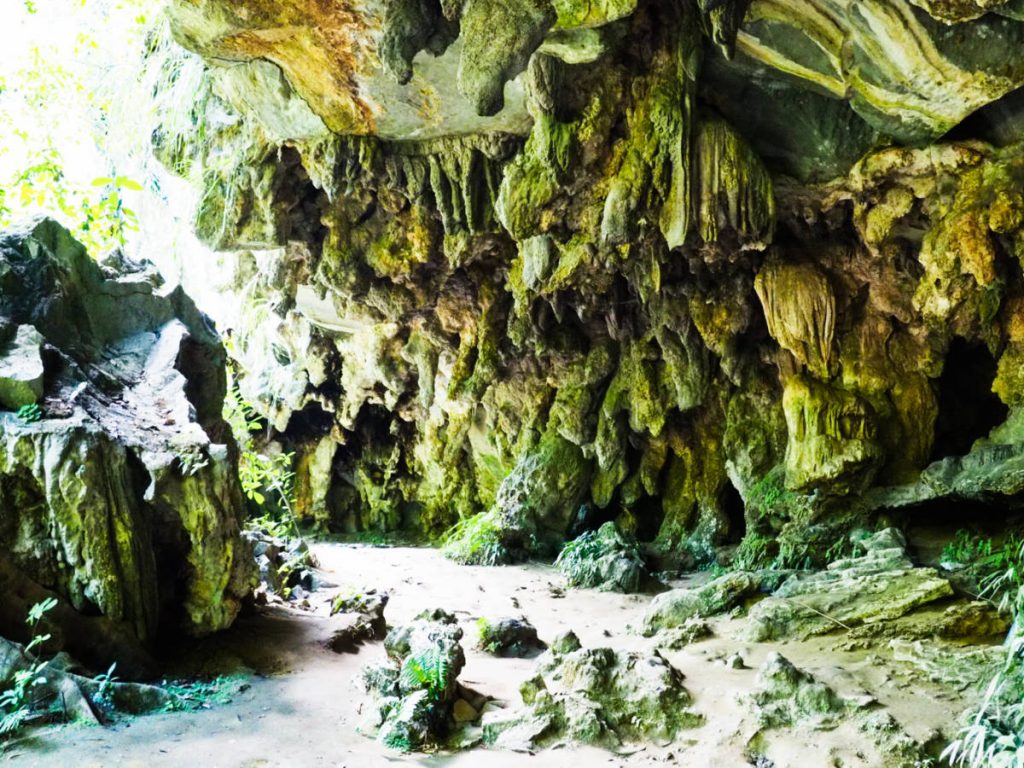 Playa Manantial (Spring Beach)
Long swaths of limestone rock make up the river bed here, where a natural spring flows into the river from Caverna de los Guacharos, The Cave of the Oilbirds.
From this point, you can continue the trail paths on your own towards Boca Caiman, or Alligator Mouth, where the river has carved a ledge that looks like the mouth of an alligator.
Zipline
Admire the reserve and canyon from above along this 500 meter zipline. The route zigzags down the river with three resting platforms from which to continue.
Cost: 30,000 Time: 1 hour Minimum Age: 7 years old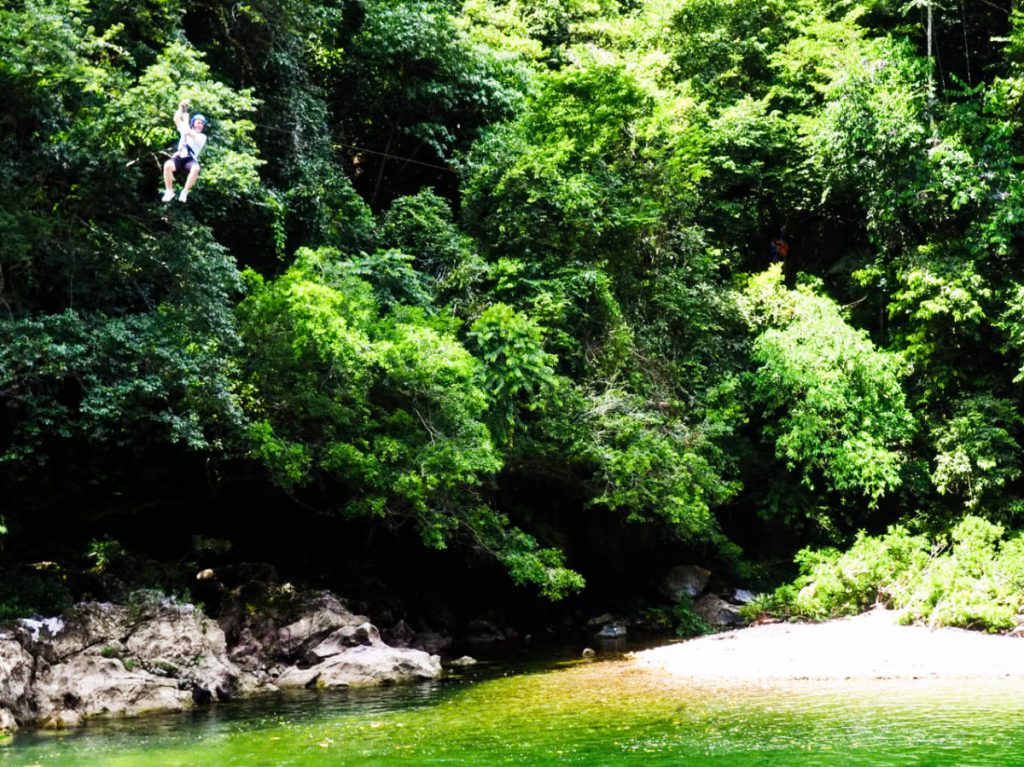 Rafting
Inflatable boats take you down the river's calm Class I and II rapids as you gape at the marble canyon walls towering overhead.
Cost: 45,000 Time: 2.5 hours Minimum Age: 7 years old
Explore Caverna de Los Guacharos
Adventurous travelers will want to go spelunking in this cave which is home to oilbirds. The small river that cuts through the cave has created beautiful marble rock formations.
A headlamp and flashlight are required, as well as a guide. Keep in mind, this is a moderately strenuous activity and you will likely get wet.
Cost: 35,000 Time: 3 hours Minimum Age: 12 years old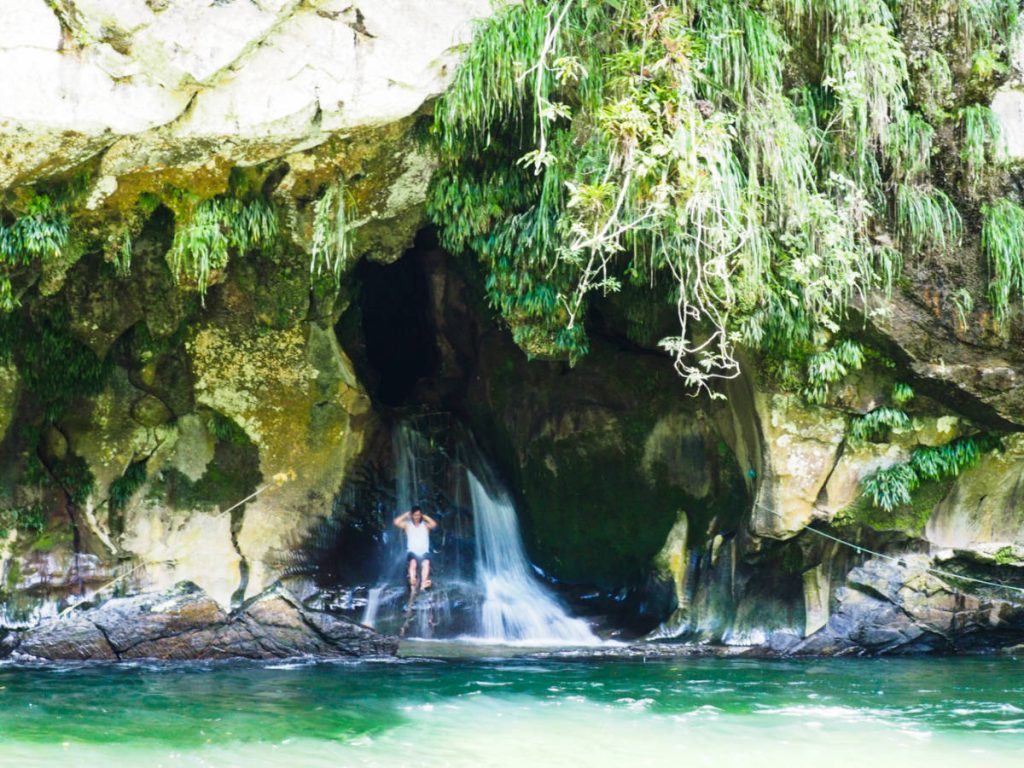 Climb the Limestone Cliffs
There are one horizontal and two vertical rock faces fastened with a cable that allows climbers to secure themselves during the climb. A harness, helmet, carabiner, and gloves are provided.
If you're into climbing you'll want to learn about visiting Guatape during your travels in Colombia as well.
Cost: 25,000 Time: 1 hour Minimum Age: 18 years old
This article may contain affiliate links. This means if you click a link on our blog and make a purchase, we earn a commission at no additional cost to you. For full information, see our disclaimer here.
Where to Stay at Rio Claro
You absolutely should stay within the Rio Claro Reserve if you feel it's within budget. The incredible experience of being within the nature reserve at night and in the mornings is worth it.
Honestly, once you factor in the included three meals per day, the 160-260,000 pesos rate per person seems quite reasonable.
However, I did find an inexpensive hotel in Doradal that was incredibly accommodating when we arrived on a bus in the middle of the night from Bucaramanga.
And if you have a tent, camping within Reserva Rio Claro is a budget way to stay within the reserve. Each option is detailed below.
Reserva Rio Claro Cabins
If you plan to stay overnight, I highly recommend staying in one of the cabins at the reserve. There are four options depending on your mobility, comfort level, and desire to be enveloped in nature. Each room is equipped with electricity, light, and a private bathroom. Rates, which include three meals per day, are quoted per person and can be found on the Reserva Rio Claro website.
El Refugio Cabins
Fully immersed in nature, these cabins are only accessible by foot via a 10-minute walk down the trail from the restaurant. There are four separate buildings, each with twelve rooms of double to quadruple occupancy. If you're looking for the full experience, choose to stay here and get away from it all. It's the only cabin with various rates depending on which room type you choose. The higher the price, the higher the floor and thus better views of the rainforest and its inhabitants.
Blue Morpho EcoLodge
Located on the two upper levels of the reserve's main building, these rooms with forest views are ideal for those who do not wish to walk at night between the restaurant and their room. The rooms, which accommodate four to six people, were originally envisioned for school groups. It's also accessible by car and steps away from the Adventure Activities center.
La Mulata Cabins
Surrounded by lush forest, these cabins are best for birdwatchers thanks to a large number of sightings from the rooms. Located between the main gate and the restaurant, these two buildings each contain four rooms with an occupancy of two to six people. Good for family groups and those that desire more comfort and accessibility since the buildings can be accessed directly by car.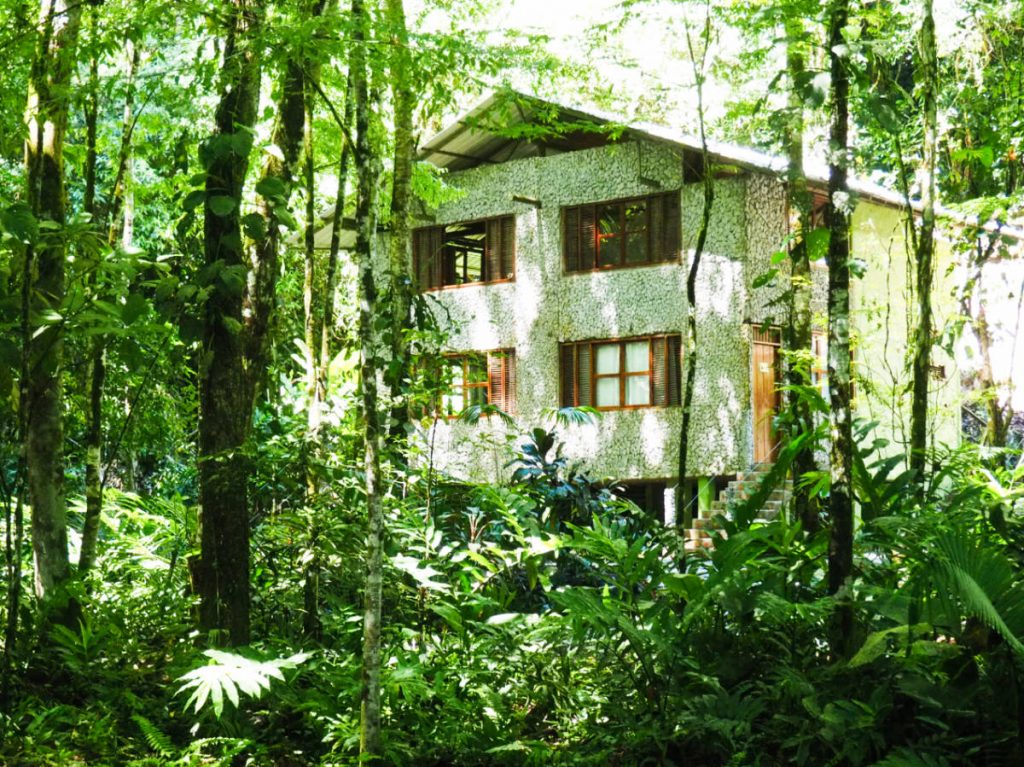 Hotel Rio Claro
These independent bungalows are located along the highway and ideal for families and corporate groups that desire creature comforts rather than an immersion in nature. The rooms accommodate two to four people and some include air conditioner. The green grounds surrounding the hotel include a playground, restaurant, and pool.
Camping Rio Claro
If you have your own tent, you can choose to rent a campsite in Rio Claro overnight. This is definitely the budget option, but the campground is located close to the main entrance trail which means people will pass by as they enter and exit the park. You'll also be on your own for food, whether you decide to make your own or purchase from the restaurant.
Camping rates are per person. 25,000 for one night; 35,000 for two nights; 45,000 for three nights.
Budget Hotel in Doradal
When I stepped off the bus in Doradal, the humidity smacked me in the face. It was two in the morning and the first thing I saw was a convenience store with colorful beach floats hanging outside the entrance. After flashbacks to my time on the Caribbean coast, I remembered we were in a small town in the Colombian rainforest.
We bought a snack at the store and walked a few meters to Hotel Conde, located along the highway strip. The hotel owner was waiting for us as promised even though our bus was two hours late!
With only a few words exchanged, he gave us the key to the room which he had already temperature controlled by turning on the AC ahead of our arrival. I'm not one that requires or even chooses to use AC, but it was a big gesture in an area of the world that values minimal electric use.
Our stay at Hotel Conde in Doradal was fantastic. The (very) small and economical double room was at the back of the property, away from the highway (and noise). And the highway strip gave several options for food as well as easy access to the buses going to Rio Claro.
Quick Info About Doradal, Colombia
Doradal is a funny little town. It's quite obvious that it is newly built, which makes you wonder why all these people decided to settle in the middle of nowhere between Medellin and Bogota.
My Colombian friend told me the town was settled by the workers of Hacienda Napoles, after Pablo Escobar's demise. Today the hacienda is an attraction nearly as much as the Rio Claro Nature Reserve.
At the hacienda, Escobar built several attractions, including a zoo with animals imported from Africa. After the property was seized in the early 90s, most of the animals were transported to zoos around the country.
Unfortunately, the hippos remained and have developed into quite a nuisance since nearby conditions are ideal for their survival. You can read more about it here in this BBC article.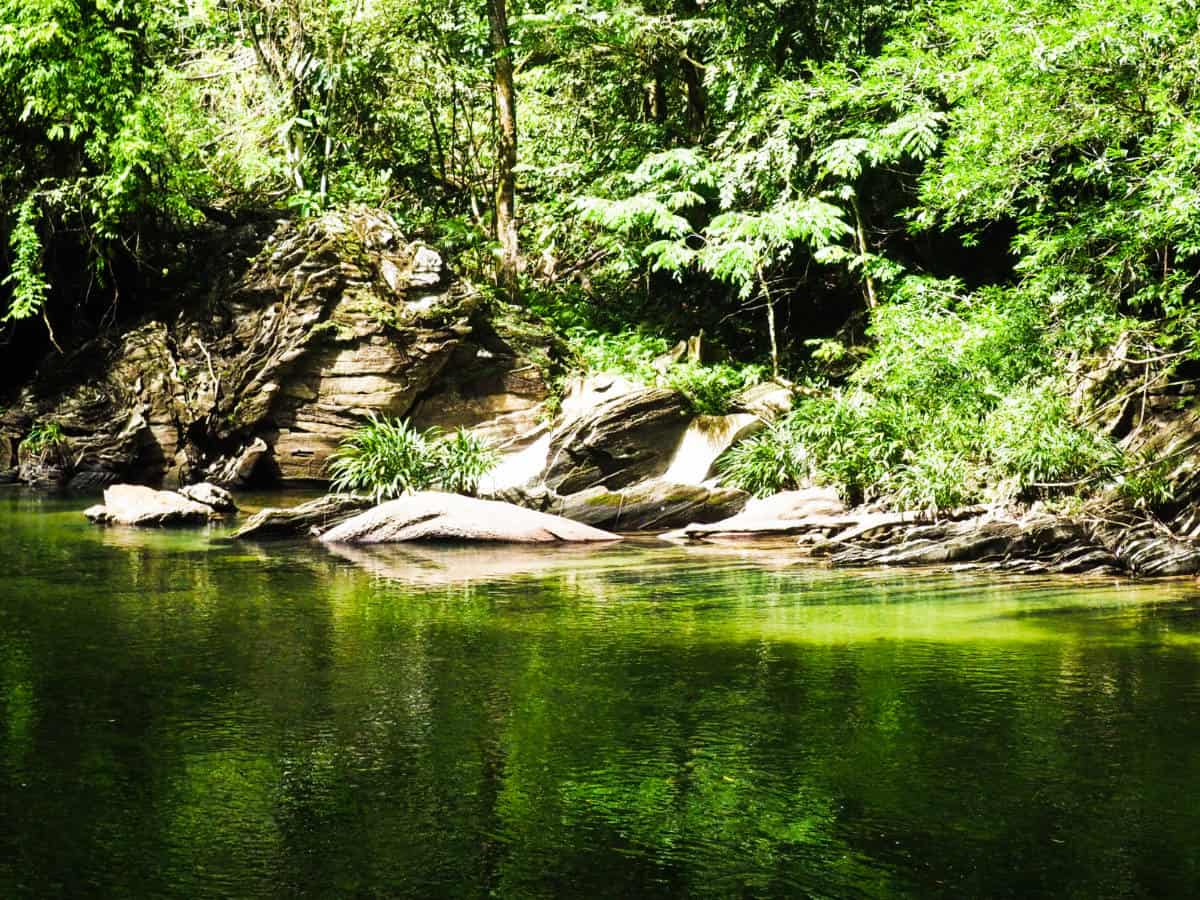 Tips for Visiting Rio Claro Colombia
At first glance, the river seems calm. But there are strong currents throughout. Keep your wits about you and an eye on others in your group.
Keep all food sealed or hang it from a string so as not to attract unwanted visitors.
Payment for accommodations is due ahead of time. Within the reserve, only cash is accepted. The entrance fee is 15,000 pesos. Credit cards are accepted at the entrance, however, the credit card payment system is not guaranteed to work. The nearest ATM is 30 minutes away in Doradal, though it's also not guaranteed to work.
A flashlight is needed after 5 pm.
Temperatures can drop considerably at night. Bring layers for cooler temperatures at night.
The Best Time to Visit Rio Claro
As the name implies, the river is crystal clear. Unless of course, you visit during the rainy season, which tends to stir up the sediments and create a muddy river.
The rainy season in Antioquia, Colombia is roughly April-May and September-November. 
If you can, you'll also want to avoid weekends and holidays when the reserve is busy with families visiting from Medellin and Bogota. It's possible during the weekend you will need to reserve the activities ahead of time or at least as soon as you arrive.
When I visited on Monday, there was no need to reserve right away and it made for a much more relaxed adventure.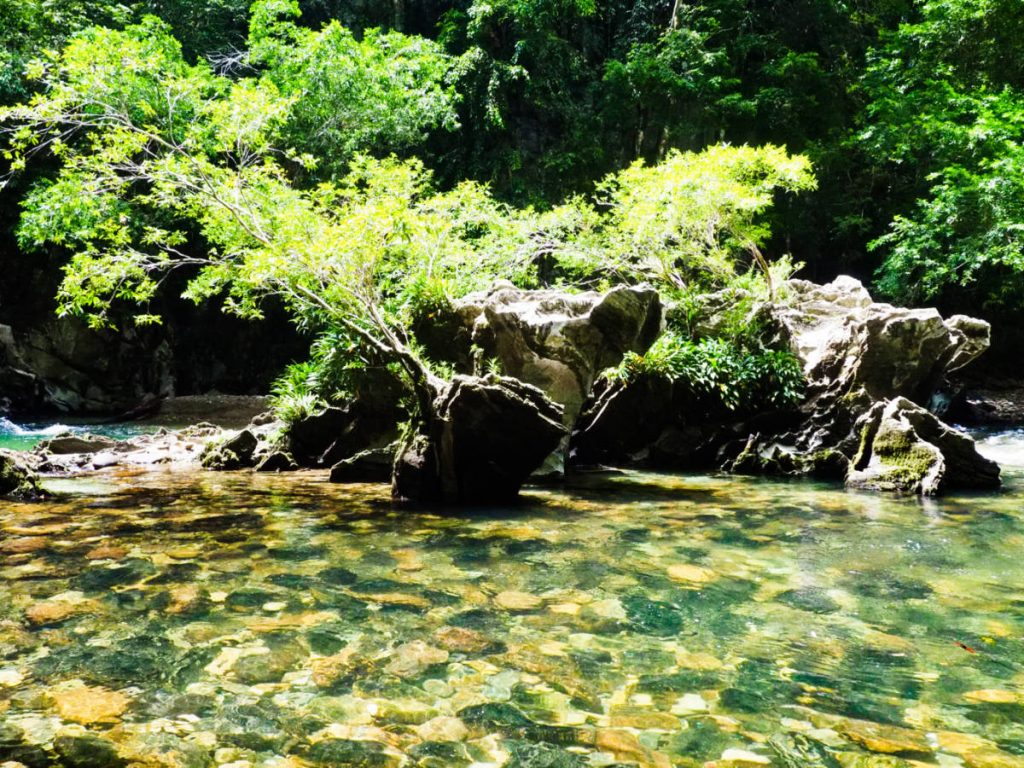 How to Get to Rio Claro, Antioquia
The Bogota-Medellin highway is one of the most traveled roads in Colombia. Any of the buses traveling between the two cities will drop you off at Reserva Rio Claro along the way.
The entrance to the park is clearly marked and hard to miss, but you may need to pay attention and remind the driver to stop. The closest city to the Rio Claro Nature Reserve is Doradal which is about 30 minutes away from Rio Claro, towards Bogota.
How to Get to Rio Claro from Medellin
You can take a bus from Rio Claro to Medellin from the city's north bus terminal. Buses depart at least every hour and cost 20-30,000 pesos. Traveling by bus from Medellin to Rio Claro is about three and a half hours.
How to Get to Rio Claro from Bogota
Buses to Rio Claro from Bogota depart Salitre station every hour. The total trip to get from Bogota to Rio Claro takes around five and a half hours and costs about 40,000 pesos.
Discover Related Posts
Like this Post? Save it for Later!