10 Epic Weekend and Day Trips From Medellin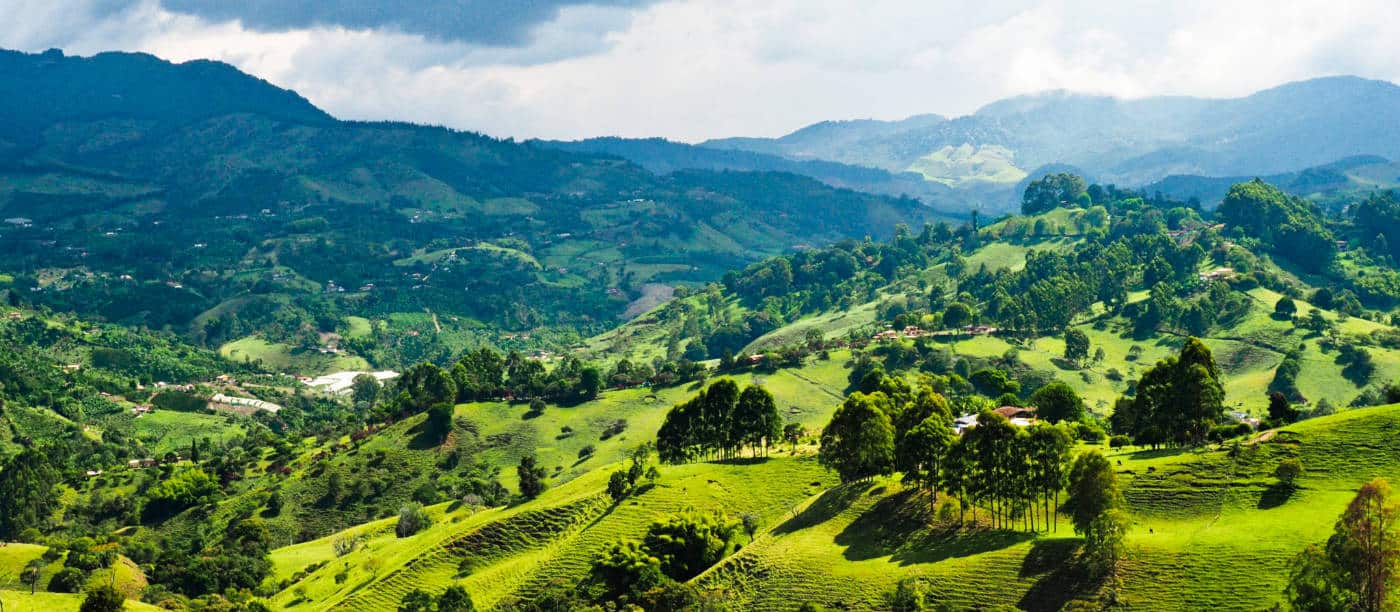 The lush tropical landscapes that surround Medellin are the perfect environment to escape the city and explore a different part of life in Colombia. These Medellin day trips allow you to get away from the hustle and bustle (and the pollution!) of the city.
You can organize any of these weekend and day trips from Medellin on your own. Though if you are short on time, you may prefer to hire a day tour.
You probably already know some of the most popular ones, but I guarantee there will be at least one Medellin day trip you haven't heard of yet.
Can't decide whether you want to take a day trip to climb the large rock in Guatape or a weekend trip from Medellin to see the traditional architecture of Jardin? Continue reading to discover what best fits your travel goals.
This article may contain affiliate links. This means if you click a link on my website and make a purchase, I earn a commission at no additional cost to you. For full information, please see my disclaimer here.
Day Trip to Guatape From Medellin
Perhaps the most well-known Medellin day trip is to Guatape. And for good reason!
The small town of Guatape is the perfect size and distance to explore as a day trip from Medellin, but it's also interesting enough to turn into a weekend trip.
There are two main reasons to visit Guatape – to climb El Penol for stunning views of the lake and to visit the town itself which is known for its colorful zocalos.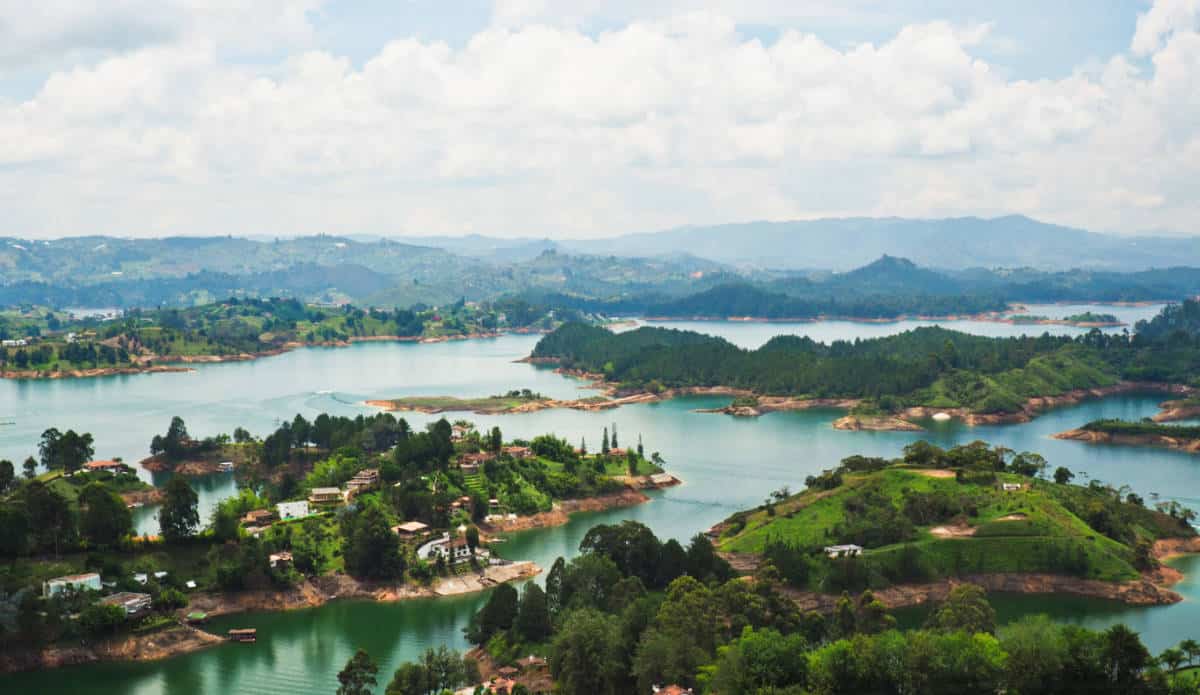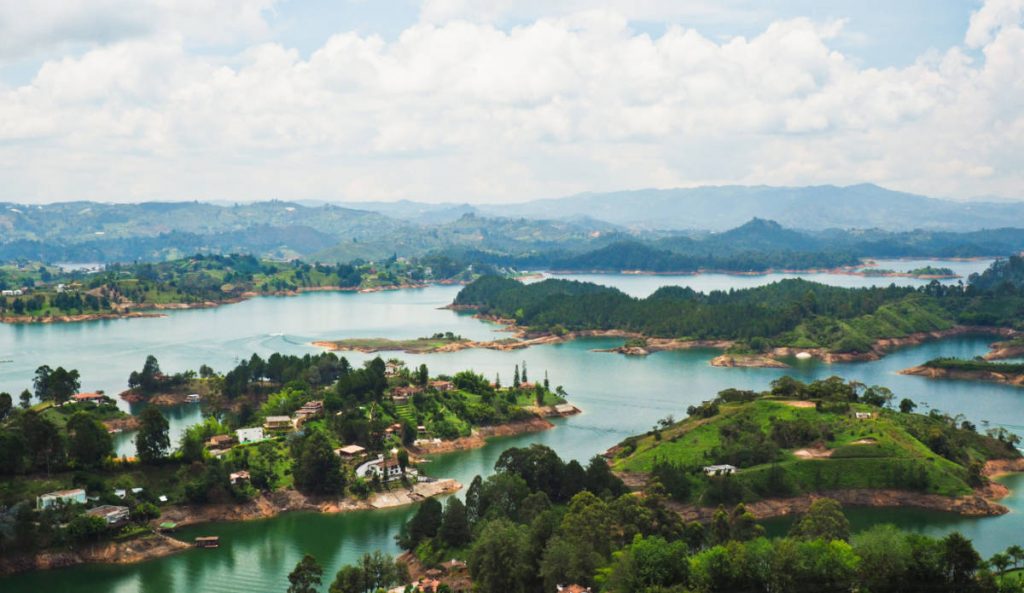 The bus from Medellin to Guatape first stops at El Penol before continuing into town. After you climb the rock to take in the amazing views from the top, catch the next bus or a tuk-tuk into town.
Sit down for a cup of tinto at one of the many cafes in the square before wandering the streets to admire the colorful zocalos for which Guatape is famous. Each zocalo depicts a different scene, usually representing the family business, a time in history, or a feeling.
How to Get There: Traveling to Guatape is easy to do on your own, whether you plan to spend the day or a full weekend. The bus departs Medellin's North Terminal every 30 minutes and returns every 30 minutes, with the last bus departing Guatape at 7:30 pm (but it's always good to double-check when you arrive).

Guatape Tours from Medellin: If you prefer to take a tour, there are several great options. All of these include climbing El Penol and exploring the town.

Budget-Friendly Day Tour – Includes breakfast, lunch, and a boat tour of the lake.
Coffee Farm and Guatape – Includes a coffee farm tour before climbing to the top of El Penol.
Private Tour of Guatape – Includes breakfast, lunch, a boat tour, and several stops along the way.
Guatape By Helicopter – Explore the scenery from the sky in a private helicopter tour from Medellin.
San Rafael, Colombia
If you have the time after Guatape, take a day or two and explore San Rafael, an hour further east. The drive from Guatape to San Rafael is gorgeous. The road curves through layers of vibrant green mountains with stunning vistas.
San Rafael itself is a simple Colombian town along the Guatape River with several nice hikes to waterfalls and places to swim.
Check places to stay in San Rafael via Booking.
How to Get There: From Guatape there are regular buses that go to San Rafael for the 60-minute ride. Ask at the bus station in the town of Guatape.
Weekend Trips from Medellin, Colombia
There are a handful of small towns that are perfect for a weekend trip from Medellin. While it's possible to visit a couple of these in a day, you'll enjoy them more if you're able to turn the trip into a few days.
If you want to see several of these towns at once, you can book this 5-day excursion from Medellin. This multi-day tour includes an extensive Medellin city tour, as well as trips to Guatape, Santa Fe de Antioquia, Jardin, and Jerico.
Jardín
It's the picturesque homes with colorfully painted accents and balconies that draw visitors to Jardín, but it's the abundance of nearby nature adventures that keep them engaged.
Well, that and spending a leisurely afternoon sipping tinto in one of the many cafes along the square.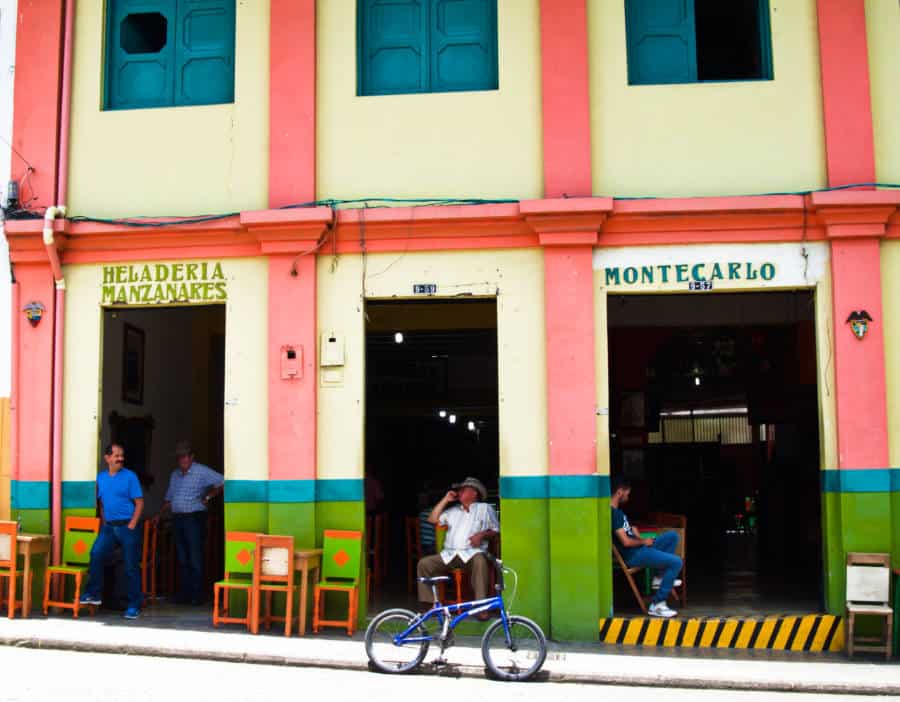 Located three hours south of Medellin, you can visit Jardín as a day trip but it would make for a really long day without seeing the best that the area has to offer.
Highlights of a trip to Jardín include hiking to Cuerva del Esplendor, paragliding over town and the surrounding mountains, and visiting a private spot on the edge of town where you can see the magnificent Andean bird, Cock-of-the-rock.
And if adventuring in nature isn't your thing, there's still plenty of wandering to do in this colonial town. Stroll through the streets to Dulces del Jardín. This sweet shop known for making a variety of arequipe (dulce de leche), fruit preserves, and candies.
Afterward, walk down the cobblestone path of Camino de la Herrera which takes you to Cascada del Amor, the waterfall of love.
How to Get There: Minibuses leave Medellin for Jardín every hour from the South Terminal and make a brief stop in Andes on the way. If you prefer a bigger bus, they are available, though departure times are more limited. It takes about three and a half hours to get from Medellin to Jardín by bus.

Where to Stay in Jardin, Colombia
Sergeant Pepper's Hostel ($) | Highly rated hostel with private and shared rooms in a great location.
Cabañas Filo de Oro ($$) | Modern cabins with a traditional feel and breathtaking views.
Hotel Plantación ($$$) | Sustainable hotel featuring modern design, airy rooms, and vegan food.
Casa Passiflora Hotel ($$$$) | Boutique hotel with gardens and a jacuzzi in a fabulous location.
Jericó
Surrounded by a beautiful landscape of rolling green hills, this small pueblo is known for two things. It's the birthplace of Colombia's first patron saint, Madre Laura, and it's where the iconic Colombian carriel bag is made.
These handcrafted, multi-layered leather bags are traditionally carried by farmers to hold their valuables. Nearly every man in Jericó has one slung across his body and there are several workshops in town where you can see the bags being made.
Jericó is more conservative than its well-known neighbor Jardín. It's evident in both its people and its architecture, not to mention the numerous churches in this tiny town.
When you arrive, you can't miss the statue, Cristo del Ray perched atop a cliff looking over the entire town and valley below. A short walk through the botanical gardens and up the hill to the Christ statue is something every visitor must do. The views are stunning!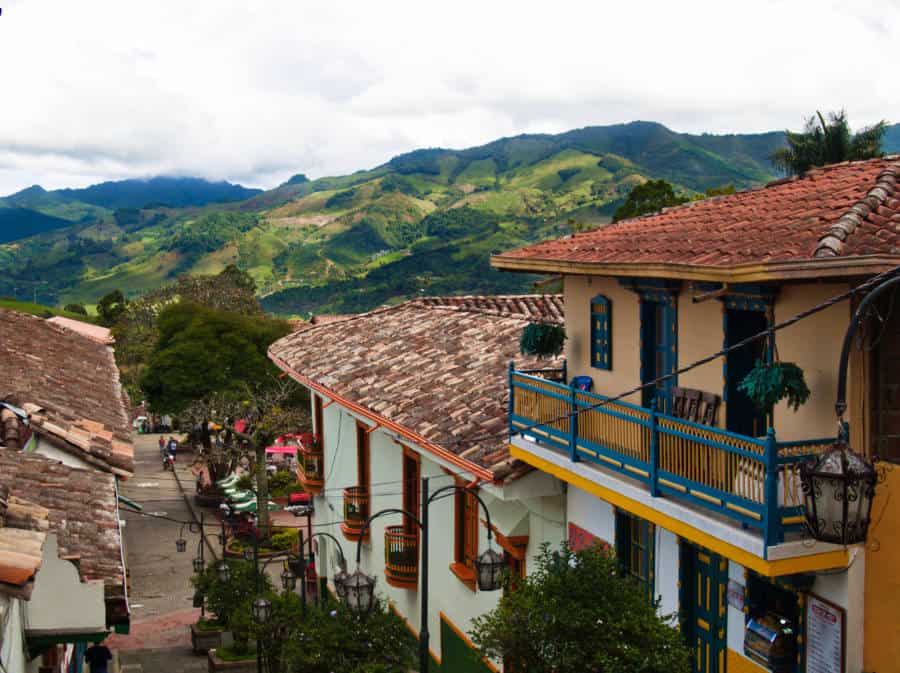 And if you're up for a little more adventure, take a tour of Jerico's stunning countryside by horseback.
Or book this tour to a family-run coffee farm with a local family that will show you the full process from bean to cup.
On the return hike, is a perfectly timed visit to Cascada Arcoiris, or Rainbow waterfall. In the early afternoon, as water flows down the rockface, the sun shines at just the right angle and suddenly a rainbow appears in front of you. It's pretty spectacular!
Where to Stay in Jerico
Parcerito's Hostel ($) | Affordable private and shared rooms on the edge of town.
El Despertar Hotel ($$) | Traditional architecture with colorful accents in the heart of Jerico.
Casa Santamaria Hotel ($$$) | Stunning views from this hotel located a short tuk-tuk ride from Jerico.
Cabañas y Flores ($$$$) | Independent cabins located just outside of the town of Jerico.
Rio Claro | A Weekend in Nature
Visitors are enamored with this nature reserve located four hours southeast of Medellin. The translucent blue-green river runs through a marble canyon surrounded by tropical rainforest. As the conservation project of a local Colombian man and now his family, Rio Claro is a true eco-lodge with a vision for the future.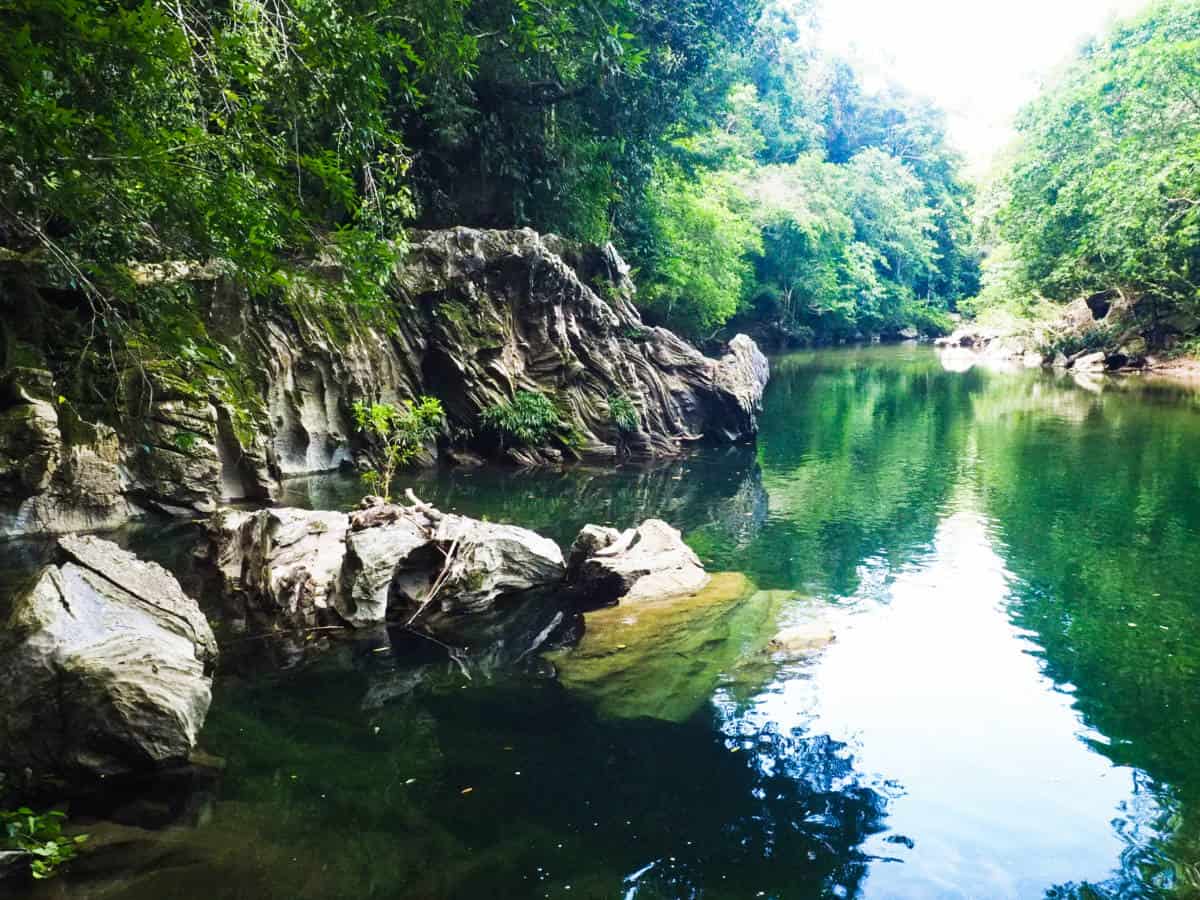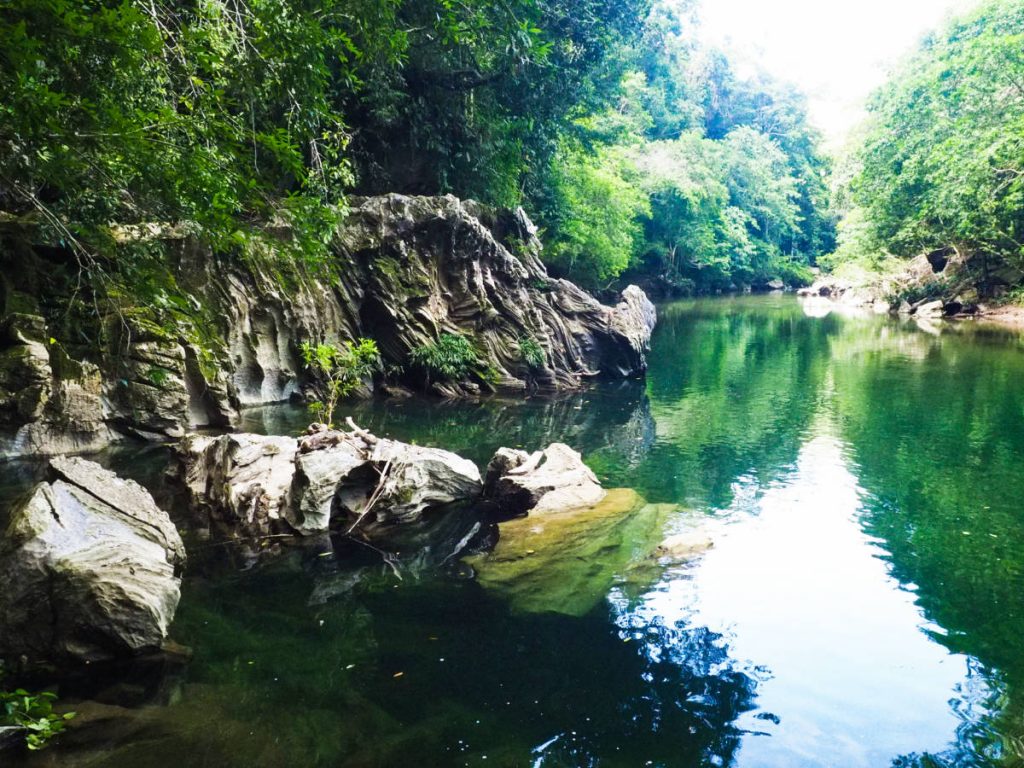 Camping is available at the front of the reserve, or you can rent one of several cabins on site which includes breakfast, lunch, and dinner. Spend a little extra money for one of the upper cabins which position your sleeping quarters in the trees. You'll be able to see monkeys and other animals in their natural habitat from your room.
During the day, relax at marble beach, go rafting, or take a guided tour through Caverna del Guacharos, named after the nocturnal birds that inhabit the cave. All meals are included with your cabin rental. With a friendly staff and an abundance of activities, it feels a bit like going to summer camp as a kid.
You can certainly visit Rio Claro as a day trip from Medellin, but it would be a long day with three hours of travel each way. Spend at least one night for a truly memorable experience. Or make this a stop along the way from Medellin to Bogota since Rio Claro is just off the Medellin-Bogota highway. To make reservations in one of the cabins, visit the Rio Claro Nature Reserve website.
More Medellin Day Trips
San Antonio de Pereira | A Day Trip for Sweettooths
If you have a sweet tooth, you'll love this Medellin day trip. A little over an hour south of Medellin and 15 minutes past Rio Negro is San Antonio de Pereira. Visitors are lured to this town for the postres, or desserts and some stay overnight for the weekend nightlife.
When you arrive, you'll have your choice of dessert shops just off the main square. Choose from places like the eclectic, yet traditional Postres San Antonio or the modern, Dulces y Postres. All of the shops offer samples so that you can decide on your favorite dessert before you commit. Or better yet, go with friends and share the sweets from several different shops.
To be honest, I don't have a sweet tooth at all. But when my friend suggested this short day trip, I figured I should see what the dessert hype was all about. Sure, the desserts are sweet and delicious, but my favorite was the available toppings.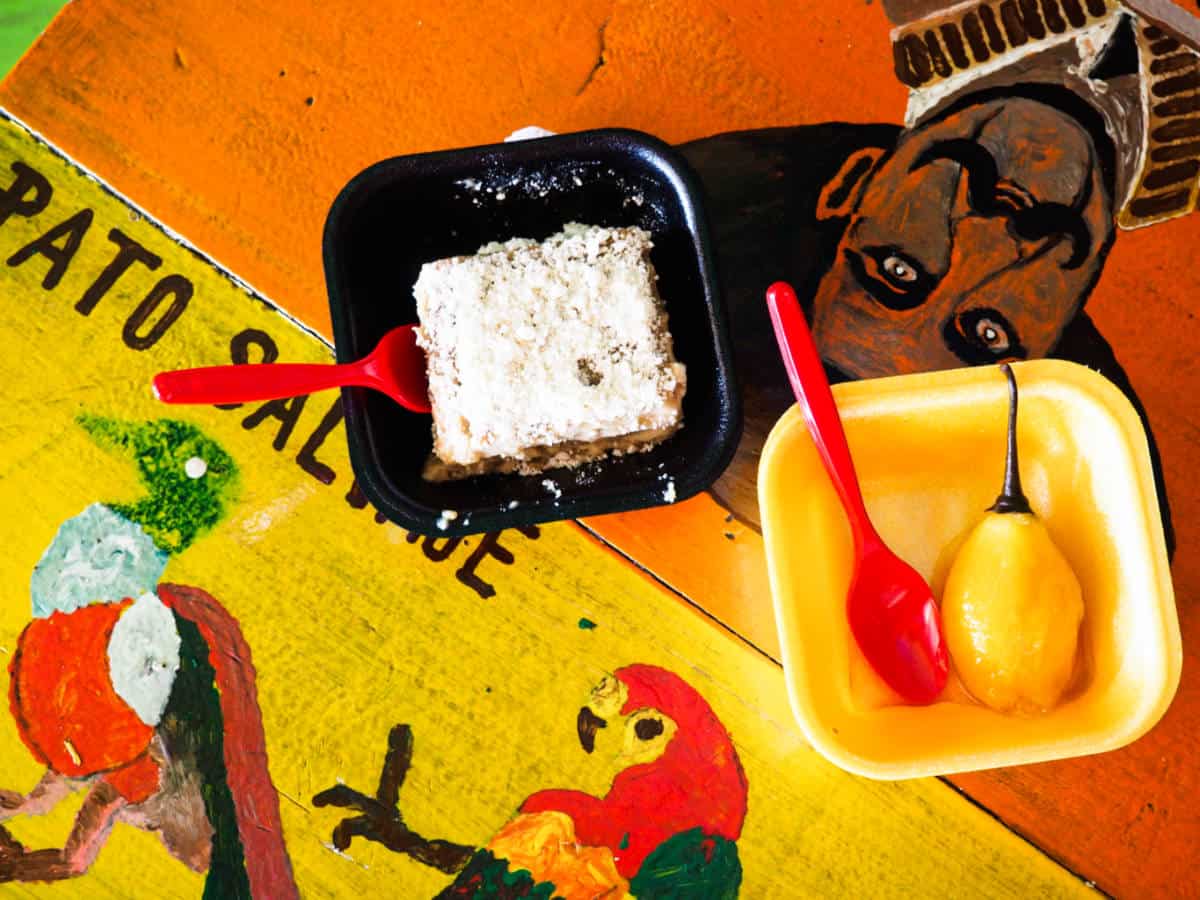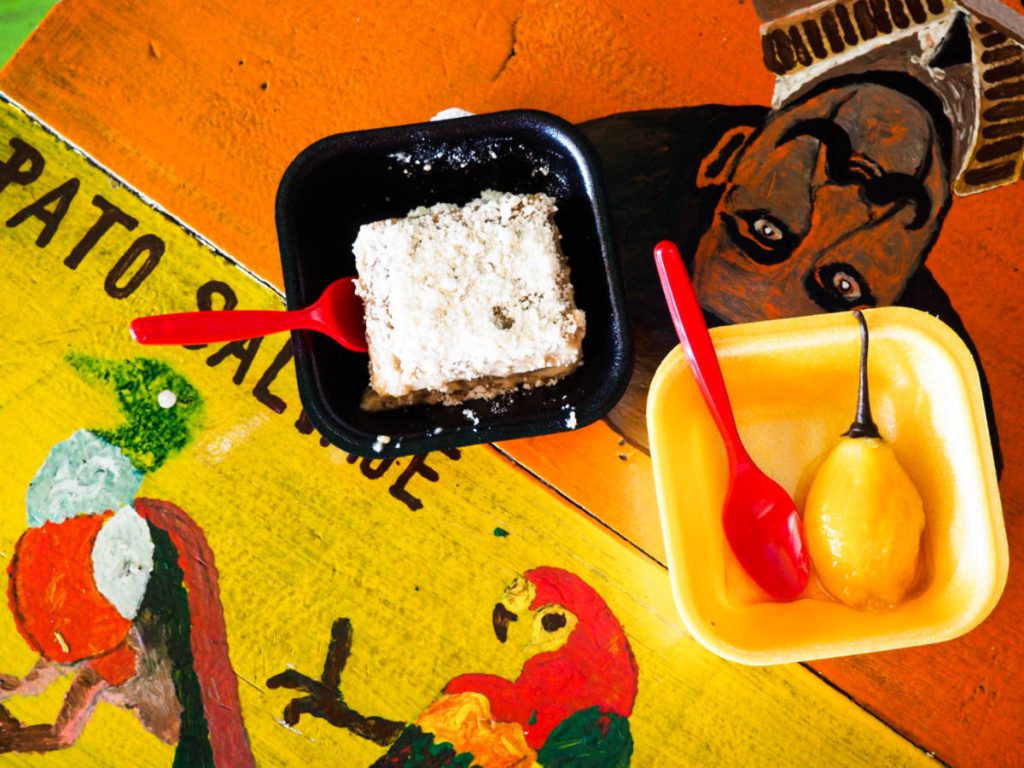 There was your traditional syrupy sweet on top of sweet, but my eyes gravitated towards the preserved tropical fruits. I immediately eyed two of my favorites – tomate de arbol and uchuvas. For a non-sweet lover, these sweetened fruits added the touch of acidity I truly desired.
San Antonio is easily a day trip from Medellin and is only made into an overnight trip if you decide to party in one of the discotecas. Locals say the reputation for nightlife developed in the 1960s after young people from the city of Rio Negro started traveling to San Antonio for dancing in the square.
El Carmen de Viboral | A Day Trip for Ceramics
Just an hour from Medellin, this town is famous for hand-painted ceramics. After discovering the area to be rich in natural minerals needed to create the craft, Eliseo Pareja started the first ceramic workshop in El Carmen de Viboral in the late 1800s. Others followed suit and this small town in Antioquia became the center of Colombia's ceramics industry.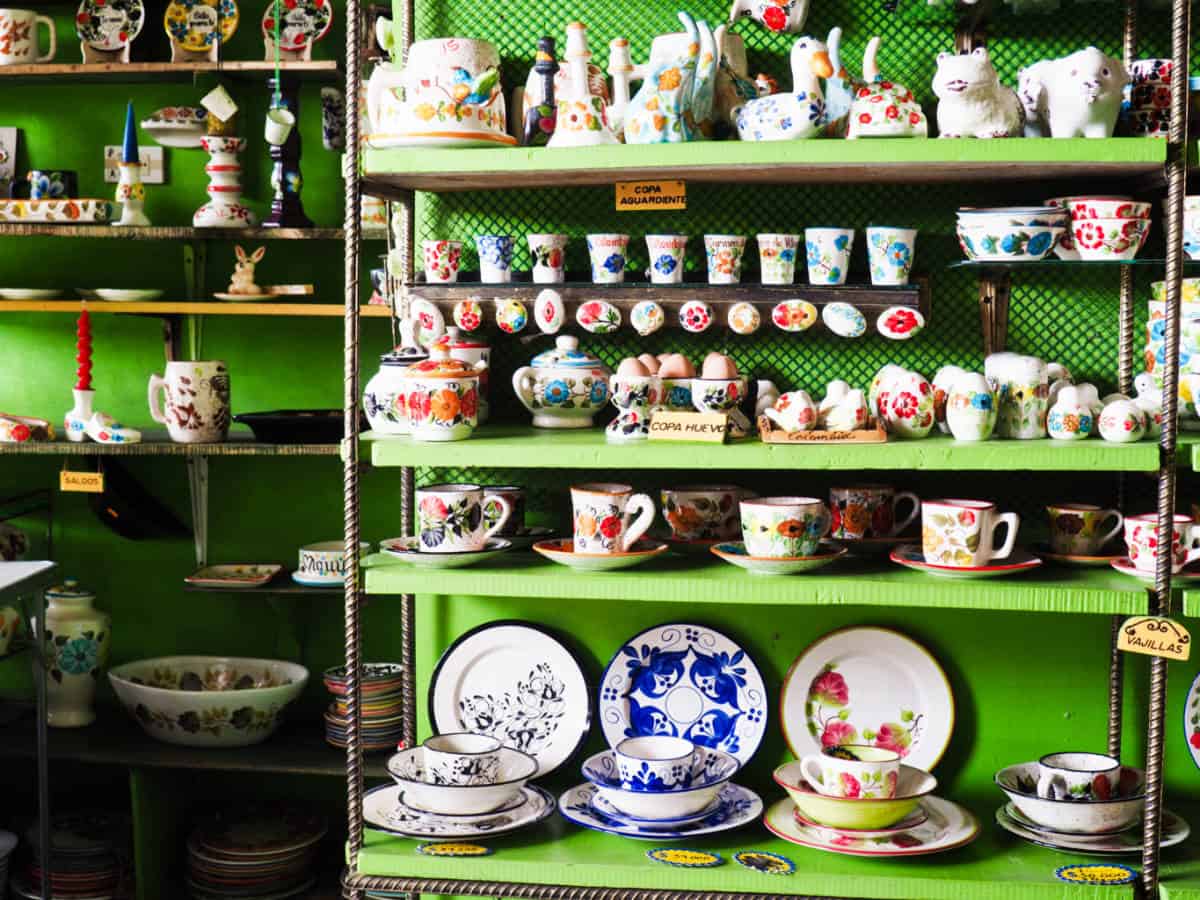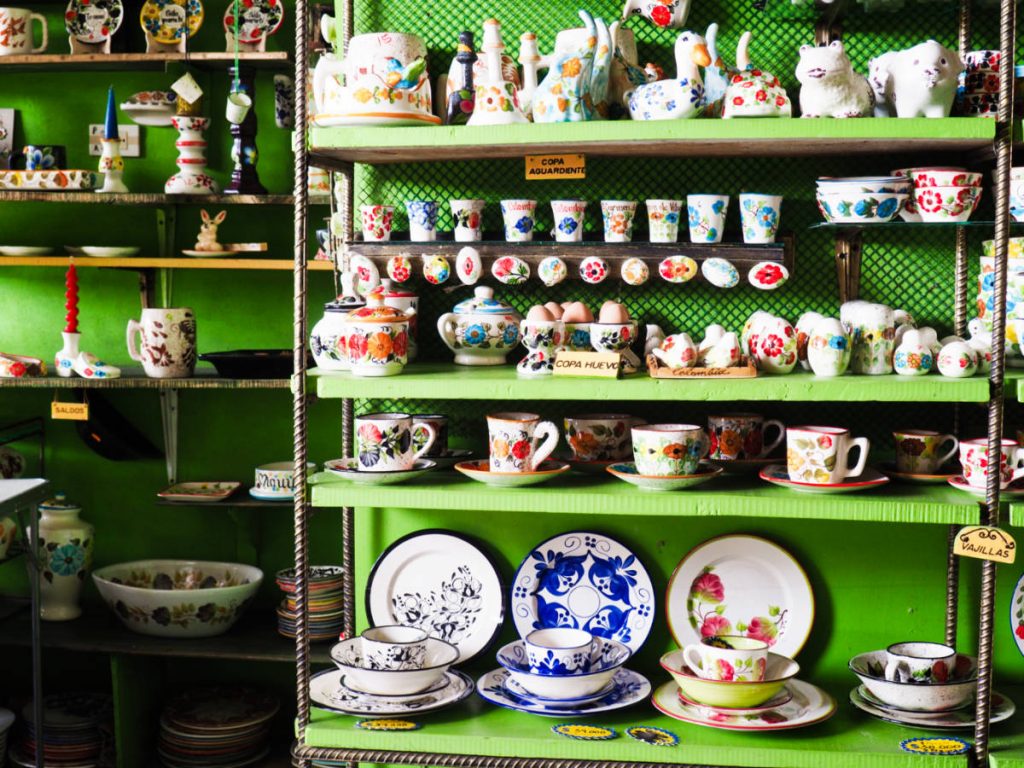 The love of ceramics is evident throughout the town, starting with the centrally located Calle de la Ceramica where colorful dishes are embedded into the walls, streets, and lampposts.
To learn about the history of ceramics in El Carmen de Viboral, visit the Ceramics Museum located in the Cultural Center. Then spend the afternoon exploring the many workshops, or talleres, where you can see the creation of these pieces in person and purchase directly from the artisans.
A woman at Macondo Inn introduced me to a special clay artisan in El Carmen de Viboral. Her work was more unusual than the others, influenced instead by the native indigenous groups of Colombia, specifically the Muisca people.
Mostly making an array of handcrafted clay flutes, her pieces seemed out of place in this town producing molded ceramics. They had character, heart, and soul. That's when I realized the difference between ceramics and pottery.
Santa Fe de Antioquia
Once the capital of Antioquia, this is one of the most popular day trips from Medellin. Located just an hour and a half north of the city, it's amazing how much the weather changes from the land of eternal spring to a much more humid, tropical climate.
Founded in 1541, Santa Fe de Antioquia is one of the oldest towns in Colombia, evident by its colonial architecture and cobblestone streets. There are many beautiful churches to admire but perhaps the most iconic thing to do is to walk across Puente de Occidente, the oldest suspension bridge in Colombia.
More Weekend Trips from Medellin
These weekend trips from Medellin are a bit more off the beaten path. They are great to explore if you've already visited the other towns nearby or if you're looking for a place with fewer tourists.
Abejorral
This traditional town in Antioquia is three hours from Medellin by bus. Far off the tourist trail, Abejorral's architecture is well preserved. Homeowners are required to ask permission to change the design of their house and most of the woodwork is still done by hand. Riding on horseback through the streets is nearly as common as by car.
The town's historical center can be explored in an afternoon, but visitors stay overnight for the adventures surrounding the town, such as hiking and rock climbing. One of the newest accommodations, La Casa en el Aire, looks as if it were literally strapped to the side of a rock.

Visitors arrive by zipline with their belongings strapped to their sides. And can choose from different activities such as a pendulum swing over the forested canopy. Or nap in a hammock suspended over 100 feet above the ground with breathtaking views of the surrounding mountains.
Sonson
This bustling mountain town was once an important commercial hub of Antioquia and the center of Colombia's colonial expansion to the west.
The cool nights and slightly warmer days make this a prosperous farming region. The town is known for Las Fiestas Del Maize in August, which celebrates everything about corn from its history, harvest, and processing.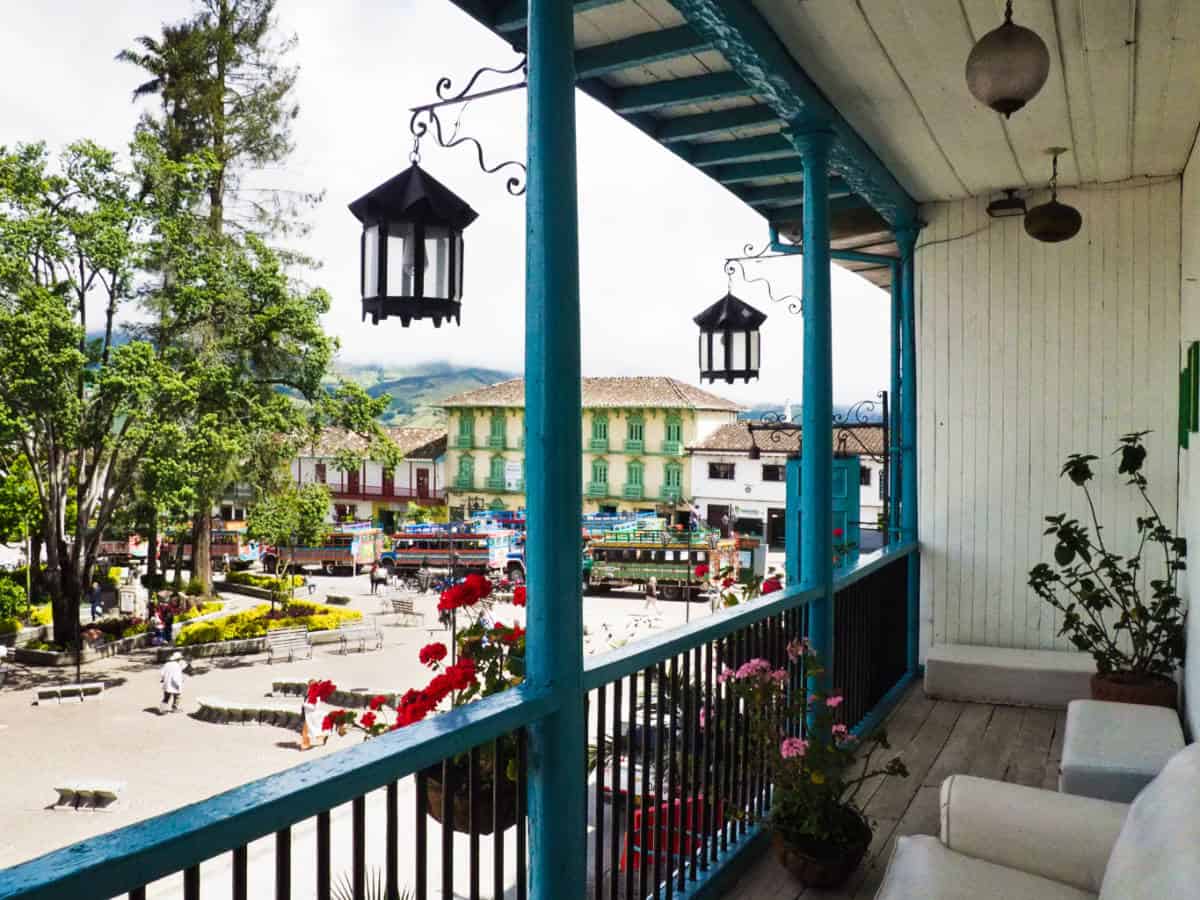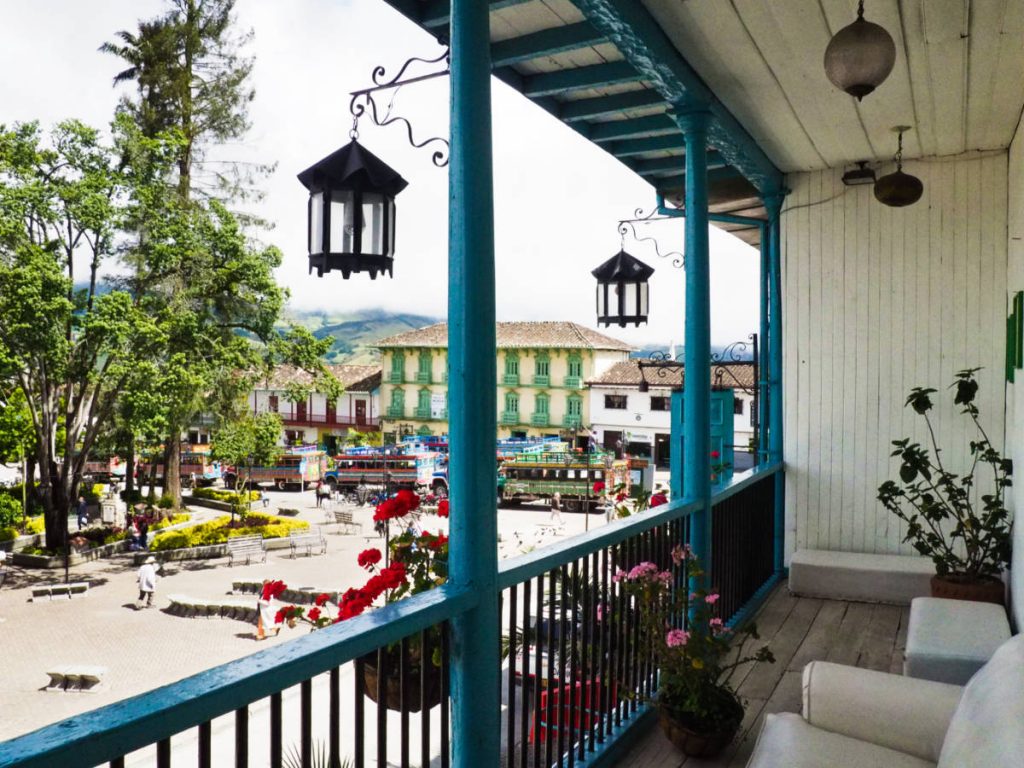 Sonson has a surprising number of museums from the Grandparents' House Museum to the Museum of Religious Art, and of course a Festival of the Corn museum where you can see a picture of every Queen of the Maize since the festival began over 50 years ago.
If you plan to visit Sonson, book a room at Hotel Gio which is located in a traditional building with modern touches.
Have you discovered any of these Medellin day trips? Do you have any favorites to add? I'd love to hear from you in the comments!
Medellin Day Trips – Like this post? Save it to Pinterest!