Buses in Mexico: Everything You Need To Know in 2023
If you're planning on traveling through this vast and beautiful country, it's important to learn how to use the buses in Mexico.
Mexican buses are a great way to travel around the country. They are generally comfortable, safe, and affordable.
Although if you don't know the names of the bus companies in Mexico or where to search, it can be difficult to determine the bus schedule without traveling to the bus station.
And if you're just in the planning stage of your trip to Mexico, traveling to the bus station is impossible. In addition, there are a few tips you need to know before hopping on board.
In this article, I'll give you an overview of Mexican bus lines, tell you what to expect when traveling Mexico by bus, and offer some tips for making your trip as smooth as possible.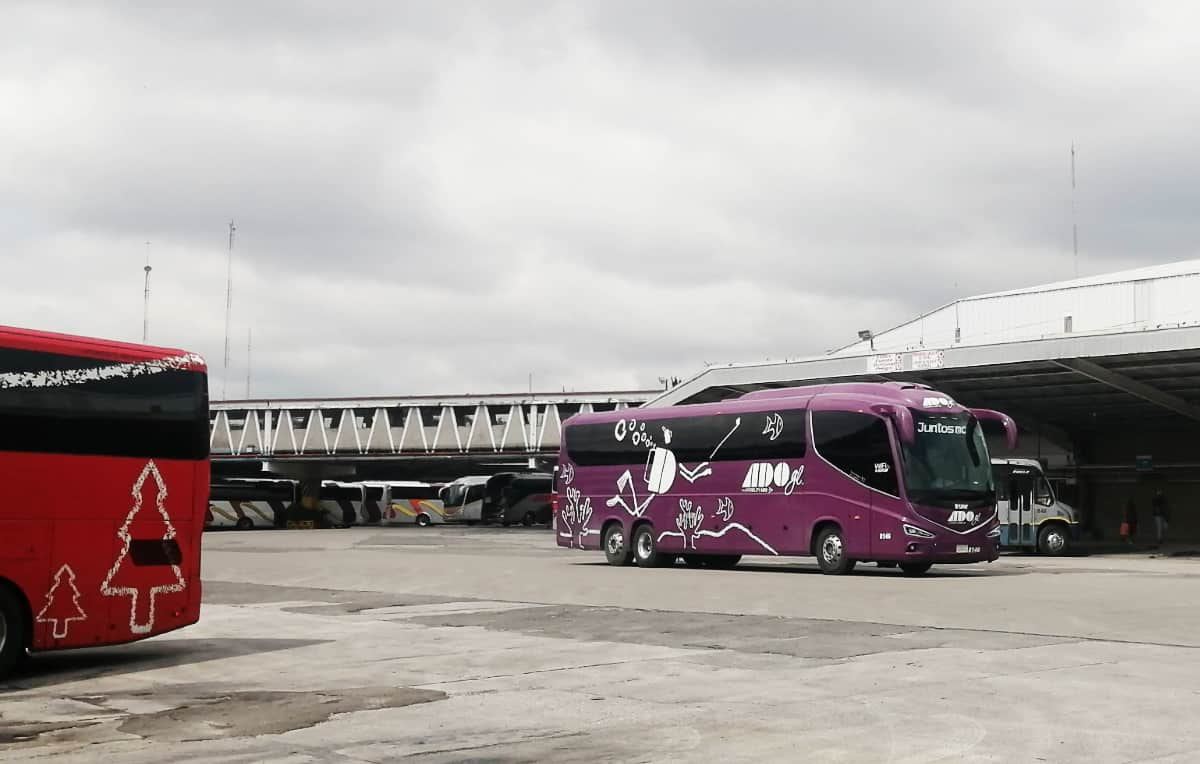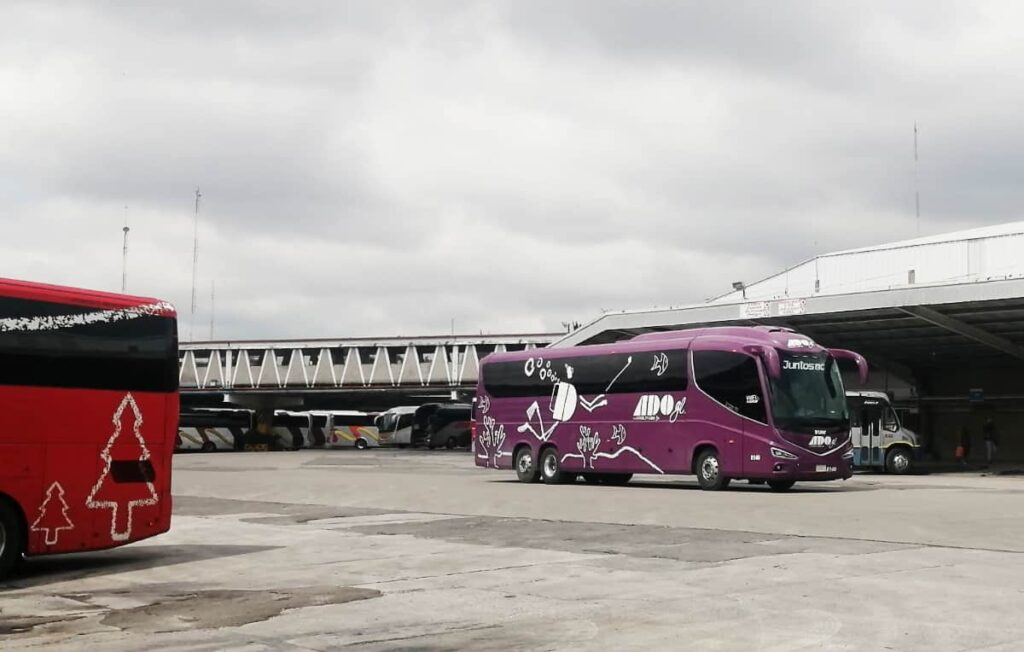 This article may contain affiliate links. This means if you click a link on my website and make a purchase, I earn a commission at no additional cost to you. For full information, please see my disclaimer here.
Mexico Bus Travel
Mexico has an extensive network of privately owned buses that connect many major cities and small towns throughout the country.
While I consider most buses in Mexico to be very comfortable, the comfort of Mexico bus travel varies depending the region as well as the size of the cities or towns you are traveling between.
On some routes within the same state, the public transportation option might be a passenger van rather than a large bus.
If you are traveling between two very small towns that are a short distance from each other, you may find that a colectivo is a better form of public transportation in Mexico.
Classes of Mexico Buses
Mexican buses can be categorized into three main classes. You'll find the names and levels vary among the bus lines in Mexico, although this is a general guide.
Executive Class Buses
Executive buses (also called Lujo) are a class of luxury bus travel in Mexico. Typically executive buses have reclining seats with ample legroom, individual TV screens, WiFi, air conditioner, and bathrooms.
To me, the individual TV screens and more legroom are what really set these buses in Mexico apart. I've lost count of the various movies I've tried to tune out while traveling on buses with TVs throughout the bus.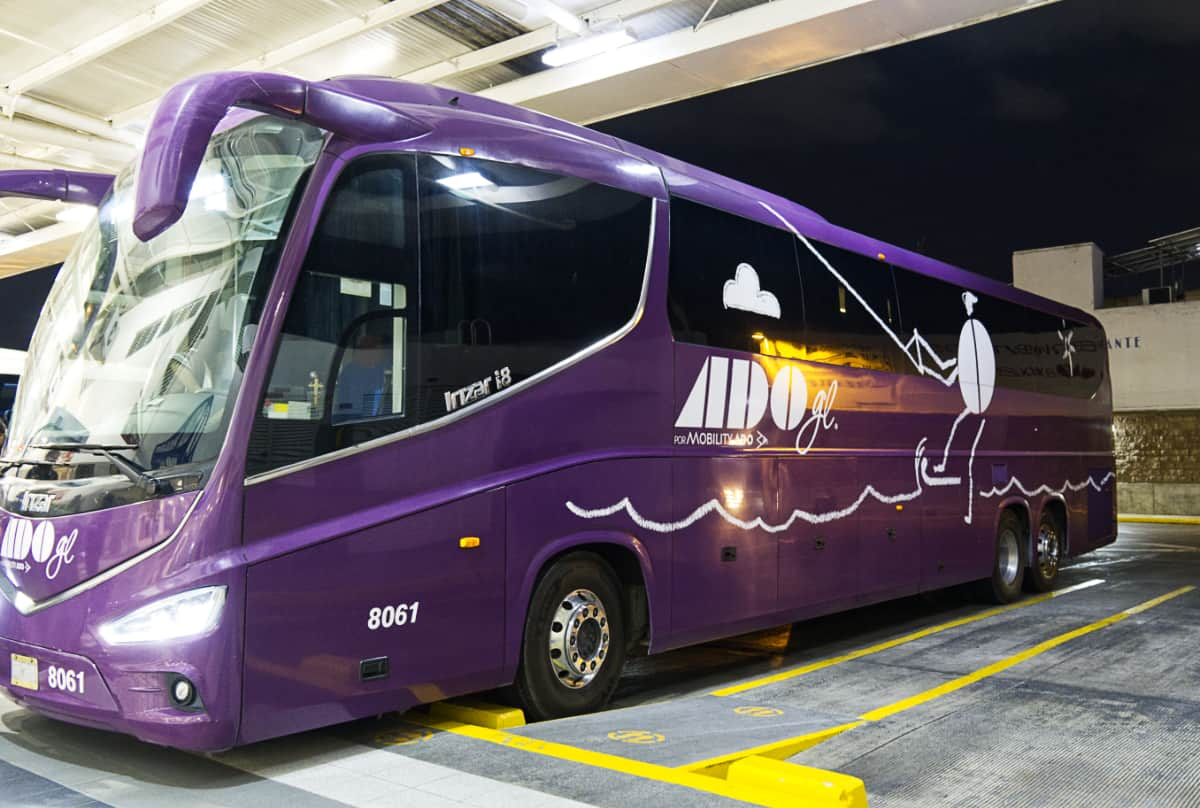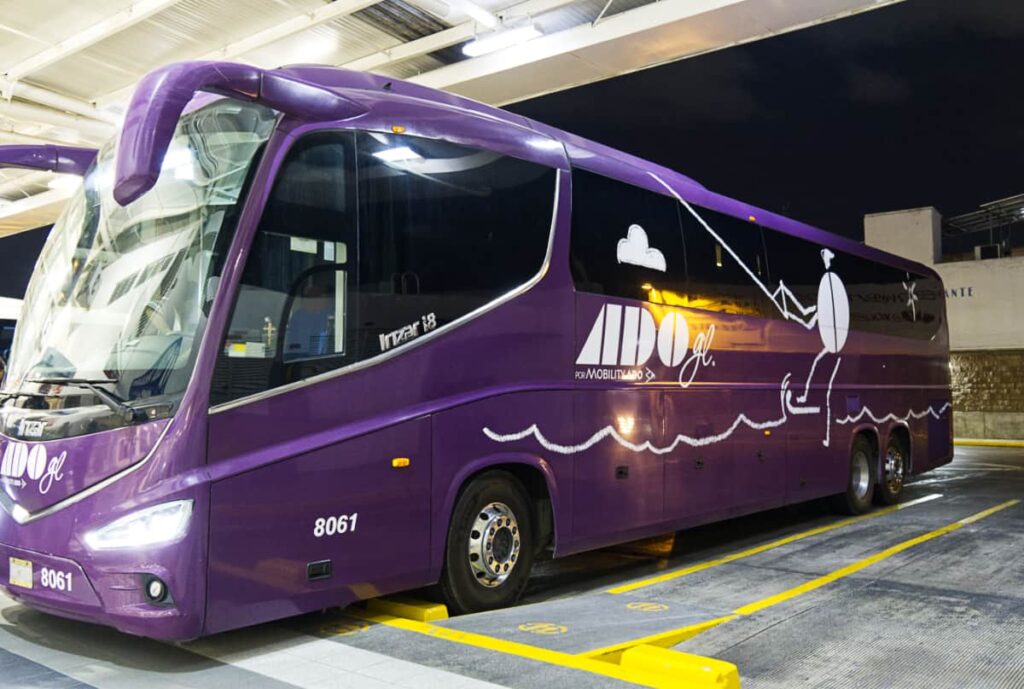 First Class Buses
These mid-price, first class buses are also quite comfortable. They often have the main amenities of the luxury bus, such as air conditioner, reclining seats, and bathrooms.
Sometimes there is also WiFi on first class buses in Mexico, though I wouldn't count on it being particularly reliable.
Second Class Buses
Many second class, economy buses in Mexico tend to be older. However, they are still relatively comfortable. And while some may have bathrooms or air conditioner, often they do not.
But they provide a budget option for traveling Mexico by bus. On some shorter routes, second class buses may be the only option.
Mexican Bus Companies
There are dozens of Mexican bus companies that operate throughout the country. While there is some overlap, most serve specific regions of Mexico.
I've listed a few of the biggest Mexican bus lines below. While it's not meant to be a complete list, these are some of the best bus companies in Mexico.
The amenities will vary between companies, routes, and the level of bus you choose.
It's a good idea to compare different options before choosing which Mexican bus company to use for your desired route.
Pro Tip – Many of the largest Mexican bus companies have a fleet of smaller buses that operate under their name. The name of the smaller bus company will typically show when you search for the route online.
ETN – A Luxury Bus Company in Mexico
I consider ETN to be a luxury bus line in Mexico. In fact, I was blown away by the comfort of the modern, double-decker ETN buses in Mexico.
The seats recline a bit more and have an optional leg rest for further comfort. Like most luxury buses in Mexico, each seat has its own entertainment with a variety of movies to choose from.
In addition, the second level includes a row of single seats which is great for solo travelers. I honestly think the ETN buses are more comfortable than flying.
Pro Tip – Luxury often equates to the highest price. However, many times ETN (and other bus companies) offers a discounted price for booking in advance. If you are certain of your travel dates, you should look into buying bus tickets in advance.
ETN buses primarily serve central and northern Mexico. However, I was surprised to see they also have an overnight bus for travelers from Mexico City to Puerto Escondido, Oaxaca.
I also find the ETN website easy to use. When I'm traveling in Mexico by bus, ETN is usually the first place I check for my desired route.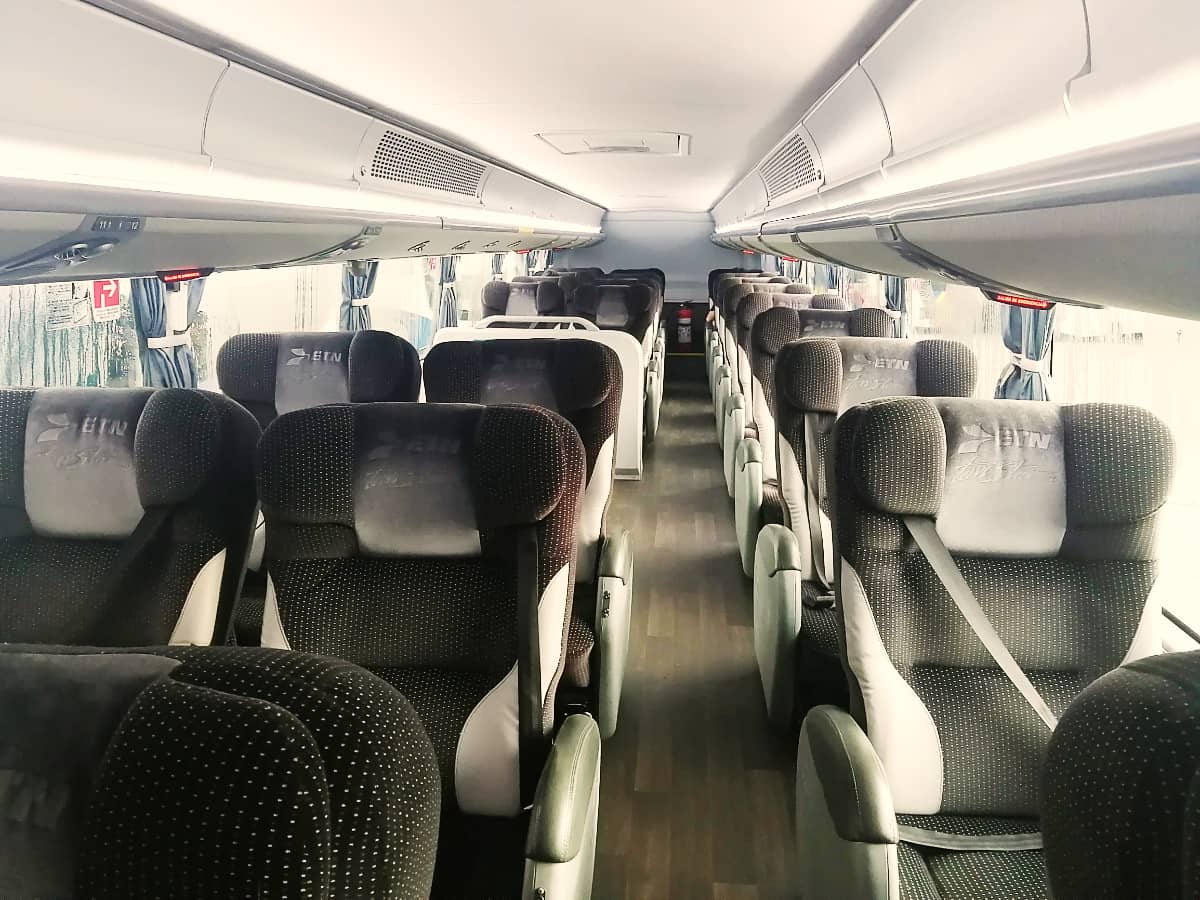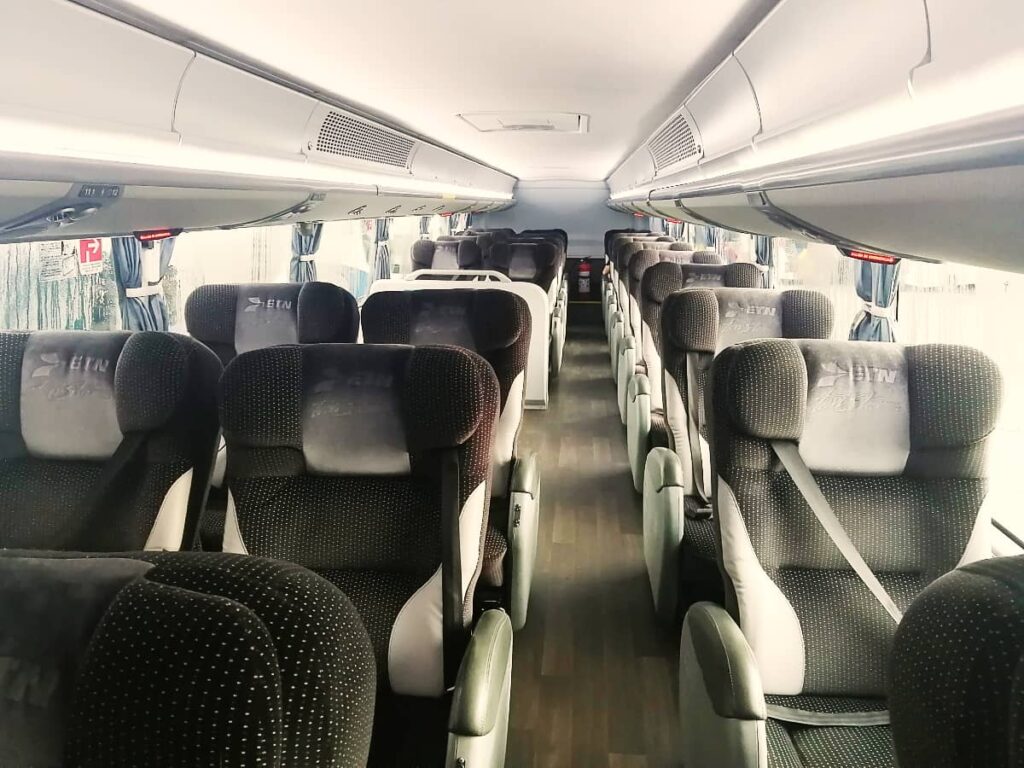 ADO – A Well Known Mexican Bus Company
ADO is one of the most recognized bus companies in Mexico. Although that's mostly due to the fact that they are the main bus company in the Yucatan Peninsula, where many travelers start their Mexico adventure.
Their fleet of buses also serves the southern Mexican states of Oaxaca, Chiapas, Tabasco, Veracruz, and Guerrero as well as parts of central Mexico, including Mexico City, Morelos, Puebla, and Hidalgo.
ADO buses offer a range of classes, including luxury and first class buses. That means they are equipped with amenities such as air conditioning, restrooms, and onboard entertainment. Many of their buses have plugs and USB outlets at each seat as well as WiFi.
The top of the line ADO bus is called Platino, followed by GL. Platino is very similar to ETN with a row of single seats, individual TV screens, and more seat room. Although I still prefer ETN and don't see ADO luxury buses discounted as often.
They also offer routes under the company names Cristobal Colon, Estrella de Oro, AV, and others. I would consider Cristobal Colon and Estrella de Oro to be first class buses with bathrooms and entertainment, though lacking outlets.
AV buses by ADO are second class buses, without a bathroom or entertainment. Although the lack of entertainment could be a plus for some.
Pro Tip – The ADO website is generally fine, though at times frustrating. If you have trouble with payment, try using their phone app or paying with Paypal instead.
Primera Plus – A Mid-Range Mexican Bus Line
I find the Primera Plus buses in Mexico to be similar to ADO first class buses. The seats are comfortable, allowing a slight recline. And there are bathrooms and entertainment.
Primera Plus has routes through central Mexico, including Mexico City and the states of Queretaro, Guanajuato, and Michoacan. They also have routes further west along the Pacific Coast near Puerto Vallarta and Manzanillo.
The Primera Plus website is easy to navigate and book tickets.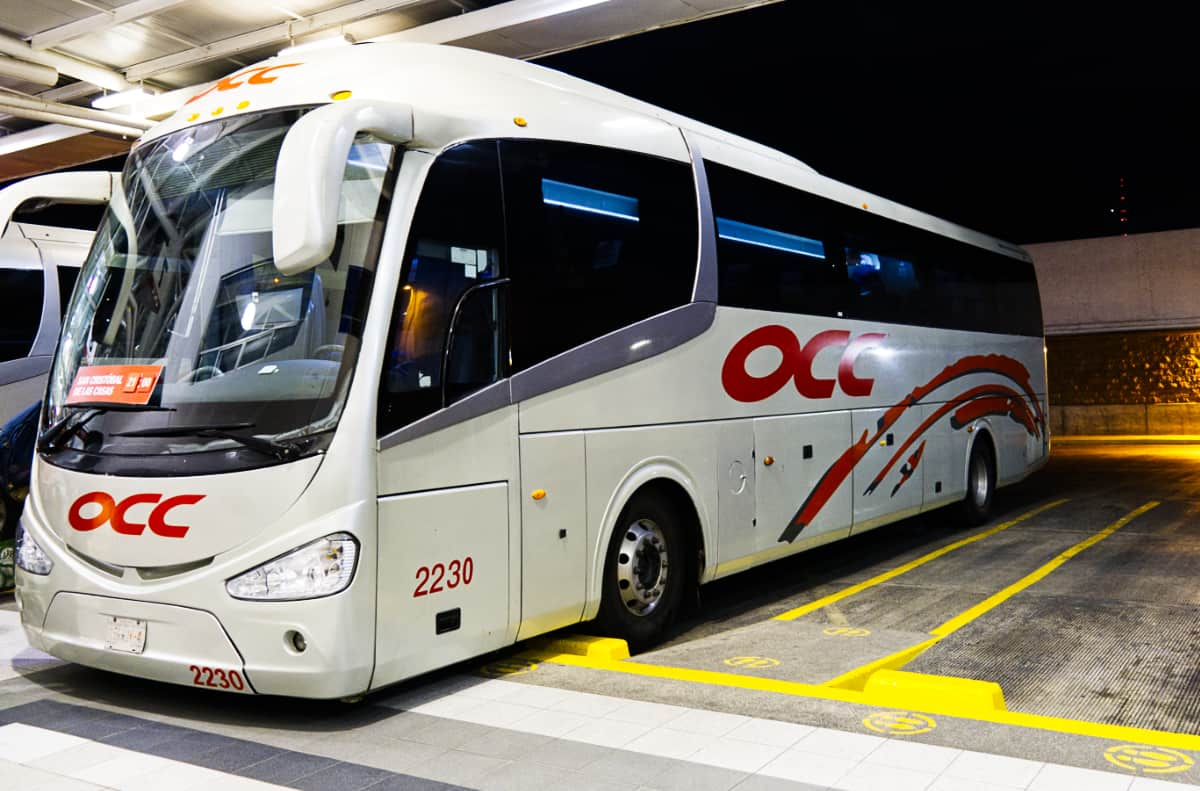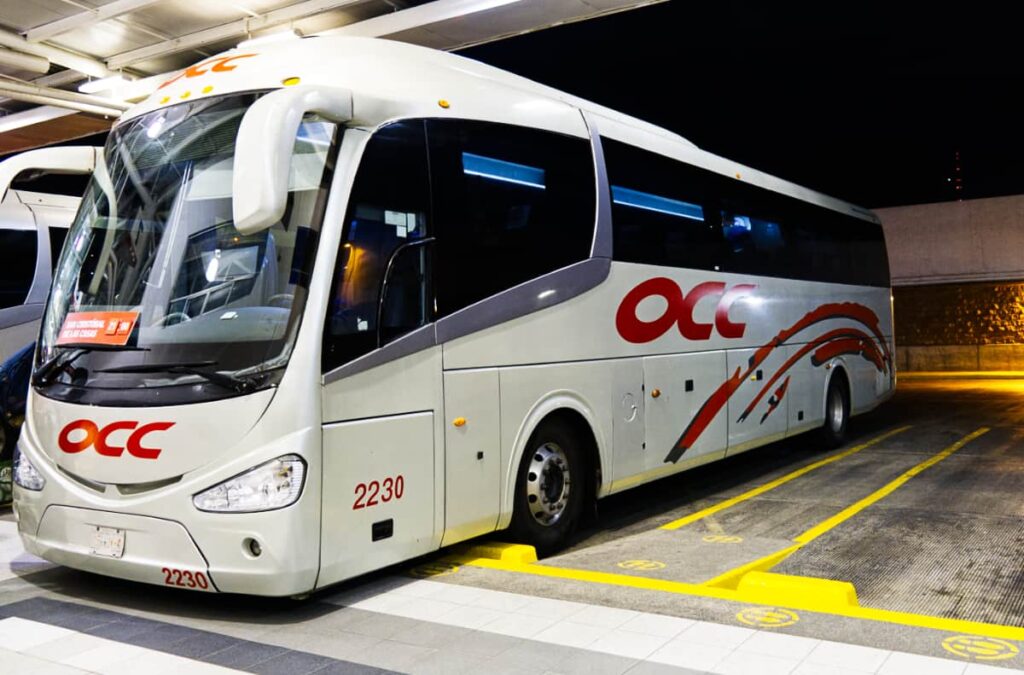 Other Bus Companies in Mexico
With so many bus companies in Mexico, it's hard to keep them all straight. And it gets even more confusing when you see names of different Mexican bus lines that operate under the same company umbrella.
When I want to travel Mexico by bus, I usually start with a Google search and land on one of the websites that monitor all of the bus lines in Mexico.
But lately, I've found them to be less reliable. So I've linked to the websites of several other bus companies below.
Estrella Blanca – This Mexican bus company mostly serves central and northern Mexico. They also have routes to and from the United States for travelers that want to travel to Mexico by bus. This bus company has several names under its umbrella, including Futura and Chihuaneses.

Senda – Primarily serving north and central Mexico, with the bus companies of Del Norte and Turimex under its umbrella. Senda also has some bus routes for travel between Mexico and the United States.

Autovias – This lesser known company has a fleet of buses that serve Southwestern Mexico (Michoacan, Guerrero, Jalisco) into Mexico City and further north to Guanajuato and Queretaro. Under their umbrella are Pegasso, La Linea, and Sur de Jalisco.

Ovnibus – This small bus company serves Mexico City and north into the states of Hidalgo and San Luis Potosi. Travelers will often use Ovnibus to travel to Grutas Tolantongo hot springs and to travel to the La Huasteca Potosina region.

Flecha Roja – Another small Mexican bus company. Flecha Roja has routes from roughly Cuernavaca, through Mexico City, and north to Queretaro.

Estrellas del Pacifico and Autobuses ABC – These Mexican bus lines mostly serve northern Mexico and Baja California. The Estrellas del Pacifico website does not list their routes.

Anguilla – This Mexican bus line serves the Baja Peninsula of Mexico.
Is It Safe to Travel by Bus in Mexico?
Traveling by bus is one of the most popular modes of long-distance public transportation in Mexico.
Generally, it is safe to travel by bus in Mexico. And in some areas, traveling by bus in Mexico is safer than renting a car.
While most night buses are also safe, there have been some reports of buses being stopped and robbed. So, it's a good idea to research the latest safety in the area if you are taking a night bus.
Pro Tip – It's extremely important to keep your valuables on your lap. Keeping your bag on the floor is not safe as thieves have been known to steal or cut open the bag without the owner realizing it.
Cost of Buses in Mexico
The cost of buses in Mexico will vary based on how far you are traveling and the level of bus service you prefer to book.
For instance, if you want to travel from Mexico City to San Miguel de Allende the cost of the luxury bus, ETN, is just over 600 pesos for the roughly 4-hour journey.
You could save a few dollars by buying a bus ticket online from Primera Plus instead but while the comfort is similar, the departure times are more limited.
Some Mexican bus companies will discount fares when you buy bus tickets online in advance (usually 1-2 weeks ahead).
How to Buy Bus Tickets in Mexico
Thankfully bus travel in Mexico has come into a new age.
You can buy Mexico bus tickets online in advance. Alternatively, you can travel to the bus station and buy bus tickets in person.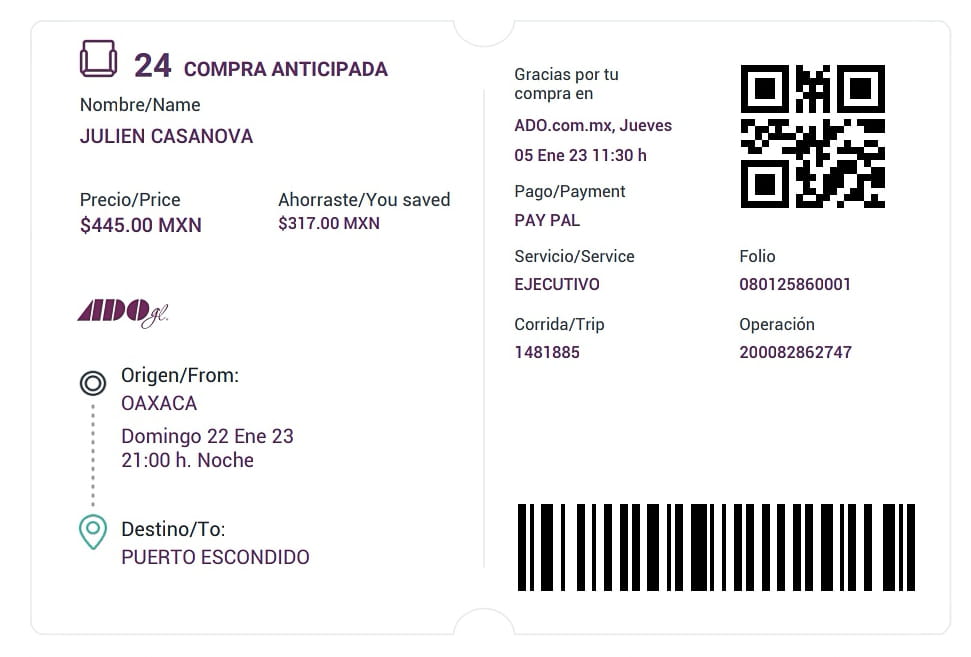 Obviously buying Mexican bus tickets online is more convenient, but there are some instances where you may want to buy bus tickets in person. I'll go over the reasoning and process below.
Buy Mexico Bus Tickets Online
I find buying online bus tickets in Mexico to be the easiest way to make a reservation. You'll be able to choose your seat, pay with a credit card, and download the ticket to your phone for easy access.
I prefer to buy bus tickets online because the price is often discounted with an advanced purchase and you can arrive 15-30 minutes before without being worried that the bus is sold out.
And if you don't have a credit card, some bus companies allow you to reserve online and pay at various business locations.
Pro Tip – Sometimes travelers report trouble using a foreign credit card to purchase bus tickets online (this is most common with ADO). If you encounter a problem, see if the website will allow you to use your PayPal account instead. Some travelers also report less trouble when using the ADO phone app.
Buy Tickets in Person at the Bus Station
While I always research the bus schedule beforehand, there are certain times when I buy a bus ticket directly at the station. The most common is when I'm connecting to a second bus.
Since most tickets are non-refundable, I prefer to arrive at the destination before buying a ticket for the second bus in case there are any travel delays during the first leg of the journey.
The second instance is when I'm taking small Mexican bus lines that don't have the ability to purchase tickets online.
This is most often the case when traveling a short distance to a small city. Since no discount is given for advance purchase and because they are unlikely to sell out, I don't mind purchasing at the ticket counter. In the chance that the bus tickets do sell out, the departures are often frequent.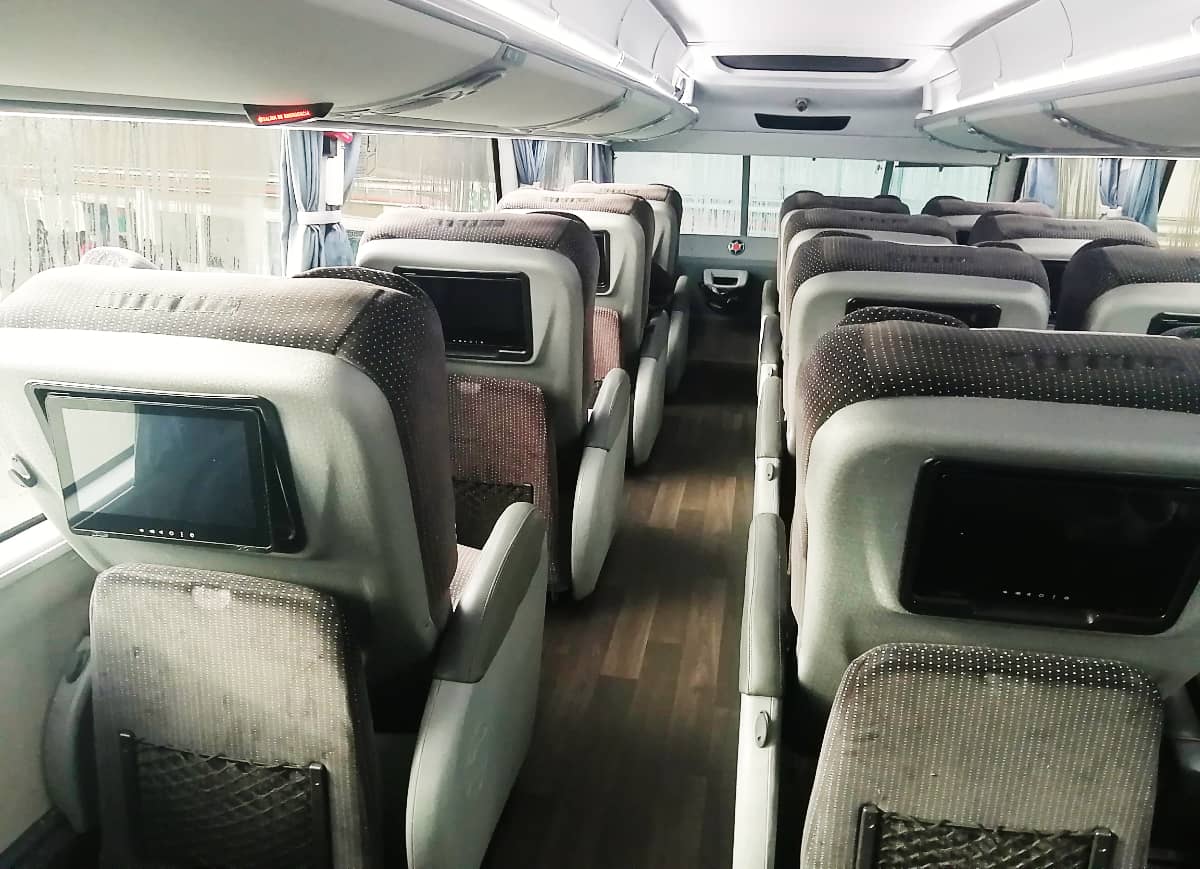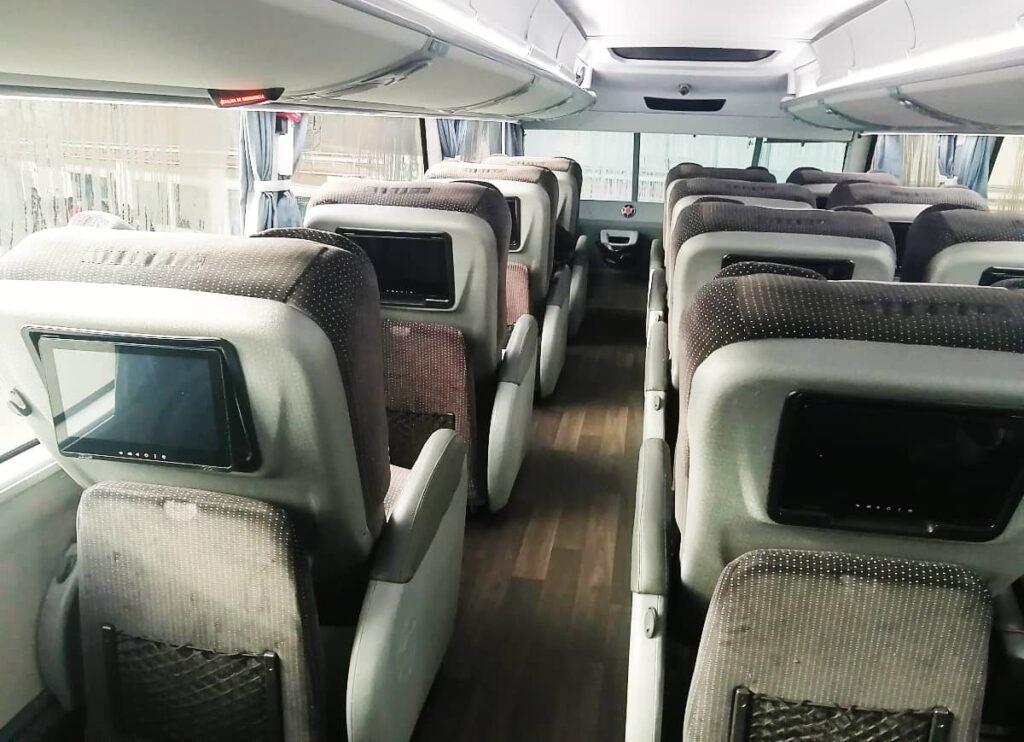 Pros and Cons of Bus Travel in Mexico
While traveling by bus in Mexico is relatively easy and safe, it's not for everyone. Before I detail the pros and cons of bus travel in Mexico, let's take a look at who may prefer to travel by bus.
Budget travelers in Mexico
Travelers who prefer not to plan in advance
People who do not want to drive in Mexico
Eco-friendly travelers concerned about air traffic pollution
When visiting a town without a nearby airport
Pros of Mexico Bus Travel
Price – Traveling by bus in Mexico is definitely more expensive than in many other Latin countries. However, traveling by bus in Mexico is usually less expensive than flying or renting a car. This is especially true when you consider the cost of transportation to and from the airport, car insurance, and other expenses.
Safety – Mexican buses are generally considered to be a safe mode of transportation. Many Mexican bus companies take steps to ensure the safety of their passengers, such as hiring experienced drivers, maintaining their fleet of buses, and following safety regulations.
Comfort – Bus travel in Mexico is comfortable and reliable, with different options available depending on your needs and budget. Most Mexican bus lines offer different levels of service. Luxury and first class buses in Mexico usually feature reclining seats, air conditioning, and restrooms while economy buses have more basic services at a lower price point.
Convenience – Mexico bus travel is more convenient than air travel. When you travel in Mexico by bus you don't need to worry about arriving 2 hours early, the size of your luggage, or the ounces of your liquid items. In fact, most buses in Mexico allow travelers to stow multiple pieces of luggage under the bus at no charge.
Multiple Routes – Traveling by bus in Mexico will expand the places you can easily visit without renting a car. Most bus routes in Mexico will have multiple frequent departures. And smaller routes will have at least a few departures per day. If you're traveling to a city without an airport, bus travel allows you to get there directly without further needing to arrange transport from the airport.
Cons of Traveling by Bus in Mexico
Safety – I listed safety as a pro to traveling by bus in Mexico, but it can also be a con. While most buses in Mexico are safe, there are a couple of things to keep in mind. Second class buses can be less safe because they make multiple stops along the route. And while rare, night buses have been stopped and robbed along different routes.
Time – Mexico is a large country – the 13th largest in the world by area in fact. For long-distance travel, you may consider flying instead of taking a bus. As comfortable as buses in Mexico are, it can be tiring to spend 12+ hours on a bus. While planning your travel in Mexico, it's a good idea to compare flights versus bus travel to see which is the best option.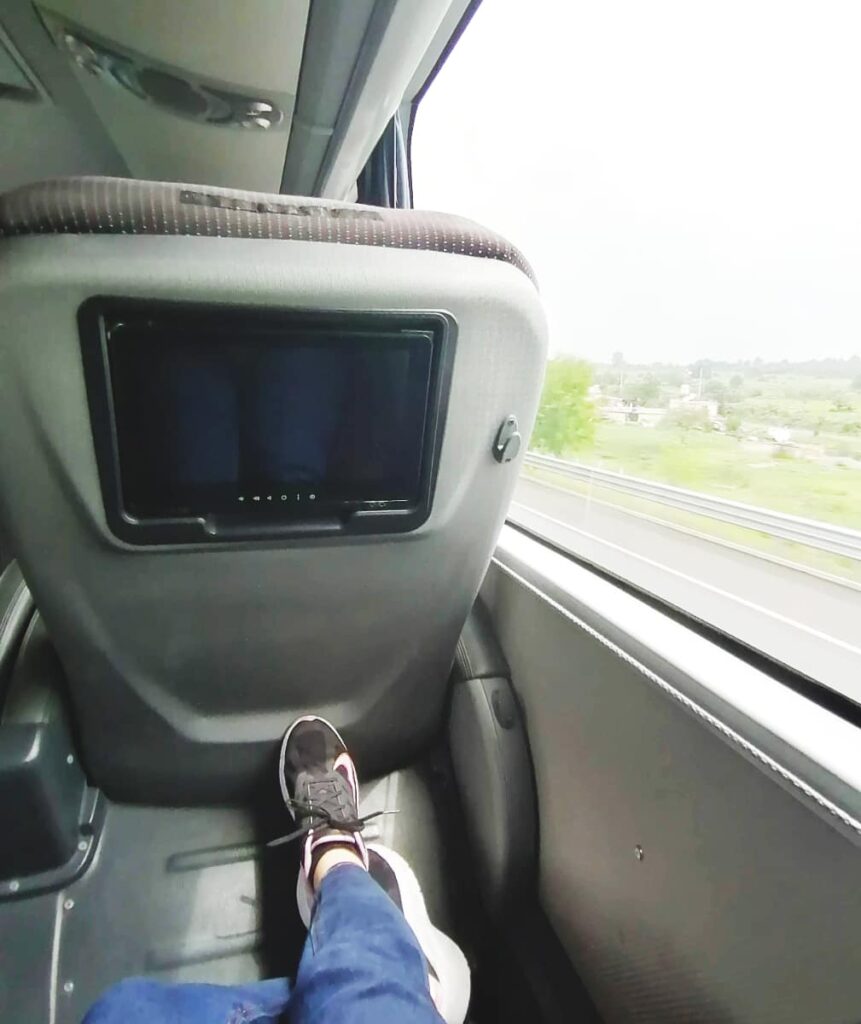 Tips for Traveling By Bus in Mexico
If you are planning to travel by bus in Mexico, here are a few tips to help you have a safe and comfortable journey.
Research different bus companies and schedules before you travel to find the best option for your needs and budget.
Larger cities in Mexico may have more than one bus station. Confirm the bus station when you are planning your trip.
Keep your valuables with you. Do not put valuables on the floor or in the storage above the seats.
If you take a night bus or plan to sleep during the journey, keep all valuables in your lap or on the seat with you. Thieves have been known to slice bags open that are left on the floor between your legs.
Dress comfortably and bring layers. Buses in Mexico are known for cranking up the air conditioner, especially in hotter climates such as the Yucatan. Wearing layers or bringing a light coverup is key to being comfortable while traveling by bus in Mexico.
Bring (healthy) snacks and drinks. Mexico bus stations have plenty of stores and restaurants to buy food and drinks. While they are affordable, they tend not to be the healthiest. For instance, it's rare to find fresh fruit at a bus station.
If are traveling by bus for a long time, don't worry! During long travel, the bus will often make a quick stop. If you get off, take your valuables with you and ask the driver how long they will stop (usually 10-15 minutes).
Bus Stations in Mexico
Before I wrap up this guide to buses in Mexico, I want to talk about the bus stations in Mexico.
Most cities and even small towns will have a bus station since it's such a popular form of public transportation in Mexico.
While the modernity, cleanliness, and amenities will vary greatly from city to city. I find most bus stations in Mexico to be sufficient.
Many smaller towns have only one bus station, though the bus may be willing to drop passengers off at various stops as you approach the town.
Often the bus station is conveniently located close to or in the center of the town.
Let's take a deeper look at bus stations in Mexico.
Bus Stations in Mexico City
There are four main bus stations in Mexico City. Which one you need will depend on where you are traveling to.
For instance, if I was planning on going from Mexico City to Queretaro, I would search for departures from the North bus station since Queretaro is located north of Mexico City.
If I am planning to travel to Taxco, I would search for departures from the southern Mexico City bus terminal since Taxco is located south of Mexico City.
Mexico City Bus Terminals
Here is a quick list of the four main Mexico City bus stations with their full name and a map link to the location.
However, it should also be noted that there are Mexico City bus terminals at the airport as well. While routes are a little limited from the airport, you'll see them on bus company websites marked at T1 and T2 for their respective terminals.
North Mexico City Bus Station – Terminal de Autobuses del Norte

South Mexico City Bus Station – Terminal de Autobuses del Sur

East Mexico City Bus Station – Terminal de Autobuses de Pasajeros Oriente (TAPO)

West Mexico City Bus Station – Terminal de Autobuses del Poniente
Mexico City bus terminals are often located in areas that you may not otherwise travel to. You should be aware of your surroundings at all times, but generally inside the terminal is safe.
How to Travel To and From the Bus Stations in Mexico
While there is a metro station located near each Mexico City bus terminal, it's best to take a taxi if you have luggage, valuables, or if you are unfamiliar with the metro in the city.
When you arrive at a bus station in Mexico City, you should book a secure taxi from the kiosk within the bus terminal. The kiosk will be able to provide a safe taxi as well as a regulated price.
Ride-sharing apps such as Uber or Didi are also an option to get to the Mexico City bus terminals. However, they are restricted from picking up arriving passengers at the bus station.
In some instances, you can walk to a nearby street to take a ride share. Although if you're not familiar with the area I recommend booking a secure taxi.
In other cities, it is often possible to take a local bus to the station. Although if you have luggage or valuables, again I would recommend taking a taxi or ride-share.
How to Take an Authorized Taxi From the Bus Station
At the Mexico City bus terminals and many other large cities in Mexico, there are authorized taxis that used fixed rates based on what zone of the city you are traveling to.
Look for a booth with the words "Taxi Autorizado." They are most often located within the bus station, though each city is different and it may not always be a booth but a more automated ticket system.
Smaller towns and cities are not likely to have an authorized taxi booth. Instead, you'll find taxis lining up along the street outside of the bus station. Always ask the price before agreeing to their service.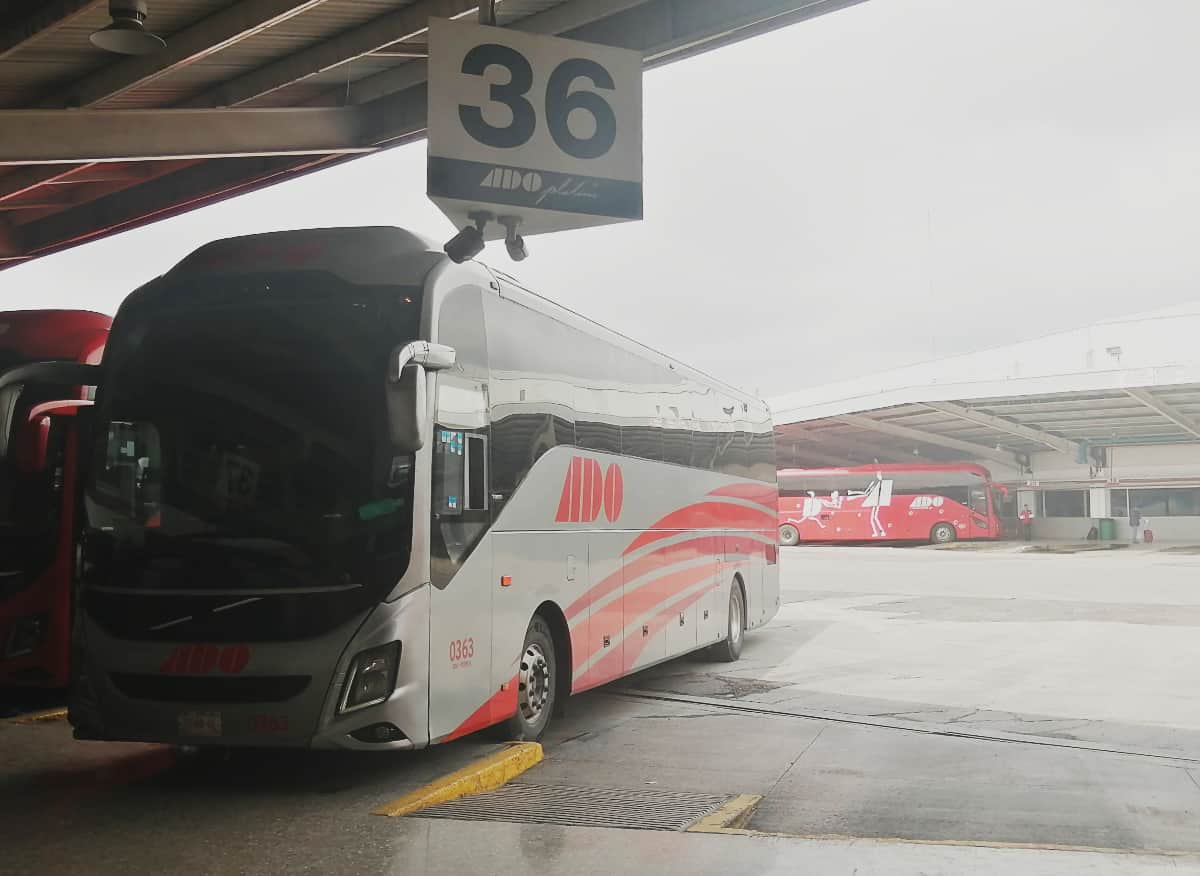 Services at Bus Stations in Mexico
Newer bus stations in Mexico often feel like modern airports while others may be in need of renovation.
The size varies depending on the size of the city. And in some smaller towns, the bus station may be a simple waiting room with a small ticket desk.
Inside large bus stations in Mexico, you'll find multiple ticket counters managed by different bus companies. The bus routes are listed on the wall behind the counter with the departure times and prices.
Prices are competitive, though they will vary based on luxury, first class, and second class buses.
Bathrooms at Bus Stations
All bus stations in Mexico have public restrooms which cost 4-6 pesos to use. Sometimes there is an attendant that takes the money in exchange for toilet paper.
Though most often, there is a turn-style entrance where you feed the money into a slot, pass through, and take toilet paper from a wall dispenser.
While some travelers think it's crazy to pay for the bathroom, this is common throughout Mexico. In my opinion, I appreciate the cleanliness that is usually kept in pay-for bathrooms.
As an example, the bathrooms at the CAPU bus station in Puebla are free. While the entire bus station is in need of renovation, in my opinion, the bathrooms are in desperate need of attention. I highly recommend using the bathroom on the bus before you get off in Puebla.
Small Stores and Food at Bus Stations
Most bus stations have small stores to buy snacks and drinks. They tend to be reasonably priced, though the offerings aren't the healthiest. I rarely find fresh fruit at these stores, though I think it would be a good business opportunity.
Many bus stations also have small coffee shops and restaurants as well as fast food options. It's not where you'll find the best food in Mexico, so I usually prefer to pack snacks.
Smaller bus stations may not have restaurants. Although if that's the case there is almost always a cart outside selling tamales and hot beverages in the mornings or other items later in the day.
And on some buses, drivers will allow vendors to board the bus to sell refreshments, tortas, and other snacks.
Rest assured if you can't bring your own snacks, you definitely will not starve while traveling by bus in Mexico.
ATMs at Bus Stations
You will find an ATM at many larger bus stations in Mexico.
However, they will be a standalone machine that is more easily compromised, often more expensive, and with no one to talk to should you lose your card.
I would only use an ATM inside the bus station in an emergency.
That being said, for obvious reasons you shouldn't travel with a lot of cash if you can help it.
Executive Lounges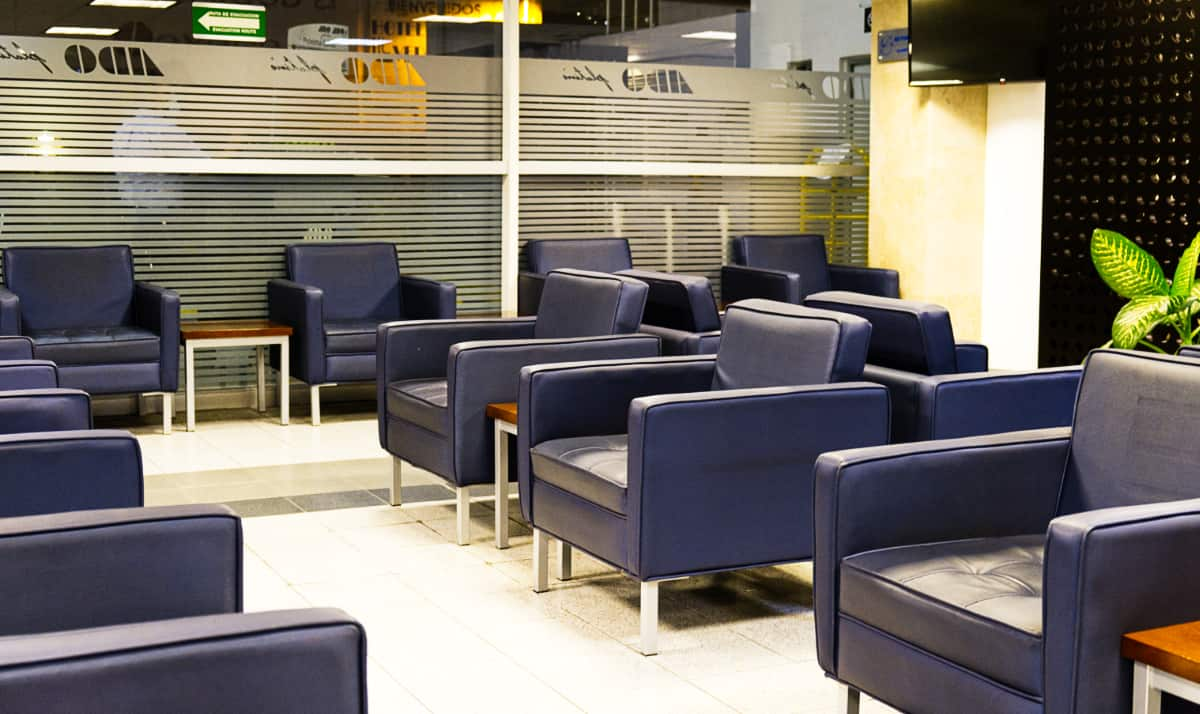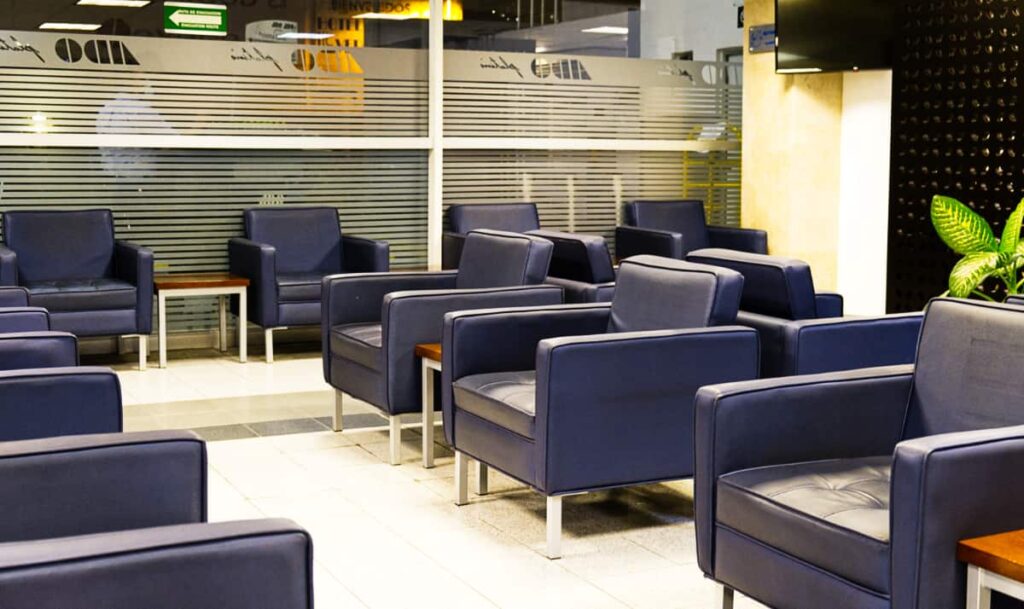 At some bus stations in Mexico, there are small rooms reserved for those traveling on a luxury bus.
While they are not particularly special, they are often calmer than the main bus station and sometimes offer coffee or other drinks for free.
You will need to show your ticket to access the executive lounges at most bus stations.
WiFi
Generally, you will not find WiFi at bus stations in Mexico, even at the small cafes and restaurants inside. I generally do not find the bus stations comfortable for doing any type of work.
That's one reason why I prefer to purchase my ticket online ahead of time and minimize the wait time.
Luggage Storage
Medium to large bus stations in Mexico often offer a service to hold your bags for a small fee. It's particularly convenient if you have a long wait time.
You will be given a ticket which you need to hold on to in order to claim your bag as you do when you store your bags under the bus.
Although, just like the bus, I would keep all valuables in a smaller bag that you keep with you.
Spanish Vocab for Bus Travel in Mexico
Bus drivers and bus station staff typically do not speak English. So you'll need to be able to use some basic Spanish if you want to travel in Mexico by bus.
I find it helpful to review some specific words in Spanish that you might not otherwise know. Here is a list of some basics.
Taquilla – Ticket Booth
Horario – Schedule
Hora de Salida – Departure Time
Hora de Llegada – Arrival Time
Destino – Destination
Ruta – Route
Tarifa – Fare
Asiento – Seat
Viaje Redondo – Round Trip
Viaje Sencillo – One Way
Directo – Direct
Paradas or Escalas – Stops
Quiero comprar – I want to buy
Lujo – Luxury
Clase Ejecutiva – Executive (Luxury) pClass Bus
Autobus

Primera Clase – First Class

Bus
Autobus Segunda Clase – Second Class Bus
Questions About Bus Travel in Mexico
Are buses good in Mexico?
Yes, buses are a great way to travel in Mexico. They provide reliable, efficient, and affordable transportation to major cities and small towns throughout the country. Many buses in Mexico offer comfortable seating, modern amenities such as air conditioning and onboard restrooms, plus many other perks like Wi-Fi access and power outlets.
What is the best bus to travel in Mexico?
The best bus to travel in Mexico depends on your preferences and budget. Some of the most popular bus companies include ADO, Primera Plus, and ETN. They offer a variety of buses ranging from luxury to first class buses. All these buses feature comfortable seating and modern amenities including air conditioning, Wi-Fi access, power outlets, and restrooms, among others. In my opinion, ETN has some of the most comfortable buses in Mexico.
Do buses in Mexico have bathrooms?
Yes, luxury and first class buses in Mexico have bathrooms onboard. Many modern buses feature comfortable seating, air conditioning, and other amenities such as Wi-Fi access and power outlets. However, second class and smaller regional buses may not have bathrooms. 
Is it safe to travel by bus in Mexico?
Yes, it is generally safe to travel by bus in Mexico. Bus companies provide reliable transportation to major cities and towns across the country. Additionally, many buses in Mexico are maintained to ensure safety on the road. However, it is wise to keep an eye out for pickpockets on buses and at bus stations. While most are safe, if you are taking a night bus it's also a good idea to inquire about safety along the route at night.
How to buy bus ticket in Mexico?
Most bus companies in Mexico allow you to buy bus tickets online ahead of time. You can also buy bus tickets directly from the ticket counter at the bus station. While many bus companies accept credit cards, some buses only accept cash payment, so it's best to have some available. On smaller buses, you may be asked to pay the fare in pesos after you board the bus.
How do you pay for buses in Mexico?
Most buses in Mexican can be paid for by cash or credit card. Certain bus companies, such as ADO, also allow you to purchase bus tickets online. Some smaller regional buses may only accept payment via cash. It is best to have cash available in case it's required or you have trouble using your credit card.
What are forms of transportation in Mexico?
There are several forms of transportation available in Mexico. While traveling by bus is one of the most popular forms of public transportation in Mexico, you can also travel by plane, carh rental service, taxi, or private shuttle. If you prefer more control over your schedule, it may be best to rent a car to travel in Mexico or hire a private driver. Additionally, taxis and other ride-sharing services are available in most cities throughout Mexico.