Rincon del Mar, Colombia: A Corner of the Sea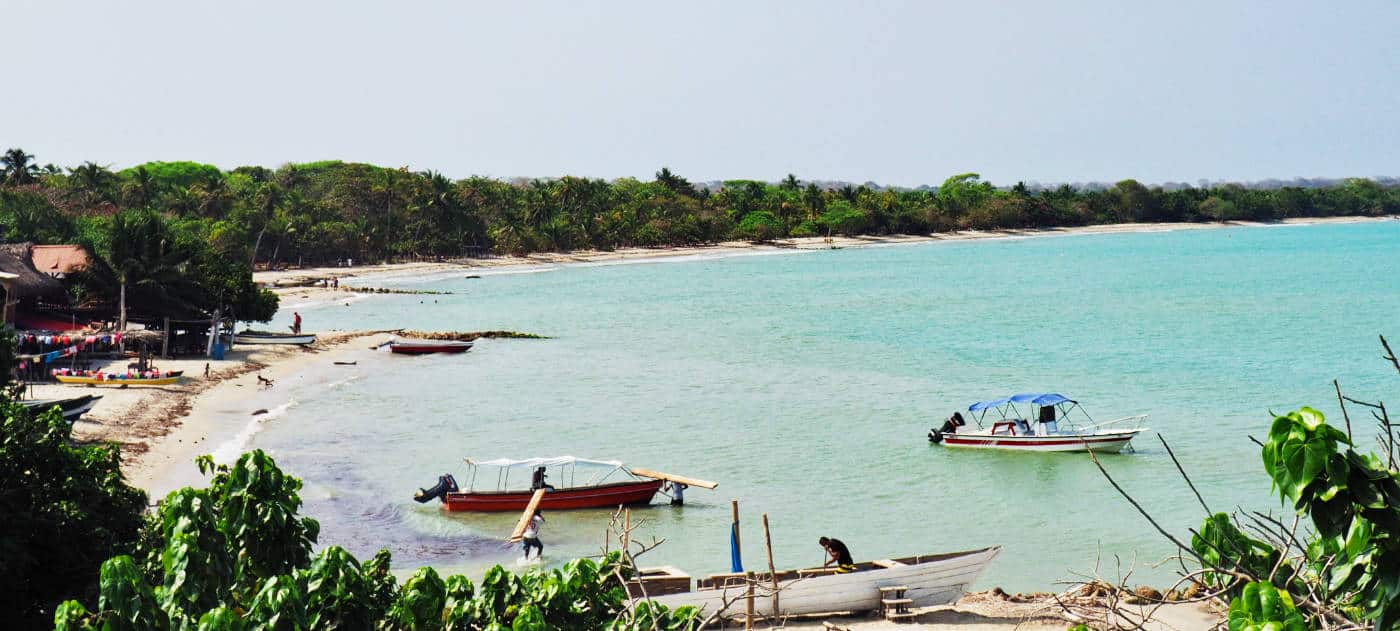 It's late afternoon in Rincon del Mar and after a sun-induced siesta, I step out of my hostel to explore this small Colombian fishing village. As I follow the dirt road, I pass a table of men playing a game of dominos, each piece laid on the table with a hard clack. Heading towards me is a man leading a donkey loaded with a hand of freshly harvested bananas and a young boy with a prideful smile. I pass by a busy barbershop, turn to my left, and slip between two buildings towards the beach to find myself in the middle of a friendly soccer game. Such is life here in this corner of the sea and I'm absorbing every moment.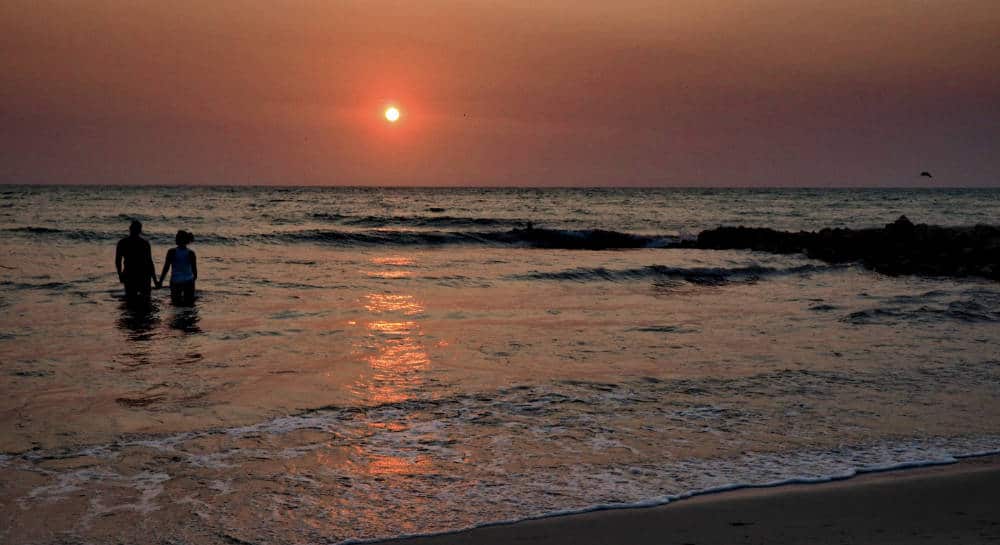 As the sun dips further towards the horizon, I find a spot in the sand and point my attention towards the sun setting over the ocean. I watch a couple flirting in the waves and I begin to wonder how this community feels about their cherished corner suddenly filled with new faces as it becomes the latest backpacker destination in Colombia. I imagine the majority of residents recognize the opportunity as well as the challenges. The dogs know no strangers and it's clear they happily accept the extra rubs from travelers.
My concerns are eased the next morning when I meet Dania and Daniele of Dos Aguas Lodge – the newest accommodation in Rincon. Inspired by the welcoming village they discovered, this Colombian-Italian couple has created more than just a place to stay in Rincon del Mar. It is a peaceful oasis that embraces the community and cultivates the idea of sustainable travel.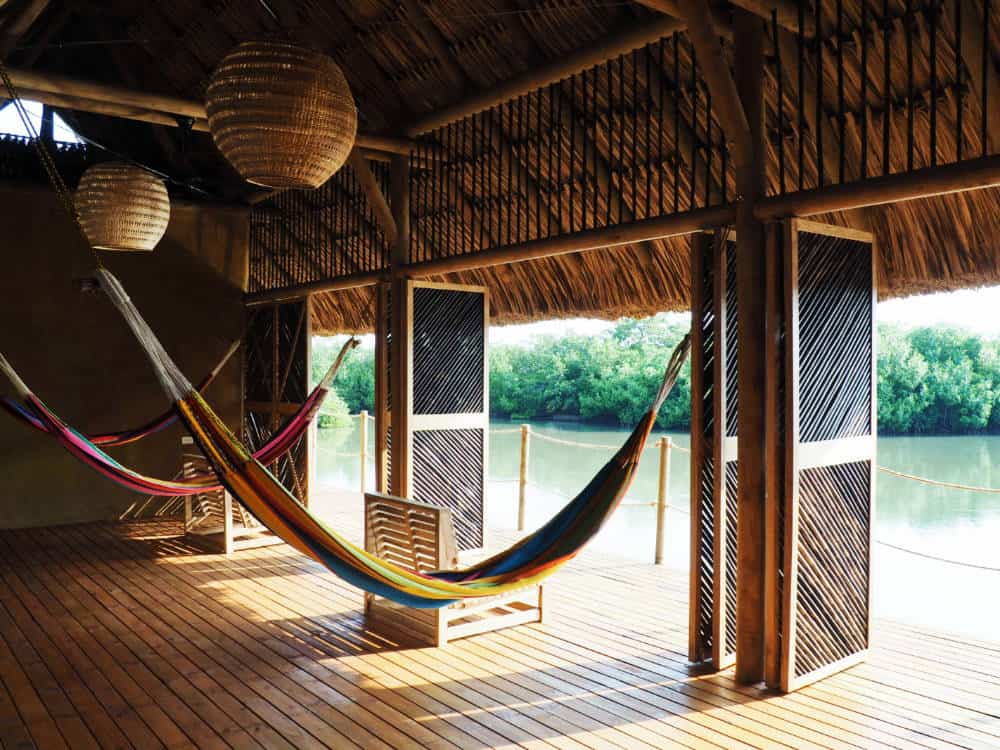 The elements of Dos Aguas are all made by local craftsman. Dania and Daniele were delighted to discover the nearby village of Higueron is known for their expertise in wood construction and furniture making – skills passed down from their elders. Every piece, from the bed frames to the tables were constructed by local craftsmen and perhaps the most stunning feature is the doors. Tall, dark, and natural, they slide open effortlessly to reveal the inviting outdoors. Pepe and his team built them using sticks of lata, a native plant that grows similar to bamboo and turns brown when peeled.
When Antonio, the concrete mason, finished laying the foundation he sadly realized no one would see his work since the remainder of the building process planned to use sustainable materials. Dania and Daniele challenged him to create art pieces using his trade and it resulted in the concrete lamps and sinks in each room. This commitment to creating a sustainable community is what makes Dos Aguas Lodge a special place by the sea.
This article may contain affiliate links. This means if you click a link on our blog and make a purchase, we earn a commission at no additional cost to you. For full information, see our disclaimer here.
Where to Stay in Rincon del Mar
The town consists of just a few unpaved streets as well as a long stretch of beachfront bungalows, restaurants, and hostels. As you come into the village you'll pass by the community center where the main road casually curves right and into the heart of town.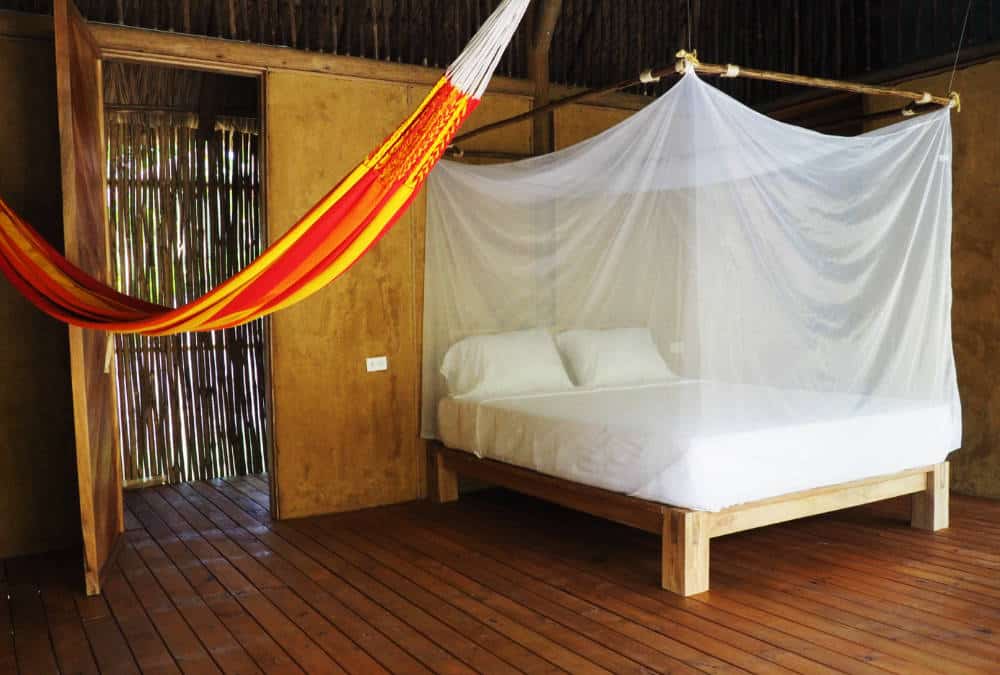 Perhaps not surprisingly, I strongly suggest you book a stay at Dos Aguas Lodge where each space is designed to embrace the outdoors. Nestled between two bodies of water – the Caribbean Sea and the mangrove lagoon, you can enjoy both sunrise and sunset from the premises.
In the oceanfront dining and lounge area, large doors open to reveal picture perfect views of the Caribbean Sea. While this view is common for a hostel in Rincon, few have such a private beach feel as Dos Aguas. This is a place to truly relax and enjoy this corner of the sea.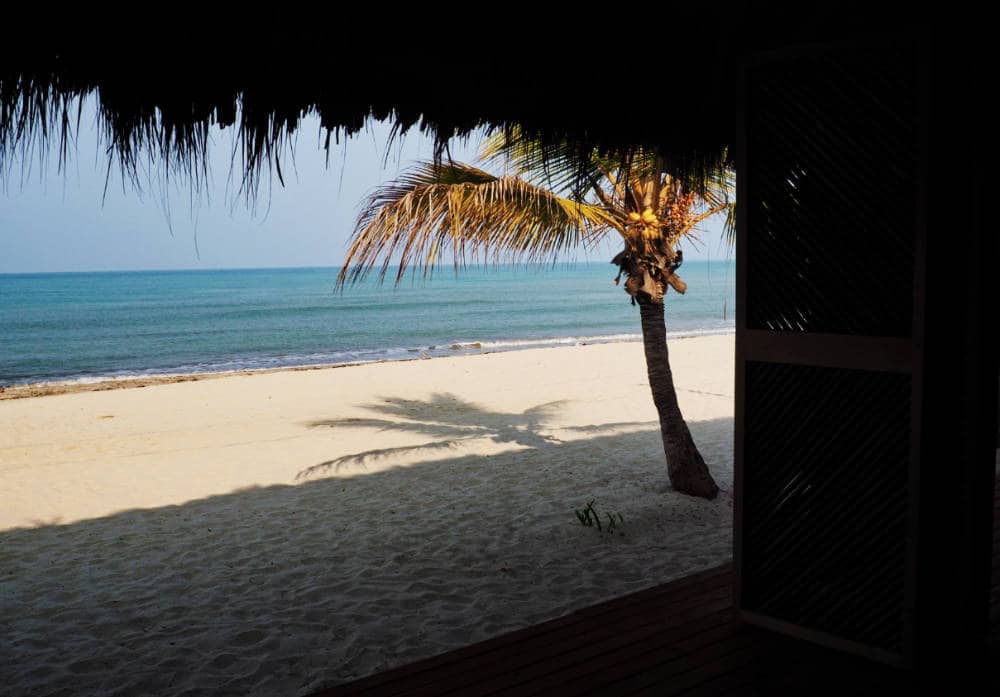 When I booked my stay, Dos Aguas was not open yet, so I chose one of the next best hostels in Rincon del Mar. Hostel Beach House has a mix of dorm and private rooms, but it was the A-frame open dorm overlooking the ocean that drew me in. Each bed is draped with a mosquito net and has a designated locker.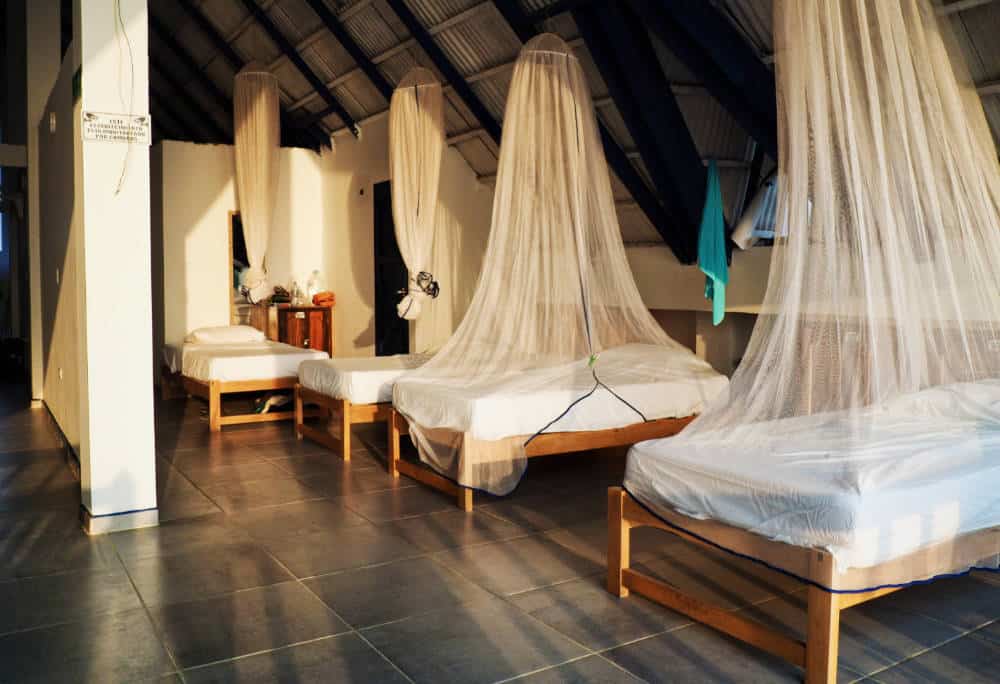 Downstairs you'll find fresh coffee in the morning and a spacious, though often busy kitchen to use. A large palapa seating area with tables and hammocks opens to the beach, which draws travelers seeking sun in the day and sunset views in the evening.
I recommend booking 3-5 nights in this area and perhaps splitting your time between Rincon and one of the San Bernardo Islands. For a relaxing island stay, check out Isla Mucura or Tintipan. During our boat ride to the San Bernardo Islands, we dropped a traveler off on Isla Mucura before going to a different area of the island designated for day trips. It looked just as you'd expect a remote tropical island would – turquoise waters leading to powdery white sand with hammocks hung in the low brush and tall palms in the background. Paradise.
Check prices and availability for places to stay on Isla Mucura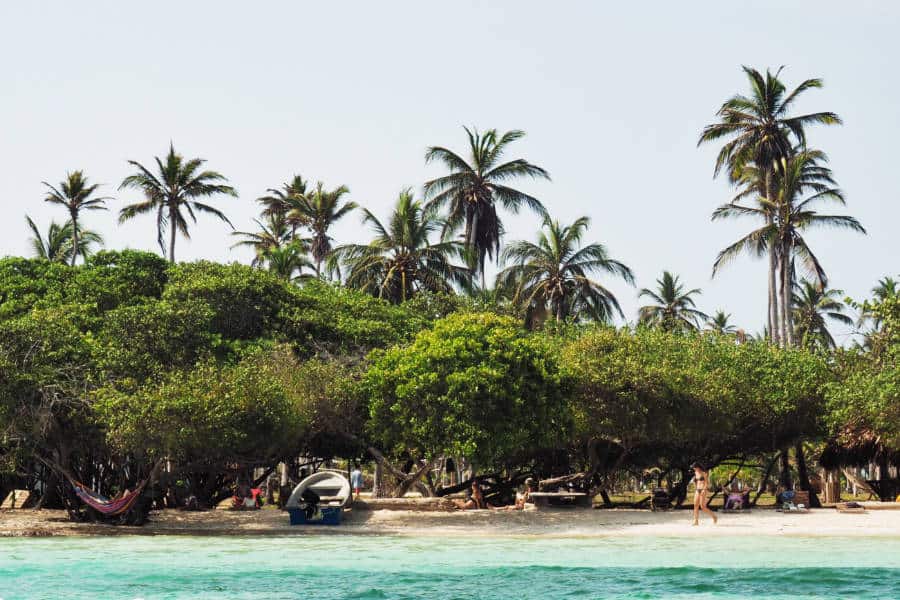 Read Next – Where to Stay in Cartagena, Colombia
What to do in Rincon del Mar
There's not a lot to do in this tranquil fishing village and that's exactly why you should go. While most hostels have wifi (Daniele told me high speed just arrived a few months ago), it's also the ideal spot to unplug and disconnect from the world. The south end of the beach curves around the water and is often void of people. It is the perfect place to go on a long walk or enjoy the beach to yourself.
The north end of the beach is where most of the action happens. Along the beachfront are hostels interspersed with homes and restaurants. It also makes for a nice walk – follow the beach path until you reach a small bridge that crosses where the saltwater flows into the mangrove lagoon. In the morning the lagoon is full of white birds feeding and enjoying the sun. Continuing north you'll find a few more homes and hostels as the beach quiets down again.
Tour the San Bernardo Islands
One of the best things to do in Rincon is a boat tour of the San Bernardo Islands. Our boat of eight people left at 8 am so that we could be back around 2 pm and before the afternoon winds picked up. The tour started with a 20-minute snorkel near an uninhabited island. If you have your own snorkel and mask, I recommend bringing it since the options were a mixed bag. Some snorkels were fine but mine was leaky and I was constantly dumping water out. You shouldn't need fins since you're snorkeling near the boat and the current is not strong.
The next stop was optional. Isolte de Santa Cruz is known as the most densely populated island in the world with around 1200 inhabitants on two and a half acres – about the size of two football fields. Our guide offered an option to visit the aquarium for 5,000 COP and while none of us had an interest in seeing animals in captivity, I wish we had pursued exploring the island. Instead, we passed by close enough to see a few houses, each built practically on top of one another.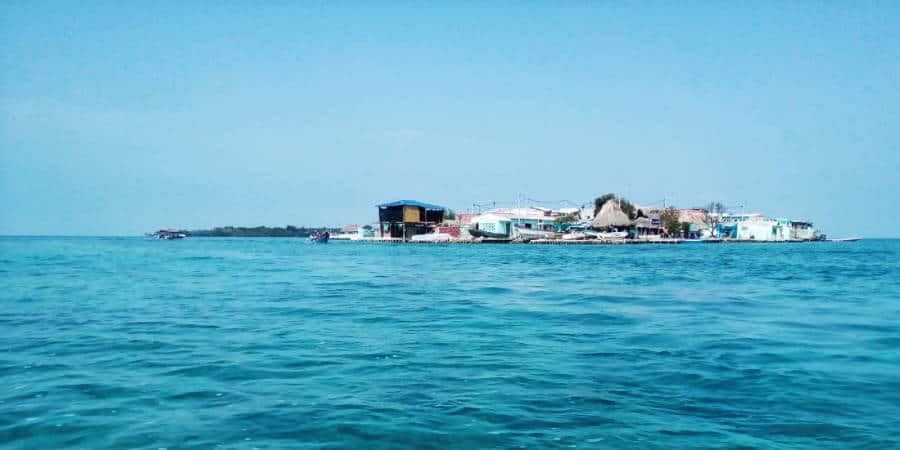 The next stop on our San Bernardo islands tour was Isla Mucura. We stayed for 40 minutes which was just enough time to enjoy a swim in the crystal blue waters with a Colombian beer or cocktail of your choice. On this part of Isla Mucura, the best area to swim was a small cove where the water flowed gently in and out.
Back in the boat, we headed to the largest San Bernardo island, Tintipan. The beach area on Tintipan offers a larger area to swim but there were also more people. Under the shade of palapas, tables and chairs face the turquoise sea where you can enjoy a seafood lunch or opt for a siesta in one of several hammocks. We spent two hours on Tintipan before returning on a slightly wet boat ride back to the village.
To really enjoy Isla Tintipan, consider staying at Casa en el Agua located just off the coast. This unique accommodation translates to "House on the Water" and that's exactly what it is. Thatched roofs overhang the pavilions that make up the entire property. Just outside is calm, waist-deep water that's perfect for lounging or participating in games with other travelers.
Other things to do include an evening swim in the bioluminescent bay during a new moon, hiring a guide to take you spearfishing, or diving the coral in the area.
What to Bring
The most important thing to bring is cash! There is no ATM in town and most places do not accept credit cards, including the hostels. Depending on how many tours you want to do and how much you eat out versus cook, plan to bring 75-100,000 COP per person per day plus the cost of your hostel and transportation. Round trip transportation will cost about 80,000 COP.
Your packing list should include the usual things you'd bring to the beach – sunscreen, bathing suit, hat, and flip flops. You may want to add bug spray to your packing list. While there weren't many mosquitos during my stay, they will likely come out in the rainy season or when it's less windy.
Read Next – Guide to the Best Beaches in Cartagena
How to get to Rincon del Mar from Cartagena
First, take a bus from Cartagena to San Onofre (2.5 hours). Inside the Cartagena bus station, you'll be bombarded with men in uniforms trying to sell you a seat on their bus. Depending on how you're feeling, you may want to take the time to shop around, looking for signs to San Onofre. Expect to pay 20,000-30,000 COP each way.
TIP: The Cartagena bus station, Terminal de Transporte, is located on the outskirts of town. Save money by using TransCaribe bus X104 to get to there. It's the last stop on that route and pulls directly in front of the station. The fare was 2,500 COP, plus 1,000 for the bus card.
The bus will drop you off in front of the gas station in San Onofre where you'll be met with eager moto taxis offering to take you 30 minutes down a dirt road to Rincón. You may need to use your negotiating skills, but the cost should be 10,000 COP. I spoke with another solo traveler that hired a car for 30,000 COP – a good option if you're unsure of the motorcycle ride. My previous rental graciously allowed me to leave most of my clothes so my belongings fit in a daypack, but the moto taxi offered to balance my bag on the gas tank between his legs. I've heard they can do the same with moderately sized bags.
As a solo female traveler, I was wary of being taken through San Onofre and 30 minutes down a dirt road with nary a person in sight. In fact, when we pulled over in front of a house my heart started racing. It turns out, we were just stopping briefly for gas. My moto taxi driver could not have been more hospitable. As we neared the town, he pointed out the first ocean sighting through the trees. It reminded me of my childhood trips to North Carolina and how special it felt to spot the first mountains.
How to get back to Cartagena
Just as you arrived, you'll first need to make your way back to San Onofre. Your hostel can call a moto taxi for you to arrive within 20 minutes. If you prefer a car you may need to give more advance notice. My ride back was a little more precarious, with the driver turning back twice to ask about propina (tip). I ensured him I would include a tip in my payment because what is the other option when your life is in his hands?
I was dropped off in front of the gas station, the same place that I arrived. There you will find a few tables and chairs under the shade of a metal roof. The van to Cartagena was 30,000 COP and left within 30 minutes. We were met with a lot of construction on the road, which frustrated the driver and passengers. Ultimately we still made good time, but I wouldn't plan on leaving the same day you're trying to catch a flight or another bus from Cartagena. When we arrived at the Terminal de Transportes in Cartagena, I declined several offers from moto taxis figuring I'd had my fill for the day. I quickly found a city bus back to cento for 2,300 COP.
If you're traveling to Cartagena, I hope you make the time to visit this corner of the sea. It's a unique experience to explore and get a taste for life in a Colombian fishing village. As Dania told me, Rincon del Mar is going to change no matter what. It's our job to make sure it does so with a sustainable future.
Like this post about Colombia? Save it to Pinterest!