15 Best Things To Do in Cartagena, Colombia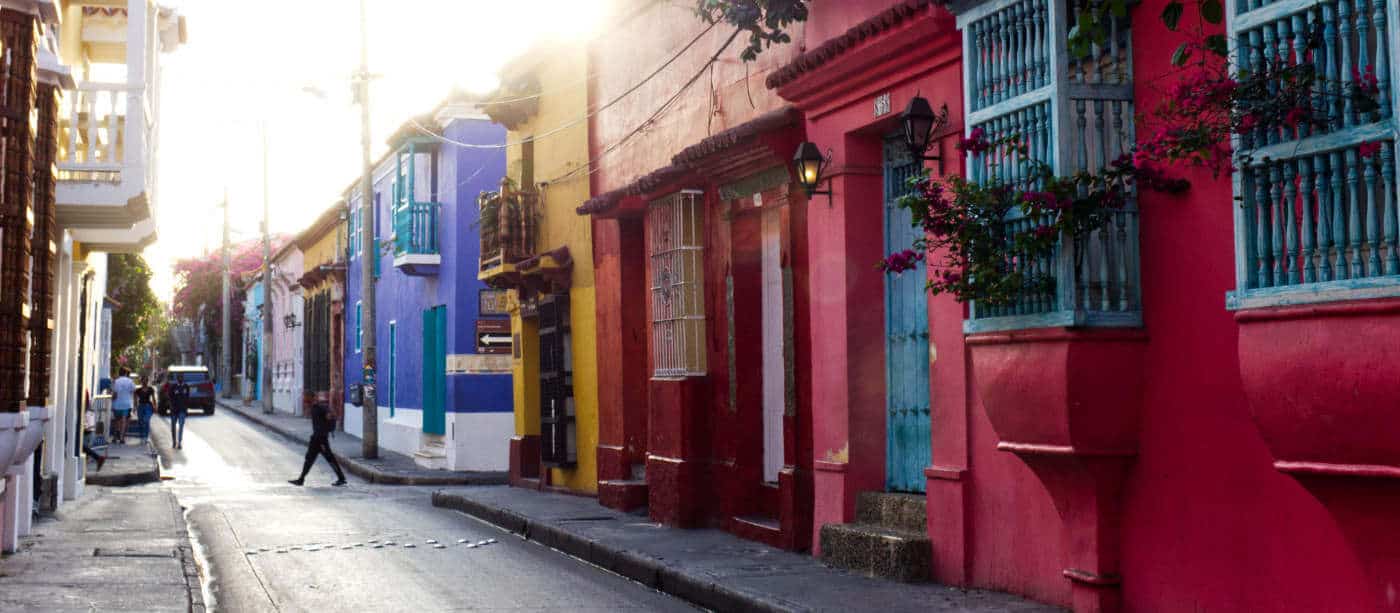 As the most visited city in Colombia, Cartagena is a tourist mecca. With that comes overpriced taxis and tour offers from every direction. But this colonial gem is still a must visit.

Some of the best things to do in Cartagena are located within walking distance from the center which makes the city an easy first stop in Colombia.

The walled city of Cartagena has drawn visitors from all over for centuries. Walk along the narrow streets and it's not hard to see why.

Colorful Caribbean charm exudes from the buildings in the historic center while a gritty edge exposes itself in Getsemani. And just across the way, modern buildings tower over the coastline in Bocagrande.

Let's discover what to do in Cartagena!
Take a Free Walking Tour of Cartagena
One of the best things to do when you arrive in a new city is to take a free walking tour. I say free loosely because a tip is expected. But nonetheless, it's a great way to get acquainted with and discover a part of the city you'd like to explore more on your own.

The free walking tour in Cartagena will include the history of Cartagena and introduce you to historical places such as The Clock Tower and San Pedro Claver Church. One of the highlights was seeing the quirky sidewalk embedded with pictures of former Colombian beauty queens, of which Colombians are very proud.
Stroll the Streets in the Walled City
Cartagena is the type of city where you can simply wander.

Bring your camera and walk through the old city in the morning or evening while admiring the historic buildings. Take your time to observe the details – colonial balconies draped in tropical plants, gas lanterns, and colorful doors with distinguished door knockers. (You'll learn more about them during the free walking tour).

As you stroll, there is no route to take and that's part of the magic.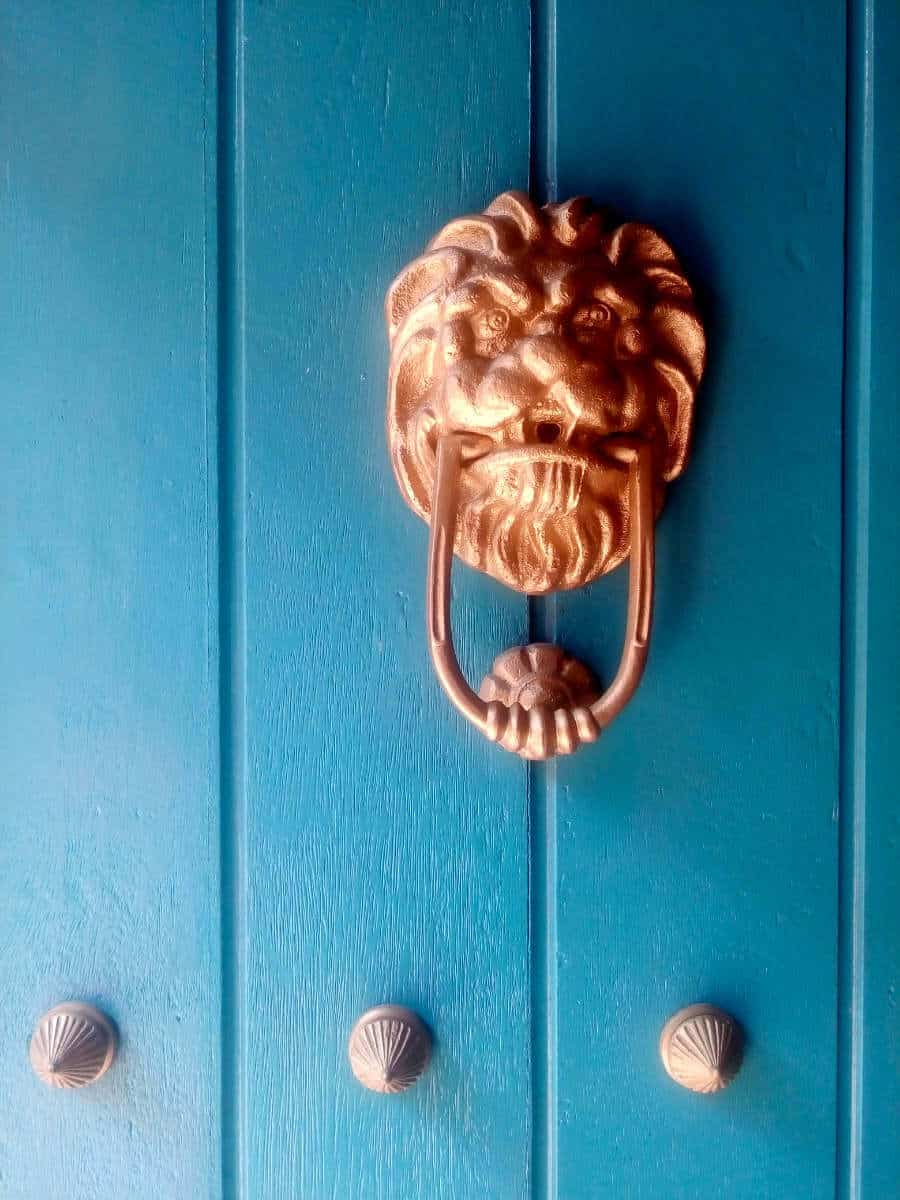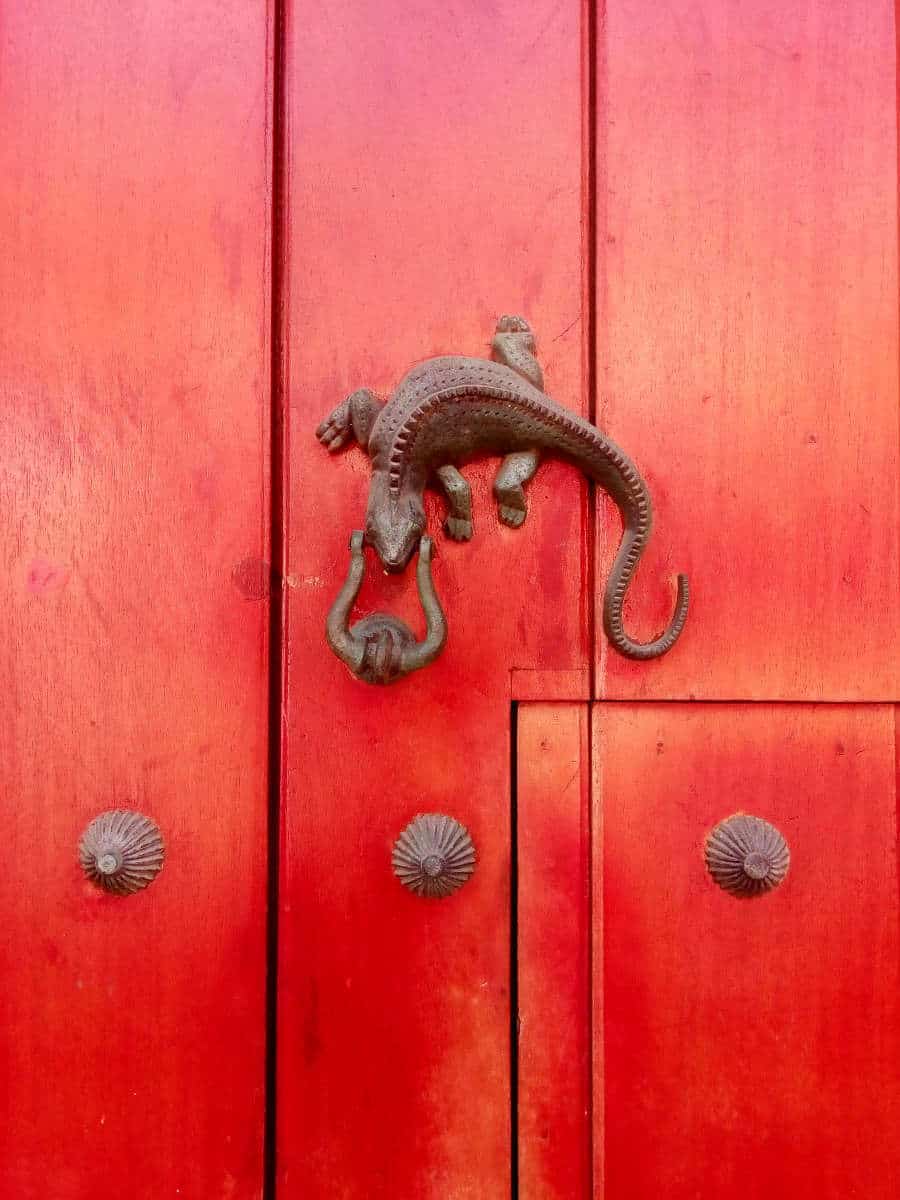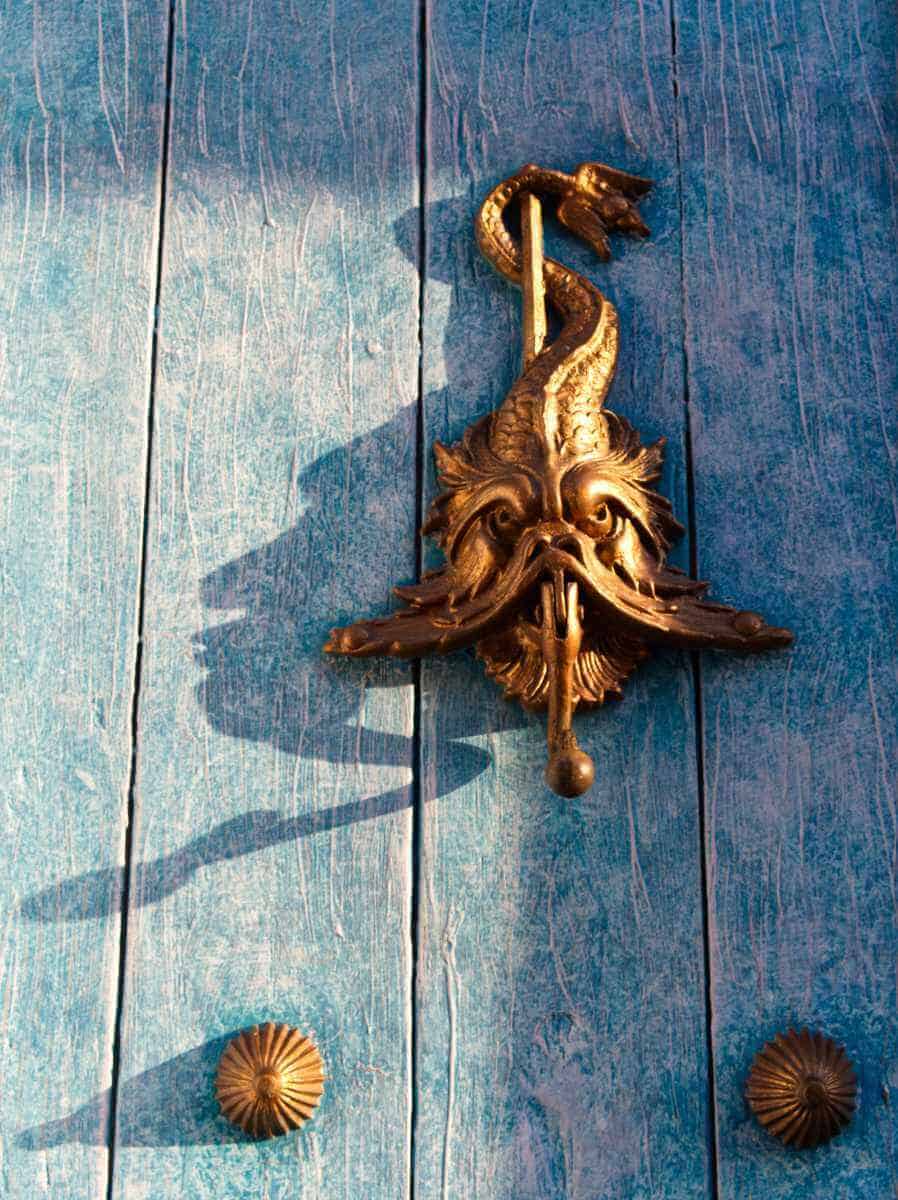 This article may contain affiliate links. This means if you click a link on our blog and make a purchase, we earn a commission at no additional cost to you. For full information, see our disclaimer here.
Shop Like a Local at the Bazurto Market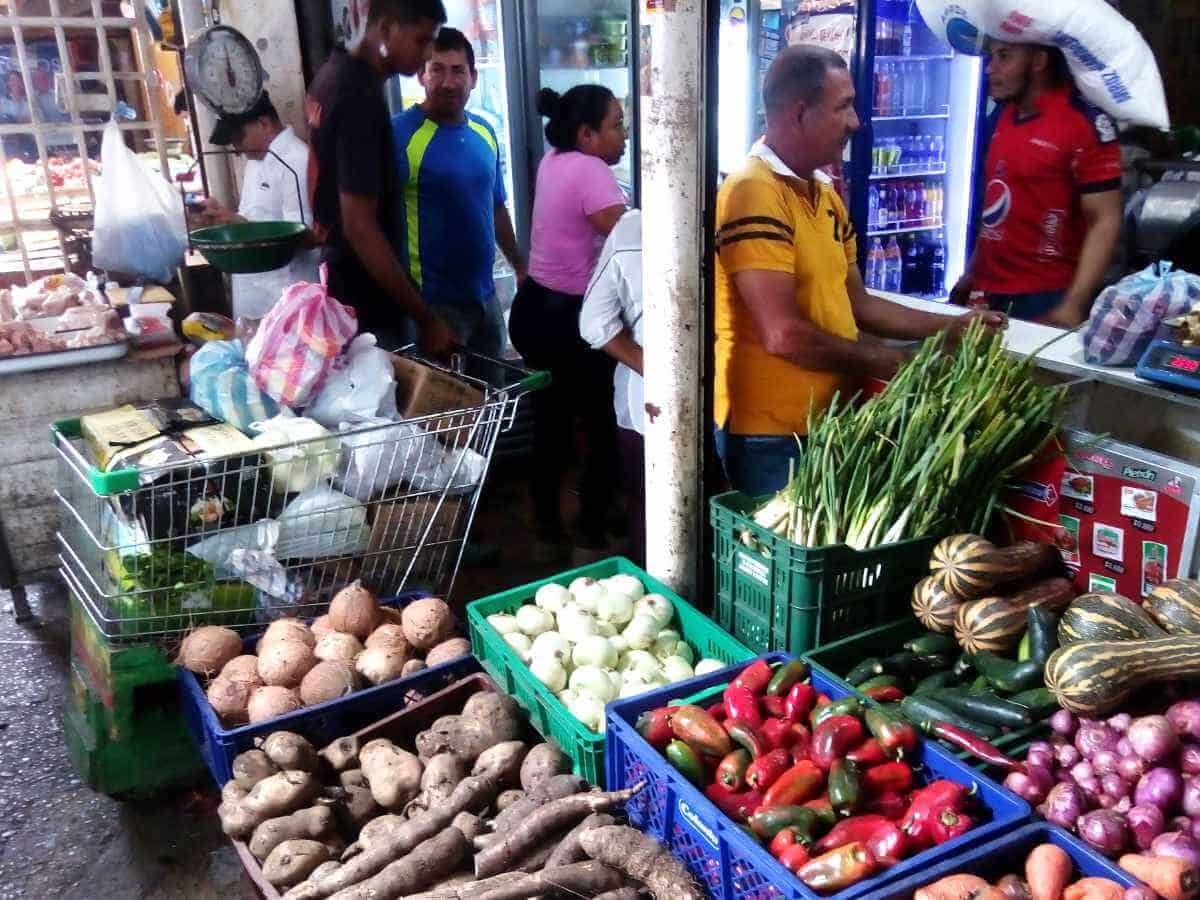 Like most Latin markets, Bazurto is a dizzying maze of vendors selling fresh vegetables, meat, fish, prepared foods, clothing, and housewares. Located just 15 minutes outside of the historic center, this bustling center of commerce stretches for blocks.

Given its massive size, it's difficult to discover the best areas of the market. I ventured to the Bazurto market on my own and barely scratched the surface.

To get the most out of your time, book a Bazurto Market tour with a local guide. They know where to go, the best places to eat, and can explain all of the local delicacies. There will likely be fruits you have not seen before and new foods to discover!

It's one of the best ways to get a taste of local life and ranks as one of my top things to do in Cartagena. However, like at most large markets, it is advised to leave your valuables at home and carry everything in a front pocket.
Read Next – Best Places to Stay in Cartagena, Colombia
Chocolate Tasting and Workshop
Who doesn't love eating chocolate? Well, how about learning about chocolate while you eat?

Choco Museo isn't so much a museum as a small shop with lots of chocolate to taste while learning a brief history of chocolate. The shop itself is free to walk around and sample, with plenty of goodies to purchase.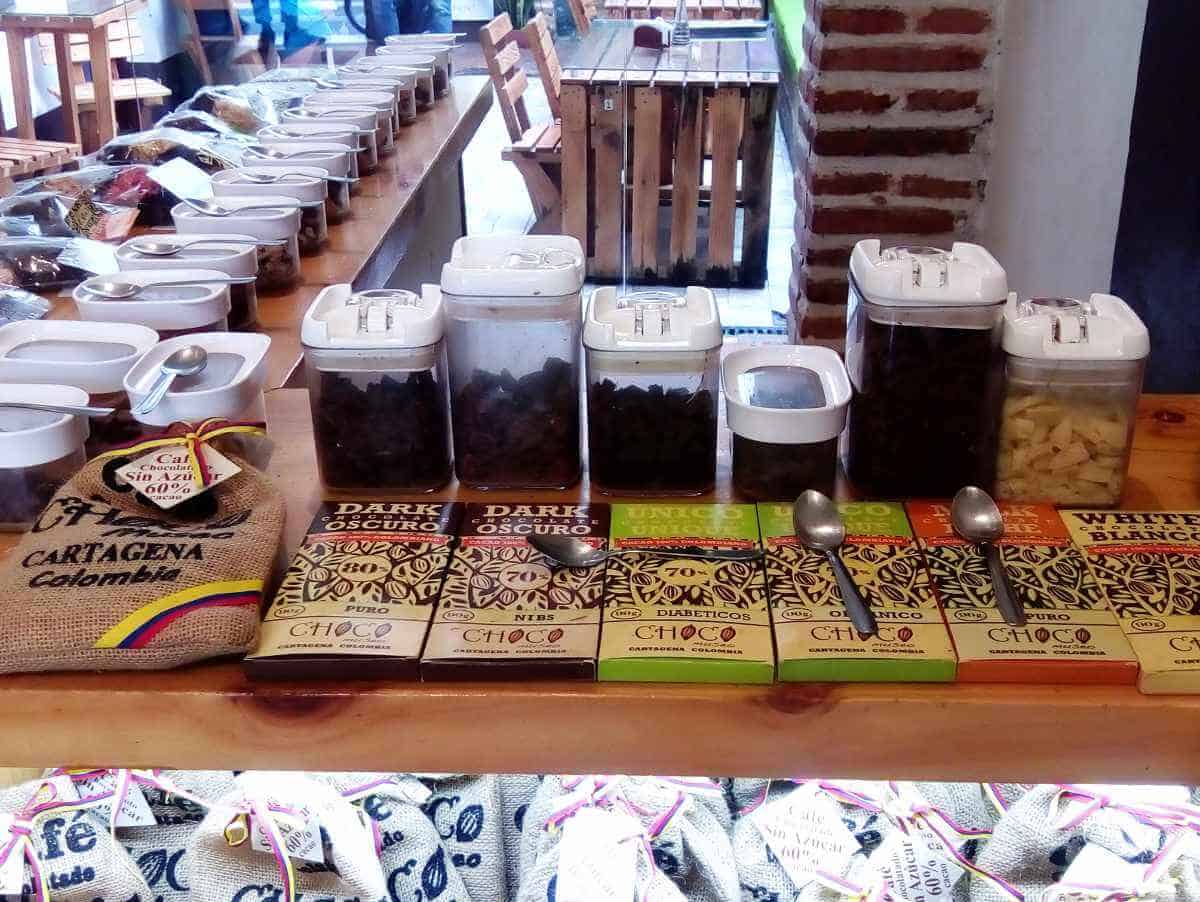 They also offer workshops where you can learn how to make your own chocolate (and yes you go home with your creations!) In the two-hour Bean to Bar Workshop, you'll learn more about the history of chocolate and its process, starting with the growing of the cacao tree.

Hours: 10 am to 10 pm, every day
Bean to Bar Workshop: 11 am, 2 pm, and 5 pm every day
Watch the Sunset over the Caribbean Sea
I read a lot about where to watch the sunset in Cartagena. It felt silly once I arrived because there are so many places with a gorgeous view of the sun setting over the water. Everyone says you must have a drink at Cafe del Mar but in reality, the entire west-facing wall offers great views.
Tip: Don't forget to look behind you for amazing views of the city buildings drenched in a warm bath of sunlight.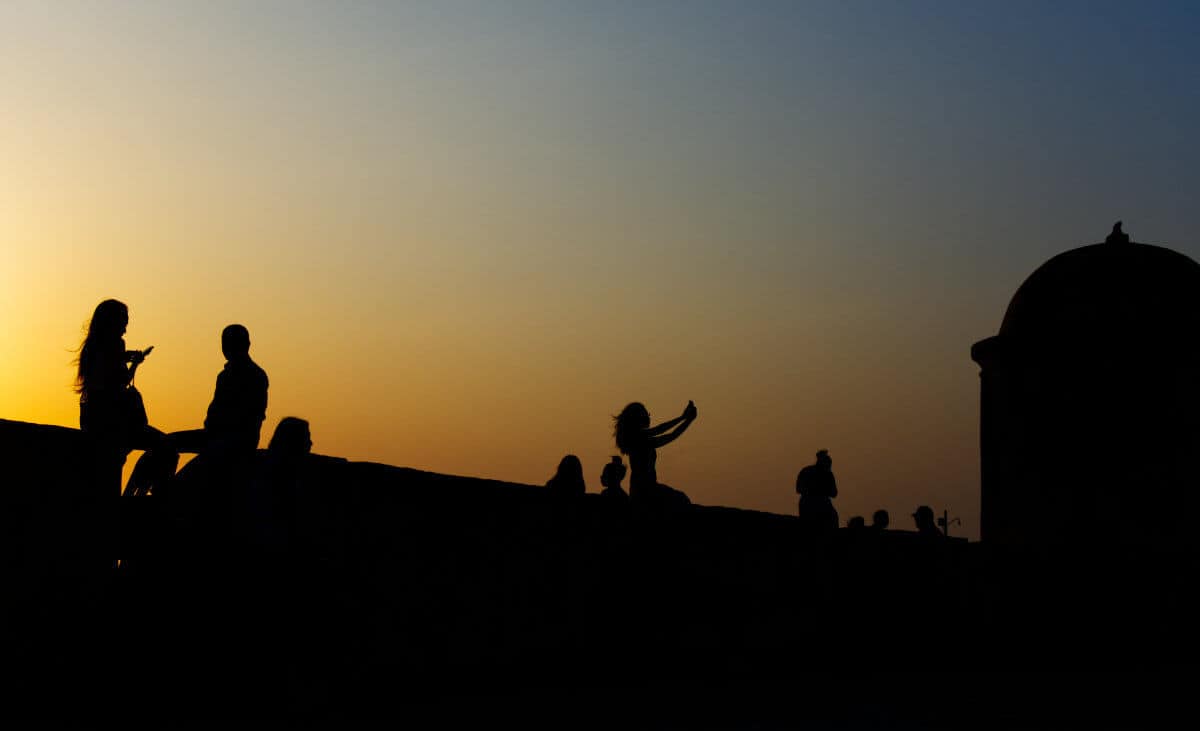 You'll find lots of people hanging out on the wall near Boquetillo Santiago and a little further south at Boquetillo Charleston. And of course, snacks and refreshments can be purchased from street vendors.
If you prefer to be out on the water for ultimate views, book a Sunset Cruise on this spacious catamaran. The price is really reasonable and best of all, there are enough places for everyone to have a great view.
You'll definitely want to check out this Cartagena packing list to ensure you have everything you need.
Hang out at Plaza Trinidad
After the sun goes down, walk to Getsemani's Plaza Trinidad where you'll find a variety of people at the square in front of the church. This is a place to converse with old friends, meet new friends, or play a game of checkers.

There's also some street food in the square such as a messy hot dog loaded with potato straws. I don't know, it seems to be a Colombian thing.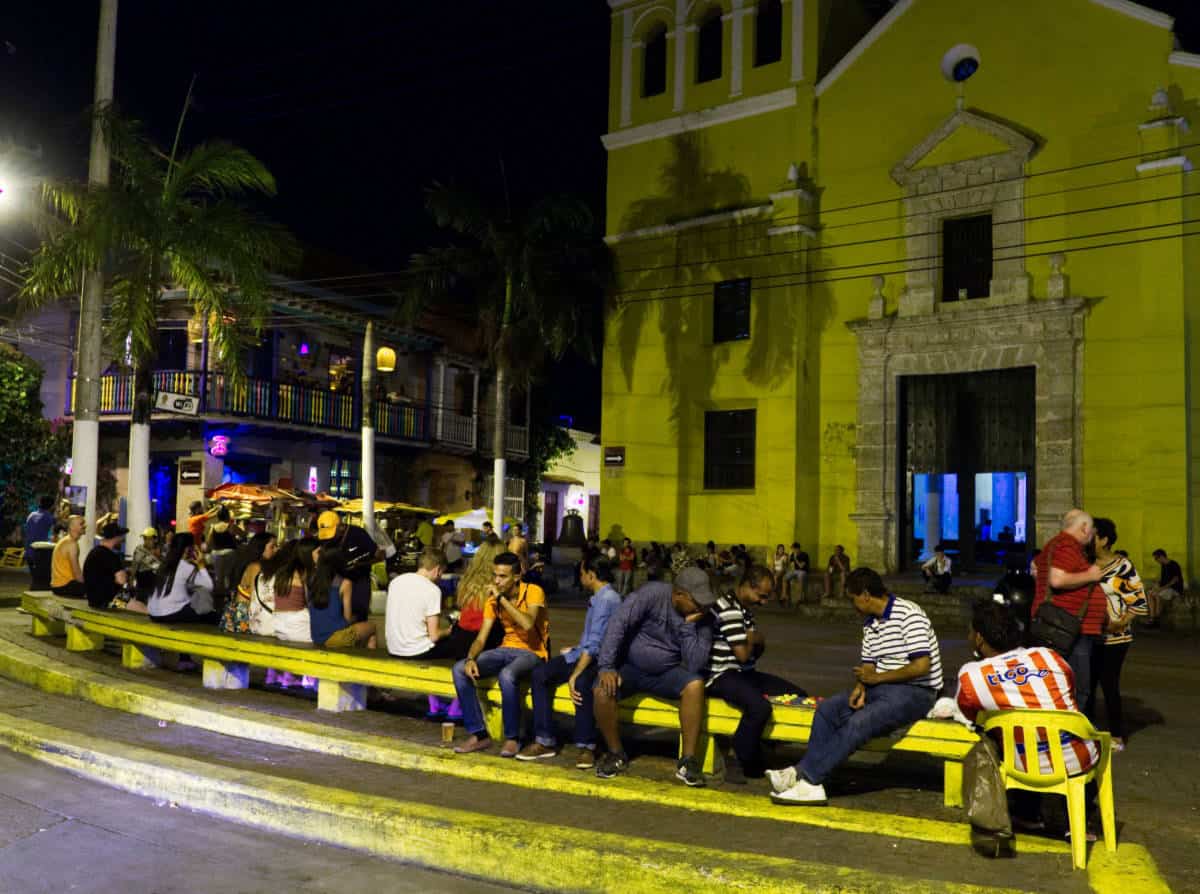 Click here for the Ultimate Guide to the Best Beaches in Cartagena
Visit the Rosario Islands
This archipelago is about an hour by boat from Cartagena's docks, where boats depart daily. Most people opt to spend a day at Playa Blanca on Isla Baru, but the peace of the ocean comes at night when the throngs of tourists and vendors leave for the day.

For an even more peaceful experience, spend a couple of days exploring Isla Grande. While this is the largest of the islands, there are no cars. Instead, walking paths with hand-painted signs set the scene for the slow pace of life you'd expect on a Caribbean island.

Other options to visit the Rosario Islands include a day tour on a boat (for which I've heard mixed reviews) or lounging on Bendita Beach for the day.

You can also rent a cabin overnight at Bendita Beach, though most choose to book the day trip (lunch included). I've partnered with Bendita Beach directly to book tickets for my readers. To reserve, send me an email with the number of people in your group and your preferred dates. Reservations are limited on a daily basis.
Spend a Day at the Beach
It seems odd to need to include this in a list of what to do in Cartagena – Colombia's coastal gem, but it can be difficult to figure out exactly which beaches in Cartagena are the best to visit. Ultimately it depends on what you are looking for. Read this guide to learn which of the best Cartagena beaches you should visit.
Explore the Fortifications of Cartagena
To defend Cartagena, the Jewel of the Spanish Crown, stone walls were built around the entire city as well as several forts to defend the city from the French, English, and pirates. The city of Cartagena and all of the fortifications have been declared a UNESCO world heritage site.
Walk the Walls of Cartagena
The walls surrounding Cartagena are the most complete in South America and some of the most well preserved of the walled cities of the world. You can start your walk along the walls at any time during the day, but I recommend late afternoon into the sunset. Start at the northwest corner just past Cafe del Mar and wind around to the west in time for the setting sun.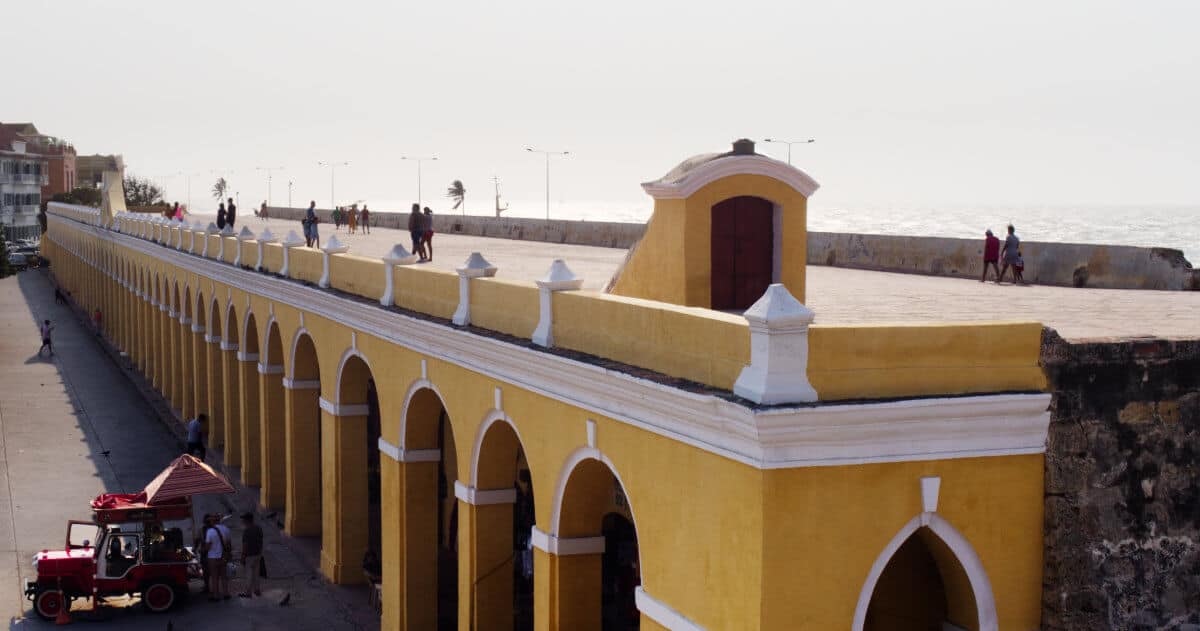 San Felipe Castle
After the old city and Getsemani were fortified, the Spanish strategically built this castle on San Lázaro Hill to defend the walls and the only open entrance into the city.

Built in 1657, San Felipe is 40 meters tall at the highest point. After the French overtook the castle in 1697, it was recaptured by the Spanish and rebuilt to fortify its structure.

It's a 15-minute walk to the castle from the walled city. The top of the San Felipe Castle is another place to watch the Cartagena sunset overlooking the water with views of Bocagrande in the distance. Then, it's a quick walk back into Getsemani, through the entrance to the city that the castle was built to defend. 
Hours: 8 am to 6 pm, every day
Cost: 25,000 adults; 10,500 children; 20,000 Colombians
San Fernando Fort
The Spanish also built several fortifications on Tierra Bomba, a large island across from Bocagrande. San Fernando is an impressive fort built directly on the coast in the early 1700s. The site is free to enter and locals will happily give you a tour for a fee.

The island of Tierra Bomba is located just off the coast of Cartagena, a 10-minute boat ride from Bocagrande. But to visit the fort, you'll need to travel around the other side of the island to the small community of Bocachica. You can reserve space on a boat at the Cartagena docks.

For a fabulous overnight getaway on the beach, book a stay at Hotel Isla Real in Bocachica. There's a private beach, swimming pool and bar, as well as a restaurant on site.
Hours: 8 am to 5 pm, every day
Cost: Free  
Visit a Museum
Between the historic homes, churches, and fortified monuments, Cartagena itself is a museum. But there are a few traditional museums worth visiting if you'd like to learn more about the area.
Palace of the Inquisition
Located in one of Cartagena's most well-preserved buildings, this museum tells the dark history of Cartagena during The Spanish Inquisition. While most of the information is presented in Spanish, there are many visual displays from which you can learn the history. Architectural enthusiasts will cherish the baroque-style carved limestone entrance.
Hours: Mon-Sat 9 am to 6 pm, Sundays and Holidays 10 am to 4 pm
Cost: 22,000 adults; 19,000 seniors and children
Gold Museum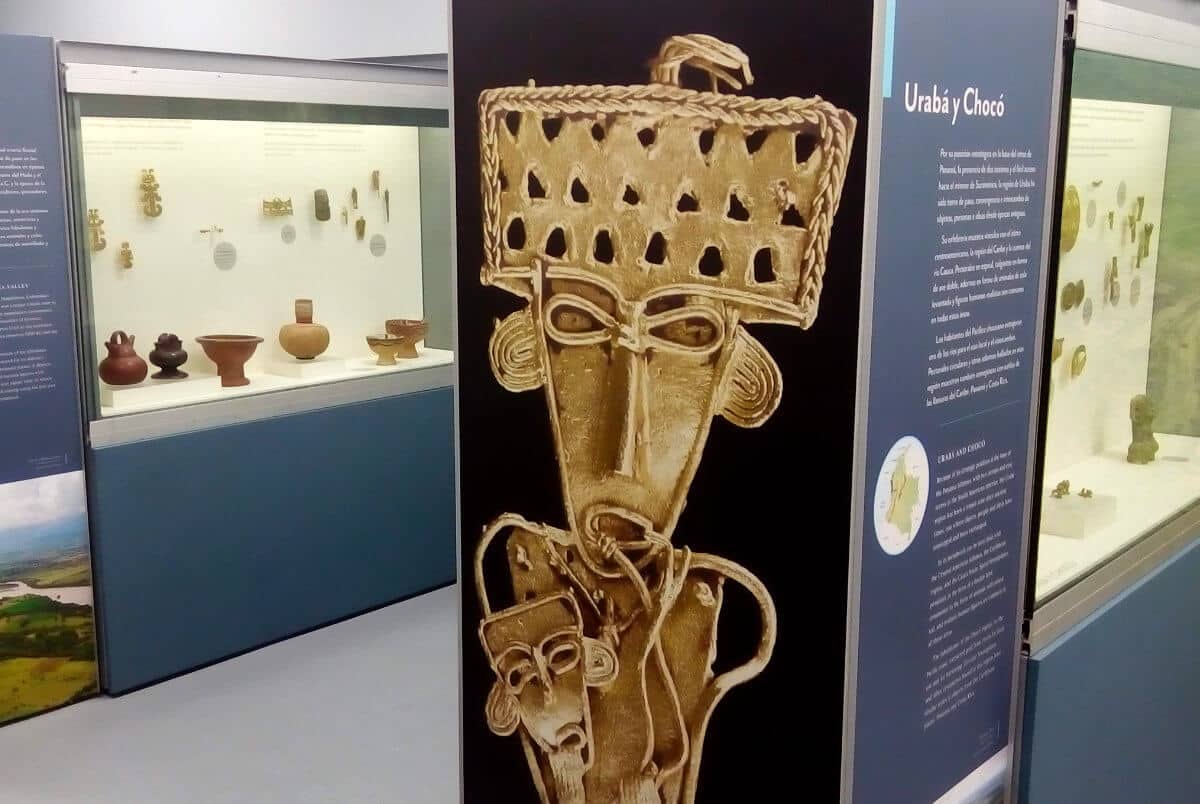 At this small museum, the history of gold is illustrated through each significant region of Colombia with gold and ceramic artifacts on display. It should take you about 30 minutes to see everything and it pales in comparison to the large gold museum in Bogota. But if you can't make it there, this is a good introduction to gold in Colombia.
Hours: Mon-Fri 9 am – 5 pm, Sat 9 am – 1 pm
Cost: Free
Modern Art Museum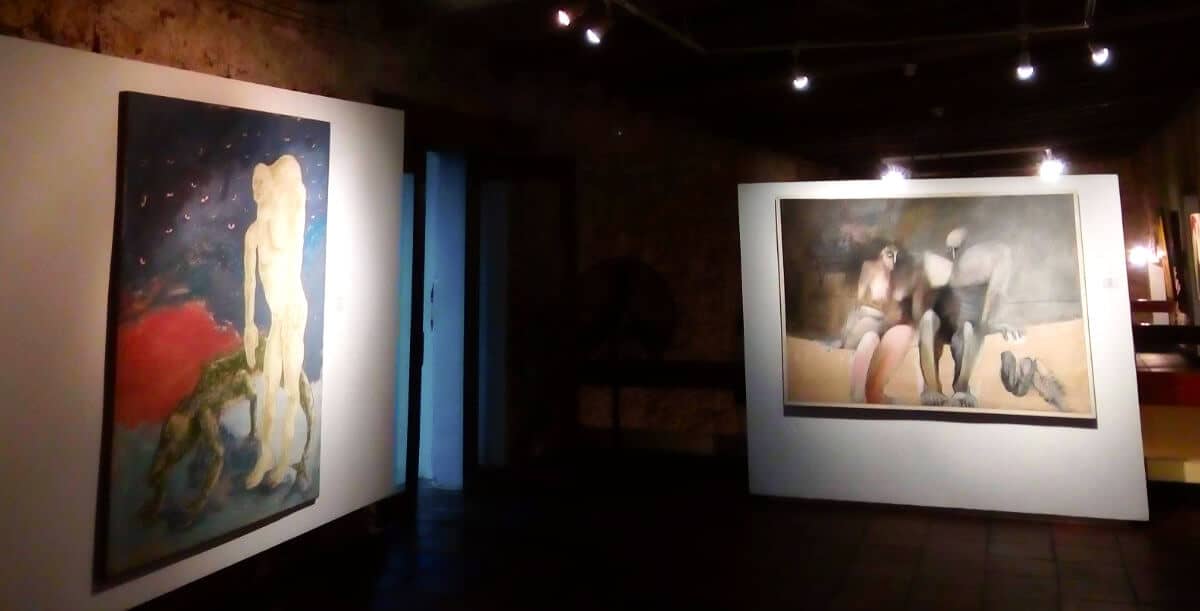 The small modern art museum in Cartagena features impressive Colombian art in a relaxed setting. The stone building provides an interesting backdrop and relief from the brutal sun, though it lacks the air conditioning needed to properly preserve these pieces.
Hours: Mon- Fri 9 am – 12 pm and 3 pm- 7 pm, Sat 10 am – 1 pm, Sun 4 pm – 9 pm
Cost: 8,000 cop
House of Rafael Núñez
Located just outside of the walled city, this house is the former residence of Rafael Nunez, who served as president of Colombia multiple times. There is a lot of history in this house where he died. And while most of it is explained in Spanish, the house and some of its furnishings are a reminder of the rich history of the area. I stumbled upon this building when I was exploring the streets around Cartagena. While I wouldn't go out of your way to visit, it is fairly close and something to do for the history buffs.
Hours: Tues-Fri 9 am – 5 pm, Sat-Sun 10 am – 4 pm
Cost: Free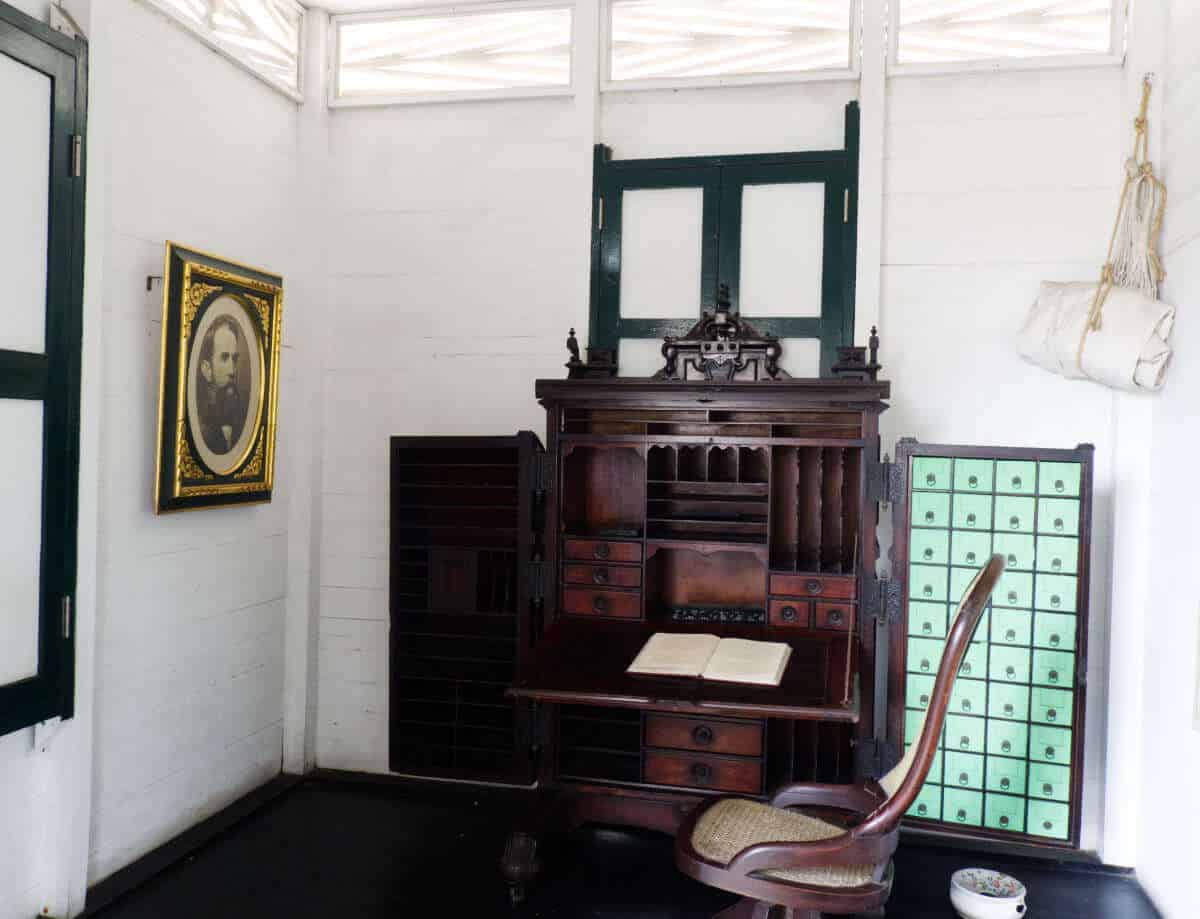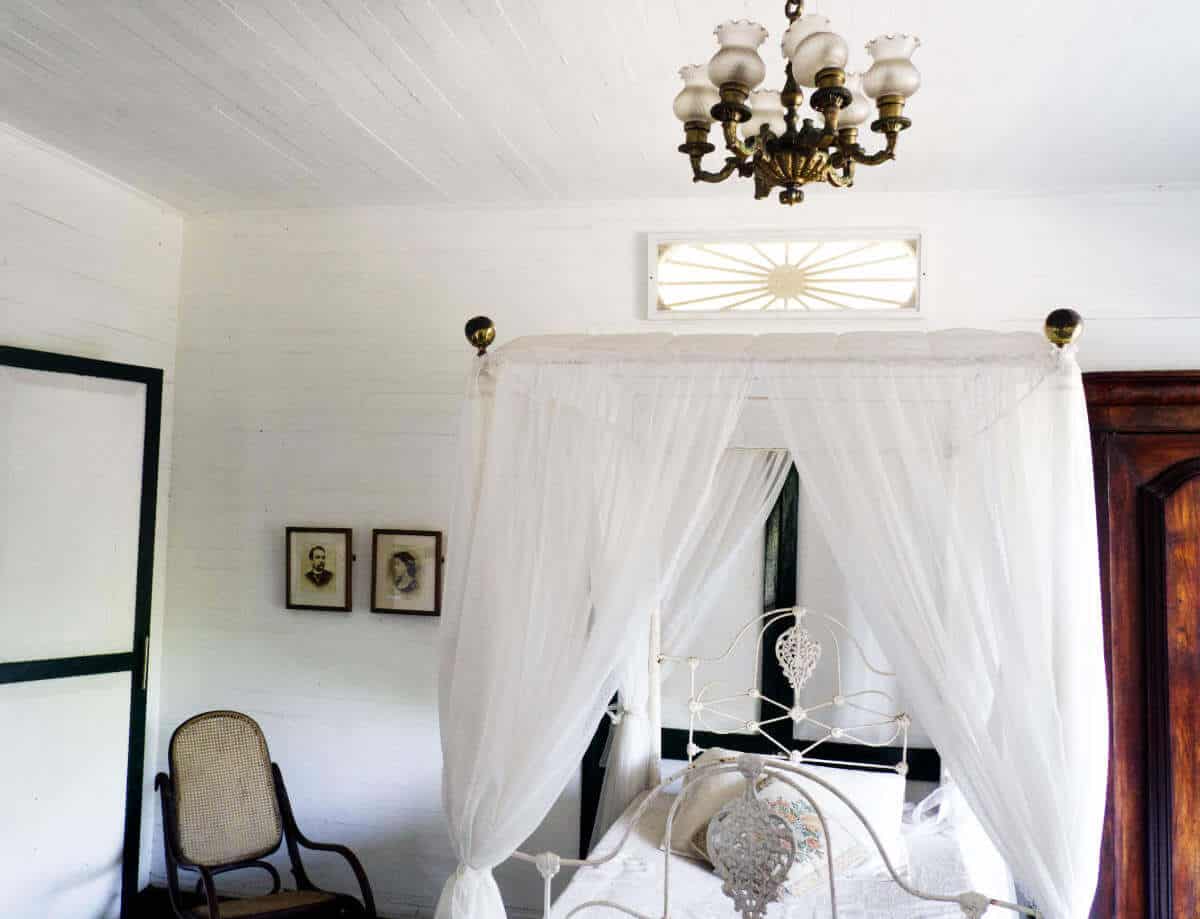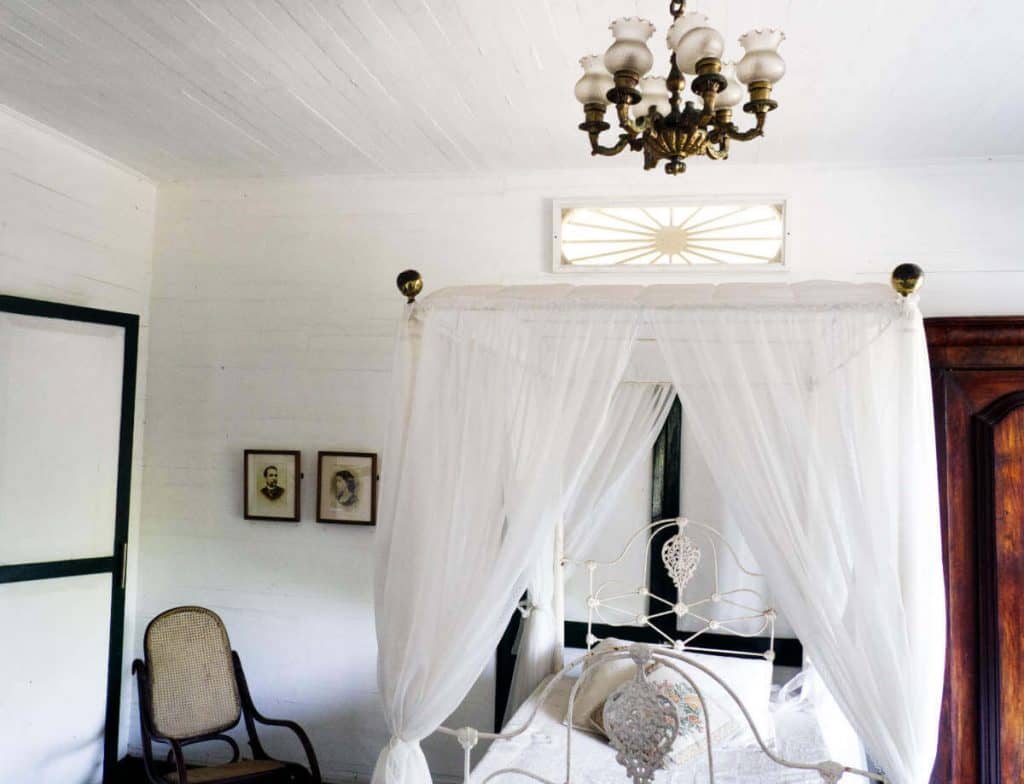 What did you find to do in Cartagena? I'd love to hear from you in the comments!
Other great posts about Cartagena, Colombia you need to read.