10 Best Cartagena Boat Tours You Need to Book (2023)
Are you looking for the best Cartagena island tours?
I've rounded up these top Cartagena boat tours so that you can choose which one is best for you. From exploring the Rosario Islands to a sunset cruise to a Cartagena private boat tour, there is something for everyone (party and pirate adventures included!)
On the Rosario Islands tour you'll go on a relaxing adventure as you snorkel the reef, bask in the sun on a private beach, and feast on a seafood lunch at Barú.
The Cartagena boat party at Isla Cholón, will allow you to dance to the rhythm of Colombia while mingling with other travelers. And the Cartagena sunset boat tour is all about taking in the breathtaking sunset with skyline views of the city.
I've also included two unique Cartagena boat trips where the incredible nature and simplicity of island life will captivate your soul.
You're about to embark on an adventure during these island tours – Cartagena style. So grab your bathing suit and let's set sail!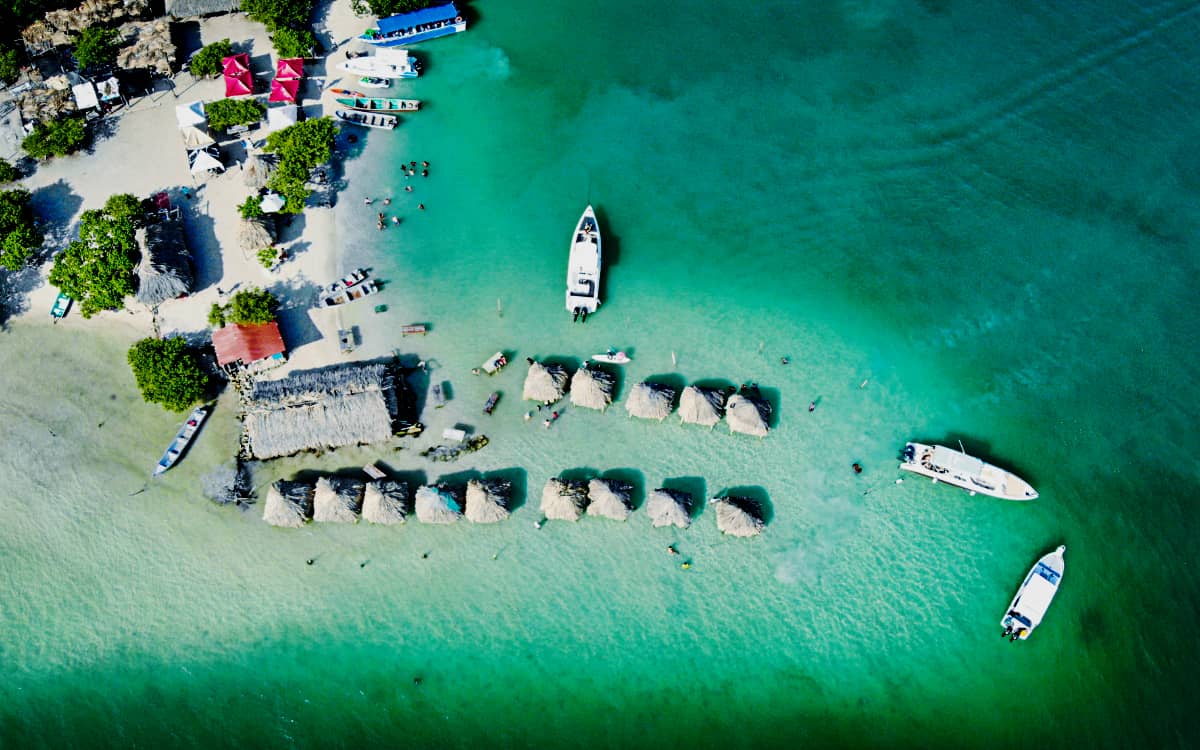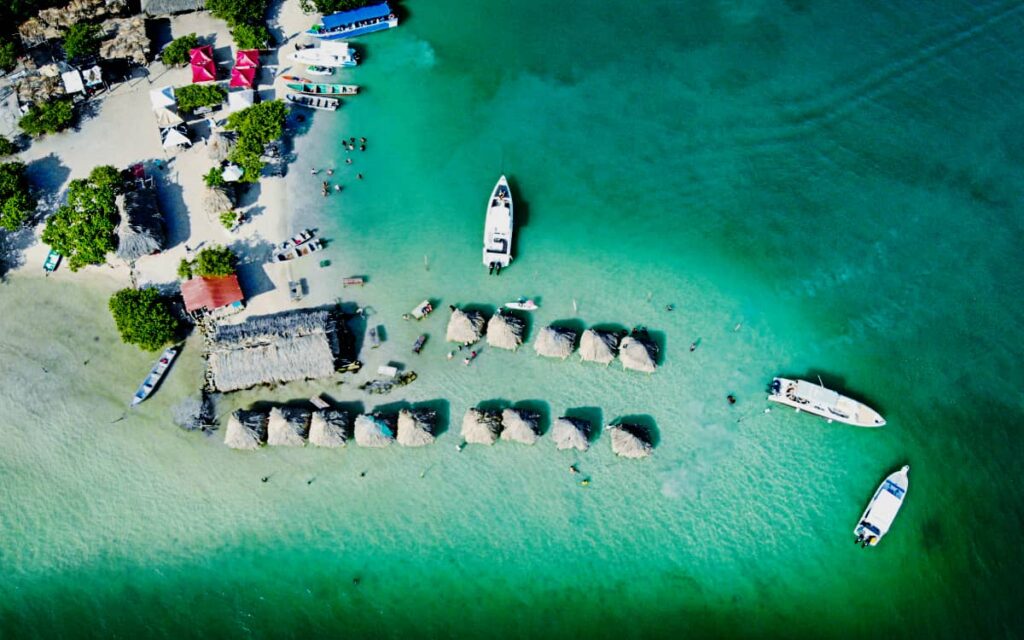 This article may contain affiliate links. This means if you click a link on my website and make a purchase, I earn a commission at no additional cost to you. For full information, please see my disclaimer here.
Rosario Island Tours Cartagena
One of the best boat tours in Cartagena is a Rosario Island tour. Cartagena, Colombia is known for this beautiful archipelago of 28+ islands located about an hour boat ride from the city.
These boat trips take you on a daytime exploration of the islands to relax on pristine white sand beaches, swim in crystal-clear turquoise waters, and snorkel among its coral reefs.
⌛ 8 hours
⌚ 7-8 am
⭐ Read Reviews and Book
✅ Snorkel at Isla Grande, Beach on a Private Island, Party at Cholon, Lunch at Barú
This boat trip perfectly blends relaxation, exploration, and underwater adventure with a touch of party vibes. If you want to experience the ultimate full-day adventure, you need to book the best Cartagena Islands tour.
After boarding the boat in Cartagena, your tour departs for the Corales del Rosario National Park to snorkel in the turquoise waters off Isla Grande. 
From there you'll travel to a private island whose white sand and towering palms create an idyllic beach paradise. You'll be served a tasty shrimp cocktail while enjoying free time on the beach.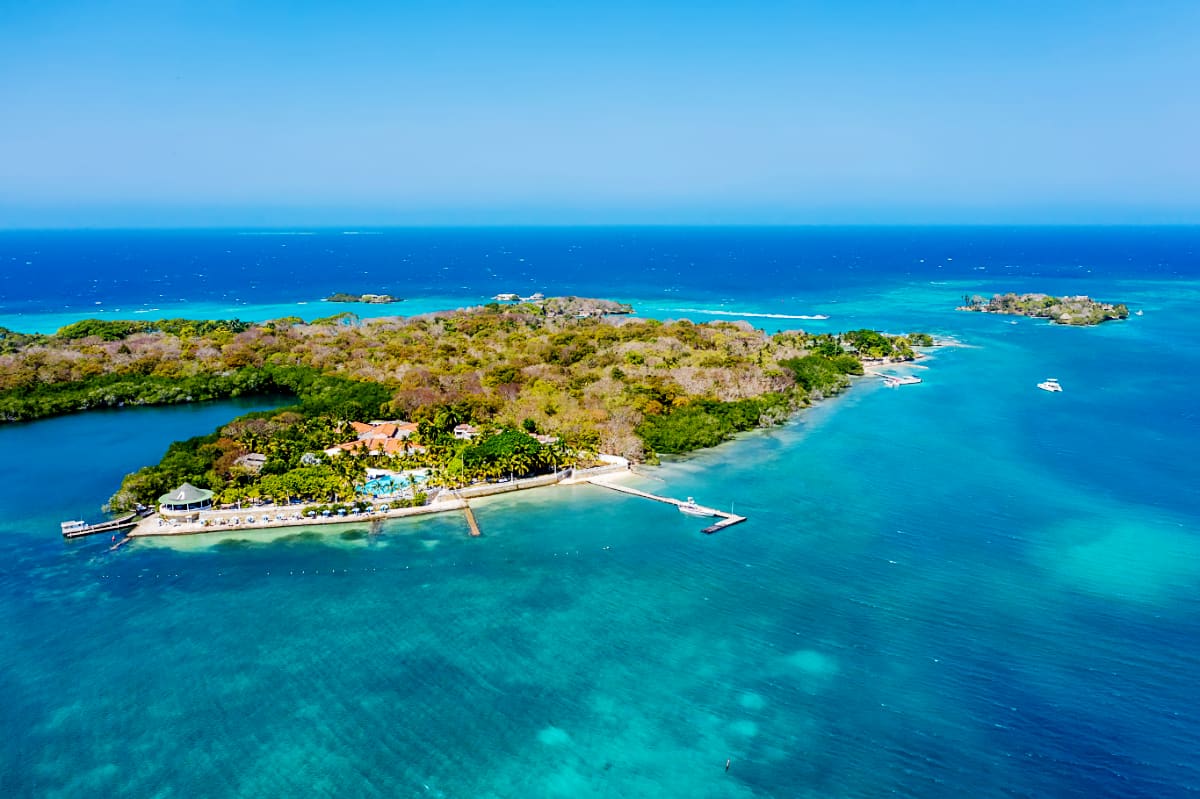 On the way to the next location, the boat makes a quick stop at the party island of Cholon. Enjoy a mini party in the water with music and drinks (additional cost) among the company of other boat tours.
The final stop is Playa Blanca, Baru where you'll recharge with a seafood lunch at a traditional Colombian restaurant and spend the rest of the day relaxing and swimming at the beach.
With provided snorkel gear and expert guides, this Cartagena boat tour is the perfect way to escape the hustle and bustle of the city while immersing yourself in the beauty of the Rosario Islands.
⌛ 7.5 hours
⌚ Everyday, 8:30 am
⭐ Read Reviews and Book
✅ Snorkeling Gear, Lunch, Non Alcoholic Drinks, Taxes and Fees Included
Do you prefer a more spacious boat tour? This Catamaran Rosario Islands tour is for you.
Set sail on this Rosario Islands tour from Cartagena on board a luxurious catamaran. After a refreshing welcome drink at the pier, you'll enjoy a smooth sail to the Rosario Islands. Sip on complimentary non alcoholic drinks while lounging comfortably in your choice of sun or shade.
The highlight of this Cartagena boat trip is a stop at Isla Grande to snorkel and swim. Its turquoise waters and white sand make it one of the most beautiful places in the archipelago. For kids (and adult kids alike) there are fun water inflatables as well.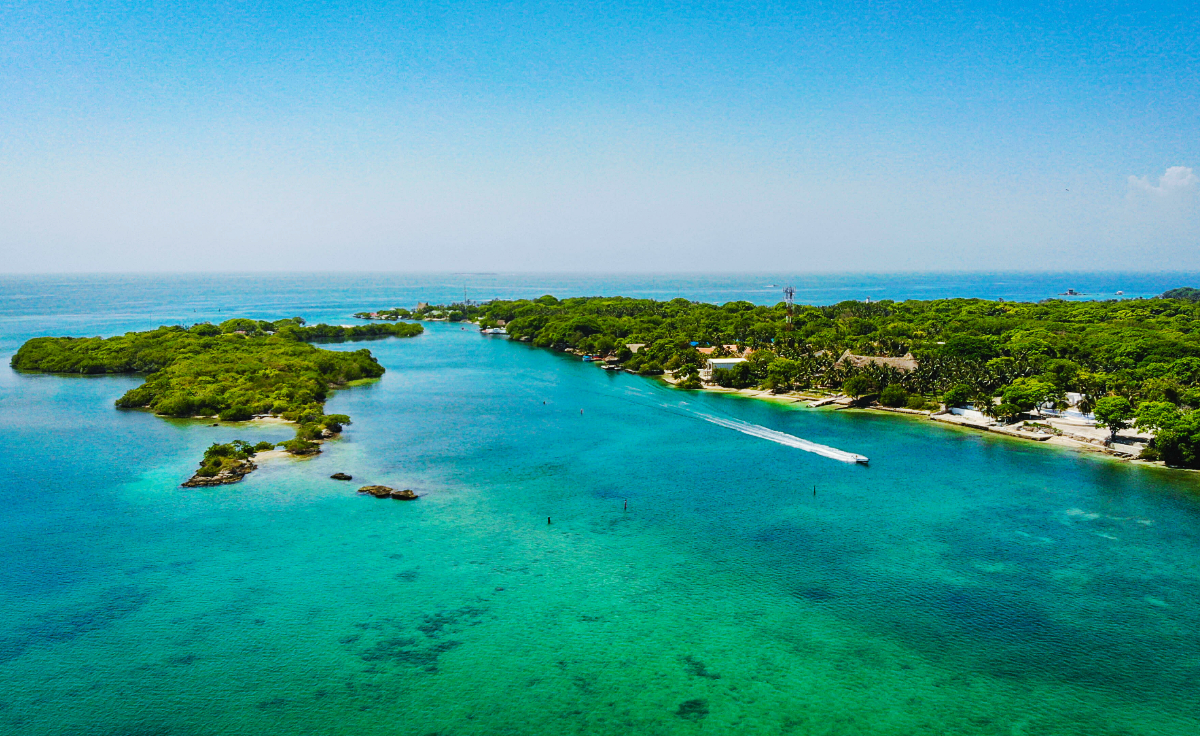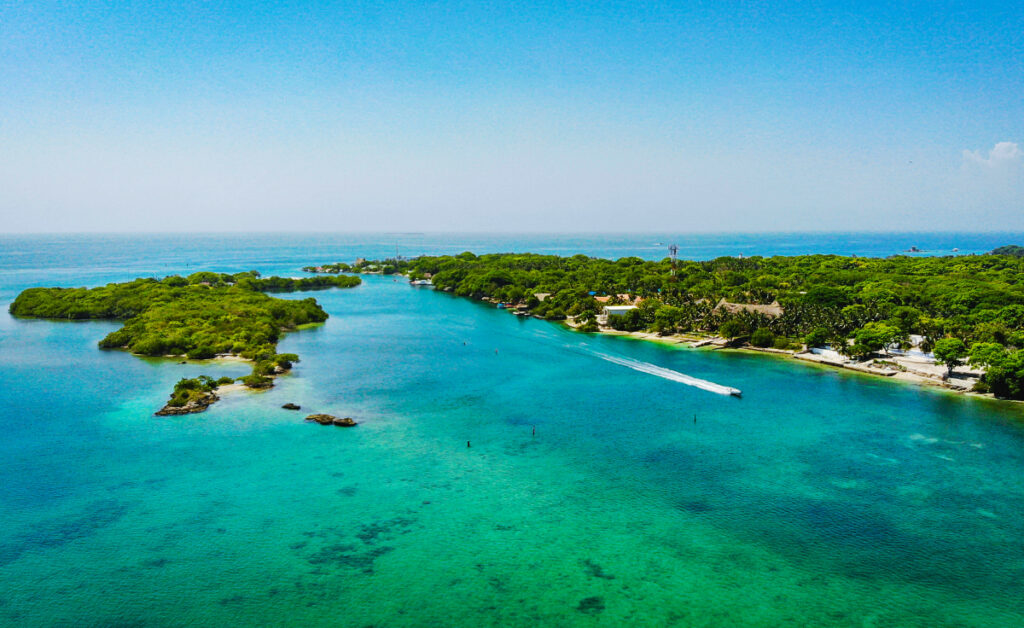 And since you've worked up an appetite, the crew will prepare a delicious seafood lunch for you to enjoy as you sail back to Cartagena. This full day tour perfectly combines adventure, relaxation, and gastronomic delight, waiting for you to embark on a day you won't soon forget.
Cartagena Party Boat Tours
Another popular choice is a Cartagena boat party. These boat trips make a quick tour of the Rosario Islands and always include a stop at Isla Cholón for a boat party.
Isla Cholón is a small island that has become the place to party with fellow tourists. Some tours include an open bar where you can sip on refreshing cocktails while dancing to the rhythm of Colombian music.
Pro Tip: While there may complimentary drink available, both of these Cartagena party boat tours recommend you bring your own alcohol (cooler and ice provided) for when the bar runs out.
⌛ 8 hours
⌚ Everyday, 8 am
⭐ Read Reviews and Book
✅ Drinks Included + BYOB, Hotel Pickup or Central Meeting Point, Weekend DJ
Are you looking to party? Then you need to book the ultimate Cartagena boat party tour which allows you to embrace the energy and make new friends as you dance the day away.
With a capacity of 20 people and a live DJ on Saturdays and Sundays, you'll be dancing and grooving to the beats as you cruise along the stunning Rosario Islands. The boat is equipped with stereo sound, ensuring that the music is pumping and the party vibes are at an all-time high.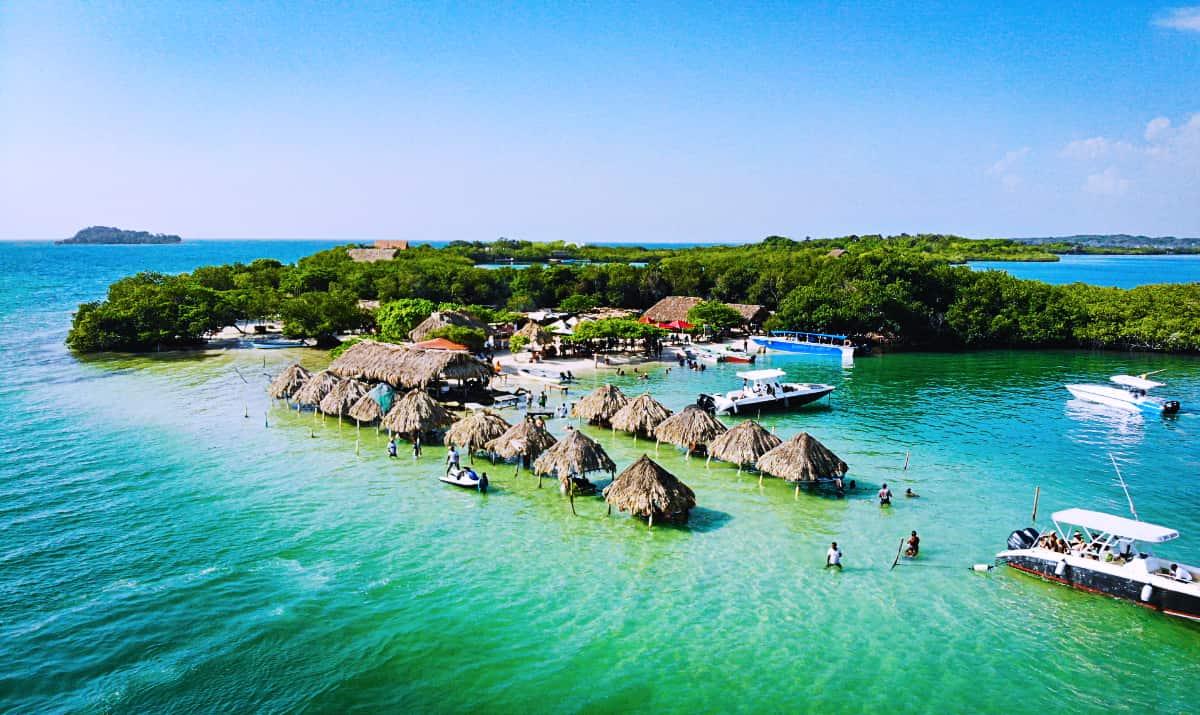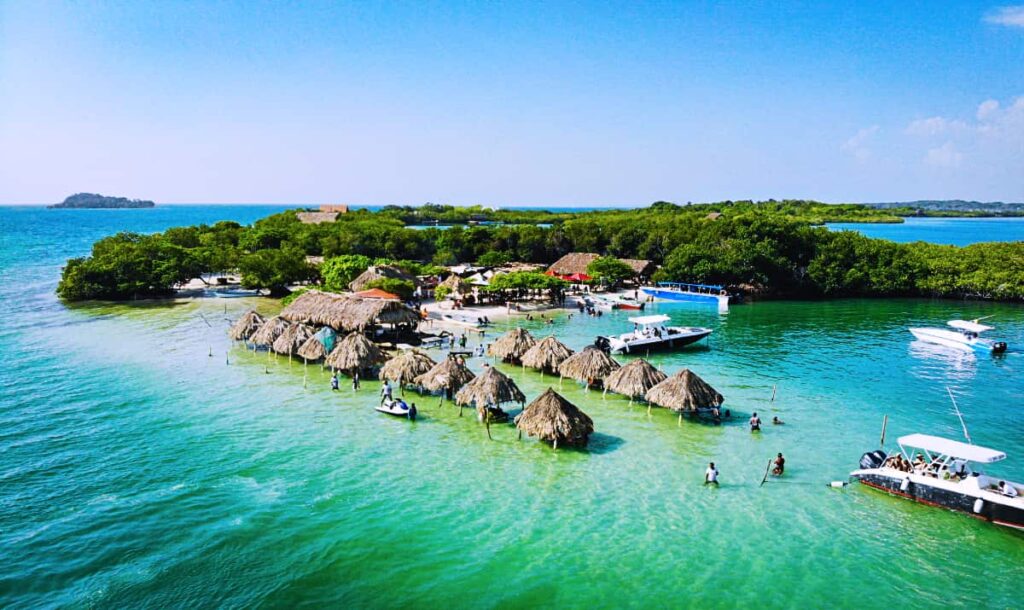 The first stop on this 8-hour Cartagena boat party is the coast of Isla Grande to swim and start the party. Then, get ready to join other boats on Isla Cholón with more music, lunch, and drinks.
The crew will provide a cooler and ice so that you can bring your own drinks and snacks. A delicious lunch and two Colombian beers are also included to keep you fueled throughout the day.
Get ready for an unforgettable party experience on Isla Cholón!
⌛ 7.5 hours
⌚ Everyday, 8:30 am
⭐ Read Reviews and Book
✅ Multi Island Tour, Snorkel Over Sunken Plane, Open Bar and BYOB Available
If you want to visit multiple islands and have a good time, this Cartagena boat party is for you. From the moment you board the speedboat, the party begins with an open bar serving beers, Colombian liquor, and soft drinks. But this boat tour isn't only about the party.
On your way to the Rosario Islands, the party boat passes by the historic Bocachica Fort on Isla Tierra Bomba. The island hopping continues when you reach the archipelago. You'll have an opportunity to snorkel in the clear waters and see Pablo Escobar's sunken plane from above.
Then, it's off to Coral Island for a tasty lunch by the sea before a boat party at Isla Cholón. The next stop on this island hopping tour is either Agua Azul or Sky Island (depending on weather conditions) to explore the beach, swim, and simply unwind.
And finally, Playa Tranquila in Baru where you can swim in the crystal-clear Caribbean waters and relax on the beach until it's time to return to Cartagena.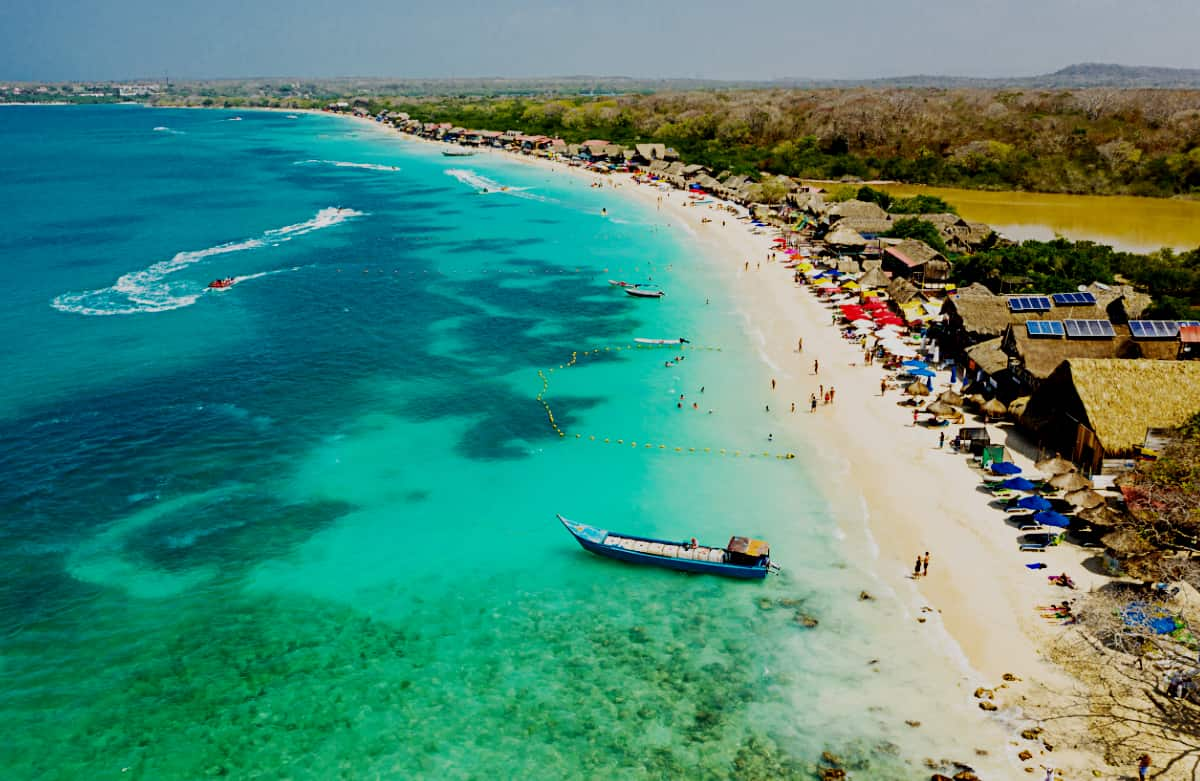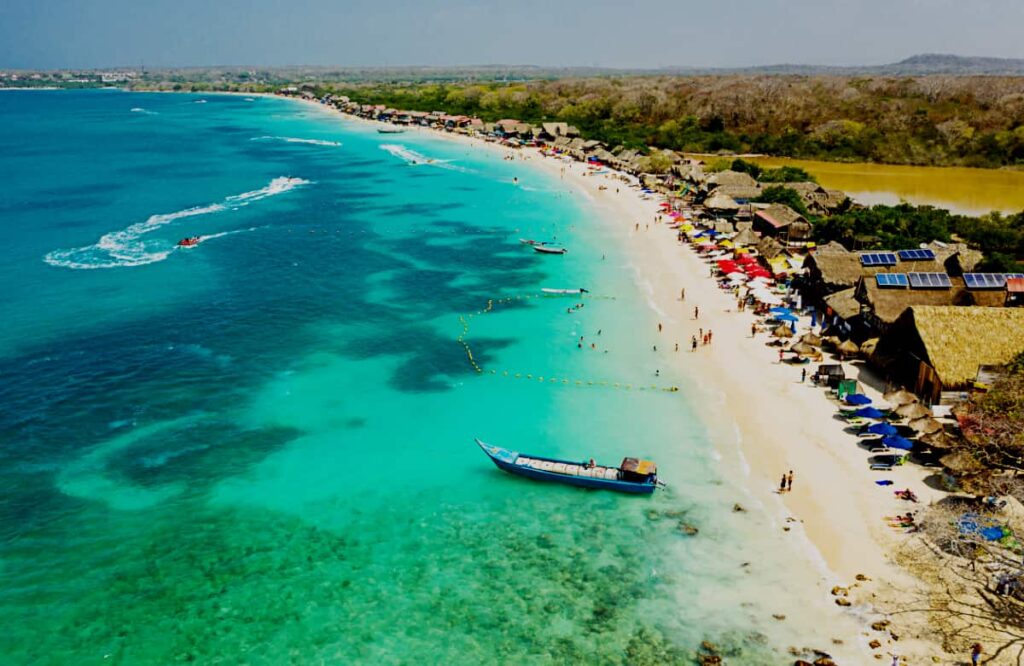 ⌛ 7-8 Hours
⌚ Everyday, 7:30 am
⭐ Read Reviews and Book
✅ Tour San Fernando Fort, Beach Time, Seafood Lunch, and Rum Drinks Included

Embark on a pirate sailing adventure to Isla Tierra Bomba, where you will enjoy a delicious lunch and rum drinks. This Cartagena boat tour offers a unique experience to be a pirate for the day.
Once you board the ship and raise a toast to the crew, you'll set sail across the waters of Cartagena towards the San Fernando Fort. Along the guided tour of the fort, you'll learn about its fascinating history through its captivating stories from its past.
After a short walk from the fort, you'll arrive at Bocachica Beach Club, where you can relax on the beach and savor a coastal Colombian lunch of coconut rice, fried fish, house salad, and patacones with complimentary rum drinks.
After a few hours on the beach, it's time to set sail once more as you return to Cartagena. Climb aboard the pirate ship, where the party continues with more drinks, lively music, and camaraderie. For those who want the full experience, the crew provides pirate costumes for pictures.
Want to discover more of coast? You won't want to miss this article about Rincon del Mar, Colombia
⌛ 8 hours
⌚ Everyday, 9 am
⭐ Read Reviews and Book
✅ Private 29' Boat (Up to 8 ppl), Personalized Rosario Islands Tour
Looking for a private boat tour in Cartagena? This personalized boat tour of the Rosario Islands is the ultimate luxury for a group.
With a knowledgeable captain at your service, you'll have the opportunity to discover hidden gems along the Caribbean coastline that are inaccessible by land.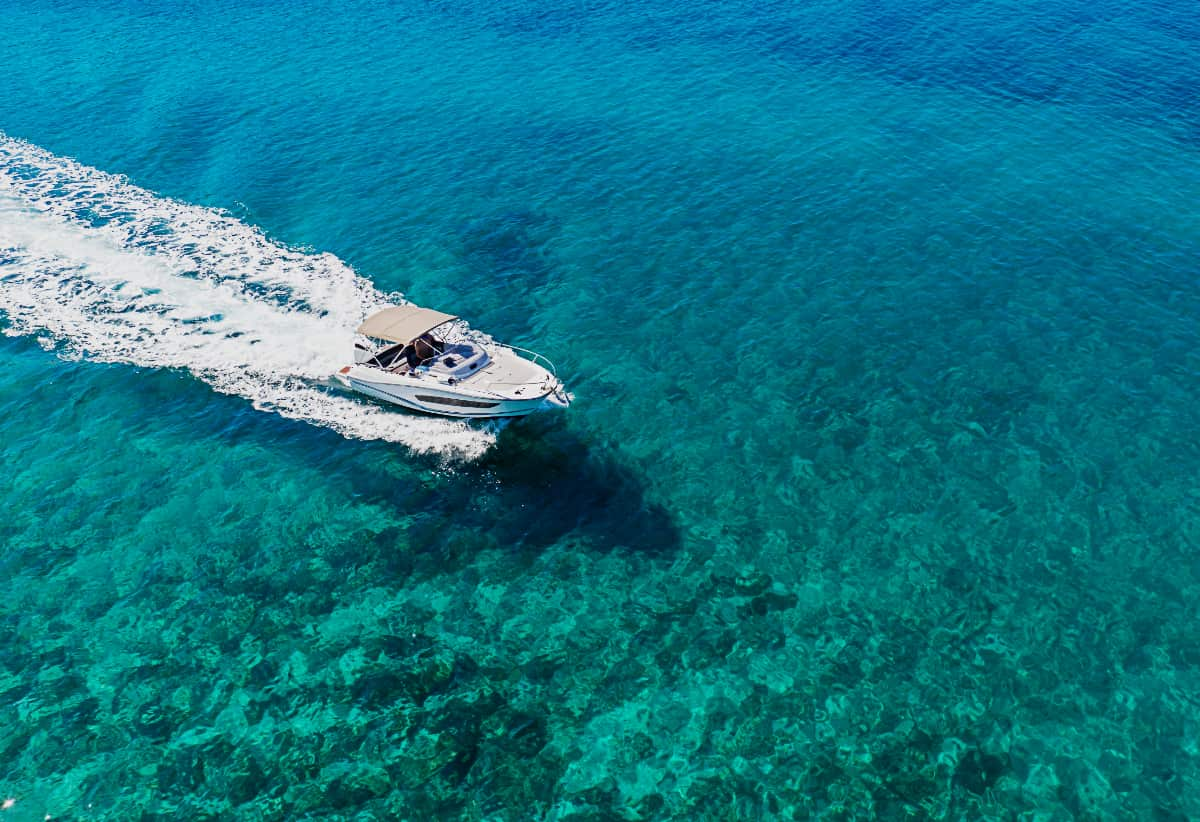 One of the major advantages of this private boat tour is the ability to customize your itinerary and travel efficiently. The 29ft speedboat ensures you spend less time traveling and more time enjoying the crystal-clear waters and white sandy beaches of Cartagena.
Escape the crowded tourist boat tours and enjoy a private, relaxed, and luxurious experience on the water. This Cartagena boat tour is the ultimate group adventure, a unique way to see the Rosario Islands.
Sunset Boat Tours Cartagena
There's just something about seeing a city at night from afar. And these Cartagena sunset boat tours are an affordable way to do just that.
I've narrowed it down to three options – a smooth sailing sunset tour on a catamaran, a pirate ship filled with rum and lots of fun, and a romantic dinner sunset cruise with wine.
All of these sunset boat tours from Cartagena are about two hours and quite affordable, so I would recommend booking one in addition to a daytime Cartagena island tour (on different days, of course).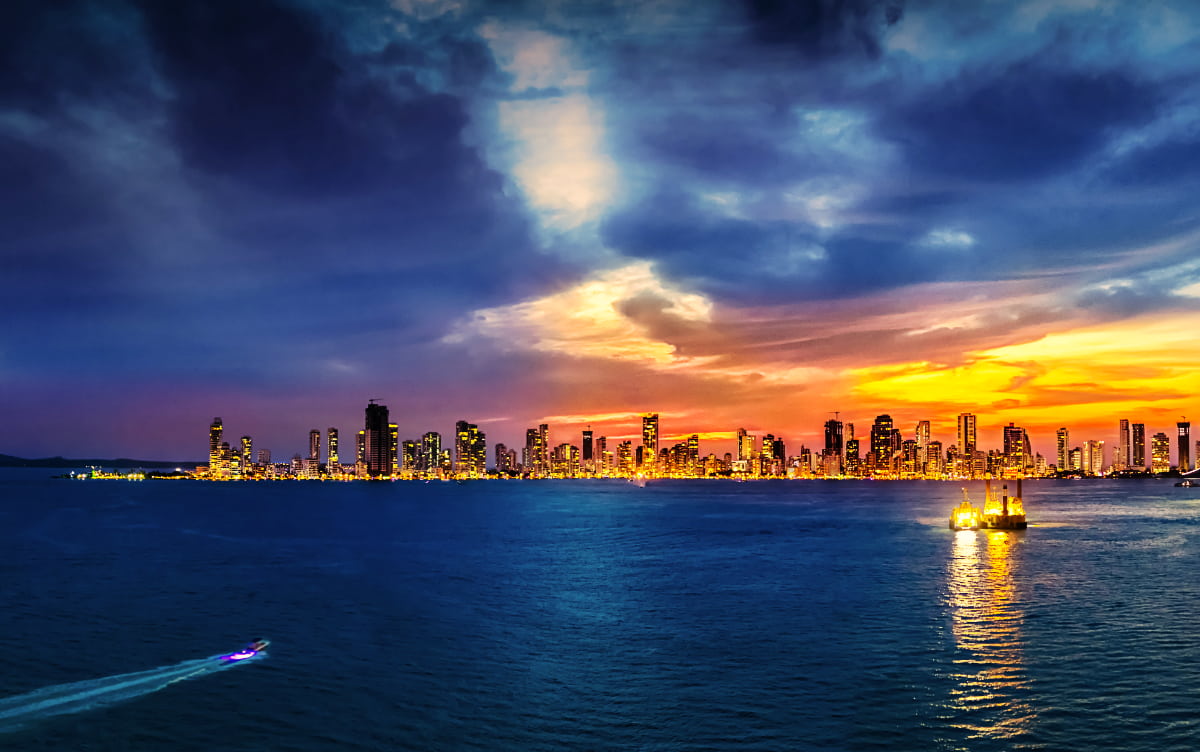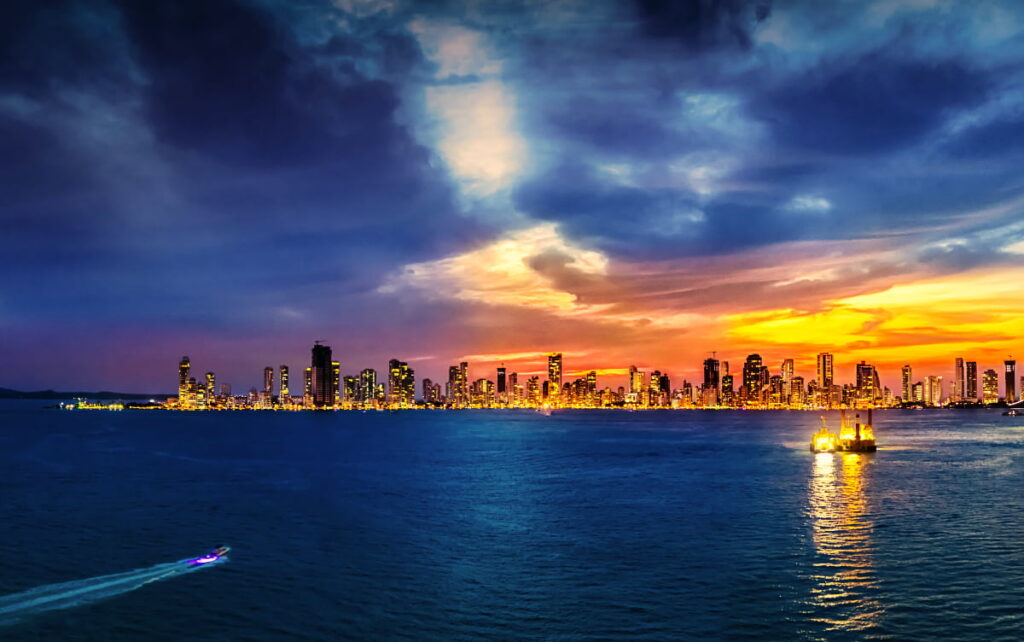 ⌛ 2 hours
⌚ Everyday, 5 pm
⭐ Read Reviews and Book
✅ Incredible Value, Complimentary Drink, Snack, and Port Fees Included
Let the evening sea breeze whisk you away as you set sail through the Bay of Cartagena Colombia to watch the sunset over the ocean. As the sky is painted with vibrant hues of orange and pink, the spectacular skyline of Cartagena lights up behind you.
This sunset boat tour in Cartagena sails between the Manga and Bocagrande neighborhoods before it continues to Castillo Grande and Manzanillo Island. You'll then enjoy the sunset while sailing between El Laguito neighborhood and Tierra Bomba Island before returning to the city.
This two-hour Cartagena sunset cruise on a catamaran is ideal for those who desire a relaxing or romantic evening. The catamaran glides gracefully through the waters, providing you with the perfect vantage point to witness the stunning sunset over the ocean.
This sunset cruise is accompanied by good music, a non-alcoholic cocktail or soft drink, and a delicious appetizer.
Pro Tip: Most of these Cartagena boat tours will meet at the port near the center of the city (map). The port fee may not be included in your tour. If not, you will need to pay it when you arrive and they only accept cash.
⌛ 2 hours
⌚ Everyday, 5 pm
⭐ Read Reviews and Book
✅ Sunset Cruise with History, All You Can Drink Rum Punch or Lemonade
Get ready to set sail aboard a pirate ship on this adventurous Cartagena sunset boat tour. The ship takes off just before the golden hour and glides by the modern skyline of Bocagrande and the wealthy Castillo Grande neighborhood. 
Further along the coast, you'll pass by other historical landmarks of Cartagena, such as the San Sebastian Fort, the towering Virgen del Carmen statue, and the Santa Cruz Fort.
But the adventure doesn't stop there. As you sail, your captain will tell you stories of Cartagena and its pirates while sipping on complimentary rum cocktails.
You're guaranteed to have an adventure filled with pirates, rum, and lots of fun!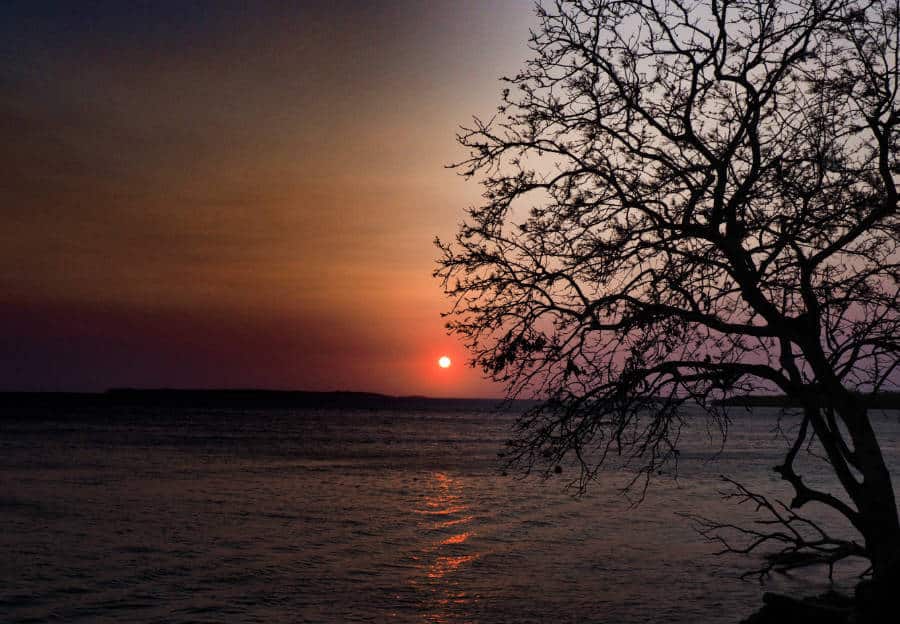 ⌛ 2 hours
⌚ Wednesdays – Sundays, 7pm
⭐ Read Reviews and Book
✅ Multi Course Dinner (Vegetarian Available) with Wine, Private Table Option
What's better than a Cartagena sunset cruise? Pairing it with a 3-course dinner and wine, of course! Seriously, if you're looking for the most romantic evening in Cartagena, this is it.
Imagine sailing around Cartagena Bay, the sky painted in hues of orange and pink as the sun sets over the ocean and indulging in a three course meal. The gentle lull of the waves and soothing music create the perfect ambiance for a romantic evening.
If you're looking for an even more intimate setting, you have the option to book a private table. This is more than just a boat trip. It's a fusion of fine dining, stunning vistas, and the serenity of the sea. Bonus, they can accommodate a vegetarian diet with advance notice.
Unique Cartagena Boat Trips
If you're looking for a boat trip that goes beyond a Cartagena island tour, these are for you. These unique boat tours combine the beauty of the area and its wildlife with a taste of local life.
The first one visits some of the same Rosario Islands but avoids the touristy parts in favor of a more local experience. While the second one travels in the opposite direction of the Rosario Islands, diving right into a local community.
⌛ 9 hours
⌚ Mondays-Saturdays, 7:30 am
⭐ Read Reviews and Book
✅ Baru Village Tour with a Local Guide, Snorkel and Lunch Included
This unique tour offers a personalized experience based on your interests while allowing you to enjoy the beautiful islands of Cartagena Colombia.
The adventure begins as you're picked up from your accommodation and whisked away to Baru. Rather than spending time on its touristy beaches, you'll enjoy a delicious traditional breakfast in Baru Village before visiting Villa Bonga.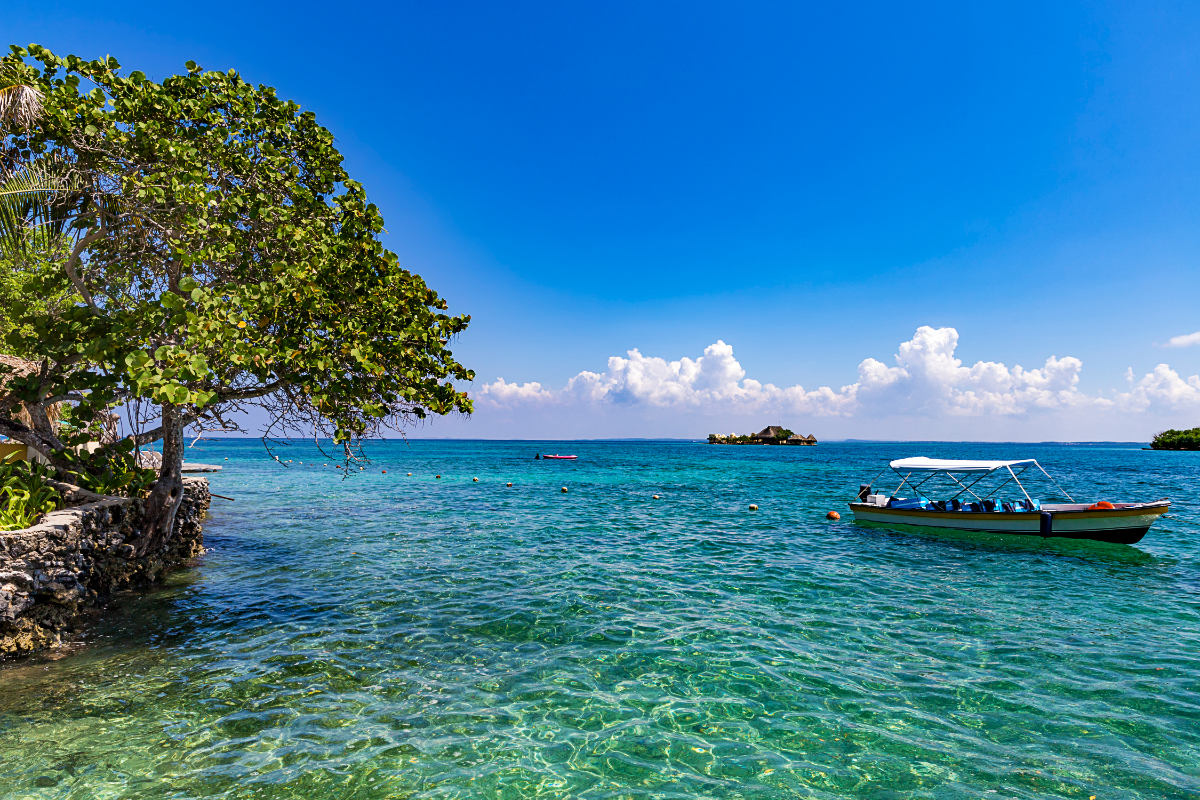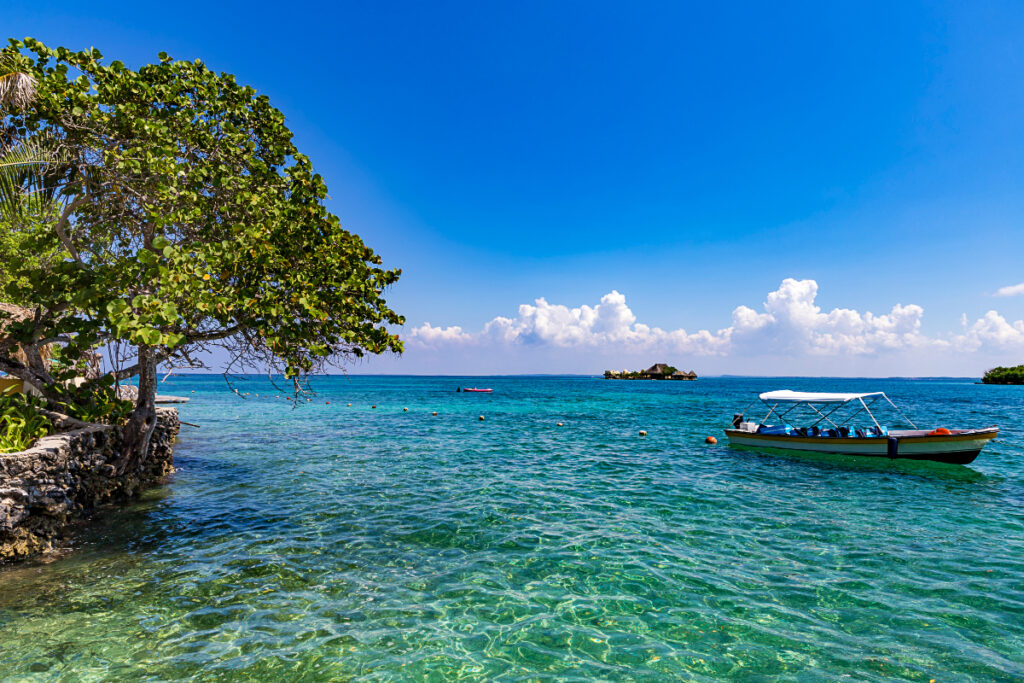 Then you'll set off in a boat to explore the mangroves. As your local guide navigates the waterways, you'll be captivated by the lush greenery and the tranquility that surrounds you while spotting the wildlife that calls this place home.
If that already sounds ideal, then go ahead and book this mangrove and islands tour.
The adventure doesn't stop there. You'll then have the chance to snorkel in the clear waters before visiting a local beach for lunch and a drink. Before departing, your guide will take you on a village tour to see local artisans hone their craft.
This is a truly local experience for those that want to see a different side of Cartagena Colombia. It's the perfect blend of exploring nature and cultural experiences with a touch of relaxation.
⌛ 6 hours
⌚ 11 am
⭐ Read Reviews and Book
✅ Off the beaten path, etc. Just really local looking
Your journey begins at Isla Tierra Bomba, where you'll load up the boat with drinks and snacks before making your way across the bay to enter the Canal del Dique.
As you make a stop at Puerto Badel, you'll be immediately enchanted by the welcoming community. You'll also have a chance to visit a local farm, where you can buy fresh fruit like plantains, mangoes, and coconuts.
One of the highlights of this tour is the visit to Pueblo Nuevo where you'll get to see how the local community lives and taste the flavors of the region at the included lunch.
This isn't just a Cartagena boat trip, it's an opportunity to step off the tourist trail and experience the real Colombia. So, if you're a nature lover craving authentic cultural experiences, this is the perfect adventure for you.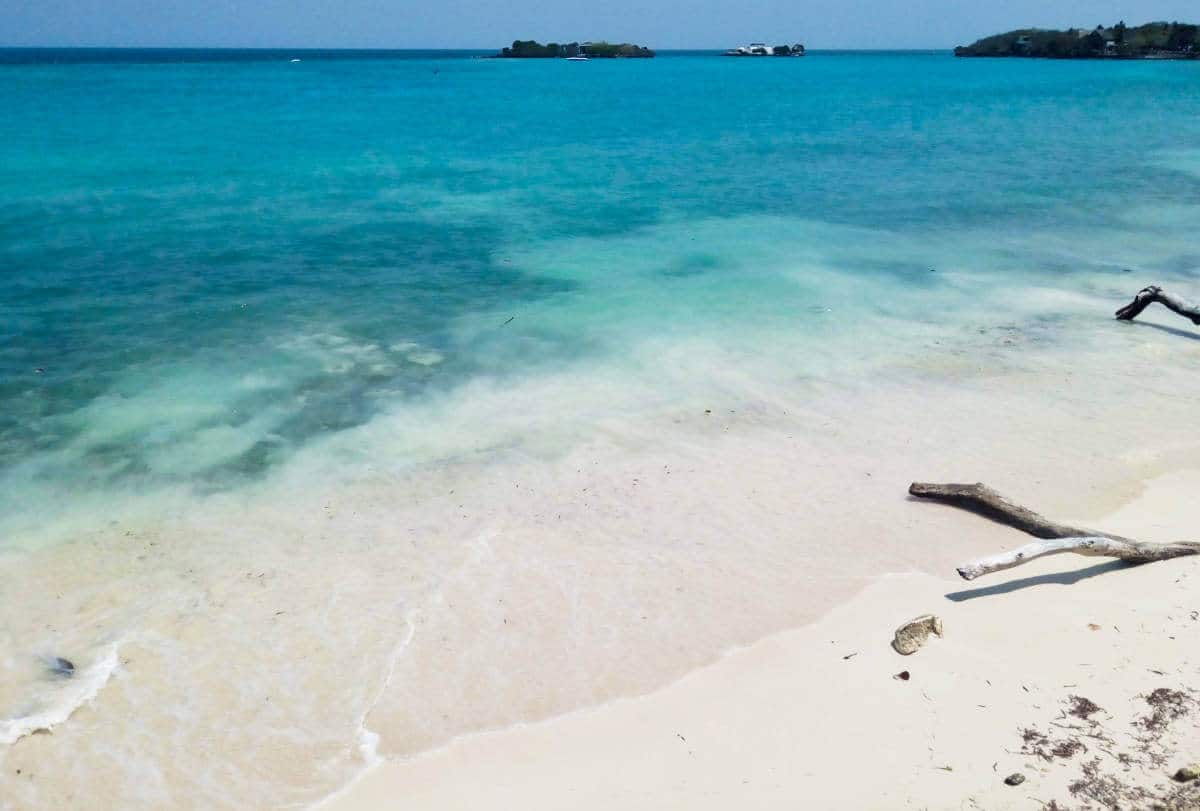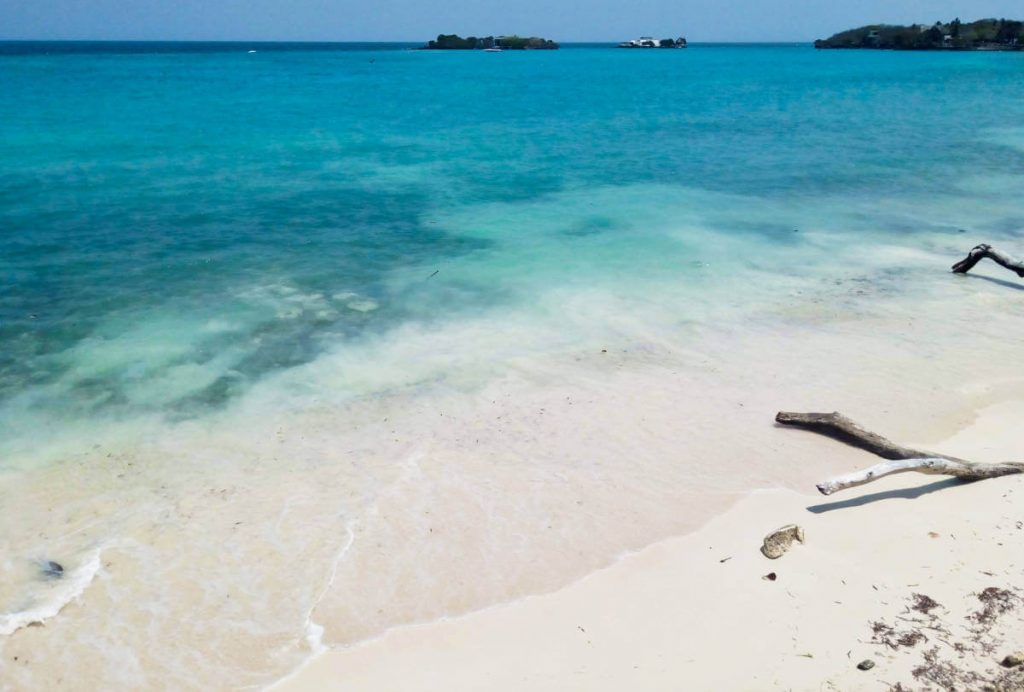 Tips for a Boat Trip from Cartagena
Book in Advance: While you can book a boat trip once you are in the city, the best Cartagena island tours do book up. By booking in advance, no only will you get your choice of tour, but you can reserve the date that works best for you.
Choose a Reputable Tour Operator: It's best to select a highly rated tour operator that places a premium on safety and customer satisfaction.
What to Bring: The sun in Colombia can be intense. Don't forget the essentials like reef-safe sunscreen, a hat, sunglasses, a swimsuit, a towel, and a reusable water bottle.
Cash is King: While most Cartagena island tours include lunch, they may not include drinks. It's a good idea to carry some cash for any activities as well as small purchases, such as souvenirs, drinks, and snacks.
Port Fee May Not Be Included: Speaking of cash, you may be required to pay a port fee (cash only) when you arrive at the dock. Check with your tour operator to see if it's included.
Mind the Sun: The sun in Cartagena can be unforgiving, so make sure to reapply your reef-safe sunscreen and wear a hat. A UPF rated shirt is a great idea for swimming and snorkeling to protect your skin from the sun.
Stay Hydrated: It can get hot out on the water, so bring plenty of water to stay hydrated. You'll also want to enjoy the crystal-clear waters, not suffer from dehydration.
Respect Marine Life: Remember, you're a guest in this unique ecosystem. Avoid touching or disturbing marine life, and do not collect any shells or coral as souvenirs. Leave only footprints in the sand.
Relax and Enjoy: Finally, take it all in. The Rosario Islands are a beautiful archipelago near Cartagena. So relax, enjoy the clear waters and tranquil beauty of the Caribbean.
Final Thoughts About Cartagena Island Tours
Whether you're looking for a private boat tour, a boat party, or a relaxing island tour, Cartagena boat tours offer it all. This is easily one of the best things to do in Cartagena.
From luxurious catamarans to stunning sunsets, there's an adventure waiting for you at sea. Are you ready to set sail?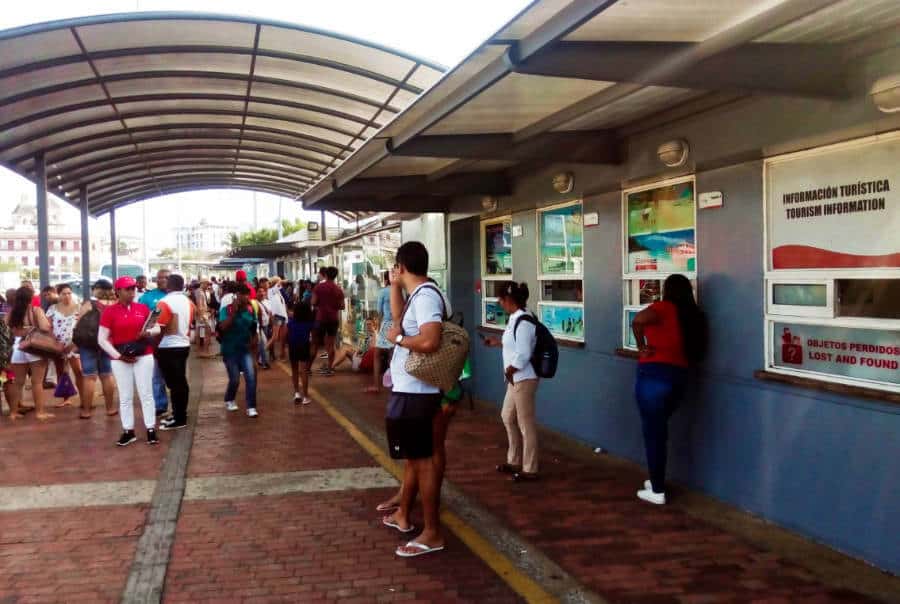 Questions About Cartagena Boat Tours
How long is the boat ride from Cartagena to Rosario Islands?
The boat ride to the Rosario Islands takes 45-60 min from Cartagena. The time depends on weather conditions and which island you are visiting. Most boats leave from the Muelle de la Bodeguita port in Cartagena.
Are the Rosario Islands worth it?
Visiting the Rosario Islands is absolutely worth it if you enjoy clear water, snorkeling, or a relaxing day at the beach. Since the beaches in Cartagena aren't exactly known for their crystal clear water, the Rosario Islands are a great tropical escape.
How do you get to Islas del Rosario?
The most common way to get to Islas del Rosario is by booking a boat tour from Cartagena. Many tour operators offer Cartagena island tours to visit various islands within the archipelago. If you prefer, you can book a private boat tour from Cartagena to take you to the Rosario Islands.
How do I get from Cartagena to Playa Blanca?
There are a couple of options to get from Cartagena to Playa Blanca. One of the most popular and scenic ways to get to Playa Blanca is by taking a Cartagena boat tour. Another option is to hire a taxi or arrange a private transfer to Playa Blanca for the 45-60 minute drive. While it's less adventurous, it may be more direct.
Is it safe to swim in the Rosario Islands?
Yes, the Rosario Islands is generally safe for swimming and snorkeling when you are near an island. Just be mindful of currents and follow any safety instructions given by your tour guide.