33 Best Things to Do in Guanajuato, Mexico
Looking for the best things to do in Guanajuato?
You're in the right place. I stayed in Guanajuato capital for an extended time to explore everything this city has to offer. And then I visited again with my mom so that she could experience a local Mexican city.
As a result, this list includes quite a few fun things to do in Guanajuato City that you won't find in other places.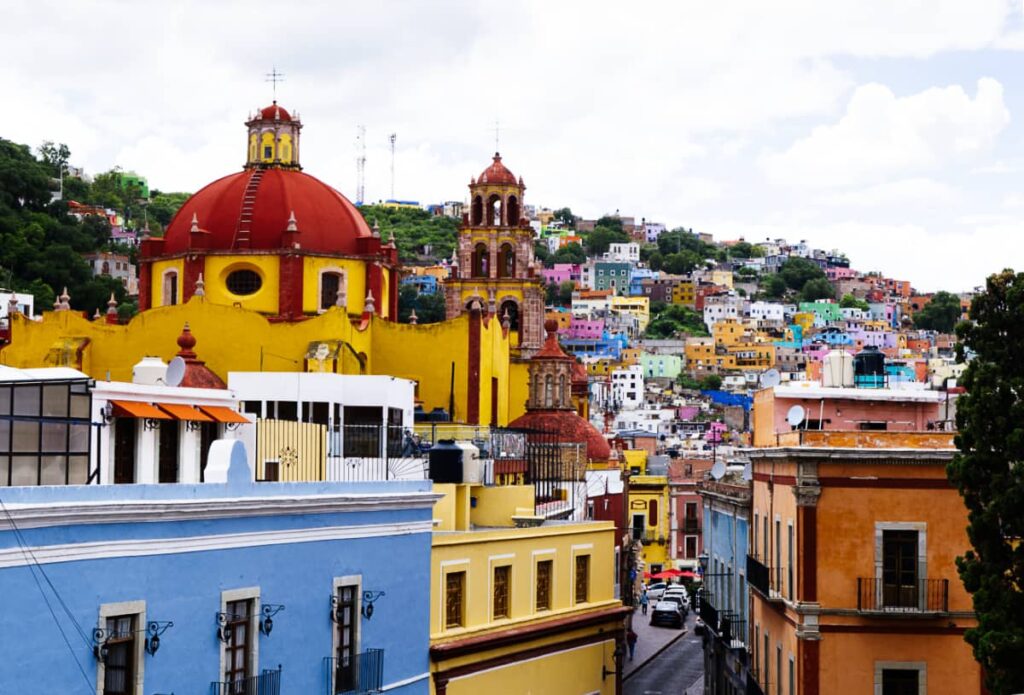 Located in the central highlands of Mexico, Guanajuato is often considered one of the most beautiful cities in Mexico. And it's not hard to see why, but it's more than just a pretty face.
While this UNESCO World Heritage Site is known for its colonial architecture, Guanajuato also has a vibrant art scene. And the city is generally quite lively thanks to its large student population that attend The University of Guanajuato.
In this post, you'll discover there are many places to visit in Guanajuato whether you want to learn about the city's silver mining past or experience its vibrant present.
From visiting historical sites to enjoying daily life in the city, here are the best Guanajuato attractions for all travelers.
This article may contain affiliate links. This means if you click a link on my website and make a purchase, I earn a commission at no additional cost to you. For full information, please see my disclaimer here.
1. Wander the Colorful Streets of Guanajuato
One of the best ways to explore the colorful city of Guanajuato is by aimlessly wandering through its many alleyways called callejones.
This includes twisting through the narrow callejones of Guanajuato that climb up the surrounding mountains and past colorful houses to discover what's around the next corner.
I've detailed a few iconic streets in Guanajuato below.
Callejon del Beso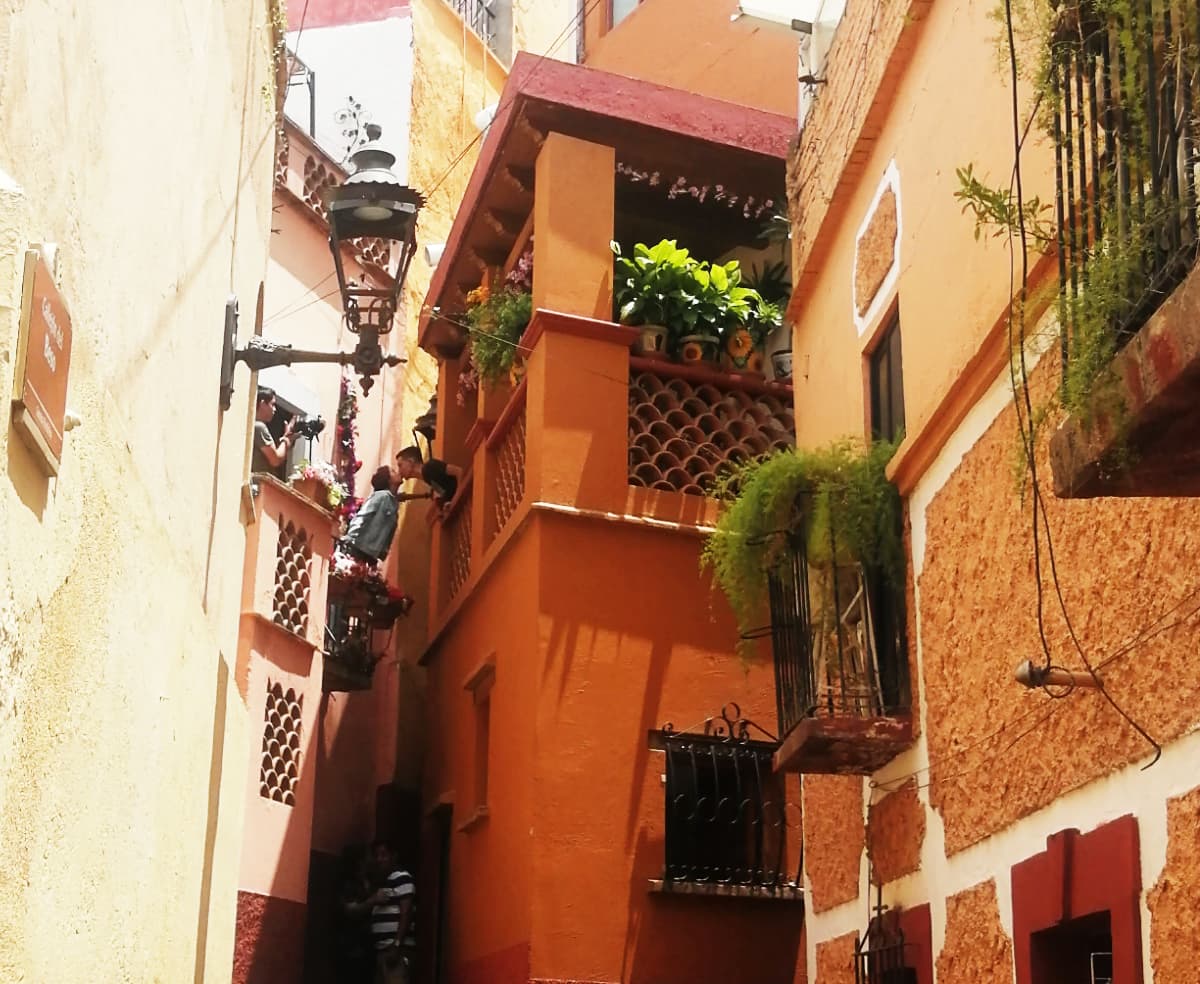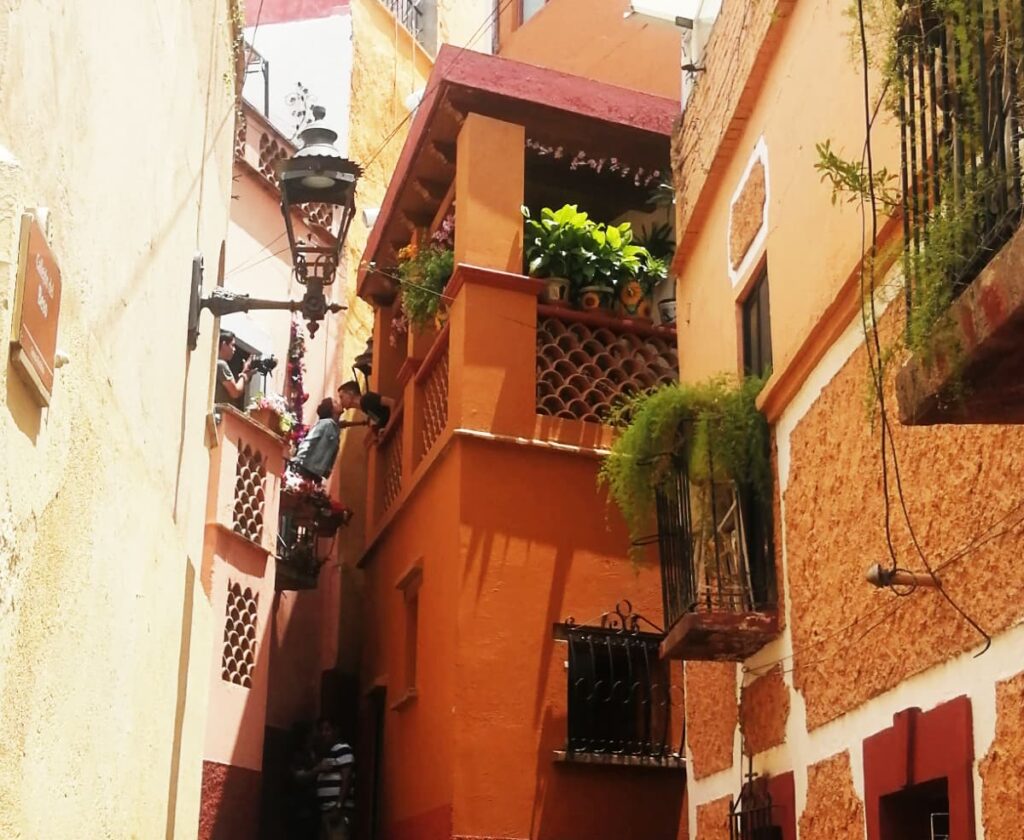 One of the most popular streets in Guanajuato is Callejon del Beso (Alley of the Kiss). This narrow alleyway features two houses so close together that their balconies almost touch.
And that's where the legend of Callejon del Beso begins. It tells the story of the daughter of a wealthy family who fell in love with a man from a working family.
As the legend goes, he found a way to rent the apartment across the alley from her. And they would use the balconies to secretly see each other.
The story of the Alley of the Kiss is a Mexican version of Romeo and Juliet with a tragic ending that unfolded when the father discovered their secret meetings.
Today tourists wait in line for their opportunity to access the balconies and kiss their significant other while a photographer snaps a picture.
The legend has certainly made Callejon del Beso one of the most popular Guanajuato attractions and quite possibly the most photographed street in Mexico.
Did you know? There are over 3,000 callejones in Guanajuato City. Are you ready to work those leg muscles?
Calle de Sopena
This walking street starts at Jardin de la Union, continues past Benito Juarez Theater, and curves around to Templo de San Francisco. It's the heart of Guanajuato and one you likely walk along multiple times during your visit.
Calle de Sopena is often bustling with people on the weekends and sometimes features artisan stands to buy homemade products. It's also where you can buy tickets to the callejoneadas (see things to do in Guanajuato at night).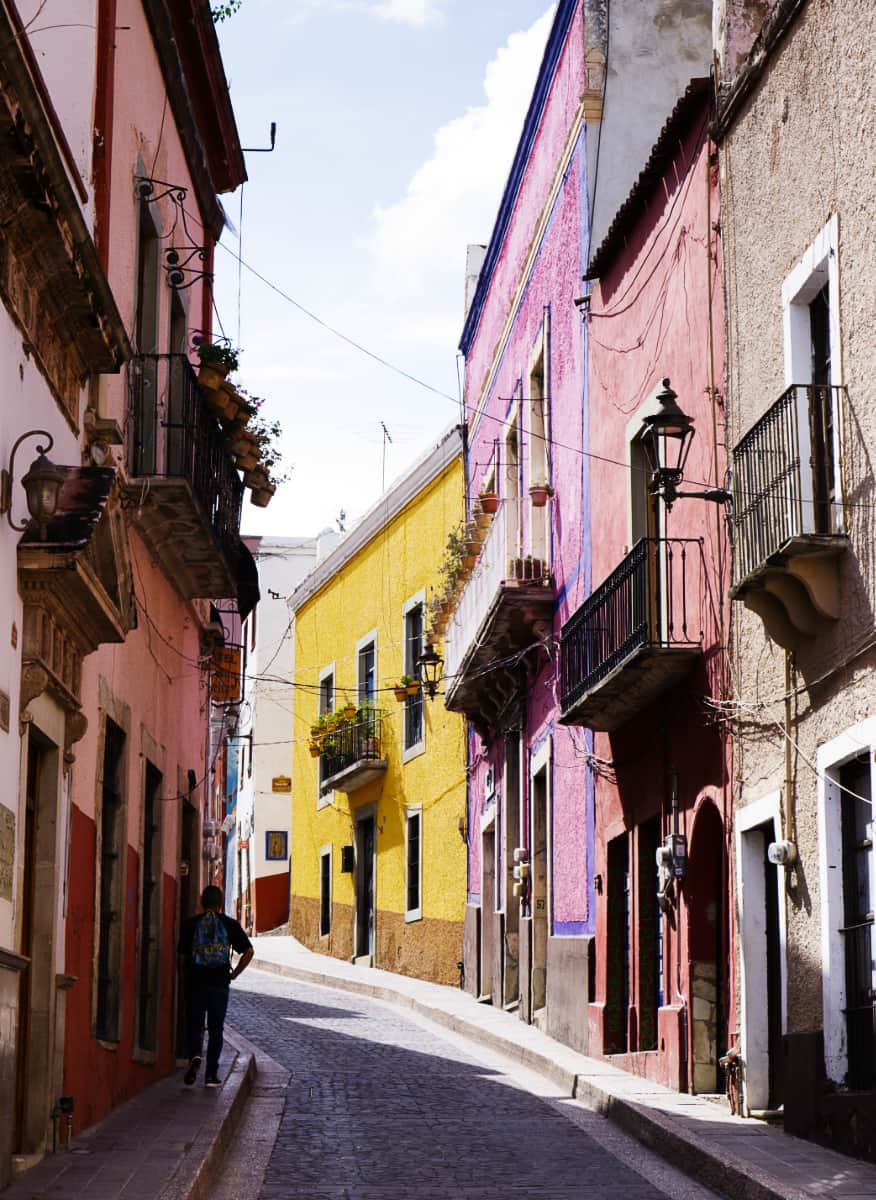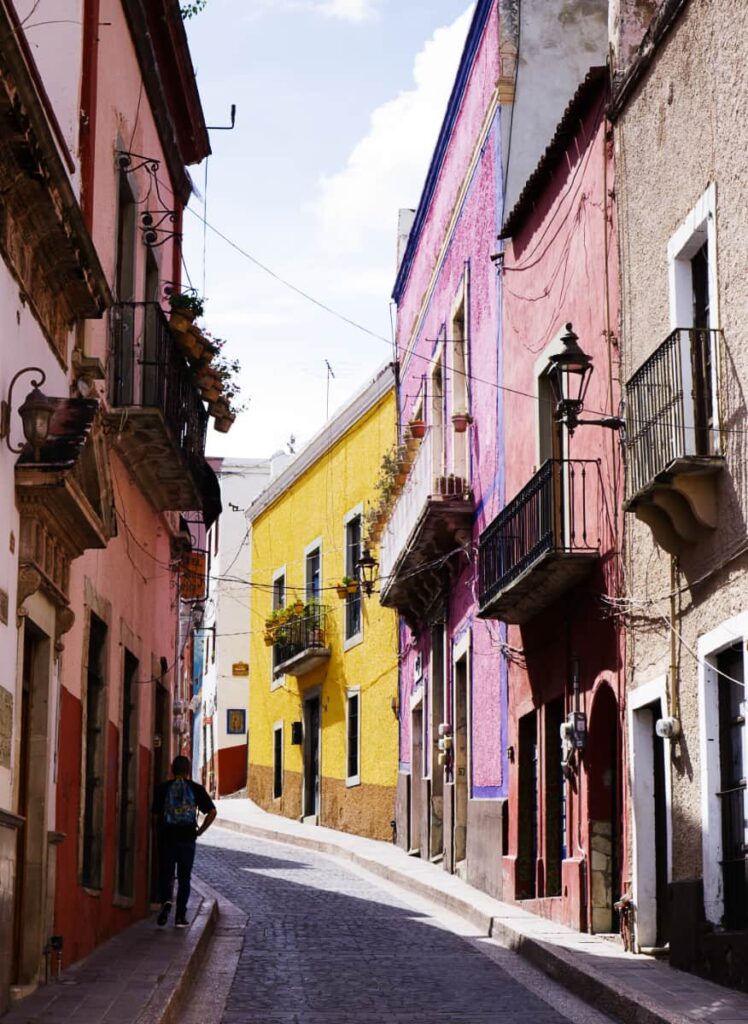 Calles Subterraneas – Explore an Underground Tunnel
The subterranean tunnels are a fascinating Guanajuato attraction that you could easily overlook while you're walking around the city and admiring the beautiful buildings above the ground.
Dating back to the 1800s, these tunnels were originally built to divert the Guanajuato River and prevent it from flooding the mining town.
Today they offer a unique view into the city's history while helping to divert traffic from the city center. I've detailed my favorite one below.
Subterranea Miguel Hidalgo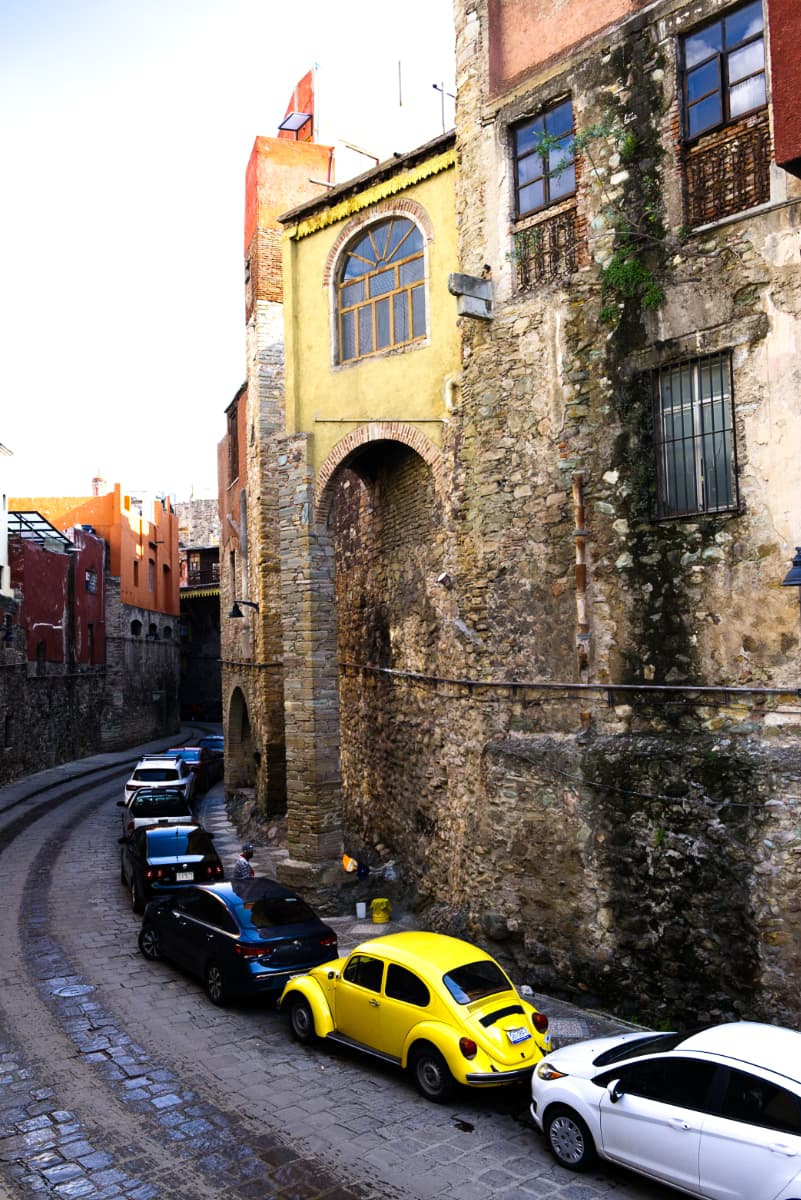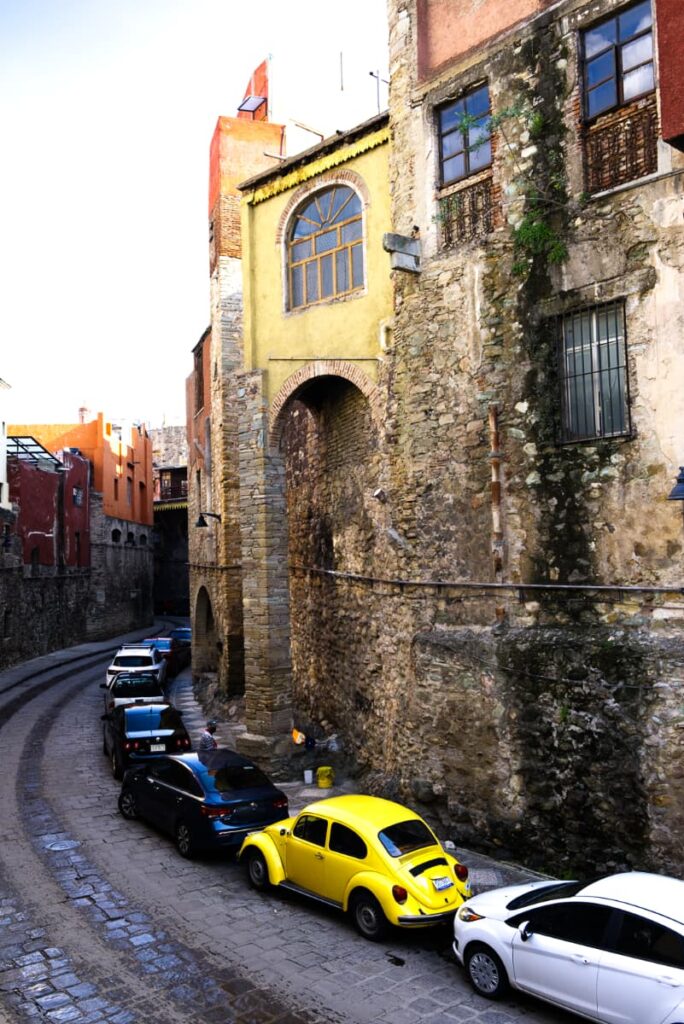 This Subterranea isn't a fully covered tunnel and that's probably one reason I like it so much. It's one of the best streets in Guanajuato to get a sense of the tunnel system as well as how and why it developed.
Looking down the street from the steps that connect it to Calle Cantarranas you'll notice many tall stone buildings. That's because, like several other streets in Guanajuato, it used to be a river.
On the walking tour (see next) our guide described what it was like to live along this street when it was a river. Including an interesting tidbit about life before indoor plumbing.
When someone would throw their bucket of bathroom waste in the river below, they would yell "aguas!" This expression is still used today when you want to tell someone to watch out.
2. History and Street Food Tour of Guanajuato City With a Local Guide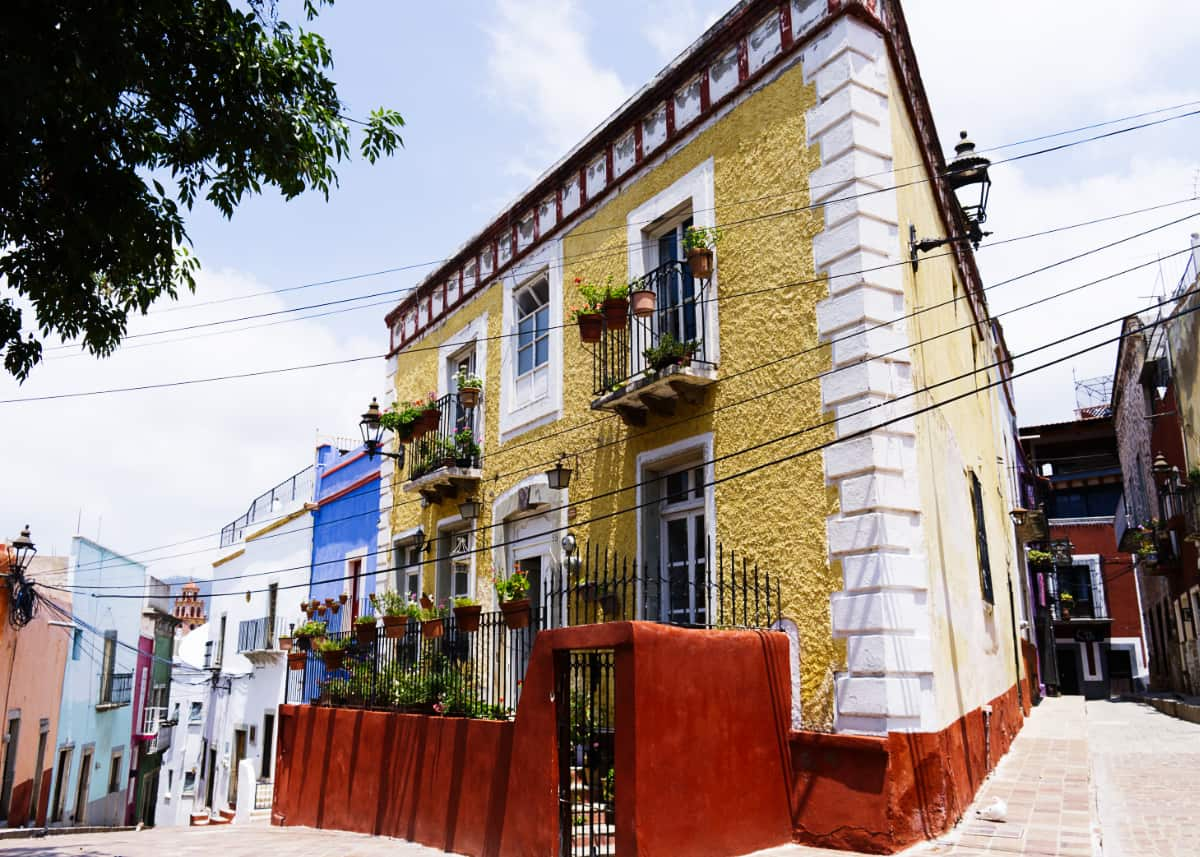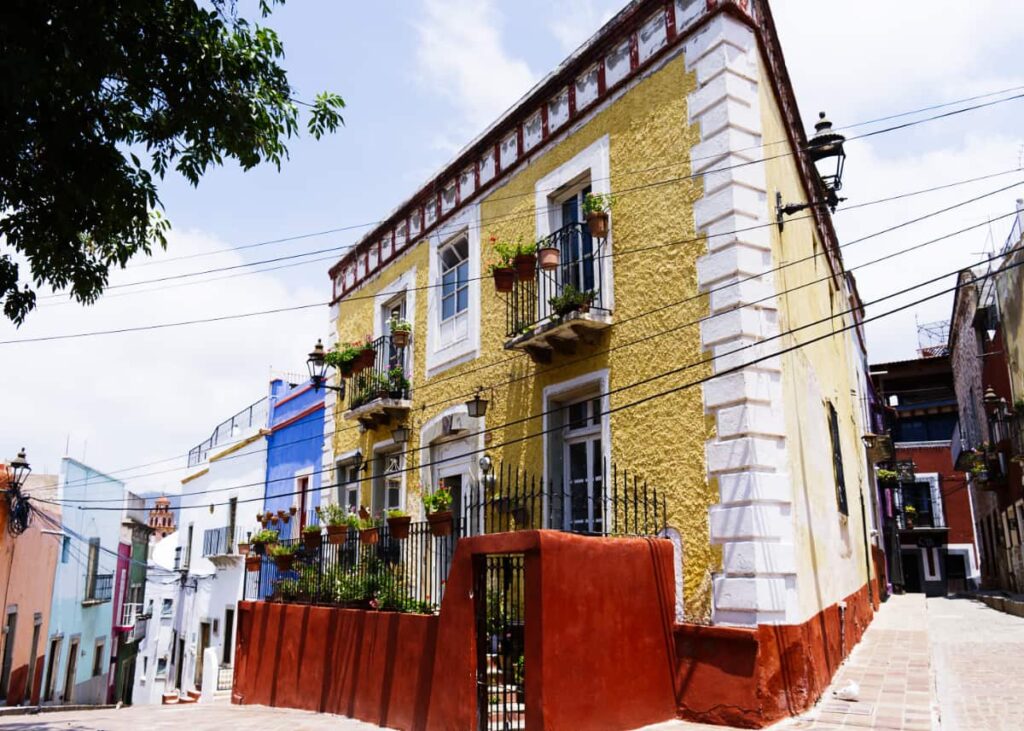 There's no better way to get to know a city than by walking around the streets with a local.
When you book this history and walking tour of Guanajuato, you'll learn about the history, legends, and traditions of the city from an engaging local guide.
Your guide will include a lot of historical context about Guanajuato so that you can explore the city more deeply while learning about its past.
Although, it's not simply a tour of Guanajuato's history. It includes a few street foods, including a traditional breakfast at Plaza Baratillo where you'll eat from one of Guanajuato's most popular street carts and taste a typical hot beverage.
You'll also visit some of the most popular sites in Guanajuato including Plaza de la Paz, Mercado Hidalgo, and the University of Guanajuato.
3. Hike the Top of Cerro de la Bufa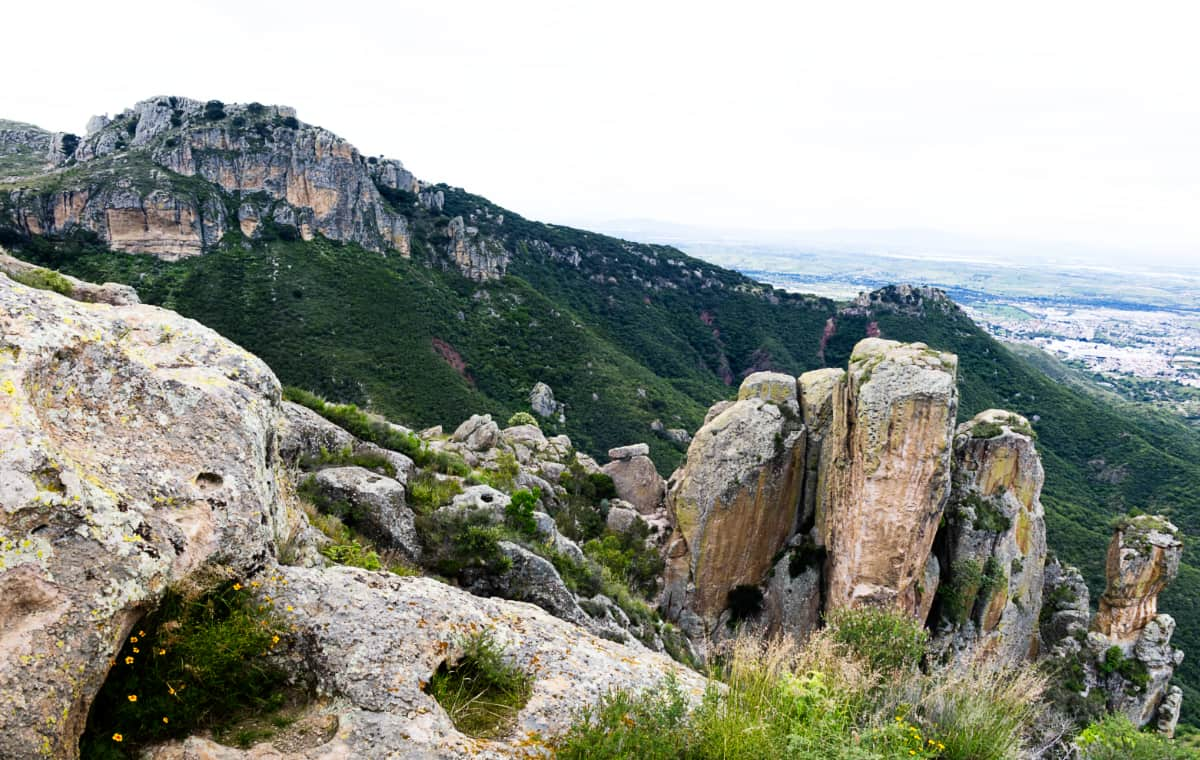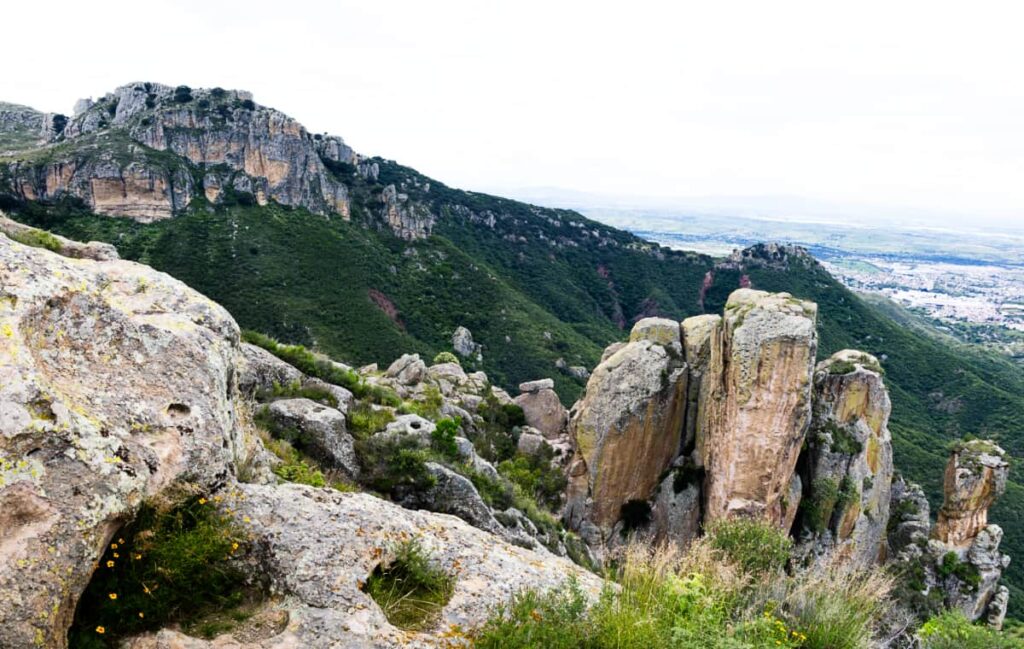 At an elevation of over 7,000 feet, this mountain hike is a great way to get a workout and take in breathtaking views. You'll need to be in decent shape for this moderately difficult 8 km (5 mile) hike.
As you first climb out of the city, this hike follows a dirt path up. But after you reach the caves, there is a steep rocky face that you'll need to scramble up before it levels out a bit with a rocky plateau.
If you're looking for an outdoor adventure while in Guanajuato, you should definitely book this hike to Cerro de la Bufa.
The hike to Cerro de la Bufa takes a few hours to complete but it's definitely worth it for the sweeping views of Guanajuato and other surrounding mountains.
Although adventurous travelers will prefer to book this La Bufa rappeling tour for equally spectacular views.
Did you know? There is an annual pilgrimage to Cerro de la Bufa. On July 31st pilgrims hike to the caves to honor Ignatius of Loyola.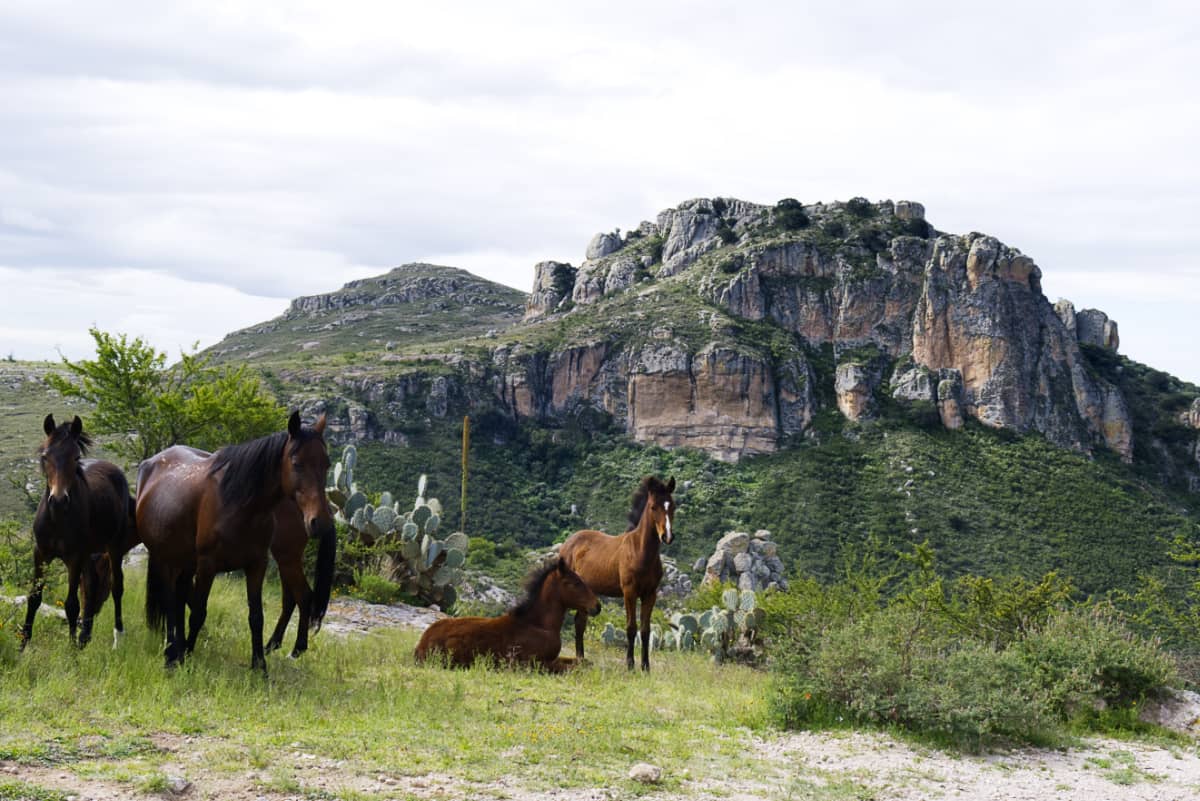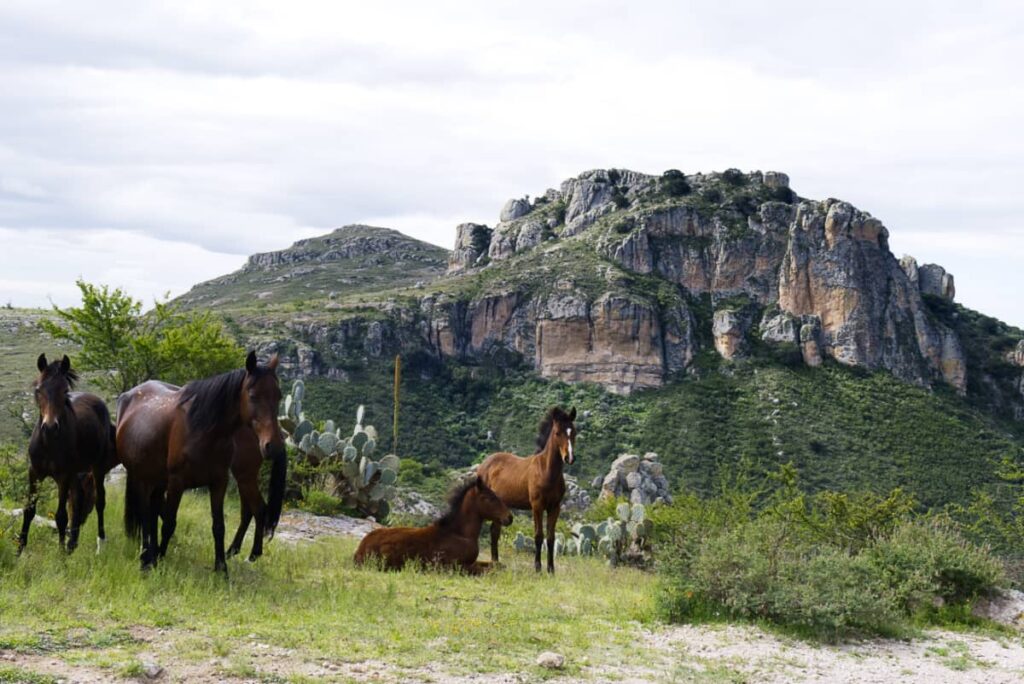 Visit a Museum in Guanajuato
To take in more of the history of Guanajuato capital, a visit to one of the city's museums is a must. I've detailed the four best museums in Guanajuato below so you can choose which ones to visit based on your interests.
4. Diego Rivera's House Museum
Guanajuato is the birthplace of Diego Rivera. And while he only lived in the city until a young age, the house of his youth is now a museum.
I personally enjoyed exploring the house itself as much or possibly more than viewing his artwork. So for me, this is not a top thing to do in Guanajuato. Although if you're a die-hard Rivera and Frida Kahlo fan, you may enjoy it more.
And if that's the case, you should book this tour of the Diego Rivera House Museum, which offers more background of the life of Diego Rivera than simply walking through the museum.
5. Don Quixote Iconographic Museum
This is a gem of an art museum in Guanajuato that is devoted to Miguel de Cervantes' literary figure, "Don Quixote."
If you're interested in the novel or Spanish culture in general, it's worth a visit. But even if you're not familiar with the book, the museum features a lot of intriguing artwork.
It provides a unique perspective on Don Quixote and his influence on Spanish culture. And fortunately for foreigners, the text has been translated into English as well.
6. The Mummy Museum
The Mummy Museum is definitely one of the most unusual things to do in Guanajuato. And while a visit may sound macabre, it's actually an interesting place to visit in Guanajuato if you're interested in learning about the history of the mummies.
The museum has a number of mummies on display as well as interactive exhibits that help to explain the history and science of mummification.
One of the most interesting things about the Mummy Museum in Guanajuato is that often the mummies' hair, shoes, and clothes were preserved. It gives you a closer glimpse into the history of the people of Guanajuato.
So if you're looking for the most unusual museum in Guanajuato, The Mummy Museum is definitely worth checking out.
7. Alhóndiga de Granaditas
History buffs will definitely want to visit Alhondiga de Granaditas, an informative museum that covers the entire Mexican revolution, pre-Spanish history, and contemporary exhibits.
The building itself is impressive since it served as a fortress in Mexico's War of Independence. The two-story building features a large courtyard in the center with exhibits in the surrounding rooms.
The exhibits start with the oldest history on the upper level and progress through time, room by room. Most of the written explanations are in Spanish and you can hire a guide if you prefer.
8. Soak up the Views of Guanajuato From Monumento al Pipila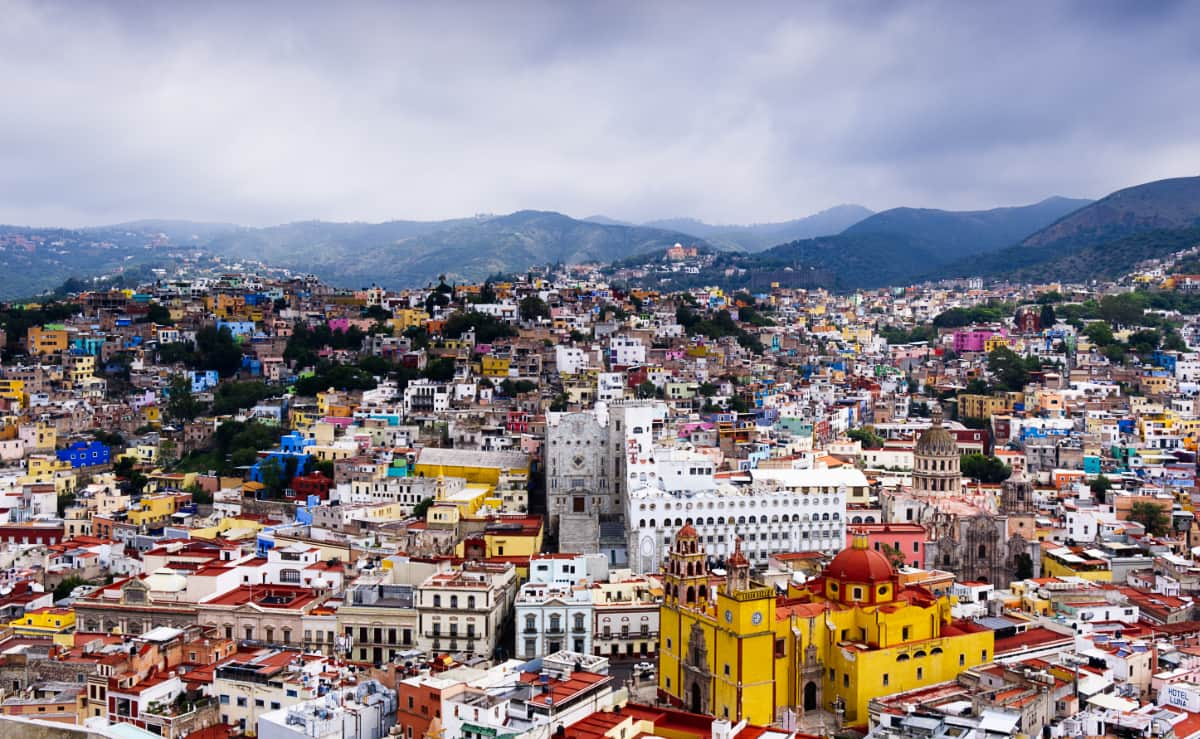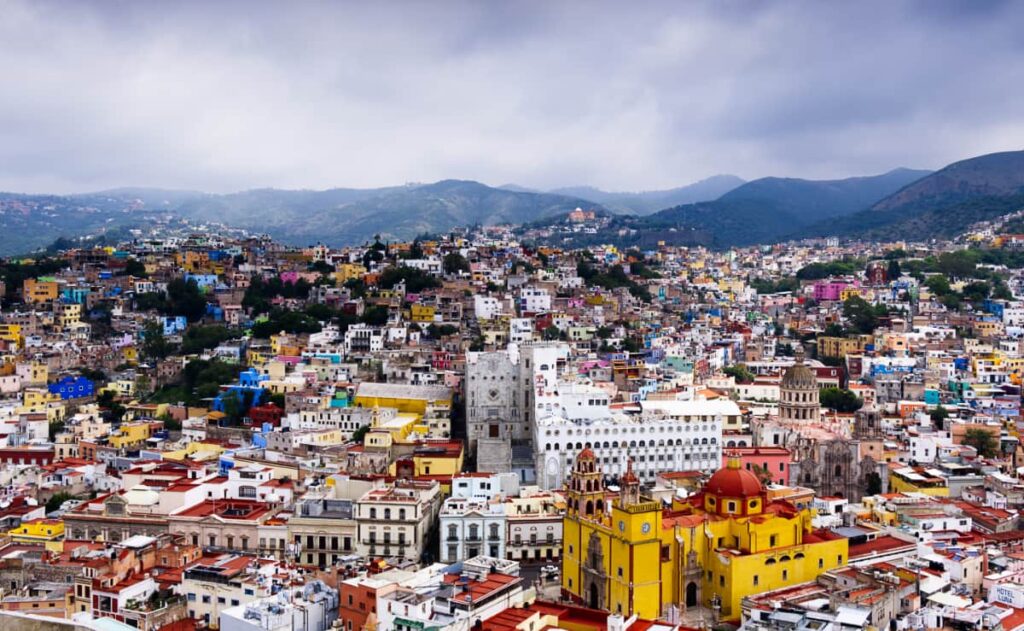 You won't be in Guanajuato City long before you notice the large statue of a man that looms over the town.
Constructed in the 1950s of pink sandstone, The El Pipila Monument is located at the best viewpoint of the city.
The view is spectacular any time of day, although if you can time your visit just before sunset, you'll be rewarded with the golden sun illuminating the mountains on the other side.
To get to the viewpoint, you can choose a steep walk up, hire a taxi, or ride in the cable car (see next).
If you do visit earlier in the day, I recommend riding the cable car up and weaving through the callejones on your way down. Alternatively, you can buy a round-trip ticket for the cable car.
Brief History of El Pipila
I think it's always more fulfilling to visit places when you know a little history. And the story of El Pipila is worth telling.
El Pipila was a disabled man who became the unlikely hero of Guanajuato during the first victory of the Mexican War of Independence.
After the Spanish barricaded themselves inside the Alhóndiga de Granaditas, El Pipila strapped a large stone to his back as protection while he bombarded the wooden door with a bucket of tar and set it ablaze.
It was a success and the story of his bravery became a legend in Guanajuato. Unfortunately, he died from his injuries though today his legacy is remembered at one of the most popular places to visit in Guanajuato.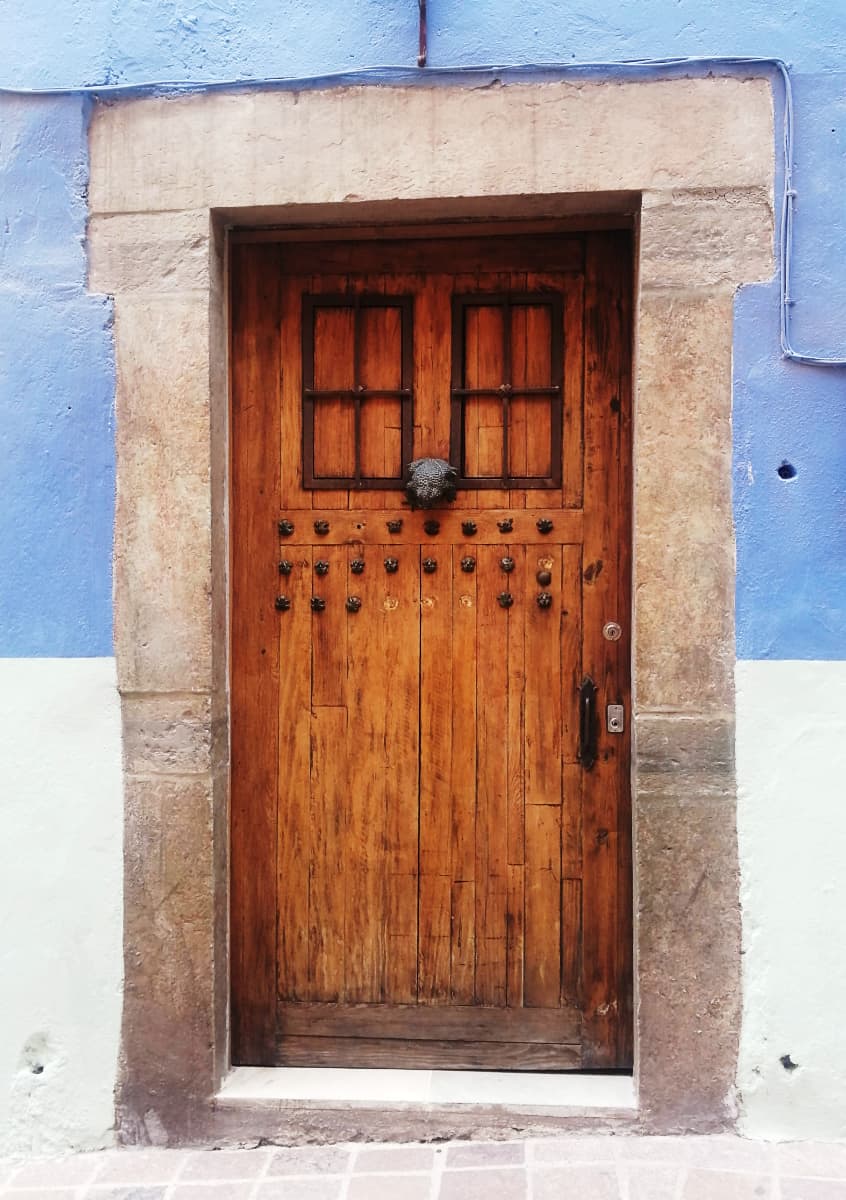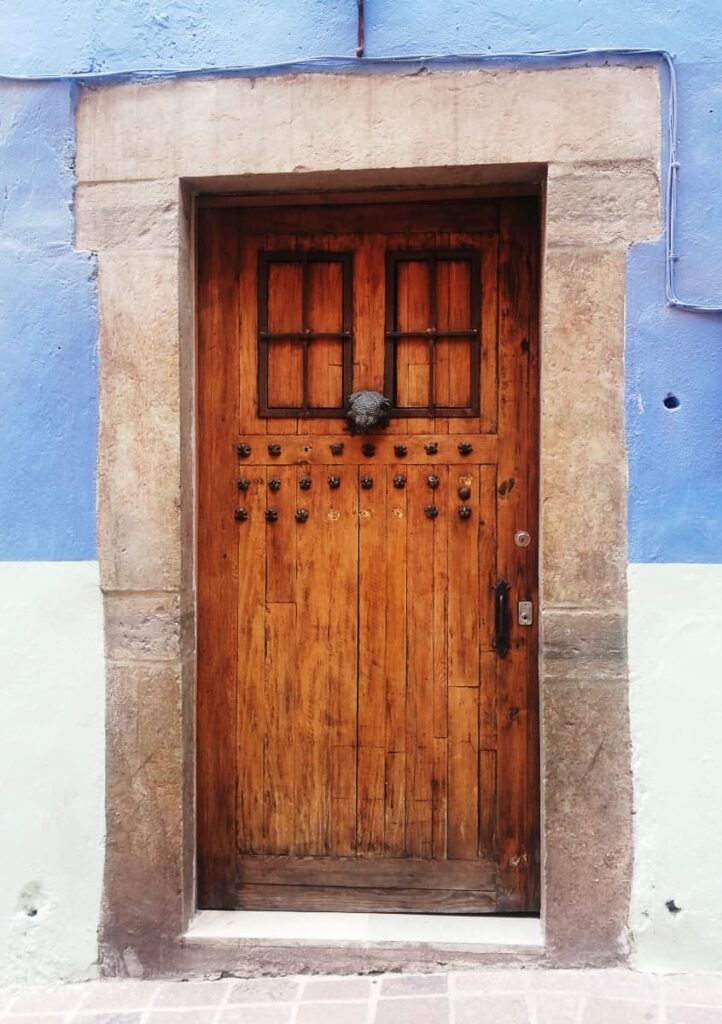 9. Ride the Cable Car
While the cable car was built as a mode of transportation to El Pipila, it has become a Guanajuato attraction in and of itself.
The ride is short, but it's a fun experience with beautiful views of the city. And if you have time, I recommend exploring some of the narrow alleyways (called callejones) on your way down.
After you enter the building located here, stop at the ticket booth on the right. Tickets are 35 pesos each way (with no discount for a round trip ticket). Then climb the flight of stairs and get in line for the cable car.
Cost – 35 pesos each way
Hours – Mon – Fri 8 am to 9:50 pm, Sat 9 am to 9:50 pm, Sun 10 am to 8:50 pm
Other – No pets or bicycles allowed on the cable car
Food and Drink Things to Do in Guanajuato
While Guanajuato isn't exactly known for its food, there are a few things to try in this University town other than the stuffed gorditas you'll find at the street stalls.
I've detailed the signature dish, creamy gelato, possibly the best elote stand in all of Mexico, as well as a pub crawl tour and must visit cantina to soak up the college vibes.
10. Eat Miner's Enchiladas – Guanajuato's Signature Dish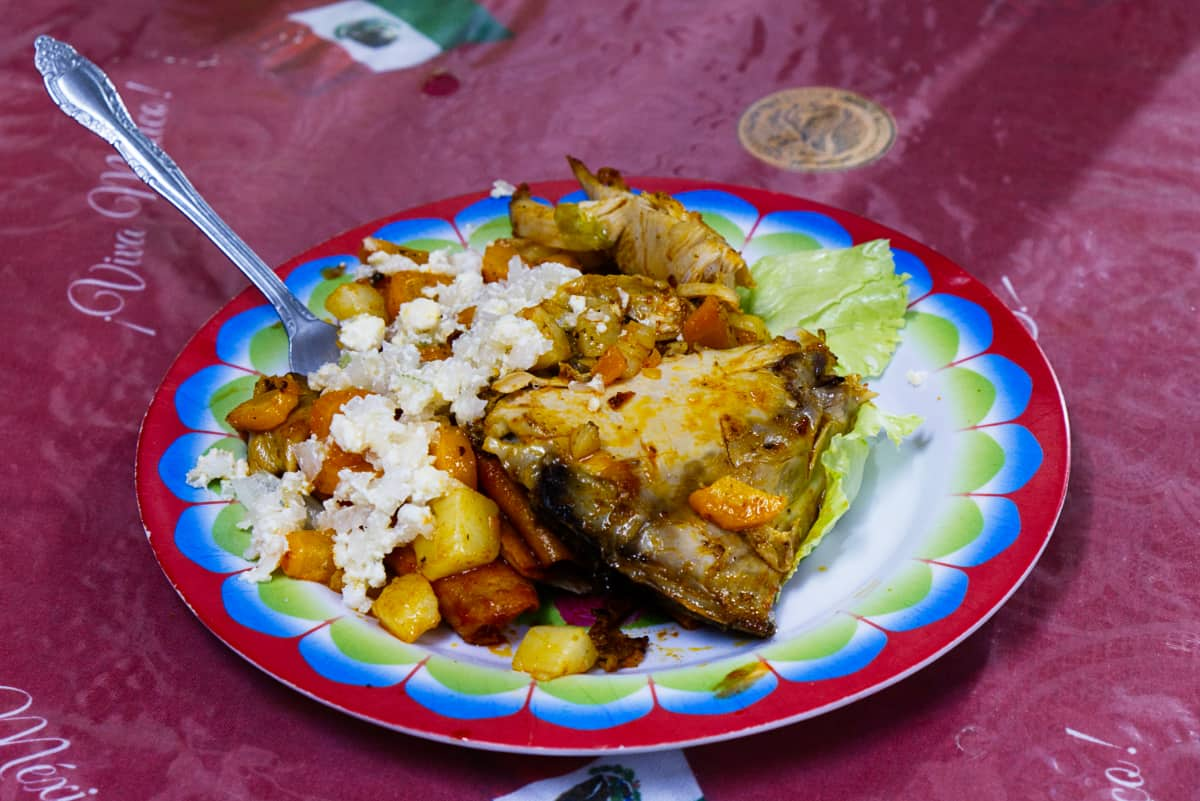 Guanajuato's signature dish, enchiladas mineras (miner's enchiladas) was created to ensure the silver miners had eaten a hearty meal before the workday.
These enchiladas are smothered in a red sauce and topped with carrots and potatoes. Today, you can order it with a piece of chicken on top.
There are several restaurants on Guanajuato that serve miner's enchiladas though I'd recommend navigating the callejones one evening to Enchiladas de Lupe which feels like you're eating at your grandmother's house.
11. Indulge in a Creamy Gelato on a Rooftop Terrace
If you need a break from Guanajuato sightseeing, this is the perfect pit stop to relax and indulge in rich gelato.
While there are only about 10 flavors to choose from, they are unique and varied, so you're sure to find something that satisfies your sweet tooth.
Estacion Gelato looks small from the outside, but they have a cozy rooftop terrace to enjoy your cone of gelato. It's the best place to visit in Guanajuato if you need to get off your feet and recharge.
12. Sip on a Mug of Pulque
While tequila and mezcal may be more well-known, you shouldn't sleep on this fermented beverage made from the nectar of the agave plant.
In Guanajuato, Pulques El Guiso is a small, eclectic bar that serves natural as well as various flavors of pulque. You can order a glass by the liter or the half liter for a very reasonable price.
13. Eat the Best Elotes in Guanajuato (and possibly all of Mexico)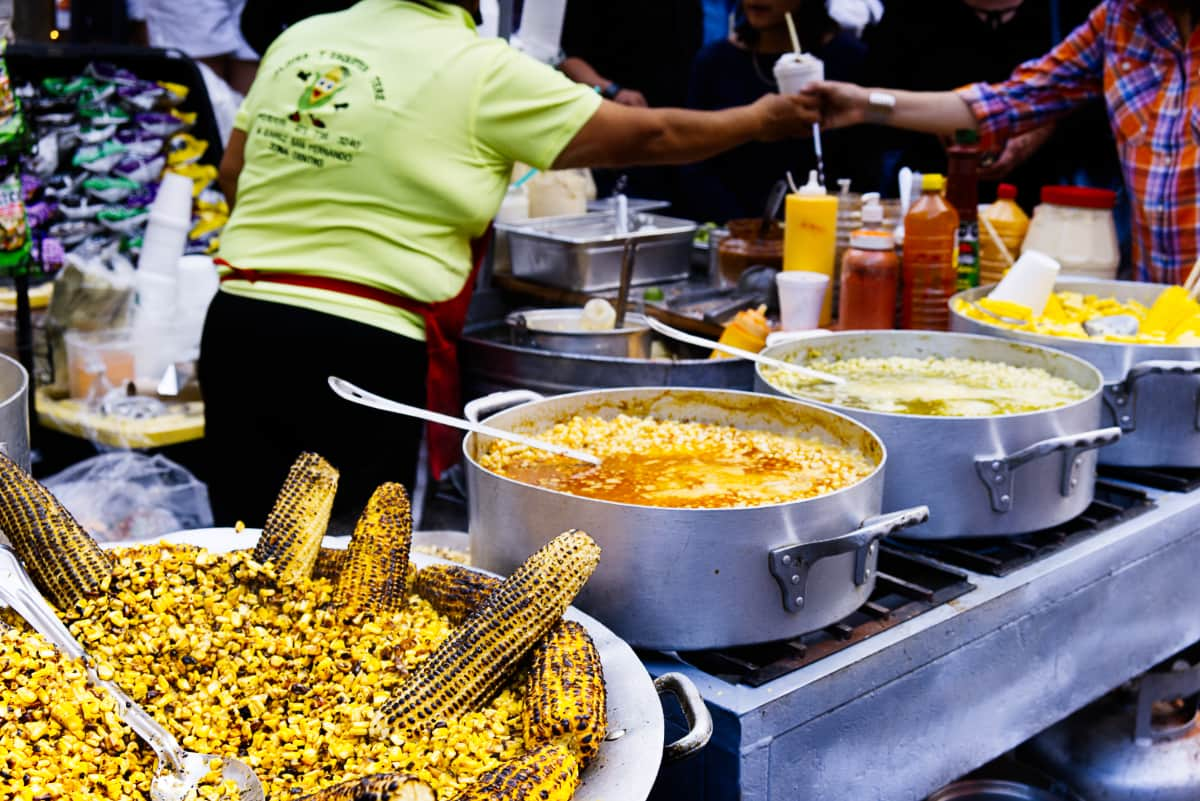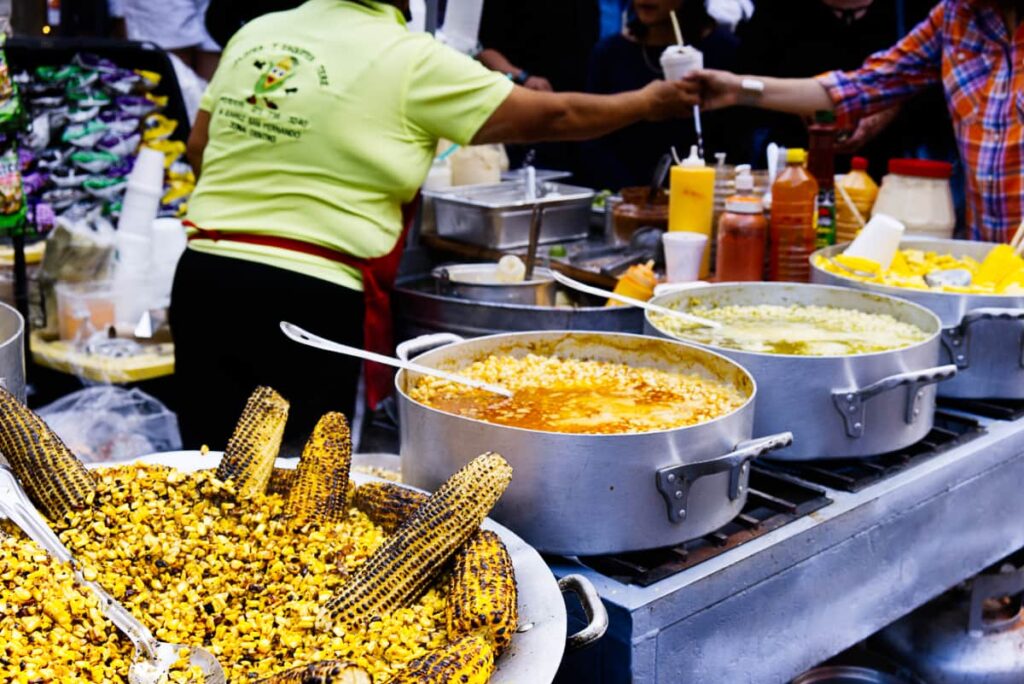 My friend likes to refer to this esquite and elote-slinging woman as "The Elote Queen of San Fernando Plaza."
Piled high in large pans are various flavors of esquites, unlike anything I've ever seen in Mexico. When I stumbled upon this stand one evening, her impressive setup stopped me in my tracks.
This is definitely one of the best foodie things to do in Guanajuato. She sets up shop in the evenings along Avenida Benito Juarez near Plaza San Fernando.
14. Go For Happy Hour at La Clave Azul
If you want to spend an afternoon in a local cantina, La Clave Azul is the hidden gem you've been looking for. In the afternoons from about 2 – 6 pm, this bar serves free food (tapas style) with each round of drinks.
So if you're looking for a great atmosphere and cold drinks while enjoying some traditional Mexican food, make sure to visit La Clave Azul.
The place can be a little hard to find, but totally worth it. Look for the blue entrance at the end of a narrow alley near Plaza San Fernando.
15. Enjoy a Cocktail at Bartola (Casa del Rector)
This grand home from the 19th century has been transformed into one of Guanajuato's most beautiful boutique hotels.
At one time, Casa del Rector was the home of Guanajuato's first official mayor. And for over 50 years, it served as the residence of Armando Olivares Carillo, the founder and first rector of the University of Guanajuato (hence the name).
Today Casa del Rector Hotel includes a cafe and high-end restaurant on the first level. But the real gem is the cocktail bar with stunning views of the city.
To get there, pass through the dreamy courtyard and take the glass elevator up to the bar level.
16. Paseo de la Presa Saturday Market
Residents of Guanajuato enjoy spending time at La Presa de la Olla, the dam located on the edge of Guanajuato City.
It's particularly popular on Friday and Saturday evenings when you'll find families strolling around and couples making out around the dam.
For travelers, it's a great thing to do in Guanajuato if you want to take a leisurely stroll outside of the city. And on Saturdays, the area comes alive with a food and artisan market.
17. Shop and Eat at Mercado Hidalgo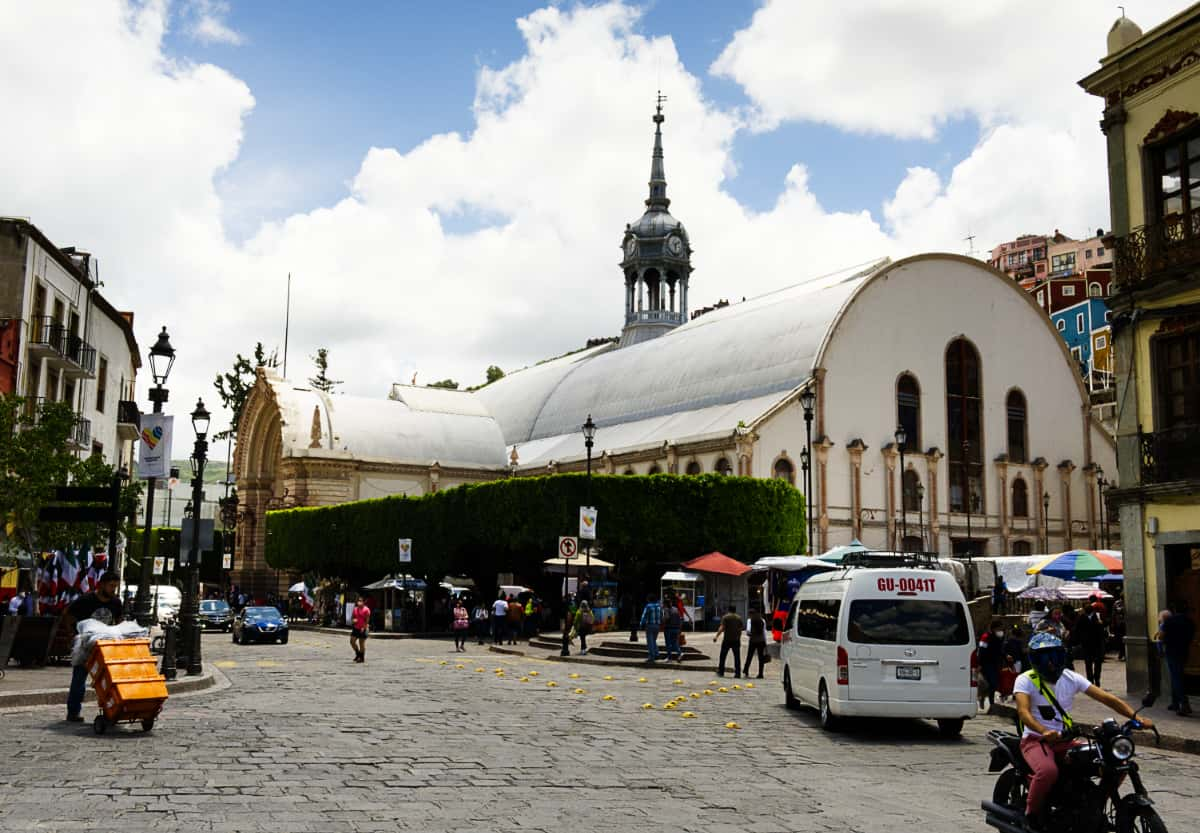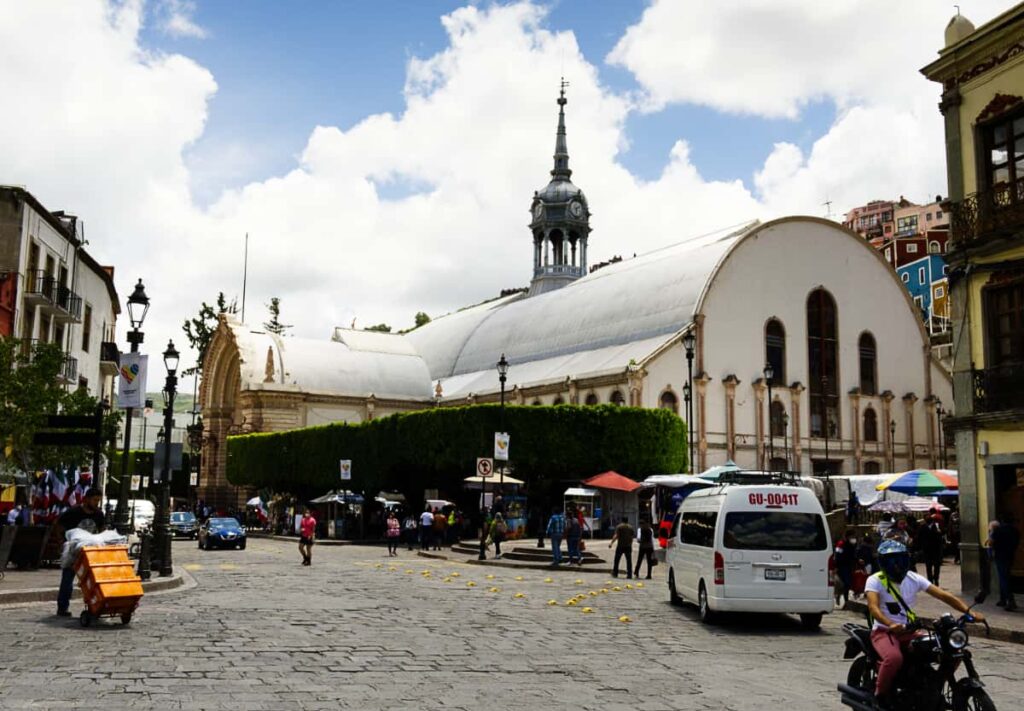 The long iron structure of Mercado Hidalgo stands out among a city of brightly colored buildings. It was built in the early 1900s as a train station and expected to be an economic boon to Guanajuato City.
On September 16, 1910, it was inaugurated as Mercado Hidalgo by General Porfirio Díaz, the date of which coincides with the celebrations of Mexican independence.
Today Mercado Hidalgo caters to both locals and tourists. On the first level, you'll find fresh produce and other food to take home as well as prepared foods. The second floor is full of items to purchase for the home or as souvenirs.
One of the most iconic parts of the structure is the clock tower that tops the structure's roof. It was designed by Gustave Eiffel, who also envisioned the Eiffel Tower in Paris.
Best Things to Do in Guanajuato to Learn About Its Past
There are several Guanajuato attractions along the route to the Valenciana mines. A few, like the haunted house, aren't worth your time but I've detailed three things to do in Guanajuato in the area of the Valenciana mine.
All three could be done in half a day if you take a taxi from the center of the capital. Keep in mind, the impressive church is closed on Mondays.
And more adventurous travelers will want to book this horseback tour which weaves through the streets, mountains, and small towns of Guanajuato while also passing through a silver mine.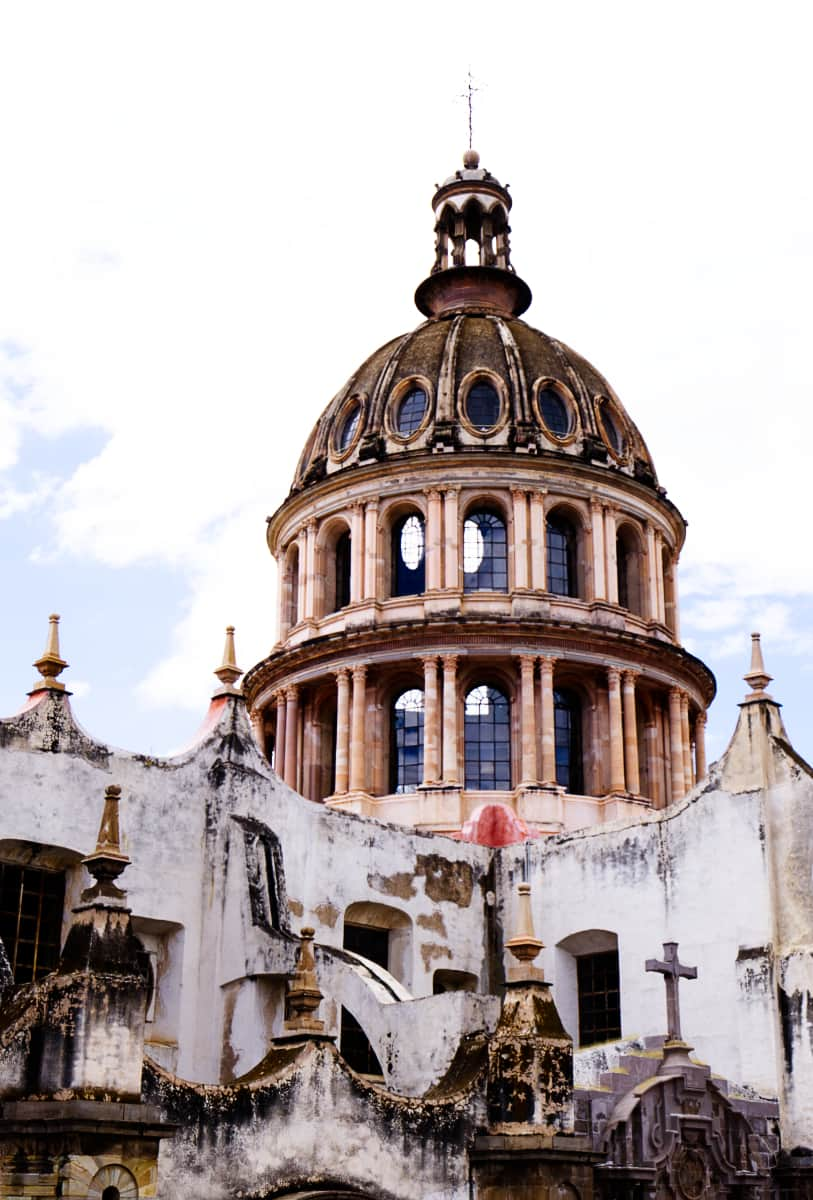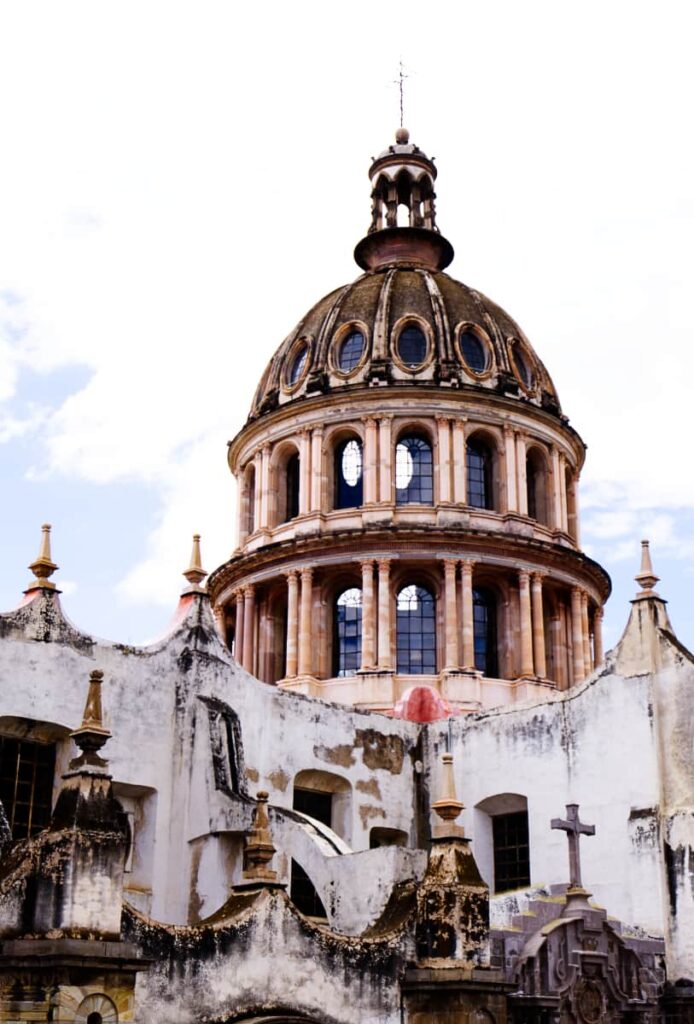 18. Tour La Valenciana Silver Mines in Guanajuato
Guanajuato wouldn't be the city it is today without the silver mines that were established in the mountains overlooking the town.
Their riches created wealth that you can still see in the city today. And while many are no longer active, you can descend into the Valenciana mine for an inside view of the silver industry.
At Bocamina de San Cayetano, former miners take visitors on a tour through this former silver mine in Guanajuato which was established in the 1500s.
You'll want to wear comfortable shoes to traverse the short steps that take you 60 meters down into the mine. While it's open daily, avoid going on a Monday when the nearby church (see next) is closed.
Hours: 10 am to 7 pm, every day
Cost: 50 pesos to enter, tip for the guides
19. Visit Templo de San Cayetano
Located across from the silver mine, Templo de San Cayetano is one of the most impressive churches in Guanajuato.
Its pink stone structure was built in the 1700s with the wealth created from the nearby silver mines of La Valenciana.
The beautiful, Baroque-style church is one of the best places to visit in Guanajuato to admire its intricate interior details including the gold leaf altar.
20. Museo Hacienda del Cochero
If you're interested in learning more about the history of Guanajuato, visit the museum of Hacienda del Cochero. This historic hacienda is beautiful, but it also has a dark side.
On display in the underground dungeon are torture devices that were used during the Spanish Inquisition.
Obviously, it's not an appropriate activity to do with children, but it's a fascinating place for those who want to learn more about this dark chapter in Guanajuato's history.
Hours: 10 am to 7 pm, every day
Cost: 50 pesos entrance
Things to Do in Guanajuato at Night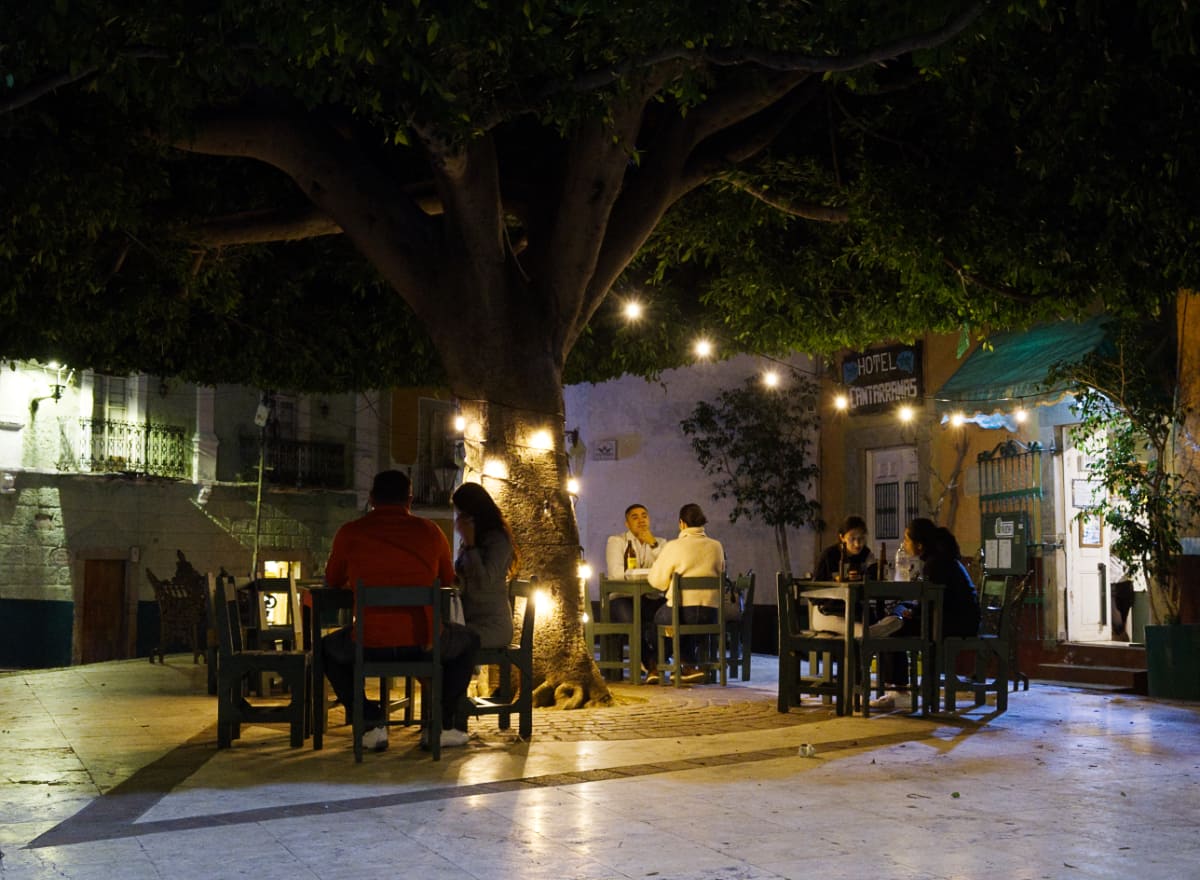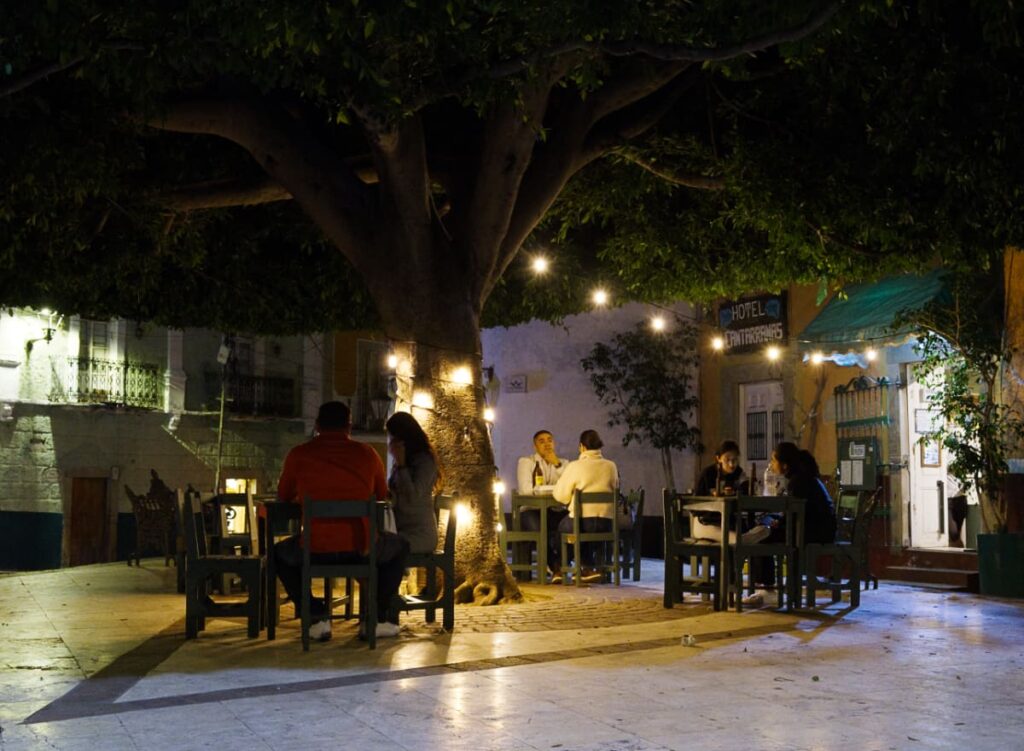 As any dynamic university city should, Guanajuato has a buzzing nightlife. Whether you want to crawl through the bars of Guanajuato or explore the city through its legends during a callejoneada, here are a few things to do in Guanajuato at night.
21. Take a Pub Cantina Crawl
Being a university town, Guanajuato is known for its lively nightlife. And a pub crawl is the perfect way to experience it.
During this nighttime pub crawl tour, your guide will walk you through the historic streets to discover four different bars, each with its own unique atmosphere.
But this tour is not just about drinking. The tour guide is passionate about Guanajuato and it's evident as she tells you about the history of the city and its bars.
This is also a great way to connect with other people and meet new friends. And because you're with a local guide, you'll discover some of the best bars in Guanajuato.
If you're a traveler looking for authentic nightlife in Guanajuato, a pub crawl is a perfect way to start the night.
22. Join a Callejoneada and Sing Through the Streets of Guanajuato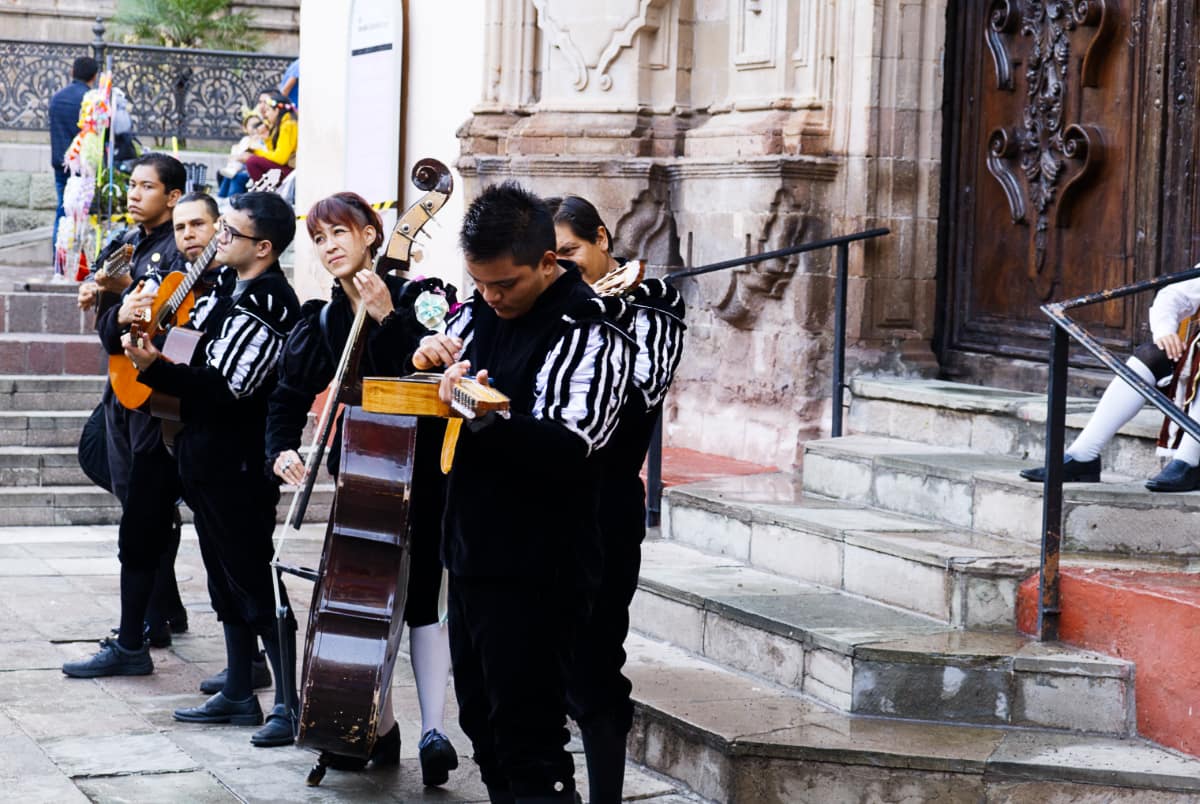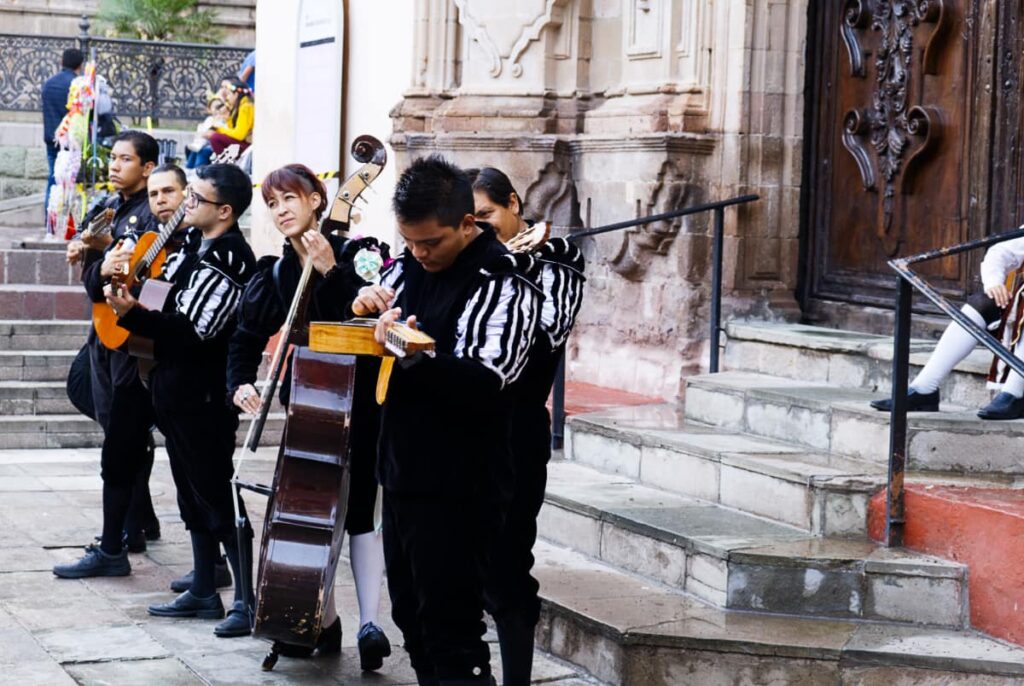 If you're looking for a celebratory way to experience Guanajuato capital, you must set aside one evening to join a callejoneada.
Not only will you get to see the city in a whole new light, but you'll likely make some new friends along the way.
With a tradition of over 50 years, callejoneadas have become one of the most fun things to do in Guanajuato.
Every evening, university students lead groups of visitors through the streets, while playing instruments, singing, and telling stories.
It's important to note that the stories are told in Spanish. So while non-Spanish speakers may miss out on some of the details, most should be able to follow along through the music and performance.
Regardless joining a callejoneada is a joyous Guanajuato attraction that takes you on a stroll through the capital city.
23. Watch a Show at Teatro Juarez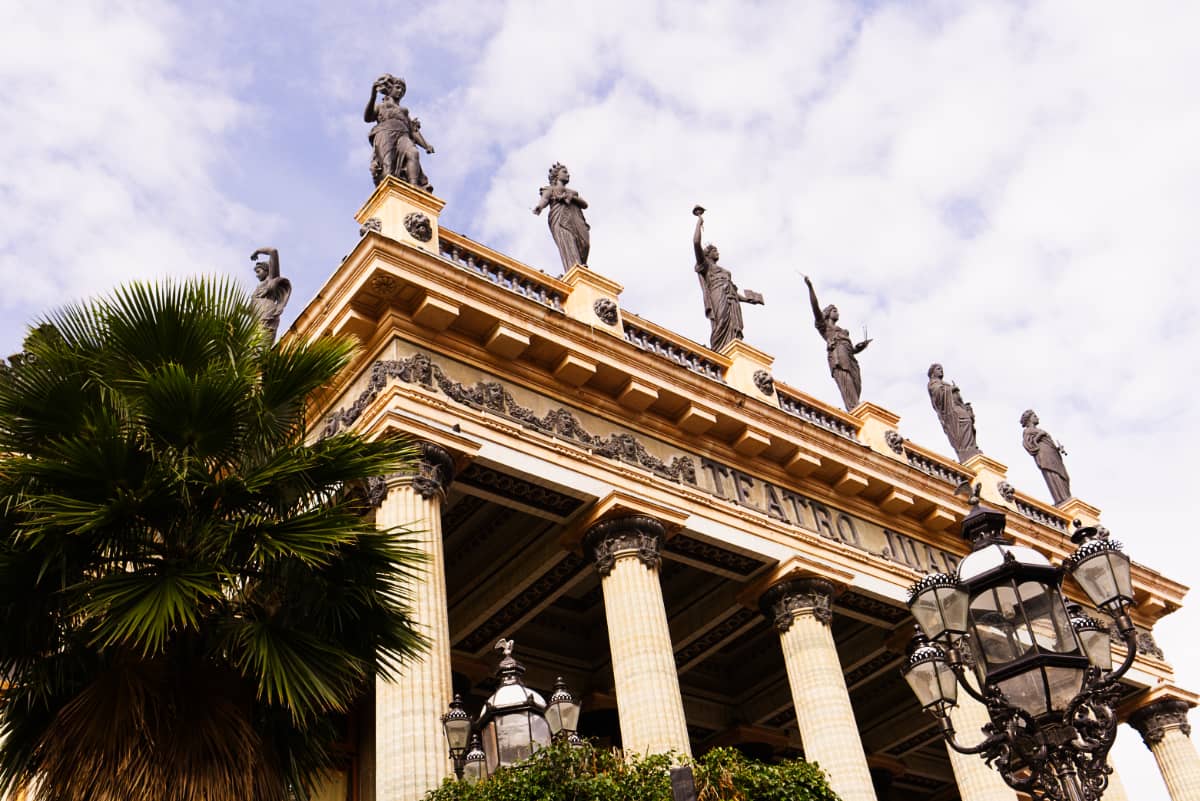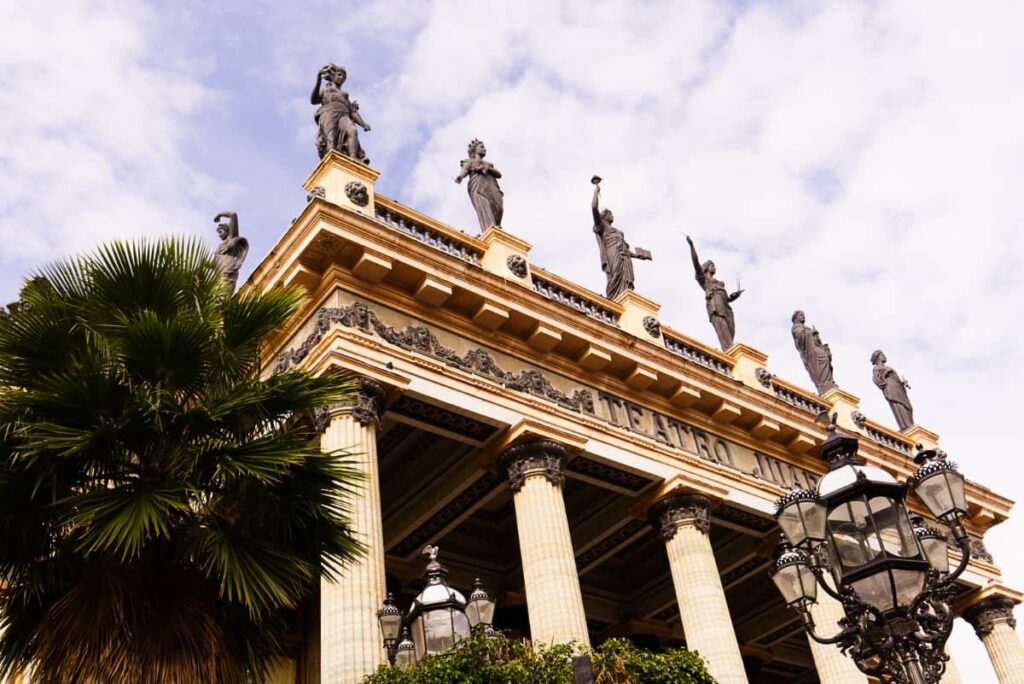 The 19th-century Teatro Juarez is known for its stunning architecture and gorgeous interior. It is one of the most beautiful theaters in Mexico and one of the most eye-catching buildings in Guanajuato City.
Teatro Juarez is a meeting point for many Guanajuato activities, so you'll certainly pass by the theater more than once.
But you shouldn't only admire its ornate facade or the six imposing sculptures that line the rooftop. You should also buy tickets to a performance.
Whether it's the Symphony Orchestra of the University or a more contemporary musical performance, you should definitely see if you can fit a show into your Guanajuato itinerary. You can find the theater's events on Facebook.
And if you don't have time to see a show, it's definitely worth the small fee to go in and do a self-tour of Teatro Juarez.
24. People Watch in the Plazas of Guanajuato
One of the best things to do in Guanajuato is to relax and people watch from one of its many beautiful squares.
You'll find them throughout the city, including some hidden ones while exploring the callejones. I've highlighted a few of my favorites below.
Jardin de la Union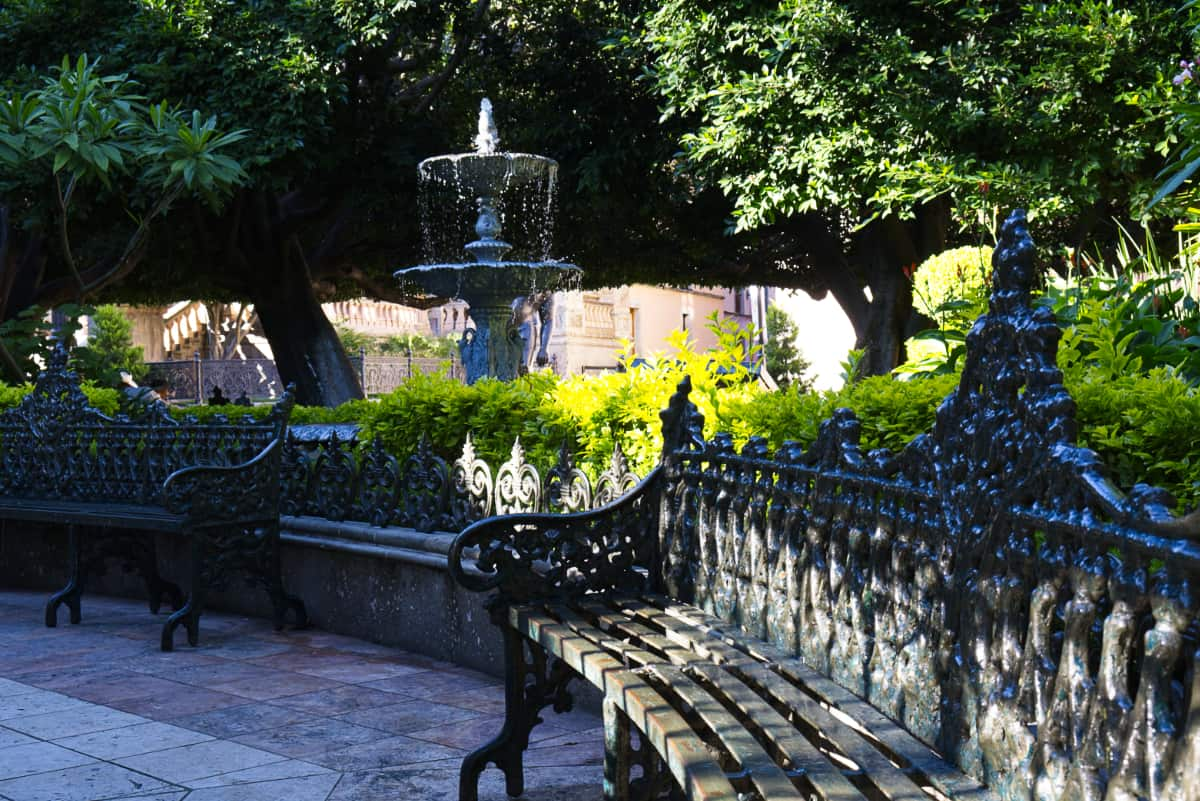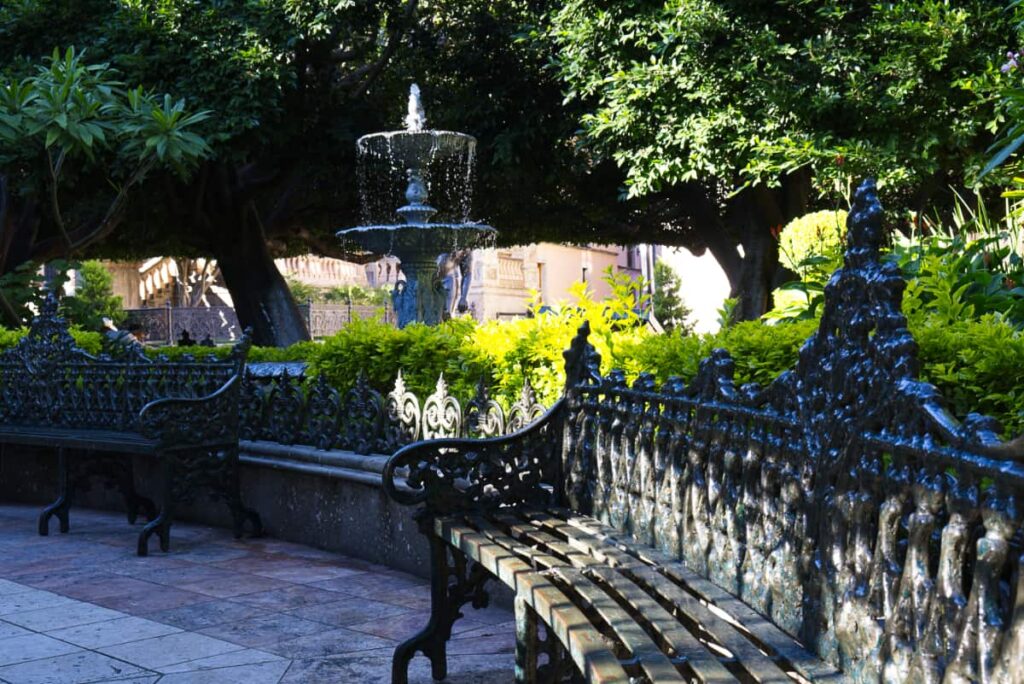 The Jardin de la Union is one of the most picturesque squares in Guanajuato. And it's a great place to people watch, especially in the evenings when the mariachi bands serenade the diners.
Its triangular shape is lined with manicured trees that grow together in a long row. If you're lucky, you can snag a bench under the shade of the trees.
Jardin de la Union is a popular spot for couples and families to relax and take in the sights and sounds of Guanajuato capital.
Plaza Baratillo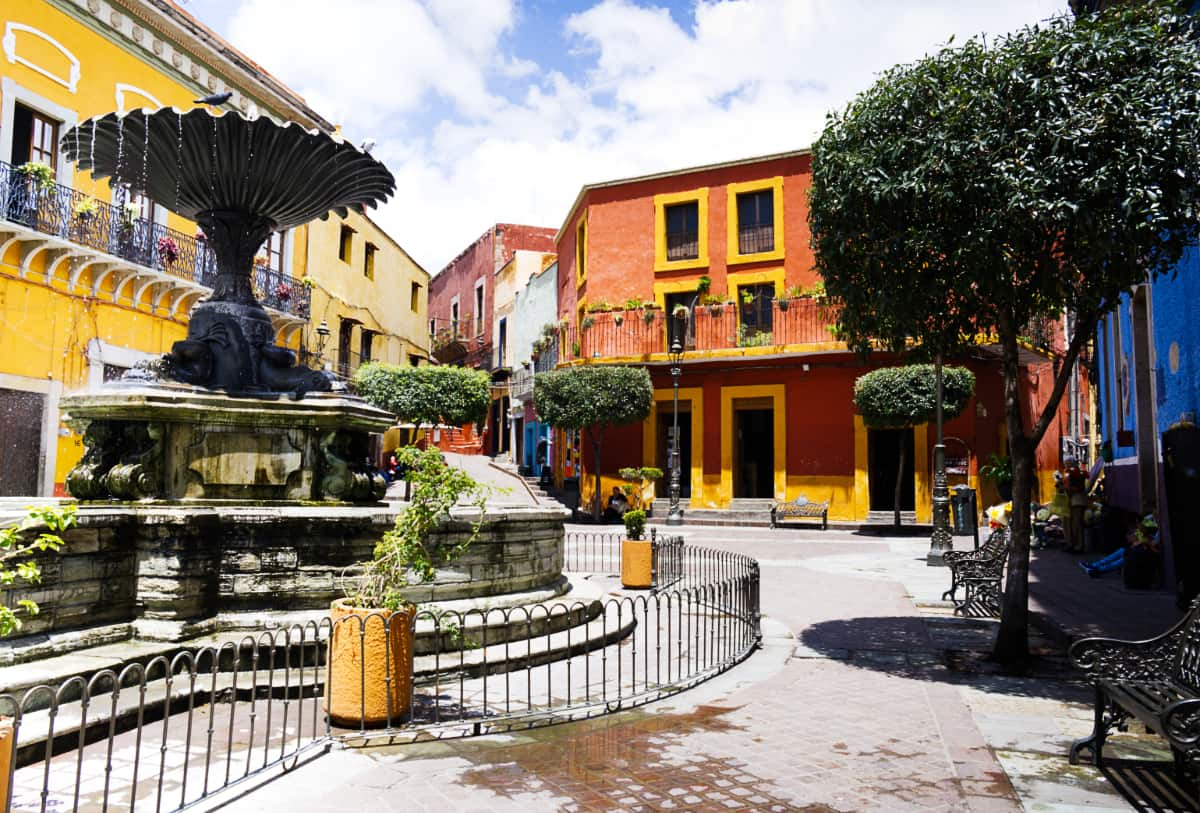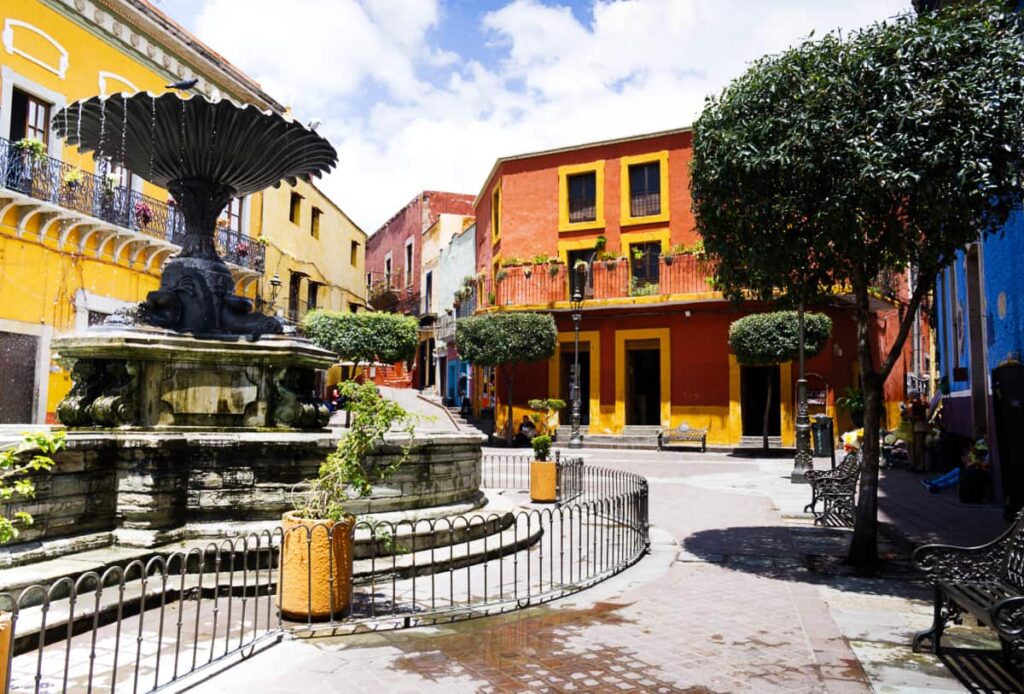 This is another beautiful plaza in Guanajuato City with a large bronze fountain in the center. It's surrounded by colorful buildings and callejones leading in different directions.
Over 100 years ago, Plaza Baratillo was the site of the local market. While the market is long gone, it's still a great place to find street food in the mornings. Look for the food stall on the right that sells gorditas and other traditional foods.
Plaza de San Fernando
Plaza de San Fernando is one of the most iconic places to visit in Guanajuato. It's located in the former Hacienda de San Francisco de Cervera whose cobblestone paving was designed by José Chávez Morado, a renowned Mexican visual artist.
Today this plaza is surrounded by traditional buildings that house various restaurants and cafes, making it one of the liveliest plazas in Guanajuato.
While it's busy, the quarry fountain, outdoor dining tables, and large trees give it a romantic feel. I love walking through this plaza in the evenings and sitting down for a beer at one of the tables.
Jardin Reforma
This long, narrow plaza in Guanajuato is more of a park with various plants, hence the name. It's a great place to rest in between exploring the places to visit in Guanajuato.
From the main street, walk through Jardin Reforma and turn right towards the end. On the far side of the church, you'll find another popular street food cart selling gorditas, tlacoyos, and more from 10 am to 3 pm every day.
Plaza de La Paz
You couldn't talk about the plazas in Guanajuato without mentioning Plaza de La Paz. The beauty of this triangular-shaped square is enhanced by the backdrop of the bright yellow Basilica of Guanajuato (see next).
There are just a couple of benches and not much shade, but this is a great place to visit in Guanajuato for pictures.
25. Visit the Churches of Guanajuato City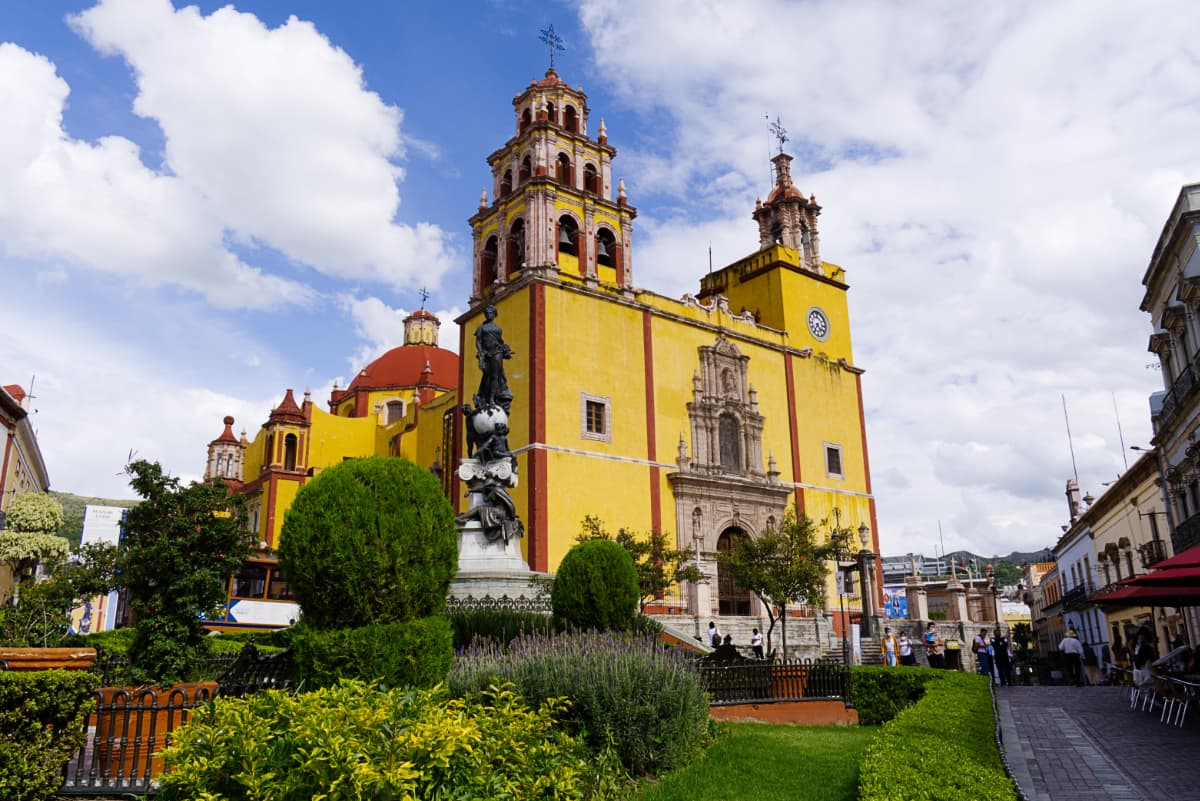 There are over 20 churches in Guanajuato capital, which is quite a few considering the small size of the town.
One of the most notable is the Basilica of Guanajuato which sits on a small hill next to Plaza de La Paz. The exterior is painted a rich yellow with deep red accents. The main entry is framed by carved pink limestone.
And inside is a jewel-encrusted Virgin Mary that was apparently hidden in a cave for over 800 years before being gifted to the city of Guanajuato.
Another noteworthy Guanajuato church is the Templo de la Compañía whose beautiful dome and grand stone arches make it worth a look inside.
26. Climb the Steps at The University of Guanajuato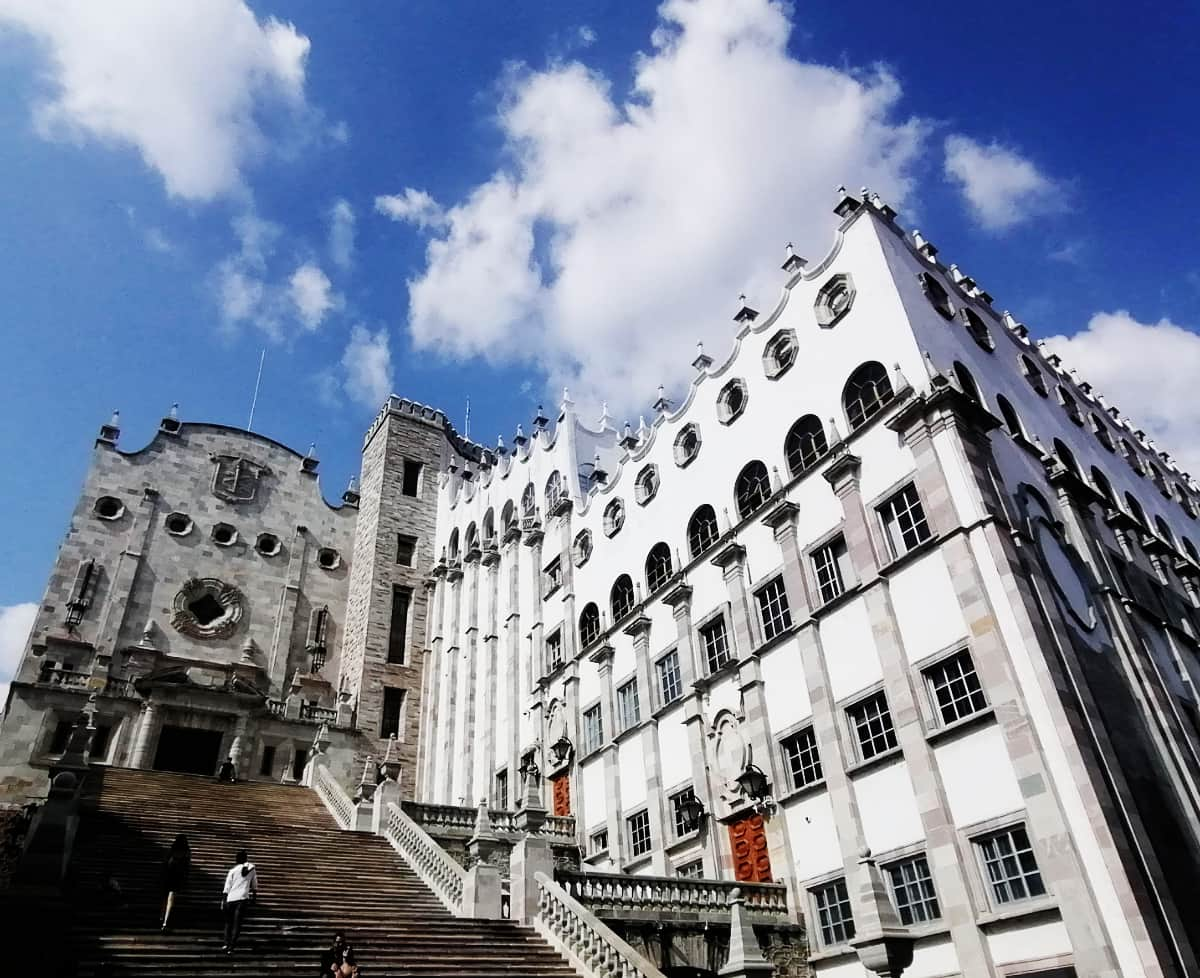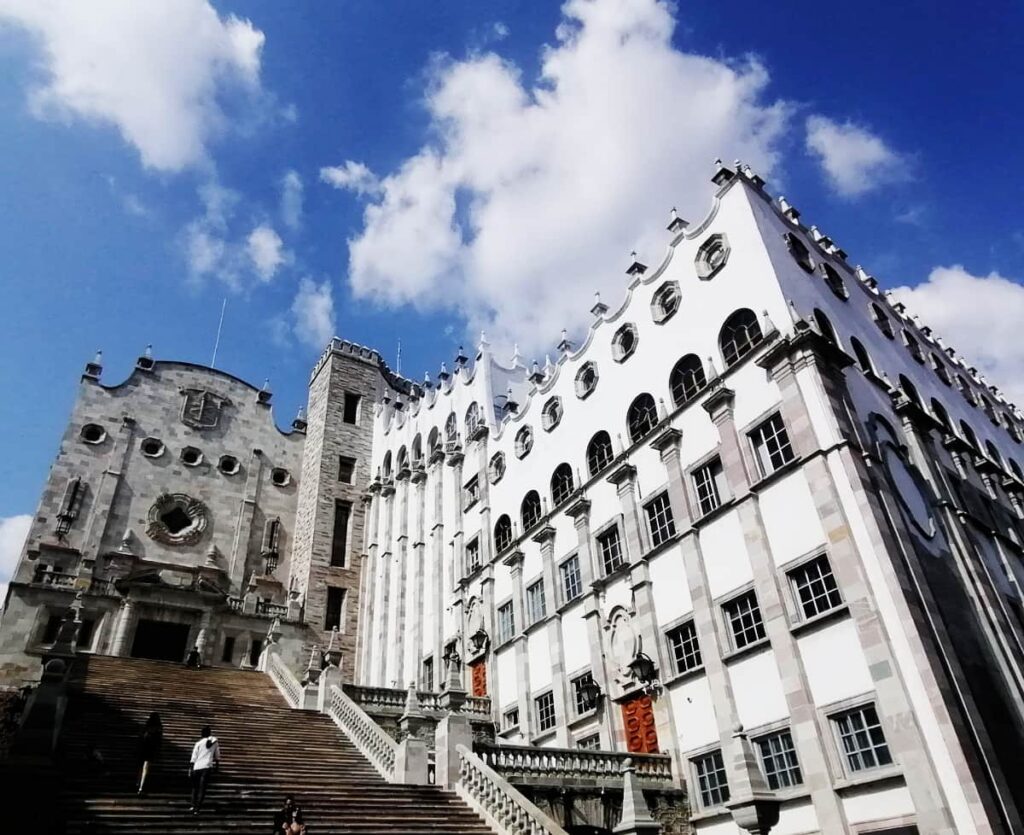 Another building that stands out among the color of Guanajuato City is The University of Guanajuato. The modern stone and white building resembles a fortress.
When it was built in the 1940s it caused a stir, but not just about its different appearance. Also up for discussion was the fact that it was constructed to encompass a church built for the indigenous population.
Today the wide staircase draws students and visitors of Guanajuato to its location for photo opportunities. Visitors should climb the more than 100 steps to the top for views of Guanajuato and El Pipilia.
27. Cervantino Festival
For those who love watching live art performances, The Cervantino Festival is the best time to visit Guanajuato City.
For two weeks every year in October, the streets of Guanajuato capital are buzzing with music, art, and dance.
For over 50 years, the event has attracted artists from all over the world to present typical aspects of their culture of each, both historic and modern. Each year two main destinations, one domestic and one international are chosen to be represented at the Cervantino Festival.
It's considered one of the most important performing arts festivals in Latin America with more than 400 events including theatre, concerts, performances, and exhibitions.
You can find a schedule of events on the official website.
28. Spend a Relaxing Afternoon at Hacienda San Gabriel de Barrera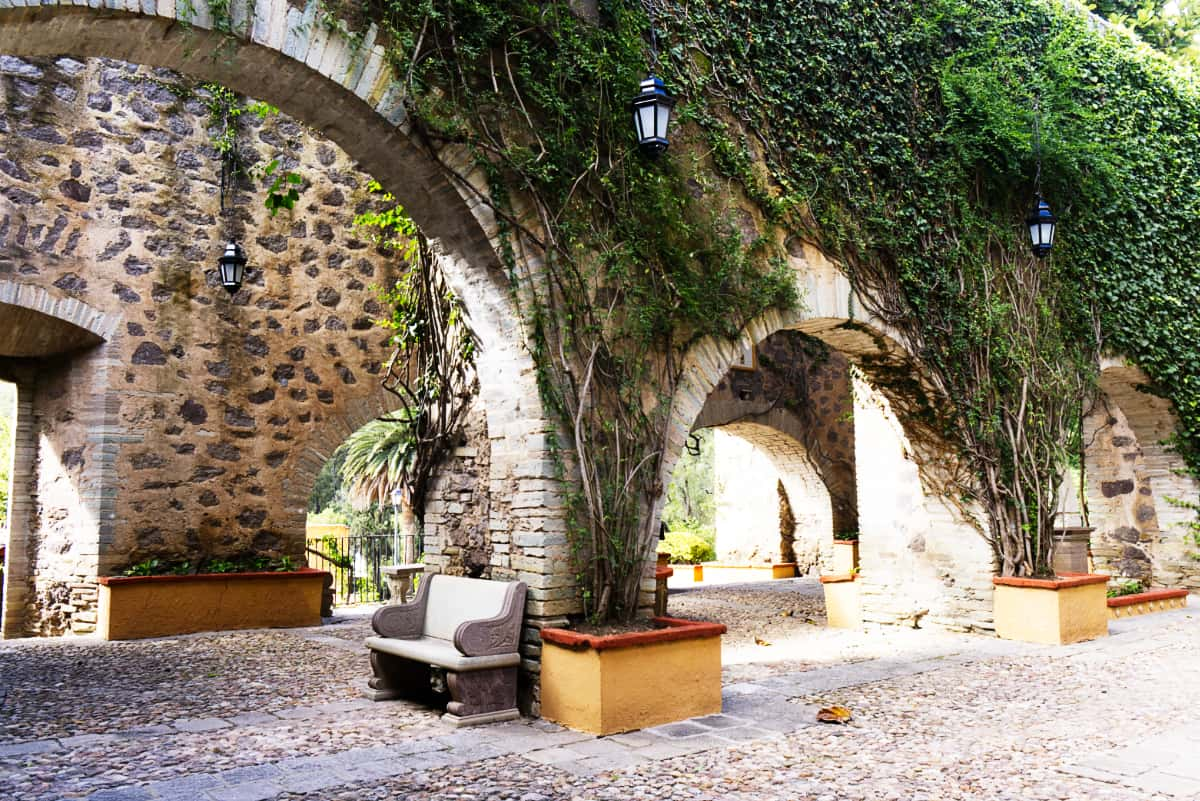 If you're looking for a peaceful oasis just outside the city of Guanajuato, check out Hacienda San Gabriel de Barrera.
This hacienda was constructed in the late 1600s by the family of the owner of one of Guanajuato's most prominent silver mines. Today, it functions as a museum displaying furniture and other objects from that time period.
However, its extensive gardens are what make this property unique. You could easily spend a few hours strolling around the varied garden areas.
In fact, I recommend bringing a book and finding a quiet corner to unwind after touring the house. There is also a small cafe on site where you can enjoy a cup of coffee or ice cold beer.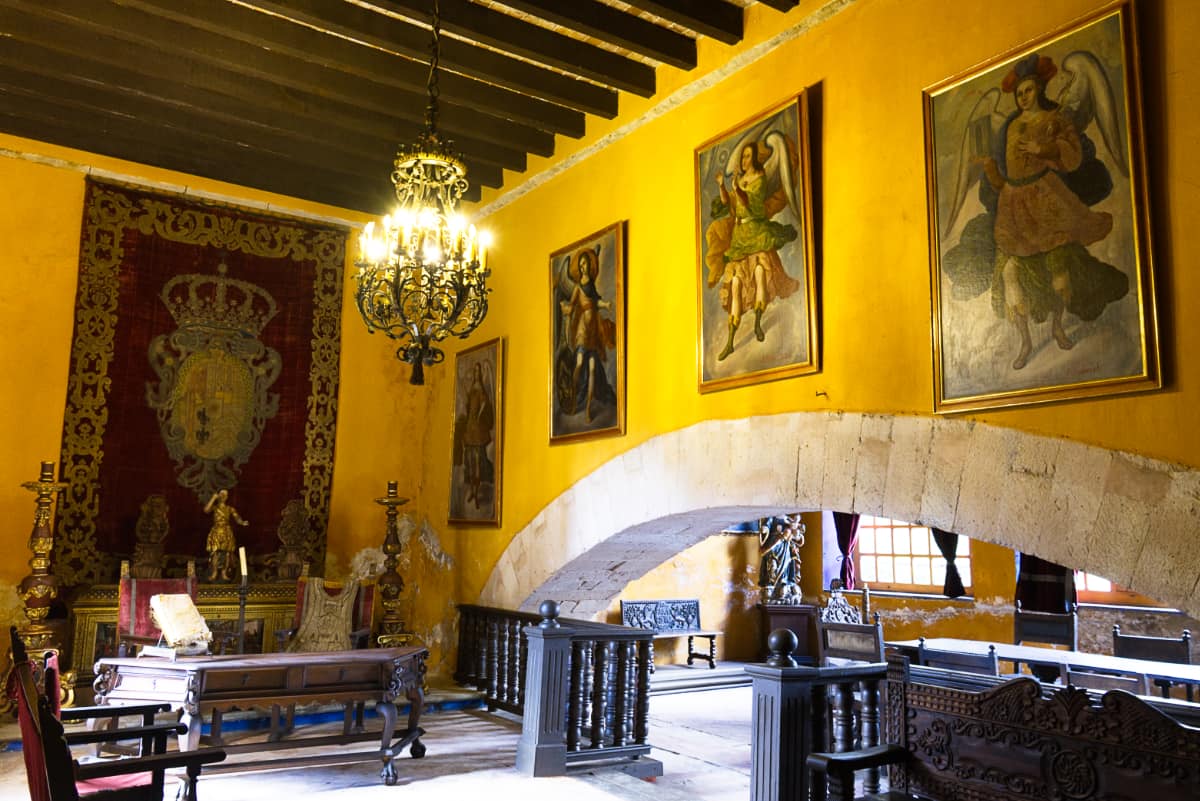 How to Get to Hacienda San Gabriel de Barrera
Hacienda San Gabriel de Barrera is located about 4 kilometers outside of Guanajuato city center, along the Guanajuato River. The best way to get there is by taking a taxi or an Uber for about 60 pesos.
You can also try to take a bus, though it was difficult for me to find the right one. The one I took dropped me off along a busy road and I believe the bus driver did me a favor by stopping close to the entrance.
However, if you get off at the Shell gas station, you can walk the secluded street along the river to get there. Alternatively, it's possible that a bus
29. Experience a Temazcal Ceremony
The slightly chilly weather of Guanajuato makes it a great location to experience a temazcal ceremony. This ancient therapy is best described as a sweat lodge.
The round shape of the temazcal symbolizes the womb of a women and the ceremony itself symbolizes a rebirth of the body and spirit.
My favorite temazcal ceremonies start with a ritual to honor the four elements (water, fire, earth, and air) and include singing traditional songs inside.
When I arrived to Guanajuato, I shared a taxi with a woman that invited me to her friends' house for a ceremony the next day. By that point in my travels, I had been participating in a temazcal about every 6 weeks and I was long overdue so I jumped at the opportunity.
The temazcal ceremony I attended is not regularly held, but I researched to find a traditional temazcal in Guanajuato (which I think is key to the best experience).
Masaje y Temazcal Centro Holístico is a healing center located near the city center with great reviews of both their massage and temazcal ceremony. For the ultimate experience, opt to schedule both!
Day Trips From Guanajuato
This list of the best things to do expands to include a few day trips from Guanajuato City. All of these are within an hour and a half drive of Guanajuato capital.
Although if you have the time, I would recommend spending more than a day in San Miguel de Allende. There are a handful of day trips from San Miguel that make it worthy of a trip on its own (my favorite, hot springs, is also detailed below).
30. Visit the Wineries Near Guanajuato
You may not relate this area of Mexico with great wine. However, the states of Guanajuato and Queretaro are becoming well-known for their wine and cheese.
If you're looking for a relaxing day trip from Guanajuato, book this private winery tour near Dolores Hidalgo. You'll visit one or two wineries depending on the customized package you choose at booking.
The first stop is a vineyard that also grows lavender and produces olive oil. Here you'll be able to enjoy a wine tasting paired with a cheese board.
The second stop on this winery tour is a larger winery where you'll learn more about the process and enjoy a 3-5 course meal (depending on your package) with wine pairing.
As a bonus, you'll visit two iconic places in Dolores Hidalgo – the mausoleum of Jose Alfredo Jimenez and the church where the famous yell rang out to start the Mexican War of Independence.
For wine lovers, this is a Guanajuato activity you won't want to miss!
31. Day Trip From Guanajuato to San Miguel de Allende
Just a short drive away, a day trip from Guanajuato to San Miguel de Allende is the most popular. The historic center of San Miguel de Allende, which encompasses just 64 blocks, was also declared a UNESCO World Heritage site.
The Spanish colonial architecture is simply beautiful, and strolling through the streets is like taking a step back in time. At the center is the impressive La Parroquia, a 17th-century cathedral famous for its neo-Gothic design.
32. Soak in Hot Springs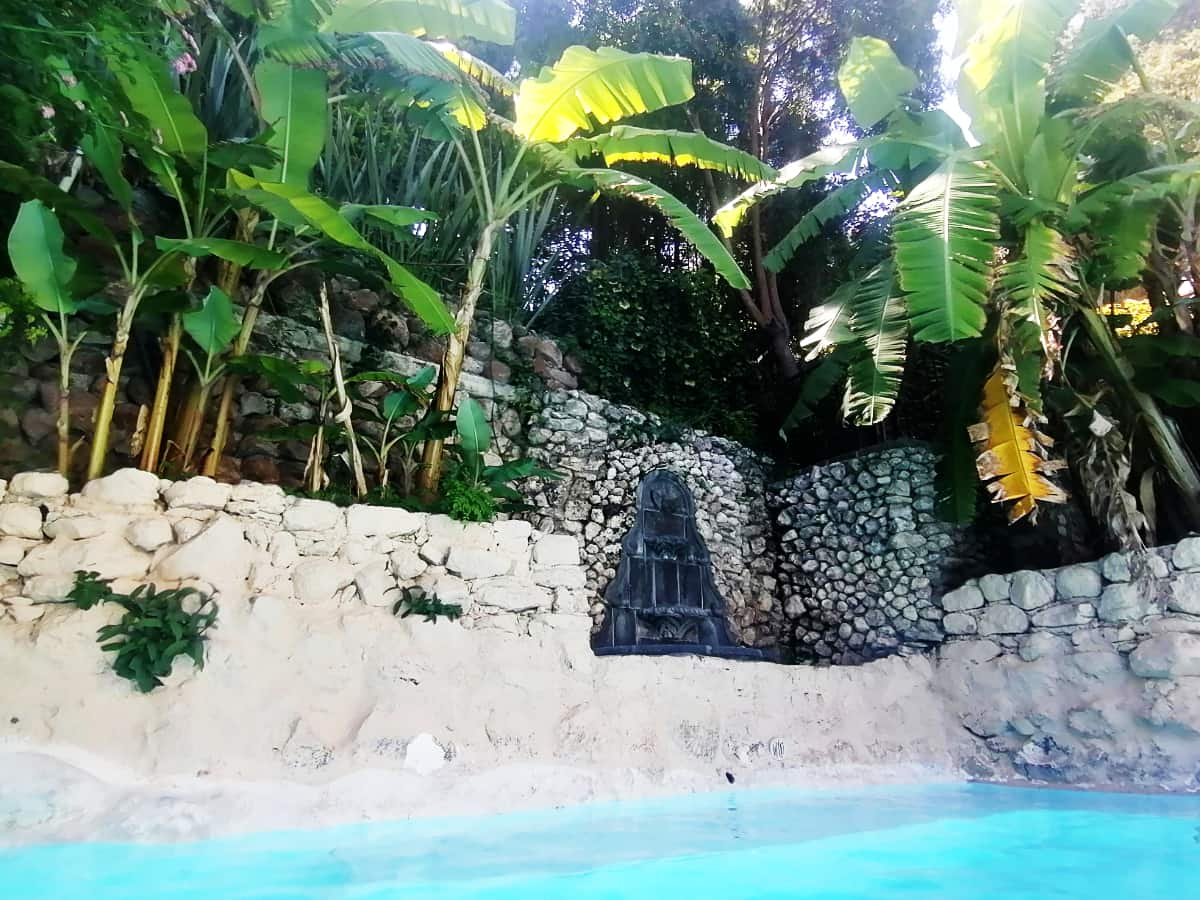 In addition to exploring the colonial town of San Miguel de Allende, soaking in the hot springs just 15 minutes north of town is one of the best day trips from Guanajuato.
There are several options just north of the city, with La Gruta Spa being the most popular. It features a variety of different pools to choose from and a cave (La Gruta) that you can swim through to find the hottest water.
If you're there, consider making time for a quick visit to the Sanctuary of Atotonilco just a few kilometers away. Of course, if you want to pack all of this in, you'll need to get an early start from Guanajuato capital.
33. Discover La Ruta de la Independencia – Dolores Hidalgo, Atotonilco, and San Miguel de Allende
Learn about the Mexican Independence movement when you book this private 8-hour tour to explore three nearby towns.
This day trip from Guanajuato starts with a drive through the Sierra de Santa Rosa natural area to reach Dolores Hidalgo – a small town regarded as the birthplace of Mexican Independence.
You'll visit the church where the famous Grito de Dolores rang out to start the Mexican War of Independence as well as the mausoleum and former house of Jose Alfredo Jimenez, a famous Mexican singer.
After a quick stop to sample the unusual nieves (ice cream) of Dolores Hidalgo, you'll visit the Sanctuary of Atotonilco – a beautiful church in Mexico that is compared to the Sistine Chapel.
The day trip finishes in San Miguel de Allende where you'll stop at a lookout with beautiful views, visit the Parroquia de San Miguel Arcangel, and have free time to eat and explore the colonial town.
Final Thoughts on Things to Do in Guanajuato
This colonial city is full of history, culture, and things to do for travelers of all types. So whether you're looking for a lively night out or a more relaxed experience, you'll find it in Guanajuato.
If you're looking for an amazing and culturally rich destination to travel to in Mexico, be sure to add Guanajuato to your list. There's plenty to do in this historic city, from exploring its many colonial buildings and churches to taking part in the lively nightlife. You'll also find plenty of natural beauty and outdoor activities in the nearby mountains of Guanajuato, Mexico.
So no matter what your travel style, you're sure to find plenty of things to do in Guanajuato that will suit your needs.
Questions About Guanajuato Things to Do
Is Guanajuato Worth Visiting?
Yes, Guanajuato is definitely worth visiting if you're looking for a beautiful and culturally rich Mexican city to explore. With its colonial architecture, lively nightlife, and stunning natural scenery, Guanajuato has something for everyone. And since it's less touristy than some of Mexico's other popular destinations, you'll get to experience the real Mexican culture here.
What is Guanajuato Known For?"
Guanajuato is known for being one of the most beautiful cities in Mexico. Although it also has an interesting history, rich culture, and beautiful scenery. The city is full of colonial-era buildings and churches, and the surrounding mountains are a great place for outdoor activities.
How Many Days Should I Spend in Guanajuato?
You could easily spend 2-3 days in Guanajuato and see all the major attractions. However, if you want to really explore the city, 4-5 days would allow more time to soak in the history and culture.
How do you spend a day in Guanajuato?
A great way to spend a day in Guanajuato is by exploring the city center to soak up the beautiful buildings, colonial history, and young University scene. Start your day by taking this walking tour which visits some of the top landmarks while explaining the history of Guanajuato capital. And make sure you take the cable car up to the viewpoint for amazing views of Guanajuato City.
Is Guanajuato the most beautiful city in Mexico?
Guanajuato is often considered to be one of the most beautiful cities in Mexico due to its colonial architecture, lively culture, and narrow alleyways that twist through the hills toward the nearby mountains. However, there is no definitive answer to this question, as beauty is subjective. You'll just have to visit and answer the question for yourself.
What is the best time to visit Guanajuato, Mexico?
The best time to visit Guanajuato, Mexico is during the springs and fall when there is a low chance of rain and the temperatures are mild. The hottest months are April and May. Although, with the average high in the low 80s, it's not exactly hot during those months. In the winter, temperatures can dip into the low 40s at night.
What is the coldest month in Guanajuato, Mexico?
January is the coldest month in Guanajuato, Mexico. While the daytime temperature averages in the high 60s, it often drops to the low 40s at night. With little to no humidity, you'll feel the cool evening air and may want to bring a light jacket out at night.