Peña de Bernal Pueblo Magico: Visit Bernal Queretaro Mexico
Rising more than 1,000 feet (over 400 meters) over the pueblo magico of Bernal, Queretaro is one of the largest monoliths in the world, Peña de Bernal.
This sacred monolith dominates the surrounding landscape and magically seems to always be in view. As a result, many Bernal hotels and restaurants have stunning views of La Piedra de Bernal. 
The Otomí and Chichimeca indigenous people that reside in the area consider Pena de Bernal to be sacred (more on that later). Their influence can be seen in the food and artisan products, which I'll also expand on later.
Whether you decide you want to try climbing Pena de Bernal, hike the path for stunning views, or simply admire the monolith from afar it's definitely worth visiting Bernal from Queretaro.
This guide will detail all three ways to appreciate the monolith as well as things to do in the town itself, the best hotels, and how to get to there.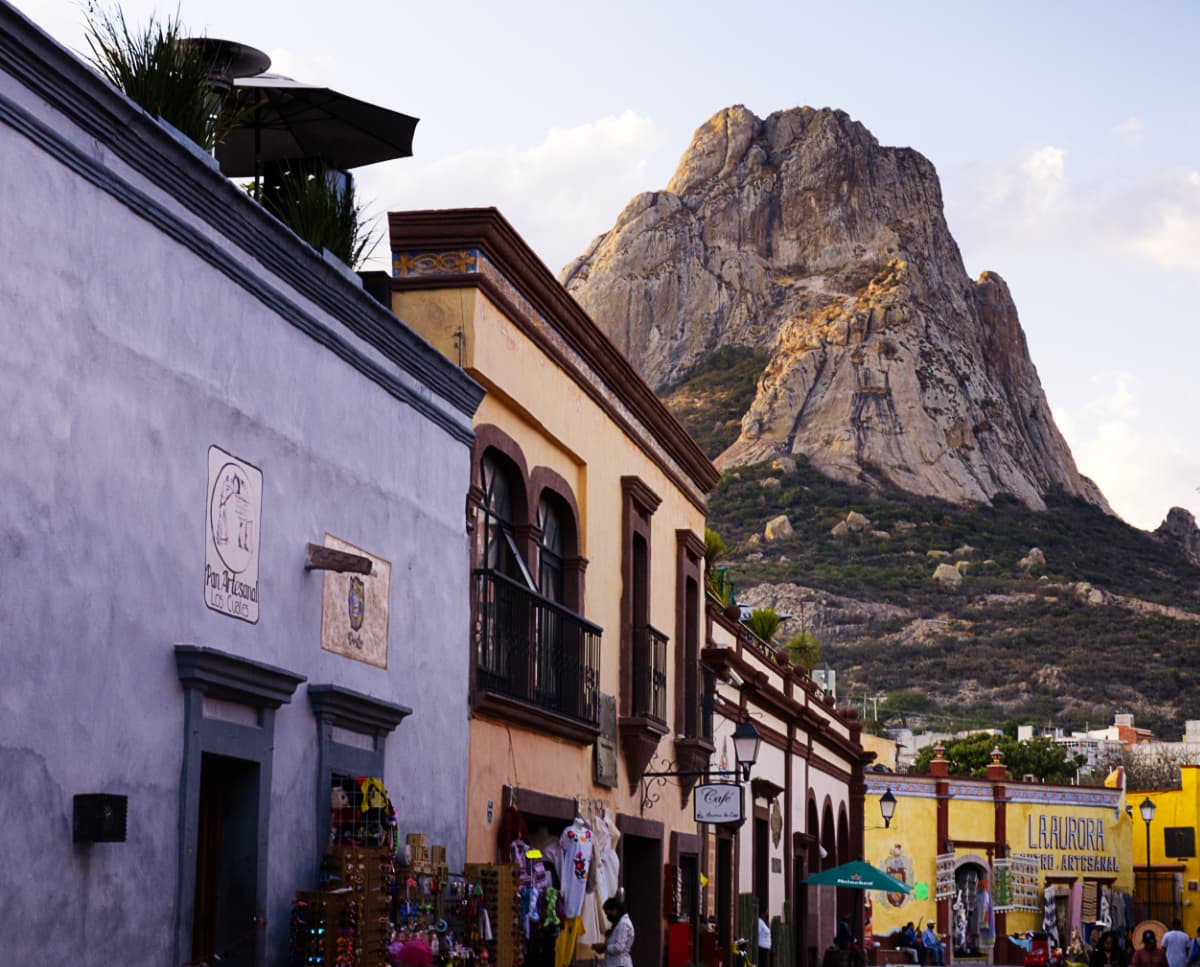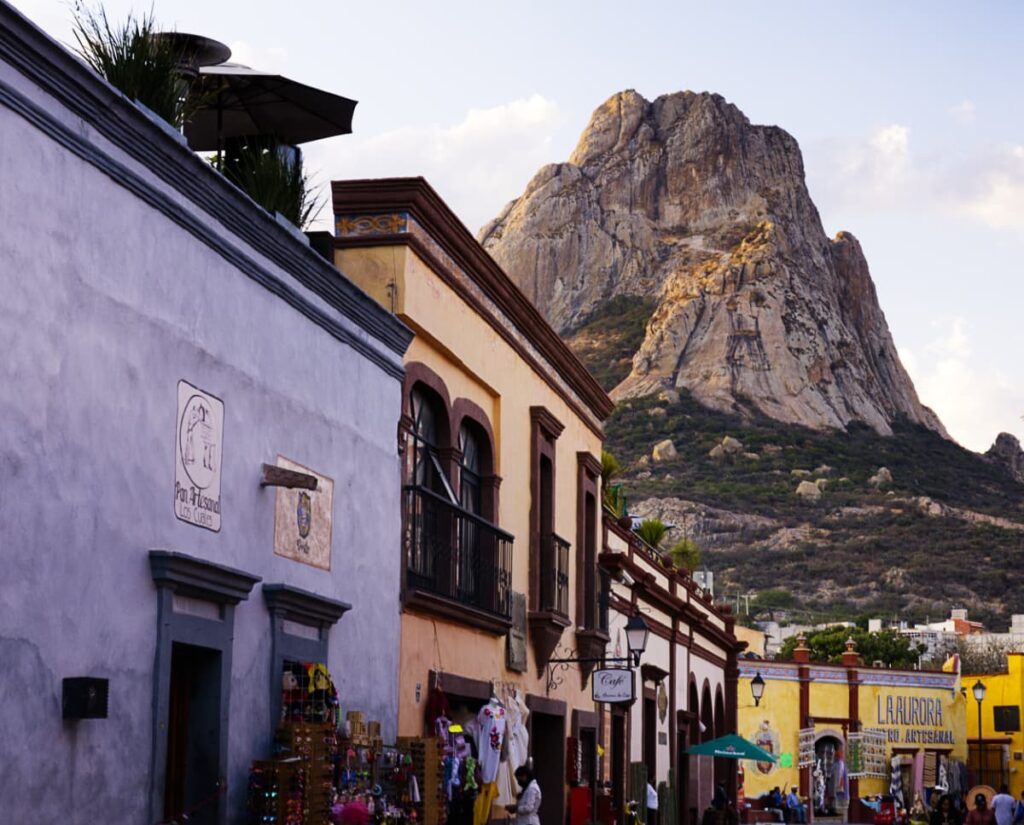 This article may contain affiliate links. This means if you click a link on my website and make a purchase, I earn a commission at no additional cost to you. For full information, please see my disclaimer here.
Where Is Pena de Bernal?
Pena de Bernal is located in the town of Bernal, a pueblo magico located about 45 minutes from the center of Santiago de Queretaro, the state capital.
Climbing the monolith is why most travelers visit and there's no doubt its strong presence is felt throughout the town.
Pena de Bernal was declared an Intangible Cultural Heritage of Humanity by UNESCO in order to protect the Otomí-Chichimeca people who consider the monolith to be sacred.
In addition to holding community festivities throughout the year, they make an annual pilgrimage here to pray for water, a scarce resource in this semi-desert region.
You should also read these related posts
10 Things to Do in Bernal, Queretaro
One of the top things to do in Bernal is to admire and climb the giant monolith that looms over the pueblo magico.
And as one of the most beautiful towns in Mexico, you could easily spend half an afternoon just wandering through this small town. But there are a few other reasons to visit, mostly related to the specialty food and sweets.
This is also a great place to start if you want to explore the Sierra Gorda Biosphere Reserve, which I highly recommend. Even if you can't explore the entire Sierra Gorda, consider making the trip to Cuatro Palos, another nearby natural site.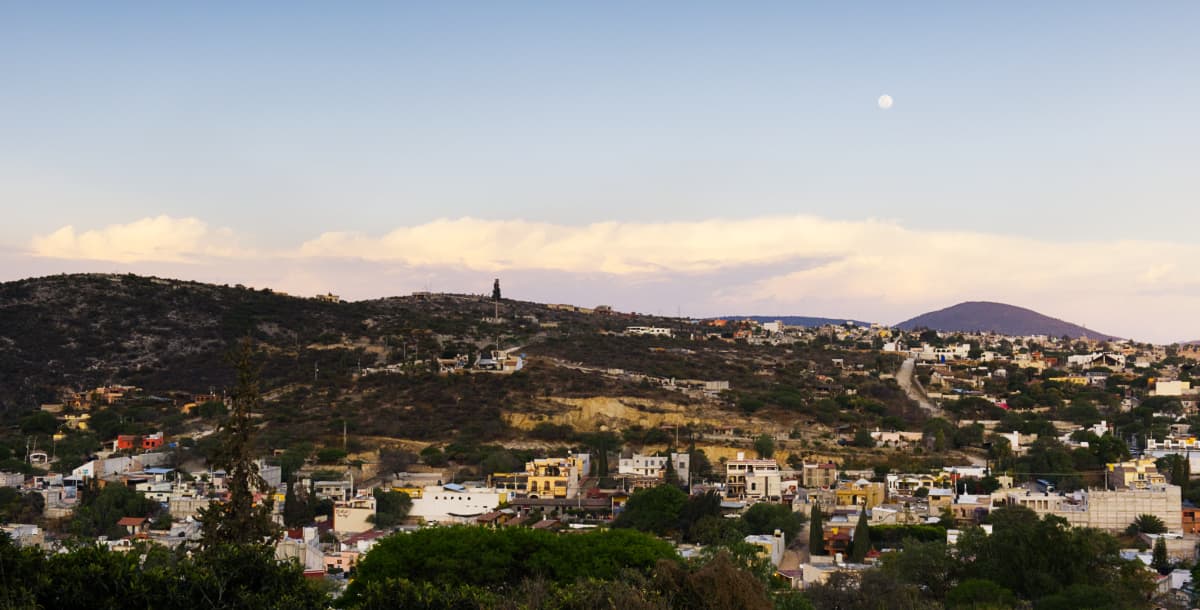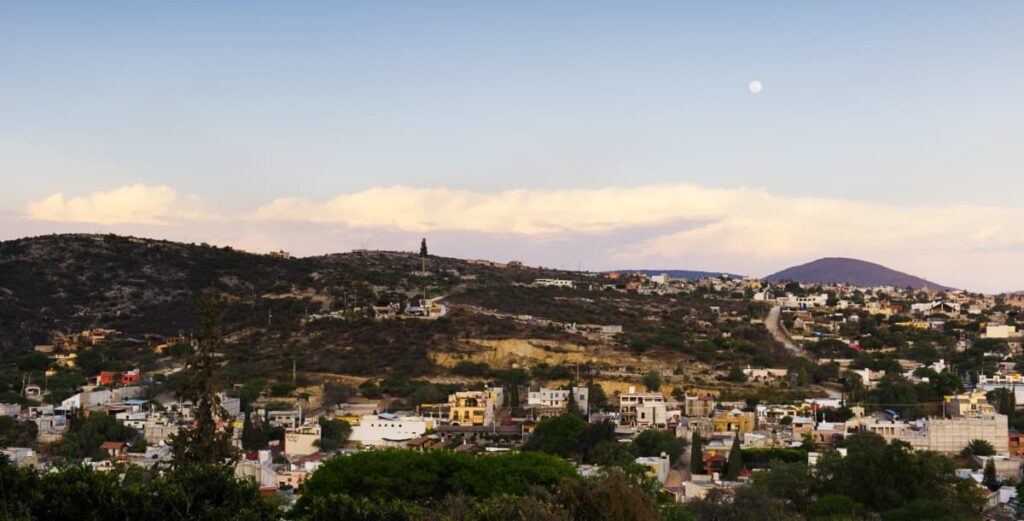 1. Climbing Pena de Bernal
The most popular hike takes about 45 minutes to reach an expansive viewpoint located roughly halfway up the monolith (the furthest you are allowed to go without equipment).
The hike starts with a series of steps that are relatively easy to navigate. After about 30 minutes, the Pena de Bernal climb gets a bit tricky.
A lot of visitors stop here as it's a beautiful viewpoint of the surrounding area. If you're able, I recommend scrambling up the rest of the way (there's a thick metal rope to assist) for even better views.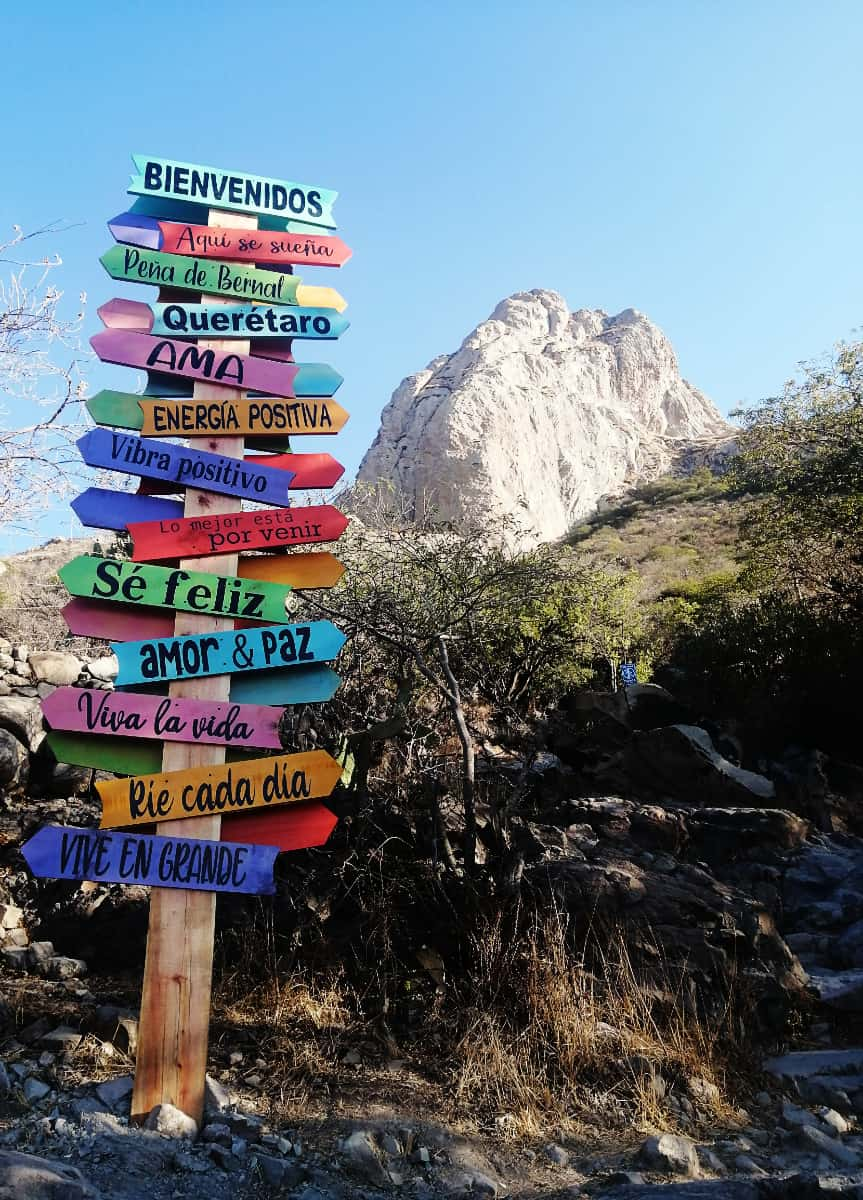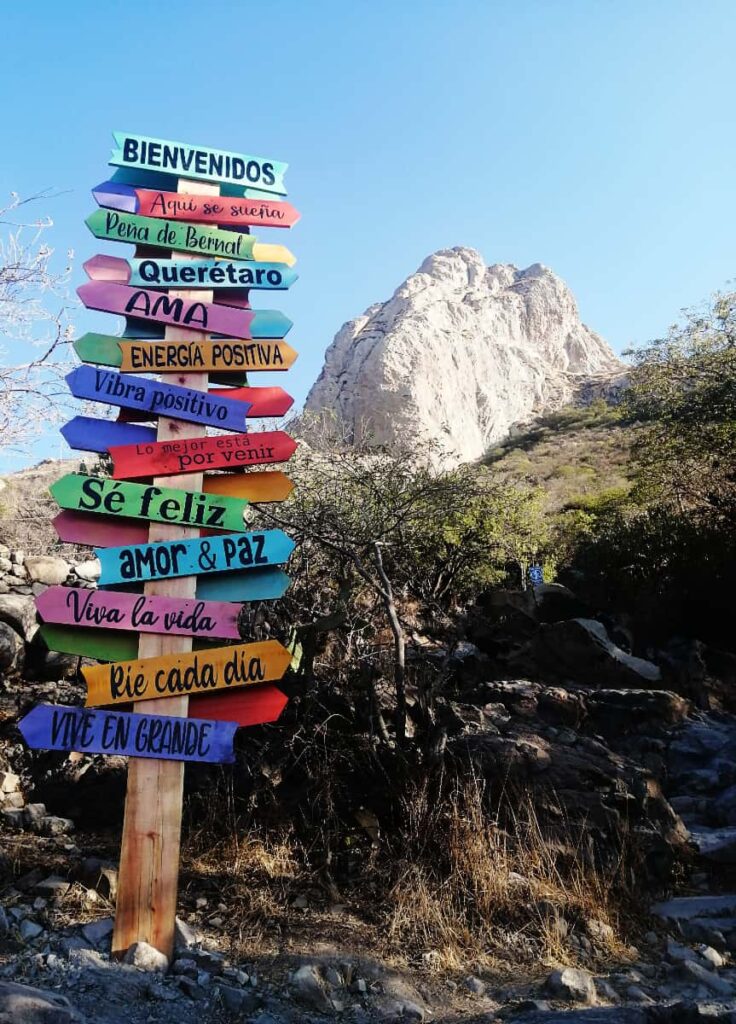 Once you get to the top, there is a large flat rock that juts further out into the views as well as a small chapel. The up-close views of the monolith are pretty incredible as well.
You'll obviously want to wear sturdy shoes to climb Pena de Bernal, especially if you plan to hike to the furthest viewpoint.
How to Hike Pena de Bernal
To hike Pena de Bernal, you first need to arrive at the entrance to the park. It's located on the northern edge of town in front of the monolith.
You can easily walk to the start of the hike from most locations in and around town. After you pay the entrance fee (30 pesos) you'll be free to hike the monolith on your own.
If you want to go all the way to the top, read about climbing the monolith with a guide next.
Location (map)
Hours – 8 am to 5 pm every day
Cost – 30 peso entrance fee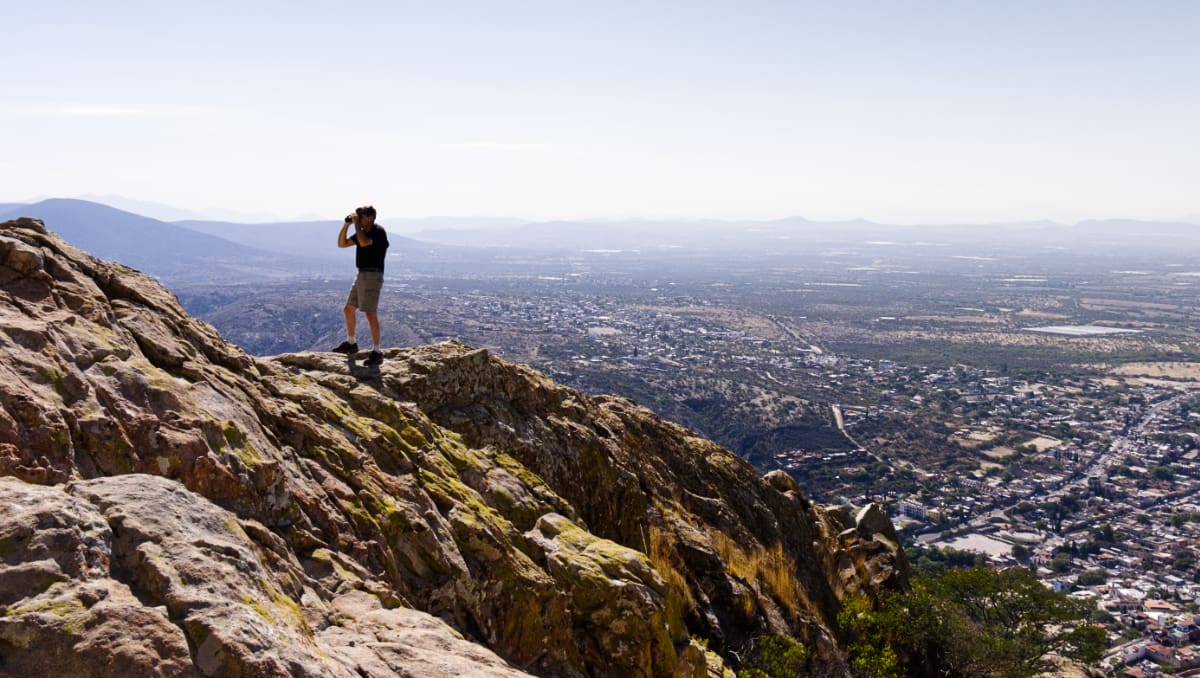 2. Pena de Bernal Climbing
If you want to make it to the summit, your only option is to hire a guide for the Pena de Bernal climb. The guide provides you with the experience and required equipment.
Adventurous travelers will want to book this rock climbing and rappelling Peña de Bernal tour where you can take in panoramic views of Queretaro from the top.
After summiting, your guide will assist you to rappel down the rock. No previous experience is necessary for this experience.
3. Eat Gorditas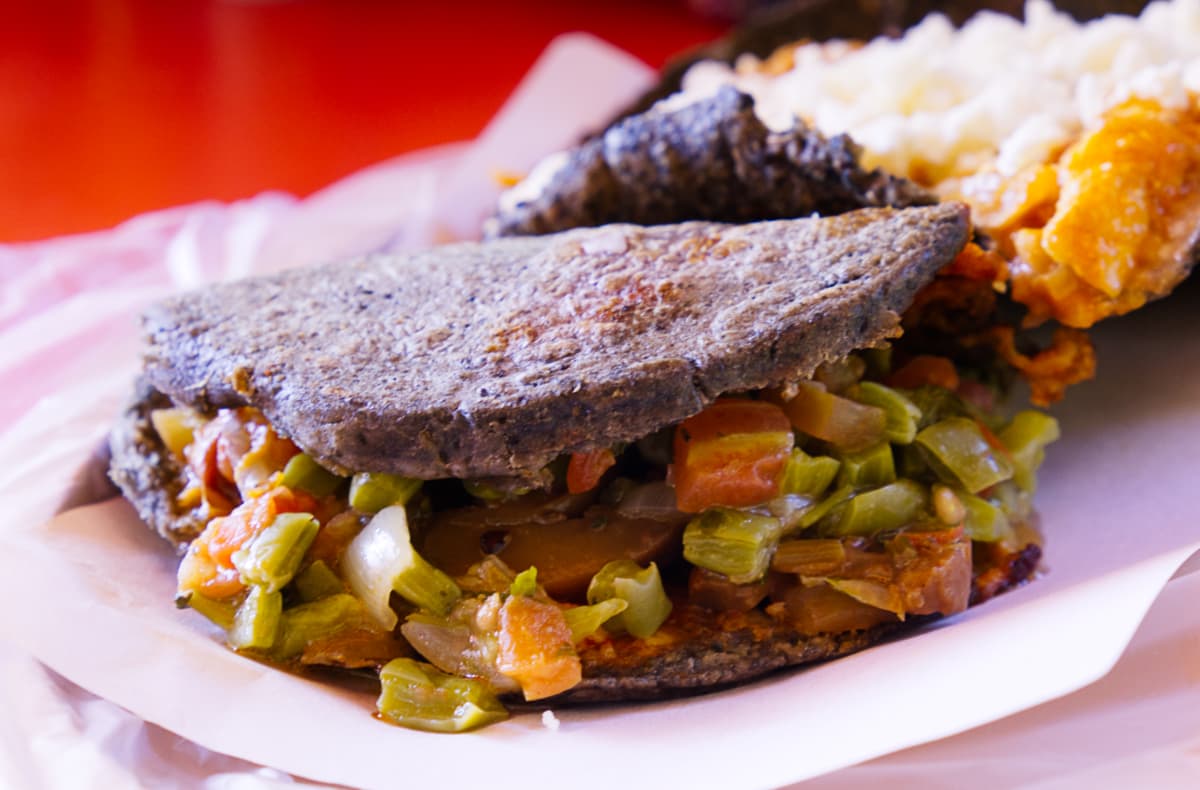 As you come down from the monolith, make sure you stop at one of the food stalls to refuel with gorditas.
If you started the hike as early as we did, you'll probably just catch these food stalls just as they are opening up.
Before you think of a gordita as the stuffed deep-fried dough pocket served at America's most popular Mexican fast food chain, let me tell you about the gorditas in this region of Mexico.
Yes, it is a stuffed pocket. That's where the name gordita (little fat one) comes from after all. But these gorditas are typically made with blue corn and heated on the comal (a large flat grill) instead of fried.
They are a bit thicker than a tortilla since it needs to be strong enough to hold in all that goodness they're about to put inside.
Speaking of, what do you stuff in the gorditas of Queretaro? Well, the options include various guisados (stewed dishes) such as tinga de pollo, chicharrones, papas con chorizo, mushrooms, rajas (poblano pepper), nopales (cactus), and more.
Tip – You can also ask for a gordita mixed with two ingredients, such as mushrooms and poblano peppers. Be sure to ask for it "mixta" or you may end up with two separate gorditas.
4. Taste Pan de Queso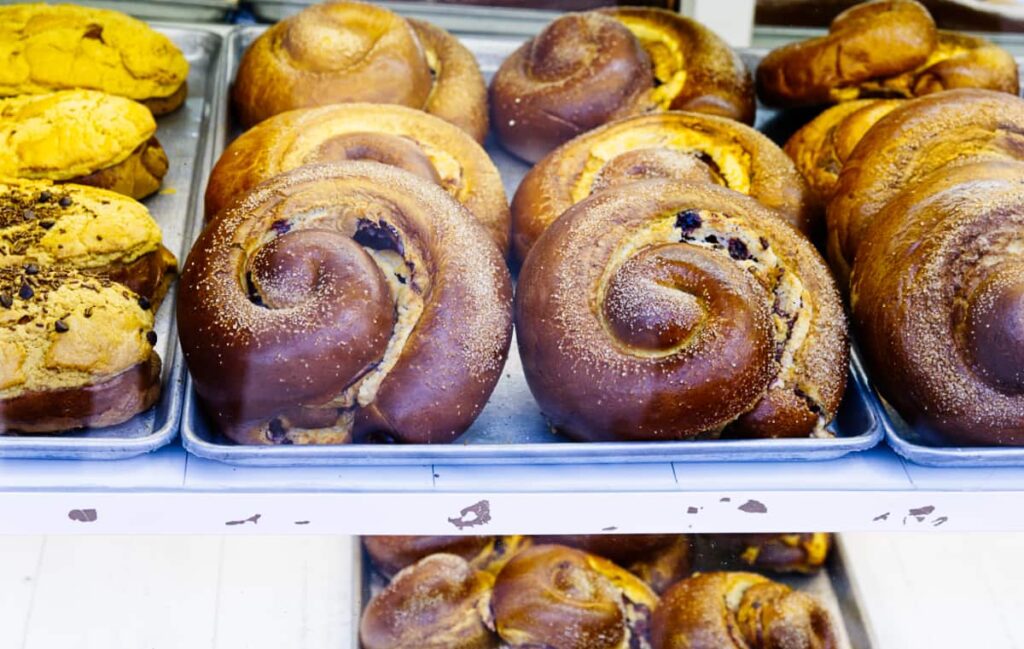 You've probably already discovered Mexican bakeries and their delicious baked goods. They became a morning ritual for my father on this trip.
Pan de queso is a specialty of the region. And one you must try while visiting this pueblo magico.
This handmade bread is swirled with cream cheese and another flavor. The traditional flavors for pan de queso are blackberry, caramel, and chocolate.
Pan de queso is the perfect complement to a hot cup of coffee or chocolate. You can find bakeries selling this bread throughout the town.
5. Eat a Stuffed Cactus Pad | Nopal en Penca
This is one of the most traditional foods of Queretaro. While it's mostly associated with rural areas, you can find this stuffed cactus at several restaurants.
Nopal en penca is such a large dish that several times when I asked about ordering it for my father and I, the server discouraged me by explaining it was meant for four people.
But that notion as a dish for sharing has its roots in the Otomi people who created this dish together in the fields of the surrounding Sierra Madre mountains.
Garlic, arbol peppers, and oregano are the main essences of nopal en penca, a large cactus pad that is sliced open longways and stuffed with a mix of ingredients.
Traditionally nopal en penca is filled with poblano peppers, chopped nopales, and cambray potatoes before the nopal is grilled for about 30 minutes.
Today you can find variations stuffed with mushrooms, corn, crispy chicharrones, chicken, shrimp, chorizo, ​​and even flank steak.
6. Visit the Mask Museum | Museo de la Mascara
The Mask Museum is a small museum that showcases masks from different areas.
The museum is divided into three sections: masks made locally that won an annual contest, masks made by children between 5 and 12 years old, and masks donated by individuals from different parts of the world.
This is a great place to see masks from different parts of Mexico and other countries. You'll likely spend about 30 minutes touring El Museo de la Mascara.
Location (map)
Hours – Tuesday to Friday 11 am to 2 pm and 3 pm to 6 pm; Saturdays and Sundays 11 am to 6 pm
Cost – 30 pesos
7. Discover the Regional Wool Handicrafts
The streets in the center of town are full of artisans selling various handicrafts. But at La Aurora you can learn about the woven wool products made in the region.
At La Aurora artisan market, you'll have an opportunity to see the artists at work as they weave wool rugs, clothes, bags, and other items on a pedal loom.
Location (map)
Hours – Sunday to Friday 10 am to 6 pm, Saturdays 9:30 am to 7 pm
8. Taste and Learn About the Typical Sweets at Museo de Dulce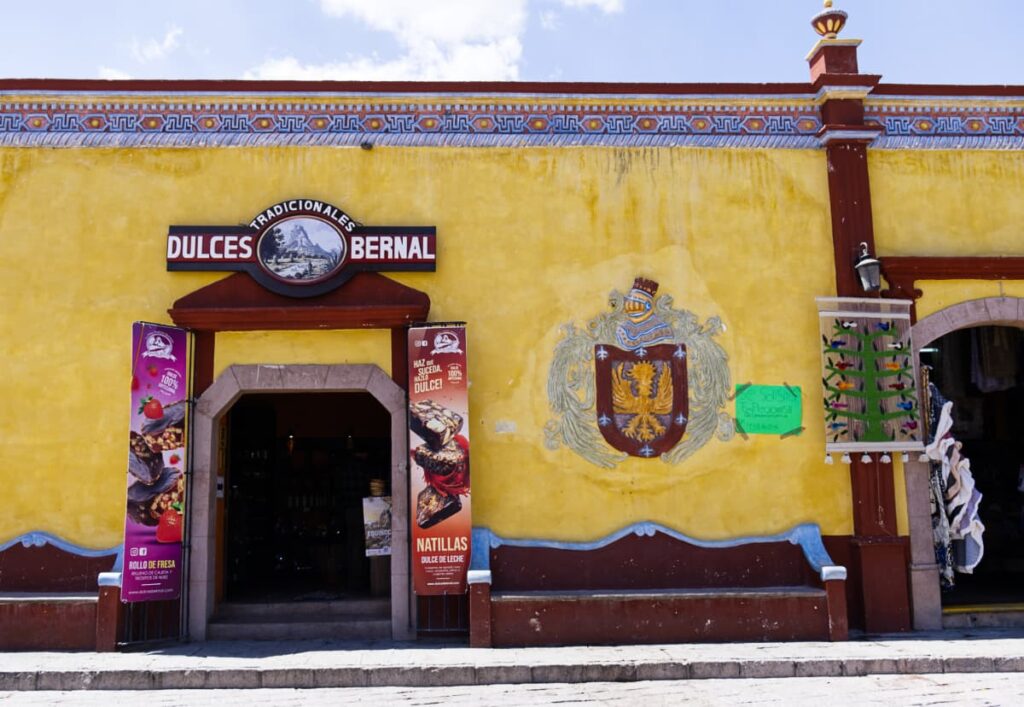 While dulce de leche may not be unique to Queretaro, this region is known for its candies made with goat's milk.
The museum showcases the ingredients used to make the typical candies of Queretaro while taking you on a journey through its history of sweets, from pre-Hispanic times to today.
Of course, you'll want to pop into the store as well to purchase candies to take home. Note – the museum is only in Spanish, though with plenty of visuals for non-Spanish speakers.
If you prefer simply tasting and shopping, there are other sweet stores in the center of town.
Location (maps)
Cost – 25 pesos
Hours – 10 am – 6 pm every day
9. Discover the Wine and Cheese Route
While technically Tequisquiapan is the gateway to Queretaro's wine and cheese route, you can explore this area from here as well.
If you want to visit on your own, I recommend spending the afternoon at Finca Salva Vivé by Freixenet.
This vineyard gets busy since tour buses stop here however, it's the closest (20 min by car) and easiest to get to on your own.
Alternatively, you can book this cheese and wine tour from Queretaro where you will visit a cheese cellar, a vineyard, and spend the afternoon in Bernal.
Do you love visiting Pueblo Magicos? Read this guide to Taxco, Mexico, one of my favorites.
10. Dancing Fountain of La Peña de Bernal
On Friday and Saturday evenings, visitors make their way to La Peña de Bernal in the evenings when the town hosts a light show at this fountain located at the base of the monolith.
This is a great thing to do with kids, although adults will appreciate the atmosphere under the monolith at night.
Location (map)
Hours – Fridays at 8 pm, Saturdays at 8 pm and 9 pm
Cost – Free
Best Time to Visit Bernal, Mexico
This pueblo magico is a weekend destination for residents of nearby cities, especially Queretaro.
As a result, many people think it's best to avoid going on the weekend. However, depending on what you're looking for, this may not be the best plan of action.
When we visited during the week, a lot of restaurants and shops were closed. Yes, the streets were quieter, but they were almost too quiet.
The biggest benefit of visiting during the week is the monolith will not be very crowded. Although you can also avoid crowds if you start the hike as soon as the park opens.
Bernal Queretaro Hotels: Quick View
These are the top hotels for every budget, most of which have amazing views of the monolith. Further below is a more detailed selection of hotels in Bernal, Queretaro.
Best Bernal Queretaro Hotels: Where to Stay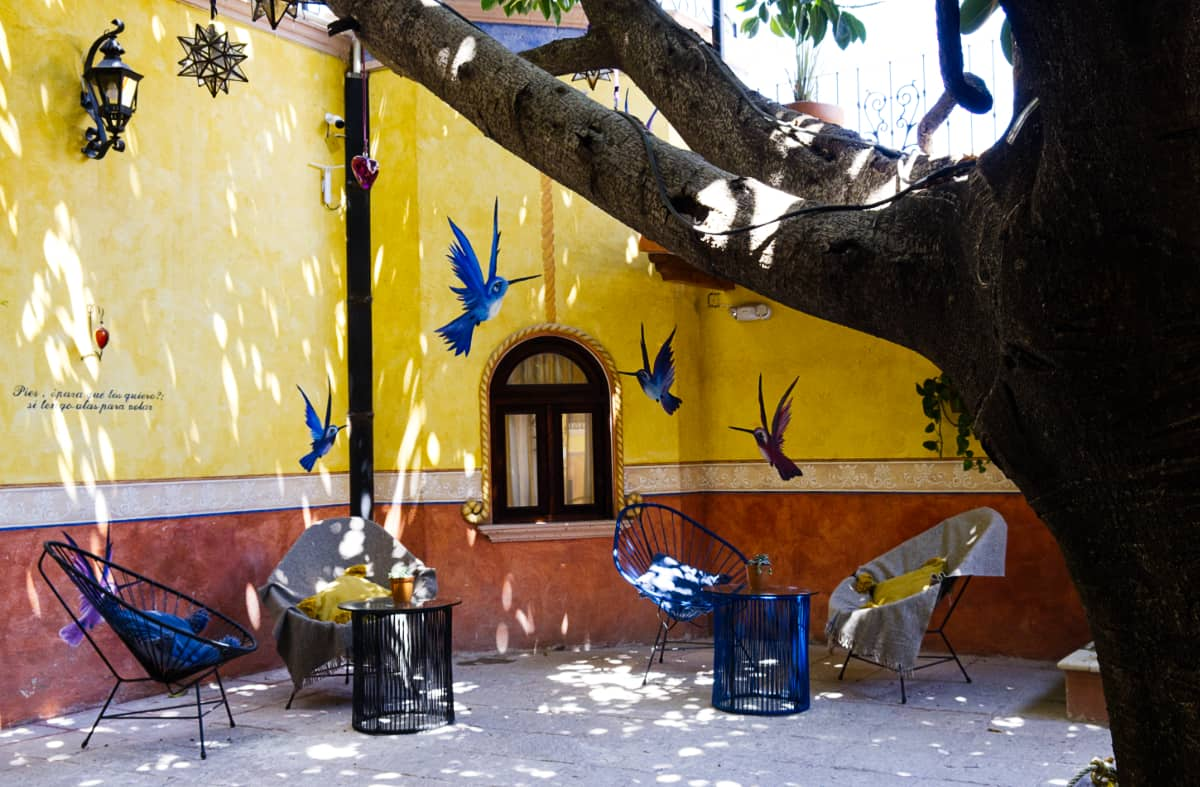 If you have the time, I highly recommend staying a night or two in Bernal Queretaro, pueblo magico.
This gives you time to wander around the town in the evening and wake up early to climb the monolith before the crowds and sun come out in force.
This small town comes alive during the weekends. For cheaper accommodation and fewer people, it's best to go during the week. However, some shops and restaurants are only open during the weekend.
$$$
This is one of the most beautiful hotels in Bernal, Mexico. The cabanas, called chalets, feature unique architecture with stunning views of La Piedra.
The individual locations make Zidada Hotel and Chalets feel incredibly private. Several of the chalets include a fireplace and a hot tub.
For families or small groups, there are two-bedroom chalets available to book.
$$$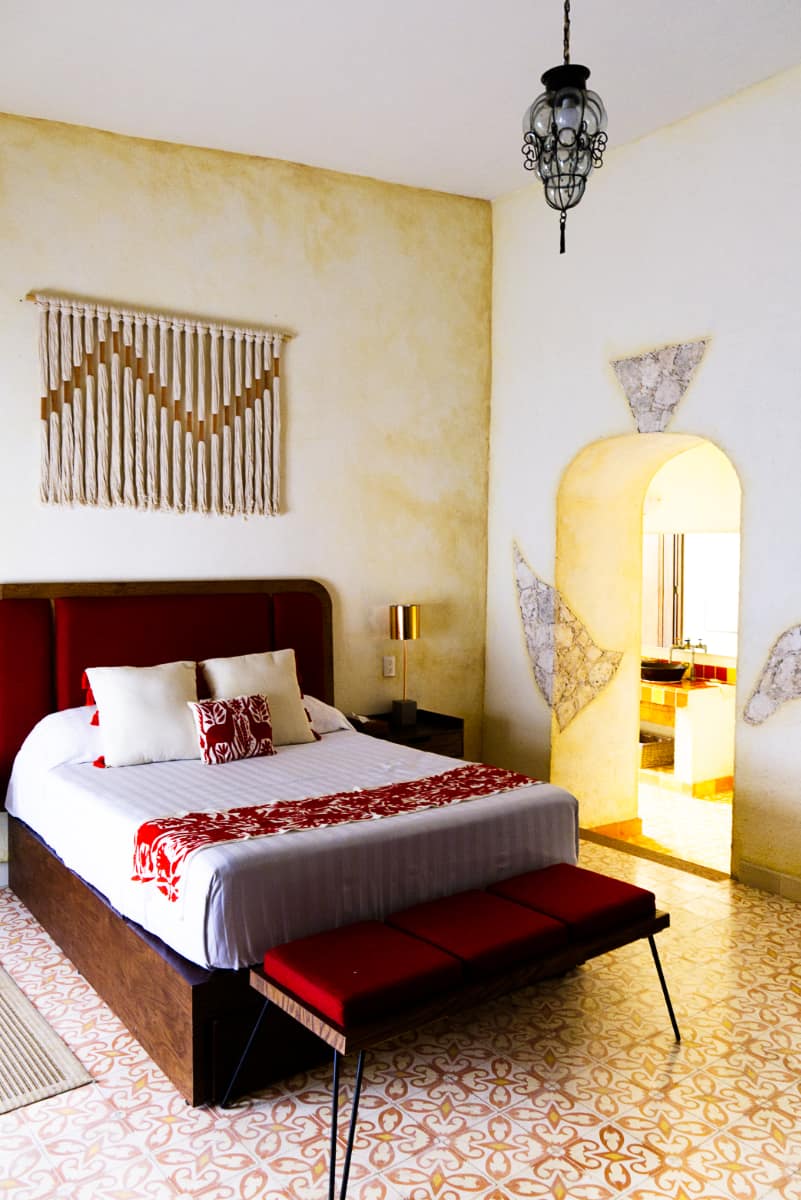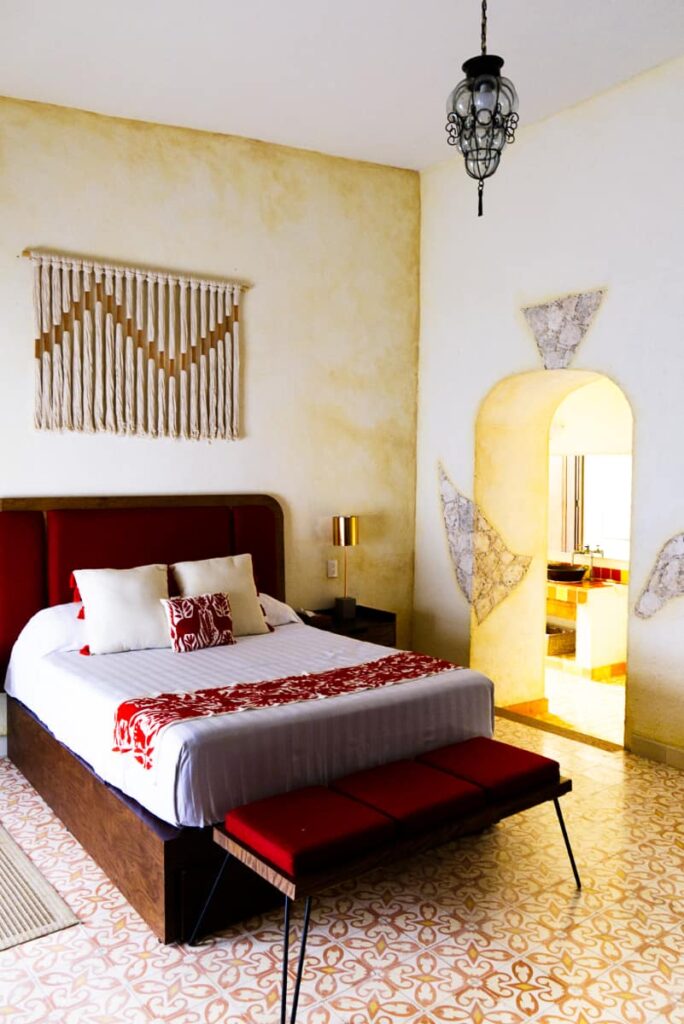 This boutique hotel in Bernal is located in a renovated colonial home in the center of town.
The hotel is decorated with warm colors of yellow and orange featuring bursts of color for a truly Mexican feel.
The rooms at Hotel Boutique Santo Cuervo are modern and colorful while keeping characteristics of the original home, such as the wooden ceiling beams.
The shared spaces include a central courtyard and rooftop with incredible views of the monolith.
$$
Located steps from the main church in the center of town, this Bernal hotel blends a fabulous location with views of La Piedra and a great price.
Hotel Posada Maria Bonita is a small, family-run boutique hotel with comfortable rooms and a shared courtyard.
$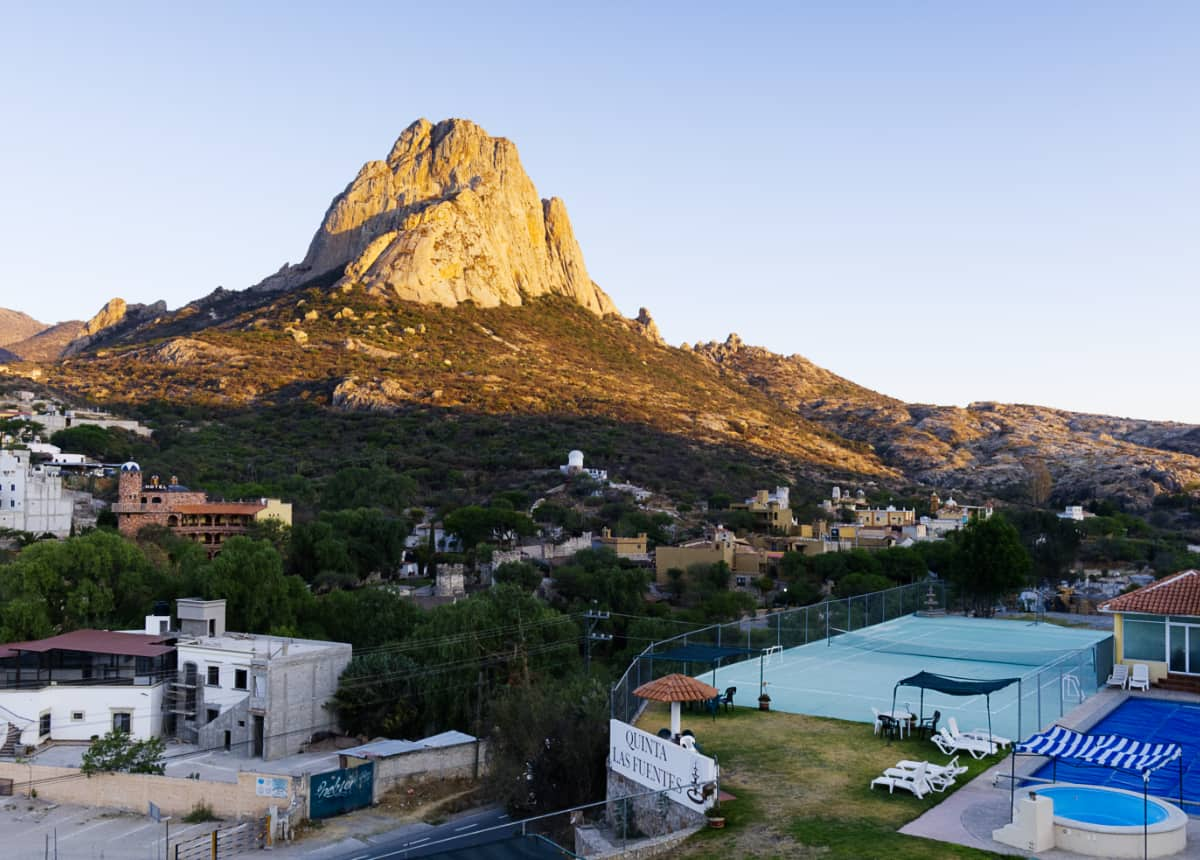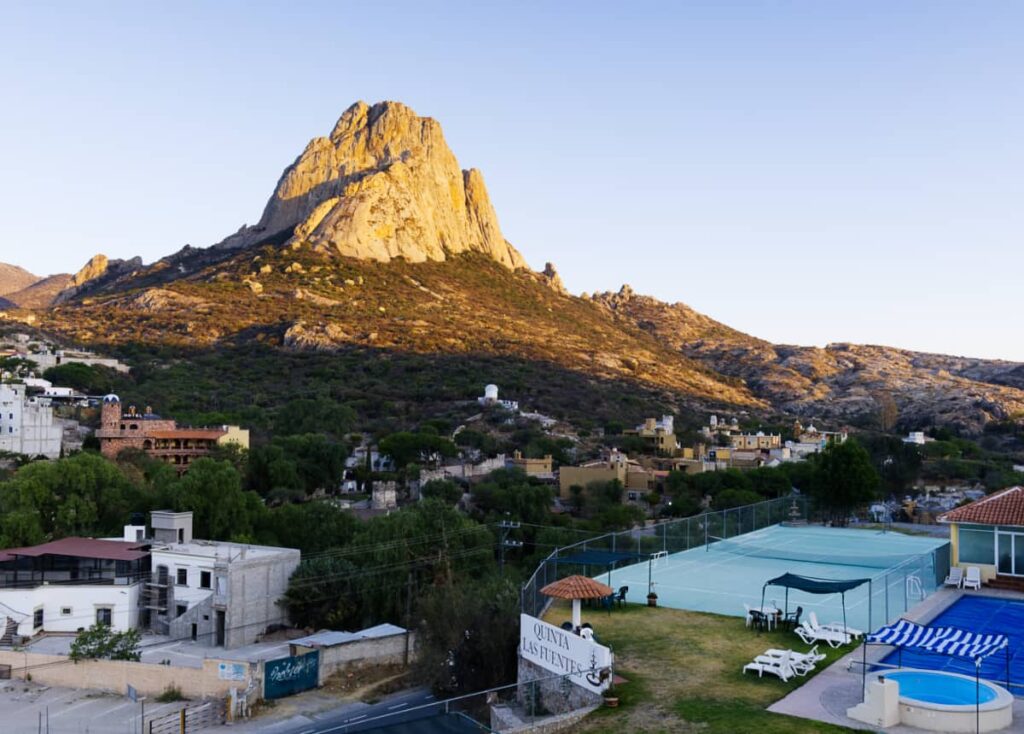 Located just across the main road from the town, this hotel has stunning views of the monolith.
While Hotel Las Fuentes is slightly outside of town, you can easily walk to the center in less than 10 minutes. And its location is reflected in the low price.
This hotel also has a large open space, complimentary parking, and a swimming pool. The downside of this hotel is that its proximity to the road equates to some traffic noise from trucks as they accelerate up the hill.
How To Get To Peña de Bernal Queretaro
Most travelers visit this pueblo magico from the city of Queretaro. However, it's also a great weekend or day trip from Mexico City if that's more convenient for you.
How to Get to Bernal From Queretaro
There are several ways to get to Bernal from Queretaro. We rented a car because I met my dad at the Queretaro airport and it was our first stop before exploring the Sierra Gorda Biosphere Reserve.
Take a Bernal Tour
A tour to only visit this pueblo magico would be a little silly since it's so close to Queretaro. However, there are several Bernal tours that also explore the nearby wine and cheese route.
A cheese cellar, Cava de Queso, will be your first stop when you book this Bernal, Wine, and Cheese tour. You'll learn about the process and taste the cheeses before moving on to a tour and tasting at a local vineyard.
Then you'll spend the afternoon in the pueblo magico of Bernal while learning about its history and food.
Rent a Car
If you prefer to have complete freedom, then you can rent a car in Queretaro and drive yourself.
The drive from Queretaro takes about 45 minutes depending on your starting location and traffic within the city.
If you rent a car at the Queretaro airport, the drive will be closer to 30 minutes.
Uber
The cost of an Uber will vary based on the day and your starting point. Although it will be similar to renting a car.
And while you don't have the freedom that renting a car allows, you don't have the stress of driving either.
I imagine it's also possible to take an Uber back to Queretaro, but I have not tested this. Familiarize you should yourself with the idea of taking a bus just in case.
Bus to Bernal from Queretaro
This is definitely the most economical way to get to there and quite an easy bus ride. The bus from Queretaro takes about 1 hour. Both Flecha Amarilla and Flecha Azul have buses that regularly leave from the main bus terminal (map).
There is not a bus station in this small town, so you'll get dropped off along the main road next to the town. To catch the bus back, you'll need to wait along the same road on the opposite side.
How to Get From Mexico City to Pena de Bernal
There are similar options to get to Bernal from Mexico City, other than the fact that it's a longer drive. If you have the time, I highly recommend staying in the area for a couple of nights.
Take a Tour
On this tour to Bernal from Mexico City, you'll climb La Piedra before spending a leisurely afternoon in the nearby pueblo magico of Tequisquiapan, Queretaro.
Or if you are more into tasting wine than climbing the monolith, you should book this Bernal tour which also visits Tequisquipan and a local winery.
Rent a Car
If you want to make it a road trip, you can rent a car in Mexico City and drive yourself. Depending on traffic, it takes 3.5-4 hours to drive from the center of Mexico City.
If this is your preferred way to visit, I'd definitely recommend you book a hotel in Bernal Queretaro to stay the night and explore the area.
Bus From Mexico City
While there is not a direct bus from Mexico City, this is still a viable way to travel since the bus from Queretaro is so frequent. Furthermore, buses in Mexico are quite comfortable while taking away any anxiety you may have about driving.
The bus to Queretaro from Mexico City takes about 3 hours and leaves from Mexico Norte Terminal (map). ETN, one of my favorite buses in Mexico, leaves every hour. And Primera Plus leaves roughly every half hour.
Is Pena de Bernal Worth Visiting?
Bernal pueblo magico is absolutely worth visiting. It even makes for a great day trip from Queretaro since it's less than a one hour drive from the city. Although I highly recommend booking a hotel to stay a night or two if you have the time.
Whether you decide to climb Pena de Bernal or simply admire the giant monolith while exploring the town, you should definitely add this to your list of places to visit.
Is Pena de Bernal Safe?
Pena de Bernal is generally safe. The trail to climb the monolith is relatively easy until the end when it requires a little more skill. While there is a metal rope to assist, you should only continue further if you feel comfortable. If you want to climb all the way to the top of the monolith you'll need to hire a guide who will provide the knowledge and appropriate gear.
I also felt completely safe while visiting the town itself. This small pueblo magico only consists of a few streets in main area of town, centered around the church and square.
Other Questions to Plan Your Trip
Can you climb Pena de Bernal?
Yes, you can climb Pena de Bernal. It's a popular destination for travelers to Queretaro and the views from the top are worth the climb. The trek to the top of this monolith is about 1.5 miles (2.4 km) with an elevation gain of nearly 1,300 feet (over 400 meters). The hike takes about 2-3 hours round trip, depending on your speed.
How tall is Pena de Bernal?
At over 1400 ft (433 m) tall, Pena de Bernal is one of the largest monoliths in the world. It is a sacred site for the indigenous Otomí-Chichimeca people that inhabit the area. Each year, pilgrims hike to the small chapel while carrying a large wooden cross with the hopes of bringing rain to this semi-desert region.
What's the best way to see La Pena de Bernal?
You can see La Pena de Bernal from different vantage points throughout the pueblo magico, but the best way to see it is to climb to the top. Well, not quite the top but as high as you can hike without using proper climbing gear.
Do you need to book in advance to visit La Pena de Bernal?
How do you get to Bernal from Queretaro?
To get to Bernal from Queretaro, you can drive about 45 minutes from the city or take a 1-hour bus from the Queretaro bus station. Alternatively you can take a tour to Bernal from Queretaro, which often includes a stop to taste wine and cheese.
How do you get to Pena de Bernal from Mexico City?
To get to Pena de Bernal from Mexico City, you can drive or take a bus from Mexico City to Queretaro. The route takes about 3 hours. Alternatively, you can take a tour to Bernal from Mexico City which includes a stop at a winery and the pueblo magico of Tequisquiapan.
Is Bernal Mexico safe?
Yes, Bernal Mexico is very safe. This pueblo magico is located in the state of Queretaro, which is a relatively safe region of Mexico. However, as with any destination, it's always important to take precautions and be aware of your surroundings.
Is Pena de Bernal a volcano?
While Pena de Bernal itself is not a volcano, is believed to be the former core of an ancient volcano. When the volcano was active, the inside became a solid mass of magma that is the monolith we see today. The remainder of the volcano eroded away over millions of years, leaving the rock in the center.