25 Best Day Trips From Mexico City for Travelers in 2023
Are you looking for the best day trips from Mexico City?
While Mexico City itself offers an array of cultural and historical sites, venturing outside of the city opens to a world of natural beauty and unique experiences.
Embarking on these Mexico City day trips allows you to expand your understanding of Mexico's rich culture.
From fascinating archaeological sites and lush nature reserves to picturesque towns steeped in history, day trips from Mexico City are seemingly endless.
And don't worry, I've also included some day trips in Mexico City so that you can maximize your time.
Let's discover the best places to visit near Mexico City to deepen your knowledge of what lies beyond the vibrant heartbeat of CDMX.
This article may contain affiliate links. This means if you click a link on my website and make a purchase, I earn a commission at no additional cost to you. For full information, please see my disclaimer here.
My Top 3 Picks: Best Day Trips From Mexico City
Don't have time to read about all the day trips from Mexico City? I've got you covered. Here are my top 3 picks for Mexico City day trips.
Places to Visit Near Mexico City
I decided to start this list with several day trips in Mexico City.
The reason is that Mexico City is a large, sprawling metropolis. It could easily take an hour or two to get from one side of CDMX to another.
While you'll still want to allot a half or full day for these places to visit near Mexico City, their proximity means you won't spend the majority of your time traveling there and back.
1. Teotihuacan Archeological Site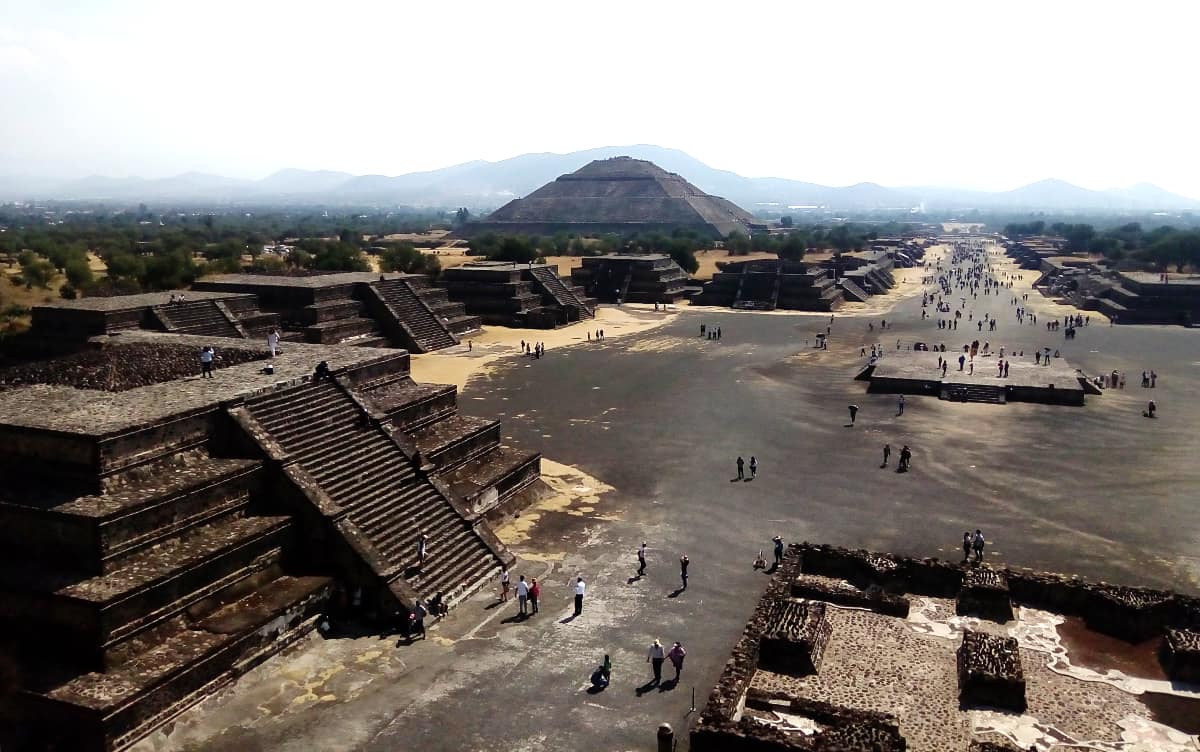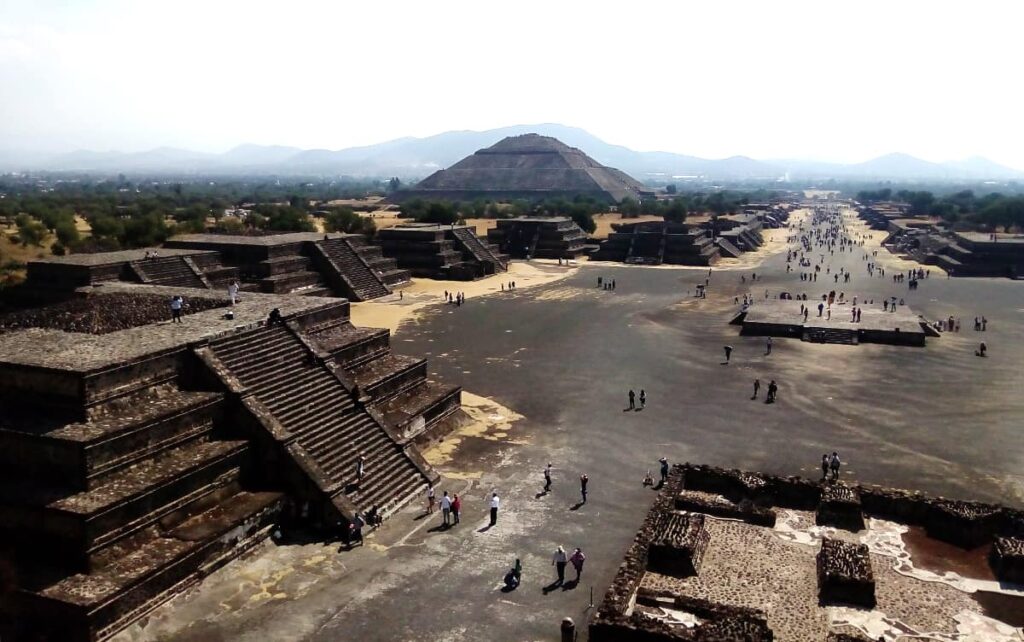 The ancient city of Teotihuacan is a top place to visit near Mexico City, even if you're not a history enthusiast.
Located about an hour northeast of the city, the main features of this UNESCO site are the Sun and Moon Pyramids. But there are many other places to explore between the two.
After visiting twice, I learned so much more about Teotihuacan with a guided tour. I highly recommend booking this Teotihuacan tour so that you can learn more about the site, its history, and the over 200,000 people that once called Teotihuacan home.
Or for a spectacular start to the day, book this hot air balloon ride over Teotihuacan in the morning and then explore the site as soon as it opens. Both provide transportation from Mexico City.
Visiting Teotihuacan from Mexico City is one of the most popular day trips from CDMX to add to your itinerary.
2. Xochimilco Floating Gardens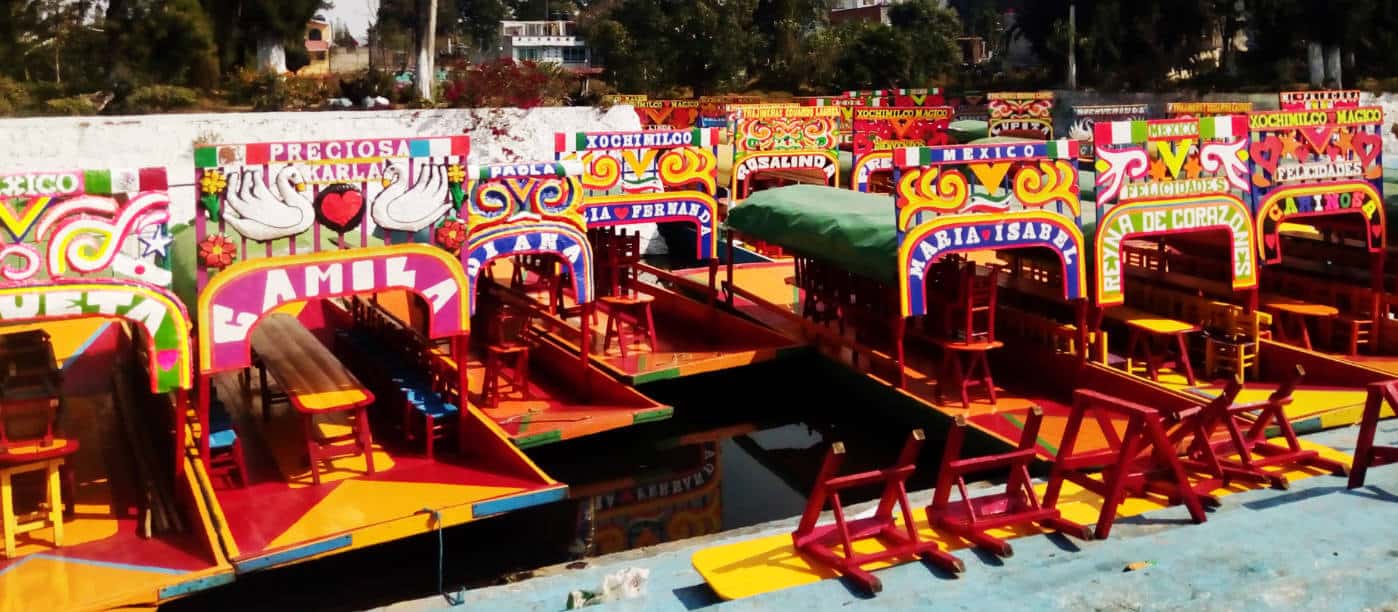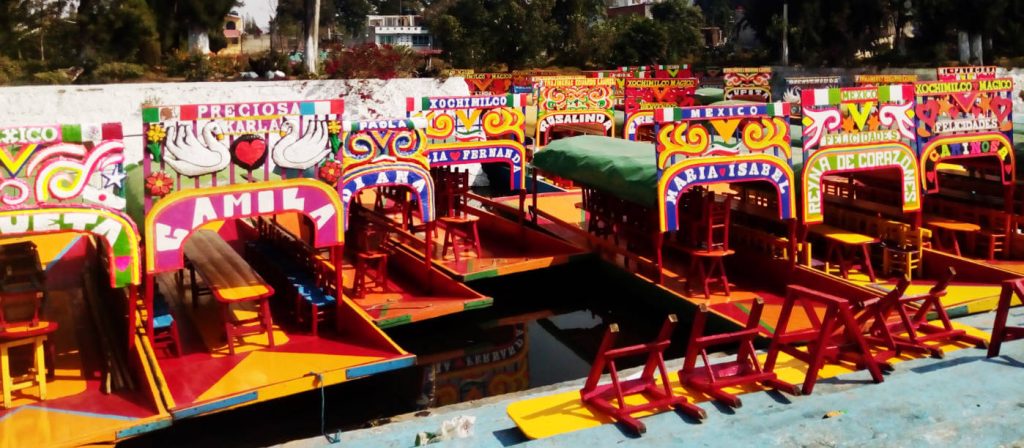 This unique day trip is famous for its colorful trajineras (trah-he-ner-as) which are traditional wooden boats that can be rented by the hour to explore the waterways.
The canals in Xochimilco are a series of floating gardens built by the Aztecs to grow food and other plants. While this is one part of Xochimilco, the other and more common experience is the party atmosphere that develops among the various boats.
As you float through the canals, other boats full of people pass by as well as vendors selling beers, elotes (corn), and other snacks. Although the most fun is the mariachi bands that will happily board your boat and play a few songs for a fee.
Since it's quite a social atmosphere, it's best to visit Xochimilco in a group. This also helps with sharing the cost to rent the boat which is about 500 pesos per hour.
Alternatively, you can book a tour of Xochimilco from Mexico City which includes transportation and the cost of the boat. This day tour includes a visit to Coyocan and Frida Kahlo's House, Casa Azul so that you can maximize your time in Mexico City.
Pro Tip – Buy snacks, drinks, and ice at the small stores near the boats. You can bring them on board. Often the boat captain will have a bucket as a makeshift cooler.
3. Coyoacan and Frida Kahlo Museum
Coyoacán is a vibrant neighborhood in Mexico City, located about 40 minutes south of the city center. So, yes this is one of those day trips in Mexico City. To make it a full day, visiting Coyoacan pairs nicely with the floating gardens of Xochimilco which are also located south of the city.
The neighborhood of Coyoacán which in Nahuatl is interpreted to mean "place of coyotes," blends a bohemian atmosphere with colonial charm. It's most well known for Casa Azul, the former residence of Frida Kahlo turned museum.
Stepping into The Frida Kahlo Museum is like stepping into the pages of Kahlo's life. The vibrant blue walls, lush gardens, and preserved interiors provide a glimpse into the world that shaped her identity and artistic vision.
Exploring the museum allows you to intimately connect with Frida Kahlo's art. I particularly admired her striking self-portraits, which reveal her pain, resilience, and unapologetic embrace of her Mexican identity.
You may want to take the time to walk around the colorful neighborhood of Coyoacan. In the center is the main square with a beautiful coyote fountain. And nearby is the studio of Diego Rivera and Frida Kahlo which you can also tour.
Pro Tip – You need to buy tickets for the Frida Kahlo Museum in advance, then get in line at least 15 minutes before your entrance time.
If you prefer, you can book a tour that includes Coyoacan, Casa Azul, and a boat ride through the canals at Xochimilco. Several also include the Diego Rivera Anahuacalli Museum and a trip to see the murals at the Mexico City University, UNAM. I've included a few below.
Staying in CDMX? You'll want to discover the best lucha libre tours in Mexico City.
4. Tula Archeological Site
Located just 90 minutes north of Mexico City, this archeological gem offers a glimpse into the period of the Toltecs after the fall of Teotihuacan.
Tula archeological site is one of the lesser visited ruins in Mexico and its proximity to the city makes it a great Mexico City day trip.
Love archeological sites? You should book this private tour to visit both Tula and Teotihuacan on the same day.
Tula Archeological Zone features four incredible columns carved in the shape of Toltec warriors. They are carved of basalt rock and stand tall on Tula's most prominent pyramid.
While these are the most impressive formations at Tula, there are plenty of other places that have been excavated, including two ball courts.
The entrance to the site weaves through the Tula National Park. It features a beautiful botanical garden with native species such as mesquite trees and many types of cactus. For me, this was a huge bonus to visiting this less-visited archeological site in Mexico.
5. Tepotzotlán and Arcos del Sitio Park
Located just an hour from CDMX, the pueblo magico of Tepotzotlán is another of the best places to visit near Mexico City.
Most visitors come here to explore the Museo Nacional del Virreinato which is located in the former College of San Francisco Javier. Built by the Jesuits who arrived in the late 1500s, the school was initially formed to teach indigenous language to evangelicals.
Today the entire complex consists of three parts – the former school, the ornate church of San Francisco Javier which has incredible gold detail inside, and the Church of San Pedro Apostol which is still used for religious purposes.
You can combine a visit to the museum in Tepotzotlan with a trip to Tula Archeological Ruins when you book this private day trip tour from Mexico City.
Another great place to visit nearby is the Arcos del Sitio Park, a recreational site at the location of an incredible 18th-century aqueduct.
Xalpa aqueduct consists of an impressive 43 arches spread among its four levels. At approximately 438 meters long and 61 meters high, it was considered one of the highest aqueducts in the world at the time.
The Arcos del Sitio Park offers its visitors sweeping views, a picnic area, horseback rentals, and a zipline. You can also take a hot air balloon ride among the arches.
Want to discover more of CDMX? Click to read my top picks for a Mexico City taco tour.
Mexico City Day Trip to the Silver Mining Towns of Hidalgo
While most people think to take a day trip from Mexico City to Pachuca Hidalgo, I found the small silver mining towns to its north to be much more charming.
Each of these towns is one of the seven Pueblo Magicos in Hidalgo. They offer an enchanting escape from the bustling city life of Mexico City.
6. Huasca de Ocampo
Although this is the furthest of this set of day trips from Mexico City, I'm starting with Huasca de Ocampo because it's also one of the most popular places to visit in Hidalgo. And rightfully so.
Its proximity to Los Prismos Balsalticos, one of Mexico's 13 Natural Wonders, has put it on the map of travelers. It is also one of the reasons Huasca de Ocampo was nominated as the first Pueblo Magico in Mexico.
The best thing to do on a day trip is to visit the stunning Basaltic Prisms, the aforementioned natural wonder.
These impressive hexagonal columns were naturally formed by rapidly cooling lava. Today they are solid geometric formations with several small waterfalls flowing from above.
Afterward, you'll want to visit Hacienda Santa Maria Regla, a regal example of the area's silver mining past.
Want to visit the Basaltic Prisms and Real del Monte? Book this tour which includes transportation to both pueblo magicos and the prisms.
7. Real del Monte
Real del Monte, also called Mineral del Monte, is the highest town in Hidalgo, featuring several beautiful viewpoints overlooking the picturesque town.
With its well-preserved colonial architecture and rich history in mining, this pueblo magico takes you back in time. Most visitors choose to tour the silver mine and/or the silver mining museum on a day trip from Mexico City.
Real de Monte is also the best place to taste pastes, the filled dough pockets brought over when miners from Cornwall settled in the area to help with the flooding of the silver mines.
8. Mineral del Chico
Also referred to as El Chico, this enchanting mining village is a mountain retreat nestled within the forest. I found the proximity of the mountains brought a lot of natural charm to Mineral del Chico and it quickly became my favorite of the three.
Tucked into El Chico National Park, this area offers a lot of outdoor activities such as rock climbing, rappelling, and zip lines.
We decided to explore the waterfalls along the River of Miracles, named so because the water continues to flow even with a low water level. It's walkable from the town and you can choose whether to tour one of several former silver mines in the area as well.
If you want to rent a car and go on a day trip from Mexico City, other options include exploring highlights of the national park, such as Pena del Cuervo.
And families will enjoy spending the day at El Cedral, a dam on the southwest corner of the park where you can rent boats, go by horseback, or simply enjoy the small lake.
9. Grutas Tolantongo Hot Springs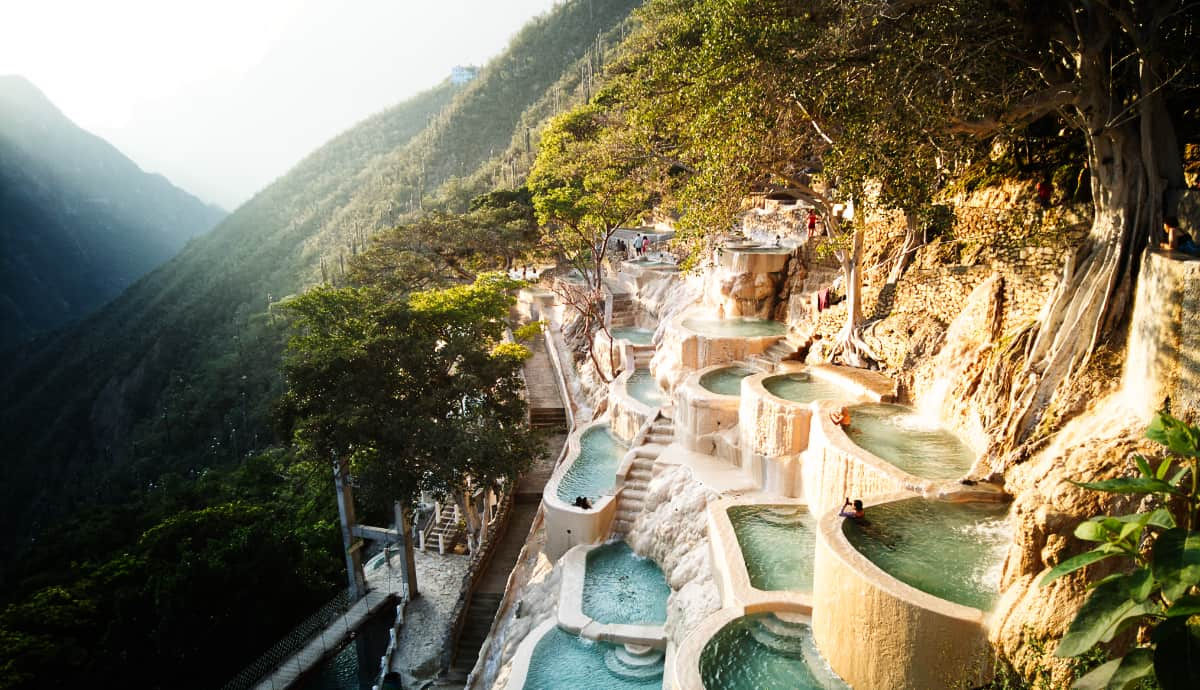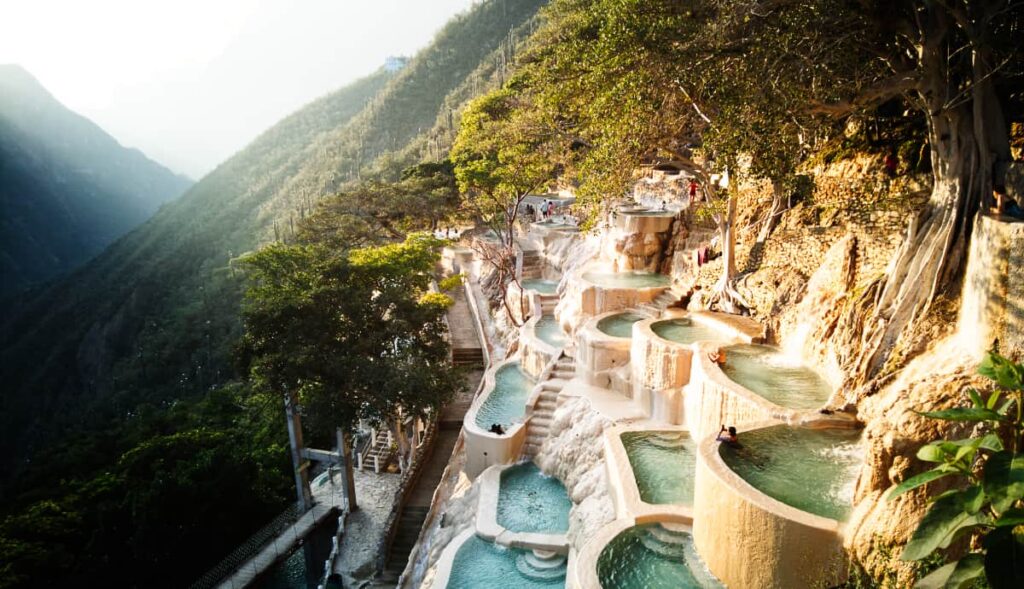 If you're looking for a way to relax outside of the city, you'll want to visit Grutas Tolantongo Hidalgo.
Located approximately 4 hours from the capital, Grutas Tolantongo is a series of hot spring pools fed from a thermal cave that flows into a gorgeous blue river of the same thermal waters.
After you arrive, you'll be greeted by the sight of the thermal turquoise waters flowing through the majestic canyon. The setting alone is worth the trip to Grutas Tolantongo.
If you're planning to take a day trip from Mexico City, it is best to book a tour to Grutas Tolantongo which includes transportation and entrance fees. You can customize this tour to stay overnight at Grutas Tolantongo which I highly recommend.
Alternatively, you can rent a car in Mexico City and drive to the hot springs.
Pro Tip – I would avoid public transportation for a day trip because it requires a transfer in Ixmiquilpan which takes too much time along the already long journey.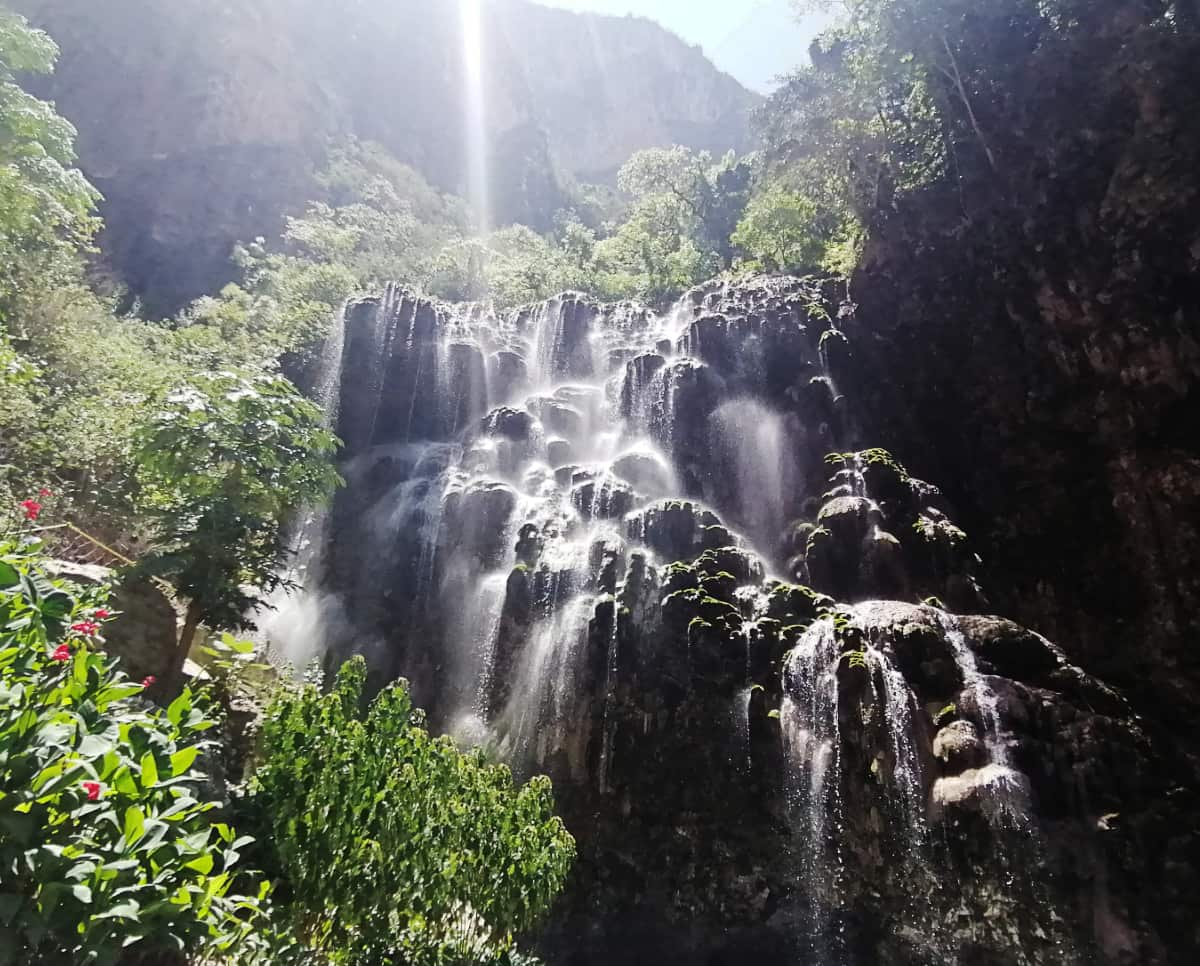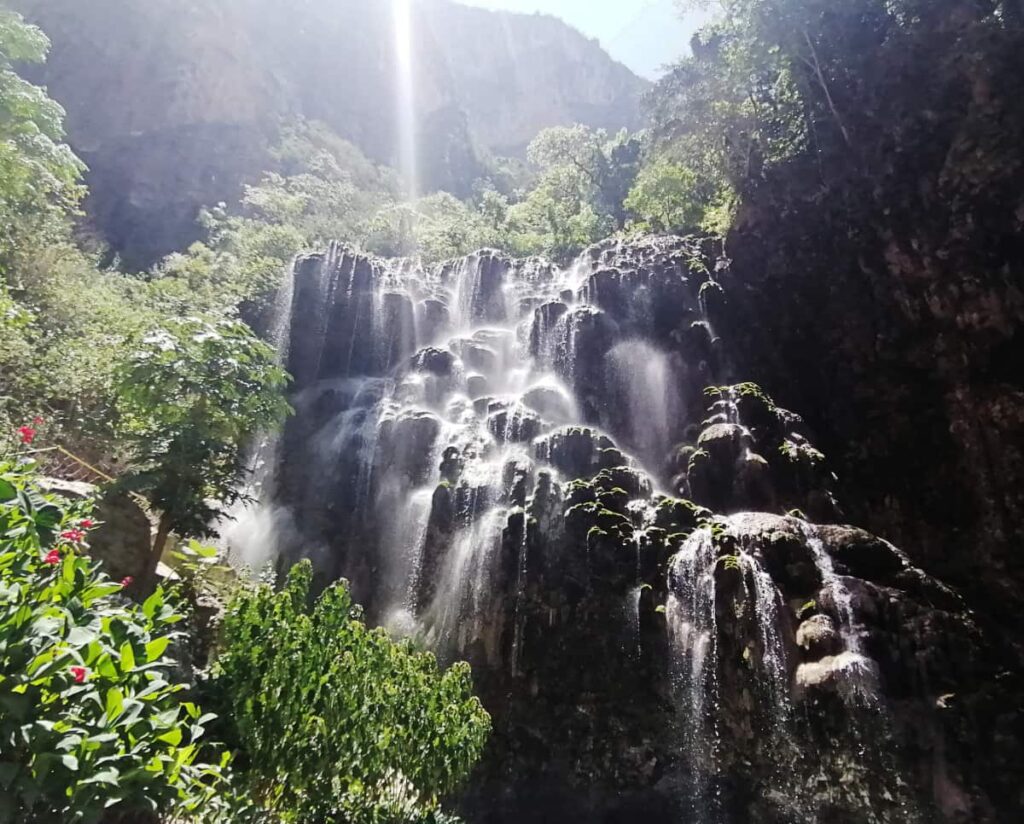 There's more to explore at Grutas Tolantongo than just the hot springs pools. I recommend first soaking in the turquoise river before the sun gets intense. Then check out the thermal cave and tunnel where the water is hottest.
After, use the internal transportation to get to the hot spring pools which feature stunning mountain views. And if you're up for a little adventure, take the zipline down to the center to return to Mexico City.
If you're feeling hungry, there are multiple restaurants, small shops, and snack places within the hot spring complex. And I found them to be reasonably priced.
Pro Tip – Grutas Tolantongo is a popular destination for Mexican tourists. You'll want to avoid the weekend and holidays as much as possible.
10. Puebla Day Trip From Mexico City
Puebla is a colonial city renowned for its stunning architecture, traditional culinary dishes, and historical significance. It's also known for its incredible churches such as the iconic Puebla Cathedral and the gold-gilded Rosary Chapel.
The historic center, a UNESCO site, is a treasure trove of architectural gems. Puebla is famous for its beautifully preserved colonial buildings, characterized by their intricate facades adorned with colorful Talavera tiles.
Another must-see when visiting Puebla on a day trip from Mexico City is the Biblioteca Palafoxiana. This library is recognized as the first public library in the Americas, housing rare books and manuscripts.
Food lovers will be in for a treat in Puebla, as the city is renowned for several traditional dishes. Perhaps most well-known is mole poblano, a rich and flavorful sauce made with chocolate, chili, and a blend of spices.
You also can't leave Puebla without trying a cemita, named after the bread in which the ingredients of this large sandwich are layered between. And if you're visiting near Independence Day, look for restaurants serving Chiles en Nogada – a very patriotic dish of Mexico.
Want to visit Cholula and Puebla on a day trip from Mexico City? Book this tour which visits both with a knowledgeable guide.
11. Cholula
If you get started early enough, you can add Cholula to your Puebla day trip from Mexico City.
Situated just west of the city of Puebla, Cholula is a small town primarily known for its iconic pyramid that holds the distinction of being the largest pyramid by volume in the world.
While its exterior may appear as a grass-covered hill, the true magnitude of the pyramid becomes evident as you venture inside.
But first, I recommend climbing to the top of the church for beautiful volcano views in the morning.
In the afternoon, consider exploring Cholula. This University town is known for its nightlife and lively bars.
12. Izta-Popo National Park
If you're looking for an adventurous day trip from Mexico City, you should visit Izta-Popo National Park, home to the famous Iztaccihuatl and Popocatepetl volcanoes.
This national park offers breathtaking views, diverse landscapes, and challenging hiking (mostly due to the elevation).
If you want to visit, I highly recommend you book this tour to trek between Mexico's most famous volcanos. This day tour includes gear and trained guides with safety equipment.
Another popular hike is the Iztaccihuatl Volcano hike. This intermediate-level trail takes about three hours to reach the base a few thousand feet below the snowcapped volcano which stands 17,000 feet high.
Due to the altitude, it's important that you are hydrated before adventuring on this day trip from Mexico City. If you're not experienced with high-elevation hikes, it's another reason to go with a guide that can assist along the way.
13. Taxco Day Trip From Mexico City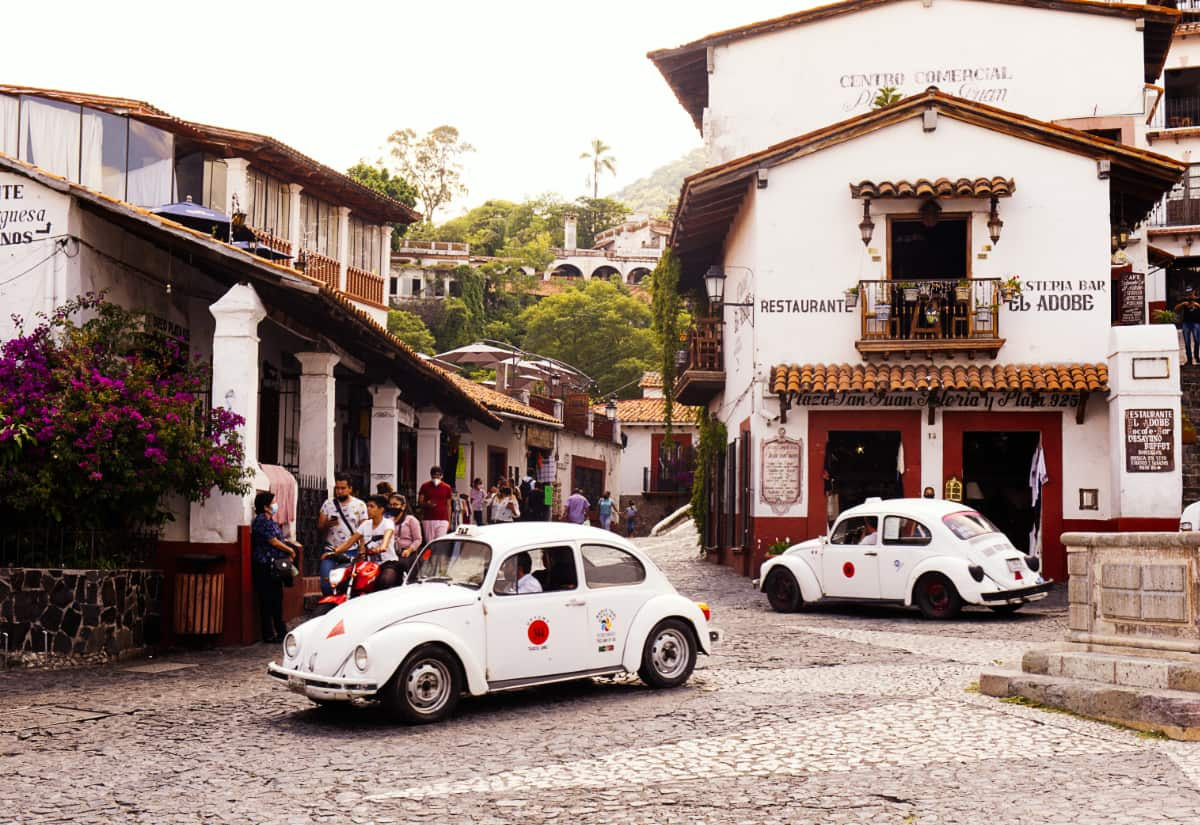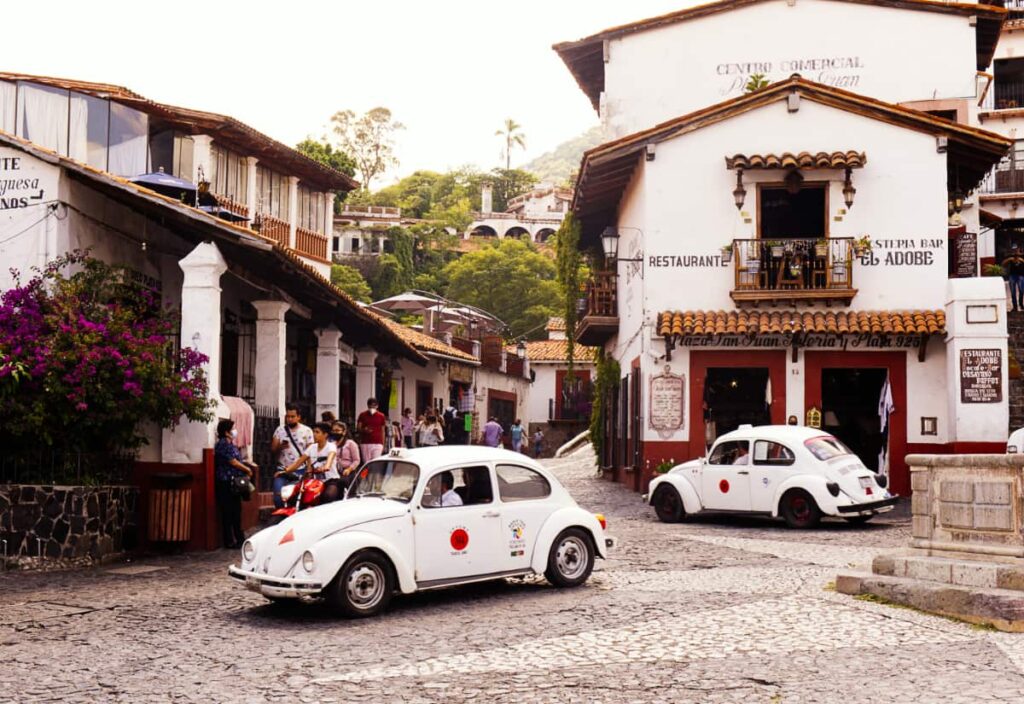 One of the best day trips from Mexico City is to visit the charming town of Taxco, Mexico. It's famous for silver jewelry and narrow streets filled with VW bugs that serve as the taxis for this pueblo magico.
Start with admiring the intricate Baroque facade of its Santa Prisca Church located in the center. If you want to learn more about the history of Taxco Mexico, I recommend the short guided tour of Casa Figueroa.
Then spend the afternoon wandering through the maze of narrow streets or visit the preHispanic silver mine that was discovered in 2014.
To top off your day trip to Taxco from Mexico City, I suggest taking the cable car up to Hotel Montetaxco. You'll be rewarded with stunning views of the town and surrounding mountainscapes. It's the perfect spot to enjoy the sunset with dinner or a cocktail.
If you prefer to have everything taken care of, book this tour to Taxco from Mexico City which also visits Cuernavaca. Or plan a trip that also visits the Cacahuamilpa Caves on the way to Taxco from Mexico City (see next).
14. Cacahuamilpa Caves Near Taxco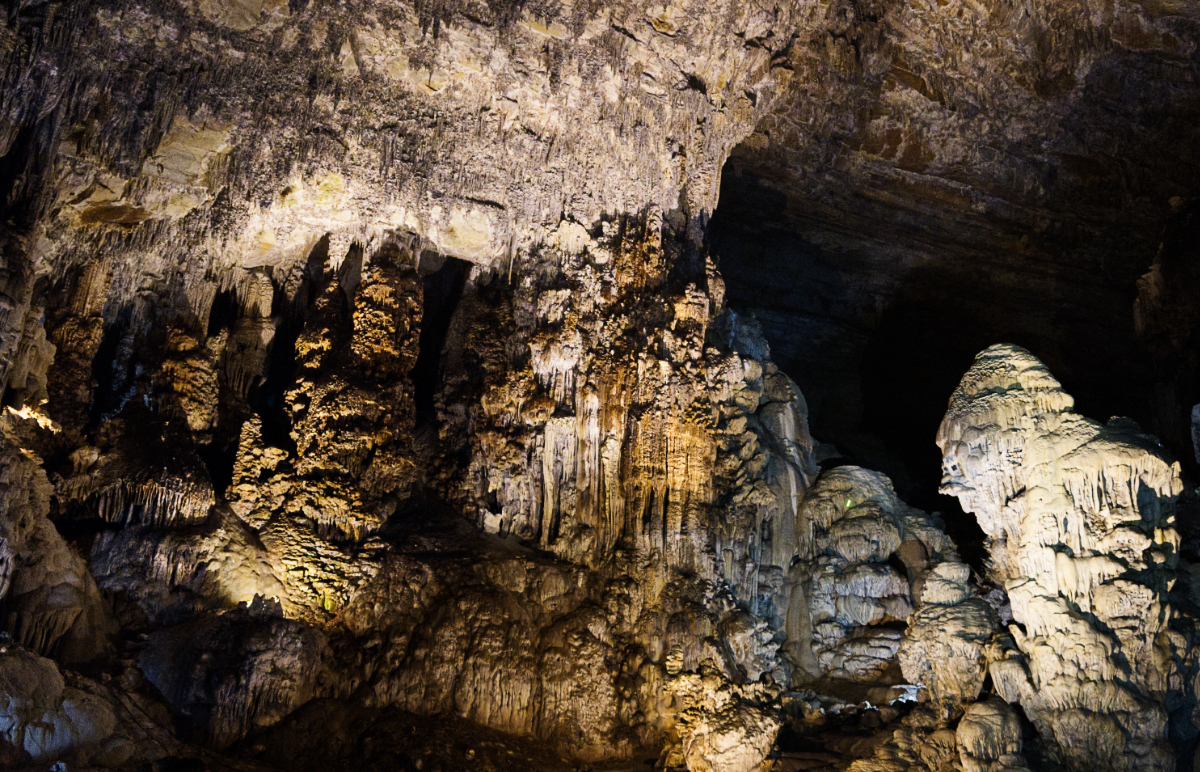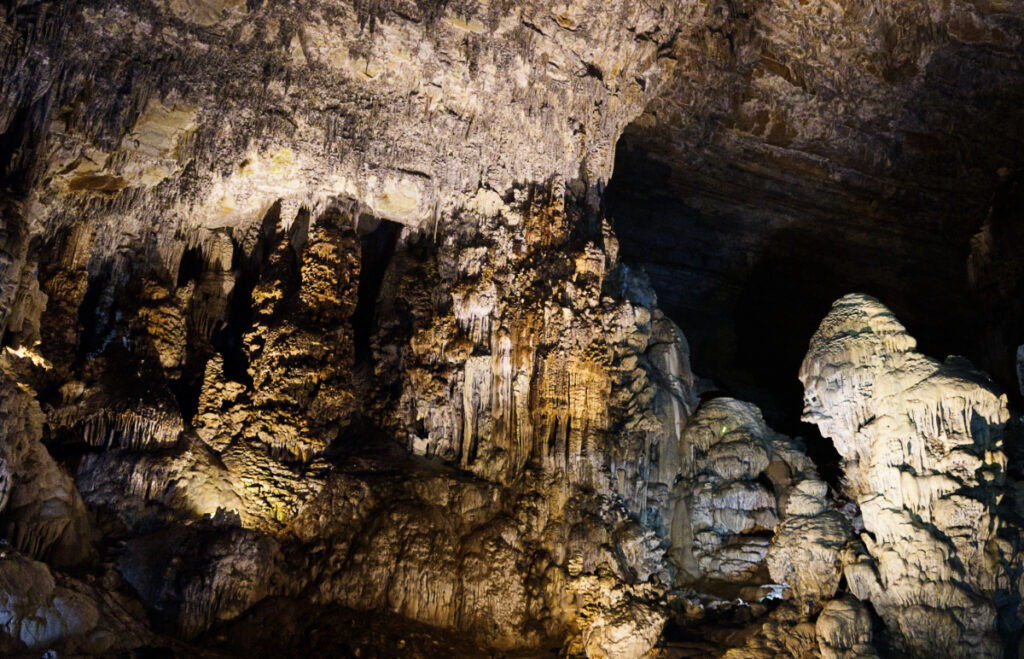 Visiting the Cacahuamilpa Caves, one of the largest natural cave systems in the world, is a great side trip from Mexico City to add to Taxco.
A guided tour through the caves showcases the stunning formations and stalactites, which have formed over millions of years.
For more adventurous travelers, the park offers packages that include the suspension bridge, zipline, or canyoning after a tour of the caves.
The best way to cap off a trip to the caves is to continue to the pueblo magico of Taxco. To see both in one day, I recommend you book this tour to Taxco and the caves which includes transportation so that you can make the most of your time traveling from Mexico City.
Whether you're a nature lover or a history buff, the Cacahuamilpa Caves National Park and the nearby attractions are a memorable day trip from Mexico City.
15. Cuernavaca
Cuernavaca is another popular day trip from Mexico City, especially when combined with a trip to Taxco.
Highlights of a day trip to Cuernavaca include exploring the sites in its colonial center. Start with Cuernavaca Cathedral, a former monastery built in the early 16th century.
Combine it with a visit to the Palace of Cortés, a 16th-century palace that now houses a regional history museum with murals by Diego Rivera.
To make the most of your visit, I recommend booking a tour that combines a visit to Cuernavaca with the nearby town of Taxco, a pueblo magico known for its silver jewelry. Since it includes transportation, you can easily enjoy both towns in one day.
16. Tepoztlán
Tepoztlán is a charming town nestled in the picturesque mountains of the state of Morelos. With its beautiful mountain views and cobblestone streets, it's easy to see why the residents of the capital consider Tepoztlan a top weekend getaway from Mexico City.
In addition to exploring the town, its regional foods, and its spiritual offerings, Tepoztlán is a fantastic opportunity to explore nature. Most visitors embark on a hike up to the El Tepozteco, a temple dedicated to the Aztec god Tepoztēcatl, perched high on Tepozteco Mountain.
If you prefer more solitude, I recommend taking a short bus ride to the tiny town of Amatlán de Quetzalcóatl which is also nestled in the National Park of Tepozteco.
From hiking to the temple, exploring its picturesque streets, and eating preHispanic dishes in the market, a Mexico City day trip to Tepoztlán offers you a perfect blend of nature, culture, and tradition.
17. Querétaro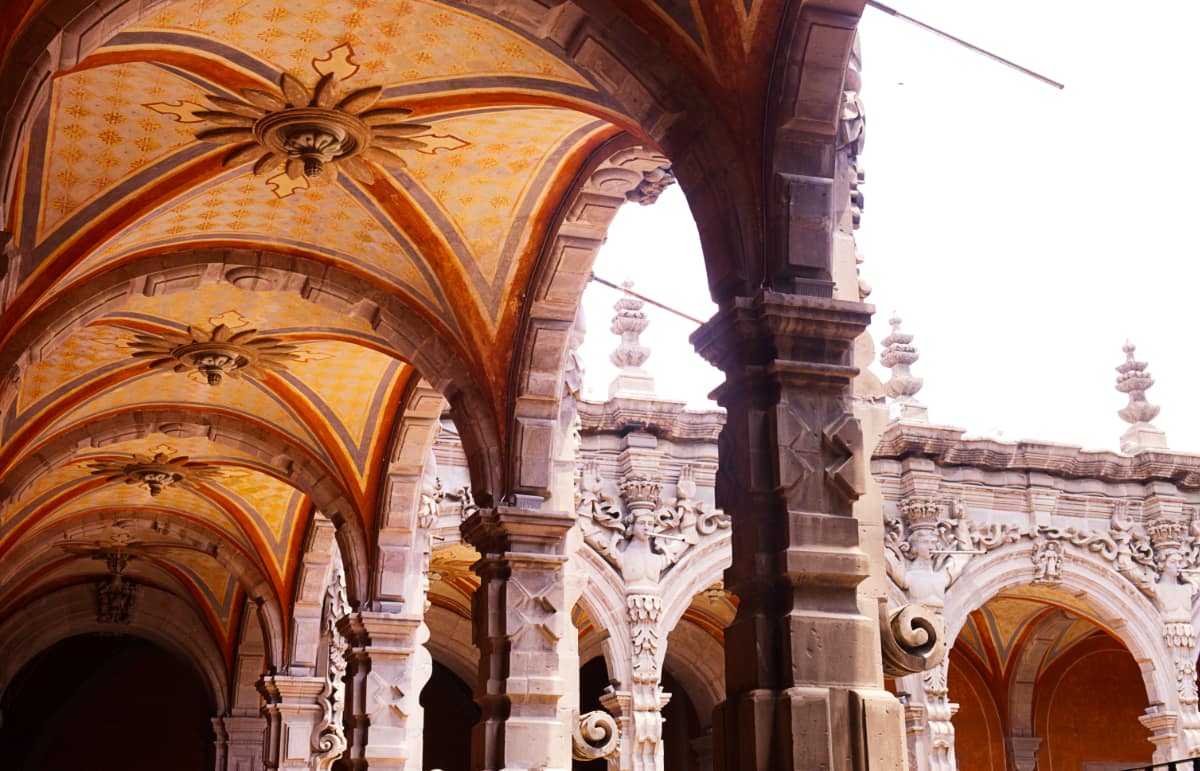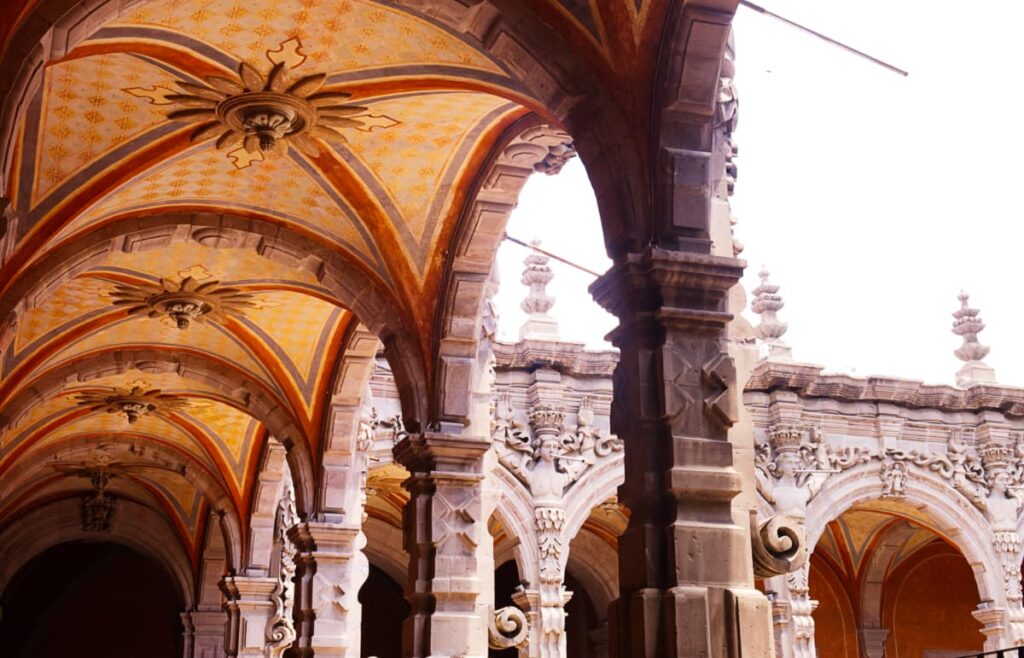 A day trip from Mexico City to the underrated city of Queretaro includes admiring its ornate architecture, incredible sculptures, charming plazas, and impressive aqueduct.
Let's start with the buildings. I find the architecture in Queretaro fascinating. From unique door knockers to fascinating gargoyles that adorn many of its historical buildings. Pair this with the city's more than 1,000 designated monuments and you've got an art and architecture lover's dream.
Plus there are many museums in Queretaro whose architecture impress me more than the museum works themselves. Top it off with Queretaro's public squares lined with perfectly manicured trees and I could walk around this city for hours.
You'll also want to visit the iconic Aqueduct of Querétaro, an impressive 18th-century engineering marvel with 74 arches stretching 1,280 meters (4,200 ft) long.
This historical city is also the gateway to two pueblo magicos, Bernal and Tequisquiapan (see next) as well as the Queretaro wine and cheese route.
18. Bernal, Queretaro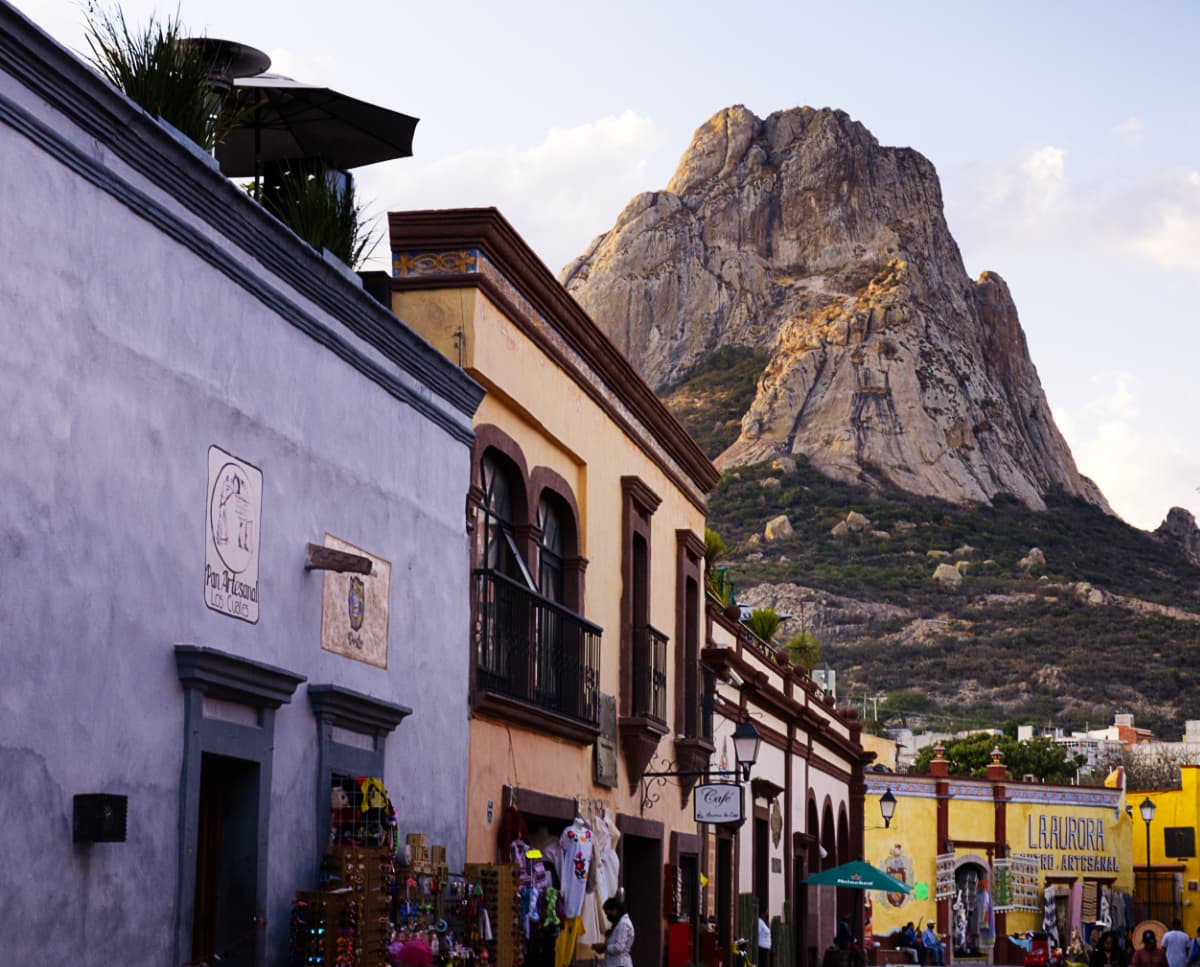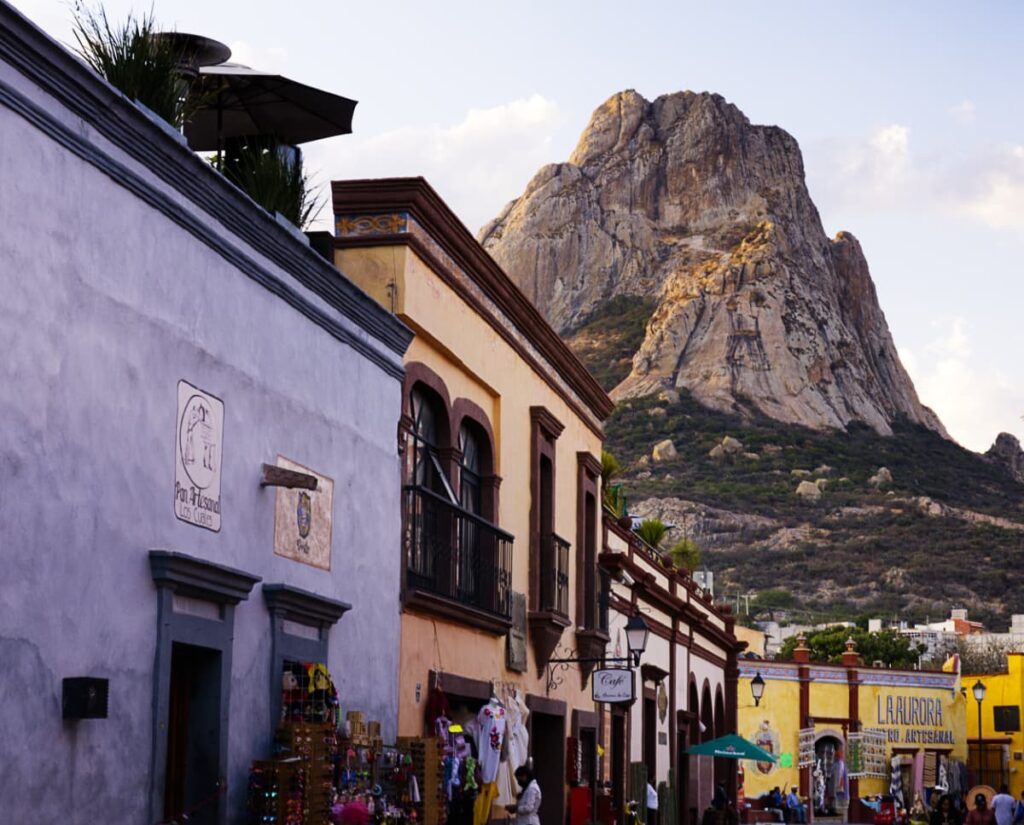 The biggest draw to this pueblo magico is Peña de Bernal, one of the tallest monoliths in the world. This sacred site looms large over the town, making its presence known throughout.
After embarking on the climb to the top, you'll want to take some time to explore the Pueblo Mágico of Bernal at the base of the monolith.
Wander through the cobblestone streets and indulge in some delicious local cuisine. Three regional specialties to look out for are gorditas (stuffed corn pockets), a large nopal cactus that is stuffed and grilled, and pan de queso (a cheese bread swirled with jam).
This area is also the gateway to the wine and cheese route of Queretaro as well as the Sierra Gorda Biosphere Reserve.
Top Mexico City Day Trip – Book a Peña de Bernal and Freixenet Wine Cellar Tour
19. Tequisquiapan
Another stop along the wine and cheese route in Queretaro is the pueblo magico of Tequisquiapan.
This small town centers around a beautiful pink church and open square. On the streets surrounding are various wine and cheese shops and restaurants. Further outside of the city are hot springs and opal mines which you can explore.
To maximize your time, book a tour to visit Tequisquiapan and Bernal from Mexico City. If you want to add Queretaro to the mix, you'll need to start the day early or combine Queretaro with San Miguel de Allende (see next).
20. San Miguel de Allende Day Trip From Mexico City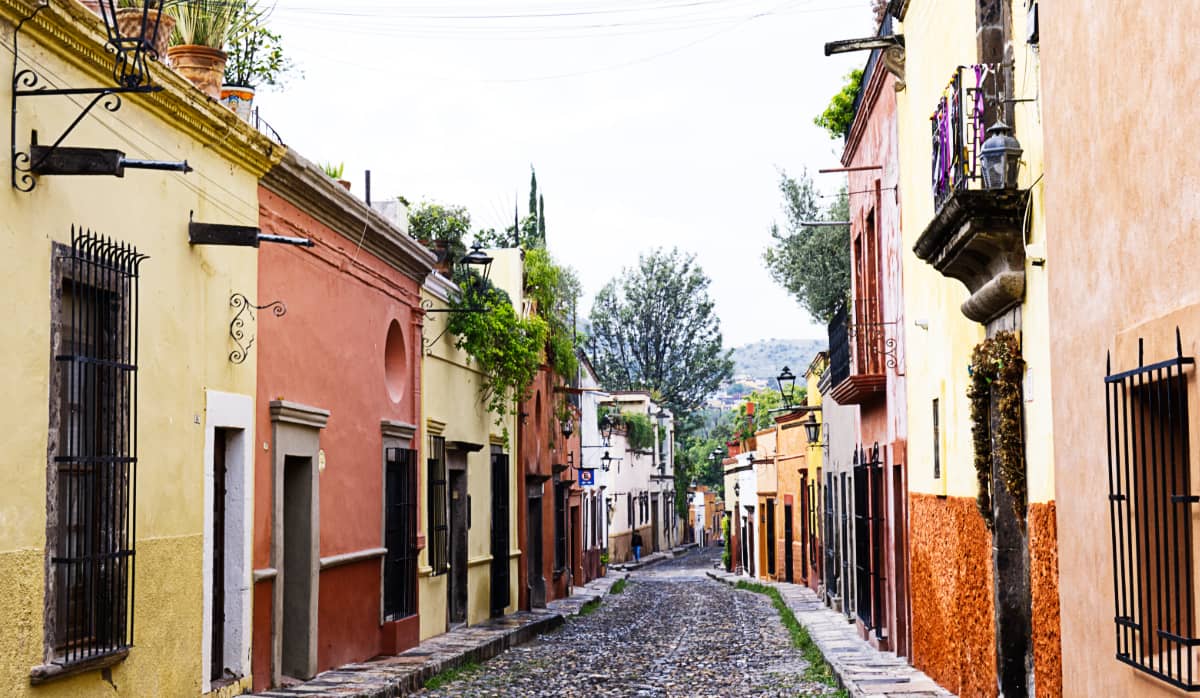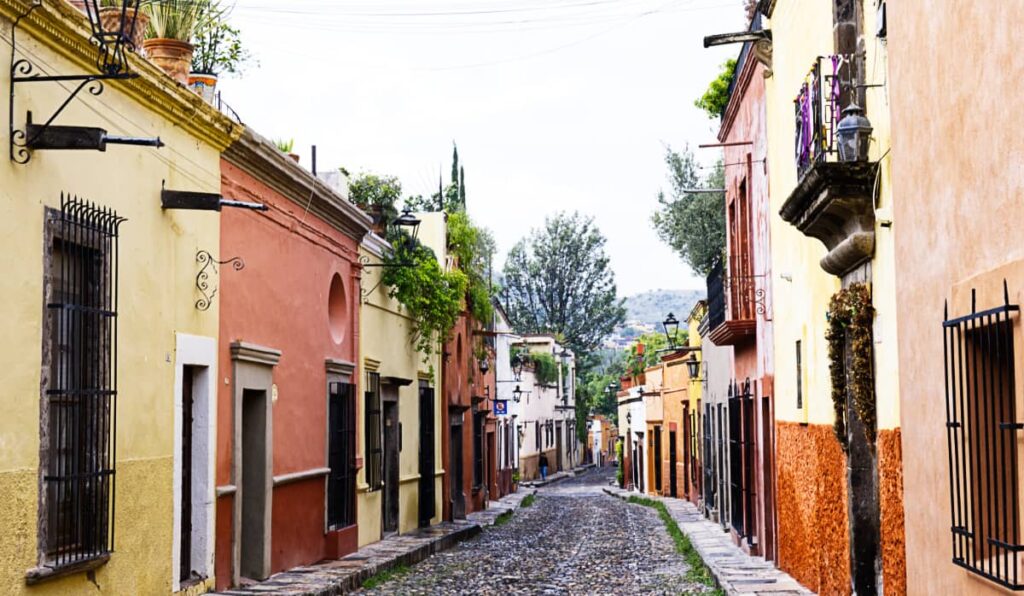 On a day trip from Mexico City to San Miguel de Allende, you'll enjoy wandering the picturesque streets while learning about the history and stopping to shop in an art gallery.
One of your first stops in San Miguel de Allende should be the iconic Parroquia de San Miguel Arcángel. This stunning pink limestone church is an icon of the town.
After the church, stroll through El Jardin, the vibrant main square, where you can continue to admire the church or simply people watch. For a dose of history and culture, visit Casa de Allende, the former home of Ignacio Allende – a key figure in Mexico's fight for independence.
Want to take a day trip to San Miguel de Allende from Mexico City? Book this highly rated tour to San Miguel de Allende with an experienced guide.
The town of San Miguel de Allende has long been a haven for artists. While the galleries and workshops of Fabrica La Aurora are the most famous, you'll also discover numerous art galleries simply walking along the streets.
In addition to its artistic offerings, the city is known for its vibrant culinary scene which you can explore on one of these San Miguel food tours. The city boasts a wide array of restaurants, offering traditional Mexican cuisine as well as international flavors. 
As the day winds down, I recommend taking in the views from a rooftop terrace, ideally one with views of the church at night.
Or if you simply want to relax in San Miguel de Allende, La Gruta Spa features hot spring pools just 20 minutes outside of the city. It's a great trip combined with a visit to the Sanctuary of Atotonilco, often called the Sistine Chapel of Mexico.
21. Guanajuato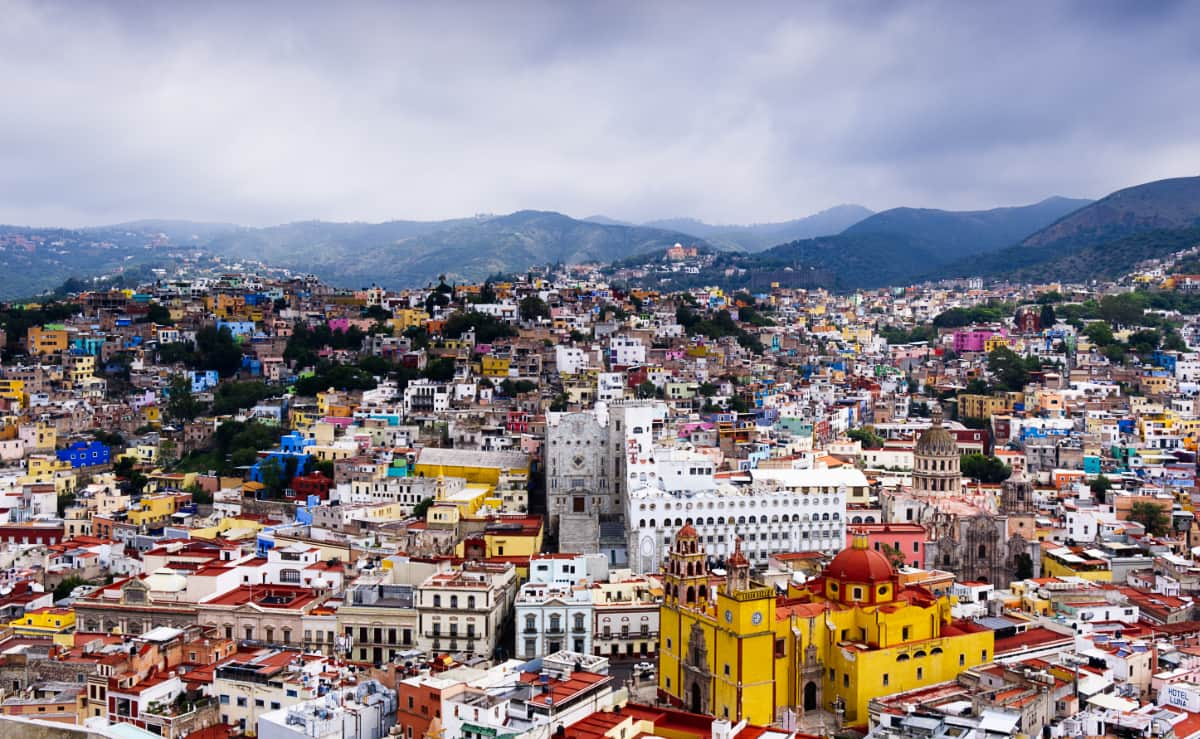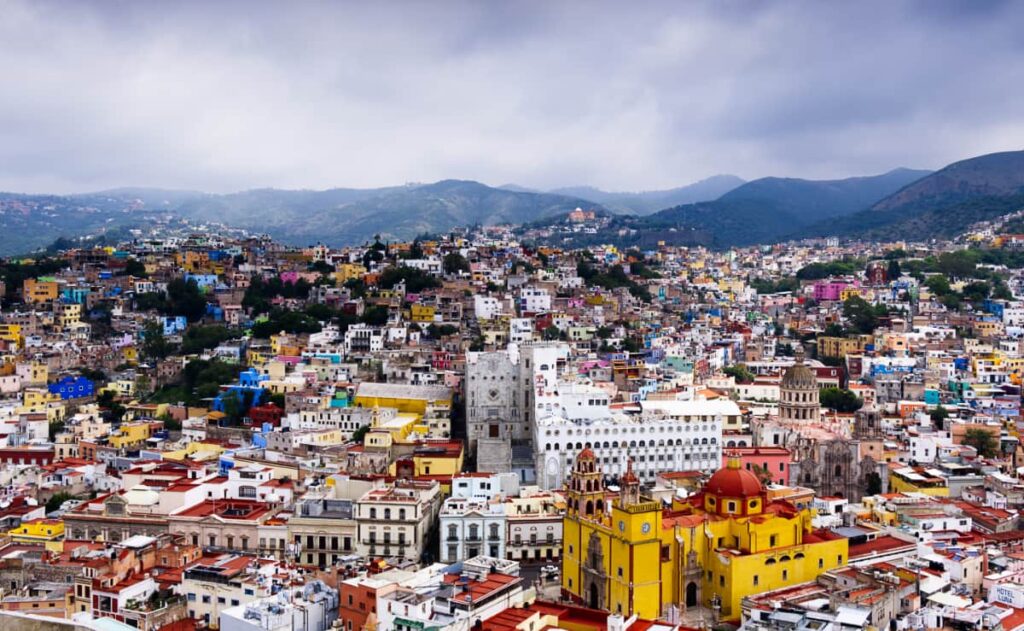 Guanajuato, a colonial city in central Mexico, is often called one of the most beautiful cities in Mexico. It's known for its vibrant architecture, picturesque squares, and rich history.
Upon arriving in Guanajuato on a day trip from Mexico City, you'll be instantly captivated by the labyrinth of colorful streets and underground tunnels that give the city its unique allure.
Start your visit by exploring the Jardín Unión, a tree-shaded plaza often filled with artists, musicians, and locals. It's the perfect place to sip a coffee and take in the vibrant atmosphere.
Want to visit Guanajuato and San Miguel de Allende? Book this two-day guided tour of these two charming cities.
As you stroll through the city, don't miss the iconic Basilica of Our Lady of Guanajuato. This stunning 17th-century church towers over the city and is adorned with a green and yellow facade.
In the afternoon, take the cable car up to the Pipila Monument, overlooking the city, where you can take breathtaking panoramic photos of Guanajuato's colorful buildings.
And some visitors find intrigue at the Museum of the Mummies, a unique experience to view naturally mummified bodies dating back to the 19th century.
22. Firefly Sanctuary in Tlaxcala
Imagine experiencing a magical evening in the forest surrounded by thousands of twinkling fireflies. Every year during the month of July, thousands of fireflies mate in the forests of Tlaxcala, Mexico.
To visit, it's best to book a tour of the Firefly Sanctuary in Tlaxcala which offers you a chance to witness this beautiful natural phenomenon.
Your adventure will take you on a guided hike through the woods, where you'll be captivated by the bioluminescent display created by these fascinating creatures. During the tour, you'll learn about the ecosystems and habitats that make this environment the perfect home for fireflies.
Keep in mind that the observation must be done in total silence to not disturb the fireflies. If you're visiting during July, a Mexico City day trip to Tlaxcala is a unique experience.
23. Nevado De Toluca National Park
Visiting the Nevado de Toluca National Park is an incredible day trip from Mexico City for experienced hikers. This park is home to Nevado de Toluca, an extinct volcano and Mexico's fourth tallest peak at 4,000 meters (13,000 feet).
There is evidence to show that Nevado de Toluca was previously as tall as Popocatépetl. However, an immense eruption occurred roughly 25,000 years ago.
It caused a significant portion of the volcanic cone to be violently expelled, resulting in a substantial reduction of its altitude by approximately 900 meters (3,000 feet).
Incredibly, there are more than a dozen archeological sites within the park, including the two lakes that sit at the top of the volcanic crater. There have been many archeological finds at the bottom of the lakes, including many pieces of copal that were likely ritual offerings.
To explore, I recommend you book this tour to hike Nevado de Toluca which includes a bilingual guide, safety equipment, and round-trip transportation from Mexico City.
24. Valle de Bravo
Nestled in the mountainous landscape surrounding Lake Avándaro, Valle de Bravo beckons visitors to explore its natural wonders.
Valle de Bravo's crown jewel is the expansive lake which offers an array of activities – from a leisurely boat ride on a yacht to water sports such as kayaking and waterskiing.
Another popular activity is to book a paragliding tour with an instructor that descends from a hillside above the lake. And if you're visiting in early January you might catch the annual paragliding festival.
As a weekend destination from Mexico City, the pueblo magico of Valle de Bravo itself blends old-world charm with vibrant energy. I recommend wandering through its cobblestone streets towards the main church and peaceful surrounding gardens.
If you prefer to have everything taken care of, book this tour which starts with visiting Velo de Novia Waterfall and concludes with a private yacht tour around the lake.
Whether you seek outdoor adventures or simply a serene escape from the city, Valle de Bravo is one of the best day trips from Mexico City.
25. Monarch Butterfly Sanctuary
If you're visiting in the winter months, one of the best day trips from Mexico City is a tour of a Monarch Butterfly Sanctuary. This breathtaking natural attraction is located in the mountains of Central Mexico, where millions of monarch butterflies migrate every year.
After hiking into the sanctuary of oyamel fir trees, you'll be greeted by thousands of vibrant orange and black butterflies clustered together on the branches. As the sun begins to warm the air, the butterflies take flight and create a magical, breathtaking scene.
As a day trip from Mexico City, the best way to venture here is to book a Monarch Butterfly Tour that includes transportation and a guided tour into the sanctuary. Your guide will share fascinating insights into the arduous migratory journey and the significance of their presence in Mexican culture, specifically for Day of the Dead.
While the monarch butterfly season only last from about mid-November through mid-March, I highly recommend seeking out this tour.
FAQs About Day Trips From Mexico City
Final Thoughts: Mexico City Day Trips
As you can see, the day trips from Mexico City are as diverse as the city itself. From the ancient echoes of Teotihuacán to the colorful streets of Guanajuato, one of the most beautiful cities in Mexico.
Whether you're a history buff, a nature lover, or simply a curious traveler, Mexico City day trips offer a world of possibilities.
So, let the allure of ancient civilizations, breathtaking landscapes, and vibrant culture guide your adventure as the beauty of Mexico City day trips continues to unfold.